This team started off as a test for underrated Pokemon such as Persian-Alola and Salazzle. After considerable tweaking, this team has performed very well in UU.

Persian-Alola @ Darkinium-Z
Ability: Fur Coat
EVs: 4 Atk / 252 Def / 252 Spe
Jolly Nature
-
Parting Shot
-
U-Turn
/
Toxic
-
Taunt
-
Foul Play
Alolan Persian was one of the first members of my team, and appealed to me because of its amazing ability to function as a lead and pivot. I threw its EVs into Defense rather than HP to maximize its physical bulk by taking advantage of Fur Coat. As such, it serves as a lead with both Taunt and scouting moves, and also as a pivot. Fur Coat grants it amazing defense that allows it to switch in to many physical attackers and soak up Knock Offs. With Parting Shot, it augments the bulk of whoever it switches to, and Z-Parting Shot has the potential to flip the game by essentially reviving a crippled ally. I have been alternating between Toxic and U-Turn, because they each have different benefits. U-Turn may look redundant along side Parting Shot, but it can break sashes and Sturdy, allowing Persian to attack without the commitment of staying in. It can also surprise the opponent, allowing it to switch out against Defiant switch-ins. Taunt is primarily used to avoid Stealth Rock and Toxic, the former of which usually comes from physical attackers that Persian can stay in on. Foul Play throws a surprising amount of opponents off guard and makes Persian my only solid answer to a boosted Scizor.

Salazzle @ Black Sludge
Ability: Corrosion
EVs: 252 SpA / 8 SpD / 252 Spe
IVs: 0 Atk
Timid Nature
-
Substitute
-
Disable
-
Toxic
-
Fire Blast
/
Flamethrower
I fell in love with Salazzle from my first Pokemon Sun play-through, and was determined to find her competitive niche. Her stats and ability seem very mismatched at first glance, since Corrosion is suited for stalling but she is built like a frail cleanup sweeper. However, a wide variety of support moves makes it quite useful. Her primary function is to poison opposing walls. A combination of Substitute and Disable, along with her amazing speed tier, virtually guarantees a Toxic. Certain opponents can be outright stalled, such as bulky ground types with only Earthquake. I've been running Fire Blast to deal considerable damage if need be, although I've been considering Flamethrower to sacrifice power for accuracy.
Decidueye @ Maranga Berry / Lum Berry
Ability: Overgrow
EVs: 248 HP / 252 SpD / 8 Spe
Careful Nature
-
U-Turn
-
Swords Dance
-
Roost
-
Spirit Shackle
Decidueye was chosen for its unique move Spirit Shackle coupled with recovery. It is used to trap bulky water types and Magic Guard Clefable. Swords Dance allows it to set up on its trapped foe and puts pressure on the opponent after their trapped Pokemon has been knocked out. U-Turn scouts potential switch-ins and adds to the team's momentum. Maranga Berry bolsters its special defense to let it handle special attackers much better, although Lum Berry is used primarily to heal Scald and Flamethrower burns when stalling. Decidueye works well overall, especially in conjunction with a Parting Shot from Persian.

Primarina @ Leftovers
Ability: Torrent
EVs: 248 HP / 252 SpA / 8 Spe
IVs: 0 Atk
Modest Nature
-
Rest
-
Sleep Talk
-
Scald
-
Moonblast
Primarina was chosen for its key defensive typing and good special defense. It functions as a tank and switch-in to special attackers that Decidueye can't wall. I invested in max special attack to maximize damage output, and Moonblast plus Scald grant nice coverage, with Moonblast punishing dragons and Scald burning steel type switch-ins such as Scizor and Metagross. I use a RestTalk set to increase longevity and use Primarina as a status absorber, and it works fairly well despite limiting its movepool options.

Donphan @ Leftovers
Ability: Sturdy
EVs: 248 HP / 252 Atk / 8 Spe
Adamant Nature
-
Stealth Rock
-
Rapid Spin
-
Ice Shard
-
Earthquake
Donphan was chosen for hazard control, which is very important given my habit of switching often. It essentially functions as a physical version of my Primarina, soaking hits from physical attackers such as Krookodile and Mega Aerodactyl. Like Primarina, I invested in my offensive stat to hit as hard as possible.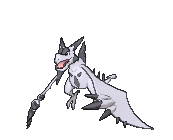 Aerodactyl @ Aerodactylite
Ability: Unnerve
EVs: 252 Atk / 4 SpD / 252 Spe
Jolly Nature
-
Ice Fang
-
Earthquake
-
Iron Head
-
Stone Edge
Aerodactyl was chosen to be my cleanup sweeper, and recently replaced Hydreigon as a physical sweeper since Primarina is my primary special sweeper. The rest of my team has no real answer to some fairies such as Togekiss, so Iron Head serves to KO them. I use the standard EdgeQuake combo for late-game cleaning, and Ice Fang is used to punish bulky ground types that want to switch in to absorb a Stone Edge.
Conclusion
This team has worked well for a while, yet lacks a consistent answer to defensive Clefable, Togekiss and offensive stat boosters. Aerodactyl and Primarina have fairly tentative movesets, and the EV spreads on Primarina or Donphan could definitely be adjusted. I appreciate any and all criticism you may have, no matter how big or small your suggestion may be. Thank you for reading, I can't wait to read your comments!