I... Magmortar is... er...

...

Okay, I can't really defend this guy. The design is ugly as heck especially around the face that looks like a burn victim and whatever is going on in the back with the spikes and flamey tails but I just want to say that even a horrible design can look good with the right pose.

Specifically this pose, the HG/SS sprite. Especially if you put some pokeball seals on it so it looks like it fires at it's opponent as it pops out of the ball. The only time this 'mon has ever looked somewhat cool almost. Don't know why the sprite is better than the official artwork seeing as the poses are almost identical. I'd say the sprite draws less attention to the butt ugly face and seems to emphasize the red in the colors (while on the art I'm drawn more to the yellow). It's like, on the art it looks like red flames on a yellow body, but the sprite looks like yellow flames on a red body. Does this make any sense to anyone? Am I crazy?
Hmm, let me try something: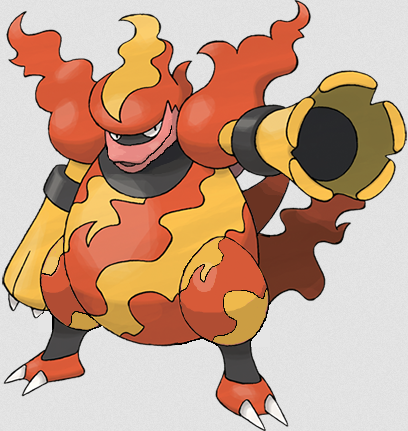 Doesn't look too bad. Decided to elongate the bill so it looks like a duck bill and not a duck version of black face. I also got rid of any other instance of that clashing pink color. I colored the thigh joint so that it continued the body's pattern design and colored the back spikes red. I think it looks a bit better, if you can get over the jaggedness because the only image editing program I have is paint.
EDIT: I redid it so it's outline wasn't so edgy.
Last edited: