Hello, I am MrKijani and I shall be making my first ever post here on Smogon, right here in the RMT.
My history in Doubles is somewhat short but very fast. I was first introduced to it by a friend of mine who after my first battle in which he thrashed me, asked if I wanted to make a team with him. My answer was of course a yes.
The first decision was what sort of team we would be making. After about 20 minutes of talking, we decided on Trick Room. We would of course, be using what is arguably the best Trick Room setter in the metagame, Cresselia. This floating piece of joy would need some good backup for that Trick Room, so we went for a Fake Out lead Hitmontop. From those two, we decided we would need one physical attacker, and one special attacker. Latios came up and so she was elected, and a good pair for Cress and Lati was Metagross, who wouldn't be enjoying those Garchomp/Zapdos DisQuake combos, which btw Latios counters very well. We now had four members of the team. But how about those last two. We settled on the perfect mix for Trick Room. GastroLure. With his Storm Drain and her Flash Fire we were taking all sorts of stuff on the switch ins. So, here is our VGC 2013 Doubles Trick Room team.
Note: The team was made during VGC years which had item clause.
________________________________________________________________
Cresselia @ Sitrus Berry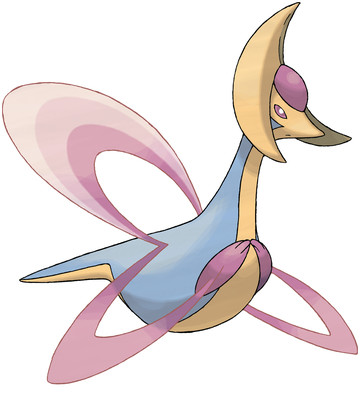 Trait: Levitate
EVs: 228 HP / 180 Def / 100 SDef
Modest Nature
- Icy Wind
- Helping Hand
- Trick Room
- Psyshock
Now you may be thinking "Icy Wind and Trick Room?? What's this guy smokin?" and yes, while it does seem contradictory it wrecks total havoc. Icy Wind destroys most dragon types we see in Doubles, and most of them are extremely fast. If we decide it's too risky to setup that Trick Room we have the option of slowing down out opponent to allow us to have the speed and force a switch, which allows us to get Room up. Psyshock is general attack. Helping Hand is epicly brilliant in Doubles, turning almost every 2HKO into a OHKO.
Here are some calcs:
252+ Atk Technician Scizor Bug Bite vs. 252 HP / 184 Def Cresselia: 126-150 (55.5 - 66.07%) -- guaranteed 2HKO
252 SpA Life Orb Hydreigon Dark Pulse vs. 228 HP / 100 SpD Cresselia: 133-156 (59.37 - 69.64%) -- guaranteed 2HKO
252+ Atk Metagross Explosion vs. 252 HP / 184 Def Cresselia: 89-105 (39.2 - 46.25%) -- guaranteed 3HKO
So just a couple attacks against this Cress that it takes like a pro. The first two 3HKOs and the last a 4HKO due to instant HP healing by Sitrus Berry.
________________________________________________________________
Hitmontop @ Fighting Gem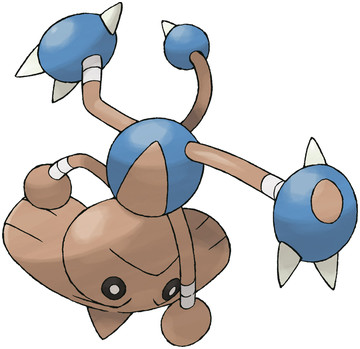 Trait: Intimidate
EVs: 252 HP / 12 Atk / 84 Def / 156 SDef / 4 Spd
Careful Nature
- Fake Out
- Close Combat
- Sucker Punch
- Wide Guard
One line should suffice: Intimidate is a bitch.
But seeing as I have to have three lines of descrip I'll add some more. EVs although they look highly spread out all serve a purpose. Mostly SDef with maxed bulk, however we also have some defensive bulk that helps to absorb some hits. Fake Out lead/support. Wide Guard for DisQuake counter etc. Close Combat is wickedly powerful with gem, and Sucker Punch is priority and hurts them psychics so hard.
252 SpA Life Orb Alakazam Psychic vs. 252 HP / 156+ SpD Hitmontop: 151-179 (96.17 - 114.01%) -- 68.75% chance to OHKO
20 Atk Hitmontop Sucker Punch vs. 4 HP / 0 Def Alakazam: 110-130 (83.96 - 99.23%) -- guaranteed 2HKO
________________________________________________________________
Latios @ Dragon Gem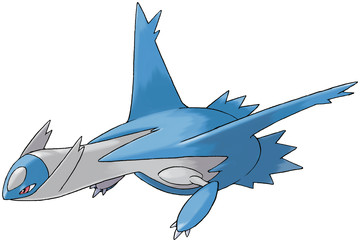 Trait: Levitate
EVs: 252 SAtk / 4 SDef / 252 Spd
Timid Nature
- Draco Meteor
- Psyshock
- Hidden Power [Fire]
- Protect
Protect can be most annoying in Doubles. Use it and kill that emey that threatens you so much with your teammate. Dragon Gem Draco Meteor is in one word:
Overkill
. But we love it anyway. HP Fire was for hitting steels (with the exception of Heatrat >.>) Psyshock secondary STAB and for hitting SDef pokes like Blissey. EVs are invested in speed, but the thing is about TR is that we don't have to always use Trick Room. So when the enemy predicts I utilize all those slow pokes and I whip out my speedy Latios, they scream, and shout, and let it all out.
Testing Latias as replacement
________________________________________________________________
Metagross @ Lum Berry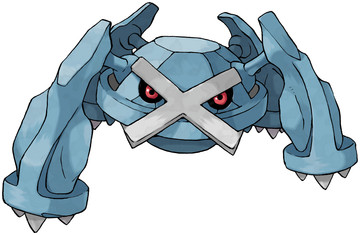 Trait: Clear Body
EVs: 252 HP / 116 Atk / 4 Def / 136 SDef
Adamant Nature
- Earthquake
- Zen Headbutt
- Meteor Mash
- Ice Punch
Ice Punch: Dragons? Where?
Earthquake: Doubles, hell yeah
Zen Headbutt: Fighting types? Nuh uh
Meteor Mash: Die Sucka!!!
EVs provide nice bulk, attack boost, and enough defense to take some hits. Lum berry and Clear Body are true god sends when this comes out to play.
________________________________________________________________
Gastrodon @ Rindo Berry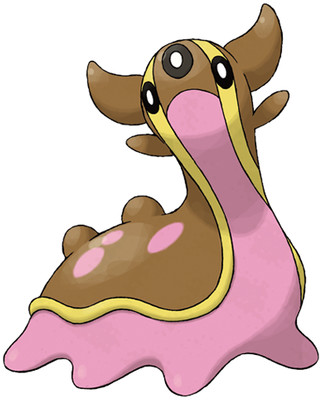 Trait: Storm Drain
EVs: 252 HP / 108 Def / 148 SDef
Relaxed Nature
- Muddy Water
- Stockpile
- Recover
- Earth Power
This guy has proved himself over and over for this team. Taking all of those water attacks like a boss, Stockpile stalling, he just keeps going.
248 SpA Dragon Gem Latios Draco Meteor vs. 252 HP / 148 SpD Gastrodon: 178-210 (81.65 - 96.33%) -- guaranteed 2HKO
Dragon Gem boosted Draco Meteor. He survives, recovers, and lives on. Rindo Berry allows him to survive a grass hit without any trouble. Stockpile is just badass. This guy has caused so many ragequits with that slugswag
________________________________________________________________
Chandelure @ Fire Gem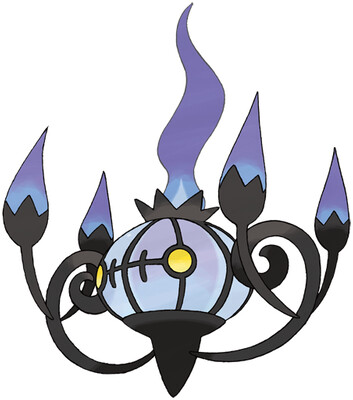 Trait: Flash Fire
EVs: 244 HP / 20 Def / 24 SAtk / 220 SDef
Sassy Nature
- Heat Wave
- Shadow Ball
- Energy Ball
- Protect
This guy was brought in to cover Gastro's grass weakness and Meta's fire weakness. Under Trick Room he just wrecks utter havoc. Fire Gem boosted Heat Wave is godly fire. Shadow Ball and Energy Ball are mostly for coverage, although the SDef drop from Shadow Ball has proved highly useful. Protect is that extreme annoyance thing again. EVs utilize some of his natural bulk, while giving a little boost to his SAtk. Switch in on a fire move for max power and it's gg.
Set was (mostly) copied from Nugget Bridge (
http://nuggetbridge.com/articles/guide-to-hailroom/
)
"With the help of Fire Gem and the Special Attack EVs, Chandelure is able to OHKO max HP Metagross and Scizor, while also OHKOing max Speed Chandelure with Shadow Ball."
Energy Ball > Trick Room on our set.
________________________________________________________________
I would say the one pokemon, who has risen in use since the team was made, is Heatran. It counters, with ease, Cress, Chandy, Latios, and Metagross. Meta may carry EQ but Tran outspeeds and KO's in return. Top and Gastro are the only two who truly offer any protection, which is why it's essential to keep them alive if I see an opposing Tran.
________________________________________________________________
Thanks for taking the time to read my VGC Doubles team, and a shout out to my buddy, AlphaDraconis, who made it with me.
~MrKijani