[OVERVIEW]
BIG OL' BEL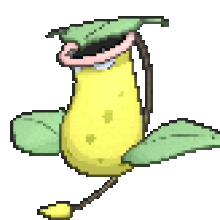 Victreebel is a decent, if unreliable, setup wallbreaker in the meta. Thanks to its access to Sleep Powder and powerful Grass STAB, it is capable of scaring out many prominent Pokemon, including common Stealth Rock setters like Rhydon and Sandslash, and setting up with Swords Dance. It even has Sucker Punch in order to pick off frail or weakened pokemon that could otherwise outspeed and KO it. Victreebel's main flaw, however is its lack of coverage, which leaves it walled and destroyed by the omnipresent Melmetal. Outside of its offensive stats, Victreebel is extremely lacking, meaning most fast Pokemon can KO it easily if they survive a Sucker Punch, and most bulky Pokemon can do the same if they survive Power Whip.
[SET]
name: Breaker
move 1: Sucker Punch
move 2: Power Whip
move 3: Swords Dance
move 4: Sleep Powder/Poison Jab
nature: Adamant
[SET COMMENTS]
Set Description
=========
Sucker Punch allows Victreebel to overcome its poor speed stat by out-prioritizing the faster pokemon that attempt to deal with it offensively Venusaur, Mega Beedrill, Starmie, and Mega Alakazam. Power Whip allows Victreebel to threaten pokemon like Rhydon, Golem, and Sandslash with an OHKO and force them out.. Swords Dance allows Victreebel to attain an immensely strong attack stat and force the opponent to play around the possibility of a +2 Sucker Punch and a +2 Power Whip at the same time. Sleep powder is a somewhat unreliable status, but allows Victreebel to put any non-grass type to sleep as it comes in to deal with Victreebel, allowing Victreebel turns to set up and become extremely offensively threatening. Poison Jab forgoes these turns in favor of a strong, spammable STAB that can be useful against slower teams.
Usage Tips
========
Victreebel is generally very prediction reliant and only becomes truly threatening vs neutral targets when it has set up with Swords Dance. Due to this, Victreebel should be brought in versus Stealth Rock or Toxic users that are slower than it, like Rhydon or Poliwrath, on the turn they would set up Stealth Rock or Toxic. Setting up Victreebel (as opposed to hitting Sleep Power) when there are obvious grass answers like Venusaur on your opponent's team is a good idea, as at +2, Victreebel can win the 1v1 with Sucker Punch if Stealth Rocks are up. If your opponent lacks a grass-type but has an otherwise excellent switch-in for Victreebel, like Charizard or Melmetal, clicking sleep powder can not only shut down a potent threat but also give you several turns to swap around or boost. In situations where your opponent is in range of a Sucker Punch and you've already revealed it, clicking Sleep Powder or Power Whip can be a good way to punish a cheeky switch.
Team Options
========
Mega Aerodactyl appreciates Victreebel's ability to draw in Melmetal and Venusaur . Once in, Melmetal and Venusaur can be chipped into range of Mega Aerodactyl's moves with Power Whip and Sucker Punch, respectively.
Zapdos appreciates Victreebel's ability to pressure the Ground-types, and Victreebel appreciates Zapdos ability to U-Turn against incoming Ground-types for free entry into a favorable matchup for Victreebel. In addition, Zapdos is one of the only things in the metagame that can switch into all of Melmetal's attacks, who Victreebel lets in for free.
Chansey is another excellent teammate, as it can effortlessly pivot into the fast special attackers that would otherwise threaten Victreebel with an OHKO, as well as potentially bringing in Victreebel for free with Teleport.
Mega Beedrill is a powerful U-Turner that can bring Victreebel into favorable matchups, as it tends to bait in Rhydon. It also appreciates Victreebel's ability to lure and sleep Melmetal, hindering Melmetal's ability to counter Beedrill throughout the game.
Dugtrio, Charizard-X,and Sandslash particularly appreciate Starmie being removed, and Victreebel is capable of baiting in Psychic/Ice Beam carrying Starmie and OHKOing with a +2 Sucker Punch. Other Water types, like Gyarados and Vaporeon, can be heavily pressured by Victreebel, but Victreebel generally cannot safely come in on either.
[STRATEGY COMMENTS]
Other Options
=============
Leech life is an option for Victreebel over Poison Jab or Sleep Powder, as combined with Swords Dance, the recovery it provides can allow Victreebel to survive an extra attack from tanks like Alolan Muk. However, the move's typing does not do Victreebel many favors offensively, and dropping STAB for it is generally not recommended.
Checks and Counters
===================
Melmetal: Melmetal, obviously, can take any attack Victreebel will throw at it, even at +2. It also threatens an OHKO after rocks with Double Iron Bash.
Gengar: Gengar commonly carries Will-O-Wisp and resists all of Victreebel's STAB, allowing it to shut down Victreebel without being consistently beaten by Sucker Punch. In additon, Gengar can abuse Sucker Punch/Sleep Powder attempts to set up substitute and become difficult to remove without sacrificing a Pokemon.
Dragonite: Like Gengar, Dragonite can abuse its resistance to Power Whip to set up Agility and roost off any damage, though it must be wary of taking a Sleep Powder or +2 Poison Jab
Mew: Mew is the only viable Psychic-type in the tier that is not OHKOd by a +2 Sucker Punch from full. It also frequently carries Taunt, Roost, and Will-O-Wisp to stop Victreebel from being able to punish it with Sleep Powder or Sucker Punch.
Zapdos (with Drill Peck): Zapdos resists Power Whip, has excellent bulk, and carries Roost, so it can frequently stop Victreebel from running rampant. However, if it lacks drill peck, it struggles to effectively pressure Victreebel.
Mega Aerodactyl: If Mega Aerodactyl is carrying wing attack, it is capable of OHKOing Victreebel after rocks. However, Mega Aerodactyl must be cautious, as attempting to outplay Sucker Punch with Roost can lead to a guaranteed OHKO from Power Whip, even if Victreebel has not set up.
[CREDITS]
-[McCoolDude, 469684]
- Quality checked by: [[Eve, 375272] , [, ], [, ]]
- Grammar checked by: [[, ], [, ]]
Last edited: