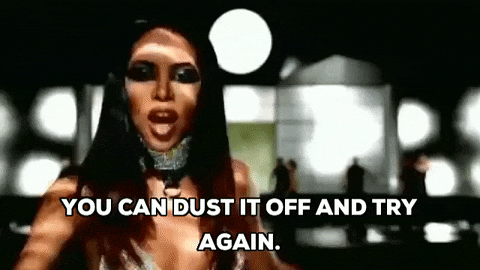 Yes, I do currently have a walrus ongoing. Or rather, not ongoing. Shit happened and the walrus came to a screeching halt. Time passed and... things were still halted, docs untouched, songs unlistened. Basically, the Emperor lost his groove.

So what better way to get back into the swing of things than to do something unconventional and create a walrus solely for the purpose of getting my groove back and getting back into judging Four On The Floor. It's walrusception time.
Now on to the more standard part of the OP:
What is Walrus? It's a forum game where you submit songs to me according to various categories and I rank and score them based on how much I like them.
To join, simply sign up in this thread (or drop me a DM at BrainpanSonata#0280). Submissions must be done by PM/DM, including YouTube, Soundcloud, Bandcamp, or Vimeo links to your picks. One by one, categories will be revealed in
the official walrus Discord server
and the respective threads. Aim for the highest overall score, or play along for fun and the love of music.
Scores will be logged and tracked via Google spreadsheet. Scoring is done on a 0.0-10.0 points range based on how much I enjoy a song and how well it fits the respective category. My scoring system runs along the same lines as MyAnimeList: 5s are boring, 6s are okay, 7s are good, 8s are great, 9s are awesome, and if you get a 4 or below ya dun goofed. Will anyone send me a 10 point masterpiece? We'll see…
The rules are as follows:
Any categories you fail to submit for will automatically be scored 0. You can send submissions at any point up to the day before the respective category's scheduled reveal. In some cases, depending on my schedule, I may be lenient enough to accept submissions up to the T-minus 12 hours mark. I will actively check in with players who have unfilled submissions to help prevent catfails.
Any submissions which don't fit the qualifying requirements of their respective category will automatically be scored 0. For example, if I had a category about guitars and you subbed an acapella song, you would catfail.
You will need to change your submission if it's a song I submitted to a previous walrus.
You will need to change your submission if it's a song I used as an example, header, or outro in this walrus or my previous walruses. Yes, this does mean Watsky subs are more likely to get stamped Return To Sender.
Tracking for rules 3 and 4 is solely the responsibility of the host. I will crosscheck all submissions and let you know if something needs to be changed. I will also let you know of any technical errors which might require you or me to change the links to your submissions.
You will need to change your submission if I can't bring myself to listen to it in its entirety even once. This pertains not just to bands previously found in the banlist in Rule 10, but also to anything pitch shifted/chipmunked, played on a kazoo/vuvuzela/air horn, and/or painfully out of tune. If you value scoring high on the leaderboard, then this is not the hill you die on.
If you send me a 240p or 144p vid and a better version is available, I reserve the right to switch to the better version. I may inform you privately if I do so, but I'm likely to forget. I also have a habit of doing this with music videos that vary noticeably from the official audio.
If two or more players submit the same song for a category, the second (and third and so on) person to submit the song will be given the option to change their submission. If they decide to stick with it, it will be given a single score and the players involved will tie in that round's rankings. This type of tie will be expressed in dense ranking (eg. 1223) rather than standard competition ranking (eg. 1224).
You can change your submissions at your leisure. As with late submissions, song changes will be accepted at any point up to the day before the respective category's reveal. Unlike Rule 1, I will not accept T-12 hour sub swaps because getting in a song that may do better or worse isn't as urgent as avoiding a 0.
My ban list is Nickelback, Owl City, Operation Ivy, The Neighbourhood, Kings of Leon, and US band Backlash. Swedish band Backlash is okay, but I have too many issues with that trumped up Pink Floyd cover band by the same name.
And your four impromptu categories are:

Getcher Game On Redux 4OTF started with music from video games. So let's kick this groove revival off by sending me something to listen to during a gaming session. Anything goes here, so long as I can enjoy it during a multi-hour pokemon grind or dungeon rush with the game's sound off. Yes, I will be gaming as I judge this cat. The trick to hitting the brief here is finding the balance between zone out background noise and "oops, I got distracted by the music and lost a life".

Examples:

Preben Goes To Acapulco

by Todd Terje

Sad Statue

by System Of A Down

Something Underneath

by clipping.

Pop, POP! I wanna dip into something that I don't really seek out when listening to music. Send me a mainstream pop song from a solo artist. Why solo artists? Things just worked out that way when I was picking my examples and header/outro. Plus I go out of my way to get my Kpop and Jpop fix from time to time, so blame the brief

¯\_(ツ)_/¯

Examples:

Firework

by Katy Perry

24K Magic

by Bruno Mars

Raise Your Glass

by P!nk

The Long Haul Long song cats have been done before, but why not do it again. Send me songs that are seven minutes or longer. If I'm gonna get back into judging a walrus that termi subbed to, I need to refresh my attention span. Note: 10 hour loops are still not allowed. I need to be able to judge your sub in a single sitting. For similar reasons (plus I don't want to do it again), I'm going to nix sending me entire albums. (Neither of these clauses have anything to do with termi.)

Examples:

Siberian Breaks

by MGMT

Jesus of Suburbia

by Green Day

Roundabout

by Yes

Moog Music With this, I've covered almost every instrument under the sun. Send me a song which features synthesizers.

Examples:

Rydeen

by Yellow Magic Orchestra

Bury It

by CHVRCHES

Point of Know Return

by Kansas

No FAQ this time. If you're new to my walruses, just know that I'm down for anything and have a tendency to score ridiculously high with lots of ties. And if you're wondering about my methodology for Getcher Game On Redux, I'll be setting each song to play on repeat during various gaming sessions so I can create the proper judging conditions without having to interrupt myself as often.

As for the deadline… Let's say two weeks. Deadline to get in at least one song from your quartet is

Saturday, August 14th

.

In MU terms:

8/14

GOOD

8/15

BAD

.

Signups
PassTheSaltDude
Earl
Celever
termi
Lebossle
ddlcfan69
C7's Smogon Account
BLOODYRAIN10001
catgode
Godot
RaceBandit
shubaka17
Gravity Monkey
nutella
MyNameIsNothing
KarmaDope
PunchyTheCat
Moose
LordQuas
Adam
Your name here
Last edited: