If you don't know this man, you're too young, my friend.
We are not trash!






​
What's up guys, Dusky here and welcome to my 2° RMT!
This time I started with a tier that many players may ignore, the PU: PU stands for nothing, it may be Poorly Used, Partially Used, or simply an exclamation of disgust.
However, in the tier considered as the trash bin of SD, there are some lil gems that can truly shine.
I handpicked six small gems (and washed my hands after that), and here's how my "rubbish jewelry" is made!

TEAMBUILDING PROCESS

Muuu to you, guys! I decided to build the team around it, as it has
a lot
of power under its afro hairstyle: just slap a Band on its head, and go just direct against everything you find on your road.


However, the afro buffalo is not unbeatable: it fears Scald like the plague, so someone who can take a Scald is appreciated.
I picked Simipour as it can easily switch into Scalds thanks to the resistance it has, and it also builds a good damaging duo with Bouffalant, as Simipour hits pretty hard on the special side of the spectrum.




I am a strong fan of FWG cores, and in PU I decided to add a strong attacker and a bulky fattish Pokémon to improve the overall resistance of the team.
Flareon is a divine hammer when Guts triggers, just two points away from 600 Atk
and
a burn immunity.
On the other side, Gourgeist-XL rounds off the core by spreading burns here and there, and by burn-stalling people thanks to Synthesis and WoW.






Lastly, I decided for this Bug duo in order to obtain three things: hazard removal, Sticky Web support, and a Agility Baton Passer since my team as a whole sits at an awful Speed tier of 55-60 Spe on average (excluding the 101 Spe of Simipour).
Ok, end of presentations,
to the sets now!
TEAM IN DETAILS
(HAD NO BETTER TITLE, SORRY)
​

"Fly like a Butterfree, sting like a FUCKING BUFFALO TRUCK."

Disco Guy (Bouffalant) @ Choice Band
Ability: Reckless
EVs: 252 Atk / 4 SpD / 252 Spe
Jolly Nature
-Head Charge
-Wild Charge
-Earthquake
-Iron Head

"Let the music play." (Miror B)

What's worse than an angry buffalo?
An agry buffalo that has a grey Band on its head.
This thing is basically what I send in to punch holes in the opposing team and allow Flareon & Simipour a small chance of cleaning the rest.
I choose Reckless over Sap Sipper because it gives 1/5 more power to its main STAB, Head Charge, and one of its coverage moves, Wild Charge.
Head Charge has immense power, usually OHKOing frail opponents and some "bulkier" things that are neutral to Normal.
Wild Charge cleans the road from Defoggers (which are mostly Flying-types), and Water-types that may try to Scald my buffalo.
Earthquake destroys most Steel-types (even fat ones) on the switch, while Iron Head is mainly for Fairy-types and as a small stop against Carbink thanks to its 30% chance of flinch.
Max Atk and Choice Band give Bouffalant 478 Atk (four-hundred seventy-eight Attack), which is like.. a truck in the face? Lol
Jolly nature is chosen to outspeed positive base 50s and neutral 60s, and the Atk loss, compared to an Adamant set, isn't very noticeable (350 Atk if Adamant, 319 if Jolly). --> [EDITED]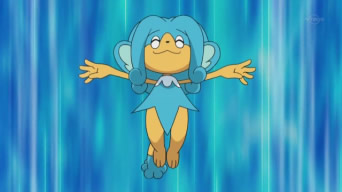 Principal (Simipour) @ Life Orb
Ability: Torrent
EVs: 252 SpA / 4 SpD / 252 Spe
Timid Nature
IVs: 0 Atk
-Hydro Pump
-Ice Beam
-Substitute
-Nasty Plot
"He values the independence and teaching of children."
If you played Pokémon Super Mystery Dungeon, you'd surely remember dear Principal Simipour: however, this Simipour has a more sinister heart.
SubNasty is a set I appreciate a lot, forcing switches or "useless" attack to break Substitutes, leaving Simipour to freely boost.
Hydro Pump + Life Orb hiyts insanely hard, KOing Pokémon neutral or weak to Water; Ice Beam rounds a bit more the moveset, easily dispatching Dragon/Grass/Flying types once bolsted, and it's a more accurate way to deal with Ground-types since Hydro Pump is coded as Hydro Miss...
Full investment in SpA, in Spe, and a Timid nature ensure that Simipour is going to hit quick and hard.
Torrent is the chosen ability as it further boosts Simipour's power after 3 Subs.
L'Arrostitore (Flareon) @ Toxic Orb
Ability: Guts
EVs: 252 Atk / 4 Def / 252 Spe
Jolly Nature
-Flare Blitz
-Superpower
-Quick Attack
-Protect
Let the world burn.
Flareon acts as a smasher, simple but effective. Protect, unlock 598 Atk, hammer until death arrives.
People actually feels better when Flareon reveals that it doesn't have Flash Fire: frankly, I'd be more scared by a 598 Atk Flareon, than a Flareon who has a 180 BP Flare Blitz..
Anyway: Flare Blitz is the obvious STAB, as it packs immense power and pulverizes Steel/Ice/Grass/Bug-types; Superpower takes care of Rock-types, who can easily stomach a Flare Blitz.
Quick Attack may seem weak, but it actually cleans pretty much after a Flare Blitz, as Flareon has a huge Atk stats after Toxic Orb activation. Finally, Protect allows Flareon to safely trigger Guts, and it's useful to scout opposing moveset.
As always, Jolly max Spe allows Flareon to outspeed base 65s and 70s; on the other hand, max Atk ensures that it's going to burn everything down.
Fattyrella (Gourgeist-XL) @ Leftovers
Ability: Frisk
EVs: 248 HP / 8 Atk / 252 Def
Impish Nature
-Will-O-Wisp
-Synthesis
-Seed Bomb
-Shadow Sneak
Aaah, Fattyrella: the definition of fat matter of Pokémon.
WoW + Synthesis is basically an easy win against many physical attackers not immune to burns, as Gourgeist-XL is absolutely a super fat Pokémon, with 100/122 defenses to capitalize on with WoW.
Seed Bomb smashes Carracosta and frail Water-types, and it's main source of damage.
Shadow Sneak is a priority to use to finish off an opponent.
Max Def investment and an Imposh nature assure that Gourgeist is going to take physical hits like-a-champ, while 248 HP optimize Stealth Rock damage. The left 8 EVs are dumped into Atk to somehow """boost""" its damage output.
Armando (Armaldo) @Assault Vest
Ability: Battle Armor
EVs: 252 HP / 252 Atk / 4 SpD
Adamant Nature
-Rock Blast
-X-Scissors
-Aqua Jet
-Rapid Spin
AV Armaldo.
I know this seems weird, but let me explain: Armaldo has an incredible Def, and a decent SpD; outside of Stealth Rock and Toxic, it gets no other useful status moves. So the Assault Vest, that sacrifices its leading abilities in order to become a respectable tank.
X-Scissors hits the likes of Cacturne for heavy damage, while also being a good tool for general damage; Rock Blast pulverizes Articuno, breaks through Substitutes, and is more accurate than Stone Edge. Aqua Jet is a blessed priority for killing fast and weakened Pokémons that think to use Armaldo as they like to setup or heavily damage it. Rapid Spin is used to remove SWeb, SRocks, and Spikes.
Maximum Atk investment is necessary to actually do decent damage, while full HP EVs ensure that it will take hits better.
Finally, I choose Battle Armor to avoid crits.
Muffet (Ariados) @ Focus Sash
Ability: Insomnia
EVs: 252 Atk / 4 Def / 252 Spe
Jolly Nature
-Sticky Web
-Agility
-Baton Pass
-Poison Jab
Shhhhh.
Before going on, sit down, and look at this replay.
http://replay.pokemonshowdown.com/pu-446677788
Seen why Muffet is so important?
Ariados is the main lead (95% I lead Ariados, 4% Bouffalant, 1% Armaldo), and it has two main functions:
1. Set up Sticky Web if the opponent lacks a valid Rapid Spin user or a Defog user;
2. Use Agility, take a hit, then use Baton Pass to passthe 2x Spe to either Bouffalant (like in the replay), or Flareon.
In any case, I'll find myself with a
478 Atk / 458 Spe Bouffalant
, or a
598 Atk / 502 Spe Flareon
.
That said, most matches are a poker of kills or a quit from the opponent lol
Poison Jab is the only offensive move for Ariados, altough it uses PJab rarely.
Max Atk is for dealing good damage, while 252 Spe and Jolly nature is for reaching 392 Spe after Agility, easily outspeeding all the unboosted Pokémons and using Baton Pass with even more ease.
Focus Sash ensures the complete setup of either AgiliPass or SWeb.
Alright guys, thanks for the patience!
I hope someone can give me valid tips on how the ream can improve, and thank you again for the attention.
See ya next time :)
Dusky
Last edited: