Hello everyone! Im Ardy, you may know me from my abandoned Blazed Glazed playthrough, or my abandoned Gaia drunklocke, or my abandoned GPS Monster Scouter playthrough, or my abandonment issues rooted in a childhood fear of loneliness. If you dont, excellent! Welcome to my playthrough of Pokemon Radical Red, my newest obsession! If you do, I am so sorry. I definitely plan on completing atleast the Gaia drunklocke when my life is held together by more than that one skirt I always wear when Im sad.
In any case, lets get started!
Pokemon Radical Red
is a rom hack of, well, FireRed, that is currently making the waves in the romhack community for being, well, one of the fucking best rom hacks out there. Just the quality of life features it offers would be enough, but Radical Red amps it up a notch by increasing the difficulty severely, being updated to Gen 8 in terms of movepool and Pokemon, and a very improved AI that utilises competitive sets. In short, it is awesome, frustrating, and has made me shut off my laptop and do a shot more times than I am willing to admit. (6 times. 4 of those were vs Sabrina.) While Im enjoying my main run through the game, I realised this is a perfect candidate for a Lets Play on this forum, especially the way Im playing it.
Basically, in my main run through the game, Im running a Sun team, which has its ups and downs. While playing through there were definitely times when I wished I had chosen another strategy, maybe rain or sand or (lol) hail or Trick Room or something.
Well
Why not all of them?
Or atleast Sun, Rain and Sand. I fucking hate Hail and Trick Room.
Radical Red gives you the tools to make these teams VERY early on, and its something I've enjoyed doing. So this is my multi-weather playthrough of Pokemon Radical Red!
If you went through the Pokecommunity Page, you might have noticed the astounding list of features this game has. For brevitys sake, Im going to mention the ones most important to this playthrough: Buffs to many pokemon, a working Dexnav feature, Gen 8 Breeding mechanics, Battle Style forced to Set, a better system for determining IVs of a Pokemon, and a Nature Changer in every town.
Apart from that, Im going to be posting videos of most major boss battles, rather than putting up screenies. This is because I am addicted to save state resetting, and this is the only way to physically stop me from cheating during Misty.
I am going to leave nicknames to the side for the early game, until we get to the Name Rater in Lavender. This gives you all ample time to help me with nicknames, because two of my cats were named Pepper and Salt. Pepper was white and Salt was black. I am not good with names.
I may cry multiple times during this playthrough. Viewer discretion is advised.
Without further ado, let us begin!
I did not pay for this, but this game is definitely gonna make me pay for playing it
Standard intro, no changes afaik.
We've been over the Capitalisation in p much every playthrough Ive posted, blah blah nostalgia, blah blah my life sucks and I am clinging to any scrap of childhood I have left, you get the gist.
Okay this is the name the Starbucks lady wrote on my exes cup this one time and it was fucking hilarious cause it means daddy in our language, idk why this popped into my head for the name but its sticking.
Dropped into our room. Take the potion out of the PC as always.
This game has an inbuilt randomiser option, which is neato, but not for us right now. Maybe on another playthrough.
Skipping thru the basic bitch opening that we have all seen before
Finally
Okay so straight up: we are going to abandon our starter very soon. Bulbasaur would be a god tier option, but at this point we dont have an accurate way to check IVs for quite some time, and we arent gonna have access to the Hidden Ability changer until Saffron, so we are gonna ditch it around Misty, maybe sooner.
So really, the only reason this choice matters is VS brock.
However, the game uptil Brock will be made much easier with Sleep Powder, so we go for my fav kanto starter after all.
Si senor.
We beat Baba with minimal effort, however this may be because we spawned with an Oran Berry and he did not.
Blah blah plot plot
There is something neat here though
Every pokemon center has this. For the moment we are too broke for this, however even if we werent we dont want this until misty.
God, I hate this useless shite in Firered.
However, I do not hate this.
Take the town map from daisy, and NOW we can finally get some shit started woot woot
Firstly we are going to skip right past anything and head towards Viridian, so we can run into this Aide.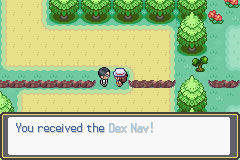 Now lets get this party started.
This is what the Dexnav looks like. It is very helpful for grinding as well as finding pokemon with whatever combination of egg moves/IVS/abilities you want. Our first pick is a Starly on Route 22.
Pretty decent starly, albiet with shit speed. I didnt know how shit until later in this update. It has Fury Attack as an egg move.
Next on our list is a Rockruff, who is the first pokemon that will most definitely appear on our endgame team! We hunt and catch one, and-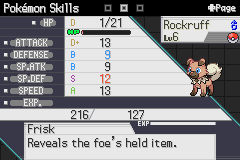 oh dear lord jesus in heaven no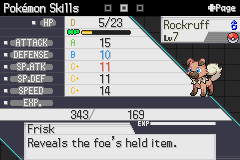 One save reset later, we get one with some actual attack. Im not happy with this one, so we will probably backtrack and replace it later on, but for now, it will do. It comes with Sucker Punch as an egg move.
With its Rock typing, Rockruff is very easy to train on Route 22, where you can just dexnav normal/flying Pokemon whose attacks you can easily shrug off. Great pick for the early game.
After some grinding, our team looks like this, and we are ready to head onwards to Viridian Forest!
The forest itself is not at all threatening or notable, Starly wipes out all the trainers with ease, but theres a trainer battle ne-
O
This could be useful.
I catch it and it has shit IVs, so I reset and kill it.
Anyways, theres a-
Seriously?
This one is pretty good, actually, but it has a -speed nature, and the only reason I would consider a Chu is to outspeed Misty, so nah. Reset and kill.
ANYWAYS
Theres a trainer battle at the end of the Forest, and I swap out Starly and Bulbasaur for it.
I hated you in Emerald. Can you redeem yourself?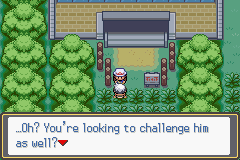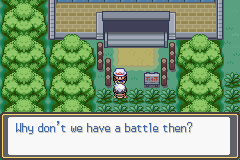 BRING IT ON
He has a Corphish and a Treeko.
Corphish is easy, goes down to a single Vine Whip. I Growl Twice on Treeko for good measure before switching to Starly.
Who takes a Quick Attack and knocks it out with a single Wing Attack. Damn.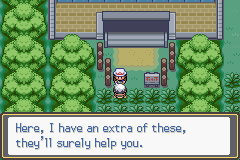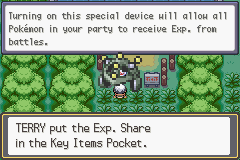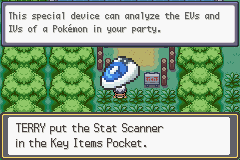 OH BRENDAN CAN MOST CERTAINLY REDEEM HIMSELF IN THIS GAME
These are *monumental*.
EXP Share is the Gen 6 onwards EXP Share, where it distributes amongst all pokes in your party. We are keeping this on for the rest of the game.
AND THEN THE STAT SCANNER!
Gives you exactly your IVs and EVs of the Pokemon you scan, and it is the most useful key item in this goddamn game.
We quickly scan our party members.
Bulbasaur. Pretty average all across, makes me glad we are dumping it.
Rockruff. Loving the Attack, but the Speed is so short Im definitely going to replace him soon.
Starly. And HOLY shit 1 Speed. Babe. Honey. Princess. Why.
I dont replace either of them at this point, I'll save that for next update.
Anyways we make it to Pewter. Lets go check on the gym an-
Oh. Right. Id forgotten about that.
Before we can fight Brock, we have to go to the museum and fight Falkner. There is no way in hell we are ready for that fight with our current team, so lets go to Route 2 and catch something that is.
MINE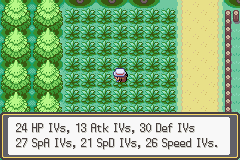 Hoooly fuck thats a good Mareep.
Wont keep it on the team for long in any case, but thats still a very good Mareep.
We grind it against Poochyena until it learns Thundershock, and now we are ready to start looking for a permanent member of our Rain Team on here. Also Bulba gets Sleep Powder.
Wingull is not only great grinding for Mareep, but great because we do need a Pelipper for our Rain Team, obviously. We catch this one and...
Lord Krishna in the sky help me
It is female, atleast, so its useful for breeding.
OR NOT BECAUSE THIS IS THE MALE I CATCH!
Before remembering that Pelipper overwrites Hydration with Drizzle, not Rain Dish. Fuck.
Oh well.
We can always just look for one with Hydration.
Dear God, Im sorry I liked that video of my best friend from 7th grade where he flipped off the religious texts section in the library. I am no longer an athiest, I know you are real and I believe.
Anyways, perfect Wingull done with (we dont even really need to breed), we are ready to fight Falkner!
Shame
BRING IT ON!
My first playthrough, my strategy was convoluted and involved a Houndoor for some reason. This will be much easier.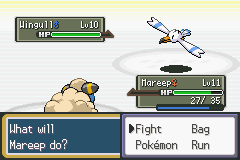 Mareep handily deals with all three Pokemon with ease. I had my doubts about Corvsquire,
But it manages him with 3 HP to spare. If Mareep had gone down in the middle of Corv, I would have used Rockruff and spammed Bite and Sucker Punch to deal with it, since its only attacking move is Aerial Ace, afaik.
WOOHOO!
Starly replaces Growl and Wingull gets it as a fourth move.
Anyways, the gym is now open, so onto Brock.
The trainer before Brock gives enough EXP to get Starly to Staravia. Not really any point, since we'll be replacing it, but nice to know nevertheless.
AND NOW ONTO BROCK!
Its a pretty easy fight, all things considered. If you cant watch the video, heres a breakdown:
Bulbasaur puts Geodude-A to sleep and kills it with 3 Vine Whips while it sleeps. Brock sends out Vulpix, and we take a Will-o-Wisp as we send out Wingull to deal with it. Thankfully, this isnt a Drought Vulpix, as that would just kill our strat of tanking embers while using Water Gun. Eventually Vulpix dies, and Onix comes out. We sack Wingull to send out Bulbasaur, who takes a Bulldoze as he puts Onix to sleep. 2 Vine Whips and 1 Bulldoze later, the badge is ours. We get Rock Tomb for our trouble.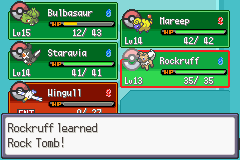 Which Rockruff immediately learns over Leer.
Thats all for this update! Probably gonna have another one up soon.
Thanks for reading, everyone! Hope to have another update soon. Please nickname my Pokemon before I name my Bulbasaur weed, please, god, Im begging you.
Also, suggest nicks for these upcoming Pokemon (possibly):
Machop
Noibat
Vulpix
Bellsprout
Tympole
Smoochum
Petilil
Shroomish