​
Welcome to my 3rd Doubles RMT and my first since the forums got a facelift! Recently we started discussing Trends in the current doubles metagame. Another common discussion is the poor state of the Doubles Ladder up until you're facing someone with a 1900+ Ranking. But even a few of those teams/players are really not all that great. It's not until you start playing with regulars in IRC that you start to see what's actually good in the metagame, and what meshes well with what. Unfortunately, most people who play Doubles don't ever login to IRC, and the ladder shows this. Thankfully, Charizard is going down slowly in usage, but it is still very high compared to things like Latias or Deoxys-Attack Forme, which is just seriously wrong. Therefore, I decided to come up with a team that was, as the Title states, the "Who's Who of Doubles".​
​
Now, the best part about this team is that you can adjust the movesets and EVs/Natures to fit your own playstyle. I'm going to provide my own (mostly) custom spreads here as they fit my style of play, and it works well, so feel free to borrow it if you're new to the metagame and learn what works so when you build your own teams, they don't look like...​
​
​
​
And instead, look more like the following!​
​
Team At A Glance​
​
Teambuilding Process:​
​
​
The process of making the initial team wasn't long, hard, or arduous in the slightest, believe it or not. I literally just looked at usage statistics for a pair of mons that worked really well together that were high on the 1850 stats, but much lower on the regular usage stats. I saw Hitmontop right away and Thundurus-Incarnate as well, and having used them as a very successful lead pair in the past, decided to base my team around that.​
​
Next, I decided to use Tyranitar. This decision wasn't too hard either. TTar is #1 on the 1850 stats, and #3 on regular, making it a good choice for beginners and experts. It also has the benefit of helping to check Swift Swim teams, and a slow TTar is a great check to a lot of Trick Room teams, who are usually pretty weak to TTar's Crunch. Sand is also a great weather in general, able to turn those pesky 1% HP mons into KOs.​
Next, I needed something to take care of Fighting types that threatened TTar. Cresselia is such a big name in Doubles, I just had to toss it in there. It has Psychic/Psyshock, access to a veritable arsenal of support moves, and has such huge bulk that most teams can't even kill it with 2 single-target Super Effective moves in one turn, making it a huge support threat.​
Next, I wanted to use Excadrill, as it is one of the biggest threats in Doubles, and I'm already using TTar, so why not? Excadrill gives me a way to sweep through teams, and with a Flying type and 1 Levitate mon already, Spamming EQ isn't too hard. It also gave me my second heavy hitter on the physical side (not counting Hitmontop), so I decided for the last mon, I'd want a second Special Attacker, as Dual Intimidate cores of Top/Lando-T are a pain to deal with.​
Enter Rotom-W, one of 2 choices I had in this slot, the other being Gastrodon. While Gastrodon has Water immunity and is a good choice in Sand, I went for Rotom, as its unique typing and high Special attack, coupled with amazing coverage options and fantastic bulk. I'm not solid on it though, so this may change if I find Gastrodon a better fit.​
After some testing and the comments below, I've decided Gastrodon makes a better fit for the team than Rotom-W. It gives me a Water/Electric immunity, and doesn't add any new weaknesses It also massively stops Rain teams, and Gastrodon is super bulky naturally, plus it gets more and more powerful as the opponent uses Water moves.​
​
~~~~~~~~~~~~~~~~~~~~~~~~~~~~~~~~~~~~~~~~~~~~~~~~~~~~~~~~~~~~~~~~~~~~~~~~~~~~~~~~~~~~~~~~~~~~~~~~~~~~~~~~~~~~~~~~~~~~~~~~~~~~~~~~~~~~~~~~~~~~~~~~~~~~~~~~~~~~~~~~~~~~~~~~~~~~~~~~~~~~~~~~~~~~~~~~~~~​
​
​
​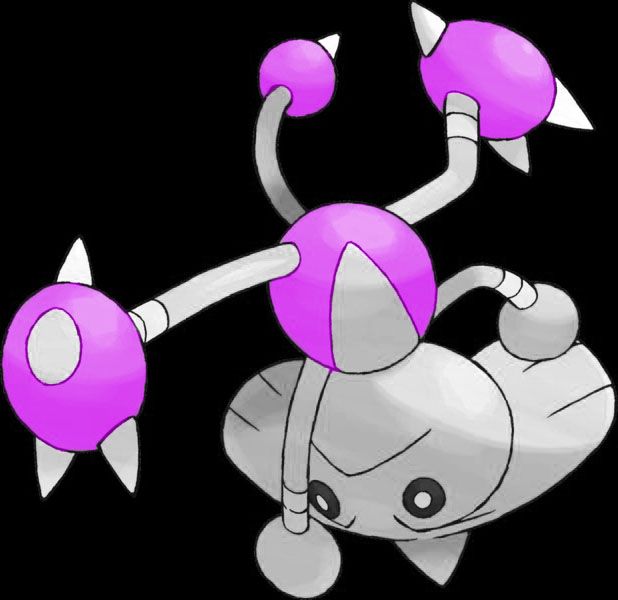 ​
Shocktop (Hitmontop) @ Fighting Gem​
Trait: Intimidate​
Shiny: Yes​
EVs: 252 Atk / 216 HP / 40 Spd​
Adamant Nature​
- Close Combat​
- Fake Out​
- Feint​
- Sucker Punch​
​
Hitmontop is easily one of the most common sights on teams today, especially in the upper tiers. The combination of Fake Out, Intimidate, and a very strong Close Combat nuke make Hitmontop a very solid option for almost any team.​
​
While Hitmontop has a highly extensive movepool, I chose a more offensive set to add offensive pressure to my team. However, it would be just as easy to run other options, such as Wide Guard to block Rock Slide/EQ Spam, or even Helping Hand to give another team mate a little extra Oomph to their attack, especially a spread move, like TTar's Rock Slide, or Excadrill's Earthquake. On this particular set, I made it more of an Offensive Disruptor. Fake Out and Feint on the same set let me play head games with players, as some players like to Double Protect when they see Hitmontop come out, or if they are on their last percentages of HP, Hitmontop can secure the KO. This can be especially useful against things that draw a lot of expected Focus Fire, like Breloom, weakened Scizor, or any predicted Protect. It's also useful against predicted Wide Guards from opposing Hitmontop. Sucker Punch is a fantastic option just in case you know your opponent is going to go for the kill that turn, and gets out that last little parting shot, sometimes even killing a faster threat. Finally, Fighting Gem CC is one of the measures most people use when EVing for bulk, as surviving it can be tough, but manageable. However, when used correctly, it will kill things. Even Chople Berry TTar needs at least Intimidate support to survive a Fighting Gem CC.​
​
The EV spread is pretty straight forward. With 216 HP EVs, you will dodge the 2HKO from 4 SpAtk Cresselia's Psyshock about half the time. 252 Atk and a positive nature give Hitmontop a lot of power for hitting hard. The rest of the EVs are put into speed, as several players have begun putting more and more speed creep into Hitmontop to get the faster Fake Out. Speeds up to 20-24 EVs are getting more and more common, so a good, solid 40 will prevent all but a few Speed Freaks from getting off the first Fake Out.​
​
Hitmontop's role on this team is to provide Stat lowering support from Intimidate, as well as to Disrupt the opponent's strategy with Fake Out, or prevent Guard moves with Feint. It can even take out a faster mon first with Sucker Punch, adding to the chaos it creates. Close Combat is a solid STAB attack meant to soften things up for later in the match, or to outright kill things that are weak to it, like opposing Tyranitar, Ferrothorn, Excadrill, etc. and is useful when you just want to hit something nice and hard.​
​
​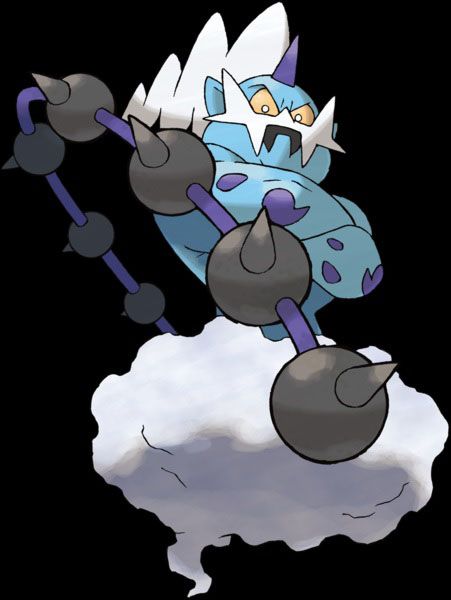 Genie (Thundurus) @ Sitrus Berry​
Trait: Prankster​
EVs: 20 Spd / 252 HP / 40 SAtk / 196 SDef​
Calm Nature​
- Thunder Wave​
- Taunt​
- Thunderbolt​
- Hidden Power [Ice]​
​
Thundurus-Incarnate is one of the most annoying/useful mons in the current Doubles metagame. Prankster Taunt and Thunder Wave stop a ton of strategies, from Trick Room to Tailwind to Weather Sweepers. It also has a lot of natural power and a great typing, making it easy to splash onto almost any team that needs a bit of its handy Disruption abilities.​
​
The moveset here is pretty standard for Bulky Thundurus. Taunt and Thunder Wave are great for messing up opponents. Taunt stops Trick Room cold, as well as Breloom's Spore, Tailwind, and other Bulky Thundurus as well as things like Sableye. Thunderwave stops Shell Smash Cloyster, Volcarona, and every Weather Sweeper not named Excadrill. Thunderbolt and HP Ice for BoltBeam coverage, which is only resisted by a few things period. Other options could be HP Flying to hit Breloom much harder, Thunder as an added Rain Check, Grass Knot for hitting Gastrodon harder, Focus Blast for Excadrill, or even Substitute to give myself protection from Status or Sucker Punch.​
​
The EVs are to give Thundurus a ton of bulk to stick around and Paralyze as many things as possible, giving me speed control of the match. With the given EV spread, Thundurus outspeeds all Base 70's and below (Breloom, Politoed, Cloyster) and with Prankster, can stop things even under Trick Room with Priority. While I could have gone with a much faster, more powerful spread, I feel Bulky Thundurus is a better choice for the goal of this team slot.​
​
The role Thundurus plays is that of Primary Disruptor. TWave and Taunt plus extra bulk and Sitrus Berry means Thundurus will stick around a very long time to cause grief to the other team, either by slowing everything to a crawl, or denying their setup moves. This actually forms a great pair with Hitmontop, because after something gets Taunted, Hitmontop can fire away sucker Punches without fail (assuming the opponent doesn't just switch out of course) and after TWaving a faster opponent, Hitmontop can fire off with a huge Close Combat.​
​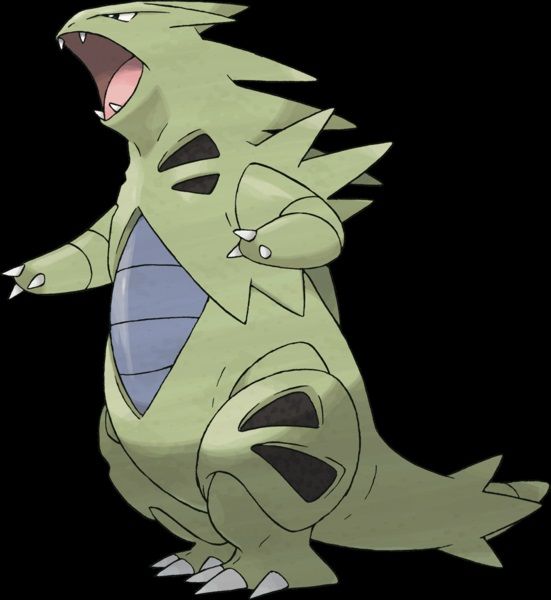 Darude (Tyranitar) (M) @ Chople Berry​
Trait: Sand Stream​
EVs: 160 HP / 252 Atk / 48 Def / 48 SDef​
IVs: 0 Spe​
Brave Nature​
- Crunch​
- Rock Slide​
- Protect​
- Fire Blast​
​
Tyranitar is the second most used Weather Starter in Doubles, and #1 in 1850 Usage stats, and for good reason. With a 134 Base attack and great natural bulk, there's very few things Tyranitar fears, other than Fighting types. It's typing lets it threaten a lot of things currently in high use, like Thundurus, Cresselia, and many Trick Room users. It also has a very large movepool available to it, making it very versatile and unpredictable. In addition, its Sand Stream gives it a 1.5x boost to its Special Bulk.​
​
The moveset I chose capitalizes on two things in particular, Tyranitar's massive attack and its Surprise Factor. Crunch and Rock Slide are standard, one to hit Cresselia super hard or to threaten it out, the other is a great Spread move that hits many things hard. Protect is there because it's one of the best moves in Doubles, easing prediction a bit, and even sometimes wasting an opponent's turn. It also has the added benefit, on this team, of adding a bit more passive damage from Sandstorm, sometimes enough to guarantee a kill, or just ensure it dies 1 turn faster. Fire blast is the odd man out on this set, but has good reason for being there. Fire Blast can and will OHKO Genesect, Scizor (248 HP/8 SpDef), massively dent Ferrothorn and Bisharp, surprise Abomasnow, and is a great fall back option if you find yourself hit with a good bit of Intimidate spam.​
​
The EVs here are a variation of a custom set I crafted (with some help) for another team of mine. With the added bulk and some Intimidate help from Hitmontop, Tyranitar can live exactly one Fighting Gem Close Combat from opposing Hitmontop. Originally, there was some speed investment to outspeed Latios after Tailwind, however without such support on this team, the EVs have been reinvested back into bulk to help tank hits better, or at least live long enough to hit at all. A Brave Nature and 0 Speed IVs give it a super low 114 total speed, which helps when Trick Room is in play, as it's slow speed becomes a great asset against "slower" Trick Room mons, like Cresselia for instance. Overall, the EVs are designed to tank a couple hits before going down, all while dishing out some big damage.​
​
TTar's role on this team is to first and foremost, set up Sand to mess with other weather types. secondly, it's there as a check to Cresselia. Lastly, its job is to kill things indiscriminately, so long as it's still alive long enough to do its first two jobs. As long as Sand stays up, I can pick off the opposing team, however, I don't switch in TTar JUST to get sand up. In Doubles, a team should work no matter what the field condition is. However, the current ladder doesn't seem to believe this because for some reason, most players with weather try and set it up no matter what, even if a switch at that moment would let me bring something more threatening in for free, but that's not a discussion for now.​
​
DuckWall (Cresselia) @ Sitrus Berry​
Trait: Levitate​
Shiny: Yes​
EVs: 252 HP / 252 Def / 4 SAtk​
Bold Nature​
- Psyshock​
- Helping Hand​
- Light Screen​
- Icy Wind​
​
The Great Wall of Cresselia. this thing is so bulky and hard to kill, every single team has a dedicated Cress counter, or two. Cresselia is one of the most centralizing forces in the Doubles metagame, and for good reason. It's massive bulk, coupled with a vast arsenal of support moves make it, by far and away, the ultimate support mon.​
​
The moveset on Cresselia is always very tricky and will usually be tailored to fit each specific team it is on. In this case, I went with a Dual Attacking set, because getting Taunted is a very real threat with Cress. Psyshock over Psychic because it hits the Defensive side, rather than the Special side of things, which is surprisingly useful. Helping Hand lets me give things like TTar and Excadrill a boost before they hammer away with spread moves, or just give another mon a super powered single target nuke. Light Screen was picked because I wanted a way to help pad my team against Special threats a bit more, especially Rain threats. Icy wind is a funny move here. Most people will wonder about its placement over TWave as an option, considering I already have one TWave spammer, so why not a second one? The answer has a few reasons, the first being that getting locked into one single attack after being Taunted is an awful thing in Doubles, and Psychic is definitely not the best typing to get locked into with TTar, Heatran and Bisharp running rampant. The next reason is opposing Excadrill. TWave has as much use against Excadrill as spitting on a bonfire. At least Icy Wind hits neutrally and can give me a bit of breathing room.​
​
The EVs are very simple here. Max Defense chosen over a Def/SpDef split due to Light Screen and the fact that Tyranitar and Bisharp exist. Not much thought was put into these because it is really just a bulky wall of a thing. You could give a bit more Special Attack or even Speed creep over other Cresselia, but unless you really have a need for it, maximizing its bulk is usually the best thing to do.​
​
Cresselia's main role is ease the Special Attacks coming my way, to act as a pivot for Fighting weak mons on my team, to slow things down a bit with Icy Wind, and to make moves more powerful, supporting a faster sweep. Also, it acts as a hate magnet. People see Cress and usually try and kill it ASAP.​
​
Blitzkreig (Excadrill) (M) @ Life Orb​
Trait: Sand Rush​
EVs: 204 Spd / 252 Atk / 52 HP​
Adamant Nature​
- Earthquake​
- X-Scissor​
- Rock Slide​
- Protect​
​
Excadrill is a huge threat and if Sand is up, can almost always give you the win condition. It has a huge base attack, and with Sand Rush, it will outspeed a ton of things and KO with its massive power.​
​
Excadrill's moveset is pretty much EQ/RS/Protect/Filler. Although it's pretty standard, it's a standard set for a reason. With just 2 moves (both of them spread moves as well) it hits most of the metagame for at least neutral damage. With X-Scissor, not only do I have a second big answer to Cresselia, I also get perfect neutral coverage that I won't get with something like Iron Head (misses out on Bronzong). A bonus here with fast Rock Slide is the added Flinch chance, which can be huge, especially with that big 30% chance. Earthquake can be tricky to use, as it will hit your team mate as well if it doesn't have Levitate or is part Flying type, or if you use Protect that turn. Thankfully, I have 2 Levitate mons and 1 Flying type, plus, both of my Grounded mons have Protect.​
​
The EVs are straight forward, but may confuse some people. Why not just go for max attack/max speed? Why not Jolly? Adamant Excadrill is scary enough, and with a Life Orb, it's even scarier. The HP EVs here allow you to dodge the KO from Sash Jolly Breloom, and Adamant only has a 25% chance of a OHKO. The speed EVs allow you to outspeed Timid Scarf Latios, although you could move 12 Speed EVs over to HP to still outspeed Jolly Scarf Terrakion.​
​
Excadrill's role on this team is to sweep the opponent's team after TTar, Top, Thundy, and Rotom have had their way with it. It's a late game cleaner to the extreme, but can function mid game as a wall breaker, should you need to take out Cress.​
​
Gary (Gastrodon) (F) @ Sitrus Berry​
Trait: Storm Drain​
EVs: 252 HP / 156 SAtk / 100 SDef​
Modest Nature​
- Muddy Water​
- Icy Wind​
- Earth Power​
- Protect​
​
Gastrodon is a huge threat to every Rain team that doesn't run Ludicolo or some other Grass type on their team. It completely walls powerful water types and laughs at Electric spam, all while tanking strong neutral hits. It also thrives in Sand, where its dual typing allows it to not take passive Sand damage, and is commonly seen in the role it fills on this team, as a Rain Check. It's currently sitting at #9 on the regular usage stats board, and for good reason.​
​
The moveset here is one of Support Offense. Muddy Water is a fun move in Doubles. It's got the same power level as Surf, with a bit less Accuracy, however, it doesn't hit your team mate (Super important) and it has a 30% chance to lower your opponent's Accuracy by 1 stage. This can be huge when you're trying to give yourself a bit of breathing room with Kingdra breathing down your neck. Gastrodon is also my second Icy Wind abuser, giving me extra speed control versus things like Excadrill. Earth Power is my secondary STAB and works wonders against a ton of things, from TTar and Bisharp, to Heatran, and even Ninetales bringing in Sun to try and weaken Water types. Protect is there over Recover because sometimes you just want to use Gastrodon's luring capabilities, although the lack of Recovery on Gastrodon can be detrimental to its longevity. Still, most Gastrodons run Recover vs Protect (70% vs 16%), so you have a good chance of surprise factor.​
​
The EVs here are from Lagalag4's suggestion below. With Rindo berry, Gastro survives Max SpAtk Ludicolo's Giga Drain, while also living through Timid Latios' Gem Draco Meteor. the rest of the EVs are dumped into Special Attack and given a boost from Modest Nature. after absorbing a water attack and getting a Storm Drain boost, you start to deal some serious damage, even with Gastro's subpar SpAtk stat.​
​
Gastrodon's role on this team is as a major check to Rain teams. Spamming powerful Surfs/Hydro Pumps or just annoying Scalds is now that much harder just by having Gastrodon in the back. Mind games are always a great way to beat opponents or to lure them into a state of panic. It's secondary role is an Offensive Support mon, letting me slow things down, blind them partially (worth it when Thundurus Misses a Taunt or TWave), and just generally be a hard to kill nuisance.​
​
Suggested Pairings and Synergies​
​
Coming Soon!​
​
​
Closing Remarks​
​
Overall, this is the most generic team I could think of that actually works. It's designed to let anyone jump right into the Doubles metagame without too much prior knowledge and still do pretty well. It's also a solid team that someone with experience can easily take and make their own. If you like it, give it a try, I just ask that you keep the same nicknames. Rates, Luvdiscs, etc are also appreciated, especially on that Rotom set.​
​
​
Importable​
​
Shocktop (Hitmontop) @ Fighting Gem
​
EVs: 252 Atk / 216 HP / 40 Spd
​
​
Genie (Thundurus) @ Sitrus Berry
​
EVs: 20 Spd / 252 HP / 40 SAtk / 196 SDef
​
​
Darude (Tyranitar) (M) @ Chople Berry
​
EVs: 252 Atk / 160 HP / 48 Def / 48 SDef
​
​
DuckWall (Cresselia) @ Sitrus Berry
​
EVs: 252 HP / 252 Def / 4 SAtk
​
​
Blitzkreig (Excadrill) (M) @ Life Orb
​
EVs:
204 Spd / 252 Atk / 52 HP
​
​
Gary (Gastrodon) (F) @ Sitrus Berry
​
EVs: 252 HP / 156 SAtk / 100 SDef
​