I don't actually think it's the worst, and I actually like it, but I want to take a step back and analyze how Hitmonchan has been done dirty from birth.

First, its design. It's, other than Mr. Mime, probably the closest to full on humanoid in Gen 1 and still a disturbingly sterling example of humanoid mons over the years. Even Hitmonlee is a little less humanoid with its rounded head; Hitmonchan might have a ridged head, but it wears clothing.

Then, moveset and stats. Hitmonchan is clearly designed as a boxer, so it's slower and a little tankier than Hitmonlee, never a good sign. But it's a boxer, so the elemental punches make sense. Right? Right??! Well, have fun using them with its "sterling" 35 Special. Without it, it's limited to the usual Normal and Fighting moves of Gen 1, and it loses out bad to Hitmonlee, who gets access to moves like Double Kick, Jump Kick and High Jump Kick. Hitmonchan is stuck with Submission, which is all around worse than any of those three moves.

So Gen 2 has to save it with the special stat split, right? HAH! Hitmonchan and Hitmonlee both get access to a weirdly high 110 Special Defense and keep their godawful 35 Special Attack. Makes sense for Hitmonlee; less for Hitmonchan, which could've had a niche of a special attacking Fighting type. At least it can claim the priority Mach Punch and very strong Dynamicpunch... except Hitmonlee gets access to both Dynamicpunch AND Mind Reader. Oh, and all 3 of the Hitmons can get Mach Punch through egg moves. So that's another nail in the already nailed shut coffin.

Oh, but Gen 3 will save it with abilities, right? Hitmonlee's ability? Limber, meaning it can't get paralyzed. Hitmontop's ability? Intimidate, only one of the best abilities of all time. Hitmonchan? Keen Eye. Can't have accuracy lowered. Uh huh. At least it gets Sky Uppercut... except High Jump Kick is just as powerful and just as accurate and coming off a stronger attack stat.

Finally, Gen 4 rolls around, and finally, finally, Hitmonchan is sitting pretty. Iron Fist gives a boost to punching moves including the new Bullet Punch, the physical/special split means it can finally use the elemental punches like Arceus intended AND it gets Drain Punch and access to recovery. Smooth sailing now, right? Except even with Iron Fist 75 base power has long since lost its relevancy and Drain Punch is only 60 base power and has only 5 power points. Oh and Hitmonlee gets access to Reckless, boosting its High Jump Kick even further than the 100 base power it already has, Close Combat makes almost any other Fighting move pointless and Hitmontop gets access to Technician to boost itself as well.

Hitmonchan hasn't sniffed above RarelyUsed in its entire life, and that was effectively a meme. It's not Little Mac. It's not even Soda Popinski. It's Glass Joe. Someone throw in the damn towel.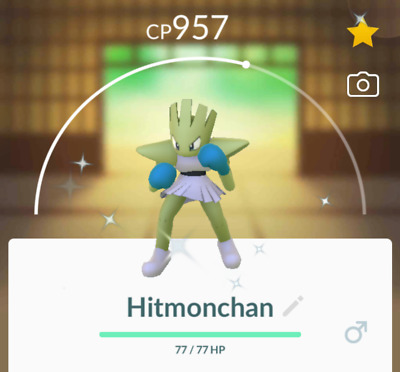 Hitmonchan does have one saving grace though:
Pokémon GO
. It's actually viable in the Great and Ultra League metagames due to how great Power-Up Punch is in PvP. You could arguably say that Hitmonchan is the
best hitmon in Pokémon GO
since Hitmontop and Hitmonlee are stuck with Close Combat as their best STAB, which is an awful move in Pokémon GO (ironic, right?). Hitmontop (bulkier) and Hitmonlee (higher Attack) actually have better stats, but movepools matter A LOT in Pokémon GO so Hitmonchan wins here! Overall, it's still not that great in Pokémon GO since Machamp, one of the best and most popular in this game, outclasses it, but getting a win over its brothers counts.