Smogon's full of bullies.


✮(Dr)Reuniclus Bulky Offense✮
​
Hi this is my first uu RMT and RMT in general! It has been a little over a year since I've joined smogon and the pokemon showdown community as well, so I thought that I might as well do an RMT of one of my "most recent" teams I've made, which was about 2/3 months ago. Its not really that innovative with dank meme sets since I really just made it for my r1 in the uu open before I dropped out because of school, but I like it and it has been successful for me in other matches, so I guess I'm putting it up. It originally peaked at 3 then I left for a few days and got back to 5 so here's this picture. Also for all of you wondering, no this doesn't mean I'm back for smogon, I should still be focusing on not failing college. Also, don't be too mean on this rmt, I'm new. :)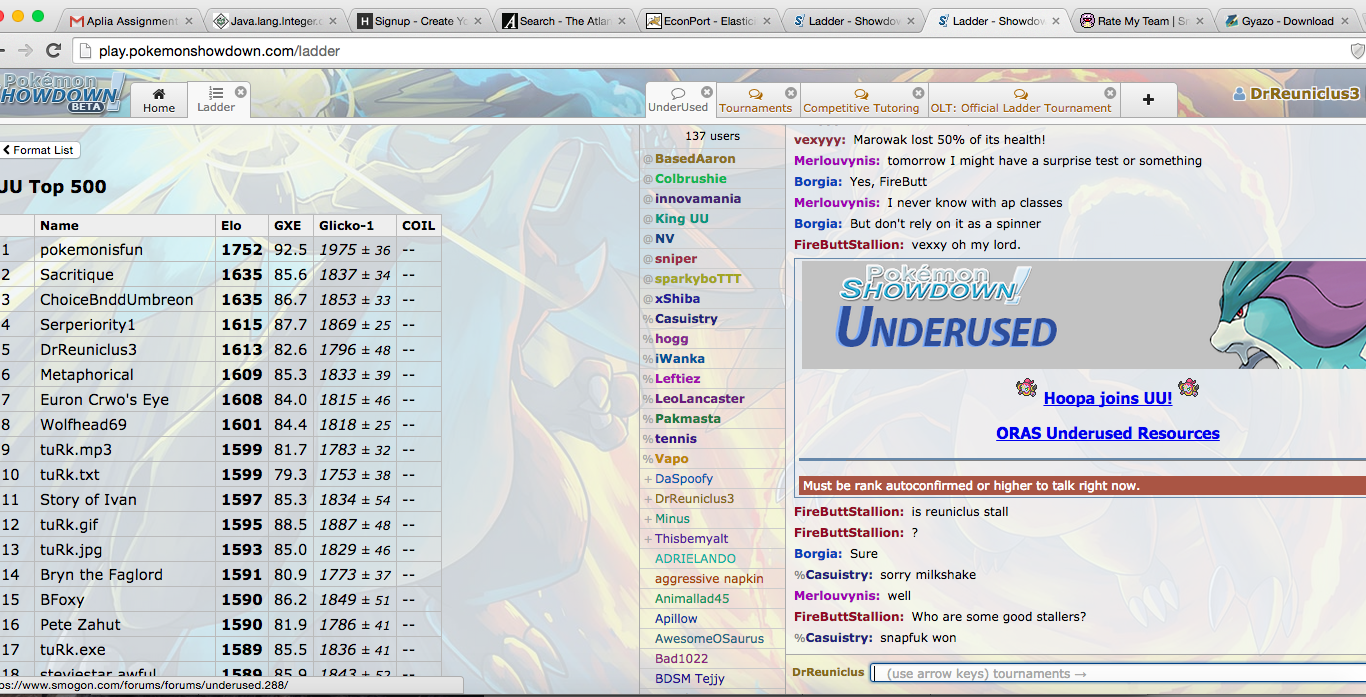 I started out with the mega I wanted to build around, blastoise, as I honestly loved this thing to death in my balance cores back during xy and used him on some of my best teams back then and considering all the teams that use hazard stack in uu currently, a spinner isn't that bad to have.
I wanted some kind of grass switch in that could still keep offensive momentum with the right prediction and I also wanted something that could get a free switch if a florges goes it, so I thought entei would make a great choice for this, especially since blastoise is able to keep down rocks for it to not take hazard damage when it comes in.
To complete my fire water grass core, I chose shaymin, one of my favorite grass types. I preferred it over things like roserade and chesnaught due to the fact that it can still keep offensive momentum while also providing support to my two other pokemon by healing them with healing wish as I didn't plan on having a dedicated cleric on the team and both of these other pokemon get warn down easily. Also, its so much cuter than any of the other choices that I couldn't switch it.
I decided that I should have something to stop fighting spam, help beat stall and generally tank some hits, so what other than everyone's favorite uu pokemon, reuniclus! I also decided to provide reuniclus with a
"secret weapon"
that catches a lot of people off guard as their reuniclus check is dead, while reuniclus still has a decent amount of health.
I then decided I wanted something to tank hydreigon, general dark moves and predicted u-turns from mega beedrill and other momentum grabbers, so I decided why not cobalion, especially since I hadn't put something with rocks on the team yet. I also chose cobalion as it can help handle things like porygon2 and snorlax, while still outspeed lucario, krookodile, etc.
I ended up thinking originally that reuniclus wasn't going to cut it for a fighting type resist so I added doublade to help with the fighting types and such, but I found chandelure to be a real burden for the team after that so I switched it to...
Hydreigon as this helps complete basically a dual core team that functions really well with one another. Hydreigon is a switch in to a multitude of elemental attacks, especially when I'm not 100% sure what type the opponent will go for, and psychic type attacks. It also deals with bulky psychic types generally, such as slowking and reuniclus "relatively" well.
✮Dank Sets n' Memes✮
Blastoise @ Blastoisinite
Ability: Rain Dish
EVs: 252 HP / 252 SpA / 4 Spe
Modest Nature
- Rapid Spin
- Scald
- Dark Pulse
- Ice Beam
Its basically just the common blastoise set nothing really that unique here. Its main job is to keep all the hazards off the field with rapid spin. I choose scald over hydro pump and water pulse because who wouldn't use scald, free burns, lol! Dark pulse helps with allowing me to have more coverage and hit almost anything in the metagame neutral and it helps deal with reuniclus and slowking before they have set up respectively. Ice beam helps so much more than most people think it does over aura sphere, as it allows me to hit things from grass types who get cocky and think they can set up spikes on a switch out and dragons including hydreigon and salamence as blastoise from full has a chance to live basically anything they can throw at it aside from like a +1 outrage from mence and do major damage, or kill in mence's case. The speed is to outspeed things such as machamp, gligar and other mid speed mons who can otherwise confuse blastoise before he can attack or get up rocks respectively.
Entei @ Choice Band
Ability: Pressure
EVs: 252 Atk / 4 Def / 252 Spe
Adamant Nature
- Sacred Fire
- Flare Blitz

- Extreme Speed
- Stone Edge
Entei is also just the common set, with sacred fire being the most common and spammable moves as, again, who doesn't like burns? Flare Blitz is for when sacred fire's pp runs low due to pressure or just it being wasted on protects and it is for those times when you need a little extra damage so you can be able too 2hko the opponent, which happens more often than not (It also has the perk that it doesn't miss!). Extreme Speed is
extremely useful
really good as it helps revenge kill off weakened pokemon especially when hydreigon can't do it himself. Finally, there is Stone Edge, which helps to hit chandelure on the switch and it also crits stuff which is all you need in pokemon.
Shaymin @ Life Orb
Ability: Natural Cure
EVs: 252 SpA / 4 SpD / 252 Spe
Timid Nature
- Seed Flare
- Dazzling Gleam
- Earth Power
- Healing Wish
​
Shaymin's set consists of the common life orb and seed flare, which allow it take down most bulky waters, however I decided to forgo the psychic/air slash coverage slot to fit both a dazzling gleam and earth power coverage combination, which I feel allows shaymin to hit more things easier compared to using either psychic or air slash. Sure, you might be thinking that you are missing out on hitting roserade/crobat, but being able to hit fire types and steels with earth power and dragons with dazzling gleam really narrows down what can switch into shaymin and allows you to make much easier doubles when your opponent does have a switch in such as the two mentioned earlier and you can always just hit crobat with earth power on a roost. Finally, shaymin has healing wish, which is fairly useful for this team considering I don't really have a cleric and often blastoise can get worn down from switching in due to hazard damage, and also saving something late game with healing wish can be game changing.
Reuniclus @ Colbur Berry
Ability: Magic Guard
EVs: 252 HP / 252 Def / 4 SpA
Bold Nature
IVs: 0 Atk
- Calm Mind

- Psyshock

- Focus Blast
- Recover
​
Reuniclus has recently finally gotten the love it has deserved in oras, being one of the dankest mons to ever grace uu. This is mostly a standard reuniclus set, which is very good in the current meta already, however; what puts this specific reuniclus over the top is the colbur berry. This colbur berry allows reuniclus to basically become a check to many of the mons that cause trouble for it, including hydreigon, krookodile and even sharpedo as it can tank any dark move they throw at it and (hopefully) hit a focus blast. It also alleviates a lot of the pressure on fighting types if they are going to hit knock off as the berry will soften the damage for a mis-predict. Also, the 0 attack IVs are in case of foul play. I really would say that this reuniclus set is the crux of the team and has gotten many useful kills off of unprepared opponents.
Cobalion @ Leftovers
Ability: Justified
EVs: 4 HP / 252 Atk / 252 Spe
Jolly Nature
- Stealth Rock

- Close Combat
- Stone Edge
- Iron Head
​
Cobalion is my hazard setter for the team and also works as a nice pivot when facing dark moves. He also takes on normal types such as porygon2 and snorlax very well. His moveset consists of the common close combat and iron head, which feature as nice stabs, however, instead of running volt switch as a possible pivot move, I am running stone edge, as it is a very reliable coverage move. It allows cobalion to hit common switchins including chandelure, crobat, salamence and many other fire and flying types and surprise them as most don't expect cobalion to be running this move on three attacks with rocks. I choose lefties over a shuca berry mostly because I enjoy the recovery that it brings back, over what I feel shuca could give me.
​
Hydreigon @ Choice Scarf
Ability: Levitate
EVs: 252 SpA / 4 SpD / 252 Spe
Timid Nature
- Draco Meteor
- Dark Pulse

- Fire Blast

- U-turn
​
Hydreigon is my revenge killer for the team. It runs its common choice scarf set with the standard maximum spa and speed. Draco hits anything hard that doesn't resist it and even most things that do. Dark pulse flinches stuff, which is nice, but it is also a very nice stab to have on the team. Fire blast allows for hydreigon to hit things that normally switch into it including whimsicott and cobalion. Finally u-turn keeps momentum on basically anything that hydreigon cannot normally touch anyways like florges and blissey.
Heracross is probably the number 1 threat to this team as if you are switched into either blastoise or locked into something with hydreigon you are playing a game of 50/50s with this thing by either switching into reuniclus or cobalion and even then,especially if it is not choiced, you can still be in a world of trouble
Slowking is a great pivot vs both of the teams physical attackers, so if it manages to get up enough CMs it can be pretty hard to take down.
Nasty Plot Infernape can decimate this team if you allow it to get set up, especially after entei goes down so you can't extreme speed it and it has vaccum wave to take out hydreigon.
Dragon Dance Salamence outspeeds choice scarf hydreigon so allowing it to get to +1 ESPECIALLY after cobalion goes down is not acceptable. Even if cobalion is still up and it gets locked into an outrage, you are expecting a stone edge to hit, and that doesn't happen often.
Lol, surprisingly a well played galvantula just destroys this team. Good thing there aren't many well played galvantulas.
Last edited: