The Alolan Pokémon We Wanted... But Never Got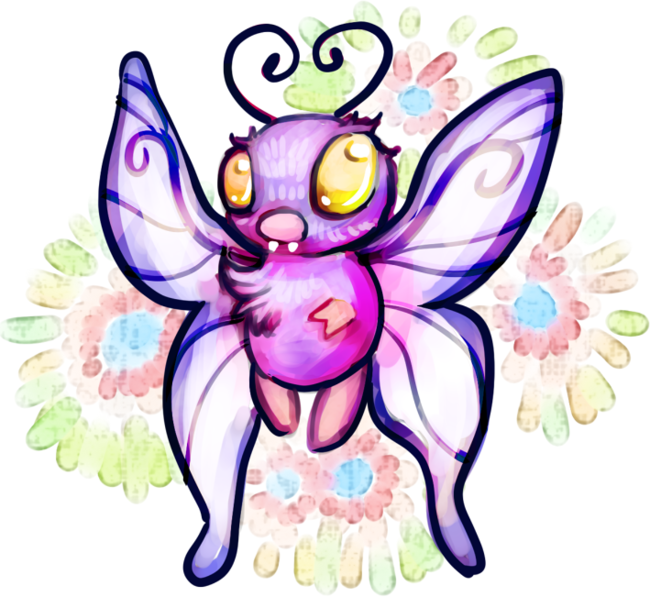 Art by LifeisDANK.
Introduction
I can't be the only one who was heartbroken when Game Freak announced there would be no new Alolan formes in USM, can I? ORAS brought with it a ton of new Megas on top of the completely revamped Hoenn map and the usual move tutors. And USM brought us... very little in comparison, not that the new narrative and Ultra Beasts weren't cool. There was room for more Alolan Pokémon is what I'm saying.
And I can't be the only one who imagined what the remaining Alolan Pokémon could have been. Not really just the designs, but what they could have brought to the table competitively. A major factor of the Alolan Pokémon is that they are by and large upgrades competitively speaking of their Kanto counterparts (although you could also argue aesthetically, Long Neck Egg 4lyfe), with the major exception being of course Dugtrio. Journey with me now back to Alola, but this time with our thirst for new formes quenched.
---
Alolan Butterfree
Butterfree - /
-20 Atk, +20 Spe
60/25/50/90/80/90
Tinted Lens
Sample moveset
@ Life Orb
- Quiver Dance
- Sleep Powder
- Bug Buzz
- Psychic
Pokédex entry
US: Given their coloring, the leading scientific theory is that these Butterfree are descendants of shiny Kanto Butterfree.
UM: Mostly nocturnal in Alola to avoid predators, Butterfree are drawn to the light of campfires and city street lamps, where they like to hypnotize other Bug Pokémon.
How is it more competitively relevant?
A +20 boost to Speed is a huge boon to Butterfree that puts it on level with Venomoth and only a point slower than Vivillon, two of the more successful Quiver Dancers in the lower tiers. A retyping to Bug +/ Psychic allows Butterfree to lessen its terrible weakness to Stealth Rock and give it a frightening dual STAB combination that is actually completely unresisted after Tinted Lens save for Shedinja, unlike Venomoth's Bug / Poison typing. Alolan Butterfree still would not be amazing, since a weakness to Pursuit and Knock Off with only a base 50 Defense as protection is nothing to write home about. This means it would realistically be compared with Lilligant or Jynx for a teamslot in PU, or maybe Vivillon in NU. But, with the ability to OHKO or 2HKO everything not named Pyukumuku, Togetic, or Type: Null in PU after Stealth Rock at +1, it would at least be able to give them some competition for a team spot.
---
Alolan Arbok
Arbok - /
-10 SpD, +10 Def
60/95/79/65/69/80
Intimidate
Sample moveset
@ Poisonium Z
- Coil
- Gunk Shot
- Earthquake
- Sucker Punch / Aqua Tail
Pokédex entry
US: They have developed the peculiar hunting habit of chasing Dunsparce through the bedrock and even digging traps for prey to fall into.
UM: Many Trainers traveling Alola have become victims to the traps that Arbok have dug, falling through seemingly safe terrain into the lair below.
How is it more competitively relevant?
The main issue with Arbok over the generations is that, despite the continued buffs to its movepool, its stats are just not quite there. With a boost to its already passable Defense, further bolstered by Intimidate and Coil, and an added Ground typing to give it some much-needed resistances, Alolan Arbok could actually find time to set up and make a name for itself in the lower tiers. An offensive set like the one provided makes full use of Arbok's newfound STAB Earthquake and has very few counters in PU, Weezing being one of the few things able to avoid a 2HKO after Stealth Rock. Unfortunately, the added Ground typing wouldn't be enough to push it out of the lower tiers, and it still would not be bulky enough to make full use of a defensive Coil set like Zygarde, especially down in PU, where Psychic-types run rampant.
---
Alolan Vileplume
Vileplume - /
-10 Spe, +10 Def
75/80/95/110/90/40
Analytic
Sample moveset
@ Life Orb
- Moonblast
- Dark Pulse
- Sleep Powder
- Strength Sap
Pokédex entry
US: Found only in the deepest and darkest parts of the jungle, they have become almost parasitic in nature without access to consistent sunlight.
UM: Crafty and clever, Vileplume watch adventurous Trainers just out of sight in the jungle, waiting for a chance to steal any provisions.
How is it more competitively relevant?
With bulk comparable to Clefable and with almost twice the firepower, Alolan Vileplume would find a place for itself in at least UU or RU. Fairy / Dark is incredible offensive coverage, and with Analytic further boosting Alolan Vileplume's power due to its low Speed, switching into it would be a daunting task. In fact, it OHKOes Volcanion and offensive Scizor after Stealth Rock with Dark Pulse and gets some impressive 2HKOs such as on Porygon2 and Mantine with Moonblast. While it gets outsped easily and would therefore be easily revenge killed, Sleep Powder and Strength Sap would go a long way in being able to keep it around on the battlefield even with the health loss from Life Orb.
Also, because this is a complete retyping, I thought I'd give further justification: this hearkens back to Vileplume's presence on Elite Four Karen's Dark-type team, highlighting its closeness to the moon and darkness, opposite to Bellossom and the sun and light. Fairy typing was chosen to be added due to the presence of Moonblast in its movepool.
---
Alolan Victreebel
Victreebel - /
-10 Atk, +10 SpA
80/95/65/110/70/70
Storm Drain
Sample moveset
@ Choice Specs
- Leaf Storm
- Hydro Pump
- Ice Beam
- Sleep Powder
Pokédex entry
US: In the heavy rains of the jungle, their gourds have become permanently filled with water, drowning smaller creatures unfortunate enough to fall in.
UM: Filled with water, they have become heavy and sluggish. To protect themselves, Victreebel have developed the ability to shoot their water to ward off passersby.
How is it more competitively relevant?
This is a bit debatable, as Kantonian Victreebel is already one of the best Chlorophyll sweepers available and a staple on sun teams in the lower tiers. However, it's pigeonholed into that role, as its frailty and middling Speed mean it has a hard time doing much outside of sun. With a retyping to give Victreebel a couple more useful resistances and an immunity with Storm Drain, Alolan Victreebel would find more opportunities to switch in and deal significant damage to the opposing Pokémon. Its frailty and Speed are still an issue, but now Alolan Victreebel has two super powerful STAB moves that the opponent needs to worry about. After a Storm Drain boost and Stealth Rock, the only thing that can avoid a 2HKO from Choice Specs Alolan Victreebel in PU is Type: Null.
---
Alolan Rapidash
Rapidash - /
-10 SpA, +10 Atk
65/110/70/70/80/105
Drought
Sample moveset
@ Heat Rock / Choice Band /
- Flare Blitz
- High Horsepower
- Morning Sun / Megahorn
- Will-O-Wisp / Wild Charge
Pokédex entry
US: Descendants of a herd of Rapidash and Ponyta that got lost and trapped in the desert, they've developed incredibly strong leg muscles from running on the rough terrain.
UM: Wild and brazen, Rapidash have flames that are so hot they are impossible to saddle and ride. New Trainers are burned frequently.
How is it more competitively relevant?
Drought instantly puts Alolan Rapidash on the viability map as an alternative to Ninetales and Torkoal, but what really sets it apart is its neutrality to Stealth Rock thanks to an added Ground typing. Combine this with access to instant 75%-healing Morning Sun, and even with its relative frailty and reliance on Flare Blitz you can expect Rapidash to stick around for the match. Its power is still nothing compared to Mega Charizard Y, and Ninetales and Torkoal both have powerful setup moves that Rapidash lacks. However, Rapidash could also perform ably as a Choice Band breaker and heavily cut into VoltTurn tactics, all the while finding more opportunities to switch in than its brethren thanks to said Stealth Rock neutrality. All in all, Alolan Rapidash would likely find a place on offensive teams in RU that need a better team player than either Ninetales or Torkoal.
---
Alolan Kingler
Kingler - /
-10 SpA, +10 Def
55/130/125/40/50/75
Sheer Force
Sample moveset
@ Life Orb
- Agility
- Liquidation
- Knock Off
- Iron Head / Swords Dance
Pokédex entry
US: They have developed extremely tough shells to weather the blows they exchange with Crabrawler in competition for territory closest to Berry Trees.
UM: It uses its vice-like pincers to climb Berry Trees and knock off the ripest Berries to the Krabby waiting below.
How is it more competitively relevant?
Quick, what's Kantonian Kingler's biggest downfall? If you said lack of setup opportunities, you're a winner! With an added Steel typing, Alolan Kingler suddenly finds itself having ample setup opportunities it could only dream of before, even being able to weather some special hits it didn't stand a chance against with just its pure Water typing. Iron Head doesn't add much in the way of sweeping potential, since most targets are going to be hit harder by Liquidation or Knock Off, although it does help get decent neutral coverage on Grass- and Dragon-type foes. Like with many on this list, the added typing isn't going to push Alolan Kingler out of the lower tiers, but it does give it some viability for usage in NU and PU at least.
---
Alolan Weezing
or
Weezing - /
-10 Atk, +10 Def
65/80/130/85/70/60
Levitate
Sample moveset
@ Leftovers
- Sludge Bomb
- Pain Split / Toxic Spikes
- Will-O-Wisp
- Parting Shot
Pokédex entry
US: The purifying sea winds of Alola have almost completely aerated this once noxious Pokémon. Gardeners often keep Weezing as pets, as they produce water vapor that keeps plants healthy.
UM: Often found drifting among the clouds around mountains, these peaceful Pokémon will sometimes get caught in strong winds and mistakenly bounce into Trainers trekking the mountain.
How is it more competitively relevant?
The added Fairy typing makes Alolan Weezing one of the absolute best Fighting-type checks in PU or even NU and higher; combine this with a boost to its already great Defense, and you have quite the formidable physical wall. The big highlight here is the addition of Parting Shot to its movepool, which allows Alolan Weezing to pick up the slack of its Kanto counterpart: keeping up momentum. The lack of reliable healing is still a downfall, but Pain Split is serviceable if needed, and Alolan Weezing would stick around for the match thanks to Will-O-Wisp and Leftovers. The added immunity to Dragon even allows Alolan Weezing to boldly switch into predicted Choice-locked Draco Meteors and the like, giving it ample time to set up Toxic Spikes. In total, a Pokémon with two immunities, two 4x resistances, two 2x resistances, a neutrality to Stealth Rock, an immunity to the other three entry hazards, and only two weaknesses would surely be a staple on teams in the lower tiers.
---
Alolan Seaking
Seaking - /
+10 Atk, -10 SpA
80/102/65/55/80/68
Swift Swim / Lightning Rod
Sample moveset
@ Electrium Z
- Waterfall
- Wild Charge
- Megahorn
- Knock Off / Rain Dance / Volt Switch
Pokédex entry
US: The people of Alola began placing Seaking in tanks on the roofs of their houses to act as natural lightning rods in storms.
UM: Once struck by lightning, a Seaking can supply enough power to fuel a small home's electric needs for a month.
How is it more competitively relevant?
Alolan Seaking would still never be able to hold a candle to Lanturn, and even Lanturn finds itself down in PU this generation. That said, an added Electric typing and a boost to its Attack would at least give Alolan Seaking a reason to be used at all compared to Kantonian Seaking. Alolan Seaking would have a decent niche as a rain sweeper that can threaten opposing Water- and Grass-types with its Wild Charge and Megahorn, something it has over fellow Swift Swimmers Kabutops and Qwilfish. Base 102 Attack is still rather lackluster, though, and without a super effective hit Alolan Seaking's attacks will feel a little lacking. That said, Alolan Seaking would be the most interesting Swift Swimmer in eons and definitely worth some cool points as opposed to its Kantonian brother.
---
Alolan Aerodactyl
Aerodactyl - /
No stat changes
80/105/65/60/75/130
Tough Claws
Sample moveset
@ Dragonium Z
- Outrage / Dragon Claw
- Aerial Ace / Fire Fang
- Earthquake
- Hone Claws
Pokédex entry
US: Once thought to be extinct, Aerodactyl have been sighted hunting Exeggutor on the islands of Alola. Where they roost and nest is still a mystery, as they could be flying from hundreds of miles away.
UM: Their fangs are sharper than the best professional kitchen knives. They have been witnessed cleaving prey in half in a single chomp.
How is it more competitively relevant?
For the purposes of this article, we are assuming Alolan Aerodactyl is unable to Mega Evolve into Mega Aerodactyl. Compared to Kantonian Aerodactyl, Alolan Aerodactyl would be far more immediately threatening while possessing a way better typing. It would probably not be an OU staple, but it would be definitely usable in the same vein as Mega Aerodactyl. The main perk of using it would be its ability to provide an offensive countermeasure to hyper offense teams in a similar manner as Mega Lopunny, all the while maintaining similar or greater power than Mega Aerodactyl thanks to a STAB- and Tough Claws-boosted Outrage or Dragon Claw. At +1, Alolan Aerodactyl's Devastating Drake would be pretty fearsome, being even stronger than Dragon Dance Zygarde's. However, considering its frailty, Stealth Rock weakness, and major competition for a teamslot, Alolan Aerodactyl would likely find itself in UU or RU as an alternative to Zygarde-10% and Kantonian Aerodactyl.
---
Alolan Farfetch'd
Farfetch'd - /
-10 SpD, +10 Atk
52/100/55/58/52/60
Sniper
Sample moveset
@ Stick
- Focus Energy
- Cross Chop
- Leaf Blade
- Swords Dance / Knock Off
Pokédex entry
US: A group of Farfetch'd on Akala Island terrorize the cities. They seek vengeance for their ancestors that were hunted to near-extinction on the island.
UM: Constant conflicts with humans have made them dangerous fighters, able to find and strike at weak points with surprising accuracy.
How is it more competitively relevant?
Full disclosure: this is my absolute best attempt at making Farfetch'd at least usable given the formulae used for the rest of this article. With an Adamant nature, a new Fighting typing, access to STAB Cross Chop, a Focus Energy to ensure a crit + Sniper, and a Swords Dance boost, Farfetch'd can actually do some amazing things. Here are some calcs:
+2 crit Cross Chop vs Buzzwole (OU Roost + 3 Attacks): 70.7 - 83.4%
+2 crit Leaf Blade vs Clefable (OU Magic Guard): 90.1 - 106%
+2 crit Cross Chop vs Mega Latias (OU Mega Calm Mind): 78.5 - 92.5%
+2 crit Leaf Blade vs Mega Sableye (OU Utility): 109.2 - 129%
+2 crit Cross Chop vs Tangrowth (OU Physically Defensive): 106.4 - 125.3%
The trick of course would be to not only get Farfetch'd to get a Focus Energy AND Swords Dance off, but also ensure that it can outspeed the rest of the opponent's team, most likely through Sticky Web. So, while the calcs are definitely impressive, and far more impressive than those of Kantonian Farfetch'd, there's still almost no reason to use Farfetch'd in OU, or really any tier above PU, due to its frailty, especially with Hawlucha as an option. Still, if it's a gimmick option you would want, and a gimmick that could pay off in spades, Alolan Farfetch'd would at least be there to fill your desire.