A Journey Through LC's Banlist (Part 1)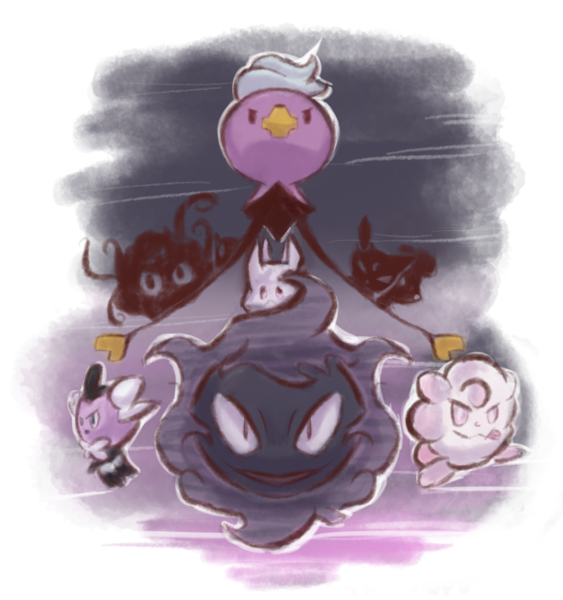 Art by Zephyri.
Introduction
Over the generation, SS LC has had a myriad of suspect tests and quickbans, leading to many Pokémon making an appearance on the LC banlist. Some of the Pokémon banned were metagame staples, changing the tier around them and forcing innovations. Others were one-hit wonders, having a great influence on the metagame despite their short stint in LC. In Part 1 of this article, we will be exploring some of these bans before the DLCs and taking a look at the circumstances and environment that led to their eventual place on the LC banlist.
---
Pre-Home Metagame
The Pre-Home SS LC metagame starting at release introduced a lot of interesting, but also challenging, features. The most notable feature was the limited number of Pokémon available, often referred to as "Dexit". This resulted in the metagame being centralized around several key Pokémon that had a major influence on what archetypes reigned supreme in LC. A second feature was a limited move distribution that caused some Pokémon to have a drop in their viability due to not being able to properly fulfill their intended roles. A classic example was Pawniard, which did not have access to Knock Off and had to rely on Night Slash or Thief, making it harder to fit on teams. The last feature, although short-lived in LC, was Dynamax; it had a tremendous effect when it was present, creating lopsided games that were viewed as "unhealthy". Now that we have a good snapshot of the situation, lets dive deep into some of the prominent Pokémon, abilities, moves, and features that were relegated to the banlist in Pre-Home LC.
Release Bans: Scyther, Sneasel, Swirlix, Tangela, Baton Pass
Although these four Pokémon and one move were not quickbanned or suspect tested, they were immediately sent to the LC banlist upon their release. In a metagame dominated by offensive Pokémon, Scyther and Sneasel shined above the rest, boasting a high Attack, excellent Speed, and an incredible movepool. The combination of these traits made them difficult to manage, especially when both of them were able to take advantage of each other's checks and counters. Swirlix was a versatile threat; its many different sets, ranging from Belly Drum cleaner to Calm Mind sweeper to Sticky Web utility, required different checks and counters, which made it difficult to contain due to the limited range of Pokémon and moves available. Tangela was a defensive juggernaut, boasting excellent HP, good mixed bulk, and Regenerator, which made it difficult to KO, especially in a metagame with minimal Knock Off support. Furthermore, its ability to double as an offensive threat thanks to its base 100 Special Attack and access to Chlorophyll made it a potential terror on sun teams. A relic of SM LC, Baton Pass was sent to the banlist for its ability to create unhealthy scenarios. As shown by previous LC metagames, passing Speed boosts is incredibly oppressive, especially in a metagame where Speed tiers are relatively restricted.
Galarian Corsola
Corsola-Galar @ Eviolite
Ability: Cursed Body
Level: 5
EVs: 196 HP / 116 Def / 76 SpA / 36 SpD / 36 Spe
Calm Nature
IVs: 0 Atk
- Will-O-Wisp
- Strength Sap
- Hex
- Stealth Rock
The first Pokémon to be banned in LC, Galarian Corsola was a defensive wall that was nearly impossible to OHKO. Boasting a base bulk of 60 / 100 / 100, Galarian Corsola had outrageous mixed bulk for a LC Pokémon. It also had an incredible movepool to go along with that bulk, having access to options like Will-O-Wisp, Strength Sap, Hex, Stealth Rock, Calm Mind, Iron Defense, and much more. Furthermore, the lower distribution of Knock Off in the tier meant that Galarian Corsola maintained its bulk and incredible longevity throughout the whole match. All these traits made for a fearsome defensive stalwart that deserved a spot on the LC banlist.
Dynamax
As the first official tier to ban Dynamax, LC set the precedent for future bans to come. Dynamax in LC was a powerful yet extremely oppressive tool. In a metagame where offense reigned supreme, Dynamax skewed the balance even more towards offense. Key Pokémon like Galarian Farfetch'd, Scraggy, and Rufflet were almost impossible to manage when Dynamaxed, as they were able to accumulate both offensive and defensive boosts in a small amount of turns. Using Dynamax defensively in LC was also unfavorable, as wasting Dynamax to defensively check a Dynamaxed foe meant that the player was ceding momentum to the opponent. Although a feature of SS, Dynamax was too much for the LC metagame and ended up on the banlist.
Gothita
Gothita @ Eviolite
Ability: Shadow Tag
Level: 5
EVs: 36 Def / 236 SpA / 236 Spe
Timid Nature
IVs: 0 Atk
- Calm Mind
- Psyshock
- Charm
- Rest
Gothita was a menace in the metagame, being able to consistently trap non-Ghost types without punishment due to the lack of Pursuit. This allowed it to outshine fellow trappers like Diglett, Trapinch, and Wynaut and fit on a variety of teams. Gothita's Calm Mind + Rest set was utilized the most, letting it PP stall and set up on foes like Diglett and Ferroseed and allowing Gothita to become a threatening setup sweeper. Gothita's Choice Scarf set was also great, letting it trap faster foes like Vullaby and Cutiefly and also cripple walls like Ferroseed and Spritzee with Trick, aiding its teammates. Its general ability to consistently trap multiple targets made Gothita oppressive enough to earn a spot on the LC banlist.
Gastly
Gastly @ Life Orb
Ability: Levitate
Level: 5
EVs: 76 Atk / 196 SpA / 196 Spe
Hasty Nature
- Substitute
- Sludge Bomb
- Thunderbolt
- Fire Punch
Gastly was an offensive juggernaut in LC, dominating the Pre-Home metagame with ease. The lack of Pursuit in SS, its inability to be trapped by Arena Trap and Shadow Tag, and its combination of high Special Attack and Speed made it a force to be reckoned with. It was limited in its effectiveness by only three Pokémon: Munchlax, Pawniard, and specially defensive Vullaby. The former two could be trapped and eliminated by trappers like Trapinch, while the latter could not repeatedly switch into Gastly, especially if Stealth Rock was up. Gastly's offensive prowess was unmatched and made it a suitable candidate to be quickbanned.
Moody
Remoraid @ Berry Juice
Ability: Moody
Level: 5
EVs: 236 SpA / 236 Spe
Timid Nature
IVs: 0 Atk
- Surf
- Flamethrower
- Substitute
- Protect
Moody received a change in SS where it could no longer boost evasion and accuracy; this was intended to reduce the RNG aspects of Moody, which could make it more competitive-friendly. However, that change limiting the stats that could be boosted by Moody meant that there was a higher chance of getting a boost to a desired stat. This was incredibly valuable, especially in LC, where an offensive Pokémon getting boosts with Moody could outspeed and KO its checks or boost its bulk to the point where it was unable to be KOed. A classic example was Remoraid, which could utilize Substitute + Protect to accumulate multiple boosts and snowball effectively. This aspect of Moody was viewed as uncompetitive in LC, and ultimately Moody received a trip to the banlist.
Cherubi
Cherubi @ Life Orb
Ability: Chlorophyll
Level: 5
EVs: 76 Def / 180 SpA / 12 SpD / 236 Spe
Modest Nature
IVs: 0 Atk
- Solar Beam
- Weather Ball
- Growth
- Healing Wish
Cherubi was an interesting addition to the banlist. Its sole purpose was to function as sun sweeper, a role that it fulfilled with great effectiveness. Cherubi's Fire / Grass coverage was a necessity to sun teams, as it was able to break through Steel-types such as Ferroseed and Pawniard that were able to deter the other sun sweeper, Oddish. Eventually, it was deemed too powerful and relegated to the banlist as a way to nerf sun teams that dominated the metagame.
---
Post-Home Metagame
The release of Pokémon Home had a major effect on the development of the LC metagame, expanding the range of available Pokémon. Fan favorites such as Ponyta and Bulbasaur made their debut, resulting in some Pokémon rising in viability. However, the biggest change was the re-introduction of certain moves to certain Pokémon. Pokémon such as Drifloon and Cutiefly gained access to some of their original moves, increasing their already high power to new levels and eventually leading to their spots on the LC banlist.
Drifloon
Drifloon @ Berry Juice
Ability: Unburden
Level: 5
EVs: 4 Def / 196 SpA / 84 SpD / 196 Spe
Modest Nature
IVs: 0 Atk
- Calm Mind
- Shadow Ball
- Will-O-Wisp
- Recycle
The first Pokémon to be quickbanned in the Post-Home metagame, Drifloon had an infamous status in LC. Initially suspect tested in the Pre-Home metagame, Drifloon was viewed as a nuisance, possessing a vast movepool that allowed it to handle its various checks such as Vullaby, Pawniard, and Munchlax, which some players viewed as being oppressive. However, Drifloon managed to escape being banned by 1 vote due to many players viewing it as a balanced Pokémon, stating that its lack of reliable recovery prevented it from truly being a menace. The release of Pokémon Home reintroduced Recycle to Drifloon's movepool, shoring up that major weakness and giving it incredible longevity. This allowed Drifloon's many sets, ranging from physical AcroWisp to special Calm Mind sweeper, to shine. These traits, combined with the fact that it did not get banned by 1 vote, influenced the quickban and led to its eventual move to the banlist.
Vulpix
Vulpix @ Heat Rock
Ability: Drought
Level: 5
EVs: 52 HP / 196 SpA / 236 Spe
Timid Nature
IVs: 0 Atk
- Weather Ball
- Fire Blast
- Energy Ball
- Memento
The next Pokémon to be quickbanned, Vulpix was banned for its incredible utility. Pokémon Home added a prominent sun sweeper in Bulbasaur, which possessed the same Fire / Grass coverage that Cherubi had, ultimately bringing sun teams back to the top of the viability list. As the main supporter of the most dominant playstyle at that time, auto sun, Vulpix's ability to consistently enable the archetype made it a banworthy threat. Its eventual ban also brought forth Cherubi's unban, since it was deemed a lesser problem that faced stiff competition with Bulbasaur in a metagame without Vulpix.
Alolan Vulpix
Vulpix-Alola @ Light Clay
Ability: Snow Warning
Level: 5
EVs: 52 HP / 196 SpA / 236 Spe
Timid Nature
IVs: 0 Atk
- Aurora Veil
- Blizzard
- Freeze-Dry
- Hypnosis
Like its Kantonian counterpart, Alolan Vulpix was banned for its incredible utility. Aurora Veil had a tremendous effect on the metagame, enabling powerful setup sweepers like Scraggy, Nasty Plot Vullaby, and Zigzagoon. Furthermore, its presence forced players to utilize anti-Aurora Veil strategies such as Brick Break Pawniard, which existed solely for this purpose. Its overwhelming grasp on the metagame ultimately led to Alolan Vulpix being suspect tested and joining the banlist.
Cutiefly
Cutiefly @ Eviolite
Ability: Shield Dust
Level: 5
EVs: 36 HP / 196 Def / 244 Spe
Bold Nature
IVs: 0 Atk
- Quiver Dance
- Moonblast
- Psychic
- Roost
The last of the quickbans, Cutiefly actually shared similarities with Drifloon. They both had extensive movepools that could bypass some of their checks and had access to boosting options, which made both of them top-tier setup sweepers. What pushed Cutiefly over the edge was the re-introduction of Roost to its movepool. Roost gave Cutiefly great longevity and made its Quiver Dance sets oppressive, as traditional checks such as Mareanie and Oddish could no longer pressure it enough with Sludge Bomb. Given its wide array of sets, especially consistent Quiver Dance sets, Cutiefly was the last member to join the LC banlist during the Post-Home era.
---
Conclusion
This brings Part 1 of the LC Banlist Journey to a close. Although these Pokémon cannot be used in normal LC games, the LC PS room occasionally hosts LC Ubers tours where you can use all of the threats featured in this article. Stay tuned for Part 2, where we'll discuss some of the Pokémon that joined this group in the post-DLC metagames!