Fishing for Threats - Lures in UU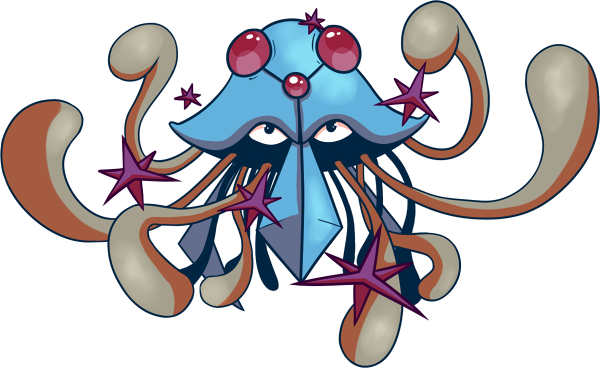 Introduction
In any competitive format, having an ace in the hole can be your saving grace, the line between defeat and victory. Pokémon in particular is a game of boundless possibilities when it comes to surprising sets, and UU is no exception. While many such sets end up as little more than a gimmick, there are several that are extremely useful in the current UU metagame and can be very effective in clearing the way for a wincon of your choosing. Here are just a few, shown with some potential partners.
---
The Sets
Metagross
Metagross @ Expert Belt
Ability: Clear Body
EVs: 220 Atk / 108 SpA / 180 Spe
Lonely Nature
- Meteor Mash
- Earthquake
- Hidden Power Fire
- Grass Knot
Mixed Metagross has been around since the Pokémon's introduction in ADV, but it only gained popularity in UU relatively recently for its ability to break through many of its common checks such as Swampert and Forretress while still being a great answer for Fairy-types and keeping Fire-types at bay with Earthquake. The given spread Speed creeps Modest Sylveon, hits a jump point in Attack, and then maximizes Special Attack to ensure that Earthquake into Grass Knot always KOes defensive Swampert.
Pairs well with:


---
Mega Absol
Absol @ Absolite
Ability: Justified
EVs: 252 Atk / 4 SpD / 252 Spe
Jolly / Naive Nature
- Knock Off
- Sucker Punch
- Play Rough / Superpower / Iron Tail
- Fire Blast
All-out attacker sets on Mega Absol are capable of luring in multiple groups of Pokémon all in one set, often surprising and eliminating threats to more than one teammate. Play Rough and Superpower are easily the most common coverage moves you'll find on Mega Absol; the former provides key coverage against Dark-, Dragon-, and Fighting-types that are very commonly used to deal with it, such as Krookodile, Hydreigon, and Conkeldurr, while the latter is a way to hit Dark-types and Cobalion much harder and score OHKOs on other Steel-types such as Empoleon. It starts to get really unorthodox with Iron Tail, which is guaranteed to OHKO Diancie and Choice Specs Sylveon while 2HKOing Sylveon's cleric set and Bold Florges, which are often bulkier teams' primary switch-ins to Mega Absol. Although the accuracy of Iron Tail is lacking to say the least, the ability to lure in and eliminate Fairies is often well worth the risk. Going mixed with Mega Absol is an option as well thanks to its impressive base 115 Special Attack; Fire Blast roasts Forretress, Chesnaught, Whimsicott, and other very common switch-ins.
Pairs well with:

---
Suicune
/ Suicune @ Leftovers / Splash Plate
Ability: Pressure
EVs: 252 SpA / 4 SpD / 252 Spe
Modest Nature / Timid Nature
- Calm Mind
- Hydro Pump / Scald
- Ice Beam / Signal Beam
- Hidden Power Electric / Extrasensory
Offensive Calm Mind Suicune works wonders in luring in typical Grass-type switch-ins such as Mega Sceptile and Whimsicott and easily dispatching them with the appropriate coverage move. Additionally, Hidden Power Electric draws in opposing Water-types (particularly Gyarados, which is OHKOed at +1), and Extrasensory eliminates Toxicroak and 2HKOes standard Tentacruel at +1.
Pairs well with:


---
Crawdaunt
Crawdaunt @ Life Orb
Ability: Adaptability
EVs: 252 Atk / 4 SpD / 252 Spe
Naughty Nature
- Knock Off
- Crabhammer
- Aqua Jet
- Ice Beam / Sludge Wave
Ice Beam provides phenomenal coverage for Crawdaunt, as it 2HKOes the physically defensive Grass-types such as Chesnaught and Whimsicott that serve as Crawdaunt's most common switch-ins; it also hits Hydreigon super effectively. Although Sludge Wave fails to hit Hydreigon super effectively and does not score any additional 2HKOs, it does pack a slightly harder punch than Ice Beam and notably OHKOes Whimsicott.
Pairs well with:

---
Infernape
Infernape @ Life Orb
Ability: Blaze
EVs: 136 Atk / 120 SpA / 252 Spe
Naive Nature
- Fire Blast
- Close Combat
- Grass Knot
- Earthquake
Infernape is one of the few threats in UU capable of rivaling Mega Absol's four-moveslot syndrome, as its impossibly deep movepool lets it pick and choose its counters as it pleases. Currently, Infernape's most popular sets are Choice Band and Choice Scarf, but MixNape is an unexpected threat that many bulky offense and balanced teams are inadequately prepared for. Earthquake in particular is an off-color option that targets several hard counters to typical Infernape sets, including Arcanine, Chandelure, and, most significantly in the current metagame, Tentacruel. The EV spread shown above guarantees that Close Combat OHKOes Blissey, another increasingly relevant threat.
Pairs well with:
---
Tentacruel
Tentacruel @ Black Sludge
Ability: Clear Body
EVs: 252 SpA / 4 Def / 252 Spe
Timid Nature
- Scald / Hydro Pump
- Sludge Wave
- Toxic Spikes
- Rapid Spin
The core-shredder itself, offensive Tentacruel has gained increasing traction thanks to its ability to surprise and KO Ground-types such as Mamoswine and Krookodile that comfortably check the standard defensive set. In addition, Speed tying with and potentially doing a big chunk of damage to Celebi and more effectively pressuring Sylveon with Sludge Wave are a massive plus over defensive Tentacruel. While Scald is generally preferred for its excellent burn chance, the added power of Hydro Pump can be extremely beneficial—for example, it easily OHKOes Krookodile, which Scald has no chance to do.
Pairs well with:



---
Mega Aerodactyl
Aerodactyl @ Aerodactylite
Ability: Tough Claws
EVs: 252 Atk / 4 SpD / 252 Spe
Jolly Nature
- Wing Attack
- Stone Edge
- Crunch
- Earthquake
Mega Aerodactyl is yet another Pokémon with a lot of options for customization in its moveset such as Earthquake, Aqua Tail, and even Taunt + Roost sets. One underrated option is Crunch, which nails a lot of typically solid answers to it such as Bronzong, Slowking, Reuniclus, and Shuca Berry Metagross for at least a 2HKO.
Pairs well with:

---
Mega Sceptile
Sceptile-Mega @ Sceptilite
Ability: Lightning Rod
EVs: 4 HP / 252 SpA / 252 Spe
Timid Nature
- Leaf Storm
- Dragon Pulse
- Giga Drain / Iron Tail
- Focus Blast / Hidden Power Fire
Focus Blast provides excellent coverage for Mega Sceptile, nailing Steel-types that would otherwise wall it with impunity for what is often devastating damage. However, Hidden Power Fire is another option that trades immediate power on targets such as Cobalion and Empoleon for the ability to dent common answers to Mega Sceptile in Whimsicott, Escavalier, Forretress, and Doublade, all of which are at least 2HKOed. For what it's worth, even targets that take neutral damage from Focus Blast and and are hit only 2x super effectively by Hidden Power Fire, such as Bronzong and Metagross, take ever so slightly more damage from the latter and, more importantly, will never dodge it. Additionally, Mega Sceptile can run Iron Tail to more efficiently eliminate Fairy-types. A spread of 80 Atk / 200 SpA / 228 Spe with a Rash nature is optimal with this move, as it guarantees that Leaf Storm into Iron Tail knocks out cleric Sylveon after Stealth Rock while Speed creeping +1 Feraligatr.
Pairs well with:

---
Lucario
Lucario @ Life Orb
Ability: Justified
EVs: 252 Atk / 4 SpD / 252 Spe
Jolly Nature
- Swords Dance
- Close Combat
- Bullet Punch / Extreme Speed
- Earthquake / Crunch
While double priority is easily Lucario's most common set currently due to its ability to overwhelm offensive checks, Lucario has a deep movepool that can allow it to break through its defensive checks as well. Earthquake is an option that hits Tentacruel, Chandelure, Doublade, Arcanine, and the Nidos for massive damage, while Crunch similarly hits Chandelure and Doublade but also picks up key coverage on bulky Psychic-types, having a chance to OHKO Slowking and Reuniclus at +2 and doing in the 60s to Cresselia, a more impressive figure than it might sound.
Pairs well with:


---
Roserade
Roserade @ Life Orb
Ability: Technician
EVs: 252 SpA / 4 SpD / 252 Spe
Timid Nature
- Spikes
- Sludge Bomb
- Leaf Storm
- Hidden Power Ground
Although Roserade has the rare distinction of being the only offensive Spiker in UU, it tends to have a hard time keeping them up due to being largely shut down by Forretress and Tentacruel, the two most common Rapid Spin users in the tier. Technician-boosted Hidden Power Ground Roserade solves this problem by making quick work of these spinners, nabbing a clean 2HKO on the standard sets of both. Ground-type coverage isn't only useful for these two Pokémon, however. Fire-types and other Steel-types, including Entei, Arcanine, Cobalion, and Empoleon, as well as the Nido pair, are sure to be caught well off guard and take massive unexpected damage.
Pairs well with:


---
Nidoking
Nidoking (M) @ Life Orb
Ability: Sheer Force
EVs: 252 SpA / 4 SpD / 252 Spe
Timid Nature
IVs: 0 Atk
- Sludge Wave
- Earth Power
- Ice Beam
- Thunderbolt / Shadow Ball
Thunderbolt Nidoking rose in popularity immediately after Gyarados's drop to the tier. With its base 85 Speed tier, running a way of OHKOing the dominant but slightly slower Gyarados made perfect sense. That's not to say, however, that Thunderbolt is only useful for one threat; the move also helps with bulky Water-types in general, including scoring a comfortable 2HKO on Suicune. Shadow Ball is also a popular option that handles Bronzong, which normally hard counters Nidoking, and deals respectable damage to bulky Psychic-types such as Reuniclus and Cresselia as well.
Pairs well with:



---
Heliolisk and Rotom-C
/ Heliolisk @ Life Orb / Choice Specs
Ability: Dry Skin
EVs: 4 Def / 252 SpA / 252 Spe
Timid Nature
IVs: 0 Atk
- Thunderbolt
- Volt Switch
- Grass Knot
- Signal Beam
Rotom-Mow @ Choice Specs
Ability: Levitate
EVs: 4 Def / 252 SpA / 252 Spe
Timid Nature
IVs: 0 Atk
- Thunderbolt
- Leaf Storm
- Volt Switch
- Signal Beam
Celebi's unquestionable dominance of the metagame has single-handedly almost required that common Electric-types such as Heliolisk and Rotom-C run coverage for it, to the point that Heliolisk will often forfeit the absurdly spammable Hyper Voice just to OHKO it. Additionally, while Signal Beam is certainly primarly for Celebi, it also provides coverage against Grass-types in general such as Mega Sceptile, which otherwise completely walls the coverage of both.
Pair well with:

---
Conclusion
When an intelligent player identifies their opponent's wincon, they'll do everything in their power to preserve what counterplay they have for it. While it would normally be unavoidable that one rely on some outplaying, some luck, or both to execute a victory against such a player, a bit of creativity in the teambuilding stage can grant you a huge edge over your opponent from turn 1 and force them into checkmate positions that they didn't know existed. Hopefully, this article has given you some ideas to make that happen!