Magearna Throughout SM OU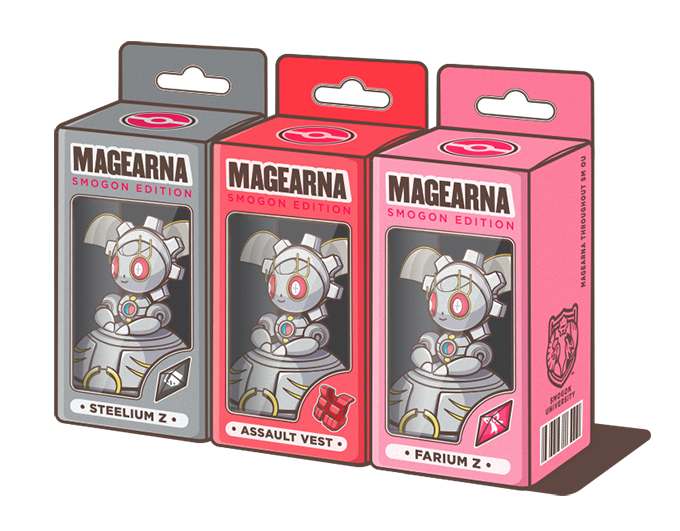 Art by anundeadboy.
Introduction
Ever since its introduction in SM, Magearna has been a top-tier threat thanks to its versatility that has enabled it to adapt to almost anything. In this article, lyd and I will cover when and why all of Magearna's sets were born.
---
Sets Throughout the Progression of SM OU
Shift Gear + 3 Attacks (Early SM) by Lyd
/ / Magearna @ Steelium Z / Electrium Z / Fightinium Z
Ability: Soul-Heart
EVs: 252 SpA / 4 SpD / 252 Spe
Timid Nature
- Shift Gear
- Flash Cannon / Ice Beam
- Thunderbolt
- Focus Blast
Overview
This is the standard Shift Gear Magearna set. It makes use of its wide coverage to break past some threats that would otherwise be problematic to sets using only two attacking moves. The coverage of Flash Cannon, Thunderbolt, and Focus Blast deals with most of Magearna's would-be checks, leaving only Toxapex (Thunderbolt isn't a guaranteed 3HKO), the rare Gastrodon, and specially defensive Jirachi unscratched. Flash Cannon over Fleur Cannon may seem odd, but it greatly helps against Mega Venusaur and Amoonguss. Overall, not having to set up a Calm Mind and immediately threatening the likes of Ferrothorn and Celesteela simultaneously is very useful. On another note, Ice Beam is also a great option over the STAB move of choice.
Metagame Influence
This is the first set that came to people's mind soon after Magearna was released in Sun & Moon. The metagame at the time was very offensive. With several now-Ubers being completely free in OU and this set's ability to excel against bulky offense and hyper offense, it was only natural for it to pop up. With most Ubers leaving OU, the tier became quite a bit more stable, but this set continued to thrive as a deadly wincon regardless.
How it adapted
Steelium Z was the first item used, but it was later relegated in favor of Electrium Z and Fightinium Z; the former helps immensely with Toxapex and Celesteela, whereas the latter makes the matchup against Heatran and Ferrothorn quite a bit more solid. However, Steelium Z grew again in popularity later on, as it helped with opposing Magearna and the threatening Mega Mawile whilst still giving Magearna a far better matchup against Amoonguss, as Spore variants could prove to be annoying. With that being said, Electrium Z and Fightinium Z both fell off somewhat, but they are still reasonable options in the current meta. Other items such as Leftovers, Shuca Berry, Wiki Berry, and Metronome were also explored as of late and, despite not being as optimal as a Z-Crystal, they are still options to consider.
---
Assault Vest (Early SM) by Jordy
Magearna @ Assault Vest
Ability: Soul-Heart
EVs: 248 HP / 224 SpD / 36 Spe
Sassy Nature
- Volt Switch
- Fleur Cannon
- Focus Blast
- Iron Head
Overview
Assault Vest turns Magearna into a sturdy check to Pokémon like Tapu Lele, Mega Alakazam, Ash-Greninja, and Clefable. What sets Magearna apart from other defensive Steel-types is its access to Volt Switch, which allows it to keep momentum and enables terrifying wallbreakers like Mega Medicham, Garchomp, and Mega Heracross to safely switch in. Additionally, its access to Focus Blast allows it to weaken other bulky Steel-types like Heatran and Ferrothorn, which other bulky Steel-types tend to struggle with. Iron Head combined with the given Speed investment allows Magearna to outspeed uninvested Clefable and potentially flinch it down to force it out. Despite this being a specially biased set, Iron Head is chosen over Flash Cannon to not lose against Calm Mind Clefable variants. Lastly, Ice Beam is a more reliable option than Fleur Cannon to catch Ground-types like Landorus-T, Garchomp, and Gliscor, which might attempt to come in to block Volt Switch.
Metagame Influence
Early on in the developing stages of the metagame, besides being a threatening sweeper, people also realized that Magearna was a potent bulky Steel-type, capable of checking Pokémon like Tapu Lele, Latios, and Ash-Greninja while generating momentum. Its ability to do this enabled many VoltTurn bulky offense teams to function, which would be underwhelming without Magearna.
How it adapted
Assault Vest Magearna used to run maximum Special Attack investment, but it now runs a lot more special bulk to check Pokémon like Ash-Greninja, Mega Alakazam, and Tapu Lele better. Back in the day, this was because of Pokémon like Choice Specs Gengar and Ash-Greninja increasing in usage. Additionally, it used to run 0 Speed EVs with Flash Cannon, but people started to realize that this set could lose to Calm Mind Clefable in a one-on-one scenario, which was rising in usage at the time. Magearna often ran Hidden Power Fire to deal with Ferrothorn and Mega Scizor, but Focus Blast has ended up becoming the move of choice because of its ability to steadily weaken Heatran while still wearing down Ferrothorn. Energy Ball was occasionally run back when Gastrodon was relevant, but soon after its significant drop in usage, the move saw no usage anymore. Magearna is also a great fit on rain teams, as it is able to check threats like Mega Alakazam and Tornadus-T while also providing powerful breakers such as Mega Swampert and Ash-Greninja many opportunities to switch in thanks to its slow Volt Switch. In exchange, the rain weakens Fire-type moves for it. Additionally, it consistently wears down Pokémon like Ferrothorn, Tapu Fini, and Rotom-W, which are some of the best checks to rain teams.
---
OTR + 3 Attacks (Mid SM) by Jordy
Magearna @ Fairium Z
Ability: Soul-Heart
EVs: 248 HP / 252 SpA / 8 SpD
Quiet Nature
IVs: 0 Spe
- Trick Room
- Fleur Cannon / Flash Cannon
- Focus Blast
- Thunderbolt / Flash Cannon
Overview
Trick Room is the main appeal to this set, as it allows Magearna to outpace the majority of the metagame. Fleur Cannon + Focus Blast provides excellent coverage, hitting just about everything relevant in the metagame, apart from Toxapex. However, Magearna's wide movepool also grants it access to Thunderbolt, which notably pressures Toxapex and Celesteela, two of the best answers to the combination of Fleur Cannon and Focus Blast. Alternatively, Flash Cannon can be run instead of Fleur Cannon or Thunderbolt to pose a more immediate threat to Pokémon like Tapu Lele and Mega Diancie, which can be bothersome for teams that choose to run Magearna as their Steel-type. Fairium Z lets Magearna bypass specially defensive checks like Gastrodon. One of the main reasons to run Trick Room instead of Shift Gear is the fact that Magearna can invest into bulk, which allows it to set Trick Room up more easily and to soft check Pokémon like Tapu Lele and Mega Alakazam better, instead of having to run Speed investment.
Metagame Influence
This set saw usage during the early and middle stages of Sun & Moon as a late-game sweeper and also saw usage on dedicated Trick Room teams, which was an archetype that was being explored a lot at the time. This set was extremely vital to them, since Magearna could set Trick Room up to support itself and its teammates, while also providing an important Fairy-type answer.
How it adapted
After some time, Trick Room variants fell off because of Trick Room's extremely limited turns, often leaving Shift Gear variants as a more reliable late-game sweeper, and Trick Room as an archetype became much more niche over time too.
---
Shift Gear + Calm Mind (Late SM) by Jordy
Magearna @ Fairium Z
Ability: Soul-Heart
EVs: 252 SpA / 4 SpD / 252 Spe
Timid Nature
- Shift Gear
- Calm Mind
- Fleur Cannon
- Focus Blast
Overview
Shift Gear turns Magearna into a potent late-game sweeper. Calm Mind is used to punish bulky offense, balance, and even some stall teams, which often try to dance around Magearna, and grants Magearna more potential as a breaker mid-game too. Fleur Cannon in tandem with Focus Blast is very hard to check in the current metagame, with only Toxapex, Mega Venusaur, and Amoonguss being capable of taking the combination. However, instead of running Fleur Cannon + Focus Blast, BoltBeam coverage is an option too, which allows Magearna to pressure Toxapex and Celesteela, as well as common Ground-types without having to drop its Special Attack by two stages. Furthermore, this combination is almost unresisted in the metagame. Fairium Z is the most common item choice, allowing Magearna to break through traditional answers like Tangrowth and Gastrodon. However, other items, such as Fightinium Z, Electrium Z, Shuca Berry, Weakness Policy, and Iapapa Berry can also be run. Fightinium Z variants have an easier time breaking through Heatran and Ferrothorn, while Electrium Z ones deal with Toxapex much more easily. Meanwhile, Shuca Berry allows Magearna to set up against unboosted Ground-types like Garchomp, Landorus-T, and Gliscor. Iapapa Berry notably makes Magearna less prone to being revenge killed by priority moves from the likes of Ash-Greninja and Mega Scizor.
Metagame Influence
This set saw notable usage during the final rounds of WCoP 2017, where it often won games and showed its full potential. The combination of Shift Gear + Calm Mind is very threatening, since it can punish bulkier builds that try to dance around Magearna with Calm Mind and can punish more offensively oriented builds with Shift Gear, allowing it to outspeed the entire unboosted metagame. Magearna can easily set up both a Shift Gear and Calm Mind thanks to its potent defensive typing and good natural bulk. This set is commonly run on hyper offense teams, namely Spikes stacking builds, as well as teams that revolve around setting dual screens or Aurora Veil, which chip away at Magearna's common answers and give it more set up opportunities, respectively. For these teams, it notably provides a sturdy Fairy-type switch-in.
How it adapted
It should be acknowledged that this set is an adaptation from Shift Gear + 3 Attacks, which aims to punish bulky offense and balance and to be a more potent breaker with Calm Mind. This was especially relevant when Pokémon like Clefable and Mew, which could check traditional BoltBeam + Focus Blast sets, were common. Originally, these sets often ran Thunderbolt + Ice Beam in tandem with Shift Gear and Calm Mind; however, due to Heatran's rise to dominance, Focus Blast became much more of a staple, which is complemented nicely by Fleur Cannon. On these sets, Magearna originally ran Leftovers, which notably granted it much-needed longevity and allowed it to set up on Pokémon like Clefable much more easily. However, because of the shift to Fleur Cannon + Focus Blast coverage, as well as the fact that Twinkle Tackle could overwhelm traditional answers, it shifted away from Leftovers and instead started to run Fairium Z more often. Another item that it commonly ran was Weakness Policy on dual screen and Aurora Veil teams, allowing Magearna to take advantage of Ground-types like Landorus-T and Garchomp.
---
Calm Mind + Pain Split (OLT 2018) by Lyd
Magearna @ Fairium Z
Ability: Soul-Heart
EVs: 248 HP / 28 Def / 224 SpA / 8 SpD
Modest Nature
- Calm Mind
- Pain Split
- Fleur Cannon
- Thunderbolt
Overview
This set aims to overwhelm bulkier teams with a dreadful combo of power and longevity. With Pain Split, Magearna can keep itself healthy against bulkier teams making it that much harder to deal with, even turning some would-be checks into setup bait. Meanwhile, Calm Mind boosts Magearna's already high Special Attack stat to astronomical levels after one or two uses, making it capable of overwhelming several bulky teams on its very own. For those curious, the EV spread guarantees Magearna isn't OHKOed by offensive Landorus-T's Earthquake from full health and also guarantees Mega Alakazam's Focus Blast won't 2HKO it after Stealth Rock. Thunderbolt is the coverage move of choice, as it handles most notably Haze Toxapex and Celesteela, while Heatran can be worn down and Ferrothorn can be used as setup bait, which makes Focus Blast not really optimal for this set; however, it still has its perks, like pressuring Heatran and Excadrill with more ease. Other items over Fairium Z are great picks too, and in this sense Shuca Berry is useful, as it helps luring and taking out Ground-types.
Metagame Influence
Stall experienced quite a low after the Arena Trap ban, as one of the archetype's main tools, Dugtrio, wasn't usable anymore. However, a couple of months later, the archetype restructured itself, making the rise of a new stallbreaker needed more than ever. Thus, Calm Mind + Pain Split Magearna was born. With Pain Split, Magearna can now 1v1 several would-be-walls such as Assault Vest Magearna on bulky offense, Mega Venusaur on balance, and Chansey on stall and use them as set up bait. Stall's only real bet against it is Heart Swap Magearna, which isn't overly common on stall and was barely relevant before Calm Mind + Pain Split became popular. Meanwhile several balance teams also struggled immensely with this set, unless they packed specially defensive Heatran or Excadrill. All in all, this set was mostly created and popularized from stall's resurgence, but it excelled against a wide range of teams that were a bit vulnerable to Magearna, especially bulkier teams.
How it adapted
This is a relatively new and straightforward set, so not much has changed. Some people opt for different EV spreads with enough investment in Speed for Mega Mawile and enough in Special Defense for the likes of Ash-Greninja and Tapu Lele, and even physically defensive variants popped up at some point.
---
Honorable Mentions
Magearna @ Leftovers
Ability: Soul-Heart
EVs: 248 HP / 28 Def / 232 SpD
Sassy Nature
IVs: 22 Spe
- Flash Cannon / Fleur Cannon
- Volt Switch
- Pain Split
- Heart Swap
Lastly, we have Heart Swap Magearna. One of the most recent variants, Heart Swap allows it to have a far better matchup against the likes of opposing Magearna, Reuniclus, Mega Latias, and Clefable. Not only that, but it also works as a reliable specially defensive pivot akin to the Assault Vest set; although it's not quite as bulky, it can make up for that with longevity via Pain Split and Leftovers. This set is not only used on balance though; stall also often considers it as one of their main answers to the aforementioned Calm Mind + Pain Split set, whilst still covering the role of setup deterrent. All in all, this is a recent yet solid set, with plenty of room for innovation. Z-Heal Bell is also seen on stall occasionally.
---
Conclusion
As you can tell, Magearna is a very versatile threat, capable of adapting to almost anything the metagame has to offer. It has been a top pick since its introduction, and it most likely will be for a long time. Because of Magearna's versatility, we are certain that there is a set that you will like too, so make sure to try them out!