Monotype Spotlight: Mega Sableye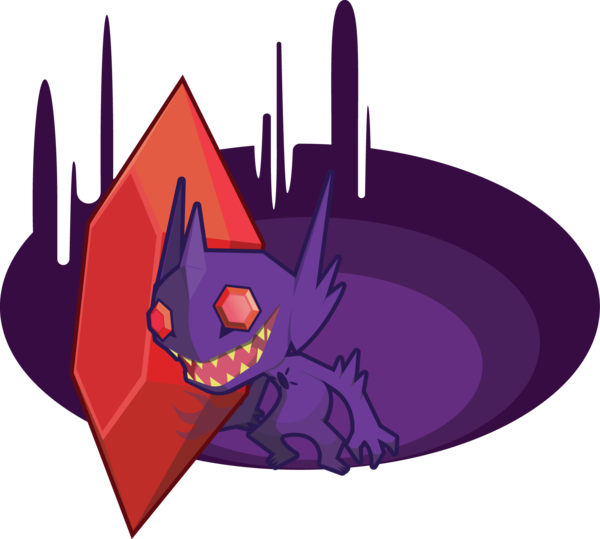 Art by TeraVolt.
Introduction
At the beginning of Generation 7, Mega Sableye was unbanned along with a few other Pokémon. Mega Sableye fit nicely into the metagame by supporting both Ghost and Dark teams with its bulk and utility and therefore becoming very important to the success of these types. Although Mega Sableye became less consistent due to the power creep and abundance of Fairy-type Pokémon, it still maintains its massive defenses, which can threaten a variety of types. Because it is gifted with high defenses, access to reliable recovery, and a very useful ability in Magic Bounce, Mega Sableye is able to switch into most entry hazard setters and defensive Pokémon and start weakening them. Let's take a closer look at Mega Sableye throughout the past two generations.
ORAS
Back in Generation 6, Mega Sableye was suspected twice and caught the ban the second time. It was seen to be unhealthy for the metagame, since several types needed to utilize specific sets in order to beat it, such as Toxic Mega Ampharos on Electric and Poison Fang Rivalry Nidoqueen on Poison. Around the first suspect test, Mega Sableye used Calm Mind sets to boost its Special Defense to extreme levels, making it almost impossible to stop after a few boosts. On Dark, the defensive core of Mandibuzz + Tyranitar was already very powerful, and adding Mega Sableye into the mix made it even harder to beat. Around the second suspect test, the metagame further developed, and Knock Off utility sets became more common than Calm Mind sweeping sets, as Knock Off wore the opposing team down over time by removing items. While Calm Mind sets were still fairly effective, Knock Off Mega Sableye was generally more consistent and provided more utility for itself and the whole team. After Mega Sableye's ban, Ghost and Dark teams adjusted by using Leftovers Sableye for stallbreaking, although the two types would never be the same without the utility Mega Sableye provided. Ghost quickly turned to one of the worst types in the metagame, while Dark could still function due to its defensive core still being very consistent.
USM
After getting unbanned in SM, Mega Sableye at first had a hard time adjusting to the Fairy-heavy metagame. New checks such as Magearna, Tapu Koko, Tapu Bulu, and Tapu Fini arose, while old checks such as Mega Charizard Y were still very effective. The introduction of Z-Moves gave more Pokémon such as Bisharp and Gyarados the ability to break through Mega Sableye with ease. In order to adjust to the metagame, Calm Mind sets almost disappeared entirely due to Mega Sableye being forced out more often and failing to find many setup opportunities, while Knock Off Sableye quickly took its place, being able to remove items and status and cripple opposing Pokémon, then instantly switch out. USM's huge power creep also made Calm Mind sets hard to pull off and ineffective. Many Mega Sableye ran Protect in this generation to get Mega Evolution off on a Pokémon like Mega Charizard Y or Tapu Koko and freely switch out to reflect hazards later in the game.
With all this being said, Mega Sableye is still an important defensive threat to a huge portion of the metagame. Many types such as Normal, Dark, and Steel have trouble with Mega Sableye, as it switches in for free on their respective primary hazard setters and startsburning foes or using Knock Off. Other types such as Dragon, Ground, and Fighting struggle dealing with Mega Sableye because of its huge defenses and its ability to burn physical attackers, use Knock Off on special attackers, and punish setup sweepers with Foul Play.
Ghost
Sableye-Mega @ Sablenite
Ability: Prankster
EVs: 248 HP / 116 Def / 144 SpD
Careful Nature
- Protect / Foul Play
- Will-O-Wisp
- Knock Off
- Recover
Ghost teams appreciate Mega Sableye's Dark typing, which allows it to switch into Dark-type attacks, and its ability to discourage hazard setting with Magic Bounce due to the hazard control most Ghost teams lack. Protect is the primary filler move for Mega Sableye, as it allows Mega Sableye to get Mega Evolution off very early in the game, as well as allowing burn to whittle down the opposing Pokémon even more and pressuring Mega Lopunny from using High Jump Kick in fear of getting stopped. Foul Play can be used over Protect in order to punish Pokémon that try to set up on Mega Sableye, such as Dragonite, Mega Scizor, and Bisharp. Mega Sableye's Dark typing also means that it takes neutral damage from Knock Off and switches into Psychic-type attacks and can therefore reliably beat Pokémon such as Mew and Alolan Muk. All offensive Ghost-type Pokémon such as Gengar and Blacephalon generally love Mega Sableye as a partner due to its ability to pivot in on strong attacks and prevent hazards from coming up, a trait that Ghost teams without hazard control value.
Good Teammates
Jellicent
Jellicent is a nice partner for Mega Sableye because of its ability to reliably switch into special wallbreakers, such as Landorus, Mega Charizard Y, and Keldeo, that beat Mega Sableye using their high Special Attack. Mega Sableye in return is able to reflect status and hazards for Jellicent, as well as switch into a Dark- or Ghost- type attack that could potentially knock Jellicent out. Mega Sableye + Jellicent is a core that fits on balanced Ghost teams.
Gourgeist-XL
Gourgeist-XL is another good defensive Ghost-type Pokémon that pairs well with Mega Sableye, as it can handle some physical wallbreakers that threaten to knock Mega Sableye out such as Diggersby, Mega Lopunny, and Tapu Bulu due to its huge Defense.
Offensive Ghost-Types
Mega Sableye pairs very well with many offensive Ghost-type Pokémon because of its high defenses. Because offensive Ghost-type Pokémon generally have poor bulk, Mega Sableye is able to pivot in on threats that could potentially knock one of them out while also keeping hazards off the field to prevent its teammates from getting worn down. Mega Sableye can also weaken various threats to the type with Knock Off and Will-O-Wisp, making Pokémon such as Chansey and Alolan Muk easier to play around if a Ghost team loses momentum.
Offensive Ghost-type Pokémon also support Mega Sableye. Gengar and Blacephalon both have the ability to revenge kill some of Mega Sableye's checks such as Tapu Koko, Mega Lopunny, and Mega Diancie because of their high Speed and Special Attack stats. Mimikyu provides further support in the Dark matchup and takes the pressure off of beating Dark-type Pokémon for Mega Sableye. Alolan Marowak is able to set up Stealth Rock and break bulky threats such as Toxapex, Mega Slowbro, and Mega Venusaur that Mega Sableye may have trouble playing around.
Dark
Sableye-Mega @ Sablenite
Ability: Prankster
EVs: 248 HP / 116 Def / 144 SpD
Careful Nature
- Protect / Metal Burst / Toxic
- Will-O-Wisp
- Knock Off
- Recover
Because of its subpar offensive stats, Mega Sableye is nowhere to be found on offensive Dark teams and instead supports the type on balanced ones. Dark appreciates Mega Sableye's Ghost typing, which allows it to switch into Fighting-type moves such as Focus Blast and Close Combat. Its ability, Magic Bounce, discourages hazard setting and reflects status for the defensive core. Protect is a good option on Dark because it lets Mega Sableye scout for many offensive Choice-locked threats such as Diggersby, and also get off Mega Evolution for free. Protect is also useful for making Mega Lopunny miss High Jump Kick. Metal Burst is for punishing Fairy-types, which Mega Sableye would otherwise do little against, while Toxic provides another way to wear down opposing bulky Pokémon such as Zapdos and Mantine quicker than using Will-O-Wisp to burn them. Mega Sableye notably makes many matchups such as Normal, Fighting, and Steel easier while helping a ton in other matchups just by burning Pokémon with Will-O-Wisp and removing items with Knock Off.
Good Teammates
Mandibuzz, Tyranitar, and Alolan Muk
Mandibuzz, Tyranitar, and Alolan Muk form Dark's defensive core, which Mega Sableye further solidifies. Adding Mega Sableye to the defensive core pressures status users such as Chansey and hazard setters such as Ferrothorn and Skarmory from doing their job, making the defensive core much harder to beat. Mandibuzz takes physical attacks, discourages setup with Foul Play, and supports the team with Defog. Tyranitar can set Stealth Rock and also use its good Special Defense and Rock typing to switch in on special attackers such as Hydreigon. Alolan Muk uses its Poison typing and high Special Defense to serve as a specially defensive pivot that can switch into various attacks, including Fairy-type ones, as well as trapping many Pokémon with Pursuit.
Because of this, Mega Sableye is a staple on balanced Dark teams, as the support and utility it gives are unmatched, and it therefore holds the archetype together.
Playing Against Mega Sableye
Fairy-type Pokémon
Although Mega Sableye can be hard to beat for some teams, it has its checks and counters. Fairy-type Pokémon such as Tapu Koko, Mega Diancie, and Azumarill take advantage of Mega Sableye's only weakness and threaten it with their STAB attacks.
Fire-type Pokémon
Mega Sableye also struggles to deal with Fire-type Pokémon such as Charizard, Heatran, and Volcarona, as Mega Sableye can't rely on Will-O-Wisp to wear them down and instead has to use Knock Off. Mega Charizard Y is able to blow Mega Sableye away with sun-powered Fire Blasts, while Heatran makes Mega Sableye think twice about using Will-O-Wisp and can pressure Mega Sableye with Magma Storm, although it has to be wary of Knock Off. Volcarona is able to set up on Mega Sableye with Quiver Dance and knock Mega Sableye out with Inferno Overdrive.
Wallbreakers
Mega Sableye has to be wary of wallbreakers that can easily blow it away with strong attacks. Diggersby, Landorus, and Tapu Bulu all check Mega Sableye, as they all have the wallbreaking potential to bust through its defenses. Mega Lopunny can also use High Jump kick along with Scrappy to knock Mega Sableye out.
Defensive Pokémon
Mega Sableye also struggles to handle some defensive threats because it is unable to damage most of them. Mega Venusaur and Toxapex are both able to PP stall Mega Sableye due to their good bulk, while Mega Slowbro sets up on Mega Sableye, as it does not mind taking Knock Off due to its huge Defense.
Get out there!
Although it has taken a huge hit from the Prankster nerf, addition of Fairy-type Pokémon, and power creep, Mega Sableye still has a huge impact in the USM Monotype metagame. While it greatly fails in the Fairy matchup, Mega Sableye is still a huge defensive threat against various types such as Normal, Fighting, and Steel, and threatens more types that lack a consistent answer. Mega Sableye still offers irreplaceable utility to both Dark and Ghost teams in the form of Magic Bounce, Knock Off, and Will-O-Wisp, is a great option if you are looking to build one of the aforementioned types, and is definitely a threat to prepare for when teambuilding.