Monotype Spotlight: Scizor (Bug) [To Mega or not to Mega?]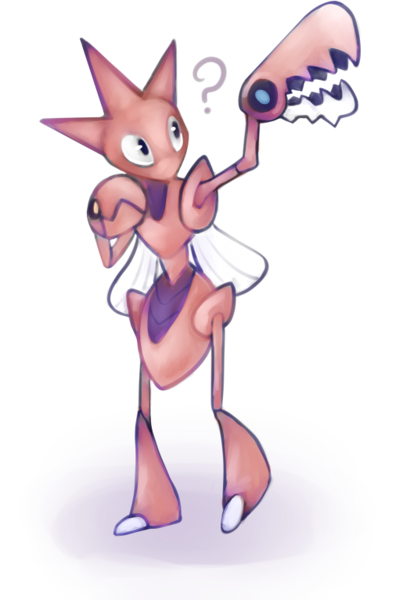 Art by LifeisDANK.
To Mega, or not to Mega, that is the Question
Not coming as a huge surprise, both Scizor and Mega Scizor have cemented themselves as huge threats in Monotype. Now it is time to answer the question: To Mega, or not to Mega? Hopefully by the time you have finished this article, you will have a clearer idea of which version of Scizor you will want to use on your Bug-type teams (the choice is simple for Steel-type teams, which prefer Mega Scizor every time), a hot topic of conversation in Monotype. In general, both Scizor and Mega Scizor have the ability to sweep quite a few types if played well with the support of the rest of the team, and both have Technician, allowing them to use Bullet Punch excellently. Scizor's secondary typing of Steel is also very beneficial for Bug-type teams, as this typing allows Scizor to take Rock- and Flying-type attacks, which Bug-type teams generally struggle with. Scizor also has an abundance of useful moves such as U-turn, allowing it act as a pivot for the team, and Knock Off, Superpower, and Pursuit as great coverage options. On top of all these great assets, Scizor also has access to Swords Dance, and with its bulk, it is able to utilize this if given the opportunity. However, Bug also has access to both Mega Heracross and Mega Pinsir as viable options when choosing a Mega Evolution, so another question to be asked is, is Mega Scizor worth using over both of them? In order to answer that question, we must first take a look at both of the Scizor formes.
---
To Mega?
Mega Scizor is used primarily for setting up when the opportunity arises and sweeping teams. This is aided by the fact that Mega Scizor has both better bulk and speed than regular Scizor, so carrying Swords Dance is easily justified. This also helps to beat bulkier Pokémon that can easily heal off regular hits, and boosted Bullet Punch has the ability to OHKO offensive threats that would usually outspeed and beat Scizor. Mega Scizor also has an easier time dealing with Foul Play users thanks to its added bulk.
Scizor-Mega @ Scizorite
Ability: Technician
EVs: 252 Atk / 4 SpD / 252 Spe
Jolly Nature
- Bug Bite / Knock Off
- Bullet Punch
- Swords Dance
- Superpower / Knock Off
This is the most reliable Mega Scizor set for Bug-type teams, as it deals with the most relevant threats. Mega Scizor needs to invest 252 EVs in Speed and run a Jolly nature in order to outspeed Adamant Diggersby, which is often run on Normal-type teams, and OHKO it with Superpower. Other notable Pokémon that Mega Scizor outspeeds are Azumarill and Mandibuzz, which is important, as Azumarill is a huge threat after using Belly Drum, and Bullet Punch Scizor is usually a Bug-type team's only answer. Outspeeding Mandibuzz is also huge, as Scizor can then get off a Swords Dance without being Taunted and deal damage before being hit by Foul Play. Bug Bite is the preferred Bug-type move for Mega Scizor, as it hits with STAB and does not force Mega Scizor out like U-turn, which is a very good move when trying to pivot but is not very helpful when trying to sweep bulky teams, contradicting the purpose of this set. Superpower can help in the Normal matchup; this move on Mega Scizor is especially popular, as Normal-type teams have established themselves as a top-tier type in the current metagame. Without Superpower, Scizor would struggle to beat Pokémon such as Porygon2 and Staraptor. Knock Off is used to address the Water- and Poison-type matchup, able to at least dent Pokémon such as Mantine and Toxapex and get rid of their Leftovers and Black Sludge, respectively, making it that much easier for the team to deal with them.
Or not to Mega?
One word describes the damage that Choice Band Scizor can inflict on the opposition: destruction. Choice Band Scizor has the ability to pivot around, dealing huge chunks of damage to more offensive teams. It also has the ability to sweep unsuspecting teams easily in the later turns of the battle if the opponent is not careful. Bullet Punch on a Choice Band Scizor makes matchups against Fairy-, Ice-, and Rock-type teams a walk in the park if you play it well.
Scizor @ Choice Band
Ability: Technician
EVs: 252 Atk / 4 SpD / 252 Spe
Adamant Nature
- Bullet Punch
- U-turn
- Superpower
- Knock Off / Pursuit
The best regular Scizor set used for Bug-type teams in Monotype at the moment, this set makes use of Choice Band with Bullet Punch in order to nuke frail foes. Choice Band Scizor can guarantee a 2HKO on the likes of Tapu Koko and Azumarill, which are huge threats to Bug-type teams. U-turn is a great pivot move that gains the team momentum when forcing a foe out. It also helps to get the upper hand when a check to Scizor is brought in, such as Toxapex, Mantine, or Starpator, allowing it to pivot out into a Pokémon such as Mega Pinsir or Heracross to wreak havoc. This is an effective tactic, as Scizor forces a lot of Pokémon out due to its sheer power and coverage, and being able to use this scare tactic in order to pivot for momentum really helps the offensive cores of Bug-type teams. Superpower is a great coverage move to hit Steel-type Pokémon for huge amounts of damage; Pokémon such as Celesteela become unreliable switch-ins after just one hit. It also helps with the Normal-type matchup, not letting Porygon2, Normal-type teams' second best check to Scizor after Staraptor, switch in. Knock Off is a great all-around coverage move, hitting those Water-, Poison-, and Flying-types, such as Mantine, Toxapex, and Zapdos, that resist Scizor's STAB moves, for neutral damage. It also cripples Pokémon by removing Eviolites, Choice items, and Leftovers from them. Pursuit is another good option to run over Knock Off, as with Scizor's huge Attack and Technician ability, Pursuit is able to trap threats such as Heatran, in order to pop the Air Balloon for Volcarona, and Victini after it has lost Speed using V-create. Although Adamant is the better option in general for Choice Band Scizor, a Jolly nature can be run when you are using Pursuit, as this allows you to outspeed Victini after one V-create Speed drop and KO it. However, Jolly should only be run when using Pursuit; otherwise, Adamant is the better option.
Scizor @ Life Orb
Ability: Technician
EVs: 252 Atk / 4 SpD / 252 Spe
Adamant Nature
- Bullet Punch
- Bug Bite / Knock Off
- Superpower / Knock Off
- Swords Dance
Life Orb is preferred less than Choice Band, as Life Orb doesn't have the same instant damage effect that the Choice Band set has. It is slightly worse in practice as well, not being able to do as much unboosted damage as Choice Band Scizor; however, Swords Dance is the reason why some players may opt to use this set. With less bulk than Mega Scizor and constant Life Orb recoil, boosting against some Pokémon is very hard to pull off and only works in some situations, especially as using Swords Dance takes away anther coverage move. This set uses the same EV spread as Choice Band Scizor to outpace Pokémon such as Azumarill and Mandibuzz. Superpower and Knock Off do the same job as on the Choice Band set. Life Orb Scizor is more of a late-game sweeper than its Choice Band counterpart and needs the right situations in order to clean late-game.
---
Who has the better cores?
Scizor fits onto more offensive cores, benefiting from a fast-paced, heavy-hitting team around it that relies heavily on momentum and pure offense. On the other hand, Mega Scizor can fit on both offensive and slightly more balanced cores.
Scizor-Mega @ Scizorite
Ability: Technician
EVs: 252 Atk / 4 SpD / 252 Spe
Jolly Nature
- Bug Bite
- Bullet Punch
- Swords Dance
- Superpower / Knock Off

Volcarona @ Psychium Z
Ability: Flame Body
EVs: 4 Def / 252 SpA / 252 Spe
Timid Nature
- Quiver Dance
- Fire Blast
- Psychic
- Hidden Power Electric
This offensive core relies on both Pokémon's ability to set up and wreak havoc on teams, with Volcarona supporting Mega Scizor with Psychium Z. Shattered Psyche is used to lure and KO Toxapex, something that Swords Dance Scizor struggles with. This is necessary, as without Mega Pinsir, Bug-type teams really struggle to beat Poison. Mega Scizor's good bulk and ability to boost allow it to take on Rock-type Pokémon, or Pokémon with Rock-type coverage, to support Volcarona as well. Specifically, Mega Scizor is able to beat Pokémon such as Chansey and Terrakion, whereas Volcarona is able to beat Pokémon for Mega Scizor such as Toxapex and Skarmory. This synergy helps Bug-type teams overcome many types in the meta with its offensive pressure.
Volcarona @ Firium Z
Ability: Flame Body
EVs: 4 Def / 252 SpA / 252 Spe
Timid Nature
- Quiver Dance
- Fire Blast
- Bug Buzz
- Hidden Power Ground

Pinsir @ Pinsirite
Ability: Moxie
EVs: 252 Atk / 4 SpD / 252 Spe
Jolly Nature
- Swords Dance
- Return
- Quick Attack
- Close Combat

Scizor @ Choice Band
Ability: Technician
EVs: 252 Atk / 4 SpD / 252 Spe
Jolly Nature
- Bullet Punch
- U-turn
- Superpower
- Knock Off / Pursuit
The most offensive core and arguably the best core that Bug-type teams have in this metagame is Volcarona, Mega Pinsir, and Scizor. These Pokémon have great offensive synergy together. Scizor acts as a heavy-hitting pivot into the other two Pokémon, trying to gain momentum over the opposition with U-turn and eventually pushing the team into a position to sweep with both Quiver Dance and Swords Dance. Using U-turn with this core is very good, as there are not many Pokémon that can reliably check both Volcarona and Mega Pinsir, leaving a very weakened team susceptible to a sweep from Choice Band Scizor. With Volcarona's ability to Quiver Dance and fire off an Inferno Overdrive, it is able to nuke offensive Pokémon and break through defensive teams more easily. Shattered Psyche on Volcarona is unnecessary with this core, as Mega Pinsir has the ability to break Poison-type Pokémon such as Toxapex. With coverage of Hidden Power Ground stacked with its already great STAB move, Fire Blast, Volcarona at +1 is able to tear through Steel-type teams; this is aided by Scizor's ability to force mind games with Heatran between Bullet Punch and Pursuit to pop the Air Balloon. Mega Pinsir has a gigantic Attack stat paired with its amazing ability in Aerilate, meaning it naturally beats balance teams. With one Swords Dance, Mega Pinsir is able to wreak havoc through both Poison- and Water-type teams balance, which is great, as Volcarona struggles to completely break Water-type teams with Mantine and Toxapex being so popular. Scizor aids Mega Pinsir with many common checks and counters, with the more important ones being Nihilego, Mega Diancie, and Terrakion. With all three of these gone, Mega Pinsir is able to break through Poison-, Fairy-, and Fighting-type teams more effectively, having no reliable checks. Scizor has the ability to Pursuit trap Nihilego, however, so it is no longer a threat throughout the matchup. Scizor also makes use of Knock Off very well, supporting the team by removing Choice Items, Leftovers, Black Sludge, Eviolite, and even Rocky Helmet from foes. Mega Pinsir is able to deal with Porygon2 more easily if it lacks an Eviolite and can deal with Toxapex and Swampert better without Leftovers or Black Sludge. Scizor also takes off a lot of pressure from itself and Mega Pinsir when it uses Knock Off on Rocky Helmet users such as Skarmory and Hippowdon. Scizor is able to pivot more freely on these switch-ins using U-turn without having to fear constant damage, and Mega Pinsir does not have to worry about whether to attack or switch in order to preserve HP. It helps Volcarona when dealing with Pokémon such as Alolan Muk without Assault Vest, as Volcarona has a chance to OHKO it with a +1 Inferno Overdrive.
---
Which Scizor makes the cut?
Mega Scizor is better in many ways than regular Scizor; the two main selling points for Mega Scizor are the boosted Speed and ability to use Swords Dance effectively. Mega Scizor is able to outspeed more Pokémon naturally than regular Scizor. Being able to outspeed Adamant Diggersby saves your team from losing countless Pokémon trying to find a switch-in for Choice Band Fire Punch. It also has much better defenses than regular Scizor, able to take more hits and set up with less pressure. Scizor is also better in many ways than Mega Scizor. Scizor's best attribute is the instant damage it can inflict on Pokémon and how effortlessly it can sweep unprepared teams. Choice Band Scizor has the ability to 2HKO Pokémon that Mega Scizor cannot with Bullet Punch and makes it harder for the opponent to find switch-ins when using an offensive team. With Bug-type teams being constantly tailored towards offense, this is such a big deal. Scizor can also nuke Pokémon with its coverage moves and efficiently use Pursuit to trap Pokémon that would normally be threats to the rest of the team, while Mega Scizor cannot do disastrous amounts of damage without a Swords Dance boost. Ultimately, the main reason why Scizor is used so often is that fact that you can run Mega Pinsir with regular Scizor, as it frees up a Mega slot on the team. Mega Pinsir is necessary when building around beating both Water- and Poison-type teams, as well as other Bug-type teams. Mega Pinsir is arguably a staple Pokémon on all Bug-type teams but cannot be used with Mega Scizor, making regular Scizor much more desirable. In my opinion, regular Scizor edges out when answering the question To Mega, or not to Mega?
What will you do?
To Mega, or not to Mega? You've seen the facts, you've heard my opinion, so will you choose to go with the brute force of Scizor or the more methodical sweeps with Mega Scizor? Either way both Scizor are a staple of Bug-type teams and will be viable for a long time to come. Thanks to its ability Technician and amazing boosted priority, it will be punching its way through the meta for generations to come.