OMotM Spotlight: ZU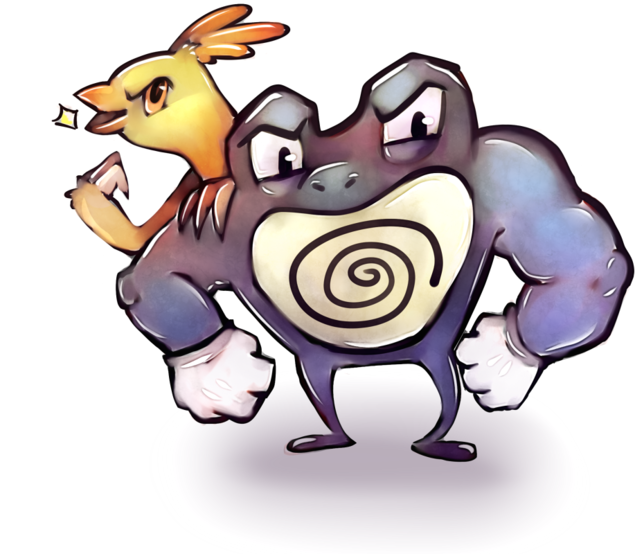 Art by LifeisDANK.
Introduction
ZU is an unofficial metagame below PU and is the Other Metagame of the Month for May 2018! Though it may seem like it's just a bunch of really awful Pokémon, some surprisingly strong ones find their way down here, such as Rotom-F, Torterra, Lycanroc, and many Silvally formes. In this article, we'll be going over some of the most common Pokémon to prepare you for what you can expect when playing this month's ladder!
Meta-Defining Pokémon in ZU

Lycanroc @ Lycanium Z

Ability: Steadfast
EVs: 252 Atk / 4 SpD / 252 Spe
Jolly Nature
- Swords Dance
- Stone Edge
- Drill Run / Fire Fang
- Accelerock
Ever since it dropped in April, Lycanroc has been a massive threat in ZU. Its power mainly resides in its high Speed, access to Swords Dance, and, most notably, access to Splintered Stormshards. Even though it really only has a single common set, that one set is strong to the point of making it one of the absolute best Pokémon in the tier. As soon as you see Lycanroc on the opponent's' team, you will have to constantly be wary of it, as a single Swords Dance boost can allow it to clean up a weakened team or break for a teammate. Its typing lets it find setup opportunities with relative ease, too, with Pokémon like Vigoroth, Chatot, and Lickilicky all failing to hit it for a lot of damage and giving it that chance. Once Lycanroc has set up, its high-BP STAB move in Stone Edge lets it KO frail Pokémon like Liepard and weakened walls. Splintered Stormshards means it can easily break through a single bulkier Pokémon like Silvally or Tangela, making it that much harder to deal with. On top of that, it almost always runs Drill Run, which means even Steel-types like Probopass and Metang aren't safe from it. Another option is Fire Fang, which is weaker and doesn't hit Probopass but does hit Bronzor and Torterra hard. It can also be combined with Firium Z as a lure for these two Pokémon, though the lack of any boost on Stone Edge makes this rather niche. Lastly, Accelerock means that Lycanroc can be a solid revenge killer for Pokémon like Choice Scarf Chatot and Rotom-F while also making sure they can't stop its sweep.
As with every Pokémon, Lycanroc does have its downsides. The most notable is how frail it is; with defenses that low, Choice Scarf users that aren't in range of Accelerock can easily stop it in its tracks. Its typing doesn't help, either; while a resistance to Normal is cool, priority users like Monferno and Poliwrath can easily take out a slightly weakened Lycanroc. As far as checks and counters go, Torterra is by far the best. Its high physical bulk and resistance to both Stone Edge and Drill Run mean that it can take on most Lycanroc, though it has to fear the rare Fire Fang or even Inferno Overdrive. Poliwrath is another very good one, though its lack of recovery outside of Rest means it gets worn down more easily. Otherwise, Vibrava and Gabite can take any hit from Lycanroc but aren't very viable otherwise, and a healthy physically defensive Golem can also switch in.
The effect Lycanroc has had on the meta has been massive. Its appearance has made Fire-types like Ninetales, Rapidash, and Simisear and Flying-types like Chatot and Rotom-S considerably worse, as they risk getting picked off by Accelerock or, if the Lycanroc player predicts them switching out, giving it a free Swords Dance. Torterra and Poliwrath have become significantly more popular at least partially due to Lycanroc's presence, and Monferno has been seeing for use for its ability to both get Lycanroc in safely and pick it off with Mach Punch. All in all, Lycanroc is a terrifying force that every team will have to account for.
To take a look at Lycanroc's strength, let's look at this replay from the recent ZU Open Top 16 between Xayah and Sam I Yam.
Even though Jynx is still present in this replay, it is far more about Sam I Yam relying on Air Balloon Probopass to check Lycanroc, with heavy offensive pressure otherwise being the only way to prevent it from cleaning up. Late-game, when the Air Balloon has been broken and his team has been worn down, a +2 Lycanroc can clean up, as Splintered Stormshards can break through Vigoroth. When Choice Scarf Rotom-S comes in on +1 Speed Combusken, it's getting ready to get Lycanroc an opportunity to set up. Combusken is forced to switch out, as Rotom-S is faster even after the Protect, which forces Probopass to switch in. Because of the lack of Power Gem, Probopass can only really hurt Rotom-S with Volt Switch, which brings in Vigoroth. This is a free switch opportunity for Lycanroc, as the Wild Monkey Pokémon cannot hurt it significantly. Lycanroc sets up two Swords Dances and breaks Vigoroth with its Z-Move, getting an irrelevant critical hit and forcing Sam I Yam to surrender as Probopass and Combusken go down to Drill Run and Accelerock, respectively.

/
Combusken @ Fightinium Z / Life Orb

Ability: Speed Boost
EVs: 4 Def / 252 SpA / 252 Spe
Timid / Naive Nature
IVs: 0 Atk
- Fire Blast
- Focus Blast
- Protect
- Defog / Shadow Claw
Combusken has been in ZU since it started and has been a force to be reckoned with that entire time. Its Speed Boost ability combined with solid mixed attacking stats and high-Base Power STAB moves makes it a threatening wallbreaker and late-game cleaner. Its first and most common set is a special set, which focuses on being a breaker. Both Fire Blast and Focus Blast are strong but inaccurate moves, and their near-perfect neutral coverage means that Combusken has very limited switch-ins. Fightinium Z gives Combusken an incredibly powerful and perfectly accurate All-Out Pummeling, allowing it to secure a KO or do tremendous damage to certain targets. Protect is there to scout moves and give Combusken an easy Speed boost. The last slot is used to let Combusken be either an offensive entry hazard remover for its team, using forced switches to Defog, or a mixed attacker that can hit Grumpig hard.

/
/
Combusken @ Fightinium Z / Life Orb / Firium Z

Ability: Speed Boost
EVs: 252 Atk / 4 Def / 252 Spe
Jolly Nature
- Flare Blitz
- Low Kick
- Swords Dance / Shadow Claw
- Protect
The second set is a physical Swords Dance set that focuses on cleaning late-game after setting up on a forced switch. Flare Blitz is very strong and has good neutral coverage in ZU, being capable of hurting many common physical walls like Tangela and Torterra. Low Kick is Combusken's strongest Fighting-type move, and while it isn't very strong, it still dents its targets after a Swords Dance. It can be powered up by Fightinium Z to break through targets like Silvally-Water more easily or by Life Orb for easier late game cleaning. Firium Z is another option that gives Combusken an inmensely powerful Inferno Overdrive that breaks through many neutral targets. A completely different direction to take is to forgo Swords Dance for Shadow Claw: this turns Combusken into a breaker that can lure Grumpig effectively, making it a solid teammate for Pokémon like Rotom-F.
Combusken's downsides mainly lie in its low base stats; it's frail, relies on inaccurate or recoil moves to deal significant damage, and gets outsped by Pokémon like Choice Scarf Rotom-S even after two Speed boosts. In addition, even Shadow Claw sets fail to beat Grumpig, which is quite common, and Pokémon like Silvally-Water and Poliwrath can give it a lot of trouble as well. Its reliance on Speed Boost also means it often gives up free turns due to having to click Protect, giving momentum to the opponent. Lastly, it faces a lot of competition from Monferno, which has access to a better physical STAB move, priority, and U-turn in exchange for Speed Boost.
Nonetheless, Combusken's effect on the metagame is undeniable. It is one of the major reasons for Grumpig being as common as it is nowadays and is a major contributor to the success of bulky Water-types as well. With Lycanroc entering the tier, it has become even more common, as it is one of the few Fire-types that aren't easily revenge killed by it. The departure of Silvally-Fairy has made life even easier on Combusken, now letting it use Fightinium Z more freely. Overall, Combusken absolutely has to be considered when building a team, as it is an excellent breaker and strong cleaner.
Combusken saw a lot of use throughout most of ZU Open, but this replay from the semifinals between HJAD and Magearna8000 shows it off very well.
As can be seen immediately, Magearna8000 relies almost completely on Silvally-Dragon to check Combusken, which isn't the most reliable answer. Thus, HJAD's game plan is to get Combusken in late-game and clean up, praying to hit all of its moves. And indeed, after Substitute + Salac Berry Simipour and Hex Misdreavus whittle down Magearna8000's team, Combusken manages to get in on the Choice Scarf Rotom-F locked into Blizzard. From there, it is free to go for a Protect, since all of the remaining foes get OHKOed, break through Vigoroth with All-Out Pummeling, and clean up with ease.

/
/

Poliwrath @ Leftovers / Life Orb / Fightinium Z

Ability: Water Absorb
EVs: 160 HP / 252 SpA / 96 Spe
Modest Nature
IVs: 0 Atk
- Scald / Hydro Pump
- Focus Blast
- Ice Beam
- Vacuum Wave
Poliwrath dropped back in January and was immediately seen as an amazingly versatile Pokémon, with the three listed sets being its main ones. The first set capitalizes on Poliwrath's solid offensive typing, high-Base Power STAB moves, and decent natural bulk to function as a bulky attacker. Both Scald and Hydro Pump threaten a wide variety of Pokémon, most notably Combusken, Monferno, and Lycanroc. Scald has the added benefits of always landing and its burn chance, making it the better choice on sets that utilize Leftovers and focus more on Poliwrath's bulk. Hydro Pump sees more use on the more offensively oriented Life Orb and Fightinium Z sets. Focus Blast is a secondary STAB move that has incredible power behind it and combines well with Fightinium Z to get a perfectly accurate one-time nuke. Ice Beam hits some of Poliwrath's switch-ins, like Gourgeist-L and Silvally-Grass, while Vacuum Wave provides it with a valuable form of priority, allowing it to revenge kill weakened Rotom-F and Lycanroc.

Poliwrath @ Leftovers

Ability: Water Absorb
EVs: 252 HP / 4 Atk / 252 Def
Impish or Relaxed Nature
- Rest
- Sleep Talk
- Scald
- Circle Throw
The second set focuses on using Poliwrath's bulk and good defensive typing to wall a decent portion of the metagame. Most notably, it stops Pokémon like Lycanroc, physical Combusken, and Monferno in their tracks. Scald and Circle Throw are both good STAB moves with nice utility behind them, allowing Poliwrath to really easily disrupt the opponent's team. Rest + Sleep Talk is the only form of recovery Poliwrath has access to and, despite taking up two moveslots, greatly adds to its longevity.
Poliwrath @ Normalium Z

Ability: Swift Swim
EVs: 252 Atk / 4 SpD / 252 Spe
Jolly / Adamant Nature
- Belly Drum
- Waterfall
- Ice Punch
- Brick Break
The third and final set is a rain sweeper. Despite Drizzle being banned, Rain Dance teams still have a good place in our metagame, and Poliwrath is one of the main reasons for it. With Z-Belly Drum, good natural bulk, and a solid typing, it's capable of setting up on a large portion of the meta; after setting up, its Swift Swim ability means it will outspeed all but the absolute fastest Choice Scarf users in the rain, and it OHKOes even the bulkiest threats at +6 Attack. Between Waterfall, Ice Punch, and Brick Break, it has practically perfect neutral coverage, leaving almost only Pyukumuku to wall it after setting up.
As far and checks and counters go, Grumpig is probably the best. Outside of Life Orb Hydro Pump, Poliwrath struggles to dent it considerably, though it doesn't like taking a Scald either and gets outsped and OHKOed by the rain set at +6. Other excellent checks are Pyukumuku, Mareanie, and opposing Poliwrath, though each of them can be worked around, and Mareanie is generally lackluster. Grass-types like Gourgeist-L, Tangela, and Silvally-Grass can take it on one-on-one but have to fear Ice Beam and Ice Punch; bulky Water-types like Silvally-Water can take its hits but struggle to hit it back; and generally bulky Pokémon like Muk can deal with it to some extent. The most reliably way of dealing with Poliwrath is using Pokémon such as Rotom-S, Manectric, Leafeon, Chatot, Mr. Mime, and Kadabra to prey on its low Speed and revenge kill it with ease after scouting its moveset.
Poliwrath itself hasn't had a massive effect on the metagame, but it definitely has enjoyed how it has been changing. The recent bans of Musharna and Jynx removed two Pokémon that heavily threatened and/or could set up on it, while the drops of Lycanroc, Crustle, and Liepard gave it Pokémon it could switch into and beat. Liepard's addition also made Rain Dance teams better, making Poliwrath even scarier. All in all, Poliwrath is a massively versatile threat that's hard to prepare for and absolutely needs to be considered while building.

Torterra @ Leftovers

Ability: Overgrow / Shell Armor
EVs: 252 HP / 4 Atk / 252 Def
Impish Nature
- Stealth Rock
- Synthesis
- Toxic
- Wood Hammer / Earthquake
Before Torterra dropped in January, it was one of the main anticipated Pokémon. It was expected to be extremely versatile, with sets ranging from defensive to bulky attacker to Rock Polish to Choice Band. Now that it has been in our meta for a while, it's clear that this anticipation was entirely deserved. While it is not as versatile as was hoped, it has proven itself as a major part of many balanced and bulky offense teams. Its high physical bulk, decent typing, and access to recovery and Stealth Rock have made it one of the best Pokémon in our meta. The first set listed capitalizes on this; it focuses on wearing down the opposing teams with Stealth Rock and Toxic, the latter notably crippling things like Tangela and defensive Rotom-S, which get a free switch in otherwise. Synthesis sets Torterra apart from many other bulky Pokémon, most notably Muk, Poliwrath, and Golem, as being able to heal up is a massive advantage. The last move depends on whichever STAB move your team needs more, as both have a high Base Power with minimal drawbacks.

/

/
Torterra @ Rockium Z / Grassium Z / Groundium Z

Ability: Overgrow / Shell Armor
EVs: 252 Atk / 4 Def / 252 Spe
Jolly Nature
- Rock Polish
- Wood Hammer / Swords Dance
- Earthquake
- Stone Edge / Swords Dance
The second set is an offensive set that is much harder to fit on a team but can be a fearsome sweeper with the right support. The ability to set up a Rock Polish on a massive threat like Lycanroc or Choice-locked Rotom-F is incredible and makes this set as scary as it is. After a Rock Polish, Torterra outspeeds everything up to Choice Scarf Chatot, making it terrifying for offensive teams to deal with, as its high-Base Power STAB moves can burn through many of their frail threats, while a Z-Move can be used to break through a single check. Rockium Z is most common, as it allows Torterra to break through Flying-types like Rotom-S, Vullaby, and Oricorio-E, but Grassium Z or Groundium Z can be used instead to power up one of its STAB moves. Another option for the last slot is Swords Dance, turning the set into a Double Dance version that is also capable of breaking through defensive teams. Notably, it's capable of breaking through Pyukumuku with Grassium Z, making it a big threat to non-Vullaby stall.
Torterra's best answer is Bronzor, as it resists or is immune to all of Torterra's common moves while also being immune to Toxic. Flying-types are quite good as well, as they resist both of its STAB moves and can generally switch in with relative ease while threatening it heavily in return. Grass-types like Tangela and Gourgeist-L are in a similar situation, though they don't hurt Torterra as much in return. Lastly, Rotom-F is a massive problem for Torterra, as it comes in for free on Earthquake and forces it out for fear of Blizzard; this is why it's often unwise to use Torterra as the lone Electric-immune Pokémon on a team.
The impact Torterra has had hasn't been felt as much as some other Pokémon. Sure, it's always been fantastic and only better with the new drops, being the single best Lycanroc counter and easily dealing with Alolan Dugtrio, but it doesn't really change teambuilding that much. Oftentimes, it is checked naturally by Pokémon like Tangela, Vullaby, and especially Rotom-F. Nonetheless, it is an incredible Stealth Rock user and defensive Pokémon that is still capable of going offensive, making it a great Pokémon in ZU.
To take a look at Torterra's performance, we're highlighting this replay from the ZU Open Finals between Quantum Tesseract and HJAD.
Even though Quantum Tesseract eventually loses this game, Torterra is an incredible wall in the face of HJAD. It constantly comes in on Alolan Dugtrio, easily sets up Stealth Rock and cripples Misdreavus, and heavily damages Combusken despite being burned and getting sacrificed. In the end, it does go down to that same Combusken, but not before leaving a serious stamp on this game and aiding Quantum Tesseract greatly.
Grumpig @ Mago Berry

Ability: Thick Fat
EVs: 252 HP / 80 SpD / 176 Spe
Timid Nature
IVs: 0 Atk
- Recycle
- Substitute / Taunt
- Psychic
- Focus Blast / Shadow Ball / Toxic
Despite having been in our meta ever since beta, Grumpig didn't start becoming extremely popular until recently. Its Mago Berry + Recycle set especially gained a lot of popularity, as it checks several common Pokémon, such as Rotom-F, Combusken, Monferno, and Kadabra, as well as being the best counter to Musharna and Jynx before they got banned. Its Thick Fat ability means it is an amazing check to Fire-types like Ninetales and Rapidash in addition to those mentioned before. Taunt and Substitute are both excellent ways of taking advantage of defensive Pokémon. Taunt also prevents Pokémon like Muk and Vigoroth from setting up on Grumpig, while Substitute allows it to get into Mago Berry range more easily. Access to Focus Blast and Shadow Ball also means it's capable of threatening its own checks, such as Probopass and Metang. Toxic is another excellent option, especially in tandem with Taunt, as it can turn Grumpig into more of a stallbreaker.

Grumpig @ Leftovers

Ability: Thick Fat
EVs: 80 HP / 252 SpA / 176 Spe
Timid Nature
IVs: 0 Atk
- Substitute / Taunt
- Calm Mind
- Psyshock / Psychic
- Focus Blast / Shadow Ball
While the Mago Berry set focuses on being a blanket check to a wide variety of Pokémon, Grumpig can fill another major role: a stallbreaker. The combinations of Substitute + Calm Mind and Taunt + Calm Mind are both excellent ways of breaking through common stall teams, especially if they lack Vullaby. A lack of Recycle + Mago Berry means this set is easier to whittle down over the course of a match, but Leftovers is still a solid way of healing up over the course of a match and is generally enough against stall teams, so long as Grumpig does not get statused, potentially letting it break through most of the team.
Grumpig's biggest weaknesses are U-turn and Pursuit; Pokémon like Monferno, while getting countered by Grumpig, can U-turn out and dent it considerably. This becomes an even bigger issue if such a foe is partnered with a Pokémon like Liepard, which can easily Pursuit trap and take out Grumpig, though it does have to be careful of mispredicting and dropping to Focus Blast. Other trappers, like Bouffalant and even Metang, don't fear Focus Blast nearly as much and can dent Grumpig significantly if it switches out. Other ways of dealing with Grumpig include many Psychic-resistant Pokémon, especially those not weak to Focus Blast like Vullaby and Metang, and keeping up offensive pressure enough to not give it a chance to Recycle.
For many Pokémon, Grumpig directly influences their movesets due to its unique combination of its mono-Psychic typing and Thick Fat. Examples include Shadow Claw Combusken, Dark Pulse Ninetales, and Megahorn Rapidash. These otherwise suboptimal moves show how much effect Grumpig has already had on our meta, and it's only growing; as Combusken, Monferno, and Poliwrath get more popular, so too does Grumpig, and it is unlikely that it is going anywhere anytime soon, especially after its main competition, Musharna, was banned recently.

Golem @ Weakness Policy

Ability: Sturdy
EVs: 252 Atk / 4 Def / 252 Spe
Adamant / Jolly Nature
- Stealth Rock
- Earthquake
- Rock Blast / Stone Edge
- Sucker Punch / Explosion
Golem has been a longstanding staple in ZU this generation, being one of the tier's most effective Stealth Rock users and a fairly flexible Pokémon due to its high physical bulk, base 120 Attack, and Rock / Ground typing. These traits enable Golem to run both offensive and defensive sets. As a result, Golem is very common and found on a wide range of teams. It can run an offensive Stealth Rock set, which acts as a strong physical attacker, a soft Normal-, Electric-, Rock-, and Fire-type check, and a setter that can set up Stealth Rock on the majority of the metagame. Conversely, Golem can opt to run a defensive set to increase its longevity and better check offensive threats such as Lycanroc, Bouffalant, Manectric, and Rapidash.
Offensive Golem is one of the premier Stealth Rock users in the tier, having a good matchup against opposing entry hazard setters such as Mawile, Probopass, Metang, and Pinsir. Golem is also a fearsome attacker with its base 120 Attack and high-powered STAB moves in Earthquake and Stone Edge. Golem forces teams to pack a Ground- or Rock-resistant Pokémon, which is partially why Pokémon like Silvally-Grass, Misdreavus, and Torterra are effective in the metagame. This Golem set is mainly seen on offensive-based teams, as Golem can act as a soft check to Pokémon that threaten those kinds of teams, namely Lycanroc, Chatot, and Zebstrika. Offensive Golem also forces teams to be able to creep at least 189 Speed if they cannot check it defensively. Furthermore, Weakness Policy in tandem with Sturdy can potentially make Golem a fearsome wallbreaker that can shred teams early-game. In this vein, Golem is a centralizing force in the metagame as far as leads go. However, this set has some flaws. The popularity of Torterra and Poliwrath on the ladder, as well as its susceptibility to being chipped down, gives offensive Golem trouble performing its role to some extent.

/
Golem @ Leftovers / Shuca Berry

Ability: Sturdy
EVs: 252 HP / 36 Atk / 220 SpD
Careful Nature
- Stealth Rock
- Earthquake
- Stone Edge / Rock Blast
- Protect / Toxic / Roar
Defensive Golem functions and plays much differently than its offensive sets. Mainly seen on balance and more defensive builds, specially defensive Golem is able to blanket check many threats in the current metagame such as Choice Band Bouffalant, Manectric, Mr. Mime, and Rapidash. This set provides great glue for teams because of the role compression it brings. The given EVs maximize Golem's special bulk, and the Attack investment ensures the OHKO on Pawniard. Leftovers and Protect are two key differences in this set compared to the offensive set; Leftovers increases Golem's longevity, and Protect allows Golem to scout certain Pokémon like Rotom-F, Choice Band Bouffalant, and Manectric. Protect also allows Golem to get an extra turn of Leftovers recovery. This Golem set is played more defensively, scouting the foe, checking offensive threats, and ensuring Golem remains as healthy as it can be throughout the match. If preferred, Leftovers can be forgone in favor of a Shuca Berry in order to more consistently check Pokémon like Lycanroc. The major downsides Golem faces are its lack of reliable recovery, its susceptibility to status, and its poor matchup against top metagame Pokémon in Rotom-F, Torterra, Poliwrath, Tangela, and Silvally-Water.

Pyukumuku @ Leftovers

Ability: Unaware
EVs: 252 HP / 252 Def / 4 SpD
Bold Nature
- Toxic
- Soak
- Recover
- Block / Counter / Protect / Taunt
Generation 7 brought another bulky Unaware Pokémon in Pyukumuku. After falling all the way down to ZU, Pyukumuku quickly solidified itself as a pillar for stall as an archetype. Furthermore, the departure of Ursaring gave stall a resurgence in viability. Pyukumuku's integral role on stall is attributed to its ability Unaware, excellent defensive pure Water typing, and base 130 defenses. Pyukumuku is able to blanket check a plethora of attackers such as Poliwrath, Monferno, Mr. Mime, and Lycanroc. This makes it stall's main answer to boosting sweepers and the tier's most powerful physical breakers. Pyukumuku is able stall out many Pokémon one-on-one because of the combination of Toxic, Soak, and Recover; it typically throws off Toxic whenever it can in order to whittle down the opposing team, and Soak allows it to beat Pokémon that are normally immune to Toxic, such as Probopass, Metang, and Mawile, and can heavily pressure Muk. Finally, Counter gives Pyukumuku the ability to deal damage to physical attackers like Pinsir and Vigoroth. Block and Protect can be used in the last slot over Counter. The former allows Pyukumuku to trap and eliminate foes, while the latter makes Toxic stalling easier and allows Pyukumuku to scout out foes. Lastly, Taunt can be used to make PP stalling easier and prevent Pokémon like Muk from setting up on it.
The major factors working against Pyukumuku are Substitute or Taunt users, powerful wallbreakers, and Electric- and Grass-types. The metagame has begun to adapt around Pyukumuku. For example, Substitute + Toxic Poliwrath, Substitute + Swords Dance Pinsir, and Taunt Liepard are all adaptations in the current metagame that take advantage of Pyukumuku's passive nature. Moreover, while Pyukumuku has fantastic bulk, it is still 2HKOed by the likes of Choice Specs Chatot, Rotom-F, Leafeon, and Choice Band Monferno. Also, the prevalence of Tangela, Rotom-F, and other Grass- or Electric-types gives Pyukumuku hard time. Finally, Pyukumuku itself is vulnerable to Toxic, relying on teammates such as Lickilicky for Heal Bell support.
/
Liepard @ Choice Band / Black Glasses

Ability: Prankster
EVs: 252 Atk / 4 SpD / 252 Spe
Jolly Nature
- Knock Off
- Pursuit
- U-turn
- Trick / Sucker Punch / Throat Chop
Ever since dropping to ZU this past tier shift, Liepard has carved itself a a large niche in the metagame as one of the tier's premier attackers and utility Pokémon. Liepard's versatility is displayed through its numerous sets: Choice Band, Nasty Plot sweeper, and weather support. These sets make Liepard considerably versatile and difficult to predict. As a result, Liepard is a Pokémon you must scout for before you try to play around it. For example, physically based sets can be discerned by looking at damage output and if they run Pursuit, whereas Leftovers is almost always a Nasty Plot set. Weather sets are easy to point out, as they are typically seen on full weather teams. Liepard is a very popular Pokémon on the ladder because of its versatility and the effectiveness of those sets. As a result, each set is played differently and affects the ZU metagame in varying ways.
Choice Band is arguably the most effective set Liepard can run in the current metagame. Liepard's good Speed and Attack, combined with its strong STAB attacks, allow it to function as a great wallbreaker and revenge killer for all types of teams. Choice Band Liepard is able to fit on offense to stall, which adds to its versatility. Knock Off is Liepard's strongest STAB move, being able to hit most neutral targets for high damage and whittling down physical walls or Dark-resistant Pokémon such as Poliwrath and Vullaby. Moreover, a Dark typing and base 108 Speed make Liepard the tier's best Pursuit trapper. U-turn gives Liepard the ability to pivot, which lessens the prediction needed when using Choice Band. Finally, Liepard's fourth moveslot is flexible to team needs: Trick can be used to cripple Pokémon like Pyukumuku, Mawile, and Carbink, which could otherwise come in for free; Sucker Punch allows Liepard to pick off Choice Scarf users such as Chatot and Mr. Mime; and Throat Chop gives Liepard the ability to hit Silvally formes and Z-Move users like Pinsir and Torterra harder than Knock Off. It also works well alongside Knock Off late-game after Liepard has removed items from the opposing team. It is also worth mentioning that a Black Glasses set with Copycat or Encore in the fourth slot can be run over Choice Band, as it allows Liepard to switch moves and deter setup from Pokémon like Muk and Vigoroth.

Liepard @ Leftovers

Ability: Prankster
EVs: 252 SpA / 4 SpD / 252 Spe
Timid Nature
- Nasty Plot
- Copycat
- Dark Pulse
- Substitute / Encore
Nasty Plot Liepard is a step below physically based sets in terms of damage output and effectiveness. Nonetheless, Nasty Plot, Substitute, and Copycat in tandem with Prankster turn Liepard into a fearsome sweeper. Nasty Plot Liepard needs to be played a lot more safely than Choice Band, as it needs to be kept healthy and only attempt a sweep late-game. Being mono-STAB, this Liepard set requires teammates that can beat Dark-type checks such as Poliwrath, Vullaby, Togetic, and Monferno. Moreover, Liepard greatly appreciates wallbreakers like Choice Specs Mr. Mime and Choice Band Granbull weakening opposing teams for it to sweep through. Liepard is able to perform best against offensive teams with frailer Dark-resistant Pokémon. This is because Prankster Copycat allows Liepard to play around Choice Scarf users if Dark Pulse is used the previous turn. Against teams that lack a solid Dark-type check, for example relying on Monferno or Pawniard, Liepard has a very good matchup. It is able to repeatedly chip down those frail Dark-resistant Pokémon with Dark Pulse. After a Nasty Plot, Liepard is able to clean through those weakened teams. Notably, Copycat sets are also excellent at revenge killing, capable of copying a move from Pokémon like Lycanroc or Combusken to take them out. On the ladder, Nasty Plot Liepard is usually a hit-or-miss Pokémon; in some matchups, it is excellent at what it does, while in others, it struggles to have an impact.

/
Liepard @ Damp Rock / Heat Rock

Ability: Prankster
EVs: 252 Atk / 4 SpD / 252 Spe
Jolly Nature
- Rain Dance / Sunny Day
- Encore / Taunt
- Knock Off
- U-turn
Before Liepard dropped to ZU, weather teams had a reliance on Volbeat or Illumise for weather support. These two Pokémon were fantastic at setting rain or sun, but being forced to run one Prankster weather setter held back weather archtypes from being dominant. The addition of Liepard into the tier has had a profound effect on weather teams. On top of setting weather with Prankster Rain Dance or Sunny Day, Liepard is able to pressure leads from setting hazards with Taunt and whittle down foes with STAB Knock Off. Diagnostic's rain sample especially has been a dominating force on the ZU ladder, showcasing the effectiveness of Liepard as a rain setter. Liepard is able to excel at this role because of Prankster, its good Speed, and ability to support rain sweepers outside of rain by wearing down the opposing team with Knock Off and pressuring foes with Taunt. The main downsides for Liepard as a weather support Pokémon are its below-average bulk and lack of defensive utility outside of its Psychic immunity. Liepard has a hard time switching into battle; it needs to come in on passive Pokémon or weaker, resisted attacks.

Rotom-Frost @ Choice Scarf

Ability: Levitate
EVs: 252 SpA / 4 SpD / 252 Spe
Timid Nature
- Blizzard
- Volt Switch
- Thunderbolt
- Trick / Defog
Rotom-F has been a dominant and controversial Pokémon since the beginning of the generation. The lone S-rank Pokémon has stood at the top throughout the entirety of generation 7 ZU, and on the ladder, it is no different. Rotom-F has an almost unmatched offensive presence due to its Electric / Ice STAB attacks, good Speed, and above-average damage output. Rotom-F is the most centralizing force in the metagame because of this. All teams must pack an answer to Electric- and Ice-type coverage to be able to switch into Rotom-F and have some way of pressuring it. Therefore, Rotom-F's Choice Scarf and Icium Z sets have differing counterplay.
Choice Scarf Rotom-F is perhaps its most popular set and generally considered the best Choice Scarf user in the tier, as the item enables Rotom-F to outspeed the entire unboosted ZU metagame except for Jolly Ninjask. Fantastic BoltBeam coverage makes Rotom-F an extremely hard Pokémon to switch into, as little in the tier can stand up to Electric / Ice coverage. Furthermore, the boosted Speed limits offensive counterplay to opposing Choice Scarf users and priority from Monferno and Lycanroc. Rotom-F sets the benchmark for Choice Scarf users and Speed-boosting sweepers alike; it limits the viability of Pokémon like Choice Scarf Pinsir and Dragon Dance Fraxure. This set fits easily on offensive, balance, and more bulky balance teams alike. Choice Scarf Rotom-F provides good utility for all these archetypes, being able to pivot, deal damage, and check an assortment of Pokémon at the same time. Furthermore, Trick allows Rotom-F to cripple the few counters it has, namely Chinchou and Seaking, as well as certain checks, like Grumpig and Probopass. Defog is another option for the last moveslot, allowing Rotom-F to remove entry hazards in an emergency. This is especially useful when facing Sticky Web or Spikes teams, as Rotom-F isn't grounded, letting it easily Defog against these. The major downsides to Choice Scarf Rotom-F are its reliance on prediction, the Choice lock, its mediocre defensive typing and weakness to Stealth Rock, Blizzard's inaccuracy, and how every team packs one or two dedicated checks to it.

Rotom-Frost @ Icium Z

Ability: Levitate
EVs: 252 SpA / 4 SpD / 252 Spe
Timid Nature
- Blizzard
- Volt Switch
- Thunderbolt
- Pain Split / Will-O-Wisp / Substitute / Defog
Icium Z Rotom-F has a few key differentiators compared to the Choice Scarf set. For one, Rotom-F not being Choice locked makes it much more difficult to switch into. It can bait in Electric-type switch-ins such as Golem, Lurantis, and Hakamo-o by clicking Thunderbolt and then reveal Subzero Slammer to KO them. In the same token, Rotom-F can bait in Grumpig with Blizzard and then Volt Switch out to a teammate that can threaten it. Unlike the Choice Scarf set, which is forced to predict in 50/50 situations, Icium Z has a lot more freedom to predict safely. Secondly, Icium Z can be used for Blizzard to offset the move's inaccuracy for one turn. This means the player can choose which Pokémon to not risk Blizzard versus or to simply nuke a foe. For example, Subzero Slammer is can be used against Golem, which allows Rotom-F to freely click Volt Switch later in the game and also prevents Stealth Rock from going up (assuming Sturdy is broken). Another difference from the Choice Scarf set is the fourth moveslot. Pain Split gives Rotom-F a semi-reliable form of recovery, which is important if Stealth Rock on the field. Will-O-Wisp allows Rotom-F to cripple physical attackers, while Substitute gives it more room for prediction, protects against status and priority moves, and mitigates Blizzard misses. Lastly, Defog can be used to remove entry hazards, since Rotom-F already threatens the majority of hazard setters. The main flaws to this set is that an unboosted Rotom-F is much easier to revenge kill and lacks the Speed to avoid taking damage by pivoting out with Volt Switch.
Silvally-Water @ Water Memory

Ability: RKS System
EVs: 248 HP / 76 Def / 184 Spe
Timid Nature
- Surf
- Flamethrower / Toxic / Ice Beam
- Parting Shot / U-turn
- Defog
Silvally-Water is by far the most effective Silvally forme in ZU, being incredibly easy to fit on a variety of teams. Residing in the A+ rank on the viability rankings, Silvally-Water is a support Pokémon unlike any other in the tier. An excellent pure Water typing alongside 95 / 95 / 95 bulk, Defog, and pivoting options in Parting Shot and U-turn makes Silvally-Water the premier entry hazard remover in the tier. Even as a bulky support Pokémon, Silvally-Water brings a considerable amount of offensive support. Parting Shot gives Silvally-Water the ability to pivot on foes and decrease their Attack and Special Attack by 1 stage, which makes it easier for teammates to come in. On the other hand, U-turn allows Silvally-Water to pivot out on Clear Body and Soundproof Pokémon, as well as being able to chip Grass-types on the switch. With the EV spread, Silvally-Water is able to Speed creep non-Choice Scarf Rotom-F and nail it with Flamethrower. The EVs also make Silvally-Water as physically bulky as possible, allowing it to repeatedly switch into Golem, Monferno, and Mawile. Another option is to move all Defense EVs to Speed, which allows it to outspeed Mr. Mime, Chatot, and Oricorio formes while Speed tying with Leafeon and other Silvally formes but gives up crucial bulk against Pokémon like Pinsir, Lycanroc, Golem, and Liepard. Silvally-Water can also check Probopass and Metang due to its typing, its bulk, and access to Surf and Flamethrower to hit both for super effective damage. However, Silvally-Water is susceptible to status, is affected by all hazards, and lacks reliable recovery, which makes it somewhat easy to whittle down.

Silvally-Grass @ Grass Memory

Ability: RKS System
EVs: 248 HP / 76 Def / 184 Spe
Timid Nature
- Defog
- Parting Shot / U-turn
- Grass Pledge
- Flamethrower
Silvally-Grass is the elemental counterpart to Silvally-Water. By virtue of typing, Silvally-Grass plays rather differently than Silvally-Water. Silvally-Grass has a much easier time switching into Stealth Rock users like Golem and Torterra. It can also check Smeargle leads because it is immune to Spore. Moreover, Silvally-Grass can check Pokémon like Swords Dance Torterra, Alolan Dugtrio, and Golem. However, Grass being a poor offensive typing in the metagame leaves Silvally-Grass at a disadvantage when attacking. It will mainly fit on more balance builds as a check to Ground-, Water-, and Electric-type Pokémon such as Golem, Poliwrath, and Manectric. The popularity of Rotom-F, Monferno, Combusken, and Bouffalant also really hinders Silvally-Grass's effectiveness in the current metagame.
Silvally-Dragon @ Dragon Memory

Ability: RKS System
EVs: 4 Def / 252 SpA / 252 Spe
Timid Nature
- Draco Meteor
- Flamethrower
- Parting Shot / U-turn
- Defog
When offense-based teams need entry hazard support and a good glue Pokémon, Silvally-Dragon is usually the forme that is used. A pure Dragon typing allows Silvally-Dragon to soft check Water-, Fire-, Electric-, and Grass-types, which is extremely valuable on offense. Moreover, Silvally-Dragon's powerful STAB move in Draco Meteor gives it the kind of STAB power most Silvally formes lack. With Draco Meteor, Silvally-Dragon is able to threaten a good portion of the metagame. Flamethrower is good coverage alongside Draco Meteor, hitting Metang and Mawile for super effective damage. Parting Shot gives Silvally-Dragon the ability to pivot out of bad matchups and soften the foe's attacks, making it easier for a teammate to switch in. U-turn in comparison can be used to pivot on Soundproof Mr. Mime and Clear Body Regice, two great switch-ins to Silvally-Dragon. Lastly, Defog provides invaluable support to offense, clearing hazards from the field. Although Silvally-Dragon is bulky and a relatively strong attacker, it is very easy to weaken, since offensive teams rely on Silvally-Dragon to check attackers. Furthermore, Silvally-Dragon must be wary of using Draco Meteor, since it can be somewhat easy to switch into and the Special Attack drop forces Silvally-Dragon to pivot out.
Silvally is best showcased in this replay between Megazard and Chrisloud1 from ZU Open.
Despite eventually losing the game, Megazard's Silvally-Water puts in a ton of work this game. It consistently comes in on Seaking and Simisear before using Parting Shot to freely bring in Rapidash and Leafeon, giving them a chance to break apart Chrisloud1's team. On the other hand, the opposing Silvally-Dragon is incredibly annoying to Megazard's team, checking all of Zebstrika, Leafeon, Rapidash, and Silvally-Water. It is eventually overwhelmed and broken through but was absolutely relevant in Chrisloud1's victory.
Conclusion
Overall, ZU is a very diverse metagame, filled to the brim with unique threats not found in other tiers. With a metagame as young as it is, building in ZU can be difficult, but there's still a lot of room for innovation. The ladder will still be on Pokémon Showdown until the end of May, so get on that and show us what you can come up with!