ORAS Megas in OU
Introduction
Back in December, I wrote an article about the new Mega Evolutions introduced in ORAS and briefly described how they functioned in the OU metagame. Most of what is written in that article was based off of initial impressions of the ORAS OU ladder that was implemented on PS!, and as such, it was based off of mostly theorymon. However, many things have changed since then and only a few of the Megas introduced remain in the OU tier. Below is a list of those Megas and the traits that they possess that make them OU.
The Megas
Mega Metagross
Mega Metagross possesses many key traits that make it a notable threat in the OU metagame. First and foremost, it has a great ability in Tough Claws that grants it a 33% boost in power to any contact moves it uses, which complements its expansive movepool greatly. On top of this, Mega Metagross's base stats are excellent, and it puts them to great use. Mega Metagross quickly secured itself a niche as a fast and powerful wallbreaker that was able to decimate then-standard defensive cores with its powerful attacks. It can even bypass some of its counters through the use of the many coverage options it has in its movepool, such as Hippowdon and Slowbro with Grass Knot and Skarmory and Slowking with Thunder Punch. Mega Metagross was so devastating at the time that it was suspected in early March. However, it narrowly escaped the banhammer and stayed in OU. Nowadays, the metagame has adapted to its presence with the usage of different defensive cores that are able to stomach its attacks, as well as lures such as Thunder Wave Clefable and Will-O-Wisp Mega Gardevoir.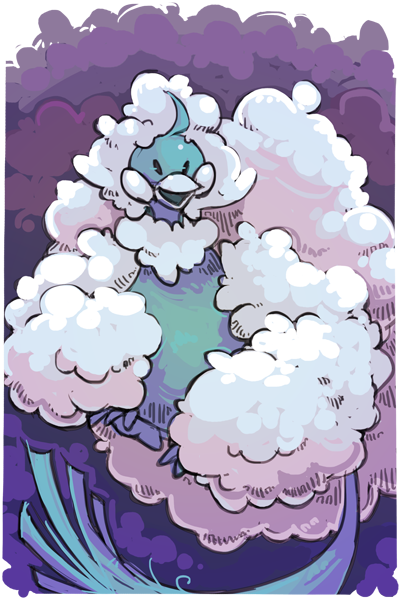 Mega Altaria
Mega Altaria is renowned for its Dragon Dance set, which is known to be devastating against the best of teams. This is because of Mega Altaria's many positive traits. It has great bulk, decent offensive stats, and a phenomenal Dragon / Fairy typing. Couple this with its movepool, which contains gems such as Return, Earthquake, Roost, Refresh, Cotton Guard, and Facade, and you never really know what kind of set it may be running, even if Dragon Dance has already been revealed. The sets range from fully offensive with Earthquake and Return to more defensive sets with Cotton Guard and Refresh, as well as everything in between. Mega Altaria is even capable of running a special attacking set to bypass its normal checks and counters such as Ferrothorn and Mega Scizor. Its Pixilate-boosted Hyper Voices hit insanely hard, and its Fire Blasts roast any Steel-types that might try to stand in its way. No matter what kind of set Mega Altaria is running, it is one of the scariest Pokémon to see in Team Preview.
Mega Diancie
Mega Diancie is a force to be reckoned with. Its offensive stats are insanely high, and it sits at the excellent Speed tier of 110. Its Rock / Fairy typing gives it two great STAB moves to use in Diamond Storm and Moonblast. It was also given one of the best abilities in the game, Magic Bounce, which bounces any status move back to the foe. In the current metagame, Mega Diancie is known for being a great wallbreaker that is capable of 2HKOing a large portion of the metagame thanks to its high attacking stats and good coverage moves in Earth Power, Hidden Power Fire, and Psychic. Earth Power lets it bypass Steel-types such as Heatran and Jirachi, while Hidden Power Fire lets it muscle past Ferrothorn and Mega Scizor. Psychic, while rare, enables Mega Diancie to lure in and KO Mega Venusaur after Stealth Rock damage and a Diamond Storm if Mega Venusaur is offensive, or after 40% prior damage if it is defensive. Mega Diancie also learns Rock Polish, which makes it able to sweep teams late-game very effectively if opposing priority users have been KOed. Due to the fact that Mega Diancie is able to effectively check a lot of Pokémon, finding an opportunity to set up isn't too difficult. No matter the set, Mega Diancie is sure to put the hurt on the opposing team.
Mega Sableye
Mega Sableye is best known for being the savior of stall. Its unique typing that leaves it with one weakness, as well as its great bulk, vast movepool, and Magic Bounce, gives it the ability to shut down many common Pokémon used in OU. However, Mega Sableye isn't relegated to just stall; it fits very well on entry hazard-stacking balance teams, as it prevents opposing entry hazards from going up and is capable of spreading status through Will-O-Wisp and Toxic. Mega Sableye is capable of preventing Stealth Rock from every setter bar Clefable and Spikes from every Spiker bar Klefki. Furthermore, Mega Sableye has access to great utility moves in Knock Off and Foul Play. The former removes items from opposing Pokémon, while the latter uses the foe's Attack stat against them, which deters the use of setup moves such as Dragon Dance and Swords Dance. Mega Sableye even has access to Metal Burst, which reflects back 1.5x the damage inflicted against it, whether it be from a physical or special attack. No matter what moves Mega Sableye is running, unprepared teams are in for a world of hurt.
Mega Slowbro
Mega Slowbro is often forgone for another Mega + regular Slowbro, but that doesn't mean that it isn't a threat. Mega Slowbro is a potent user of Calm Mind that is great at ending games due to its high base Defense and access to Psyshock, which allows it to win the Calm Mind war against opposing Pokemon such as Clefable. Furthermore, its ability, Shell Armor, prevents it from being struck by a critical hit, which means that the only way to defeat it after a few Calm Mind boosts is through sheer power, which very few Pokémon have. For example, Life Orb Bisharp is unable to 2HKO Mega Slowbro with Knock Off. This sheer bulk on Mega Slowbro's part is why it is so good against offensive teams, as without a select few special attackers, they are incapable of beating it. Despite its odd design and low usage, Mega Slowbro should not be taken lightly.
Mega Lopunny
Mega Lopunny is known as the bane of offense. Its high Speed, good power, and perfect neutral coverage between its two high Base Power STAB moves enable it to hit everything hard that offense can throw at it. Because of this, Mega Lopunny has two free moveslots to work with, which can be filled with two of Healing Wish, Fake Out, Ice Punch, Substitute, Encore, Power-Up Punch, Baton Pass, and even Quick Attack. Given its vast movepool and free moveslots, Mega Lopunny is very versatile and it's hard to tell what moves it is running before they are revealed. Based on its set, Mega Lopunny is capable of posing a threat to bulkier teams as well. Power-Up Punch enables it to 2HKO many of its usual checks such as Hippowdon, Celebi, and Clefable, while Encore can lock a Pokémon into a support move and give the user a free turn. No matter the set, Mega Lopunny is a serious threat in the OU metagame.
Mega Latias
Mega Latias was known for being the one and only true counter to Landorus (except for Outrage sets o.o), but after Landorus was banned, Mega Latias has seen a slight dip in viability. However, it's still a potent defensive Pokémon, and it's not hard to see why. It has a good defensive typing in Dragon / Psychic and a vast movepool that contains great support moves such as Reflect Type, Roost, Thunder Wave, Defog, and Roar. Mega Latias is capable of fulfilling many roles, such as a bulky Calm Mind user that can late-game sweep with powerful Stored Powers, or a utility wall that can remove entry hazards and spread status. Mega Latias is even capable of trapping and removing Pokémon through the use of Whirlpool. Even Pursuit trappers will have a hard time with it because Mega Latias has access to Reflect Type, which changes the user's type to the type of the foe. Since all relevant Pursuit trappers are Dark-types bar Metagross, Mega Latias will have no issue escaping them. If a team lacks a sufficient way of breaking Mega Latias, it will be in for a rude awakening.
Mega Latios
This thing sucks please don't use it
Honorable Mention
Mega Gallade
Even though Mega Gallade technically isn't OU by usage, it was in the tier for a time. In early ORAS, it was considered an amazing Pokémon because it had all the tools that another Mega Evolution, Mega Medicham, wishes it had. Mega Gallade has a high base 110 Speed and a good base 165 Attack. Furthermore, its bulk is nothing to scoff at, as it is able to survive many neutral hits. Its movepool is great, as it has access to moves such as Swords Dance, Knock Off, Close Combat, Taunt, and Ice Punch. However, despite all these positives, Mega Gallade has flaws that were once overlooked. Its power, while good, is underwhelming before a Swords Dance boost, and getting one is easier said than done. Its typing is mediocre, as common Pokémon such as Talonflame and Clefable give it trouble because Mega Gallade lacks ways of beating them. Finally, Mega Gallade takes up the Mega slot, which gives it serious opportunity cost because there are several better Mega Evolutions to choose from. While Mega Gallade is certainly not a bad Pokémon by any means, it is far from top tier.