OU Spotlight: Tornadus-T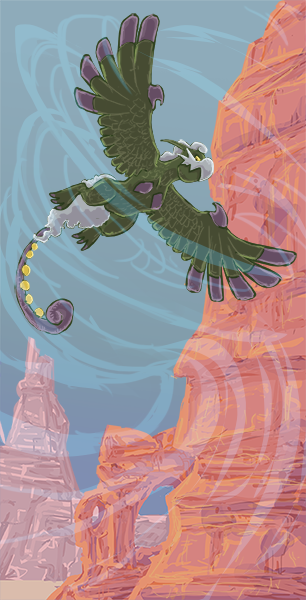 Art by AmirAlexander.
Introduction
Tornadus-T is arguably the most consistent Defog user in USM OU, with a good Speed tier to outspeed Pokemon like Kartana, Mega Latias, Garchomp, and Serperior and an amazing ability in Regenerator. Its typing and ability allow it to consistently pivot into offensive Ground- and Grass-types like Landorus-T, Kartana, and Tapu Bulu, as well as switch in on passive Pokemon like Tangrowth, defensive Landorus-T, and Toxapex and throw out a powerful Hurricane or remove entry hazards from the latter two. When Ultra Sun and Ultra Moon were released, it gained Defog, giving Tornadus-T a sudden peak in usage as one of the few Defog users that could outspeed many unboosted threats. Furthermore, it can beat common entry hazard setters like Landorus-T and Ferrothorn, use switches it forces to get a Defog off, and pivot around and take advantage of Regenerator, which further justifies its capabilities. To boot, it is able to annoy balance and stall teams with the combination of Knock Off and Taunt, as well as breaking past its checks with its coverage moves in Focus Blast and Heat Wave. Its presence in the meta as well as Zygarde's departure also lead to a resurgence of Electric-types like Rotom-W, Roost Tapu Koko, and Zapdos, Assault Vest Tyranitar, and hazard setters that can beat it like Mega Diancie, Z-Move Heatran, and Mega Tyranitar. Furthermore, Flying-resistant Pokemon (alongside other common stallbreakers like Mega Mawile and Tapu Lele) became more important on bulkier teams, such as Mega Aggron on stall teams, preventing Tornadus-T from weakening the team with Hurricane, Taunt, and Knock Off. In addition, Tornadus-T can be overwhelmed by powerful or super effective attacks from Pokemon it checks, such as Stone Edge from Landorus-T and Tapu Bulu and Smart Strike from Kartana. Its weakness to Stealth Rock also harshly reduces its effectiveness at checking said Pokemon and using Defog at the same time, even for bulky sets, and forces it to switch out more often to regain health. Its reliance on an inaccurate STAB move and coverage moves also affects its ability to reliably check Pokemon, as a miss could turn the tides of the match.
---
Hot sets

/
Tornadus-Therian @ Flyinium Z / Metronome
Ability: Regenerator
EVs: 4 HP / 252 SpA / 252 Spe
Timid Nature
- Hurricane
- Knock Off
- U-turn / Taunt
- Defog
Flyinium Z Tornadus-T is quite a threatening wallbreaker in the tier, having a high Base Power STAB move in Hurricane and forcing in Flying-resistant Pokemon. One can opt for Metronome if the Z-Move slot has been taken, allowing Tornadus-T to potentially break through Pokemon like Toxapex or Ferrothorn. It also has no downside, as it allows Tornadus-T to boost its power by spamming a move no matter whether it misses or not, does not require you to lock yourself into a move, and does not have recoil like Life Orb, allowing Tornadus-T to switch into threats like Kartana and Ferrothorn more easily. The threat of Knock Off also scares out common special walls like Assault Vest Magearna, Celesteela, and Chansey, all of which rely heavily on their items, and the move is also quite useful in scouting for Z-Moves from Pokemon like Heatran. Tornadus-T can also make use of its high Speed to U-turn out of checks and bring in a teammate that has an advantageous matchup or Defog away entry hazards from Pokemon like Clefable and Gliscor. There are several other options, one of them being Taunt over U-turn to help against more passive Pokemon like Toxapex and Clefable, preventing entry hazards and recovery. Heat Wave is also an option to hit Steel-types like Ferrothorn, which can 2HKO Tornadus-T with Gyro Ball; Magearna, luring it in and chipping it down for teammates like Ash-Greninja, Mega Alakazam, and Tapu Lele; Kartana, which is a big threat if Hurricane misses and Tornadus-T is otherwise forced to KO with Supersonic Skystrike; and Mega Scizor, which can potentially beat Tornadus-T one-on-one with some Hurricane misses. However, Tornadus-T will lose its ability to safely pivot out from checks if running either of these moves.
Tornadus-Therian @ Rocky Helmet
Ability: Regenerator
EVs: 252 HP / 4 Def / 252 Spe
Timid Nature
- Hurricane
- Knock Off
- U-turn
- Defog
The combination of a mono-Flying typing, Regenerator, and maximum EVs in HP allows bulky Tornadus-T to more consistently pivot into offensive Ground- and Grass-types like Landorus-T, Kartana, and Tapu Bulu than its offensive sets. Rocky Helmet also punishes Pokemon that make contact with it, such as the aforementioned threats and U-turn users. It is notable that this set can always survive a Stone Edge from Choice Scarf Landorus-T, a thing offensive sets cannot do. Hurricane and Knock Off have amazing utility together, with Knock Off punishing most Pokemon that can switch into Hurricane. U-turn allows Tornadus-T to bring out a threat to its switch-ins and is the move that should be changed when fitting in an option such as Taunt, which is able to improve Tornadus-T's matchup against Pokemon on bulkier builds like Toxapex and Celesteela. Heat Wave is another option, allowing Tornadus-T to chip Magearna and more safely 1v1 Kartana, Ferrothorn, and Mega Scizor. It is also a good way to pick off a weakened Landorus-T or Gliscor. Hidden Power Ice is also an option to put over U-turn to improve your matchup against Landorus-T, Gliscor, and Garchomp, 2HKOing them without any risk of missing. This is exceptionally useful for teammates that enjoy these Pokemon weakened, like Volcarona and Heatran.

Tornadus-Therian @ Fightinium Z
Ability: Regenerator
EVs: 4 HP / 252 SpA / 252 Spe
Timid Nature
- Hurricane
- Knock Off / U-turn
- Focus Blast
- Defog
When Tornadus-T found its checks Heatran and Tyranitar quite annoying, it decided to take matters into its own hands—Fightinium Z. Fightinium Z Tornadus-T aims to lure in and KO its traditional checks in Heatran, Tyranitar, and Mega Tyranitar, which are all notable Stealth Rock setters. It's able to take out all offensive variants of these checks but fails to OHKO specially defensive Heatran or Assault Vest Tyranitar. It also deals a decent chunk to Mega Mawile. U-turn can be used over Knock Off for pivoting out to teammates to deal with Pokemon that can take both Hurricane and All-Out Pummeling, like Assault Vest Magearna and Jirachi. The existence of this set makes Ferrothorn and Tyranitar think twice before staying in.
Tornadus-Therian @ Life Orb
Ability: Regenerator
EVs: 252 SpA / 4 SpD / 252 Spe
Naive Nature
- Hurricane
- Knock Off
- Superpower
- Taunt
This is the only Tornadus-T set that does not feature Defog, as it takes Tornadus-T's offensive presence and further boosts it. It fits very well on rain teams, where its Hurricane cannot miss, allowing it to check and threaten Grass-types like Tapu Bulu and Choice Scarf Kartana more reliably, and it helps the team with Knock Off by removing items from the likes of Rotom-W and Toxapex, limiting their usefulness and allowing Pokemon like Mega Swampert, which greatly enjoys Rotom-W gone, and Ash-Greninja, which dislikes Toxapex absorbing its hits every time to sweep more easily. Superpower is used to threaten Tyranitar and Ferrothorn, as most of them are invested more into Special Defense than Defense; Tyranitar in particular can make the rain sweepers less effective by changing the weather.
---
Good Cores
Greninja-Ash @ Choice Specs
Ability: Battle Bond
EVs: 4 Def / 252 SpA / 252 Spe
Timid Nature
- Hydro Pump
- Dark Pulse
- Water Shuriken
- Spikes

Tornadus-Therian @ Flyinium Z
Ability: Regenerator
EVs: 4 HP / 252 SpA / 252 Spe
Timid Nature
- Hurricane
- Knock Off
- U-turn
- Defog
This core is quite a menace to deal with, having two powerful special wallbreakers that can reliably beat or weaken each other's checks. Ash-Greninja threatens Tornadus-T's checks in Steel- and Rock-types, while Tornadus-T annoys Grass-types with Knock Off and Hurricane, lures in Chansey, Magearna, and Toxapex and removes important items from them, and is able to beat the rare Kommo-o. In addition, Spikes from Greninja weakens opposing grounded shared checks in Assault Vest Magearna and Toxapex. Flyinium Z is great for weakening Pokemon, giving Greninja an easier time to finish them off without risking Hydro Pump. U-turn is a great move to allow Tornadus-T to pivot out of its checks like Heatran and Tyranitar and bring in Greninja to threaten them with Hydro Pump or lay down Spikes. Defog prevents unnecessary damage on Greninja from entry hazards and has the added effect of allowing Hurricane and Hydro Pump to hit more accurately by lowering opposing Pokemon's evasiveness.
Mawile @ Mawilite
Ability: Intimidate
EVs: 92 HP / 252 Atk / 164 Spe
Adamant Nature
- Swords Dance
- Play Rough
- Sucker Punch
- Knock Off

Tornadus-Therian @ Fightinium Z
Ability: Regenerator
EVs: 4 HP / 252 SpA / 252 Spe
Timid Nature
- Hurricane
- U-turn
- Focus Blast
- Defog
This core exploits Tornadus-T's ability to lure out Heatran and weaken or remove it with All-Out Pummeling. When Heatran is removed, Mega Mawile is usually free to click Play Rough and blow holes in the opponent's team. It also appreciates Tornadus-T's ability to bring it in safely with a U-turn and remove entry hazards, preventing any unnecessary damage to Mega Mawile. Tornadus-T can threaten checks to Mega Mawile like Amoonguss and Landorus-T; meanwhile, Mega Mawile can take advantage of bulky special walls like Chansey and Toxapex, which come in freely against Tornadus-T. They can also pressure checks to both like Mega Scizor and Magearna, forcing the opponent to find alternative methods to keep both in check.
Tangrowth @ Assault Vest
Ability: Regenerator
EVs: 252 HP / 4 Def / 252 SpD
Sassy Nature
- Giga Drain
- Knock Off
- Earthquake / Sludge Bomb
- Hidden Power Ice

Tornadus-Therian @ Rocky Helmet
Ability: Regenerator
EVs: 252 HP / 4 Def / 252 Spe
Timid Nature
- Hurricane
- Knock Off
- U-turn
- Defog
A powerful Regenerator core that is seen on bulky offense teams, Tangrowth and Tornadus-T keep a lot of Pokemon in check. Tangrowth is able to take hits from Magearna, Tapu Koko, and Ash-Greninja, while Tornadus-T can remove entry hazards for it, preventing the chip damage from compromising its ability to check the aforementioned Pokemon, and can check offensive Grass-types like Tapu Bulu and Kartana, which can potentially overwhelm Tangrowth, punish U-turn from Landorus-T or Mega Scizor with Rocky Helmet, and threaten Pokemon like Mega Venusaur and Amoonguss, which wall Tangrowth. In return, Tangrowth can check Ash-Greninja and Tapu Koko, both of which can easily outspeed and threaten Tornadus-T. This core may be overwhelmed by Glare Serperior if Stealth Rock is up. An additional member to this core could be Calm Mind + Pain Split Megearna, which improves the team's matchup against stall teams, can help against the common Psychic- and Fairy-types, the aforementioned Serperior, as well as Ice-types like Weavile and Kyurem-B, which can blow the core apart.
---
Replays
This game shows how important a reliable Flying-type answer is on a team. Zokuru's team only had Excadrill to resist their attacks, which relied heavily on its Leftovers. With Leftovers removed from Excadrill, all Finchinator had to do was to chip down the Excadrill to a point where it was no longer able to come in on a Hurricane and threaten Tornadus-T. Finchinator was able to keep Stealth Rock up on Zokuru's side, pressuring Volcarona and preventing it from checking Mega Mawile, forcing Zokuru to switch Excadrill into it. This gave Finchinator a win condition in spamming Hurricane with his Tornadus-T, as nothing on Zokuru's team was able to take two of them. After Finchinator brought his Tornadus-T in on Earthquake from Tangrowth, it was able to pick apart the remaining Pokemon on Zokuru's team.
---
Closing words
Tornadus-T is an amazing Pokemon that brings plenty to the table and should not be underestimated at all. Its has decent bulk and a good typing, a wide variety of moves in Hurricane, Knock Off, Taunt, U-turn, Focus Blast, and Heat Wave, high Speed, and an amazing ability in Regenerator. All these make it a very annoying Pokemon to deal with for both offensive and defensive teams alike. Offensive sets are able to easily pick apart teams lacking a solid check like Magearna or Zapdos, while defensive sets bring great defensive utility to a team needing a check to common powerful Grass-types, which Fighting-type coverage are also resisted. To boot, its access to Defog, alongside its power, allows it to fit into a large variety of teams. Even with its checks surging in viability since Zygarde's departure, such as Electric- and Steel-types, it is still able to stay as one of the top-tier threats that all teams must prepare for.