OU Spotlight: Zygarde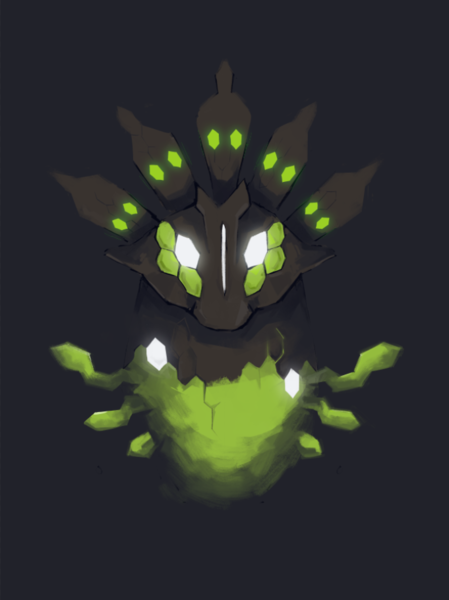 Art by h_n_g_m_n.
Introduction
Introduced in XY, Zygarde was the order-restoring member of the aura trio opposite to Xerneas and Yveltal. While the latter two were quickly relegated to Ubers, Zygarde struggled to create a splash in the OU tier, being written off as an "inferior Garchomp" by some due to its lack of immediate power and Speed and a useless ability in Aura Break. While it was deemed too powerful for the UU tier, Zygarde rarely saw use in OU and remained BL for the majority of the generation.
Following the release of SM, Zygarde received two huge buffs in Power Construct and Thousand Arrows. Power Construct allows Zygarde to transform into its Complete forme, which boasts spectacular 216 / 121 / 95 bulk, and Thousand Arrows is a 90 BP Ground-type move that can hit Pokémon normally immune to Ground by way of typing, ability, or Air Balloon. Power Construct gave Zygarde the means to become the bulkiest Pokémon in OU while still packing a respectable base 100 Attack. The boost in HP, along with Zygarde's ability to increase its Attack and Defense with Coil, proved to be too much for OU to handle, though, and the ability was promptly banned from the tier.
Currently, Zygarde has proven to be a top-tier threat in SM due to its bulk and just how good a move Thousand Arrows is. With a variety of items and sets it can use, backed by a solid offensive movepool, Zygarde can easily wallbreak, stall, or sweep an opponent and is a Pokémon that every team must prepare to face.
---
Hot Sets
Zygarde @ Choice Band
Ability: Aura Break
Evs: 252 Atk / 4 Def / 252 Spe
Adamant Nature
- Thousand Arrows
- Outrage
- Extreme Speed
- Toxic / Superpower
Zygarde's flagship set utilizes a Choice Band to increase its wallbreaking potential. More often than not, Zygarde will be using Thousand Arrows due to the lack of Pokémon immune to the move. It hits impressively hard when backed by a Choice Band and is the reason why teams must have a bulky check or counter to Zygarde such as Tangrowth. Outrage completes Zygarde's STAB combination and gives it perfect coverage thanks to Thousand Arrows's ability to hit the likes of Skarmory and Celesteela. It also allows Zygarde to break through the aforementioned Tangrowth and other bulky Pokémon like Mega Heracross. Extreme Speed gives Zygarde the means to hit faster Pokémon and clean up a weakened team thanks to its +2 priority, which allows the move to hit before Mamoswine's and Weavile's Ice Shard as well as Mega Pinsir's Quick Attack. Toxic allows Zygarde to cripple predicted switch-ins like Tangrowth and Tapu Bulu, while Superpower gives Zygarde a leg up in the stall matchup by 2HKOing Chansey without needing to be locked into Outrage. Superpower also hits Ferrothorn harder than any move on the set. The EVs are straightforward, maximizing Zygarde's damage output and retaining as much Speed as possible. An Adamant nature is preferred, as Zygarde's bulk allows Zygarde to to take neutral hits, and the damage difference is noticeable between Adamant and Jolly.
Zygarde @ Dragonium Z
Ability: Aura Break
Evs: 252 Atk / 4 SpD / 252 Spe
Adamant Nature
- Dragon Dance
- Thousand Arrows
- Outrage
- Extreme Speed
Zygarde's typing, bulk, and movepool make it an exceptional Dragon Dance sweeper capable of dismantling offensive teams that don't have a revenge killer like Mamoswine or Choice Scarf Keldeo. Dragon Dance boosts Zygarde's solid Attack and Speed stat to impressive levels that allow it to cleave through weakened teams. Thousand Arrows is the primary move due to its insane coverage, and Outrage rounds out the coverage versus bulky Grass-types and the occasional Mega Heracross. Extreme Speed can hit Choice Scarf users that outspeed Zygarde such as Garchomp and Latios for respectable damage, can be used to pick off weakened offensive Pokémon like Greninja, and goes before Mamoswine's and Weavile's Ice Shard. Dragonium Z transforms Outrage into a 190 BP Devastating Drake, which, after a boost, can decimate Pokémon such as Tangrowth. This has the added bonus of not locking Zygarde into Outrage, which is preferred when going up against teams where Thousand Arrows and Extreme Speed are the optimal moves. A Jolly nature could be used on this set, but the drop in power is noticeable.
Zygarde @ Leftovers
Ability: Aura Break
Evs: 240 HP / 212 SpD / 56 Spe
Careful Nature
- Substitute
- Coil
- Thousand Arrows
- Toxic / Extreme Speed
This set forgoes the raw wallbreaking ability of the Choice Band and sweeping prowess of the Dragon Dance set for a more defensive approach. Zygarde's excellent bulk and solid Speed stat allow it to come in on passive Pokémon and set up a Substitute. Coil boosts both Attack and Defense, allowing Zygarde to become not only a hard hitter but also tough to break with physical attacks. Thousand Arrows has incredible neutral coverage and subsequently knocks down Flying-types and Pokémon with Levitate such as Celesteela, Skarmory, Rotom-W and Latios, all Pokémon that would otherwise wall this set with ease. Toxic is used to break down bulky Pokémon that Zygarde can't bust through even after boosts, such as Tangrowth, as well as putting Pokémon like Tapu Bulu and Slowbro on a timer. If Pokémon like these can be handled by teammates, Extreme Speed can be used to pick off weakened offensive Pokémon such as Tapu Koko, Greninja, and Mega Medicham. The EVs allow Zygarde to set up Substitutes with 104 HP, which neither a single Seismic Toss nor STAB Foul Play will be able to break, as well as maximize the HP recovered from Leftovers. 56 Speed allows Zygarde to outspeed neutral-natured base 70s like Bisharp and Breloom. The rest of the EVs go into Special Defense, as Coil increases Defense already.
Other Options
A set that utilizes both Coil and Dragon Dance has seen usage, allowing Zygarde to boost its Defense versus slower teams, Speed versus offensive teams, and Attack versus both. While the set can be successful, it forces Zygarde to choose between Extreme Speed, Outrage, and Toxic as its last move, which can restrict the amount of havoc Zygarde can create. Groundium Z is a niche pick for the Dragon Dance set, allowing Zygarde to break through Tapu Fini and Landorus-T after the latter has been knocked down by Thousand Arrows. Dragonium Z, however, is typically a better option, as Devestating Drake hits harder and makes more use of the Attack boosts than Tectonic Rage would.
Good Cores
Zygarde + Mega Heracross
Heracross @ Heracronite
Ability: Moxie
Evs: 252 Atk / 4 Def / 252 Spe
Adamant Nature
- Close Combat
- Pin Missile
- Rock Blast
- Swords Dance
Zygarde @ Choice Band
Ability: Aura Break
Evs: 252 Atk / 4 Def / 252 Spe
Adamant Nature
- Thousand Arrows
- Outrage
- Extreme Speed
- Toxic / Superpower
---
Zygarde and Mega Heracross go hand in hand with wallbreaking potential, and both can weaken each other's checks and counters to allow the other to close out a match. Since Choice Band Zygarde is typically using Thousand Arrows, Tangrowth is a very common switch-in to it. Mega Heracross preys on Tangrowth's passivity and can safely set up a Swords Dance on Tangrowth, proceeding to break through teams with its powerful STAB Close Combat and Pin Missile. Toxapex can easily wall Mega Heracross, but Zygarde can make quick work of it. Pokémon such as Skarmory, Celesteela, and Landorus-T can typically check one of these Pokémon, but when paired together they can overwhelm defensive cores.
Zygarde + Mega Charizard Y
Charizard @ Charizardite Y
Ability: Blaze
Evs: 252 SpA / 4 SpD / 252 Spe
Timid Nature
- Fire Blast / Flamethrower
- Solar Beam
- Focus Blast
- Roost
Zygarde @ Choice Band
Ability: Aura Break
Evs: 252 Atk / 4 Def / 252 Spe
Adamant Nature
- Thousand Arrows
- Outrage
- Extreme Speed
- Toxic / Superpower
In the same vein as Zygarde and Mega Heracross, Zygarde also pairs well with Mega Charizard Y to form a fierce wallbreaking duo capable of punching holes in defensive cores. Charizard's insane power makes blasting through Tangrowth, Slowbro, and Tapu Bulu a breeze, while Zygarde can answer Toxapex, Chansey, and Mantine. The two also have some defensive synergy, as Zygarde can take the Rock- and Electric-type attacks aimed at Charizard, and the sunlight Charizard provides allow Zygarde to more comfortably take Water-type attacks like Keldeo's Hydro Pump.
Metagame Trends
Zygarde's Choice Band set fits easily onto a ridiculous number of teams, as it can always find a way to impact a game with a hard-hitting Thousand Arrows. The prevalence of the Choice Band set gives the Substitute + Coil and Dragon Dance sets an added surprise factor that can quickly capitalize on the switches that the Choice Band set force. Zygarde pairs well with a plethora of wallbreakers, such as the two mentioned above, Swords Dance Garchomp, Flyinium Z Landorus, Swords Dance Tapu Bulu, and Swords Dance Alolan Marowak, and its fantastic bulk allows it to tank hits that some frailer wallbreakers may not be able to stomach.
---
Final Thoughts
Zygarde currently sits at the top of the OU metagame due to its strength, variety of sets, and consistency. Zygarde's power in the tier has led to some Pokémon sneaking Hidden Power Ice, or Ice Beam in Mew's case, onto their movesets in hopes of dashing the dreams of a sweep from the Order Pokémon. Zygarde may have gotten off to a rough start in XY, but it will be a mainstay in OU for quite some time.