Rebellious Children: LC Pokémon That Don't Act Like Their Parents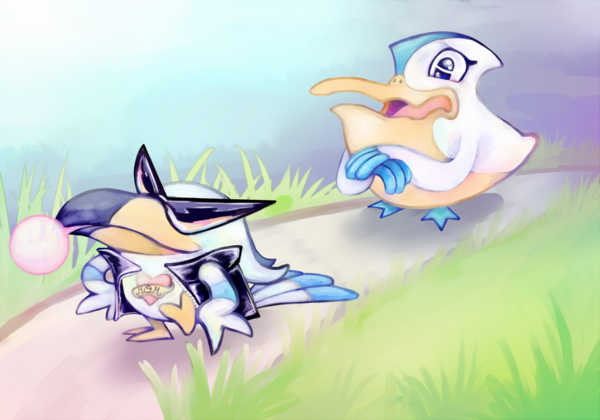 Art by LifeisDANK.
Introduction
Some Pokémon in the Little Cup tier have an almost identical role to their evolutions in higher tiers; Abra is a poweful but frail special attacker that makes use of Focus Sash and Counter, Staryu is a strong offensive Rapid Spinner with good coverage, Diglett utilizes Arena Trap to trap and KO specific threats for its team, and Alolan Grimer is a bulky Pursuit trapper that preys on the tier's frail Psychic- and Ghost-types. Most Pokémon, however, aren't quite identical, but still act similarly; Onix functions as a check to Flying-types that can set Stealth Rock, Timburr is a slow but bulky wallbreaker, and Surskit is a Sticky Web setter. However, through differences in their stats, their abilities, their movepools, and the state of the metagame, some of Little Cup's Pokémon define their viability in the tier with a role that is completely different from that of their fully evolved form. Today, we're going to look into what exactly makes these Pokémon stand out so much from their parents.
---
Click on a Pokémon to read more!
---
---
The Parent
Mandibuzz @ Leftovers
Ability: Overcoat
EVs: 248 HP / 248 Def / 12 Spe
Careful Nature
- Roost
- Knock Off / Foul Play
- Taunt / Toxic
- Defog / Toxic
Mandibuzz has had a reputation as a potent defensive Pokémon since its introduction. Its very impressive mixed defenses in tandem with a solid typing give it the ability to act as an extremely sturdy check to a number of big names in RU, including Zygarde-10%, Doublade, and Roserade. Alongside walling these Pokémon, Mandibuzz excels as a user of Defog and can cripple foes with Knock Off or avoid being passive in the faces of setup sweepers thanks to Foul Play. Mandibuzz is also fairly speedy for a defensive Pokémon, which allows it to get off a fast Taunt against slower passive Pokémon like Gligar, Umbreon, and Milotic. Overall, Mandibuzz's defensive capabilities allow it to fit comfortably on RU's defensive and balanced teams, and it's very rare that you won't find it contributing to the success of your team.
Unfortunately, Mandibuzz's offensive presence pales in comparison to its incredible defensive prowess. While Foul Play can be useful against most setup sweepers, some, like Bewear and Pangoro, scoff at the attack due to their resistance to it. Mandibuzz also can struggle to maintain its defensive reputation against quite a few big metagame threats, including Rhyperior, Mega Glalie, and Mega Abomasnow. Mandibuzz also has a weakness to Stealth Rock, which isn't too desirable for a defensive Pokémon, and as a result can struggle to provide teams with as solid of a check to threats like Roserade and Feraligatr. Despite these flaws, Mandibuzz is still able to make its mark in the RU metagame and allow its defensive typing to shine.
The Child
Vullaby @ Eviolite / Berry Juice
Level: 5
Ability: Weak Armor
EVs: 116 HP / 240 SpA / 116 Spe
Modest Nature
- Nasty Plot
- Air Slash
- Heat Wave
- Dark Pulse / Hidden Power Grass
While Vullaby was an average Pokémon upon its release in BW, it got significantly better when its major competition, Murkrow, was banned. In ORAS, it took on a defensive role that took advantage of its solid defensive typing and good bulk to check a good portion of the metagame. However, Sun & Moon greatly buffed one of its abilities: Weak Armor now boosts Speed by two stages instead of just one. This simple buff meant that Vullaby became one of the most terrifying sweepers in the metagame, as simply getting hit by one of the many physical attackers in Little Cup would cause it to be fast enough to outspeed even most Choice Scarf users, with only the very rare Choice Scarf Elekid and Diglett outpacing it. Since Vullaby's solid bulk allows it to almost always survive the hit it has to take, it can simply set up a Nasty Plot on something like Alolan Grimer, Mienfoo, or Diglett, get the Speed boost from Weak Armor, and proceed to wreak havoc with its near unresisted STAB coverage, with Heat Wave taking out the only Pokémon to actually resist that combination, Pawniard. The metagame has also changed to a point where a set with Hidden Power Grass is viable, as it is capable of hitting Eviolite Onix and Kabuto, which were capable of taking a hit from the Dark Pulse variant, taking both out without any issues. In addition, some of Vullaby's best counters, most notably Spritzee and Snubbull, can in fact be taken out if Air Slash's 30% chance to induce a flinch occurs, thus allowing Vullaby to simply clean up.
So this all sounds very impressive, but Vullaby must have some downsides, right? As a matter of fact, it does, most notable being its reliance on getting hit by a physical move to boost its Speed. Against teams with fast special attackers that can OHKO Vullaby, such as Twinkle Tackle Gastly and Elekid, it will rarely be able to sweep, as the opponent can simply choose to sack something before revenge killing Vullaby with the special attacker. Even against teams with a fast special attacker that can't OHKO Vullaby, like Abra, the special attacker can be used to weaken it, allowing a fast physical attacker like Mienfoo to KO it anyway. Fake Out's presence is also notable, as it can lower Vullaby's Defense, making it quite vulnerable, without giving it a chance to set up. However, in a metagame like Little Cup that's littered with physical attackers, this Pokémon can clean up with relative ease.
But Why?
The Little Cup metagame has an extremely offensive nature; stall is practically non-existent, semi stall is unviable, and balance is the most defensive prominent playstyle. In this fast-paced metagame, Vullaby's slower defensive sets simply can't keep up with its offensive Nasty Plot or even Choice Scarf sets. While defensive Vullaby is by no means bad, it's nowhere near as good as the offensive sets due to being unable to keep up the offensive pressure, which is extremely important. It is worth noting, however, that Vullaby has a pretty good defensive niche in PU, where it runs a set very similar to its evolution.
Meanwhile, RU is a much more defensive environment, where stall is perfectly viable, though it struggles with threats like Mega Abomasnow. In this metagame, Mandibuzz's defensive sets truly shine, as they are capable of walling the offensive threats with relative ease while crippling defensive threats with Taunt, Toxic, and Knock Off. Its offensive sets are practically non-existent, however, as they are simply not strong enough to break the defensive cores in the metagame due to Mandibuzz's low offensive stats, even after a Nasty Plot boost. In addition, Mandibuzz would really struggle to find an opportunity to set up without defensive investment. As such, these sets have not been able to make an impact, resulting in Mandibuzz being relegated to a defensive role.
---
---
The Parent
Mienshao @ Choice Band
Ability: Reckless
EVs: 252 Atk / 4 Def / 252 Spe
Adamant / Jolly Nature
- High Jump Kick
- U-turn
- Knock Off
- Poison Jab
While not a top threat in UU due to heavy competition from other Fighting-types, Mienshao distinguishes itself with its access to the deadly Reckless + High Jump Kick combination. This, alongside its high Attack, makes it an extremely fearsome wallbreaker in the metagame, capable of 2HKOing defensive behemoths such as Alomomola, Hippowdon, and even Gliscor if its Toxic Orb hasn't activated until it first switches in. In addition to threatening the majority of the tier with its STAB attack alone, Mienshao has access to useful coverage options in Knock Off and Poison Jab, which hit Ghost- and Psychic-types hard in the case of the former and Fairy-types like Sylveon and Mega Altaria in the case of the latter.
However, as mentioned before, Mienshao faces heavy competition in its role. Infernape and Terrakion are two Fighting-types that are also fully capable of running Choice Band sets; they exchange some power for slightly better defenses, better coverage, and secondary STAB attacks. Mienshao also suffers in that it is rather pigeon-holed and only has the option of running Choice Band or sometimes Choice Scarf. This makes it both predictable and difficult to use in general due to the reliance on prediction in order to maintain momentum for your team. Lastly, Mienshao's Speed, while by no means bad, is not enough to outspeed certain threats, most notably Cobalion, whereas other Fighting-types like Infernape and Terrakion are able to do so.
The Child
Mienfoo @ Eviolite
Level: 5
Ability: Regenerator
EVs: 76 Atk / 196 Def / 196 SpD
Adamant Nature
- High Jump Kick / Drain Punch
- U-turn
- Knock Off
- Fake Out / High Jump Kick / Acrobatics / Poison Jab
Mienfoo has been among Little Cup's most dominant Pokémon since the fifth generation. Its amazing stat distribution and movepool in tandem with one of the best types in the metagame allows it to take on a variety of roles, run a wide range of EV spreads, and always leave opponents guessing as to what item it may be holding or which coverage it might be carrying. However, the moveset listed above, which takes on the role of a bulky attacker that can restore health with Regenerator and U-turn, takes the title of Mienfoo's best and most widely usable set. It's capable of offensively pressuring very present threats in Alolan Grimer, Onix, and Ferroseed while also being fully capable of tanking hits from the likes of Chinchou, Timburr, and Alolan Grimer. Regenerator allows health to be restored several times throughout the match, and overall, this set allows Mienfoo to cement itself as a staple on the majority of the tier's offensive and balanced teams.
Unfortunately, Mienfoo isn't without its flaws, despite its many valuable traits. Its inability to hit Fairy-types like Spritzee and Snubbull, which is especially troublesome due to Intimidate, without giving up coverage for Poison Jab can definitely hinder it. Even if Mienfoo is running Poison Jab, it doesn't 2HKO Spritzee or Snubbull if they still have their item. In addition, the presence of a few big threats that can offensively handle it, like Abra and Doduo, is also troublesome. Regardless, Mienfoo's pros outweigh its cons in the majority of situations due to its extreme versatility, and it is not to be taken lightly, even after three generations.
But Why?
Mienfoo's more even stat distribution gives it an advantage over its parent in its respective metagame due to Mienfoo's much better bulk making it capable of taking on a wider variety of roles. Mienshao lacks defensive utility entirely, especially in a metagame flooded with priority attacks like Bullet Punch and Extreme Speed, and due to this, it is restricted to the role of a frail wallbreaker with moderate Speed.
---
---
The Parent
Toxicroak @ Life Orb / Poisonium Z
Ability: Dry Skin
EVs: 252 Atk / 4 Def / 252 Spe
Jolly Nature
- Swords Dance
- Gunk Shot
- Drain Punch
- Sucker Punch
In ORAS, Toxicroak was a notable threat in the UU metagame; however, after struggling to keep up with the generational power shift, it now resides two tiers below in NU. Nevertheless, Toxicroak's unique typing has clear offensive and defensive perks in the NU metagame, allowing it to offensively pressure tier staples like Piloswine and Steelix while also tanking hits from the likes of Sceptile, Hitmonlee, and Virizion. Dry Skin is also a major boon to Toxicroak's overall viability, allowing it to reduce bulky Water-types such as Vaporeon to setup fodder. It poses a major threat as a physical sweeper once set up due to the tier's lack of resistances to its STAB attacks, and thanks to its access to Sucker Punch, it can take care of what would otherwise be nuisances to it in Delphox and Sigilyph. Outside of just running a Swords Dance set, Toxicroak is capable of threatening teams with a Nasty Plot set, which boasts equally useful coverage and STAB priority in the form of Vacuum Wave. Overall, Toxicroak's offensive versatility and power allows it to fit onto the majority of the tier's offensive teams and threaten a large portion of commonly seen Pokémon in the metagame.
Despite its unique set of useful traits, Toxicroak is hurt by its poor bulk and weakness to common attack types in Ground, Flying, and Psychic, as well as the additional damage Dry Skin causes Fire-type attacks to do to it. This can at times compromise setup while also leaving Toxicroak vulnerable to a few top threats, including Psychic Whimsicott, Emboar, and Vivillon. It also can struggle to deal heavy damage to a few common defensive Pokémon, including Jellicent and Garbodor, due to its inability to hit them very hard with its attacks, assuming Jellicent burns it before attacking. Regardless, Toxicroak holds an important place in the tier as one of its scariest physical setup sweepers and has pros that usually outweigh the aforementioned cons.
The Child
Croagunk @ Eviolite / Berry Juice
Level: 5
Ability: Dry Skin
EVs: 52 HP / 116 Def / 188 SpA / 116 SpD / 36 Spe
Modest Nature
- Nasty Plot
- Vacuum Wave
- Sludge Bomb
- Focus Blast / Shadow Ball
Back in ORAS, while Croagunk wasn't exactly bad, the presence of Fletchling, its vulnerability to Gothita, and the fact that it didn't reliably beat Porygon meant that Croagunk tended to be forgone in favor of another Fighting-type. In Sun & Moon, however, each of these threats was either banned or heavily nerfed, which opened up Croagunk to make its way to the top. Fletchling's nerf especially made Fighting-types and Snivy even better, which meant that Croagunk's ability to check them became more valuable. The main set Croagunk used to rise in this metagame was a bulky Nasty Plot wallbreaker set, which could also use its almost unique access to Vacuum Wave to clean up weakened teams or revenge kill many threats, while a secondary STAB move in Sludge Bomb was able to beat down Fairy-types, which are commonly seen as a team's major check to Fighting-types. Focus Blast is a good option as a powerful Fighting-type STAB move, though its unreliability is a problem. Shadow Ball is another very good option, as it allows Croagunk to break through Ghost-types like Gastly and Frillish, which otherwise wall it completely. Outside of being a wallbreaker, this set also appreciates speed control offered by Baton Pass teams or Sticky Web, as this can potentially allow it to sweep.
However, Croagunk does have its downsides. Despite it making a name for itself in its unique typing and resistance to Fighting, it still faces a lot of competition from the more reliable Mienfoo and Timburr, which means it isn't often used as a team's only Fighting-type. Croagunk also has mediocre-at-best Speed, meaning it oftentimes has to rely on Vacuum Wave to take out foes, which might not be quite strong enough. It also somewhat suffers from 4MSS, as it would really enjoy having both Focus Blast and Shadow Ball on the same set, but it is too weak when unboosted to afford giving up Nasty Plot, needs Vacuum Wave to make up for its poor Speed, and needs Sludge Bomb as a reliable STAB move. Furthermore, Vacuum Wave is not as strong as Timburr's Iron Fist-boosted Mach Punch, meaning teams looking for a form of priority to stop sweepers like Omanyte would sooner use the latter. Lastly, although its typing is certainly good, it leaves Croagunk vulnerable to Groundium Z Diglett, which can even switch in on a Nasty Plot, Sludge Bomb, or Vacuum Wave, and remove Croagunk from play. Abra is also a huge threat to it, as Vacuum Wave only does around 30%, meaning Croagunk gives Abra an easy opportunity to fire off an immensely powerful attack. In general, though, Croagunk is a very solid choice for certain Little Cup teams, as it's capable of efficiently compressing roles and providing an offensive presence.
But Why?
Croagunk is fully capable of taking on physically offensive sets, though Nasty Plot is the preferred set due to Croagunk's ability to break past a larger number of threats seen in LC with it, such as Mienfoo, Timburr, and Vullaby, due to the larger number of physically defensive Pokémon in the tier as opposed to specially defensive. STAB Fighting-type priority is also an extremely useful tool in the LC metagame that isn't as valued in NU. Toxicroak is a similar case; while it can viably run Nasty Plot, its Swords Dance set covers a larger margin of the tier, such as Sigilyph and Delphox, particularly due to Sucker Punch. Croagunk also has a negligible difference between its Attack and Special Attack stats, while Toxicroak's Attack is notably higher than its Special Attack and thus makes a Swords Dance set slightly more viable.
---
---
The Parent
Magnezone @ Electrium Z / Steelium Z
Ability: Magnet Pull
EVs: 4 Def / 252 SpA / 252 Spe
Modest / Timid Nature
- Substitute
- Thunderbolt
- Flash Cannon
- Hidden Power Fire
Magnezone has been a very notable Pokémon in OU for generations now; in fact, it has been in OU ever since its creation in DPP. The major reason for this is its ability Magnet Pull, which gives it the ability to trap any other Steel-type and take them out, assuming it has the right set. In DPP, this was common in the well-known DragMag core, which consisted of one or more of the incredibly powerful Dragon-types and Magnezone, which trapped and KOed Steel-types, the only type that resisted Dragon back then. In later generations, Magnezone was consistently able to offer this same kind of support, not worrying about new Steel-types troubling it, as it was still able to take most of them out, and getting new partners constantly, like Mega Pinsir and Tapu Lele. Most notably, it's capable of trapping non-Shed Shell Skarmory and Celesteela with relative ease, allowing its aforementioned partners to clean up late-game. Magnezone can also trap Steel-types that don't take a lot from Thunderbolt, such as bulky Mega Scizor and Ferrothorn, thanks to Hidden Power Fire. The addition of Z-Moves was excellent for Magnezone, as it can use them to trap a wider variety of Steel-types; most notably, offensive Magearna and Heatran can go down to Gigavolt Havoc or, in Magearna's case, Corkscrew Crash, after minimal chip damage, while even specially defensive Celesteela goes down to Gigavolt Havoc.
However, not all is well for Magnezone. Sun & Moon introduced Magearna, which quickly rose to the absolute top in OU, and its Assault Vest set is one of the few Steel-types that Magnezone cannot trap, as it only takes around 40% from a Z-Move before just Volt Switching out. In addition, Volcarona rose to greatness and it can easily take advantage of Magnezone to set up a Quiver Dance and potentially sweep, meaning it's very risky for Magnezone to trap something if Volcarona is on the opponent's team. Ground-types also have a huge presence, most notably Landorus-T—bulky variants can easily switch into and set up Stealth Rock on Magnezone while threatening it out, and offensive variants can set up a Swords Dance for free. Lastly, Magnezone's lack of defensive utility with this set, which is easily the best at trapping Steel-types, means it sometimes struggles to get in. Regardless, it's still very capable of trapping most Steel-types and provides invaluable support for Pokémon like Gyarados and Mega Diancie.
The Child
Magnemite @ Choice Scarf
Level: 5
Ability: Analytic
EVs: 240 SpA / 236 Spe
Modest / Timid Nature
- Volt Switch
- Flash Cannon
- Thunderbolt
- Hidden Power Ground / Hidden Power Grass
Magnemite's sets have been changing significantly over the course of the four generations of Little Cup, but in the most recent Sun & Moon generation, its Analytic Choice Scarf set has been the most impactful. Thanks to an incredible maximum Special Attack stat of 22, Magnemite's Analytic-boosted attacks are insanely strong, and with Ground-types not being super common, this set can thrive. It mostly functions as a fast pivot that fires off strong Volt Switches to grab momentum for its team, but it can also potentially serve as a wallbreaker. Flash Cannon is an amazing secondary STAB move for Magnemite, as it can OHKO Diglett and Drilbur on the switch as well as signficantly dent Mudbray, making it hard for these Ground-types to switch in. Lastly, Magnemite has a level of unpredictability due to its Sturdy + Berry Juice set also still being quite good.
But of course, Magnemite has its downsides too. Most notable being Diglett's presence—if Magnemite locks itself into an Electric-type move, and it often needs to, Diglett can easily come in to trap and KO Magnemite; this makes it tough for Magnemite to click Volt Switch, as it could be predicted and give Diglett a free switch in. Diglett does have to be careful of switching in, though, due to Flash Cannon. Magnemite is also quite slow for a Choice Scarf user, reaching only 15 Speed with a Timid nature, which leaves it outsped by other Choice Scarf users like Mienfoo and Pawniard. In addition, it faces competition from other Electric-types, most notably Chinchou, which also has a good defensive typing and can stop opposing Volt Switches thanks to Volt Absorb, and Elekid, which is much faster without a Choice Scarf, freeing it up to run a Life Orb and retain the ability to switch moves. Lastly, many of the Pokémon Magnemite would be able to check carry coverage to hit it, such as Jump Kick Doduo, Hidden Power Ground or Fighting Abra, and Fire Punch or Earthquake Snubbull. All in all, though, Choice Scarf Magnemite is a powerful and fast pivot that can perform very well under the right circumstances.
But Why?
The major reason why Magnezone's Analytic and Sturdy sets didn't take off in OU was simply the value of Magnet Pull support there. With Skarmory, Celesteela, Ferrothorn, and Mega Scizor being some of the primary defensive Pokémon in the tier, Magnezone's ability to trap them and take them out was simply never worth giving up, so the Magnet Pull set is the one that ended up thriving.
So why did this not happen for Magnemite? Well first off, Magnemite has one of the highest Special Attack stats in Little Cup, meaning that Analytic makes it super hard to switch into. Meanwhile, Sturdy + Berry Juice + Recycle is an amazing combination that allows Magnemite to practically keep itself alive forever, so both of Magnemite's other abilities are very strong in the Little Cup metagame. In addition, LC simply doesn't have many Steel-types that are worth trapping; Ferroseed would be the main one, but that's weak to the Fighting-types that plague the metagame and is easy to wear down, so Magnet Pull's services are simply not needed, resulting in Magnemite benefiting more from Analytic and Sturdy sets. However, a Magnet Pull variant should definitely be considered if you see a Magnemite in Team Preview.
---
---
The Parent
Blaziken-Mega @ Blazikenite
Ability: Speed Boost
EVs: 252 Atk / 4 Def / 252 Spe
Adamant Nature
- Swords Dance
- Flare Blitz
- Low Kick
- Stone Edge
As the first starter to ever get banished to the Uber tier, Blaziken and its Mega Evolution are now attempting to compete with behemoths like Primal Groudon and Arceus. Its main claim to fame, and the reason it is found all the way up here, is its Hidden Ability, Speed Boost. This ability instantly turned a Pokémon with good offensive stats and mediocre Speed into a terrifying sweeper that could potentially outright win against an unprepared team after a single Swords Dance, which it generally could get thanks to its tendency to force switches. In Ubers, Blaziken can also more freely use Low Kick, which is obviously much less risky than High Jump Kick, due to the high weight Ubers Pokémon tend to have. With a second powerful STAB move in Flare Blitz and a solid coverage option in Stone Edge, Mega Blaziken can be a formidable threat.
However, Mega Blaziken struggles quite a bit in Ubers. It is oftentimes simply not quite powerful enough to break through walls such as Primal Groundon, Giratina-O, Giratina, Lugia, and Toxapex, and its low bulk means it very rarely gets the chance to set up a Swords Dance. In addition, it completely lacks space for Protect, which could otherwise be useful to get a first Speed boost, meaning it'll often get outsped and KOed before being able to do anything. Arceus-Ground's relative popularity is also a problem for it, as it can easily come in on Mega Blaziken, take a hit, and KO it back with Judgment or Earthquake. New additions such as Zygarde-C and Marshadow are also issues for Mega Blaziken, as the former can use its incredible physical bulk to wall it completely, while the latter does over half of Mega Blaziken's HP with its Technician-boosted Shadow Sneak. Mega Blaziken also tends to wear itself down very quickly due to the recoil on its most powerful move, Flare Blitz. Overall, Mega Blaziken struggles to fit onto most Ubers teams that aren't specialized towards it due to its negatives simply overshadowing its positives.
The Child
Torchic @ Firium Z / Life Orb
Level: 5
Ability: Speed Boost
EVs: 36 Def / 200 SpA / 36 SpD / 236 Spe
Modest Nature
- Protect
- Fire Blast
- Hidden Power Grass
- Baton Pass
After Torchic got Speed Boost in ORAS, it gained a very notable niche thanks to its access to Baton Pass, making it the only Little Cup Pokémon to get this combination. In addition, its access to Curse and Swords Dance allowed it to be an important support Pokémon, boosting the Speed of many strong but slower attackers such as Timburr and Pawniard. In SM, however, while its full Baton Pass set is by no means bad, certain metagame changes have amplified Torchic's offensive capabilities, opening it up to perform an offensive role. A few examples include Porygon being banned, Staryu shifting to commonly run a more offensive set, and Chinchou and Ponyta's usage decline. This allows the combination of Hidden Power Grass and Torchic's powerful STAB Fire Blast to hit most of the metagame very hard, as the Fire-types that resist both are incredibly rare. While a Life Orb is capable of boosting Torchic's power a lot, using Firium Z allows Torchic to fire off a one-time nuke in order to break through a very bulky Pokémon, such as Vullaby or Timburr, to allow for a teammate to clean. Speaking of teammates, Torchic often utilizes its offensive pressure to force switches, giving it a Speed boost, which it can then easily pass to a teammate such as Snivy or Croagunk, potentially allowing them to clean up.
Just like any Pokémon, Torchic also has its downsides. The most glaring one is its complete lack of defensive utility, as it has incredibly low bulk without an Eviolite, which the offensive set simply can't afford to run. This causes it to be very vulnerable to strong priority, such as Iron Fist Timburr's Mach Punch and Corphish's Aqua Jet, meaning that it can relatively easily be revenge killed even after getting Speed boosts. In addition, it can basically never switch in directly, meaning it needs either a slow Volt Switch or U-turn, a good double switch, or a teammate to go down to get into play. This is only amplified by Torchic's weakness to Stealth Rock, which causes it to get worn down even more quickly than it already would and gives it limited opportunities to fire off attacks. Luckily, it pairs very well with the best hazard remover in LC, Staryu. Fire Blast also has shaky accuracy, which means Torchic can sometimes simply go down due to missing an important move. Lastly, Torchic is sometimes not quite strong enough to break certain bulky threats, such as Vullaby and Alolan Grimer, without Stealth Rock support. All in all, though, Torchic can be a very good breaker in the right situations, and its access to Baton Pass means that it will basically never be completely useless.
But Why?
Obviously, Torchic has gravitated towards a special set, while Blaziken sticks to a physical set. The main reason for the former is Torchic's lack of access to Flare Blitz as well as a slightly higher Special Attack stat. In addition, most of Little Cup's walls tend to focus on Defense as opposed to Special Defense, allowing a special variant to wallbreak more effectively. It's also worth noting how good the combination of Fire Blast and Hidden Power Grass is in Little Cup, and physical sets wouldn't have access to this combination of coverage.
It's likely immediately obvious why Blaziken picked a physical set over Torchic's special variant; its Attack is significantly higher than its Special Attack, it has an excellent boosting move in Swords Dance, and it has access to high-Base Power physical moves. It should be noted, however, that the ability to viably run Hidden Power for special sets does shine through on some Blaziken sets, as it sometimes runs Hidden Power Ice to take out Zygarde-C.
---
---
The Parent
Kabutops @ Rockium Z / Life Orb
Ability: Weak Armor
EVs: 252 Atk / 4 SpD / 252 Spe
Jolly Nature
- Waterfall
- Stone Edge
- Swords Dance
- Superpower / Aqua Jet
Despite what its average stats may suggest, Kabutops is a largely threatening presence in the PU metagame due to its ability to utilize Swords Dance and Weak Armor to sweep. Once boosted by both Weak Armor and Swords Dance, Kabutops is capable of dealing swift heavy damage to just about any Pokémon in the tier while taking priority attacks decently well due to its fair physical bulk. It can also do well on the tier's rain teams, as it has Swift Swim and synergizes well with PU's other premier rain sweeper, Ludicolo, due to its ability to break past Ludicolo's checks like Ferroseed and Swanna while also appreciating the removal of Gastrodon. Thanks to Rockium Z, Kabutops is capable of muscling past some of its would-be checks in Weezing and Clefairy; all in all, Kabutops is a Pokémon with limited defensive counterplay that should always be prepared for adequately.
Unfortunately, Kabutops's many pros don't entirely prevent its cons from hindering it. The presence of Gurdurr and Hitmonchan, two Fighting-types with access to Mach Punch, leaves Kabutops susceptible to two Pokémon that are fully capable of revenge killing it after some chip damage or Defense drops. Kabutops also struggles to do anything too notable to Gastrodon, which, in addition to tanking its hits, can OHKO Kabutops with Ground-type attacks. Kabutops is also reliant on Weak Armor to boost its Speed, which can be inconvenient given that its Defense stat will drop as its Speed increases. At the end of the day, however, Kabutops has a solid niche in the tier as one of the most devastating boosted threats around.
The Child
Kabuto @ Eviolite
Level: 5
Ability: Weak Armor
EVs: 116 HP / 36 Atk / 36 Def / 156 SpD / 156 Spe
Careful Nature
- Rapid Spin
- Stealth Rock
- Knock Off
- Rock Slide / Aqua Jet / Waterfall
Back in ORAS, Kabuto was a decent Fletchling check that notably didn't get trapped by Diglett because of Aqua Jet while being able to both set and remove Stealth Rock, which gave it a solid niche. However, it faced a lot of competition from other Pokémon that could take on Fletchling and remove entry hazards, such as Archen, which also didn't get trapped by Diglett. Then SM came around and Kabuto became significantly better; due to Fletchling's fall from grace, other Flying-types like Doduo and Rufflet took over, which were generally harder to check due to their access to Fighting-type coverage. At the same time, Weak Armor, one of Kabuto's abilities, was buffed to raise Speed by two stages instead of only one. This allowed it to easily switch into any Flying-type move and get a boost to its Speed that allows it to outspeed even Choice Scarf Doduo, making it one of the best checks to LC's Flying-types. In addition, Kabuto is one of very few viable Pokémon with access to both Rapid Spin and Stealth Rock and offers solid utility through the use of Knock Off. Its access to Aqua Jet also offers its team a form of priority, though using it means you forgo a Rock-type STAB move, resulting in Kabuto being unable to threaten Flying-types very effectively.
However, that is where Kabuto's positives end. It really heavily suffers from getting overloaded, as a lack of reliable recovery means it can easily go down to continuous attacks, even if these are resisted. Since it is also often its team's Stealth Rock setter and entry hazard remover, it will be forced to get into play often, thus taking more hazard damage and more hits. Kabuto also faces heavy competition from Onix as a Weak Armor Rock-type and Stealth Rock setter, as Onix's higher Speed and bulk mean it is significantly more reliable. Fighting-types like Mienfoo and Timburr are also a big issue for Kabuto, as they are basically everywhere in LC and get a free switch into any Kabuto lacking Waterfall, though they don't always appreciate losing their item to Knock Off, and can easily force it out afterwards. In addition, Kabuto suffers from 4MSS to some extent, as it would really like to have Rapid Spin, Stealth Rock, Knock Off, and Aqua Jet on its set, but this means forgoing a strong STAB move, making Kabuto incredibly passive. Lastly, certain Pokémon like Vullaby have started to run Hidden Power Grass to take out Onix, but this also happens to deal with Kabuto very effectively, making it even more shaky of a check. Overall, though, Kabuto can be quite good on teams that require the role compression it brings.
But Why?
Offensive Rock-types aren't worth much in Little Cup due to the ubiquity of Fighting-types; any offensive Kabuto set would have to mainly rely on its Water-type STAB move, as the Fighting-type that's on basically every team, be it Mienfoo, Timburr, or Croagunk, could take its Rock Slides with ease. However, many teams also carry one of Foongus, Ferroseed, and Snivy, so an offensive Water-type unable to hit these very hard struggles. Thus, Kabuto was basically unable to pick up an offensive role in this metagame. Instead, it found itself as a Weak Armor Pokémon that resists Flying in a metagame where checks to Flying-types are few and far between. As a result, it took up a more defensive role to fit the metagame.
Kabutops, on the other hand, was never quite able to get its defensive sets off the ground. There are a couple factors at play here; first of all, neither Kabuto or Kabutops has very good bulk, but Kabuto is able to patch this up by holding an Eviolite, while Kabutops doesn't have access to this luxury. Next, many relevant offensive Pokémon in PU have an easy time breaking through Kabutops, such as Focus Blast or Fightinium Z Magmortar, Hitmonchan, Primeape, and Alolan Raichu. Flying-types, on the other hand, are quite rare, with the few ones that are common either carrying a coverage move to hit it, such as Earthquake Archeops, or being special, such as Oricorio-G, meaning Kabutops doesn't activate Weak Armor if it switches in. So instead, Kabutops relies on its solid offensive typing and high Attack stat to wallbreak or sweep effectively.
---
---
The Parent
Pelipper @ Damp Rock
Ability: Drizzle
EVs: 248 Atk / 32 Def / 228 SpD
Bold Nature
- Scald
- U-turn
- Roost
- Defog / Hurricane
For generations, Pelipper was a mediocre Pokémon, residing in NU from its introduction in ADV all the way until XY, where it dropped to the now-official PU. All this changed in Sun & Moon, when Game Freak decided to give it the best buff it could've dreamed off: the ability Drizzle. With this near-exclusive ability, Pelipper shot up the tiers all the way to OU, where it provides invaluable support to Swift Swim users like Mega Swampert and Kingdra. It has a lot of advantages over its fellow Drizzle user Politoed, such as a momentum move in U-turn, reliable recovery in Roost, a great support move in Defog, and an incredible offensive typing, which also gives it a powerful and perfectly accurate STAB Hurricane. Its typing, while arguably not as good as Politoed's, is still very good defensively and allows it to function as a solid check to Pokémon like Mega Charizard Y and Keldeo, both of which are immense threats to the rain teams Pelipper finds itself on.
However, not all is well for the rain bird. Due to its low stats, Pelipper can easily be pressured by threatening Pokémon like Tapu Koko and Greninja while also losing one-on-one against Tyranitar, which replaces Pelipper's rain with sand. Mega Charizard Y also beats Pelipper one-on-one if the sun is up, meaning Pelipper struggles in matchups against opposing weather setters. It is also heavily outclassed by other defensive Pokémon like Mantine outside of rain teams, meaning it has a narrow niche. In addition, it's weak to Stealth Rock, which is very bad for a Defogger. All in all, Pelipper's ability Drizzle makes it mandatory on rain teams, as it all but completely outclasses Politoed and has made a significant impact on the OU metagame this generation.
The Child
Wingull @ Life Orb / Flyinium Z
Level: 5
Ability: Rain Dish
EVs: 36 Def / 236 SpA / 236 Spe
Timid Nature
IVs: 19 HP
- Hurricane
- Scald
- Knock Off
- U-turn
Wingull has, especially recently, been thriving in SM LC, mostly thanks to its absolutely mindblowing offensive typing. In the whole metagame, only two Pokémon resist the combination, Chinchou and Helioptile, and the latter is completely unviable. In addition to this, it hits the second-highest unboosted Speed tier in Little Cup, 19, which allows it to outspeed or tie all but three unboosted Pokémon. This allows Wingull to spam Hurricane most of the time, as opponents usually only carry one Pokémon that resists it; this is often Onix, which is significantly threatened by Scald and also gets outsped. Thanks to this incredible offensive typing, Wingull really only needs its STAB moves to hit most of the metagame, meaning it has two moveslots open. Most commonly, it will use these for utility moves such as U-turn and Knock Off, but it can also make good use of Hidden Power Grass to hit Chinchou and Kabuto, Hidden Power Fire to hit Ferroseed, or Protect to avoid Fake Out and scout Choice Scarf users. Even Defog sees some use, as removing entry hazards is of course extremely valuable. Wingull is also one of the best Z-Move users in the metagame, as Supersonic Skystrike gets around Hurricane's imperfect accuracy and allows Wingull to break through Pokémon like Ferroseed much more easily. Lastly, Wingull's Flying typing lets it force out the incredibly common Fighting-types, such as Mienfoo, Timburr, and Croagunk, as well as Grass-types like Snivy and Foongus.
Wingull does of course have its downsides as well, most notably its absolutely awful bulk; while it does resist the most common priority moves in Mach Punch, Vacuum Wave, and Aqua Jet, it is extremely vulnerable to every Choice Scarf user, including some it resists the STAB moves from, such as Mienfoo and Pawniard. This is further amplified by its weakness to Stealth Rock, meaning it gets whittled down easily and doesn't get to pivot in and out as much as it would like. In addition, Wingull is very reliant on Hurricane, which has an fairly low 70% accuracy, and due to its frailty, a single miss can cause Wingull to go down. Its Scald is also not extremely strong, as Wingull's Special Attack is quite low, so it will do unimpressive damage on neutral or resistant targets. None of this means that Wingull is bad, though; its ability to prey on the many teams that rely on Onix as their Flying-type check is very valuable in Little Cup and gives it a significant niche.
But Why?
There is of course an obvious explanation for this: Wingull's lack of access to Drizzle. Now, this is absolutely an enormous factor, but even if Wingull would've gotten this ability, it's unlikely that it would've taken on Pelipper's defensive role; instead, it would've utilized a very similar set, except with a perfectly accurate Hurricane and a rain-boosted Scald (it's quite likely that Drizzle Wingull would've been banned). There are two major reasons for this. First off, Wingull's offensive typing, as said before, is absolutely amazing in Little Cup, as it is capable of easily preying on teams that rely on Onix. Second, its terrible bulk means that a defensive pivot set, such as the one Pelipper is running, is simply not an option, leaving it in an offensive role.
Pelipper, meanwhile, has mostly gravitated towards a defensive set in order to utilize Damp Rock and give its Swift Swim teammates as many turns of rain as possible; its Special Attack is simply too low to effectively run an offensive set in OU without a boosting item, and without a Damp Rock, it cannot fulfill its role of rain setter quite as effectively. It should be noted, however, that Choice Specs Pelipper has been seeing some usage; this set trades some rain turns for the ability to pressure many common checks to rain teams, such as Toxapex and Ferrothorn.
---
---
The Parent
Volcarona @ Buginium Z / Psychium Z
Ability: Flame Body
EVs: 252 SpA / 4 SpD / 252 Spe
Timid Nature
- Quiver Dance
- Fire Blast
- Bug Buzz / Giga Drain
- Hidden Power Ground / Psychic
Volcarona has shown itself to be one of the most centralizing Pokémon in Sun & Moon OU; its access to Quiver Dance, great offensive Fire typing, solid coverage options, and good bulk mean it is terrifying to deal with for many teams. On its own, Volcarona has made it essentially a requirement for every team to have either one of the very few Pokémon that can handle every Volcarona variant defensively, mainly Chansey or Mantine, or a Choice Scarf user with a base Speed over 100 and a way of reliably OHKOing Volcarona at +1 Special Defense. For the latter category, Keldeo, Greninja, and Latios are the most common, but due to the +1 Special Defense Volcarona gets from Quiver Dance, Choice Scarf Keldeo and Greninja are required to run Stone Edge and Rock Slide respectively, showing its incredible influence on the metagame. While at first glance it may seem to be completely walled by the quite common Toxapex and Tyranitar, it can simply get past these threats with Shattered Psyche from Psychic or Bug Buzz. Heatran is another candidate to wall Volcarona, but Hidden Power Ground makes quick work of it. Lastly, there is the possibility that Volcarona is simply Buginium Z, which gives it access to an incredibly strong Savage Spin-Out, allowing to break past the likes of Zygarde or Choice Scarf Garchomp by hitting them on the switch.
That's not to say everything about Volcarona is amazing. While its typing is good both offensively and defensively, it also gives Volcarona a crippling 4x weakness to Stealth Rock, meaning it requires very good Defog or Rapid Spin support to function. However, the rise of Defog users like Latios, Kartana, and Mega Scizor means this is easily given, and Volcarona easily sets up thanks to its typing and bulk if Stealth Rock isn't set up, so it is still a terrifying sight in Team Preview for many teams.
The Child
Larvesta @ Eviolite
Level: 5
Ability: Flame Body
EVs: 76 HP / 236 Def / 156 SpD / 36 Spe
Impish Nature
- Flare Blitz
- Morning Sun
- U-turn
- Will-O-Wisp / Wild Charge
When it was released in BW, Larvesta was quite a solid defensive Pokémon, as it was capable of effectively checking many Fighting- and Grass-types. In the next generations, however, it started falling off; the introduction of Fairy-types meant competition for a team's Fighting-type checks was more common, Fletchling's presence in ORAS made Rock-types more common, and this only became worse when Weak Armor was buffed in SM. However, Larvesta also isn't terrible; while its Stealth Rock-weak typing, poor Speed, and lack of Quiver Dance make it hard for Larvesta to thrive, with a few defensive tricks up its sleeve, Larvesta can certainly pose a threat as one of the more difficult Pokémon to offensively pressure. Larvesta's main use in Little Cup stems from its useful ability in Flame Body, respectable bulk, and good defensive typing, which offers resistances to common types in Fairy, Grass, Ice, and most importantly, Fighting. With the ability to cripple big threats like Mienfoo with a burn from Will-O-Wisp or Flame Body while healing off damage taken in the process afterward with Morning Sun, Larvesta frequently finds itself on teams that are in need of a reliable switch-in to the tier's omnipresent Fighting-types. Outside of checking a typing that proves troublesome to a lot of the metagame, Larvesta also has use as a good source of momentum thanks to its slow U-turn and as an all-around solid defensive Pokémon thanks to its ability to blanket check several other Pokémon. Larvesta can use Flare Blitz and its solid bulk to make for a good answer to big threats in Snivy, Pawniard, Spritzee, and Snubbull. Lastly, Larvesta also has some semblance of versatility, as its Choice Scarf set can function as quite an effective wallbreaker.
However, despite its defensive qualities, Larvesta heavily struggles at times due to its 4x weakness to Stealth Rock. While it's troublesome in itself for a defensive Pokémon to lose half of their health upon coming into play, this most notably requires that a Pokémon capable of removing entry hazards, like Kabuto or Staryu, is used to support Larvesta, which isn't ideal, considering Larvesta itself often looks to support Fighting-weak teammates. Larvesta also doesn't appreciate that most of the tier's Fighting-types carry Knock Off, which lowers its bulk by removing Eviolite and keeps it from reliably checking most of the Pokémon it seeks to switch into. Larvesta can also struggle to keep up with the offensive nature of the Little Cup metagame at times due to its poor Speed, and is overwhelmed by a number of common offensive Pokémon that are often paired with Fighting-types, like Doduo, Carvanha, Shellder, and Vullaby.
But Why?
While this difference can quickly be blamed on Larvesta lacking access to Quiver Dance, this is not actually the major reason. The ubiquity of Fighting-types and the relative commonality of Grass- and Fairy-types is what truly allows Larvesta's defensive typing to shine, and the existence of Eviolite in combination with reliable recovery allows Larvesta to consistently check these threats throughout a game (assuming Stealth Rock isn't up). Meanwhile, Fighting- and Grass-types aren't nearly as common in OU, and many Fairy-types have coverage or additional STAB attacks to hit Volcarona very hard, meaning it can't utilize its defensive typing as well (especially since it loses to a Pokémon found on most teams in Landorus-T). Instead, it can prey on the lack of good Fire-resistant Pokémon that it can't break through to set up with Quiver Dance and win games for its team, as it is able to break through some of its most common checks, Tyranitar and Toxapex, with Bug Buzz and Shattered Psyche, respectively.
---
---
The Parent
Venusaur-Mega @ Venusaurite
Ability: Chlorophyll
EVs: 248 HP / 88 Def / 156 SpD / 16 Spe
Calm Nature
- Giga Drain / Leech Seed
- Sludge Bomb
- Synthesis
- Hidden Power Fire / Earthquake / Knock Off
While Venusaur itself isn't exactly very good in OU, its Mega Evolution most certainly is; thanks to the ability Thick Fat, it has a very effective defensive typing, with its only weaknesses being Psychic and Flying. With the latter of these types not being very common, as well as Mega Venusaur having solid bulk and reliable recovery in Synthesis, it can function as an excellent bulky pivot for many balance teams. Venusaur also has solid utility moves in Knock Off and Leech Seed, which makes it somewhat difficult to switch into without getting crippled, especially when combined with a decent offensive STAB combination. Hidden Power Fire can also be used to pressure Ferrothorn and Mega Scizor, while Earthquake nails Heatran, which gets a free switch otherwise. Mega Venusaur has recently started overshadowing its major competition, Tangrowth, as its ability to consistently answer Shift Gear and Calm Mind Magearna, Tapu Bulu, and Tapu Koko often proves more valuable than Tangrowth's Regenerator ability.
Even though Mega Venusaur is great right now, it does have a few downsides. Most notable is the fact that is source of reliable recovery, Synthesis, only has 8 PP, leaving it easily worn down in long battles. As mentioned earlier, certain Pokémon that Mega Venusaur used to able to check effectively, such as Landorus-T and Gyarados, have started running Z-Moves, in these cases Supersonic Skystrike, which heavily pressures Mega Venusaur and sometimes makes it struggle to do its job. It also suffers from 4MSS somewhat, as it has to choose between good utility, hitting Ferrothorn and Mega Scizor, and hitting Heatran; this tends to give certain Pokémon a free switch, which is especially dangerous if that Pokémon is Heatran. All in all, though, Mega Venusaur is a great fit for balance teams.
The Child
Bulbasaur @ Normalium Z
Level: 5
Ability: Chlorophyll
EVs: 52 Def / 160 SpA / 240 Spe
Modest Nature
- Celebrate
- Sludge Bomb
- Giga Drain
- Sleep Powder / Hidden Power Fire
At the start of SM, Bulbasaur mainly found its place on the incredibly threatening double Chlorophyll sun-based teams, where it paired up with Vulpix and Bellsprout to form a devastating offensive combination that had gotten much better thanks to Gale Wings's nerf, Porygon's ban, and the introduction of Z-Moves. However, this core fell apart when Vulpix was banned, and Bulbasaur lost it major niche. Luckily for Bulbasaur, SM brought something else to the table that it could utilize: Z-Celebrate. By giving +1 to all of Bulbasaur's stats, this new move allowed Bulbasaur to use its decent offensive typing and solid Special Attack to sweep unprepared teams. Bulbasaur's typing also gives it setup opportunities against many common Pokémon, such as Onix, Foongus, and Acrobatics-less Mienfoo. Sleep Powder is also a very interesting option, as it can allow Bulbasaur to set up on almost any slower foe by putting them to sleep first, as long as it lands. Lastly, Bulbasaur reaches 14 Speed, allowing it to outspeed the entirety of the unboosted metagame after a Z-Celebrate boost, while also resisting the most common priority moves—Mach Punch, Vacuum Wave, and Aqua Jet.
However, Bulbasaur has several very relevant downsides. First off, while Bulbasaur's typing does allow it to take out some Pokémon that resist one of its STAB moves, such as Grass-types like Snivy and Ground-types like Drilbur, it struggles a lot with Poison-, Steel-, and Flying-types like Alolan Grimer, Ferroseed, and Vullaby. It can use Hidden Power Fire to dent Steel-types, but the other two still prevent Bulbasaur from sweeping unless they are severely weakened. Even Steel-types other than Ferroseed, like Pawniard, will be able to take a +1 Hidden Power Fire and take out Bulbasaur after some chip damage. In addition, common Choice Scarf users like Doduo can easily outspeed and take out Bulbasaur even after a boost, while Focus Sash Abra can eat a hit and then KO it. Furthermore, even the Pokémon that it can usually set up on sometimes carry coverage moves to prevent this, such as Acrobatics Mienfoo, Ice Punch Timburr, and Explosion Onix. Lastly, Bulbasaur faces very heavy competition from Z-Trick-or-Treat Pumpkaboo-S, which gets more setup opportunities and has a more useful Z-Move, and Snivy, which also tends to be much more effective as a Grass-type sweeper and doesn't rely on a Z-Move.
But Why?
The reason Mega Venusaur isn't running a Z-Move set should be obvious; it requires a Mega Stone and can thus not hold Normalium Z like Bulbasaur can. Meanwhile, non-Mega Venusaur's stats aren't quite high enough for OU standards, so Z-Celebrate didn't really catch on. It's more interesting, however, why Venusaur didn't pick up some kind of offensive set. This is likely due to an extreme case of 4MSS; an offensive Mega Venusaur would need both of its STAB moves, Hidden Power Fire to hit Ferrothorn and Mega Scizor, Earthquake to hit Heatran, and Hidden Power Ice to hit Zygarde and Landorus; even with all five of these moves, it still gets walled by Celesteela. Basically, the number of Pokémon resistant to Mega Venusaur's STAB moves is too high in the OU metagame, leaving it to a defensive set.
So why didn't Bulbasaur go the defensive route? After all, it has the same reliable recovery, the same good typing, and the same utility moves, with Knock Off being even more valuable in LC than in OU. However, defensive Bulbasaur is basically completely outclassed by Foongus, which has very similar bulk and the same typing, but access to Regenerator and Spore, which makes it a much more effective pivot, thus moving Bulbasaur's niche to a more offensive one.
---
---
The Parent
Mantine @ Leftovers
Ability: Water Absorb
EVs: 252 HP / 252 Def / 4 SpD
Bold Nature
- Scald
- Roost
- Haze / Toxic
- Toxic / Defog
With the transition from ORAS came an increase in HP and newfound access to Roost for Mantine. This has allowed it to skyrocket in usage in the UU metagame, holding a place in the tier as a reliable way of countering huge presences, including Suicune, Cobalion, Infernape, and most Scizor sets. It's also capable of checking a large number of physical and special threats alike, including Mega Sceptile, Doublade, Mamoswine, and Hydreigon. With Scald, it's capable of fishing for burns against the many physical attackers it can take on while also making good use of its other useful utility options, including Haze, Toxic, and Defog. Water Absorb, while merely situationally useful, is another big boon for Mantine, thanks to the prevalence of Water-types that can be worn down by Toxic, such as Suicune, Swampert, and Toxic-less Alomomola. Overall, while not an amazing choice, Mantine has a very solid niche in the metagame that allows it to stand out from its Water-type competition in some very unique ways.
Unfortunately, Mantine struggles to stand out too much in a metagame filled to the brim with bulky Water-types. Its additional Flying typing, while helpful for checking some of the aforementioned threats, hurts it immensely in a tier dominated by Mega Manectric, which are more easily handled by Swampert. It also leaves Mantine weak to the ever-present Stealth Rock, which can be undesirable for a defensive Pokémon and force it to recover right after it switches in. The presence of Pokémon that can physically or specially overpower Mantine, such as Mega Beedrill, Latias, Terrakion, and Starmie, also hinders Mantine's efficacy. Regardless, Mantine makes up for its flaws by covering a plethora of huge threats while providing its team with good amounts of utility.
The Child
Mantyke @ Life Orb / Eviolite
Level: 5
Ability: Swift Swim
EVs: 36 Def / 200 SpA / 36 SpD / 196 Spe
IVs: 9 HP
Modest Nature
- Rain Dance
- Hydro Pump
- Air Slash
- Hidden Power Ground / Hidden Power Grass / Substitute
Back in ORAS, Mantyke was a lackluster-at-best Pokémon. While it had a high Special Defense stat, its lack of recovery other than Rest, low HP and Defense stats, and weakness to Stealth Rock meant that it struggled to wall anything, while its Special Attack was simply not high enough to break through the extremely common Porygon and Chinchou. But then SM came around, and to go along with the HP buff and access to Roost its evolution got, Mantyke got... nothing?! Jokes aside, while Mantyke didn't get buffed directly, the lower Chinchou usage and Porygon's ban still make it a slightly better Pokémon in SM. Its power mainly resides in its awesome offensive typing, which allows it to hit the entire tier aside from Chinchou and Helioptile at least neutrally. In addition, Mantine is capable of setting rain to outspeed the entire metagame thanks to Swift Swim while also boosting up the power of its Hydro Pump, allowing it to clean up weakened teams. Mantyke's last slot is quite customizable; it usually runs a Hidden Power that hits Chinchou super effectively to potentially break through it or Substitute to help itself set up more easily.
Sadly, Mantyke is overshadowed in LC. Most teams that would like to utilize Mantyke's offensive typing will simply choose Wingull, as its much higher initial Speed and access to Hurricane makes it much more immediately threatening than Mantyke. In addition, Mantyke's low bulk without an Eviolite, especially on the physical side, means that it can struggle to set up a Rain Dance; however, it is quite weak without a Life Orb, even failing to KO some Vullaby sets in the rain. Its low power is especially notable when using Air Slash, as the low Base Power means it fails to OHKO even most targets it hits super effectively, like Foongus and Pumpkaboo-XL. Chinchou, while not as common as it was in ORAS, is also by no means non-existent and can easily take any one hit from Mantyke, including a super effective Hidden Power, and KO it back with an Electric-type STAB move. Lastly, Mantyke isn't very fast outside of rain, making it even tougher to set up. Generally, though, Mantyke can be very threatening, as most teams will not be prepared for its strong Hydro Pump in combination with Air Slash.
But Why?
Mantyke and Mantine seemingly went completely opposite directions, with Mantyke going a fully offensive route and Mantine becoming a passive wall. The former is simply because Mantyke's defensive sets aren't viable; it is heavily reliant on Eviolite and thus vulnerable to Knock Off, only has Rest as recovery, and is easily taken advantage of by most physical attackers, especially when considering its passivity when uninvested in Special Attack. Its offensive sets, on the other hand, greatly appreciate the fact that very few teams can effectively deal with the combination of Water- and Flying-type STAB moves.
Mantine's offensive sets simply suffer from low Special Attack and Speed stats, meaning it is unable to break or sweep effectively. Combine that with the fact that there are far better Swift Swim users in UU, and Mantine is relegated to a defensive role. Luckily for it, though, its newfound access to Roost means that it's actually pretty good at such a role, as it no longer has to rely on Leftovers and Rest to recover its health, though a weakness to Stealth Rock still very much annoys it.
---
---
---
Closing Statement
As you have seen, simply using a Little Cup Pokémon in the same way as its evolution isn't quite right a lot of the time; while many perform similar roles, there are also plenty that act completely differently. In fact, the selection we made here is far from complete, as there are still a decent number of examples left, such as Magby, Poliwag, and Alolan Meowth. We also skipped over differences that are purely caused by stats, ability, or movepool differences, such as Trapinch compared to Flygon. And then, of course, there are the metagame shifts that happen constantly in both Little Cup and the higher tiers, causing new sets to appear and old ones to become unviable, making the differences between LC Pokémon and their evolutions more or less apparent. In general, each LC Pokémon has different characteristics from its evolution, so it's certainly worth checking them out!