Recent UU Drops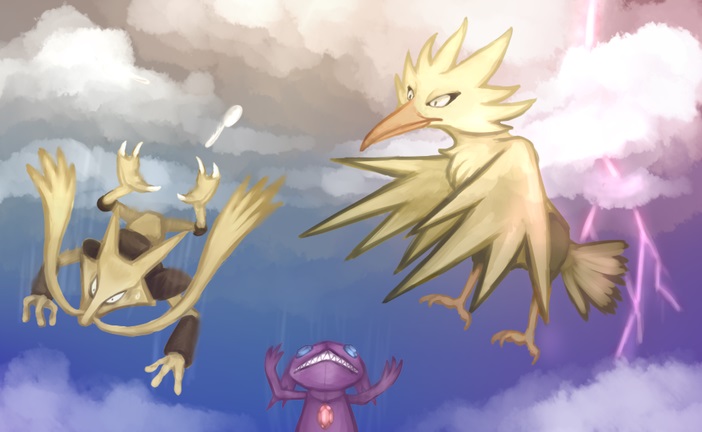 Introduction
Many Pokémon have dropped to UU since last November after the Mega split and from usage. Some of these Pokémon have had a huge impact on the metagame, while some have not. This article will go into depth about each one and explain how they fare in today's metagame.
---
Diancie
Diancie was a tool that was often overlooked when it dropped due to the Mega split in November. However, it turned out to be a hidden gem that served as a reliable Stealth Rock setter and provided a vast amount of utility to its teammates thanks to its great typing, which allowed it to check Pokémon such as Entei, Mega Absol, and even Hydreigon, a premier threat in the tier. Dealing with offensive threats that troubled other Stealth Rock users, such as Entei's Sacred Fire, allowed Diancie to carve out its niche. However, Stealth Rock wasn't all Diancie brought to the table. It was also able to take advantage of a Trick Room or a Calm Mind Rest set thanks to its low Speed and impressive bulk, or it could work very well as a nice bulky pivot and late-game sweeper with its Fairy-type STAB attacks and good typing.
In the present metagame, however, Diancie is considered outclassed by its peers, and it has even dropped to RU. Although it still exists as one of the best Hydreigon checks in UU, it is generally overshadowed by Florges as a Fairy-type. More specifically, Florges's Calm Mind set is considered a lot more potent due to its more reliable recovery. Diancie's Stealth Rock set is outshined by Pokémon such as Swampert, which can handle Entei and other offensive threats while putting up Stealth Rock extremely reliably. However, Diancie does not mind being burned as much as Swampert due to it using special attacks most of the time, apart from Diamond Storm. Thirdly, the Trick Room set could hardly warrant a stay in the UU tier for Diancie, as Trick Room is mostly a subpar strategy, and Pokémon such as Porygon2 and Bronzong do the job just as well.
However, not all is bad for Diancie. If you are looking for a Hydreigon check and Stealth Rock user, Diancie is your Pokémon. Although it is generally outshined, it still performs its roles sufficiently well and is considered by some an extremely underrated Pokémon. Although its Trick Room set is mediocre and its CroCie set is generally worse in the Calm Mind setup category, Diancie still fights for a role in any team with its great blanket checking capabilities and utility. As such, Diancie's impact on the tier was fleeting. Despite its unique characteristics, it was only able to add itself onto the myriad of Stealth Rockers in the tier already.
---
distinct niche!
average at best
pretty solid
a! big! threat!
tier titan
---
Zapdos
Many players find Zapdos to be one of the most influential drops in recent history. It was a Pokémon long sought after in a tier devoid of versatile Electric-types. The hype surrounding it was well founded, and Zapdos definitely has proven its worth in the past months. On paper, good bulk alongside a unique and useful typing lets Zapdos fill a variety of defensive or offensive roles. Its potential to run sets such as SubToxic, Choice Specs, and 3 Attacks + Roost makes Zapdos an unpredictable and threatening presence in any game.
Shortly after its drop, Zapdos's malleability really began to shine through, as it was able to fulfill several roles at once, which was highly sought after due to the large number of offensive threats that could be thrown at you. Therefore, a Pokémon that can function in both an offensive and a defensive capacity simultaneously was invaluable. Its two main sets around the time of its drop were an offensive Defog set and a more defensively oriented set. The main idea behind the offensively minded set was that there were very few ways to remove entry hazards without using a passive Pokémon like Forretress, and viable offensive hazard control options were mostly limited to Salamence and Mega Blastoise. Therefore, it's clear that a Pokémon with such a unique typing and access to Defog could thrive in a tier lacking Pokémon to fill the role. A huge benefit over something like Salamence lies in Zapdos's access to Volt Switch, which allows it to punish Pokémon like Florges and Umbreon that would normally have no trouble handling Defog Salamence variants. Some other niche moves such as Hidden Power Grass and Ice allow Zapdos to deal with problematic matchups.
Zapdos' defensive set gained a little bit less traction early on but has quickly risen as one of the best pivots in the tier. All of its strong qualities mentioned so far allow Zapdos to blanket check many of the top threats in UU, particularly strong Fighting-types like Heracross, Cobalion, and Mienshao, though it should be wary of Stone Edge. Zapdos's primary ability, Pressure, complements its typing excellently and helps it mitigate the devastating damage that Pokémon such as Shaymin can do with their low-PP moves. More recently, Zapdos acquired the ability Static, which further enhances its matchup versus the aforementioned Fighting-types as well as Pokémon like Mega Beedrill. The less influential Choice Specs set also deserves a mention here. While it faces strict competition from Rotom-H and Heliolisk, Choice Specs Zapdos has a huge advantage over its peers, as a Flying-type STAB move can be pivotal by providing a neutral coverage option to sweep late-game with. This is incredibly beneficial and lets Zapdos provide huge offensive pressure.
Nowadays, Zapdos is an important asset to many teams. Although it doesn't fit everywhere, its ability to fill specific roles in each archetype is a tremendous asset to have. In addition, Zapdos has not dipped in viability with the more recent drops and trends in the metagame. Being able to handle threats like Gyarados and Crawdaunt ensures that its place will be solidified for some time to come. Zapdos is great both offensively and defensively, making it one of the most solid and dependable Pokémon in UU.
---
distinct niche!
average at best
pretty solid
a! big! threat!
tier titan
---
Sableye
Of all the recent drops to UU, Sableye is universally held to be the most annoying one. Prankster Will-O-Wisp combined with STAB Foul Play keeps offensive teams on edge, while Prankster Taunt and Recover make Sableye deceptively difficult to remove for more defensive teams. Despite Sableye's great ability and wide support movepool, its stats fall short of the standard, and as such, it can be forced out by many of the strong hitters. Some notable examples include Lum Berry users such as Haxorus and Will-O-Wisp absorbers such as Entei, Infernape, and Guts Heracross. Some other noteworthy Pokémon that can handle Sableye well are Mega Absol and Mega Houndoom, which have both seen more niche play since Sableye's reintroduction to the tier.
Passive, bulky setup sweepers such as Snorlax, Slowking, and Reuniclus are among Sableye's common victims. Reuniclus and sometimes Snorlax are completely walled by Sableye and can become dead weight in certain matchups until Sableye is KOed. This helps to explain the decline in usage of both of these Pokémon in recent months.
Sableye's bothersome tactics are just as if not more effective against stall teams. A combination of Taunt and Knock Off stops recovery of any kind, be it passive or move-based. When you're facing Sableye with a stall team lacking Florges, the best option is often to fish for Scald burns and switch around. In general, Fairy-less stall is typically demolished by Sableye, making it the tier's premier stallbreaker. One of the few effective ways for stall teams to deal with it is to pack Aromatisse, which, with Aroma Veil, can eliminate the threat of Taunt on itself.
Sableye is also a phenomenal all-around way to deal with any sort of hazard removal. Not only it has all the traits of a great spinblocker and is a reliable answer to nearly all of the tier's spinners other than Mega Blastoise, but it can also Taunt potential Defog users and win a majority of matchups against them. With some help from Zapdos, it has even largely been responsible for the decline in use of Mandibuzz, especially of its stallbreaking set. Overall, Sableye puts an enormous amount of pressure on passive teams, especially in tandem with hazards, and has made a lack of offensive hazard removal a much more viable option on many teams.
---
distinct niche!
average at best
pretty solid
a! big! threat!
tier titan
---
Metagross
Metagross is a classic example of a Pokémon that seems like it will be extremely influential yet manages to accomplish very little in practice. In UU, Metagross emerged as another powerful and bulky attacker that found its home alongside other bulky attackers like Blastoise and Nidoqueen. On paper, Metagross can run an effective Stealth Rock set, Assault Vest set, mixed attacking set, Choice Band set, and Agility set. However, Metagross mostly has turned out to be a jack of all trades, master of none.
Metagross's best set is likely its offensive Stealth Rock set, which reliably sets the hazard thanks to its solid bulk and typing. As an offensive Steel-type, Metagross is able to come in on the popular Fairies of the tier such as Whimsicott and Florges and either fire off a solid hit or set up Stealth Rock. Niche options such as resistance Berries or special coverage moves can assist Metagross in taking down spinners or faster foes. Another important asset is Bullet Punch, which is useful to pick off weakened foes such as Mega Aerodactyl. Metagross's Choice Band set functions the same but focuses more on punching holes in the opponent's team with strong Meteor Mashes and eventually an Explosion.
Other sets more or less function the same way, and this similarity is why Metagross suffers. Despite a multitude of options in its kit, Metagross finds itself facing the same set of counters every time. Suicune, Zapdos, Milotic, Doublade, Tangrowth, and others consistently handle Metagross regardless of its coverage options. Swampert, Forretress, and Escavalier also deal with Metagross depending on the coverage run. Furthermore, Metagross often struggles to find moveslots to fit the different coverage options it wants to have. These two factors combine to leave Metagross not excelling at anything in particular.
Overall, Metagross can work on many teams but lacks the raw power to punch through many of its common answers and become a true force in the tier. However, if you're looking for a Pokémon that can handle the multitude of Fairies and aid your matchup versus Pokémon like Reuniclus, Metagross may be a good option for you.
---
distinct niche!
average at best
pretty solid
a! big! threat!
tier titan
---
Gyarados
Gyarados may well have been the most intimidating drop in UU's recent history; in fact, there was quite a bit of talk about immediately placing it into S rank on the viability rankings. The arguments were understandable: excellent special bulk combined with Intimidate allows Gyarados to set up Substitute and Dragon Dance on much of the tier and even to wall a large part of it with some defensive investment. However, Pokémon like Zapdos do a good job of answering Gyarados regardless of its set, aside from uncommon Stone Edge variants. Gyarados's Speed tier is admittedly high, but it also just fails to outspeed Mega Aerodactyl at +1 Speed, even with a Jolly nature. More importantly, Gyarados will never force its way past bulky walls on the level of Porygon2, Umbreon, and Cresselia.
Surprisingly, Gyarados actually hasn't started too many trends. This is because of how powerful Water-types were even before Gyarados's arrival. Teams were scrambling to find answers to Pokémon like Crawdaunt, Mega Sharpedo, Feraligatr, and Suicune, raising the prevalence of many checks to Gyarados in the process, such as Spiky Shield Chesnaught and Porygon2. That is not to say that Gyarados does not pose a new set of problems for teams struggling with these offensive Water-types. In most instances, Dragon Dance Gyarados outclasses these other Water-types, especially the physically based ones. Gyarados's monumental special bulk and unique Water / Flying typing grant it many more setup opportunities, which compensate for the slight power drop compared to other choices. Its most prominent set is SubDD with Leftovers, which allows it to avoid crippling status and take advantage of bulky Water-types attempting to burn it with Scald. This set partners particularly well with Toxic Spikes users, as Substitute and Bounce eat up turns that allow poison damage to rack up. A defensive RestTalk set with Roar can be run to wall many offensive Pokémon like Mamoswine and Entei. Gyarados can also threaten offense teams by running Thunder Wave, which is just one of the several viable options for Gyarados' third or fourth moveslot.
As mentioned earlier, Gyarados is just the next in a long line of offensive Water-types terrorizing UU. Therefore the tier hasn't had to adapt dramatically to handle the sea snake. Milotic has emerged fairly recently as a solid answer to Gyarados, particularly in SPL, where it sported an undefeated record in UU. Another notable change is the inclusion of Hidden Power Electric on Pokémon like Suicune, Empoleon, and even Alomomola. Furthermore, Freeze-Dry is suddenly a much more viable option on Mamoswine, and Thunderbolt is gaining popularity on Nidoking. Other than these and a few other minimal moveset changes, Gyarados has settled more calmly into the tier than its titanic partners.
---
distinct niche!
average at best
pretty solid
a! big! threat!
tier titan
---
Alakazam
As soon as Alakazam dropped, it was easy to see that it would be an extremely influential Pokémon in UU. In terms of sheer power and Speed, only Mega Evolutions surpass it, and it has perhaps the best overall coverage in the tier—only very specific threats such as Meloetta and Escavalier (both of which rose in the viability rankings as an immediate and direct result of Alakazam's drop) are capable of effectively and reliably countering it. Some Pokémon suffered with its drop as well: Nasty Plot Azelf and Calm Mind Espeon in general were both rendered useless, as they are entirely outclassed by Alakazam. In addition to affecting the ranks of those Pokémon, Alakazam has made running Pursuit on threats such as Mega Aerodactyl, which can force it out because of its superior Speed, almost obligatory. Pursuit is important even on stall because of the ridiculous amount of trouble the Life Orb set can give the playstyle.
Magic Guard is a phenomenal ability that allows Alakazam to run Life Orb and Focus Sash sets risk-free, as it doesn't take recoil from the former and doesn't have the latter broken by entry hazards or residual damage. This can make determining its set total guesswork until you click Sucker Punch, discover its Focus Sash, eat a Focus Blast, and lose your last check to Alakazam. To put it simply, the Life Orb set slaughters most defensive cores, and the Focus Sash one tears into offensive ones. The Focus Sash set almost always runs Thunder Wave to further cripple offensive teams, but there are several other viable options for a fourth move on both sets, including Dazzling Gleam, which is a more reliable way of hitting Dark-types super effectively than Focus Blast with the added bonus of also hitting Dragon-types.
Alakazam works incredibly well with Spikes, which allows it to have an easier time defeating its checks, such as Florges. Spikes also helps it net specific OHKOs and 2HKO's that it would otherwise not be able to against threats such as Swampert. Furthermore, Spikes puts heavy pressure on offensive teams, which in conjunction with Alakazam, a huge threat to hyper offense, pressures opposing teams extremely hard.
Overall, Alakazam has swept the tier by storm. With its great Speed tier and high Special Attack stat, Alakazam puts huge pressure on offense builds, being outsped only by Mega Aerodactyl, Mega Beedrill, Crobat, and Mega Sceptile. It also threatens many balance and semistall teams, with access to a variety of utility moves, such as Encore and Calm Mind.
---
distinct niche!
average at best
pretty solid
a! big! threat!
tier titan
---
Gardevoir
A very high base Special Attack combined with a superb offensive typing made Gardevoir a welcome addition to UU after the Mega split. With great coverage options and utility moves tailor-made for these sets, Gardevoir has emerged as a solid Choice Scarf and Specs user in the tier. Besides its typing and utility options, two more major assets of Gardevoir are its impressive special bulk, especially for a primarily offensive threat, and its ability, Trace, which makes it one of the handful of Pokémon capable of checking Mega Swampert under rain. Gardevoir pairs well with hazard stackers, as Stealth Rock seriously damages the Fire-types that check it and Spikes devastates its Steel-type counters.
Its drawbacks are significant, however. Gardevoir is extremely physically frail, suffers from a strange defensive typing, and lacks the moveslots to accomplish all it wants to. Gardevoir's pitiful physical bulk leaves it unable to check Pokémon like Doublade, Absol, and even Mienshao reliably. Furthermore, its secondary Psychic typing makes handling Hydreigon a very severe issue, as stacking Fairy-types is generally not the best teambuilding practice. Also, Gardevoir is strapped for moveslots, often desiring to run all of Psychic, Focus Blast, Moonblast, Shadow Ball, and one of several support options on each set.
In addition, its middling base 80 Speed leaves it just shy of Speed tying with Mega Beedrill and Mega Sceptile and quite short of Mega Aerodactyl, if running a Choice Scarf. This can be problematic, as the main purpose of Gardevoir's Choice Scarf set is not to clean entire teams but rather to support its team by revenge killing effectively. However, missing out on those critical Speed benchmarks can leave Gardevoir's team lacking for answers to the fast Megas of the tier. Gardevoir's secondary role is supporting its team with moves such as Trick, Memento, and Healing Wish. If Gardevoir is carrying a Choice Scarf, these moves are its best option versus special walls such as Blissey and Florges. Choice Scarf is perhaps Gardevoir's most effective set in the current metagame, which has become faster than ever with Alakazam having dropped and Mega Sceptile rising in popularity. The Choice Specs and Calm Mind sets are slow but capable of dismantling passive teams.
While Gardevoir is a serious threat that is not to be overlooked, it's not nearly as metagame defining or ground breaking as some other drops. It had no noticeable effect on the viability of any Pokémon in the tier and really settled in quite comfortably as a middle-of-the-pack threat with a useful but not game-changing niche for offensive teams.
---
distinct niche!
average at best
pretty solid
a! big! threat!
tier titan
---
Conclusion
Hopefully, with this article, maybe you'll try these new toys or use some that you have never seen or thought about before. Have fun experimenting!