The Mega Split and its Impact on RU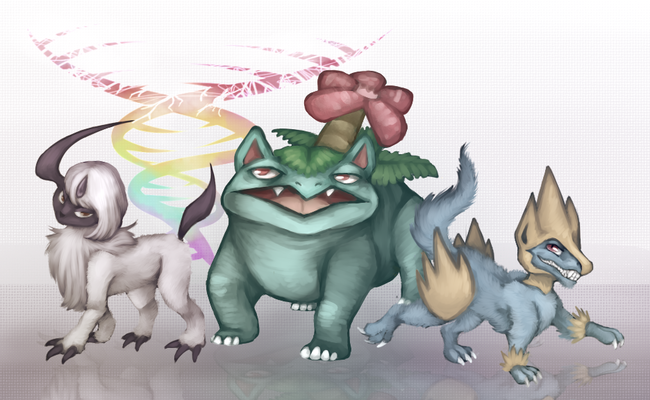 Introduction
With every new generation comes a new mechanic that usually has a vast impact on the competitive metagame. GSC introduced Dark- and Steel-types to lower the power Psychic-types had, ADV dropped Abilities that made some Pokémon more viable than they ever had been, DPP introduced Stealth Rock and the physical / special split, BW gave us Scald and Team Preview, and XY bestowed Mega Evolutions upon us. While some Mega Evolutions, such as Aerodactyl and Alakazam, simply made the Pokémon perform better in its previous role, there were others that completely changed how the Pokémon played, such as Charizard X and Blastoise. For the entirety of XY, Pokémon were simply tiered by combined usage between their normal and Mega counterparts. However, this philosophy was changed in ORAS to allow for normal forms of a Pokémon to drop into lower tiers should they not be used enough. This change gave each new tier some great new drops, such as Alakazam and Zapdos in UU, and Abomasnow in NU. RU got plenty of new Pokémon as a result of this that each contribute to the tier in positive ways. But rather than just talking about them, let's take a closer look at the Pokémon that now find a home in RU as a direct result of the usage split.
---
Venusaur
Offensively speaking, Venusaur has had the greatest impact on RU of the new drops. With its Mega counterpart locked away in OU, Venusaur is able to flex its muscle both offensively and defensively. Venusaur's well-rounded stats, solid movepool, and good typing allow it to perform well in just about any playstyle in RU, and its impact isn't just about offense either. Venusaur has greatly affected the ideal Speed tier for a wallbreaker in RU, making previously great wallbreakers, like Samurott, Exploud, and Adamant Absol, not as easy to use due to Venusaur outspeeding them with its base 80 Speed. Samurott in particular is hurt a lot by Venusaur, as its extremely underrated Swords Dance set that was very successful in previous stages is now much harder to effectively use due to Venusaur's presence. Base 70 and base 75 Speed Pokémon, such as Tyrantrum, Absol, and Hoopa tend to run positive Speed natures now in an attempt to outspeed any Venusaur that decide to use a Modest nature. The effect goes up to even Hitmonlee, a Pokémon that could previously run an Adamant nature on its Life Orb set with ease, as it now needs to utilize a Jolly nature to make sure it can outspeed Venusaur so that its team doesn't necessarily have to try to switch into it. Its defensive utility shouldn't be overlooked either. Due to reasonable bulk and a Grass / Poison typing, Venusaur can deal with any Virizion not using Zen Headbutt while also absorbing Toxic Spikes, thus making them less appealing than in previous stages of RU. Specially defensive sets of Weezing and Garbodor, as well as the return of Registeel to more prominence, can also be attributed to Venusaur dropping into RU. Venusaur isn't perfect, though, as its weaknesses to Fire-, Psychic-, Ice-, and Flying-type moves are all exploitable by the likes of Houndoom, Meloetta, Mega Glalie, and Fletchinder. Overall, Venusaur is a fantastic Pokémon that has, and will likely continue to have, a profound impact on the RU metagame.
---
Diancie
While Venusaur is a great offensive addition, Diancie is a fantastic addition to defensive builds in RU. While it has a lackluster base 50 HP, Diancie's defensive typing and twin base 150 defenses give it a fantastic defensive presence. It is the tier's premier answer to the likes of Fletchinder, Houndoom, and Exploud, the latter two of which are quite difficult for defensive teams without Diancie to switch into. Its access to Stealth Rock, Heal Bell, and strong STAB moves allows Diancie to support its team in multiple ways. Diancie is commonly seen with Alomomola due to how much support they provide their teams and how many threats they're able to check together. Although Diancie is most commonly seen as a defensive Pokémon, that doesn't mean it can't do anything outside of this capacity. With Calm Mind, STAB Moonblast, and amazing defenses, Diancie is more than capable of utilizing a mono-attacking sweeping set with Rest and Sleep Talk that allows it to easily set up on more passive Pokémon. For those wanting to exploit Diancie's respectable base 100 attacking stats, it does have access to Trick Room to become a very capable standalone sweeper or supporter on Trick Room teams. However, Diancie is the only common Fairy-type in RU to not resist Fighting, and it has a somewhat difficult time fending off common Ground- and Grass-type Pokemon. Its 4x weakness to Steel can also make it somewhat easy to lure by using the likes of Heavy Slam Emboar and Iron Tail Houndoom, both of which are Pokémon Diancie can normally check. Even with these cons in mind, Diancie's defensive value for the tier can't be overlooked, and it will likely continue to be a staple on balanced and defensive builds in RU.
---
Blastoise
With its Mega counterpart in UU, Blastoise comes to RU as the premier Rapid Spin user in a tier full of Fire-, Flying-, and Ice-type Pokémon that hate Stealth Rock. It has heavy competition as a bulky Water, but Blastoise stands out thanks to its ability to utilize Rapid Spin for its team as well as take on the likes of Alomomola one-on-one thanks to Refresh, which means Blastoise doesn't have to fear status. Of course, there's always Foresight for teams that need to ensure that Blastoise can get off a Rapid Spin if the opposing team has a Ghost-type, but these types of Pokémon aren't as common in RU as in other tiers due to how common Pursuit and Dark-type Pokémon in general are. What really sells Blastoise as a Rapid Spin user is its ability to check common Stealth Rock users, like Mega Steelix and Rhyperior, naturally. While Blastoise will continue to face competition as a bulky Water-type in RU from Alomomola, Seismitoad, and Slowking, it should remain a fairly solid option for many teams due to condensing the roles of hazard removal and bulky Water-type into one teamslot, thus allowing some extra flexibility for teams that need both. In particular, Blastoise greatly supports the Venusaur + Fletchinder core and also helps one of the best Pursuit users in the tier, Sneasel.
---
Absol
Absol is a hard-hitting Dark-type attacker with an incredibly powerful priority move in Sucker Punch. Play Rough is also a nice coverage move for Absol to let it threaten bulky Fighting-type Pokémon, such as Hitmontop and Poliwrath, that would otherwise attempt to sponge its powerful Knock Offs, while Superpower and Iron Tail give it coverage on Steel-types and Fairy-types, respectively. While Absol was fantastic when it first dropped into ORAS RU, it has suffered from a few of the more recent drops, most notably Diancie and Venusaur. Diancie is yet another defensive Fairy-type that has come to RU, and it's got even more raw physical bulk than Aromatisse, which already did pretty well against Absol. The inclusion of Venusaur makes many Pokémon in the base 70 Speed range want to run a positive Speed nature, thus allowing them to outspeed Absol should it stick with a positive Attack nature. This most notably includes Tyrantrum, a serious threat that has the physical bulk to withstand Absol's STAB Sucker Punch. Perhaps the biggest issue for Absol in RU is Mega Steelix. At the time of this writing, Mega Steelix is arguably the best Pokémon in the tier. With a titanic base 230 Defense, it is able to comfortably take any attack Absol uses, even Superpower, and it doesn't take the boosted Knock Off damage due to being a Mega Evolution. Absol also offers very little defensive utility, as it is quite frail, can only really come in on Psychic-type attacks, and is hindered by faster Pokémon that resist Sucker Punch. Absol is still a threatening offensive presence, but it will need some extra support to ensure it isn't overwhelmed by powerful defensive threats in RU.
---
Manectric
Manectric has amazing Electric + Fire coverage as well as solid Speed and Special Attack stats that allow it to perform as a solid balance breaker. While it recently dropped even further to NU, quite a few top players feel that the recent banning of Durant should help Manectric climb its way back up to RU and become a solid threat to somewhat slower teams. Its ability to jump all over the common Mega Steelix + bulky Water-type core is something many feel is Manectric's strongest attribute. Manectric still has some issues, though, not the least of which is its Speed tier that leaves it just a little behind key threats in Virizion and Sneasel. While it's incredibly frail, falls a couple of threatening attackers, and is always walled by at least one threatening Ground-type, Manectric is a strong attacker with more than enough Speed and strong coverage to threaten most Pokémon slower than it.
---
Honorable Mentions
The most notable is Abomasnow. While it has been within RU during parts of XY and ORAS previously, the recent banning of its Mega counterpart combined with the Mega split ensures that Abomasnow will have a strong niche in RU as a wallbreaker with great STAB coverage. However, it struggles with subpar bulk, a poor defensive typing, and below average Speed. To top all of this off, Abomasnow misses the ability to switch into Alomomola without fear as it is susceptible to Knock Off, unlike its Mega counterpart, and Abomasnow needs Life Orb to give the damage output it needs to succeed. With that said, Abomasnow can be very bothersome for slower teams to deal with once it does get itself on the battlefield.
Aerodactyl is also a fairly notable drop that resulted from the Mega usage split. It sports a great base 130 Speed stat, which allows it to revenge kill key threats like Virizion, non-Ice Shard Sneasel, and Delphox. It also has access to Pursuit, which allows it to trap and KO frail Psychic-types, like Hoopa and Sigilyph, that are generally scared of Aerodactyl while also acting as an offensive check to Fletchinder for offensive builds. However, it is greatly hindered by the presence of key threats, such as Tyrantrum and Mega Steelix, and it also suffers a bit from four moveslot-syndrome due to its wide variety of move options.
Aggron is another powerful wallbreaker in RU that has plenty of flaws it has to deal with. It has a bad defensive typing and low Speed to counteract a ridiculously powerful STAB Head Smash. However, the worst flaw Aggron has is of no fault of its own; Tyrantrum is one of the strongest offensive Pokémon in the tier and is able to do what Aggron does and much more. Most teams that can handle Tyrantrum will be able to keep Aggron in check, but using the two together with Aggron as the wallbreaker can possibly lead to good results.
---
Conclusion
While every tier below OU has been affected by the recent Mega split, it can be argued that RU was impacted the most. With several notable Pokémon dropping, five of which are usually accounted for in teambuilding due to how common they are, the Mega split has changed RU quite a bit over the past few months. So, what are you waiting for? Get out there and try some of these Pokémon if you haven't already, now that they have the spotlight that they've been wanting since the beginning of XY!