Show me ya Moves: A Look Into Gen VII Balanced Hackmons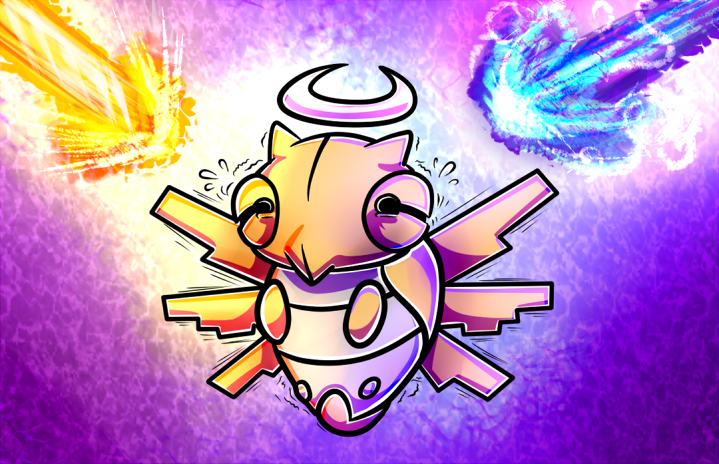 Art by LifeisDank.
Introduction
With the introduction of the seventh generation of Pokémon, Game Freak has blessed the competitive Pokémon community with a plethora of new moves and abilities for us to battle with and enjoy. In no Smogon metagame is this most evident than the Other Metagame "Balanced Hackmons", wherein players are able to mix and match moves and abilities to their heart's content. With so many new toys for the tier to play around and experiment with, here are some of the most notable ones brought about by the turn of the generation.
Abilities
Comatose: Acting as a very good way to switch into various status moves and giving an immunity to Entrainment (most commonly run on Mega Gengar with the ability Normalize), Comatose is a very powerful ability for defensive glues as a way to absorb status and Core Enforcer without having the user's ability nullified. Furthermore, offensive sweepers and wallbreakers can take advantage of its secondary effect of giving an immunity to Prankster Spore, evade a complete halt in damage via an ability change, and avoid burns and paralysis. This ability was involved in a complex ban together with the move Sleep Talk, as this combination allowed the user of the two to spam phazing moves like Dragon Tail and Whirlwind at neutral priority. This meant that if entry hazards were put up, a fast Comatose user could single-handedly beat a team that lacked priority.
Psychic Surge: Psychic Surge is a brand-new ability that activates the new Psychic Terrain field effect, which gives a boost of 50% to Psychic-type moves for all grounded Pokémon. However, its secondary effect is almost more desirable, as it allows all grounded Pokémon to completely avoid priority status moves and attacks. In the new Gen 7 metagame, Mega Mewtwo Y capitalizes on this ability greatly by getting a huge boost to its STAB attacks on top of its already amazing offensive stats as well as being able to dodge -ate Extreme Speed, Triage users, Prankster Spores, and much more.
Dazzling and Queenly Majesty: On the topic of priority, Dazzling and Queenly Majesty are two of the most interesting abilities introduced in the seventh generation, as these two abilities provide the user with a complete immunity to priority moves. From Fake Out to Prankster Spore, no move with priority can touch your Pokémon. This ability is invaluable for offensive setup sweepers to ensure as safe of a sweep as possible, as they cannot be revenge killed unless it is by a naturally faster foe nor can theybe affected by the effects of a targeting status move by a Prankster user. On top of this, it has a distinct advantage over Psychic Surge in that it is undetectable until after the opponent launches a priority move against the user. In the current metagame, this ability is extremely useful to check -ate ability users, as the limit for the number of its users per team was removed for the SM metagame. It also checks users of the next ability, known as...
Triage: On the opposite side of the priority spectrum, Triage works in a different way than other priority-affecting abilities. Triage gives +3 priority to any and all moves used by the user that have the potential to heal any Pokémon on the user's team. Due to this including moves that deal damage and then heal the user, like Oblivion Wing and Leech Life, Mega Rayquaza can take advantage of this ability by using Tail Glow to boost its Special Attack to sky-high levels (no pun intended) and hit foes with a +3 priority boosted 80-Base Power STAB move that heals it for 75% of the damage dealt to the target. Mega Heracross works similarly but slightly less successfully with the combination of either Swords Dance or Shift Gear and dual STAB moves in Drain Punch + Leech Life.
Stakeout: An amazing new ability and tool for the offensive portion of the metagame, Stakeout doubles the power of all attacking moves if the foe switches into the attack in the same turn. This ability opens a ginormous door for offensive threats, as now would-be switch-ins are easily 2HKOed by STAB or coverage moves. Even resisted moves are now extremely potent. A good example of this is Primal Groudon's Choice Band V-create, which can now OHKO Pokémon like Primal Kyogre, Mega Rayquaza, and other Pokémon that resist it, 2HKO much bulkier threats like maximum Defense Giratina, Mega Gyarados, and opposing Primal Groudon, and deal hefty damage to Zygarde-C switching in.
Galvanize: As a brand new form of the -ate abilities, Galvanize turns all Normal-type moves into Electric-type moves and, if they are damaging, gives them a 1.2x boost in power, makingfor a wide variety of offensive options. This ability has given Zekrom and Mega Manectric a brand new lease of life in the BH metagame, as they are now able to have a boosted STAB Fake Out + Extreme Speed combination or a very powerful boosted Boomburst that can punch holes through common walls. This ability also allows for varying Imposter-proof sets such as Shell Smash Extreme Speed Boomburst Earth Plate Judgment Primal Groudon.
Electric Surge and Surge Surfer: Similarly to Psychic Terrain, Electric Surge is a Terrain-setting ability that activates Electric Terrain, which boosts the power of Electric-type moves by 50% for grounded users. Additonally, all grounded Pokémon are prevented from being put to sleep, which can very nice for both offensively inclined and balanced teams, as many Pokémon can forgo Safety Goggles for a more beneficial item. Pokémon like Zekrom can use this ability to decimate Pokémon that don't resist Electric with STAB Electric Terrain-boosted Bolt Strikes. Surge Surfer works with Electric Terrain to double the user's Speed for however long Electric Terrain is up. This allows, again, Pokémon such as Zekrom to outspeed common offensive threats like both Mewtwo formes, Mega Rayquaza, and Arceus as well as maintaining the power gifted to it by Electric Terrain.
Now Banned Abilities
Water Bubble: Water Bubble is a new ability exclusive to the Araquanid evolutionary line. This ability is very powerful in that it doubles the power of all Water-type attacks, halves the power of Fire-type attacks, and completely prevents burns for the user. Its first effect was considered too powerful for the metagame to deal with, as Water-types with gargantuan Special Attack such as Primal Kyogre and Ash-Greninja could take advantage of this ability to obliterate anything that would ever be able to normally switch in. With Drizzle support, there was very little that Choice Specs Kyogre could fail to OHKO with Water Spout. It is important to note, however, that this ability was banned before the no-EV limit metagame was fully established, so it is difficult to say how it might affect the current metagame.
Innards Out: Used almost exclusively with Chansey and Blissey, Innards Out is an ability that deals damage based on the amount of HP the user had right before it fainted. For example, if a full-HP Chansey without HP EVs was switched into a full health Primal Groudon's Thousand Arrows and fainted, it would deal 641 HP in damage to the Groudon, instantly KOing it. This allowed the user to pick and choose which Pokémon the opponent would have to sack, as a Chansey without EVs was extremely frail (for example, being KOed by simple U-turns from non-offensively inclined Pokémon). This eventually led to its ban.
Moves
Sunsteel Strike and Moongeist Beam: These two signature moves of the Sun and Moon cover legendaries have become very popular to use in BH. First and foremost, they each are the highest-Base Power respective physical and special moves for their type at 100 Base Power, allowing them to be used as great coverage options for a huge part of the metagame. However, their fame is not just in their great power, but also their secondary effect to completely ignore abilities whilst doing damage. A good example of this is with what used to be one of the most popular Pokémon in the BH metagame, Shedinja with the ability Sturdy, which has now become nearly obsolete due to these two moves being slapped on both offensive and defensive Pokémon. Another is these two moves' ability to bypass the ability Unaware, which is invaluable for setup sweepers.
Core Enforcer: Yet another signature move, this time of the mighty Zygarde. Core Enforcer is a 100-Base Power Dragon-type special move with perfect accuracy, so already this is arguably a great move. It provides a high Base Power and accurate Dragon-type STAB move and coverage option for all viable Pokémon, which is great, as Dragon-types have been making a rise with the popularity of Zygarde-C, Mega Rayquaza, and Giratina. However, another ability called Poison Heal, which recovers the user's HP stat by 12.5% each turn if it is poisoned, has become extremely popular as well. The key with Core Enforcer is its ability to completely nullify the opposing Pokémon's ability if the user attacked with Core Enforcer LAST. This means Poison Heal users will begin to lose HP instead of gain it, Pokémon with Regenerator won't recover health as they switch out, Pokémon with -ate abilities will have their moves changed back to normal, etc. This move has shaped the metagame in ways that many could not have predicted, such as forcing several Pokémon to run absolute minimum Speed to avoid this, a rise in the usage of Mega Audino and other Fairy-types, and even seeing a rise in popularity of level 99 Pokémon to outslow even the slowest of Pokémon.
Spectral Thief: Spectral Thief is a very interesting new move in that it is the most powerful reliable physical Ghost-type attack in the game and comes with the unique effect of stealing the target's stat boosts before dealing damage as well as going through Substitute. However, despite its great power and secondary ability, it is most commonly used defensively rather than offensively. The ability to steal a target's stat boosts is invaluable for a defensive Pokémon as to prevent being setup fodder for more offensive threats. Additionally, due to Spectral Thief's ability to break through Substitute, the only way to prevent it from stealing the target's boosts is to be a Normal-type. This move is commonly seen on various Unaware users and is often coupled with Baton Pass to pass the stolen boosts to an offensively inclined team member and start a reverse sweep of sorts. The popularity of this move, however, gave offensive Normal-types such as Regigigas, Mega Pidgeot, and Arceus more of a niche as more reliable setup sweepers.
Power Trip: Nearly identical to the move Stored Power, Power Trip is a Dark-type physical move that starts at 20 Base Power and adds an additional 20 Base Power for every stat boost the user has, which can lead to insanely high power in a very short period of time if one uses something like Shell Smash on a Dark-type such as Mega Gyarados or Yveltal.
Anchor Shot and Spirit Shackle: These two moves are the same as the Generation 6 move Thousand Waves, but they are a little bit weaker and, in the case of Anchor Shot, nothing is immune to them. They can trap and remove threats by PP stalling them, Perish trapping them, or offensively pressuring them. They also provide an effective way to trap an Imposter user and remove it for future setup opportunities.
Shore Up: Not much needs to be said about this new move. However, it is worth mentioning, as it is now the most reliable recovery move available in the game. It is weather based, but unlike other weather-based recovery moves, it has 16 PP and does not have its healing reduced by a weather condition. It does, however, recover 66.7% of the user's health while in sand and is easy to slap on any kind of Pokémon, offensive, defensive, or otherwise.
Strength Sap: Another recovery move introduced in the new generation, Strength Sap has the ability to fully recover almost all of a user's health in a single turn as well as lower the foe's Attack stat by one stage. However, it is not always run, as it can be considered unreliable. Strength Sap converts the target's Attack stat into the amount of health the user will recover. Versus an enormous offensive threat like Primal Groudon, the user can potentially recover 504 HP, (enough to bring a maximum HP Giratina from 0.1% health to 100% health!) but versus a more defensive Pokémon like Mega Audino, the recovery would be much more mediocre, at a minimum of 112 health. On top of this, Strength Sap can be blocked by Magic Bounce and allows the foe to recover health and lower the user's Attack.
Multi-Attack: Finally on this list is the signature move of the Synthetic Pokémon, Silvally. Multi-Attack is a 90-Base Power physical move of the Normal-type that works in the same way as Judgment. The user will hold one of the new items known as "Memories" that correspond to a certain type. Based on what that type is, the type of Multi-Attack will also change. This has allowed new Imposter-proof sets to appear for physical Pokémon as to outshine their special counterparts.