Top 3 usage Pokémon in Smogon Tour 21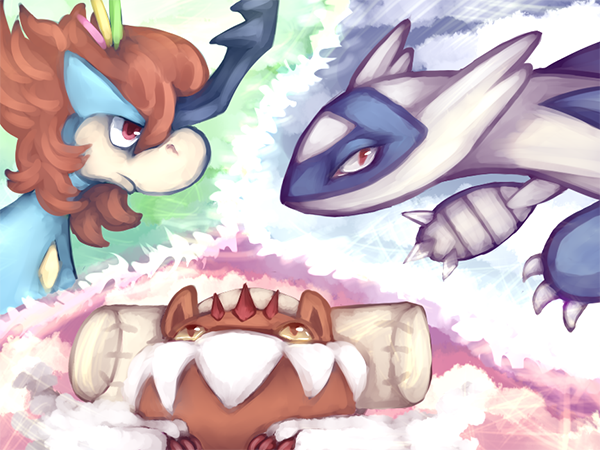 Introduction
The Smogon Tour is one of the most prestigious competitive Pokémon singles tournaments in the Smogon community. Three tournaments are held every weekend over a nine-week season. Anywhere from 96 to 256 skilled players join and compete until one triumphant battler remains. For the 21st season of the Smogon Tour, battlers are pitted against each other in the three most recent standard metagames that will test their resolve: ORAS, BW2, and DPP. Each weekend of the Smogon Tour is dedicated exclusively to one of these metagames.
Typically, each day's tour will finish within a two-and-a-half-hour period of time. The rules for the tour are slightly different and more fast-paced than usual tournaments, though. As soon as you sign up, you battle until you lose. If you keep winning, you keep battling until you win the entire tour!
After the nine weeks of the Smogon Tour complete, the top sixteen seeded players based on points earned from won battles will be invited to move on to the Smogon Tour Finals. Each pairing in the Smogon Tour Finals will partake of a best of three series across ORAS, BW2, and DPP in order to move on. The last man standing in this stage will be the true Smogon Tour Champion for that season!
Smogon Tour 21 Overall Stats:
ORAS OU:
| Rank | Pokémon | Use | Usage % | Win % |
| --- | --- | --- | --- | --- |
| 1 | Landorus-T | 1295 | 40.27% | 49.96% |
| 2 | Latios | 870 | 27.05% | 46.78% |
| 3 | Keldeo | 831 | 25.84% | 47.77% |
---
Landorus-T
Landorus-T proves itself to be one of the OU metagame's premier bulky Ground-types due to its great typing, access to U-turn and Stealth Rock, and Intimidate support. It functions as a pivot, thus providing momentum and controlling the tempo of the match, while also functioning as an all-around blanket check to many physical threats in the tier such as Mega Lopunny, Excadrill, Mega Charizard X, and Tyranitar. It can set up Stealth Rock pretty comfortably, as its high Attack stat prevents many threats from coming in freely regardless of how defensive the set you run may be.
Here are two of the most used sets during this tournament. Keep in mind that the EVs can be modified to your own needs.
Defensive
Landorus-Therian @ Rocky Helmet
Ability: Intimidate
EVs: 252 HP / 240 Def / 8 SpD / 8 Spe
Impish Nature
- Earthquake
- U-turn / Swords Dance
- Stone Edge
- Stealth Rock
Due to the tremendous number of physical threats in the OU metagame, this Pokémon fits well with every playstyle by checking those foes. The ability to force switches due to its power even if you're running a defensive set allows Landorus-T to set up rocks or gain momentum. Swords Dance is an alternative choice for this set, as it lets Landorus-T deal massive damage to bulky Pokémon that cannot do much back such as Hippowdon and Clefable that lack Ice Beam and also pressure bulky Mega Scizor, which can set up easily otherwise.
Its lack of reliable recovery leaves it relatively low on HP to manage various threats on the opponent's team, especially if you don't play cautiously. In this tournament, Landorus-T did not often have Leftovers for passive recovery as people preferred Rocky Helmet. Lastly, Landorus-T packs weaknesses to Ice- and Water-type moves, meaning it cannot set up Stealth Rock without inviting the likes of Kyurem-B, Manaphy, Rotom-W, Skarmory, and Keldeo in.
Alternatively, Knock Off is sometimes useful in this moveslot to get rid of crucial items for the rest of the members to take advantage of. One such example is removing Shed Shell so Magnezone can trap Steel-types, which helps other teammates.
Stone Edge gives Landorus-T the best two-move coverage possible, allowing it to check Talonflame and hit Rotom-W, one of Landorus-T's switch-ins, for a good amount of damage.
In the replay below that took place in Round 1 of Smogon Tour Playoff, we can see how blunder's Landorus-T gains momentum early-game, pressuring xray's squad, and setting up Stealth Rock turns after. blunder's Landorus-T was an all-around check to opposing Landorus-T and Terrakion, and it can U-turn out against the rest of the foes into an appropriate answer.
Revenge Killer
Landorus-Therian @ Choice Scarf
Ability: Intimidate
EVs: 252 Atk / 4 Def / 252 Spe
Jolly Nature
- Earthquake
- Stone Edge
- Knock Off / Explosion
- U-turn
Landorus-T's great Speed tier makes it an awesome Choice Scarf user filling roles such as revenge killing, scouting the opponent's moves, and most importantly, gaining offensive momentum. With a Choice Scarf, Landorus-T checks some of the fastest Pokémon like Mega Alakazam, Tornadus-T, Mega Manectric, Thundurus, Mega Lopunny, and Mega Aerodactyl. It also can deal with some Pokémon that have +1 Speed like Mega Gyarados, Dragonite, and, when it was still around, Choice Scarf Hoopa-U.
Knock Off is a really good support move to get rid of items like Eviolite, Shed Shell, and Leftovers. This way Landorus-T can wear down its checks very quickly by the combination of Knock Off + U-turn + hazards. Explosion is an alternative to nuke bulky Pokémon such as Slowbro and Clefable, putting a huge dent into anything that doesn't resist it and leaving them in range of a teammate's Pursuit or any other attack to clean it up. Other reasons to use Explosion are to gain momentum and block hazard removal.
We can see on Round 1 of the Smogon Tour 21 how cosine180 utilizes his Landorus-T to threaten and check Shoka's Thundurus, which is a huge threat for him. Another crucial role Landorus-T fits here is the fact that Amoonguss can't effectively answer Mega Diancie this game because has Psychic, which makes it difficult for Amoonguss to switch into, and so Cosine180 relies a lot on pressure from Scarf Landorus-T to check it.
Offensive
Landorus-Therian @ Earth Plate
Ability: Intimidate
EVs: 252 Atk / 4 Def / 252 Spe
Jolly Nature
- Earthquake
- Stone Edge
- Knock Off / Rock Polish
- Stealth Rock / Swords Dance
This offensive set was seen time to time on Smogon Tours, especially when Hoopa-U got banned and stall became a bit more common again. Dual Dance Landorus-T was more uncommon, but it's a solid sweeper for late-game; it has the freedom to Swords Dance against bulkier or slow teams, and on the other hand you can Rock Polish against more offensive or fast teams. Choice-locked Pokémon or Pokémon that don't threaten Landorus-T at all are the perfect opportunities to set up, such as opposing Scarf Landorus-T locked into Earthquake and Keldeo locked into Secret Sword.
After Hoopa-U got banned, the offensive Stealth Rock Landorus-T was really popular because it could set up rocks against Mega Sableye, which is threatened by Earth Plate-boosted Earthquake.
---
Latios
Latios possesses a great Speed tier, allowing it to outspeed and check many threats such as Mega Charizard Y and Keldeo. In addition, it has a great Special Attack stat, coupled with an extremely strong move in Draco Meteor, which has a high damage potential furthered even more by Life Orb. It is without a doubt one of the best offensive Defog users in OU. Latios can also lure and eliminate its checks thanks to its great movepool. Furthermore, a decent defensive typing allows Latios to comfortably absorb hits from the likes of Water-, Fighting-, and Fire-types and, as a result, gives it ample opportunities to switch in.
However, Latios is weak to the omnipresent Knock Off and Pursuit, which is amplified by the increase of Pursuit users such as Tyranitar, Assault Vest Metagross, Weavile, and Steel-types such as Mega Metagross. Latios also resides in a crowded Speed tier and thus has to rely on Speed ties with opposing base 110s such as Mega Diancie and Gengar. Finally, its physical bulk isn't great at all, rendering it open to revenge killers and faster Pokémon such as Talonflame and Tornadus-T.
Offensive Life Orb
Latios (M) @ Life Orb
Ability: Levitate
EVs: 4 Def / 252 SpA / 252 Spe
Timid Nature
IVs: 29 HP / 0 Atk
- Draco Meteor
- Psyshock
- Defog / Hidden Power Fire
- Roost
Draco Meteor is pretty much mandatory for this set, as it provides immediate power to cause massive damage to any Pokémon even if it is a resisted hit. Unless they have a Fairy-type on their team or have something with very good special bulk, this can force your opponent to sack a teammate to safely bring in a check or recover the damage, which in turn gives a Pokémon of yours a free switch in. Psyshock is a very helpful move that allows Latios to damage special walls more effectively than Draco Meteor such as Clefable and Chansey, not only because it hits the target's Defense stat, but also because it doesn't lower Latios's Special Attack after use, so it can be used repeatedly to threaten a special wall. The third slot has plenty of options. The first and more common one is Defog, as Latios's great Speed makes it an excellent Pokémon to fit this role. Another option that was seen more often in this Tour is Hidden Power Fire to eliminate Steel-types such as Mega Scizor, Ferrothorn, and Skarmory, which were common switch-ins to Latios. Another common choice was Thunderbolt to handle Skarmory and Manaphy.
Latios usage in this tour was really surprising, not because it is a bad Pokémon but because of the fact that Tyranitar became really popular during this tour, especially the Choice Band set.
In Round 2 of the Smogon Tour we have the opportunity of how cosine180's Latios checks Livio's Mega Charizard Y, Amoonguss, and Manaphy, but it is immediately threatened by Tyranitar's Pursuit
---
Keldeo
Keldeo is one of the biggest threats in the OU tier thanks to its solid Speed, good wallbreaking capabilities, and notorious ability to wear down its checks with Scald burns. It is also good defensively, thanks to its solid bulk and great defensive typing that enables it to check many powerful threats such as Bisharp, Weavile, and Heatran, which makes it very easy to fit on teams. Unfortunately, its four-moveslot syndrome slot and its commonly resisted STAB coverage give it a rather large pool of checks. And while its Speed is good, it is still outsped by a good number of Pokémon such as Latios, Mega Lopunny, Tornadus-T, and Mega Metagross. Even so, it is a threat every team needs to prepare for.
Choice Specs
Keldeo-Resolute @ Choice Specs
Ability: Justified
EVs: 4 Def / 252 SpA / 252 Spe
Timid Nature
IVs: 0 Atk
- Hydro Pump
- Scald
- Secret Sword
- Icy Wind / Hidden Power Electric
Choice Specs gives Keldeo immediate firepower, wiping away Pokémon that don't resist its moves. Choice Specs gives Keldeo immediate power over its Choice Scarf and Life Orb sets, and it's very noticeable from how it is able to plow through defensive checks. Against offensive teams, if Keldeo comes in on something that has difficulty against it, there are very few things that are able to switch in safely. Latias and Latios are two of the most solid offensive Keldeo checks; however, even they are 2HKOed by Icy Wind after Stealth Rock damage or Pursuit trapped by Tyranitar, Weavile, and Bisharp. On top of these positives, Scald is notorious for being able to wear down switch-ins, such as Mega Venusaur and Slowbro, with burn damage, allowing Keldeo to overwhelm them the next time they attempt to switch in.
During the tournament, Keldeo also was used for its defensive typing, allowing it to check Weavile and Bisharp; both of them have been really popular these days and Weavile was particularly common back then.
An example of how Keldeo patches up many roles is in the Round 1 match of Omfuga Vs PokèManiac Livio. In this matchup, Keldeo is walled by Livio's Slowbro and Amoonguss, but it only needs a bit of support to become a threat. That's why Omfuga's Weavile threatens both of Keldeo's checks while Keldeo checks Dark-types.
Choice Scarf
Keldeo-Resolute @ Choice Scarf
EVs: 4 Def / 252 SpA / 252 Spe
Timid Nature
IVs: 0 Atk
- Hydro Pump
- Scald
- Secret Sword
- Hidden Power Ice / Hidden Power Electric
Choice Scarf Keldeo serves as a revenge killer and a late-game cleaner rather than as a breaker. It can reliably revenge kill Pokémon such as Landorus-T, Weavile, Mega Lopunny, +1 Mega Charizard X, Mega Diancie, and Assault Vest Tornadus-T. Unfortunately, Choice Scarf Keldeo lacks immediate power, meaning it might have difficulties breaking bulkier Pokémon, especially Clefable, Rotom-W, and Mega Sableye. Hidden Power Ice is better than Icy Wind on this particular set just for the bit more power, as a Choice Scarf set doesn't need the Speed drop. Hidden Power Electric hits Gyarados for a lot of damage, preventing it from staying in its non-Mega forme to set up against Keldeo, while also dealing a lot of damage to Slowbro and Azumarill.
IMPORTANT NOTE: These three Pokémon form a very solid offensive backbone, as between the three, they fit what most teams need, providing a reliable Stealth Rock user, a Defog user, and a Pokémon that breaks through teams. Also, these Pokémon cover each other's weaknesses.