Uber Threatlist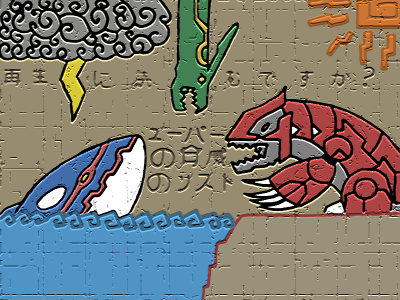 Abomasnow
Type: Ice / Grass
Base Stats: 90 HP / 92 Atk / 75 Def / 92 SpA / 85 SpD / 60 Spe
Ability: Snow Warning / Soundproof (Unreleased)
With 7 crippling weaknesses and mediocre stats, Abomasnow's main claim to fame is still his unique ability to summon hail, and it does this job rather admirably. Typically seen utilizing a bulky set with Leech Seed, Protect, and a 100% accurate Blizzard, Abomasnow can last surprisingly long, replenishing hail so that Pokemon such as Kyurem can spam Blizzard, and others such as Walrein can stall for an eternity. With a specially defensive spread and Protect, he can survive two Water Spouts from Choice Specs Kyogre if Stealth Rock is not up, and use Leech Seed to recover some health; quite an impressive feat.

Blaziken
Type: Fire / Fighting
Base Stats: 80 HP / 120 Atk / 70 Def / 110 SpA / 70 SpD / 80 Spe
Ability: Blaze / Speed Boost
Blaziken is a Pokemon one would not normally expect to see in Ubers. Its base stats show nothing exciting, save above-average attacking stats. However, in Black and White, Blaziken receives the ability Speed Boost, which means that after only one turn, it can be a very potent sweeper. Powerful STAB moves in the form of Hi Jump Kick and Flare Blitz (which can be further boosted by sun) make it quite a threat with a Speed boost or two under its belt. Blaziken also gets access to Swords Dance, although it will usually not get to use it due to its frailty. That said, Blaziken is slightly let down by mediocre defenses.

Blissey
Type: Normal
Base Stats: 255 HP / 10 Atk / 10 Def / 75 SpA / 135 SpD / 55 Spe
Ability: Natural Cure / Serene Grace / Healer (Unreleased)
Blissey's base 255 HP and 135 SpD do a great job of summing up the role it plays on a team. It is the premier special sponge, taking hits like a champ and healing them off with Softboiled. Natural Cure also lets it shed any status inflicted upon, further increasing its walling potential. Due to Blissey's incredibly high HP, very few Pokemon can muster even 2HKOs on the special side. It learns Wish too, and Wish's new mechanics allow Blissey to pass 50% of her maximum HP to a teammate, restoring many Pokemon to full health. Its Normal typing is a bit of a blessing in disguise; a super effective hit is often needed to bring Blissey down, and it only has one weakness. Blissey also has quite a large attacking movepool, but its poor Special Attack usually limits it to Toxic and Seismic Toss for damage.

Bronzong
Type: Steel / Psychic
Base Stats: 67 HP / 89 Attack / 116 Def / 79 SpA / 116 SpD / 33 Spe
Ability: Levitate / Heatproof / Heavy Metal (unreleased)
Bronzong's main purpose is to either set up Trick Room or act as a supporter in general, thanks to its Steel typing and great defenses; though it can also hold a Life Orb and sweep under Trick Room with STAB Gyro Ball and Earthquake complementing each other very well. Outside of setting up Trick Room, Bronzong's wide range of resistances allow it to easily set up Dual Screens or Stealth Rock, while checking quite a wide range of Pokemon thanks to its unique Ground immunity among Steel-types.

Bug Arceus
Type: Bug
Base Stats: 120 HP / 120 Atk / 120 Def / 120 SpA / 120 SpD / 120 Spe
Ability: Multitype
Like other Arceus, Bug Arceus specializes quite well as a Calm Minder. STAB Bug-type Judgment is excellent in Ubers, hitting Dark- and Psychic-type Pokemon for super effective damage. Fire Blast works well with Judgment, hitting the plentiful Steel-types in Ubers, while Calm Mind and Recover combine to allow Arceus to easily set up. Bug Arceus can also use Swords Dance to middling effects, and it can choose to go on an all-out offensive approach, though that isn't very efficient compared to using Calm Mind.

Chansey
Type: Normal
Base Stats: 250 HP / 5 Atk / 5 Def / 35 SpAtk / 105 SpD / 50 Spe
Ability: Natural Cure / Serene Grace / Healer (Unreleased)
Chansey's base 250 HP and 105 SpD may seem inferior when compared to Blissey; however, it has a trump card in the form of Eviolite. When holding this stone, Chansey's defenses are given a pseudo-+1 boost. This further fortifies Chansey's special walling potential, allowing it to wall monstrosities such as Reshiram's Choice Specs Blue Flare in the sun. Unlike Blissey, Chansey can also take physical hits incredibly well, making it an efficient mixed wall. Chansey works almost identically to Blissey by passing huge Wishes to teammates and absorbing status when needed with the help of Natural Cure.

Cloyster
Type: Water / Ice
Base Stats: 50 HP / 95 Atk / 180 Def / 85 SpA / 45 SpD / 70 Spe
Ability: Shell Armour / Skill Link / Overcoat (Unreleased)
Back in DPP, Cloyster was commonly seen as a support Pokemon who would set up Spikes and Toxic Spikes and could also spin them away. However, it all changed for Cloyster when it got what has been touted as the the best set up move ever created, Shell Smash. Shell Smash increases Cloyster's decent Attack, Special Attack and Speed by two stages each and lowers its defenses by one stage each. Just to put the amazing power in perspective, a +2 Icicle Spear from Cloyster will easily OHKO Support Groudon. Between Icicle Spear and Rock Blast, Cloyster has amazing coverage being resisted by only a handful of Steel-types. With a few Special Attack EVs, Hydro Pump will safely OHKO unboosted Steel Arceus if it is raining, factoring damage from a layer of Spikes. Cloyster also makes a good offensive Rapid Spinner since common spinblockers like Giratina-O flee at the sight of Cloyster's Icicle Spear. However, Cloyster still has the Special Defense of a wet tissue, and can be OHKOed by a -6 Dialga Draco Meteor factoring in Stealth Rock.

Dark Arceus
Type: Dark
Base Stats: 120 HP / 120 Atk / 120 Def / 120 SpA / 120 SpD / 120 Spe
Ability: Multitype
Dark Arceus's sole advantage over Ghost Arceus is that nothing is immune to its STAB. This means it can forgo a coverage move for Refresh, and build up Calm Mind boosts against more defensively-minded teams, while Toxic fails to do any significant damage. Dark Arceus's natural bulk and Recover make it the bane of almost every stall team.

Darkrai
Type: Dark
Base Stats: 70 HP / 90 Atk / 90 Def / 135 SpA / 90 SpD / 125 Spe
Ability: Bad Dreams
Darkrai remains quintessentially unchanged from Gen 4, remaining the beast that it was. With 90 / 135 / 125 offenses, it cannot be ignored while building a team. A well-played Darkrai will always get off a Dark Void, crippling one member of your team, barring a miss. It will then proceed to set up Nasty Plot on the switch to begin sweeping. The best way to stop Darkrai is to use a Sleep Talker to absorb Dark Void, and then switch to a Pokemon who can either take a +2 Dark Pulse or holds a Choice Scarf and can OHKO Darkrai. Dark Pulse and Focus Blast provide all the coverage Darkrai needs. Unfortunately, it is rather one-dimensional, as its 90 base Attack stat is fairly underwhelming in Ubers. Nevertheless, it can throw out stray Sucker Punches with Swords Dance.

Deoxys
Type: Psychic
Base Stats: 50 HP / 150 Atk / 50 Def / 150 SpA / 50 SpD / 150 Spe
Ability: Pressure
Despite Deoxy's original forme living under the shadows due to it being outclassed in terms of Attack and Speed by other formes, it still has the required stats to serve as an excellent lead in Generation 5. Although Deoxys has poor defenses, it has just enough that it can be EVed to survive two ExtremeSpeeds from Deoxys-S, which is something Deoxys-A cannot do. This gives Deoxys a unique niche as a lead, although it falters miserably in every other facet. However, while it's leading, it can set up Stealth Rock or even Spikes for the rest of your team.

Deoxys-A
Type: Psychic
Base Stats: HP 50 / Atk 180 / Def 20 / SpA 180 / SpD 20 / Spe 150
Ability: Pressure
While not noted for its defenses, Deoxys-A boasts the highest attack stats in the game, allowing it to serve as a potent sweeper. Deoxys-A is basically unchanged in generation 5: it still has access to powerful attacks such as Shadow Ball, Superpower, Psycho Boost, Thunder, Ice Beam, Grass Knot, ExtremeSpeed, and others, which it can use to put major dents in an opponent's team. In addition to Deoxys-A's sweeping versatility, it serves as an excellent lead. With a Base 150 Speed stat, Deoxys-A is easily able to get either Stealth Rock or at least one layer of Spikes in play, while usually being able to threaten the opposing lead with major damage. It does get Magic Coat, which can be useful and annoying with its new mechanics, but this is better left to other formes, as a mispredict is the end for Deoxys-A.

Deoxys-D
Type: Psychic
Base Stats: 50 HP / 70 Atk / 160 Def / 70 SpA / 160 SpD / 90 Spe
Ability: Pressure
While its pathetic HP stat might seem underwhelming for a wall, Deoxys-D's massive defenses balance it out. Access to a wide range of support options such as Spikes, Stealth Rock, Toxic, Thunder Wave, Knock Off, Reflect, Light Screen, and Taunt differentiates it from the other Uber walls, and unlike its frailer formes, it can actually stall out many threatening sweepers with Recover and Pressure. While Deoxys-D's attacking stats are nothing spectacular, it can learn a wide range of coverage moves to counter specific threats, and its ability to learn Magic Coat prevents it from being made useless by Taunt users. Deoxys-D can also utilize Trick Room in conjunction with its amazing support movepool and access to dual screens. Finally, a set running Agility and Toxic set allows it to even stall out dedicated walls.

Deoxys-S
Type: Psychic
Base Stats: 50 HP / 95 Atk / 90 Def / 95 SpA / 90 SpD / 180 Spe
Ability: Pressure
Deoxys-S defined the lead metagame in generation 4. It has had a bit of a falling out in generation 5, but it is still not to be taken lightly. Deoxys-S excels at setting up hazards, whether they be Spikes or Stealth Rock, while also disabling the opposing lead with Taunt. Deoxys-S is so fast that only Choice Scarf Pokemon can keep up with it, and they are often easy opportunities to set up once Deoxys-S goes down. Deoxys-S can also aid offensive teams by being an excellent Dual Screener. It also has Magic Coat to reflect hazards back onto the opponent, and reflect other non-attacking moves.

Dialga
Type: Steel / Dragon
Base Stats: 100 HP / 120 Atk / 120 Def / 150 SpA / 100 SpD / 90 Spe
Ability: Pressure / Telepathy (Unreleased)
Dialga's amazing defensive stats coupled with its myriad of resistances to Ghost-, Dark-, Normal-, Poison-, Rock-, Steel-, Bug-, Electric-, Grass-, and Water-type attacks, plus a resistance to Stealth Rock and immunity to Toxic Spikes allow Dialga to switch in with great ease and begin wrecking opponents with its base 120 Attack and base 150 Special Attack. Dialga's offensive movepool is extremely wide consisting of STAB Outrage and Draco Meteor, Dragon Pulse, Fire Blast, Thunder, Earthquake, Brick Break, Aura Sphere, Power Gem, and Earth Power. These moves allow Dialga to strike at the weaknesses of pretty much every Pokemon in the game, paving the way for it to become a devastatingly powerful physical, special, or mixed attacker. Dialga can also set up easily with Bulk Up in conjunction with Rest and Sleep Talk, and it can work well as a lead or supporter with access to moves such as Toxic, Thunder Wave, Roar, Trick Room, and Stealth Rock. Dialga can also bring almost anything to its knees with its powerful STAB Draco Meteor, or it can serve as an efficient revenge killer with Choice Scarf. In short, Dialga can fulfill nearly any role you want it to.

Dragon Arceus
Type: Dragon
Base Stats: 120 HP / 120 Atk / 120 Def / 120 SpA / 120 SpD / 120 Spe
Ability: Multitype
With both of its old rivals, Latios and Latias, being less powerful thanks to the loss of Soul Dew, Dragon Arceus gets a chance to shine as a fearsome threat in the Ubers tier. Its signature move, Judgment, is a 180 Base Power Dragon-type attack without drawbacks, which does massive damage to anything not a Steel-type or Blissey / Chansey. A movepool that includes Flamethrower, Calm Mind, and Recover means that it is an incredible bulky Calm Minder, and it isn't too shabby on the physical side either, having access to Swords Dance, Outrage, Earthquake, and Dragon Claw.

Dugtrio
Type: Ground
Base Stats: 35 HP / 80 Atk / 50 Def / 50 SpA / 70 SpD / 120 Spe
Ability: Sand Veil / Arena Trap / Sand Force (unreleased)
Dugtrio's main attraction is its Ground typing and near unique ability, Arena Trap. Combine this with Dugtrio's new toy in Hone Claws, a move that raises Attack and Accuracy, and you have yourself a surprisingly deadly sweeper. With many Choiced Electric-type attacks coming from Pokemon such as Choice Scarf Palkia, Dialga, Zekrom, and Kyogre, Dugtrio can conveniently trap these Pokemon and proceed to set up while the opponent can do nothing but helplessly watch. Dugtrio can then proceed to sweep the opponent's team with good coverage coming from 1036 Attack that only a few Pokemon can stop. Outside of a sweeping role, Dugtrio can also don the classic Choice Band or Life Orb trapper to remove problematic Pokemon like Reshiram and Dialga.

Electric Arceus
Type: Electric
Base Stats: 120 HP / 120 Atk / 120 Def / 120 SpA / 120 SpD / 120 Spe
Ability: Multitype
Electric Arceus is sort of a one trick pony, but it does that one trick very well: devastate enemy teams with the sheer force of its Calm Mind set. Electric-type attacks are devastating in the Uber environment, and this potency is exponentially amplified when combined with Ice Beam. This allows Electric Arceus to barrel through most teams with formidable BoltBeam coverage while keeping itself alive with Recover. Most Ground-types are also slower than Electric Arceus and possess low Special Defense, so stopping this beast is much easier said than done. As most of the common counters to Calm Mind variants of Arceus, such as Kyogre and Ho-Oh, are weak to Electric-type attacks. Electric Arceus is insanely difficult to halt for any team lacking Blissey or a faster Pokemon carrying a powerful Earthquake.

Excadrill
Type: Steel / Ground
Base Stats: 110 HP / 135 Atk / 60 Def / 50 SpA / 65 SpD / 88 Spe
Ability: Sand Rush / Sand Force / Mold Breaker (Unreleased)
Excadrill is a fearsome sweeper in OU and it has its own niche in Ubers. In the sand, it is capable of outspeeding even Choice Scarf Mewtwo, and with Swords Dance, any Pokemon that cannot remove the weather or possess a priority move is going to get hurt. Even Groudon needs to be careful as it too is 2HKOed by +2 Earthquake. Outside of sweeping, Excadrill is a fantastic offensive Spinner, since it can break through virtually all Ghost-types, even the Giratina formes, and pull off a Rapid Spin.

Ferrothorn
Type: Grass / Steel
Base Stats: 74 HP / 94 Atk / 131 Def / 54 SpA / 116 SpD / 20 Spe
Ability: Iron Barbs
Ferrothorn's great typing makes it a tank to fear in the Ubers tier. It may not have instant recovery, but Leech Seed and Leftovers, and sometimes even Protect, keep Ferrothorn in tiptop condition. Ferrothorn's Steel typing gives it numerous resistances, and its Grass typing, while it does add some weaknesses, also adds quite a few handy resistances. Its ability, Iron Barbs, punishes users of Outrage, and any other contact move, with a loss of health. It also has access to a very valuable move in Ubers, Spikes, and Ferrothorn has the perfect stats and typing to make good use of it. It can lay down Stealth Rock as well, but this is better left to other Pokemon. While its offensive stats may be mediocre by Uber's standards, its Speed is so low it can make great use of Gyro Ball to punish the abundance of speedy Pokemon. It can also make use of a Choice Band to surprise the opponent and hit surprisingly hard.

Fighting Arceus
Type: Fighting
Base Stats: 120 HP / 120 Atk / 120 Def / 120 SpA / 120 SpD / 120 Spe
Ability: Multitype
Fighting is a good type in Ubers, hitting Dark- and Steel-types super effectively, while being resisted by Flying (rare, except for Ho-Oh), Poison (rare, except for Poison Arceus, Qwilfish, and Tentacruel) and Psychic (which often lacks STAB to hit super effectively, other than Mewtwo). On the defensive, it resists Stealth Rock. Similar to most Arceus, Fighting Arceus's best set uses Calm Mind and Recover with Dark Pulse or Ice Beam and STAB Fighting Judgment providing excellent neutral coverage.

Fire Arceus
Type: Fire
Base Stats: 120 HP / 120 Atk / 120 Def / 120 SpA / 120 SpD / 120 Spe
Ability: Multitype
Fire Arceus isn't quite as versatile or defensively sound as the other Arceus formes, but it makes up for it with sheer offensive might. Fire Arceus's STAB Judgment or Fire Blast can rip severe holes into most Pokemon in the sunlight, and, combined with Calm Mind, Recover, and Arceus's awesome bulk, it can easily set up for a devastating incendiary rampage. Arceus can also utilize Thunder to destroy the Kyogre that dare come in to change the weather. Although quite a few things in Ubers resist the Fire and Electric attacking combination, such as Reshiram, Giratina, Latias, and Zekrom, Fire Arceus's bulk and base 120 Speed allow it to actually use them as set up bait. (save Zekrom of course, but a swift Spacial Rend easily takes it out.) Although it faces some competition from newcomer Reshiram, Fire Arceus is significantly faster and bulkier, and has access to Electric-type attacks to help deal with Water-types. It also has access to Recover.

Flying Arceus
Type: Flying
Base Stats: 120 HP / 120 Atk / 120 Def / 120 SpA / 120 SpD / 120 Spe
Ability: Multitype
Flying Arceus may look weak at first glance, but it has very good bulk with base 120 HP and 120 in both defensive stats. It can use this alongside hard-to-break Substitutes and Calm Mind to perform as a threatening mono-attack sweeper with a 180 Base Power Judgment. However, Flying Arceus isn't only a one-trick pony, as it can also run Swords Dance alongside Cosmic Power to hit hard on the physical side.

Forretress
Type: Bug / Steel
Base Stats: 75 HP / 90 Atk / 140 Def / 60 SpA / 60 SpD / 40 Spe
Ability: Sturdy / Overcoat (unreleased)
Forretress is a solid contender in the Ubers metagame, being one of the few Pokemon with all the entry hazards and the all important Steel typing. Thanks to Forretress's numerous resists, including Dark, Ghost, Grass, Normal, Psychic, and Dragon, as well as several other resistances and neutralities, Forretress is able to switch into threatening sweepers such as Choiced Dragons and proceed to set up a hazard of your choice. Forretress also has Rapid Spin, allowing it to spin away entry hazards. Forretress is no slouch on the offensive side either, having an extremely powerful Gyro Ball off its 90 base Attack against all the speedy threats. Forretress can also run Payback to hit Psychic- and Ghost-types super effectively. Forretress's ability is also topnotch, being a pseudo Focus Sash, allowing it to almost always get at least one hazard up.

Garchomp
Type: Dragon / Ground
Base Stats: 108 HP / 130 Atk / 95 Def / 80 SpA / 85 SpD / 102 Spe
Ability: Sand Veil / Rough Skin (unreleased)
Garchomp remains relatively unchanged in the generation transition, which is certainly not a bad thing. Although it has a shallow movepool, its amazing dual STABs provide it with near-perfect coverage. It can nail all but Steel-type Pokemon with powerful Dragon-type attacks, and fall back on Earthquake when needed. Its unique 102 Speed stat lets it outspeed a great number of Dragon-type Pokemon, which means Garchomp can make great use of a Swords Dance or Choice Band set. Garchomp is also a great user of the item Choice Scarf, outspeeding most of the other Choice Scarf Pokemon in the tier. Garchomp can also use Stone Edge, Dragon Claw, and Fire Fang to augment its coverage.

Gastrodon
Type: Water / Ground
Base Stats: 111 HP / 83 Atk / 68 Def / 92 SpA / 82 SpD / 39 Spe
Ability: Sticky Hold / Storm Drain / Sand Force (unreleased)
Gastrodon has one niche in Ubers: the ability to utterly wall Kyogre outside of Ice Beam, which will not do too much damage to the sea slug anyways. Gastrodon's surprising bulk and access to Recover allow it to be quite annoying to its opponents, and a free switch-in on one of the most common Pokemon in Ubers helps it wreak havoc. It can use moves such as Yawn, Clear Smog, Ice Beam, STAB Earth Power or Scald, and Toxic to great effect as well, but its main role is as a tank, not a sweeper, despite the +1 boost it receives from Storm Drain. The ability Storm Drain is, of course, a must for Gastrodon.

Ghost Arceus
Type: Ghost
Base Stats: 120 HP / 120 Atk / 120 Def / 120 SpA / 120 SpD / 120 Spe
Ability: Multitype
Ghost Arceus is one of the most versatile Arceus formes, playing both offensive and defensive roles effectively. It can abuse Swords Dance alongside Shadow Force, Shadow Claw, Brick Break, and / or ExtremeSpeed to become a frightening physical sweeper, or it can use Calm Mind, Judgment, Focus Blast, and Recover to become a potent, almost unkillable special sweeper. Ghost Arceus can gain perfect neutral coverage with both physical and special movesets, which, combined with its exceptional all around stats, is both very powerful and very hard to take down. It can also work as a great lead, utilizing its great bulk to beat most other leads one on one while setting up Stealth Rock. Ghost Arceus can also use Magic Coat to stop other hazard leads from setting up on it. It also works very well as a defensive spinblocker, with access to support moves such as Will-O-Wisp, Thunder Wave, Toxic, Roar, and Perish Song.

Giratina
Type: Ghost / Dragon
Base Stats: 150 HP / 100 Atk / 120 Def / 100 SpA / 120 SpD / 90 Spe
Ability: Pressure / Telepathy (Unreleased)
Giratina's original forme, while less popular due to Giratina-O's introduction in Platinum, has stats that still allow it to serve as an excellent defensive Pokemon. It may not have Levitate like Giratina-O, but its bulk makes up for this. It also boasts the move Will-O-Wisp, something the other popular wall, Lugia, wishes it could have. Calm Mind, Sleep Talk, and Rest allow Giratina to set up with near-impunity while weak attacks fail to even scratch it. Even though this form is weaker offensively, Giratina's attacking stats are high enough that offensive threats and setup sweepers can be dealt with using moves such as Stone Edge and Dragon Tail.

Giratina-O
Type: Ghost / Dragon
Base Stats: 150 HP / 120 Atk / 100 Def / 120 SpA / 100 SpD / 90 Spe
Ability: Levitate
Giratina-O's role as both an offensive spinblocker and a destructive threat has remained unchallenged in the advent of Generation 5. With two of the best STABs in the Uber tier, suitable stats, and powerful moves such as Draco Meteor and Outrage to use them, Giratina-O is certainly a dangerous Pokemon. Being restricted to the item Griseous Orb is still a minor annoyance, however, since it will miss the recovery of Leftovers or the extra power of Life Orb. Giratina-O is most often seen as a mixed offensive spinblocker but can also be used as a stallbreaker due to its typing and access to Calm Mind. Alternatively, it can run a purely physical set to abuse Outrage and its relatively exclusive move, Shadow Force, or its priority Shadow Sneak. It can also utilize its decent defensive stats and be used as a boosting tank or as a purely physical RestTalker.

Grass Arceus
Type: Grass
Base Stats: 120 HP / 120 Atk / 120 Def / 120 SpA / 120 SpD / 120 Spe
Ability: Multitype
With its typing, bulk, and versatility, Grass Arceus stands as an important, albeit somewhat underestimated, Uber threat. Grass Arceus is notable for countering some of the biggest threats in the Uber metagame, including Kyogre and Groudon. It is no slouch offensively either, and can use its 120 Special Attack and a bundle of coverage moves that represents its versatility well. Grass Arceus is mostly used as a supporter, paralyzing Uber threats and abusing its Grass typing to thwart any attempts of a Ground-type switching in to absorb the incoming Thunder Wave. It can also be used offensively with a Calm Mind set as, thanks to its defensive capabilities, it has no trouble gathering multiple Calm Mind boosts and sweeping.

Groudon
Type: Ground
Base Stats: 100 HP / 150 Atk / 140 Def / 100 SpA / 90 SpD / 90 Spe
Ability: Drought
Groudon's incredibly high base 150 Attack allows it to strike at the normally weaker physical defense of many of the other Ubers with its STAB Earthquake. Groudon also has access to many coverage attacks, such as Dragon Claw, Shadow Claw, Fire Punch, Stone Edge, Rock Slide, and Overheat to help complement its STAB Ground-type attacks. Furthermore, Groudon can easily utilize Rock Polish to boost its middling base 90 Speed to become faster than everything in the game, or it can use Swords Dance to boost its already high Attack to monumental levels. However, Groudon is more often seen in a supporting role, thanks to its high 100 HP / 140 Def / 90 SpD defenses. It can take hits from powerful attackers such as Zekrom and Rayquaza while setting up Stealth Rock, spreading status with Thunder Wave or Toxic, or phazing with Roar or Dragon Tail. Another major reason why Groudon is such a top threat is its ability, Drought, which allows Groudon to summon eternal sunlight. The land titan serves, therefore, as a backbone to the powerful sun team archetype, fueling devastating Fire-type attacks and doubling the Speed of Pokemon with Chlorophyll.

Ground Arceus
Type: Ground
Base Stats: 120 HP / 120 Atk / 120 Def / 120 SpA / 120 SpD / 120 Spe
Ability: Multitype
Ground Arceus can abuse its excellent coverage with STAB Ground Judgment and Ice Beam. It hits extremely hard and is very bulky. Its STAB hits the Steel-types in Ubers for super effective damage. It boasts an important immunity to Electric-type attacks, switching into Thunder Wave or Electric Arceus's Judgment with ease. As usual, going on the all-out offensive is not wise. Since Ground Arceus provides a good switch in to predicted Thunders from Scarf Palkia and Scarf Kyogre, Calm Mind is a good move to boost its Special Attack and Special Defense and turn the momentum around. Physical variants can also make use of Swords Dance with powerful physical moves such as Earthquake and Stone Edge.

Heatran
Type: Fire / Steel
Base Stats: 91 HP / 90 Atk / 106 Def / 130 SpA / 106 SpD / 77 Spe
Ability: Flash Fire / Flame Body (unreleased)
Heatran, while not as threatening in Ubers as he is in OU, is still something to watch out for. Heatran's Choice Specs Overheat in the sun is one of the most powerful Fire-type moves in the game, only falling short of those of Chandelure and Reshiram. However, Heatran has an arguably better ability than Reshiram, allowing the magma tank to switch into most Fire-type moves, except for Reshiram's, with impunity and get a boost. Its Steel typing is what makes it shine in comparison to Chandelure and Reshiram. A Choice Specs set is not the only thing you must worry about when facing Heatran. Heatran makes a good revenge killer with a Choice Scarf, utilizing his varied movepool well. Aside from that, one may use a more defensive set, thanks to his numerous resistances, good stats, and access to Roar, Taunt, and Lava Plume, which has a 30% chance to cause Burn, helping it greatly against Groudon and Zekrom.

Heracross
Type: Bug / Fighting
Base Stats: 80 HP / 125 Atk / 75 Def / 40 SpA / 95 SpD / 85 Spe
Ability: Swarm / Guts / Moxie (unreleased)
Heracross is seen in Ubers for one main reason: it's almost a hard counter to Darkrai. Heracross resists the two common moves seen on Darkrai, Focus Blast and Dark Pulse, and, by giving it Sleep Talk, it can hit Dark-type Pokemon for super effective damage with either of its two STABs and a Guts boost thrown in, dealing huge damage to other things as well. In addition to countering Darkrai, Heracross can slap on a Choice Scarf and become a great revenge-killer and trapper, dealing super effective damage to the many Psychic- and Steel-type Pokemon in the tier.

Ho-Oh
Type: Fire / Flying
Base Stats: 106 HP / 130 Atk / 90 Def / 110 SpA / 154 SpD / 90 Spe
Ability: Pressure / Regenerator (Unreleased)
Ho-Oh's amazing base 130 Attack coupled with its potent STABs in Sacred Fire and Brave Bird allow it to wreck entire teams. In the sunlight, Ho-Oh's Sacred Fire becomes even more potent, as if it wasn't deadly enough with its crippling 50% burn rate. In the sun, Ho-Oh's weakness to Water-type attacks is also mitigated. Ho-Oh's amazing 106 HP and 154 Special Defense allow it to take many hits and keep on attacking, thanks to Roost or Recover. Although Ho-Oh's physical movepool isn't the best, its STABs combined with Earthquake to shatter Zekrom and Rock-types allow it to hit most everything in the game for heavy damage. Furthermore, this legendary bird can take advantage of its huge bulk to set up Dual Screens, stall with Toxic, or phaze with Whirlwind. Ho-Oh can also utilize Flame Charge or Tailwind to sweep on a moment's notice.

Hydreigon
Type: Dark / Dragon
Base Stats: 92 HP / 105 Atk / 95 Def / 125 SpA / 90 SpD / 98 Spe
Ability: Levitate
Hydreigon's stats may not lead you to believe that it is a threatening Pokemon in any way, but it in fact has a very wide movepool can make it a very effective wallbreaker or Choice Scarf user. Respectable bulk combined with decent Attack and Special Attack mean that it is often seen running mixed attacking sets, as well as choice sets with Draco Meteor and U-turn. Having Dark as a secondary STAB is very useful in Ubers, allowing it to hit many Pokemon in the tier for super effective damage.

Ice Arceus
Type: Ice
Base Stats: 120 HP / 120 Atk / 120 Def / 120 SpA / 120 SpD / 120 Spe
Ability: Multitype
Ice Arceus was always one of the black horses of the Arceus formes, and it is no different this generation. It's STAB Ice-type attacks allow this Arceus forme hit a large portion of the metagame for super effective damage. STAB Judgment combines with Thunder for excellent coverage on its best set, the Calm Minder. It has decent bulk and access to Recover to aid in its setup, but, unfortunately, it suffers from a Stealth Rock weakness, which is a massive blow to its bulk.

Jirachi
Type: Steel / Psychic
Base Stats: 100 HP / 100 Atk / 100 Def / 100 SpA / 100 SpD / 100 Spe
Ability: Serene Grace
Jirachi is an excellent pivot in the Uber tier. Its balanced defensive stats, resistance to Stealth Rock, immunity to Toxic Spikes, and Steel typing enable it to switch in on many common Pokemon, most notably Dragon-types. Jirachi's resistance to Dragon lets it withstand powerful Draco Meteors and Dragon Pulses as well as (under rain) the Fire-type attacks commonly paired with them. It is also aided by neutrality to other frequently seen attacks, such as Thunder and Aura Sphere, as well as a 4x resistance to Psychic that protects it from Psystrike Mewtwo. After switching in, Jirachi can heal itself or its teammates with Wish; cripple an opposing Pokemon with Toxic, Thunder Wave, or a Serene Grace Body Slam; or maintain momentum by using U-turn on a predicted switch. Jirachi can also utilize a Choice Scarf very well; it can outspeed and threaten many dangerous Pokemon in the Uber tier, including Darkrai, Mewtwo, and Dragon Dance Rayquaza.

Jumpluff
Type: Grass / Flying
Base Stats: 75 HP / 55 Atk / 70 Def / 55 SpA / 85 SpD / 110 Spe
Ability: Chlorophyll / Leaf Guard / Infiltrator (unreleased)
Jumpluff may seem outclassed by Whimsicott in every single way, but it has a few key advantages over the 5th Generation puffball. First of all is the fact that Jumpluff has access to Sleep Powder, which allows it to shut down some sweepers much more reliably using a combination of Sleep Powder and Stun Spore. It can still be an extremely fast SubSeeder and annoyer under the sun due to its ability Chlorophyll, which allows Jumpluff to reach 700 Speed. As such, it is more useful on sun-based teams with Groudon support.

Kingdra
Type: Water / Dragon
Base Stats: 75 HP / 95 Atk / 95 Def / 95 SpA / 95 SpD / 85 Spe
Ability: Swift Swim / Sniper / Damp (unreleased)
Kingdra's all-around mediocre stats may lead you to not see it as a threat, but its ability Swift Swim and its access to great coverage with its two STABs make Kingdra an immense threat both in an out of the rain. Kyogre's endless rain s what grants Kingdra its position, boosting one of Kingdra's STABs and doubling its Speed. It has access to moves such as Dragon Dance for boosting, Surf and Draco Meteor to hit hard from the special side, or Waterfall and Outrage allow it to hit hard on the physical side. In the rain, Kingdra outspeeds both Choice Scarf Garchomp and Choice Scarf Palkia, two common revenge killers, and can easily take both down with either physical or special attacks.

Kyogre
Type: Water
Base Stats: 100 HP / 100 Atk / 90 Def / 150 SpA / 140 SpD / 90 Spe
Ability: Drizzle
With its monstrous base 150 Special Attack and the ability to summon permanent rain to boost its, and other Pokemon's, Water-type attacks, Kyogre is just as much of a terror as it was in Gen 4. Factoring in STAB and the boost from rain, all Water-type attacks that Kyogre uses are boosted to 2.25 times their normal power. This would make even weaker Water-type moves fearsome, let alone the powerful moves Kyogre has access to. The most notable of these is Water Spout, which has an enormous 337 Base Power at full health. It also has other strong Water-type attacks such as Hydro Pump, Surf, and Scald. These allow Kyogre to effectively pull off Choice Specs or Choice Scarf sets. Kyogre also has access to move such as Roar, Calm Mind, Thunder Wave, and Rest / Sleep Talk, giving it the ability to pull off bulky roles.

Lucario
Type: Fighting / Steel
Base Stats: 70 HP / 110 Atk / 70 Def / 115 SpA / 70 SpD / 90 Spe
Ability: Inner Focus / Steadfast / Justified (Unreleased)
Lucario's almost exclusive typing grants it resistances toDark-, Ghost-, Dragon-, and Ice-type moves, among others, and it can come in on these attacks and set up with Swords Dance or Agility. It has access to powerful attacks such as Close Combat, and can abuse ExtremeSpeed after a Swords Dance boost. What's more, it is a fantastic anti-lead, taking on many of the common leads with super effective hits or sing Counter (with a Focus Sash) on attacks such as Groudon's Earthquake. Unfortunately, Lucario is somewhat let down by its poor defenses.

Ludicolo
Type: Water / Grass
Base Stats: 80 HP / 70 Atk / 70 Def / 90 SpA / 100 SpD / 70 Spe
Ability: Swift Swim / Rain Dish / Own Tempo
Statwise, Ludicolo is a fairly mediocre Pokemon; however, it has several niches in the Uber tier. Ludicolo's unique typing blesses it with resistances to Water and Ground (as well as neutralities to the coverage moves commonly paired with these types), allowing it to check several Pokemon, most notably Groudon and Kyogre. With Swift Swim, Ludicolo outspeeds a large portion of the tier; it is capable of revenge killing weakened fast yet fragile sweepers such as Darkrai and Mewtwo. While Ludicolo's Special Attack pales in comparison to that of most Ubers, its rain-boosted Surf deals reasonable damage to many Pokemon; furthermore, Ludicolo's excellent Special Defense will generally allow it to survive a neutral hit from most Ubers, thus compensating for its inability to nab crucial OHKOs on certain Pokemon (such as Palkia). Ludicolo is also capable of running a defensive set that utilizes Protect, Leech Seed, and Rain Dish for recovery. While these variants are slightly better at switching into non-boosting sweepers such as Choice Scarf Kyogre, they will struggle against boosting attackers such as Calm Mind Kyogre.

Lugia
Type: Psychic / Flying
Base Stats: 106 HP / 90 Atk / 130 Def / 90 SpA / 154 SpD / 110 Spe
Ability: Pressure / Multiscale (Unreleased)
Lugia remains one of the premier walls in 5th generation Ubers. With its colossal base defenses and excellent base 110 Speed, Lugia is capable of stalling out most offensive attackers simply by spamming Roost or Recover to heal itself constantly, due in part to Pressure putting a large drain on enemies' PP reserves. Toxic and Thunder Wave allow Lugia to break down sweepers even faster or just cripple them, and Lugia can utilize Reflect or Light Screen to reinforce its own huge defenses and make such jobs a cinch. Lugia can also phaze extremely well with Dragon Tail or Whirlwind. It has access to Substitute and can use it to great effect to block status moves, while also shielding itself from Dragon Tail. Furthermore, Lugia is no slouch offensively, and can capitalize on its great Speed to sweep with Calm Mind and its acceptable offensive movepool, consisting of Aeroblast, Ice Beam, Thunder, Earth Power, and Psyshock.

Magnezone
Type: Steel / Electric
Base Stats: 70 HP / 70 Atk / 115 Def / 130 SpA / 90 SpD / 60 Spe
Ability: Magnet Pull / Sturdy / Analytic (unreleased)
Magnezone holds a specific niche in Ubers for one reason: its ability, Magnet Pull, allows it to trap and kill Steel-types with a combination of Hidden Power Fire and Thunder / Thunderbolt. This allows it to make life easier on choiced sweepers, removing Pokemon immune to or resisting the sweeper's moves. In addition, a fantastic base 115 Defense means that it can switch in on Outrages and other attacks coming from Steels. Furthermore, its movepool is not lacking outside of attacking moves, allowing it to use Light Screen and Reflect to aid sweepers.

Mamoswine
Type: Ground / Ice
Base Stats: 110 HP / 130 Atk / 80 Def / 70 SpA / 60 SpD / 80 Spe
Ability: Oblivious / Snow Cloak / Thick Fat
Mamoswine gained a great move, Icicle Crash, this generation. Now that it finally has a strong physical Ice STAB, it can tear through even the common physical walls with a handy 2HKO, seeing as the majority of them (Giratina, Groudon, and Lugia) are weak to Ice-type attacks. Earthquake is a powerful secondary STAB, which allows it to decimate Steel-types that aren't immune; even Ferrothorn is 2HKOed with the proper set. It also has a dangerous priority in the form of Ice Shard, which can do major damage to much of the tier and even OHKO 4x weak Pokemon, such as Shaymin-S, Rayquaza, and Garchomp. Going with a more suicide oriented route, Mamoswine can make a threatening Focus Sash lead with Endeavor, Ice Shard, and Stealth Rock.

Manaphy
Type: Water
Base Stats: 100 HP / 100 Atk / 100 Def / 100 SpA / 100 SpD / 100 Spe
Ability: Hydration
While Manaphy's stats are not awe inspiring, it is still a potent threat within the Uber tier. With the incredible boost that Tail Glow received in Gen 5, Manaphy can get +3 Special Attack in one turn. While not as useful as it was in Gen 4, Manaphy can also use Calm Mind fairly well. However, Calm Mind is often outclassed because of the immense power boost that Tail Glow now brings. Manaphy has access to a couple of powerful Water-type moves to help it abuse the rain boost, notably Surf and Scald. Aside from boosting Manaphy's STAB even further, rain helps Manaphy even more through its ability. Hydration automatically cures it of all status when there is rain, which is ever-present with the reign of Kyogre. This allows Manaphy to recover to full health using Rest without any consequences, as well as being immune to Toxic stall and Darkrai's Dark Void.

Metagross
Type: Steel / Psychic
Base Stats: 80 HP / 135 Atk / 130 Def / 95 SpA / 90 SpD / 70 Spe
Ability: Clear Body / Light Metal (Unreleased)
Metagross is virtually everything you want from a sturdy tank. Its Steel typing gives it many resistances (including the prized Dragon resist), while the high base 135 Attack makes foes think twice before trying to set up on it. Metagross can fill many jobs on an Ubers team. It can set up Stealth Rock and act as a decent anti-lead by taking out many of the common Ubers leads with a combination of Meteor Mash and Bullet Punch. It can also use a Choice Scarf and revenge kill dangerous threats, don a Choice Band and nuke opposing Pokemon with its powerful attacks, or even use Agility to attempt a late game sweep.

Mew
Type: Psychic
Base Stats: 100 HP / 100 Atk / 100 Def / 100 SpA / 100 SpD / 100 Spe
Ability: Synchronize
With the ability to learn every TM, HM, and move tutor move, Mew is the ultimate Jack-of-all-trades. Unfortunately when it comes to offense, Mew is outclassed by many powerful Uber attackers. When it comes to defense, it is outclassed by walls such as Deoxys-D, Cresselia, and Lugia. However, Mew is unparalleled in one aspect: Baton Passing. With the ability to pass a +2 boost in any stat, Mew is both unpredictable and efficient. It also has the move Taunt, letting it stop attempts to phaze it. In this generation it took a big hit with the introduction of Dragon Tail, however, which phazes and is not blocked by Taunt, but Mew has Substitute to stop Dragon Tail cold. It can also act as a lead, stopping other leads such as Forretress, Dialga, and Groudon from setting up. Of course, with its movepool, Mew can run plenty of other sets, such as a Transform set; expect the unexpected from this pink critter.

Mewtwo
Type: Psychic
Base Stats: 106 HP / 110 Atk / 90 Def / 154 SpA / 90 SpD / 130 Spe
Ability: Pressure / Unnerve (unreleased)
Mewtwo has, since RBY, served as an offensive terror on Ubers teams, and Generation V continues that trend. Mewtwo's base 154 Special Attack, combined with base 130 Speed, allow it to outspeed and outdamage everything commonly seen in Ubers, with the exceptions of Deoxys-S and Deoxys-A. Mewtwo's offensive options are not the only thing to consider, however. Mewtwo's bulk, combined with access to Light Screen, Calm Mind, Reflect, Will-O-Wisp, Taunt, and Recover, allows it to stop offensive threats and stall teams in their tracks. In previous generations, Mewtwo's poor offensive STAB forced it to use moves such as Aura Sphere, Ice Beam, and Fire Blast for coverage. However, Mewtwo got a new toy to play with this generation: Psystrike. This Base 100 Power Psychic move allows Mewtwo to hit the majority of the Uber Pokemon on their weaker Defense stat while still retaining STAB and the 154 base Special Attack stat.

Normal Arceus
Type: Normal
Base Stats: 120 HP / 120 Atk / 120 Def / 120 SpA / 120 SpD / 120 Spe
Ability: Multitype
Normal Arceus is one of the most devastating Pokemon in the entire game. With its unmatched combination of defenses, offenses, and Speed, Arceus can easily take advantage of Swords Dance to boost its Attack to astronomical levels. It can then blast its way though teams with its mighty STAB ExtremeSpeed, bypassing the Speed of many other Pokemon and obliterating them in a flash. To make matters worse, Arceus can utilize Shadow Force, Overheat, and Earthquake to break the few Pokemon that can stop it. While it is fearsome, Extremekiller does have some distinct counters, such as Skarmory. As with many of the formes, Normal Arceus can also capitalize on its sturdy defenses to become an impressive wall, shutting down most physical attackers with Will-O-Wisp. Normal Arceus also gets legions of support moves, including Toxic, Thunder Wave, Roar, Screens, and Perish Song.

Palkia
Type: Water / Dragon
Base Stats: 90 HP / 120 Atk / 100 Def / 150 SpA / 120 SpD / 100 Spe
Ability: Pressure / Telepathy (unreleased)
Palkia, while a relative newcomer to the Uber tier, is still a potent force to be reckoned with. Palkia has a unique base Speed of 100 among Uber Dragons, allowing it to outspeed Rayquaza and the numerous base 90 Speed Pokemon, including, but not limited to, Reshiram, Zekrom, and Kyogre. Palkia's typing is even better. The Water / Dragon STAB combo hits everything for at least neutral damage except Ferrothorn, Empoleon, and Shedinja. While this may seem like a problem, Palkia's movepool covers those Pokemon easily, with moves such as Flamethrower, Fire Blast, and Thunder. Palkia's typing is a blessing in other matters as well, letting it switch into Fire- and Water-type moves, namely Kyogre's Water Spout. Palkia's versatility is almost unmatched. It can run a Choice Scarf set for revenge-killing, a Choice Specs set for general power and mayhem, a Substitute set to help against checks that plan to switch in, and even a mixed set with Focus Punch and Substitute to combat Blissey.

Poison Arceus
Type: Poison
Base Stats: 120 HP / 120 Atk / 120 Def / 120 SpA / 120 SpD / 120 Spe
Ability: Multitype
Although Poison has always been considered a sub par typing due to a lack of offensive coverage, hitting only one type super effectively, Poison Arceus has a unique niche in Ubers. It brings solid resists, good bulk, and the ability to Calm Mind up on Blissey without using Substitute. It is also one of the only viable Toxic Spikes absorbers in Ubers, making it hard for stall teams to do significant damage to your grounded sweepers. Poison Arceus is able to set up Calm Mind effectively with the combination of Judgment, Focus Blast, and Recover, and be an effective supporter with its unique resistances and odd typing.

Psychic Arceus
Type: Psychic
Base Stats: 120 HP / 120 Atk / 120 Def / 120 SpA / 120 SpD / 120 Spe
Ability: Multitype
Psychic Arceus has a few drawbacks that prevent its usage from rising as high as the other types, but it does have some specific uses. It is a very good counter to Poison and Fighting Arceus, and due to its great bulk, it can be an excellent Calm Mind user. Unfortunately, the coverage of Psychic lets down Arceus somewhat. Mewtwo is faster and has Aura Sphere instead of the inaccurate Focus Blast, which makes it the chosen Pokemon most of the time. Psychic Arceus is in no way bad, but other Arceus formes are simply better options the majority of the time.

Qwilfish
Type: Water / Poison
Base Stats: 65 HP / 95 Atk / 75 Def / 55 SpA / 55 SpD / 85 Spe
Ability: Swift Swim / Poison Point / Intimidate
While Qwilfish might look like just a throw-away Swift Swimmer, its movepool makes it much deadlier than it appears. With access to Swords Dance, Qwilfish can, with the aid of Wobbuffet, set up and sweep unprepared Ubers teams with boosted Attack, double-STAB Waterfall and blistering Speed. What makes Qwilfish more appealing than a Pokemon such as Kabutops is the extra Speed and ability to hit Grass-types super effectively with its secondary STAB. Aside from sweeping, Qwilfish in the rain is the fastest Spiker, and with other moves such as Taunt, Explosion, and Destiny Bond, Qwilfish can act as an effective stallbreaker by absorbing Toxic Spikes, using Taunt on a wall, setting up Spikes or Toxic Spikes, and finally using a speedy Destiny Bond when it's about to die.

Rayquaza
Type: Dragon / Flying
Base Stats: 105 HP / 150 Atk / 90 Def / 150 SpA / 90 SpD / 95 Spe
Ability: Air Lock
Rayquaza has always been feared due to its incredible base 150 offensive stats, nice base 95 Speed, and great movepool, including impressive offensive options in the form of Dragon Dance and Swords Dance, which magnify Rayquaza's capabilities as a sweeper. When you couple this up with great attacking moves such as STAB Outrage, Earthquake, Fire Blast, and a great priority move in ExtremeSpeed, it is clear that Rayquaza is able to play an array of offensive sets. Among the most effective are those of Dragon Dance, Swords Dance, or mixed sets, which all have the ability to rip through even the bulkiest of opponents if given sufficient support.

Reshiram
Type: Dragon / Fire
Base Stats: 100 HP / 120 Atk / 100 Def / 150 SpA / 120 SpD / 90 Spe
Ability: Turboblaze
With STABs that provide it perfect and unparalleled coverage (courtesy of Turboblaze breaking through Heatran's Flash Fire), and an enormous 150 base Special Attack, Reshiram is an absolute monster. It possesses very deadly moves to complement the aforementioned traits, namely Draco Meteor and its signature move, Blue Flare, a special Fire-type attack boasting a titanic 130 Base Power along with a decent 85% accuracy and 20% chance of inflicting burn. With the help of sunlight from Groudon, Choice Specs Reshiram is capable of 2HKOing Blissey with Blue Flare after Stealth Rock damage! Reshiram can also use Flame Charge to boost its Speed and attempt a sweep, and utilize its base 120 Attack to smash Blissey (and Ho-Oh, to an extent) down with Outrage. Reshiram is also a formidable Choice Scarf user thanks to its insanely powerful Blue Flare.

Rock Arceus
Type: Rock
Base Stats: 120 HP / 120 Atk / 120 Def / 120 SpA / 120 SpD / 120 Spe
Ability: Multitype
Almost all the non-Normal Arceus have only one role: using Calm Mind to attempt a sweep. This is no different in Rock Arceus's case, which can abuse its great coverage of STAB Rock Judgment and Earth Power while still retaining great bulk. Pesky Steel-types that resist Rock Arceus's Judgment are hit extremely hard with Earth Power.As usual, going on the all-out offensive is not wise. Rock Arceus also can function well on a Sandstorm team, with the Special Defense boost coming very handy in tanking hits.

Salamence
Type: Dragon / Flying
Base Stats: 95 HP / 135 Atk / 80 Def / 110 SpA / 80 SpD / 100 Spe
Ability: Intimidate / Moxie (unreleased)
Salamence remains Rayquaza's partner in Dragon Dancing and wallbreaking in Gen 5. It possesses the important niche of 100 base Speed, letting it beat certain threats Dragon Dance Rayquaza cannot, namely a chance to beat Choice Scarf Palkia. On the other hand, Salamence can play the role of a wallbreaker, with its strong Draco Meteor and Outrage hitting the several Dragons in Ubers for heavy damage. Intimidate lets it cushion a resisted blow for setting up, and unlike Rayquaza, after a Dragon Dance, it can outspeed Darkrai, Mewtwo and Choice Scarf Kyogre. Choice Scarf Palkia also has to risk a speed tie to revenge kill Salamence, making this lofty Dragon a very potent threat.

Scizor
Type: Bug / Steel
Base Stats: 70 HP / 130 Atk / 100 Def / 55 SpA / 80 SpD / 65 Spe
Ability: Swarm / Technician / Light Metal (unreleased)
Scizor's incredible base 130 Attack and base 100 Defense allow it to come in on many of the Dragon, Ghost, Dark, and Ice attacks thrown around in Ubers and hit back hard with a STAB, Technician-boosted Bullet Punch, as well as Roosting off the pitiful damage these attacks do to it. This, combined with a slow U-turn and access to Pursuit, makes it one of Ubers' premier trappers and scouters. However, when facing a Scizor, one must beware of Swords Dance as well. The omnipresence of Kyogre (and the rain it brings) in this tier makes Scizor even better—its only weakness to Fire-type attacks becomes x2 instead of x4.

Shaymin-S
Type: Grass / Flying
Base Stats: 100 HP / 103 Atk / 75 Def / 120 SpA / 75 SpD / 127 Spe
Ability: Serene Grace
Shaymin-S remains the dreaded flincher it was in Gen 4. It hasn't gained any amazing tools in Gen 5, but new options aren't necessary, as it can run very effective choice sets, or take up the role of potentially the most annoying SubSeeder in Pokemon. With 120 base Special Attack, unresisted or super effective attacks will sting, unless Shaymin-S is facing a Blissey, which still has to fear Seed Flare's Special Defense drop chance. It also has a great 127 base Speed, allowing it to comfortably beat Darkrai and attempt to flinch it to death. Shaymin-S is an excellent complement to offensive teams, and also has a niche as a lead, boasting the ability to stop Deoxys-S 60% of the time.

Skarmory
Type: Steel / Flying
Base Stats: 65 HP / 80 Atk / 140 Def / 40 SpA / 70 SpD / 70 Spe
Ability: Sturdy / Keen Eye / Weak Armor
With its unique Steel / Flying typing, excellent physical defense, and a great support movepool, Skarmory stands fearless against many physical attackers of the Ubers metagame. Even with a specially defensive EV spread, Skarmory is a total stop against powerful physical attackers such as Groudon without a Fire-type move and Swords Dance Arceus. Skarmory's large support movepool can allow it to set up Spikes and Stealth Rock against these attackers, Roost off any damage taken, phaze them away with Whirlwind or Roar, or use Toxic to stall them. Skarmory can, with the aid of a special sponge such as Blissey, form a solid backbone for any Ubers team. In addition, Skarmory also gets Taunt to prevent Pokemon such as Ferrothorn from setting up on it.

Steel Arceus
Type: Steel
Base Stats: 120 HP / 120 Atk / 120 Def / 120 SpA / 120 SpD / 120 Spe
Ability: Multitype
Steel Arceus is one of the most resilient Arceus formes. Its typing grants it resistances to many common attack types in the Ubers environment, including Dragon-, Ghost-, Dark-, and Ice-type attacks. Steel Arceus can easily take advantage of its brilliant defensive stats, Speed, and access to Recover to Calm Mind against the majority of foes, even being able to outlast Fire-types if it is raining. Although STAB Steel-type attacks don't have the best coverage, Arceus's typing gives it an immunity to Toxic, and Steel Arceus is usually able to garner so many Calm Mind boosts that it usually won't matter. If needed, however, it can use Thunder to strike at the majority of Steel-type resistant Pokemon such as Kyogre. Steel Arceus can also use Roar in conjunction with Calm Mind to stop other Calm Mind sweepers from setting up alongside it, making it even more difficult to take down without incredibly powerful attacks. Steel Arceus's defenses even allow it to sweep well with Swords Dance along with Iron Head for reliable STAB, although that set's coverage leaves much to be desired.

Tentacruel
Type: Water / Poison
Base Stats: 80 HP / 70 Atk / 65 Def / 80 SpA / 120 SpD / 100 Spe
Ability: Clear Body / Liquid Ooze / Rain Dish
Tentacruel is the second fastest user of Toxic Spikes in the tier, the fastest being Qwilfish in rain. Apart from this, Tentacruel also boasts Rapid Spin, and is one of its few viable users in the tier. However, what differentiates it from Forretress, apart from Tentacruel's superior Speed, is its new Dream World ability: Rain Dish. In rain, Tentacruel heals a total of 12.5% of its HP if it's holding Leftovers. Unlike most Pokemon, Tentacruel's Poison typing is also a boon for it since it can remove Toxic Spikes from the field instantly. Useful resistances to Water- and Fire-type attacks also help when combined with Tentacruel's decent base 80 HP and stellar 120 Special Defense. Unlike Forretress, Tentacruel can actually do something to its foes since it has access to Scald, Ice Beam, and the annoying Knock Off, which removes the target's held item. Tentacruel can even kill the most common spinblocker (Giratina-O) 1 on 1, as nothing the ghostly dragon runs can OHKO, and none of its special attacks can even 2HKO.

Terrakion
Type: Rock / Fighting
Base Stats: 91 HP / 129 Atk / 90 Def / 72 SpA / 90 SpD / 108 Spe
Ability: Justified
Terrakion has many things going for it. The first is the fantastic offensive typing with excellent base Attack and Speed, allowing it to hit everything with its dual STAB apart from Claydol for at least neutral damage. Secondly, Terrakion's access to both Swords Dance and Rock Polish allow it to simultaneously sweep defensive (with Swords Dance) and offensive teams (with Rock Polish) alike. Finally, Terrakion's typing and decent bulk, in conjunction with a Choice Scarf, makes it one of the best ExtremeKiller Arceus revenge killers, resisting ExtremeSpeed and dealing major damage back with super effective Close Combat. Its ability, Justified, is just an icing on the cake, allowing it to grab an Attack boost every time it is hit with a Dark-type attack.

Tyranitar
Type: Rock / Dark
Base Stats: 100 HP / 134 Atk / 110 Def / 95 SpA / 100 SpD / 61 Spe
Ability: Sand Stream / Unnerve (Unreleased)
Although weak to many common types and extremely slow, Tyranitar's movepool is large, even by Uber standards, and the great sand beast can hit opponents hard with both physical and special attacks. Tyranitar makes a great lead, setting up Stealth Rock while guaranteeing most opposing leads only get one layer of entry hazards. The boost from sandstorm allows Tyranitar to come in on most special attacks with ease and retaliate with its enormous attack or threaten to sweep with Dragon Dance. Its ability to set up Sandstorm makes it a good partner for Garchomp, Excadrill, and other sandstorm abusers.

Venusaur
Type: Grass/Poison
Base Stats: 80 HP / 82 Atk / 83 Def / 100 SpA / 100 SpD / 80 Spe
Ability: Overgrow / Chlorophyll
In the past, Venusaur's Speed has been a major issue in its performance as a sweeper. However, its Dream World ability, Chlorophyll, completely erases that problem. In addition to its Speed doubling thanks to permanent sun from Groudon, Venusaur has access to both Swords Dance and Growth, the latter of which sharply boosts Attack and Special Attack in the Sun. With either of these moves, Venusaur is easily able to run a special, physical, or mixed set. Venusaur's typing also gives it the ability to absorb Toxic Spikes, making life easier for the rest of your team.

Water Arceus
Type: Water
Base Stats: 120 HP / 120 Atk / 120 Def / 120 SpA / 120 SpD / 120 Spe
Ability: Multitype
Water Arceus can be very threatening with rain support from Kyogre. Under the rain, its Water-type attacks receive a Splash Plate, STAB, and rain boost, making them incredibly powerful coming off a base 120 Attack or Special Attack. It can run Swords Dance and Calm Mind sets effectively, making use of a wide movepool and access to Recover. Its incredible bulk also allows the possibility of a tanking set, and though it is less common than the sweeper variants, it can wall a wide variety of threats.

Whimsicott
Type: Grass
Base Stats: 60 HP / 67 Atk / 85 Def / 77 SpA / 75 SpD / 116 Spe
Ability: Prankster / Infiltrator / Chlorophyll (Unreleased)
Whimsicott's danger comes from a combination of its ability and its decent defensive stats. With Prankster, it is the fastest SubSeeder in the game bar none, and priority Encore and Stun Spore are great for setting up or shutting down sweeps. Priority Taunt also helps to stop leads, and this cotton ball can keep the momentum with U-turn. One must also beware the rare Tickle and Worry Seed, which can shut down sweepers. This Pokemon is the only answer a team needs to counter heavy offense teams, as well as stall teams, and must be considered while teambuilding.

Wobbuffet
Type: Psychic
Base Stats: 190 HP / 33 Atk / 58 Def / 33 SpA / 58 SpD / 33 Spe
Ability: Shadow Tag / Telepathy (unreleased)
At first glance, one may ponder what this punching bag is doing in a tier filled with offensive monsters of all types. However, you will eventually notice the ability Shadow Tag. Wobbuffet can switch into most choice users and sponge hits with its massive 190 base HP using either Mirror Coat or Counter to remove the opponent's Choice Scarf user. The punching bag also gets Encore to use against non-Choiced Pokemon , which can allow a set-up sweeper such as Swords Dance Arceus to switch in and set up; or you can Encore an attacking move, at which point you repeat the process of either Mirror Coat or Counter. Wobbuffet also has access to Safeguard and Tickle; the former will allow your set-up sweeper to switch into an Encored Toxic, Thunder Wave, or Will-O-Wisp and set up with impunity, while the latter weakens the Defense of walls such as Lugia and Groudon, opening them up to physical attackers and more importantly, Pursuit.

Zekrom
Type: Dragon / Electric
Base Stats: 100 HP / 150 Atk / 120 Def / 120 SpA / 100 SpD / 90 Spe
Ability: Teravolt
Zekrom possesses STABs that complement each other, and, combined with its top notch 150 base Attack and formidable 120 base Special Attack, it is a force to be reckoned with. Although Zekrom's movepool is rather shallow, it learns some of the strongest moves in the game, most notably Outrage; Draco Meteor; and its signature move, Bolt Strike, a physical Electric-type attack with a jaw dropping 130 base power, decent 85% accuracy, and 20% chance of paralysis. Zekrom can run a mixed set to take advantage of both of its high offensive stats, a Choice Band set to boost its titanic attack to insane levels, or a Choice Scarf set to patch its middling base Speed and act as a revenge killer.