BW NU Threat List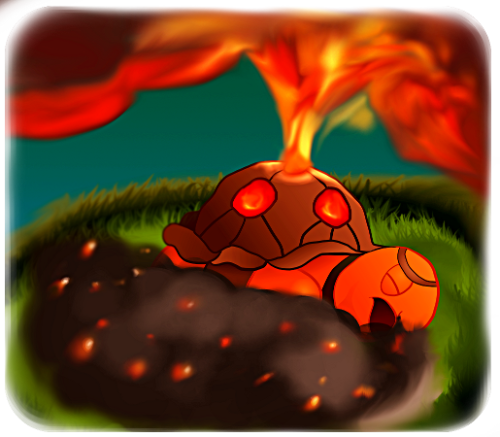 Alomomola
Base Stats: 165 HP / 75 Atk / 80 Def / 40 SpA / 45 SpD / 65 Spe
Abilities: Healer / Hydration / Regenerator
Once thought to be Luvdisc's evolution, it was expected to be another pathetic Pokemon. Fortunately, both assumptions were wrong. Alomomola's niche is Wish passing. Thanks to its gigantic HP stat, Alomomola is able to deliver over 250 HP in recovery to a teammate. To put this in perspective, it will heal a Pinsir at 20% HP back to full health! Alomomola's ability to heal deadly threats in the NU metagame makes it something most people hate. The addition of Regenerator also allows it to switch into even more attacks with impunity, as many physical attackers fail to do more than 33% to the fish. What makes Alomomola even more annoying is due to that same HP stat, Alomomola's average Defense stat now lets it switch into most physical attackers with ease, and heal with a combination of Wish and Protect. Alomomola also deters most setup sweepers from switching in to take advantage of Alomola's dependence on Protect with Toxic and has a consistent attack in the form of STAB Waterfall.

Altaria
Base Stats: 75 HP / 70 Atk / 90 Def / 70 SpA / 105 SpD / 80 Spe
Abilities: Natural Cure / Cloud Nine
As NU's only fully evolved Dragon-type, Altaria is a fairly unique Pokemon. Solid 75 / 90 / 105 defenses coupled with key resistances to common attacking types, such as Water and Fire, allows her to wall threats such as Swords Dance Samurott. In addition to this, Altaria has access to a decent support movepool filled with gems, such as Heal Bell, Roar, and Perish Song. Offensively, Altaria can utilize Dragon Dance in combination with Outrage and Earthquake in order to gain near perfect coverage. Choice Specs, the most common set, can be used to serve as a wallbreaker, allowing Altaria to dismantle common checks such as Tangela.

Ampharos
Base Stats: 90 HP / 75 Atk / 75 Def / 115 SpA / 90 SpD / 55 Spe
Abilities: Static / Plus
Ampharos is one of the more interesting Electric-types in NU. It doesn't fill a defensive role, and generally doesn't fulfill an offensive one either. Ampharos is a support Pokemon; it uses a combination of Heal Bell, respectable bulk, and Volt Switch to cure the team of status and work as a pivot for more balanced teams. Ampharos has the stats to run either a physical or special defensive set, although the physically defensive Ampharos is more common to take advantage of Ampharos's handy ability Static. A physically defensive set allows Ampharos to tank a myriad of attacks and serves as an interesting switch-in to offensive threats such as Kangaskhan. A specially defensive set is still viable as Ampharos has more natural Special Defense to begin with, but doesn't wall as much as the metagame as the physically inclined variant. Ampharos also has the ability to become a sweeper with Agility, but will struggle to sweep a team that has not been weakened substantially. Ampharos also has the ability to use Choice Specs quite well, although it is slow and struggles against common threats such as Golurk.

Arbok
Base Stats: 60 HP / 85 Atk / 69 Def / 65 SpA / 79 SpD / 80 Spe
Abilities: Intimidate / Shed Skin / Unnerve
Arbok is the perfect user of Coil. He has two great abilities to help him set up, and many coverage options including a priority move as well as Earthquake. Coil also increases the accuracy of his STAB move of choice, Gunk Shot. Arbok appears to be custom made to utilize Coil, even capable of overcoming his less than stellar stats. Arbok's mono Poison typing also gives him a very handy set of resists in NU, resisting the powerful Fighting- and Grass-type moves, which gives him more opportunities to set-up. The Coil set generally runs Earthquake and Sucker Punch to work with Coil and Gunk Shot, giving Arbok solid coverage as well as a lot of power after a few boosts. The choice between the two abilities is difficult: Intimidate gives Arbok more immediate opportunities to use Coil, while Shed Skin's status immunity gives him more long-term opportunities to take advantage of Coil. Generally, Intimidate is preferred as Arbok might have trouble finding any room to set up otherwise. Outside of Coil, Arbok has some interesting options: it has Switcheroo and can use it with a Choice Band set to cripple defensive counters such as Vileplume or Alomomola. Arbok also has Glare, a Normal-type move that is capable of paralyzing Ground-types unlike Thunder Wave. These sets are generally inferior because Arbok is almost always better off using Coil. Arbok is not the most common threat, but it is very potent and should be prepared for.

Armaldo
Base Stats: 75 HP / 125 Atk / 100 Def / 70 SpA / 80 SpD / 45 Spe
Abilities: Battle Armor / Swift Swim
Armaldo has cemented itself as the premiere spinner in NU, sporting a base 125 Attack stat and excellent coverage to boot. Armaldo is capable of getting past every Ghost-type in the tier with the Swords Dance set, something other NU Rapid Spin users can't boast. Aqua Tail is the coverage move of choice, working alongside Stone Edge to give him the ability to hit all Ghost-types for neutral damage. Armaldo also has the potential to become a potent wallbreaker with a Choice Band, running X-Scissor and Earthquake along with the aforementioned Aqua Tail and Stone Edge, which allows him to rip through nearly every physical wall in the tier. Armaldo also has access to Rock Polish, which doubles his Speed and can allow him to clean up late-game, as a +2 Armaldo is quite fast. Armaldo's typing is both a blessing and a curse, because it gives him great STABs but leaves him susceptible to many attacks.

Articuno
Base Stats: 90 HP / 85 Atk / 100 Def / 95 SpA / 125 SpD / 85 Spe
Abilities: Pressure / Snow Cloak (Unreleased)
Articuno has quickly risen to become one of the most threatening Pokemon in NU. Her powerful offensive STABs coming off of a base 95 Special Attack allows her to rip most offensive teams to shreds with her STABs alone. Ice Beam and Hurricane have amazing neutral coverage, with Hidden Power Ground rounding it out to hit the few Steel-types in the tier. Articuno is also able to use Roost very well, using her Pressure ability to force her opponents out of PP very quickly. A SubRoost set is very potent, as Articuno is most threatening when behind a Substitute, in which she can capitalize on her amazing natural bulk, speed, and offense. Articuno's stats really give her a lot to work with, with only her typing letting her down. A 4x Stealth Rock weakness is hard to come back from, yet Articuno is able to function quite well even without a spinner. A lesser seen Articuno set is a the Choice Specs set, where Articuno launches high-powered Ice Beams at the opposition, and can safely U-turn early-game to gain momentum.

Audino
Base Stats: 103 HP / 60 Atk / 86 Def / 60 SpA / 86 SpD / 50 Spe
Ability: Healer / Regenerator / Klutz (Unreleased)
Audino is a good, bulky mixed wall with only a weakness to Fighting-type attacks. While it lacks any resistances and has only an immunity to Ghost, its general bulk allows it to sponge a good amount of attacks quite well. Thanks to Regenerator, it regains 30% of its health when switching out. Audino really shines as a team player. With Wish at its disposal, and a good base 103 HP to pass hefty Wishes, Audino can heal itself and a teammate by simply using the move and switching. It also has access to dual screens, allowing it to pump up its team's defenses and ensure it can tank hits all day. Heal Bell is another option to cure itself and its allies of pesky statuses. Its pitiful Speed is a boon thanks to Trick Room, and it functions well alongside most other Trick Room users thanks to that Ghost-type immunity. Healing Wish is a useful move with small distribution that allows Audino to fully heal an ally and bring it in freely, at the cost of Audino's life. While its offensive movepool is vast, its offenses are laughable, which means it's better off crippling an opponent with Toxic or Thunder Wave and letting its partners clean up. The easiest way to counter Audino is to simply hammer it with powerful Fighting-type attacks. Should your team lack these, just using Taunt will turn Audino into useless setup fodder.

Beartic
Base Stats: 95 HP / 110 Atk / 80 Def / 70 SpA / 80 SpD / 50 Spe
Abilities: Snow Cloak / Swift Swim
Beartic is a dangerous, albeit slow threat; however, even its slow speed can be doubled in rain. With a high base 110 Attack and Life Orb, Beartic can plow through teams with its STAB and coverage moves. Icicle Crash is a powerful STAB to hit many Pokemon neutrally or super effectively. With Steel-types resisting its STAB, Beartic has Superpower to knock them down, and Stone Edge allows Beartic to hit Fire-types that resist its STAB. Beartic has access to Aqua Jet, although not STAB boosted, which is useful to knock out weakened threats. Defensive Pokemon aren't safe either, because Beartic can utilize Taunt to cripple walls, while hitting hard. Another option Beartic has is Toxic, which can cripples walls, and has the added benefit of hitting Pokemon that resist Icicle Crash. Beartic also has the ability to use Substitute and Focus Punch to hit the Steel-types that resist Icicle Crash. With all these options, Beartic is hard to switch into; however, its Speed is its downfall.

Beheeyem
Base Stats: 75 HP / 75 Atk / 75 Def / 125 SpA / 95 SpD / 45 Spe
Abilities: Telepathy / Synchronize / Analytic
Dream World has finally released what Beheeyem has long been waiting for, Analytic. Analytic turns Beheeyem into an offensive behemoth instead of a subpar Psychic-type that he used to be. With Analytic, Beheeyem has many sets that he can take advantage of: a 4 attack Choice Specs set is the most immediately dangerous, running Thunderbolt, Signal Beam, and Hidden Power Ground alongside Psychic to deal massive damage to every Pokemon in the metagame besides Shedinja. Choice Specs Beheeyem even has a chance to OHKO physically defensive Regirock on the switch! With Analytic, Beheeyem can also use a 3 attack + Recover set, dropping a move from the Choice Specs set to increase its survivability. Outside of Analytic Beheeyem is still the slowest Pokemon in NU with access to both Trick Room and Nasty Plot, which makes him a great Trick Room sweeper that can decimate any team without priority. A standard Nasty Plot or Calm Mind set is also viable, but not recommended as Beheeyem has much better things to do.

Braviary
Base Stats: 100 HP / 123 Atk / 75 Def / 57 SpA / 75 SpD / 80 Spe
Abilities: Keen Eye / Sheer Force / Defiant
With a huge base 123 Attack stat and STAB Brave Bird, not much enjoys switching into Braviary. Rock- and Steel-types that can take a Brave Bird can just as easily find themselves on the receiving end of Superpower, which will deal a huge amount of damage. Braviary also gets U-turn to rack up damage on something that it cannot directly beat. Return is commonly seen in the last slot, as it's a good secondary STAB for when Braviary needs to conserve HP. Braviary is almost always carrying a Choice item, either Choice Scarf or Choice Band. The Choice Band set can 2HKO almost the entire tier with the correct move, while the Choice Scarf set is an effective revenge killer and late-game sweeper.

Butterfree
Base Stats: 60 HP / 45 Atk / 50 Def / 80 SpA / 80 SpD / 70 Spe
Abilities: Compoundeyes / Tinted Lens
Poor stats aside, Butterfree has carved a niche for herself in the NU metagame. Quiver Dance is an incredible move, and when combined with Sleep Powder as well as Butterfree's two amazing abilities, she is the best user of it in NU. Tinted Lens is the preferred ability, sacrificing a near 100% accurate Sleep Powder for a much more powerful Bug Buzz, as many Pokemon resist it. With Tinted Lens, the number of Butterfree counters drops greatly. Butterfree can also run a support set with Compoundeyes, using Stun Spore, Sleep Powder, and U-turn to cripple the opposing team before fainting. Butterfree also has access to Tailwind, which increases her ability to support the team.

Cacturne
Base Stats: 70 HP / 115 Atk / 60 Def / 115 SpA / 60 SpD / 55 Spe
Abilities: Sand Veil / Water Absorb
Cacturne is one of the few viable Spikes users in NU. Although slow, STAB Sucker Punch gives it powerful priority coming off of its Base 115 Attack stat. Swords Dance can boost that Attack stat even higher, while its equally impressive Special Attack stat allows it to go mixed. Immunities to Psychic- and Water-type attacks (with Water Absorb) provides it with ample opportunities to switch in freely. Its low Speed allows it to function well on Trick Room teams as well, which are often in need of strong Dark-types and could always use the Spikes support. It is difficult to stop a +2 Sucker Punch, but there are several checks that can keep Cacturne in line. Fighting-types such as Sawk, Throh, and Gurdurr are usually the best options, as they resist Sucker Punch and can OHKO Cacturne with their own STAB attacks.

Camerupt
Base Stats: 70 HP / 100 Atk / 70 Def / 105 SpA / 75 SpD / 40 Spe
Abilities: Magma Armor / Solid Rock / Anger Point
Camerupt is a Pokemon whose niche has changed drastically recently. Formerly a defensive role focused on walling powerful Pokemon such as Magmortar, Camerupt is taking on a more offensive route by using his base 105 Special Attack. Rock Polish Camerupt is able to use high-powered moves such as Fire Blast and Earth Power to rip through teams. Camerupt can also use a physical Rock Polish set, but it is not as good because of the lack of a Fire-type STAB attack. Camerupt can still play defensively and tank hits from Fire-type attackers such as Combusken or Charizard, but this is not recommended because Camerupt has subpar defenses, and should be focusing on his offenses instead. Camerupt can also use Eruption with a Choice Specs set, which has the potential to destroy just about every Pokemon in the metagame; however, Camerupt's low Speed means it rarely gets to use Eruption more than once.

Carracosta
Base Stats: 74 HP / 108 Atk / 133 Def / 83 SpA / 65 SpD / 32 Spe
Abilities: Solid Rock / Sturdy / Swift Swim
Carracosta is a formidable threat with access to Shell Smash and STAB Stone Edge. Unlike other Shell Smashers such as Gorebyss, Carracosta gets priority in the form of Aqua Jet, which can KO weakened Choice Scarf users that would otherwise outspeed Carracosta. His base 133 Defense and Sturdy allows Carracosta to get multiple setup opportunities. Other than sweeping with Shell Smash, Carracosta can be a formidable tank thanks to its access to Stealth Rock. With an amazing ability in Solid Rock, Carracosta can take some super effective hits such as Braviary's Superpower. Carracosta can take a bulky sweeper route through using Curse to boost his two highest base stats, Attack and Defense. The speed drops from Curse is slightly mitigated through priority Aqua Jet.

Charizard
Base Stats: 78 HP / 84 Atk / 78 Def / 109 SpA / 85 SpD / 100 Spe
Abilities: Blaze / Solar Power
Once thought to be broken due to the sheer power of its Choice Specs set, Charizard is a Pokemon that is comfortably NU. Charizard is best used utilizing Solar Power under Sunny Day, as it can use an incredibly powerful Fire Blast and destroy most of the tier. Charizard can potentially run a myriad of sets: Choice Specs has sheer power and almost nothing can avoid the 2HKO. A Choice Scarf set isn't quite as powerful, but is nearly impossible to outspeed and can decimate offensive teams. Charizard can also use sets without a Choice item, using a SubRoost set outside of sun to force switches and wear down the opposition. Charizard can also run a self-sufficient Sunny Day set with Fire Blast and SolarBeam, which are both very hard to switch into with Solar Power. Charizard also has the ability to run a physical set, with boosting moves such as Dragon Dance, Swords Dance, and Belly Drum at his disposal. However, Charizard will struggle to find a time to get a boost and is generally better off using a Special Attack set.

Combusken
Base Stats: 60 HP / 85 Atk / 60 Def / 85 SpA / 60 SpD / 55 Spe
Abilities: Blaze / Speed Boost
Combusken is the most common user of Speed Boost in the NU metagame. Speed Boost turns Combusken into a solid offensive Pokemon instead of a forgettable NFE. The most common Combusken set is the special attacker, which uses his two most powerful STABs, Fire blast and Focus Blast, as well as Protect to guarantee a Speed Boost, and Substitute to take advantage of forced switches. The special attacking Combusken has problems with accuracy, but the sheer power of Life Orb-boosted attacks make up for it. Combusken can also run a potent Swords Dance set, although he will struggle to find time to boost, so will often be much weaker than the special variant because its moves have lower Base Power. Speed Boost means that if Combusken can get going it becomes very difficult to stop without priority.

Cradily
Base Stats: 86 HP / 81 Atk / 97 Def / 81 SpA / 107 SpD / 43 Spe
Abilities: Suction Cups / Storm Drain
Cradily is one of the most specially defensive Rock-types in NU. Grass / Rock allows Cradily to take on many of the strong special attackers in the tier such as Gorebyss and Charizard with ease. Storm Drain gives Cradily a Special Attack boost when hit by a Water-type attack, as well as an immunity to them. Storm Drain is what makes Cradily excellent, as with Recover it has the ability to beat almost every Water-type one-on-one. Cradily also has access to Stealth Rock, which makes it one of the best Pokemon in the tier to reliably set it up. Cradily also has a few boosting moves at its disposal, primarily Stockpile, Curse, and Swords Dance. All three can be used effectively on Cradily, Stockpile boosting both of its defenses to very high levels, and allowing it to Toxic stall with ease, Curse to become a bulky booster that will slowly destroy a team, and Swords Dance to turn into an immediate sweeper, damaging whatever stands before it. Cradily has a lot of potential in the NU metagame, and its horrid exterior should be ignored as it is truly a potent force.

Dragonair
Base Stats: 61 HP / 84 Atk / 65 Def / 70 SpA / 70 SpD / 70 Spe
Abilities: Shed Skin / Marvel Scale
Dragonair is one of the few Dragon-types in NU, and one of the best at that. Dragonair can run a few very good sets, one of the best is a mono-attacking set with Outrage, Dragon Dance, and RestTalk. This set uses the great resists that the Dragon type has, such as Water, Fire, and Electric. Dragonair is able to set up on many Pokemon, and can use either of its abilities very well with the set. Shed Skin makes it possible for Dragonair to wake up early from its slumbers, which allowes it to set up more Dragon Dances in front of its opponent. Marvel Scale, on the other hand, increases Dragonair's defense by 50% when it is asleep, making setup much easier. Marvel Scale is slowly becoming the preferred ability, as Dragonair would rather turn foes into pure fodder instead of risking a defeat as its bulk isn't great, even with Eviolite. Dragonair also has the potential to run a Dragon Dance set with Life Orb, using the rare move ExtremeSpeed along with Outrage and Waterfall, hitting everything in NU for neutral damage, and is able to remove faster foes with ExtremeSpeed; however, this variant is very frail and not preferred due to the difficulty of setup. Dragonair is an underrated threat in NU, and one that can steamroll through teams that doesn't prepare for it.

Drifblim
Base Stats: 150 HP / 80 Atk / 44 Def / 90 SpA / 54 SpD / 80 Spe
Abilities: Aftermath / Unburden / Flare Boost
Drifblim is one of the few Ghost-type Pokemon in NU, although it generally doesn't make a great spinblocker. Instead, Drifblim uses its offensive stats to try and sweep the other team. The most common Drifblim set uses Acrobatics and Unburden with a Flying Gem, which doubles its Speed and allows Drifblim to use a very powerful Flying-type STAB move with no repercussions. Acrobatics is commonly the only attacking move that Drifblim runs on that set, filling the remaining slots with supportive moves such as Substitute, Will-O-Wisp, Disable, or Destiny Bond. By choosing three of the supporting moves, Drifblim is often able to cripple half of the opposing team before fainting. Drifblim is also able to make use of its even high base 90 Special Attack, using sets such as SubCM and ChestoRest to set up on opponents and sweep with Shadow Ball. Finally, Drifblim is a good user of Baton Pass, able to pass Calm Minds, as well as sweep with them if needed.

Duosion
Base Stats: 65 HP / 40 Atk / 50 Def / 125 SpA / 60 SpD / 30 Spe
Abilities: Overcoat / Magic Guard / Regenerator
Duosion's innocuous appearance belies its base 125 Special Attack, not at all junior to OU stalwart Reuniclus, which makes it one of the most powerful special attackers in NU. With the help of Eviolite, Duosion possesses good bulk and uses a Calm Mind set to great effect. It can easily devastate defensive teams thanks to Recover and the rare Magic Guard ability, which makes it immune to all forms of passive damage including status and even Life Orb recoil. Low speed, massive power, and usable bulk also allows it to go on the offensive with a Trick Room set, which can turn the tables on an opponent's fast Pokemon. Duosion's Psychic typing grants it access to Psyshock, leaving even dedicated special walls hard pressed to stop Duosion. However, Duosion's typing also makes it vulnerable to the many Dark-type attacks in the tier, as well as the common Sucker Punch. Its bulk is not high enough to shield it from powerful attacks before setting up and it is frail without Eviolite. However, these faults do not detract from Duosion's sheer power with which it can punch gaping holes in any team.

Eelektross
Base Stats: 85 HP / 115 Atk / 80 Def / 105 SpA / 80 SpD / 50 Spe
Ability: Levitate
Eelektross is truly one of the most magnificent Pokemon available in the NU tier. With mono-Electric typing and the Levitate ability, it is the only NU Pokemon with no weaknesses. His stats are also very well distributed. With 85 / 80 / 80 Defenses and no weaknesses, Eelektross is an incredibly sturdy Pokemon. And with 115 / 105 mixed offenses, the eel can make quick work of its adversaries. He might have low speed, but it's remedied by its great bulk. The icing on the cake for this shocking Pokemon is his fantastic movepool. Using Volt Switch, Thunderbolt, Giga Drain, Flamethrower, and even Acid Spray, Eelektross can utilize a specially offensive set. A Choice Band set is also common, using moves like U-turn, Wild Charge, ThunderPunch, Superpower, Fire Punch, Drain Punch, and Aqua Tail. He also has Coil, which allows him to boost his bulk as well as power and accuracy and it can be used in conjunction with Dragon Tail. In conclusion, Eelektross is a fantastic bulky pivot and booster with great power, bulk, typing, and movepool options.

Electabuzz
Base Stats: 65 HP / 83 Atk / 57 Def / 95 SpA / 85 SpD / 105 Spe
Abilities: Static / Vital Spirit
Electabuzz is one of the many powerful Electric-types in NU. It may shock you to realize just how fast he is, as a Choice Scarf-wielding Electabuzz is able to outspeed +2 Gorebyss even while running a Modest nature, making it a potent replacement for the common Rotom-S if a Stealth Rock weakness is too much for your team. Electabuzz can effectively gain momentum by using Volt Switch to always keep the upper-hand against the opposition. Electabuzz can also use an Eviolite to greatly increase its bulk and allow it to take many attacks throughout a common match. Although Electabuzz does not fill many roles, it fills them well, as it is one of the best Electric-types in the tier.

Electrode
Base Stats: 60 HP / 50 Atk / 70 Def / 80 SpA / 80 SpD / 140 Spe
Abilities: Soundproof / Static / Aftermath
With the second highest base Speed in the tier (second only to Ninjask), Electrode is quite a good revenge killer in the current NU metagame. Electrode is unique thanks to the fact that it can revenge kill almost any NU Pokemon even without a Choice Scarf. It also has a decent base 80 Special Attack, which hits hard enough when backed by a Life Orb. Electrode can easily revenge popular Pokemon, such as Swoobat, Swellow, and Gorebyss with a Timid Life Orb set with max Special Attack and Speed. This set also has access to Taunt and Volt Switch, which allows Electrode to make most opposing support Pokemon (including many leads) setup bait for sweepers. Electrode can also function as a Rain Dance supporter if your team needs one, as it's almost guaranteed to summon rain before the opponent's Pokemon can move. This also allows it to run Thunder as a viable attacking option. Additionally, Electrode has two very useful abilities in Static and Aftermath, both of which have a chance to harm physical attackers that target Electrode.

Exeggutor
Base Stats: 95 HP / 95 Atk / 85 Def / 125 SpA / 65 SpD / 55 Spe
Abilities: Chlorophyll / Harvest
Exeggutor is among the most versatile threats in NU. Its base 55 Speed might seem poor, but it's just enough to allow it to function well as a Chlorophyll or Trick Room sweeper. It has access to Sunny Day and STAB SolarBeam, making it a very viable boon to any sun team. Exeggutor can also run a mixed set in sun, utilizing Low Kick to defeat former counters, such as Probopass and Lickilicky. With Trick Room, it can easily set up and plow through the opposition, firing off powerful Leaf Storms or simply Exploding on tougher threats. Either way, Sleep Powder allows it to completely cripple any counter in its way. With Harvest and a Sitrus Berry, it becomes one of the best defensive Pokemon in the game, constantly depleting the opponent's health while keeping itself healthy in the process. Perhaps most devastating is a simple Choice Specs set, which puts its incredible base 125 Special Attack to maximum use. Outside of Trick Room or the sun, however, Exeggutor is very prone to revenge killing from faster threats such as Swellow and Charizard. It also struggles against several bulkier walls, such as Altaria and Lickilicky.

Flareon
Base Stats: 65 HP / 130 Atk / 60 Def / 95 SpA / 110 SpD / 65 Spe
Abilities: Flash Fire / Guts
Although not often seen, Flareon's great special bulk, combined with several key resistances, makes it a very considerable defensive threat. Its ability to check many of the tier's premier special attackers, among them Charizard and Exeggutor, gives it a valuable niche in the tier. In addition to that, it boasts a great supportive movepool. While Wish is mostly for self-recovery, it can of course be used to heal injured teammates. Heal Bell allows it to free it and its team of status, and it can pester the opposition at the same time with status moves, such as Toxic, Lava Plume, or Will-O-Wisp. Roar is another great option which can be used to shuffle around the opponent's team. Flareon can also perform offensive duties with strong moves such as Superpower, although defensive versions are usually preferred for their unique utility.

Floatzel
Base Stats: 85 HP / 105 Atk / 55 Def / 85 SpA / 50 SpD / 115 Spe
Abilities: Swift Swim / Water Veil
Floatzel is one of many Water-types in NU, yet is the most offensive one. Floatzel is fast and strong and takes advantage of that on all of his sets. Floatzel often uses his base 105 Attack by holding a Choice Band, because Floatzel has access to Waterfall and Aqua Jet, along with Return and Switcheroo. With this combination of moves he becomes very difficult to switch into, as walls are maimed by the loss of their item. Floatzel also makes a potent rain sweeper, as he becomes one of the fastest Pokemon in existence when it is raining; however, Floatzel is very frail and struggles to set up Rain Dance on his own, so team support is required. Bulk Up is another option for Floatzel as he is very fast and powerful; the extra bulk can make a big difference, although he is still frail unless multiple Bulk Ups are performed. Finally, Floatzel can utilize his Special Attack, although it is not as high as his Attack, the Base Power of its moves makes up for it.

Fraxure
Base Stats: 66 HP / 117 Atk / 70 Def / 40 SpA / 50 SpD / 67 Spe
Abilities: Rivalry / Mold Breaker / Unnerve
Fraxure has its own thing going for him, as it is one of the few Dragon-types in the NU tier. It is also the most powerful. With a mighty base 117 Attack, decent base 67 Speed, and solid bulk with Eviolite, Fraxure is by far the most threatening of all the Dragon-types. It also has perfect coverage between Outrage and Superpower / Low Kick. Some other perks it has include its Mold Breaker ability, which allows it to smash through Sturdy and other abilities. It also can run two major sets, including a Choice Band set which allows it to destroy anything that isn't extremely bulky without the need to set up, but its Dragon Dance set is faster, stronger, and able to sweep very capably late-game. In the end, Fraxure is a fearsome slayer of dreams that can easily dismantle anything slower or foolish enough to switch into its writhing fury.

Frillish
Base Stats: 55 HP / 40 Atk / 50 Def / 65 SpA / 85 SpD / 40 Spe
Abilities: Water Absorb / Cursed Body / Damp
Frillish is a niche Pokemon, but performs that niche extremely well. Despite having a much higher Special Defense stat, Frillish is much better off being physically defensive. A Frillsh that fully invests in Defense is capable of taking on many threats such as Samurott, as well as blocking Rapid Spin from many spinners. Frillish has access to Recover, which makes it the only Ghost in NU with access to reliable recovery. Frillish also uses Night Shade to cause damage, as its offensive stats are pitifully low. Physical attackers are not safe, because they are burned with Will-O-Wisp, thus crippling them for the rest of the match. Frillish is essentially useless outside of these rolls, but can fill the requirements of many slots that a stall team needs, and is one of stall's best options for a spinblocker.

Garbodor
Base Stats: 80 HP / 95 Atk / 82 Def / 60 SpA / 82 SpD / 75 Spe
Abilities: Stench / Weak Armor / Aftermath
Garbodor is one of the few viable Spikes users in NU, and is the most defensively inclined. Spikes is what makes Garbodor viable in NU, as it is the most reliable Pokemon to set them up, with the few other Spikes users being either frail or have poor typing. Garbodor has two main sets: the primary set is bulky Spiker designed to be able to set up many times during a match, using its good defensive typing to lay hazards down against common Pokemon, such as Gurdurr, Sawk, and Vileplume—if Sleep Clause is active. Garbodor can also run an offensive suicide Spiker set, utilizing Weak Armor to boost its Speedand outrun threats at +1, letting it get an extra layer down. Garbodor has many interesting offensive options to run on its sets: Drain Punch, Seed Bomb, Gunk Shot, Rock Blast, Clear Smog, and even Explosion are all viable moves, and the choice of coverage moves is determined completely by the team's needs.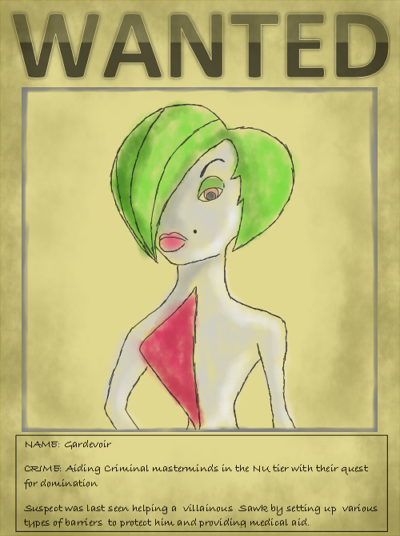 Gardevoir
Base Stats: 68 HP / 65 Atk / 65 Def / 125 SpA / 115 SpD / 80 Spe
Abilities: Trace / Synchronize / Telepathy
Gardevoir is one of NU's best supporting Pokemon, capable of performing many tasks while preforming each one excellently. Gardevoir is always a difficult Pokemon to handle, because of the many sets it can viably use. With the sets ranging from a defensive support role to a powerful sweeping force, Gardevoir's biggest strength is its inability to be predicted easily. To make matters worse, Gardevoir holds access to the Trace ability, giving it the ability to use other Pokemon's abilities against them, such as a Tangela's Regenerator or an Altaria's Natural Cure. Even when Gardevoir is using a support set, itsexcellent base 125 Special Attack prevents opponents from setting up on it easily. With the massive amount of supporting options, including dual screens, the support that Gardevoir provides can be just as threatening as the Choice Specs version blasting your team with Psychic. Thankfully, Gardevoir does have its flaws, such as its subpar Defense and Speed and its Pursuit weakness.

Glaceon
Base Stats: 65 HP / 60 Atk / 110 Def / 130 SpA / 95 SpD / 65 Spe
Abilities: Snow Cloak / Ice Body
With the highest Special Attack in NU, Glaceon is certainly a threat. Choice Specs Ice Beam tears through pretty much anything that can't resist it, while Shadow Ball and Hidden Power round out coverage nicely. With moves such as Wish, Protect, Baton Pass, Heal Bell, and Roar, Glaceon can run a decent support set as well. Its biggest fault is probably its Ice typing, along with its terrible offensive movepool and low Speed. It can function well under Trick Room, and will happily spam Blizzard if you set up hail, but outside of these conditions, it will often get outsped and slammed with any of Ice's many weaknesses.

Glalie
Base Stats: 80 HP / 80 Atk / 80 Def / 80 SpA / 80 SpD / 80 Spe
Abilities: Inner Focus / Ice Body / Moody (banned)
Glalie is one of the few Spikes users in NU. Glalie differentiates itself from the other Spikes users by courtesy of its offensive typing. Ice-type STAB means Glalie will often be hitting the opponent very hard, and base 80 Attack is nothing to laugh at, as it is enough to hit much of the NU metagame very hard. Glalie's primary purpose is to lay hazards down and try to do as much damage in the process, without worrying about its defenses. Glalie is a niche Pokemon, but can fill the roll of a fast Spiker very well, and should be considered when the hazard is needed.

Golbat
Base Stats: 75 HP / 80 Atk / 70 Def / 65 SpA / 75 SpD / 80 Spe
Abilities: Inner Focus / Infiltrator
Eviolite makes Golbat one of the most defensive Pokemon in the tier. When invested in Defense, it is able to take on many physical threats such as Sawk and Samurott with ease. Golbat is good at handling stall teams because of its access to Taunt and Roost, allowing it to slowly wear them down over the course of the match, as Golbat is naturally faster than most Pokemon commonly seen on stall teams. Golbat's sheer bulk allows it to handle offense as well. Golbat has access to a powerful Brave Bird to dispatch foes switching in, as well as Super Fang to remove half the remaining HP of any Pokemon that is hit. Golbat is a Pokemon thats NFE status should not discourage you, as it is capable of destroying stall and offense alike.

Golem
Base stats: 80 HP / 110 Atk / 130 Def / 55 SpA / 65 SpD / 45 Spe
Abilities: Rock Head / Sturdy / Sand Veil (Unreleased)
Golem is without a doubt one of the premier tanks in NU. Great physical bulk and Attack coupled with nigh-unresisted STAB coverage in Earthquake and Rock Blast makes it a fearsome force to be reckoned with. In addition, its ability Sturdy and access to Stealth Rock allows it to act as a lead, although it can keep its utility as a check to physical attackers such as Swellow or Rapidash throughout the game. On top of this, Sucker Punch keeps opposing Pokemon on their toes when trying to attack it, while Rock Blast punishes Substitute users for setting up. Other options for Golem include Rock Polish and a Normal Gem-boosted Explosion.

Golurk
Base Stats: 89 HP / 124 Atk / 80 Def / 55 SpA / 80 SpD / 55 Spe
Abilities: Iron Fist / Klutz / No Guard
Golurk's immense power makes it a dominant force in the metagame. It's most often seen wielding a Choice Band, to make use of its incredible power. In fact, Golurk is capable of 2HKOing nearly all of the NU metagame, provided Stealth Rock is down. However, Golurk can still utilize sets such as Rock Polish and SubPunch to good effect. The release of BW2 and its tutors made Golurk even more deadly; Stealth Rock, Ice Punch, and Drain Punch were added to its movepool. Stealth Rock makes Golurk one of the two Pokemon capable of blocking Rapid Spin while being able to set-up hazards, the other is Froslass, who lives in UU. Its typing gives Golurk excellent resistances and immunities. Most notably, Golurk's resistance to Normal-, Fighting- and Electric-type attacks, which give it multiple opportunities to switch in, alongside its resistances to Poison-, Bug-, and Rock-type attacks.

Gorebyss
Base Stats: 55 HP / 84 Atk / 105 Def / 114 SpA / 75 SpD / 52 Spe
Abilities: Swift Swim / Hydration
One of the most dangerous threats in NU, Gorebyss is often one of the first Pokemon people think of when building a team, whether using her or defending against her. Gorebyss packs decent bulk, below average Speed, and a great Special Attack stat, but the move that makes her so threatening is Shell Smash, doubling her Attack stats and her Speed, which is enough to outspeed even Swellow. Gorebyss is often equipped with White Herb to negate the defense loss from Shell Smash, but sometimes Gorebyss has Life Orb to further boost her already absurdly strong attacks. With the standard STAB move Surf and additional coverage in Ice Beam and Hidden Power Electric, Gorebyss covers her bases very well.

Gurdurr
Base Stats: 85 HP /105 Atk / 85 Def / 40 SpA / 50 SpD / 40 Spe
Abilities: Guts / Sheer Force / Iron Fist (Unreleased)
Gurdurr has cemented himself as one of the premier bulky boosters of NU. Gurdurr has excellent stats that allows him to tank many of the stronger Pokemon in the tier such as Golem and Pinsir. He also has amazing bulk when you factor in Eviolite. Gurdurr is no slouch offensively either with base 105 Attack. Gurdurr always runs Drain Punch, Mach Punch, and either Payback, Rock Slide, or Ice Punch along with either Bulk Up or Knock Off. The first two moves give him a form of recovery as well as a very powerful priority move which allows him to muscle his way past the majority of the tier. The last move is your desired form of coverage, choosing between Psychic- and Ghost-types, or Flying- and Grass-types.

Haunter
Base Stats: 45 HP / 50 Atk / 45 Def / 115 SpA / 55 SpD / 95 Spe
Ability: Levitate
You better hide your kids, your wife, and your husband when Haunter arrives on stage! This creepy Pokemon shows its devilish face in NU as one of the best Ghost-type Pokemon available. While not nearly as bulky as Misdreavus, Haunter holds access to a very high base 95 Speed, base 115 Special Attack, and the move Disable. Even with hardly any bulk attached to its gas-like body, Haunter makes use of its excellent immunities with Substitute and Disable. This allows Haunter to keep its Substitute against a myriad of opponents and start blasting powerful STAB attacks freely. Is Zangoose destroying all of your walls with its Toxic Boost? With Disable you can take advantage of Haunter's higher base Speed to turn one of the frailest Pokemon in NU into the ultimate Zangoose check. However, Haunter is not a one-trick-spirit and can take advantage of its unique movepool and great offensive stats to run effective SubSplit and Choice Scarf sets. While SubSplit doesn't have the versatility of Disable, allowing Haunter to deal with many foes, it holds tremendous power. With the ability to force many opponents out, Haunter gets a chance to set up a free Substitute to let the party begin, making sure every guest gets intoxicated. Alongside Sludge Bomb's nifty 30% chance of poison and Pain Split, Haunter can outlast even Lickilicky and other specially defensive behemoths. Choice Scarf, on the other hand, gives Haunter the ability to revenge kill a myriad of threats thanks to Haunter's high base Speed compared to common Choice Scarf users such as Rotom-S. While not packing boosted attacks or Pain Split, Haunter's movepool gifts it with access to Trick, massively crippling special walls by limiting what they can do.

Huntail
Base Stats: 55 HP / 104 Atk / 105 Def / 94 SpA / 75 SpD / 52 Spe
Abilities: Swift Swim / Water Veil
Huntail has always lived in the shadow of the more powerful Gorebyss. In order to stand out, Huntail must take advantage of his Attack stat, which is much higher than that of Gorebyss's. By using his high Attack stat Huntail is able to muscle past many threats that Gorebyss would fall against, such as Lickilicky. Huntail is commonly seen as a mixed attacker due to its above average Special Attack, which allows it to lure out and defeat Tangela with Ice Beam.

Jumpluff
Base Stats: 75 HP / 55 Atk / 70 Def / 55 SpA / 85 SpD / 110 Spe
Abilities: Chlorophyll / Leaf Guard / Infiltrator
Jumpluff has always been among the fastest Pokemon in NU and takes advantage of its Speed on most of its sets. It can run a very effective SubSeed set, being the second fastest user of the combination in NU, the first being Serperior. However, access to Encore and Sleep Powder allow Jumpluff to outshine its slithery brethren in the role, as setup becomes rendered impossible for the opponent. Jumpluff is also known for its ability to support the team using Sunny Day, reaching over 700 Speed in the sun due to its ability Chlorophyll, and utilizing Memento to secure a setup opportunity for a teammate. Finally, the most threatening Jumpluff set of all, the Swords Dance sweeper. No joke, despite having a mere base 55 Attack Jumpluff can utilize a surprisingly powerful Acrobatics as well as Seed Bomb and sweep teams once Choice Scarf users are removed. Jumpluff's Speed is what makes the Swords Dance set so potent, as very few offensive Pokemon can survive a hit at +2, and even fewer can outspeed Jumpluff and KO it first. Because of the many sets Jumpluff can run, it is a very unpredictable Pokemon, capable of being either a sweeper or a supporter depending on its moveset.

Kadabra
Base Stats: 40 HP / 35 Atk / 30 Def / 120 SpA / 70 SpD / 105 Spe
Abilities: Synchronize / Inner Focus / Magic Guard
Kadabra hasn't changed much since the beginnings of Gen V; it has always been somewhat of a glass cannon, and it has stuck with that role throughout its NU career. Kadabra was blessed with Magic Guard, which allows it to run a Life Orb without recoil, which powers up its great base 120 Special Attack to much more threatening levels. Kadabra's Speed shouldn't be ignored either, as base 105 Speed outspeeds most of the tier. It will typically run Psychic, Signal Beam, and Hidden Power Ground for perfect neutral coverage, and can then add one of its many support options as the set's final move, such as Calm Mind or Substitute. Bear in mind that Kadabra's enormous support movepool allows it to also run many other sets, such as SubDisable or dual screens. Watch out for Kadabra; it's an often underestimated Pokemon with a lot of potential.

Kangaskhan
Base Stats: 105 HP / 95 Atk / 80 Def / 40 SpA / 80 SpD / 90 Spe
Abilities: Early Bird / Scrappy / Inner Focus
Kangaskhan is another great Normal-type Pokemon in the NU tier. It distinguishes itself from the myriad of other Normal-types with the ability Scrappy, which allows it to hit Ghost-type Pokemon with attacks that they are normally immune to. Kangaskhan's 105 / 80 / 80 bulk is definitely passable, and with that base 95 Attack stat it can pull off the role of bulky offensive Pokemon fairly well. It can attack with a Life Orb, pull off a classic SubPunch set with Leftovers, or become a powerful wallbreaker with Choice Band. Its Life Orb set runs Fake Out and Sucker Punch for a nice priority combination, while also packing attacks like Return, Body Slam, Drain Punch, or Earthquake, all of which are viable. The SubPunch set also runs Sucker Punch and Return. Choice Band allows Kangaskhan to hit very hard, and is especially notable for being able to hit even Ghost-types with its powerful Double-Edge, thanks to Scrappy. Kangaskhan doesn't hit as hard as its Normal-type brethren, but that doesn't keep it from being just as threatening; a well-played Kangaskhan can be just as effective as any Tauros or Zangoose. The extra bulk allows it to survive longer, and its double priority can take a large portion of the enemy's HP away before they're even given the chance to attack!

Lampent
Base Stats: 60 HP / 40 Atk / 60 Def / 90 SpA / 60 SpD / 55 Spe
Abilities: Flash Fire / Flame Body / Shadow Tag (Unreleased)
Lampent is one of the few Ghost-types in NU and also one of the best. Lampent's stats allow it to be either offensive or defensive. Lampent is known for its offensive Trick Room set, utilizing its low Speed to "outrun" the majority of the metagame under Trick Room. Offensive Lampent generally runs Shadow Ball, Fire Blast, and either Memento or Hidden Power Ice, choosing between supporting another sweeper or defeating Altaria. Lampent also has the stats to run either a physical or special defensive set, utilizing Eviolite to check monstrous threats such as Rapidash and Charizard, respectively. Finally, Lampent can run a SubSplit set, as it is faster than most walls and can heal its HP in front of them while many of them struggle to deal significant damage back.

Lapras
Base Stats: 130 HP / 85 Atk / 80 Def / 85 SpA / 95 SpD / 60 Spe
Abilities: Water Absorb / Shell Armor / Hydration
Lapras is blessed by amazing defensive stats, being one of the most bulky Water-types in the tier. Lapras is capable of walling offensive threats such as special attacking Samurott and Gorebyss very well. Lapras is also capable of walling physical attacks, as 130 / 85 / 95 is still very bulky for the NU tier. Lapras can tank a hit from physical Samurott and respond with Thunderbolt. Lapras has a very interesting movepool for a Water-type Pokemon, having access to helpful moves such as Thunderbolt and Heal Bell, along with staples such as Surf and Ice Beam. Lapras can also run some very potent offensive sets, such as a Substitute + 3 attacks set that is powerful enough to deal a lot of damage to offensive teams. A Dragon Dance set is also viable, as Lapras becomes decently fast at +1, and strong enough to take on teams without a Tangela, Vileplume, or Alomomola. A Curse set is also viable, as Lapras becomes very bulky at +1, and can set up in front of walls and eventually deal massive damage. Lapras is a very diverse Pokemon that is capable of running many sets, and this unpredictability is part of what makes it such a huge threat in the NU metagame.

Leafeon
Base Stats: 65 HP / 110 Atk / 130 Def / 60 SpA / 65 SpD / 95 Spe
Abilities: Leaf Guard / Chlorophyll
Leafeon has fallen from favor lately in favor of Sawsbuck, which has an extra STAB move and is slightly more powerful than Leafeon. However, Leafeon maintains its niche as a bulky Grass-type booster. Using its amazing natural bulk, it's able to set up multiple Swords Dances, although Leafeon is still capable of sweeping a team after only one a boost. Leafeon can also run a very effective defensive set, as it is capable of passing a Wish to a teammate, or using it to heal itself very efficiently. Defensive Leafeon is capable of phazing the opposing team to wear them down with hazards, or take on threats such as physical Samurott if it runs enough Speed EVs to outspeed it. Leafeon is also good at Baton Passing, as it is fast and can outrun many of its checks, allowing it to efficiently pass the boosts. Leafeon has a niche in the NU metagame, and fills the role of a bulky offensive Grass-type very well.

Lickilicky
Base Stats: 110 HP / 85 Atk / 95 Def / 80 SpA / 95 SpD / 50 Spe
Abilities: Own Tempo / Oblivious / Cloud Nine
Lickilicky is one of the prominent defensive Normal-types in NU. Almost every tier in Pokemon has had a "pink blob" residing in it at one point, and Lickilicky is NU's resident blob. Blob is a fitting term to describe it, as it is capable of taking many hits that would decimate other Pokemon, making Lickilicky a staple Pokemon on defensive teams. Access to Wish makes it an amazing supporter, as only Alomomola can commonly pass more HP to teammates. Heal Bell is also a godsend for Lickilicky, giving it an immunity to status and the ability to support the team even more. Lickilicky is also a potent attacker, as the SubSD set continues to catch on thanks to its ability to defeat Regenerator cores, and dismantle many balanced teams. Lickilicky has a movepool as large as it's tongue is, with access to Fire Blast, Thunderbolt, Ice Beam, Power Whip, and even Dragon Tail. All of these are viable offensive options if your team needs it, which makes Lickilicky a Pokemon you can customize to your liking.

Linoone
Base Stats: 78 HP / 70 Atk / 61 Def / 50 SpA / 61 SpD / 100 Spe
Abilities: Pickup / Gluttony / Quick Feet
Ask any player in NU what five Pokemon scare them the most, and Linoone is almost certain to be on that list. If played well, Linoone is impossible to revenge kill and very hard to beat without Steel- or Ghost-types. While its only notable stat appears to be a base 100 Speed, Linoone possesses both Belly Drum and ExtremeSpeed, which allows it to maximize its Attack stat and proceed to sweep unprepared or weakened teams with a +2 priority STAB move. It also uses Shadow Claw to take down Ghost-types and Seed Bomb for an additional Grass-type coverage move. Crafty Linoone users will also carry a Pokemon with either dual screens or Memento to virtually guarantee a free setup for Linoone. If you see a Linoone on the opponent's team, beware and make sure you take it down fast before it gets the chance to run through you.

Ludicolo
Base Stats: 80 HP / 70 Atk / 70 Def / 90 SpA / 100 SpD / 70 Spe
Abilities: Rain Dish / Swift Swim / Own Tempo
With a wonderful Water / Grass typing, Ludicolo has his fair share of reliable coverage and great STABs. This typing can also be troublesome for the Mexican stereotype, making it odd compared to other Water-types, as he is not resistant to Fire or Ice. However, he has fantastic coverage with his STABs and Ice Beam, causing an awkward situation for the foes of the tropical fruit dancer. And thanks to the ability Swift Swim, decent Special Attack, and reasonable bulk, Ludicolo is the king of Rain Dance sweeping in NU. With a Life Orb and rain-boosted Surf, the duck has quite a bit of power under its bill. He is also a decent wall with a SubSeed set. But beware that its weird typing could be its downfall if you are going defensive because of the lack of Fire- and Ice-type resistances.

Magmar
Base Stats: 65 HP / 95 Atk / 57 Def / 100 SpA / 85 SpD / 93 Spe
Abilities: Flame Body / Vital Spirit
Magmar is one of the best Fire-types in NU, finally getting a chance to shine after its evolution Magmortar was raised to RU. Magmar uses its base 100 Special Attack along with a fast base 93 Speed to outrun and hit many threats with Fire Blast. Magmar also has access to Focus Blast, giving it coverage against the Pokemon that resist Fire Blast. Although Magmar's special movepool is much smaller than its evolution, it is still large enough for Magmar to do its job very well. Magmar also has a high base 95 Attack stat, which allows it to use physical attacks such as Cross Chop and Flare Blitz, as well as priority in Mach Punch. Because Magmar has two high attack stats a mixed set is viable, but it's noticeably weaker than focusing on one stat. Vital Spirit is a great ability on Magmar as it becomes a hard counter to Vileplume and Tangela, fearing nothing from Sleep Powder and responding with a strong Fire Blast. Finally, Magmar has access to Belly Drum, however it is not a good move to use as Magmar is susceptible to priority and it is illegal with Mach Punch.

Mantine
Base Stats: 65 HP / 40 Atk / 70 Def / 80 SpA / 140 SpD / 70 Spe
Abilities: Swift Swim / Water Absorb / Water Veil
Mantine's typing is both a blessing and a curse. Although he only has two weaknesses, one is a 4x to Electric and the other is to Rock. On the other hand, Grass is neutral and he resists quite a few types as well. Mantine basically functions as a special Skarmory with his amazing base 140 Special Defense, but lacks reliable recovery. His calling card set is a RestTalk set, but an offensive Rain Dance set has become much more popular, as BW2 gifted him with a good Flying-type STAB in Air Slash. Outside of his massive Special Defense, Mantine's stats are kinda lacking. But, 80 Special Attack is usable and his Speed can be remedied with Swift Swim. All in all, Mantine thrives as both a special wall and sweeper, although he faces steep competition in both positions.

Marowak
Base Stats: 60 HP / 80 Atk / 110 Def / 50 SpA / 80 SpD / 45 Spe
Abilities: Rock Head / Lightningrod / Battle Armor
Don't be fooled by Marowak's base 80 Attack stat; it's more powerful than you can imagine. With its trademark weapon, Thick Club, its Attack reaches an impressive 568. STAB Earthquake is usually its best offensive choice, although its specialty attack, Bonemerang, is a slightly less accurate version that can break through Substitute and Sturdy. With base 45 Speed, Marowak's best option is usually being on a full Trick Room team. However, when passed a Speed boost by the likes of Ninjask, it can be a menace outside of Trick Room as well. Another common strategy is to set up a Substitute on something that Marowak can force out, allowing it to deal with its counter accordingly. Stone Edge offers great coverage, while recoil-less Double-Edge provides solid neutral damage as well. Swords Dance is another excellent choice for Marowak, providing it finds the opportunity to actually set-up.

Miltank
Base Stats: 95 HP / 80 Atk / 105 Def / 40 SpA / 70 SpD / 100 Spe
Abilities: Thick Fat / Scrappy / Sap Sipper
Miltank is a common utility Pokemon in NU, utilizing her high defensive stats and Speed to support the team. Miltank can run many amazing sets, such as Mootility, which uses Stealth Rock, Body Slam, and Milk Drink to lay down hazards and attempts to paralyze the opposing team. Miltank also has Heal Bell, allowing her to support the team by ridding it of status while spreading her own. Thick Fat is a great ability on Miltank, giving her a resistance to Fire- and Ice-type attacks, such as Rapidash's Flare Blitz and Piloswine's Icicle Crash. These resistances make Miltank one of the best switch-ins to the Fire-types in the tier, as she can set up hazards to scare them away from switching in later. Thick Fat is generally better as most Grass-type moves don't do much damage to Miltank anyways. Miltank can also run a Moofensive set, utilizing her fast base 100 Speed and 80 Attack to deal damage to the opposition with Double-Edge and Earthquake, and healing with Milk Drink as needed. Finally, Miltank has access to Curse, giving her a boosting move that allows her to abuse STAB Body Slam to the fullest extent possible, and she is immune to status because of Heal Bell. Miltank is a diverse Pokemon capable of performing either an offensive or defensive role depending on her team's need.

Misdreavus
Base Stats: 60 HP / 60 Atk / 60 Def / 85 SpA / 85 SpD / 80 Spe
Ability: Levitate
Misdreavus has the privilege of being the most bulky Ghost-type in NU, able to take hits from all potential spinners with ease, besides Swords Dance Armaldo. Misdreavus is also able to hard counter many forms of Sawk and Tauros, as they are unable to do any significant damage to it, and Misdreavus can use Will-O-Wisp to permanently cripple them. Misdreavus can take advantage of its low HP by using Pain Split, giving it a way to heal against foes with high HP such as Lickilicky and Alomomola. Misdreavus also has Heal Bell, meaning it can remove status from the entire team, which is handy given the amount of switches that Misdreavus forces. Misdreavus can also go on a more offensive route, utilizing its base 85 Speed and Special Attack along with Nasty Plot to sweep frail teams. Nasty Plot Misdreavus is an often unprepared for threat, as people assume that Misdreavus is always defensive. Misdreavus also has access to Calm Mind, allowing it to set up on stall teams with ease.

Muk
Base Stats: 105 HP / 105 Atk / 75 Def / 65 SpA / 100 SpD / 50 Spe
Abilities: Stench / Sticky Hold / Poison Touch
Muk is one of the more powerful Poison-type Pokemon in NU, having a high base 105 Attack stat. Muk often uses a Choice Band set that maximizes its power and allows Muk to take advantage of its natural bulk as well. Muk's STAB move of choice is Gunk Shot, which is inaccurate but hits very hard and does massive damage to anything that doesn't resist it. Muk also has access to Ice Punch and Brick Break, giving it the means to hit Ground- and Rock-types that resist its STAB move. In the final moveslot, Muk uses Shadow Sneak, which gives it a priority move that, albeit weak, is strong enough to finish off many Pokemon and gives it the ability to revenge kill. Muk can also run a Curse set, as its naturally high special bulk means that it does not need to be boosted, and the increase in physical stats becomes noteworthy very quickly. Muk is a rare Pokemon in NU, but one that can shred through a team that isn't prepared for it.

Murkrow
Base Stats: 60 HP / 85 Atk / 42 Def / 85 SpA / 42 SpD / 91 Spe
Abilities: Insomnia / Super Luck / Prankster
Prankster has made Murkrow one of the best team supporting Pokemon in the tier. Murkrow is the only Pokemon in the tier that uses the combination of Mean Look and Perish Song, commonly known as Perish trapping. This combination allows Murkrow to trap any Pokemon and remove them from play, switching out on the last turn to avoid its own demise. Murkrow makes an excellent user of the combination because of Prankster and Roost, which allows it to move first and stay healthy. With only priority moving faster than Murkrow, it is safe to assume that it can get a Roost off any turn it needs too. Murkrow also has access to FeatherDance, which cuts the opponent's Attack in half. Murkrow's Prankster allows it to counteract opposing boosting Pokemon, such as Samurott, which will be unable to boost with Swords Dance. It can also shut down threats such as Sawk that can't threaten Murkrow once its Attack has been lowered. Murkrow also has the offensive stats to pull off a Life Orb set, which makes Murkrow very frail but very strong, utilizing STAB Sucker Punch along with Brave Bird, Hidden Power Grass, and Heat Wave. With a Life Orb, Murkrow becomes a very hard Pokemon to switch into, and is an unexpected set that will destroy many players.

Musharna
Base Stats: 116 HP / 55 Atk / 85 Def / 107 SpA / 95 SpD / 29 Spe
Abilities: Forewarn / Synchronize / Telepathy
Musharna is the best bulky Psychic-type in the tier. Its overall bulk is unmatched and it has a respectable Special Attack and movepool to go with it. Musharna can fit various roles well: physical wall, boosting sweeper with Calm Mind, cleric, pivot, and offensive tank. Musharna is one of the most difficult boosting sweepers to stop because of the combination of its bulk, power, and moves such as Moonlight and Heal Bell. That same set also acts as a physical wall and cleric. An offensive tank set with three attacking moves and Moonlight or Trick Room over one of the attacking moves, a Choice Specs set with three attacking moves and either Trick or Sleep Talk, and a pivot set that aims to switch into attacks support the team are all very viable sets as well. In addition, Musharna has access to other useful supporting moves such as Reflect and Light Screen.

Natu
Base Stats: 40 HP / 50 Atk / 45 Def / 70 SpA / 45 SpD / 70 Spe
Abilities: Synchronize / Early Bird / Magic Bounce
Natu is a Pokemon with a very specific niche: Magic Bounce. Magic Bounce means that Natu can reflect non-damaging moves such as Stealth Rock, Spikes,and Toxic back at the Pokemon that used them, essentially allowing it to set up hazards if used right. Natu commonly runs Grass Knot as it allows it to deal maximum damage to the Rock-types that use Stealth Rock. Natu can be used to gain momentum against slower teams, but is still a very niche Pokemon that should only be used under very specific circumstances.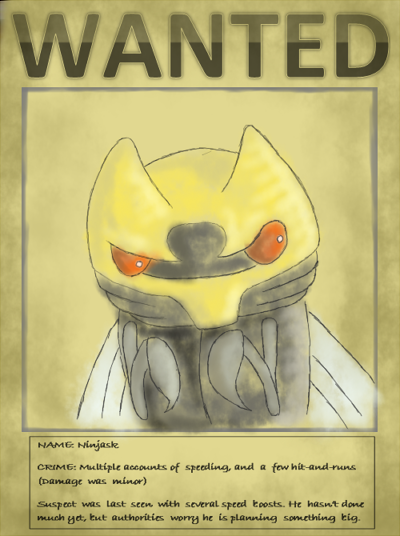 Ninjask
Base Stats: 61 HP / 90 Atk / 45 Def / 50 SpA / 50 SpD / 160 Spe
Abilities: Speed Boost / Infiltrator (Unreleased)
At first glance, Ninjask seems like a worthless Pokemon. While having a blistering base 160 Speed, it is also cursed with a 4x weakness to Stealth Rock, almost no bulk, and only an average Attack stat. There is a reason that Ninjask was OU back in the days though, and that is Baton Pass. Baton Pass allows the user to switch to a Pokemon with normal priority, while also keeping any stat boosts or drops that the user of the move had. This move, combined with Ninjask's ability, Speed Boost, creates a deadly combination. Simply by stalling out turns, Ninjask can accumulate multiple Speed Boosts, and possibly a Swords Dance and a Substitute with them, and pass them to something dangerous, such as Marowak, Rampardos, Sawk, or Sawsbuck. Ninjask also sees a lot of use on full Baton Pass teams, passing Speed to its teammates, which will eventually stack boosts and pass to a dangerous sweeper if not stopped early. Thankfully, it is not impossible to stop Ninjask; its extreme frailty and terrible typing is its downfall. The 4x weakness to Stealth Rock makes sure Ninjask can only come in and attempt to pass a limited amount of times, while its poor defenses mean it relies on Substitute to take hits, making it bait for multi-hit moves and priority. Lastly, Ninjask can be stopped from passing boosts by moves such as Taunt, Encore, and Roar. Flaws aside, do not underestimate Ninjask, or your team will be left in ruins soon afterwards.

Omanyte
Base Stats: 35 HP / 40 Atk / 100 Def / 90 SpA / 55 SpD / 35 Spe
Abilities: Shell Armor / Swift Swim / Weak Armor
With access to all three forms of entry hazards, Omanyte is one of the best hazard setters in the tier. Omanyte's exceptional Defense stat combined with Eviolite allows Omanyte to take on many physical attackers. Swellow fails to do much damage, while Braviary fails to 2HKO with Superpower. Omanyte's base 90 Special Attack allows Omanyte to run an offensive Spikes set effectively. With Shell Smash and Swift Swim from rain support, Omanyte can be a potent offensive threat that can even outspeed opposing Choice Scarf users, but this isn't recommended as there are better rain sweepers.

Piloswine
Base Stats: 100 HP / 100 Atk / 80 Def / 60 SpA / 60 SpD / 50 Spe
Abilities: Oblivious / Snow Cloak / Thick Fat
Piloswine is most commonly seen as a Stealth Rock lead akin to the many Rock-types in the tier. Amazing offensive STABs, great physical bulk, and a solid Attack stat allows Piloswine to effectively gain momentum early-game. Ice Shard and Earthquake let Piloswine defeat many of the most common Rock-type leads and lay down Stealth Rock. His physical bulk allows him to tank hits from many prominent threats such as Swellow and Braviary and OHKO in return with a STAB Icicle Crash. Thick Fat should always be the ability of choice, as the ability is very useful, unlike the other choices, which are nearly useless. Thick Fat allows Piloswine to take on Charizard, Camerupt, and other Fire-types much easier than before.

Pinsir
Base Stats: 65 HP / 125 Atk / 100 Def / 55 SpA / 70 SpD / 85 Spe
Abilities: Hyper Cutter / Mold Breaker / Moxie
Pinsir is now even more threatening now that its Dream World ability, Moxie, has been released. No longer does sacrificing a Pokemon allow you to revenge Pinsir, because every KO that Pinsir obtains makes it even stronger. Pinsir is a dangerous physical sweeper, because it can wreak havoc with a Swords Dance boost, Choice Band, or now Moxie Choice Scarf. X-Scissor is Pinsir's STAB that hits Grass- and Psychic-types super effectively. To make it worse, Pinsir has Stone Edge to hit what X-Scissor is not effectively hitting, namely Fire- and Flying-type Pokemon. Pinsir also has access to Earthquake, which with the Mold Breaker ability, allows it to smash Pokemon that rely on their Levitate ability. If Earthquake sounds bad, then Close Combat is going to sound even worse, because Close Combat has better coverage than Earthquake and wrecks the numerous Normal-type Pokemon scattered in the NU tier. Pinsir has always been dangerous, but with the addition of its Dream World ability, Pinsir will grow furiously throughout a battle.

Probopass
Base Stats: 60 HP / 55 Atk / 145 Def / 75 SpA / 150 SpD / 40 Spe
Abilities: Sturdy / Magnet Pull / Sand Force
Probopass is by far one of the most popular utility Pokemon in the tier, boasting a wonderful support movepool as well as outstanding defenses. Probopass gets tons of free switches as it has resistances to many common attacking types in NU, letting it throw up Stealth Rock, fire off a Thunder Wave, or use its slow Volt Switch to keep momentum in the hands of its trainer. Probopass is very hard to take down without a Ground- or Fighting-type attack, and while these can be somewhat common, by no means are they everywhere; furthermore, Probopass will often be able to wall at least 2 Pokemon on the opponent's team and can really shine on bulkier offensive teams needing Stealth Rock support as well as a wall. Probopass is also very hard for certain stall teams to eliminate, as it is immune to all forms of poison and takes little damage from most defensive Pokemon. The giant compass is definitely a defensive threat to look out for.

Raichu
Base Stats: 60 HP / 90 Atk / 55 Def / 90 SpA / 80 SpD / 100 Spe
Abilities: Static / Lightningrod
Raichu is a great user of Nasty Plot due to its powerful STAB move Thunderbolt, which can be supported by many coverage options including Hidden Power Ice, Grass Knot, and Focus Blast. Raichu also has access to Encore, which makes setup a lot easier with Raichu's ability to outspeed every defensive Pokemon and can setup as they are locked into a non-threatening move. A +2 Raichu is very threatening to most teams, as the most common Electric-type Choice Scarf users fail to do any damage to it due to its ability Lightningrod, forcing teams to rely on Pokemon that can tank a +2 hit and retaliate for an OHKO. Raichu can also run a Choice Scarf set, as it outspeeds common boosters such as Carracosta and Gorebyss and can OHKO both of them. Choice Scarf Raichu can also outspeed Swoobat and deals massive damage, its niche over Choice Scarf Zebstrika is the added power, which can make a big difference.

Rampardos
Stats: 97 HP / 165 Atk / 60 Def / 65 SpA / 50 spD / 58 Spe
Abilities: Mold Breaker / Sheer Force
Rampardos has the third highest Attack stat in the game, so what is it doing in the depths of NU? The answer lies behind mediocre typing, low defenses, and poor Speed. But not all is gravel for the ancient dinosaur, as it is a true diamond in the rough. The simplicity of spamming STAB Head Smash is amazing, despite the not-so-amazing recoil. He also has the amazing ability Mold Breaker, which bypasses Sturdy, Levitate, Solid Rock, etc. Meaning he is also free to spam Earthquake against a team without Flying-type Pokemon. A Choice Scarf set is Rampardos's best chance to sweep late-game, due to his frailty to set up a Rock Polish. In addition, a Choice Band set provides even more power to break walls.

Rapidash
Base Stats: 65 HP / 100 Atk / 70 Def / 80 SpA / 80 SpD / 105 Spe
Abilities: Run Away / Flash Fire / Flame Body
Rapidash is the fastest Fire-type in the NU tier, and with a base 100 Attack, its attacks will pack quite a punch. Rapidash is typically seen with Life Orb or Choice Band, which increases its damage to dangerous levels. The Water-types that will try to soak up a Flare Blitz will end up taking a Wild Charge, which will end up heavily crippling any Water-type that doesn't invest heavily in Defense. Rapidash also has Low Kick to hit the heavy Rock-types where it hurts. Bulky Psychic-types, such as Musharna, will not enjoy taking a Megahorn, as they can tank the rest of Rapidash's arsenal. Once Rapidash is low on health, it can also heal back with Morning Sun, prolonging the beating it gives the opponent. Rapidash can also be seen on a Sunny Day team, which will: boost its STAB Flare Blitz; gives SolarBeam immediate use; and Morning Sun heals 66.75% instead of 50%.

Regice
Base Stats: 80 HP / 50 Atk / 100 Def / 100 SpA / 200 SpD / 50 Spe
Abilities: Clear Body / Ice Body (Unreleased)
Regice is the most specially defensive Pokemon in NU, sporting a flabbergasting base 200 Special Defense. When combined with a base 100 HP it is easy to see how hard Regice is to kill. Regice commonly runs a set that takes advantage of both its offensive and defensive capabilities at once, utilizing BoltBeam coverage along with Thunder Wave and Rest to wear down the opposition. Regice can also run a RestTalk set, which sacrifices some offensive presence for a lot of staying power. Regice can also potentially run a Rock Polish set, increasing its Speed and becoming a potential sweeper, as with Speed, power, and bulk it has proven to be a very difficult Pokemon to stop. A Choice Specs set is also viable, as Regice is very difficult to switch into because it has perfect coverage. Overall, Regice is a Pokemon that is only let down by its typing, but has the sheer power and bulk to muscle past that and be a threat in the metagame.

Regirock
Base Stats: 80 HP / 100 Atk / 200 Def / 50 SpA / 100 SpD / 50 Spe
Abilities: Clear Body / Sturdy (Unreleased)
Regirock is the epitome of physical defense. With an amazing base 200 Defense stat and good base 80 HP stat, Regirock becomes incredibly sturdy against physical assaults directed at its team. Regirock also has a great Special Defense stat that works great with its high Defense stat, meaning it can focus all investment into the former stat to take special attacks with relative ease as well. It doesn't end there: Regirock possesses a good movepool, boasting moves such as Stealth Rock and Thunder Wave to support its teammates to almost no end. Regirock can even go so far as to support its team with Sunny Day, proving to be a great addition to any sun team, even taking advantage of the sun itself. But Regirock is not limited to physical defense and solely supporting its team. With great offensive moves, such as Stone Edge, Earthquake, and Drain Punch, Regirock can turn the table and become an offensive tank with its good Attack stat, while still being able to provide support and take physical hits. Regirock has access to Curse as well, which it can use with Rest and Sleep Talk to create a mono-attacking set, becoming extremely difficult to take down with enough boosts.

Rotom-F
Base Stats: 50 HP / 65 Atk / 107 Def / 105 SpA / 107 SpD / 86 Spe
Ability: Levitate
Often shunned by users that prefer Rotom-S, Rotom-F is a very underrated Pokemon with both good stats and a large and useful movepool. Commonly seen using a Choice Scarf, Rotom-F can outspeed most of the unboosted metagame without breaking a sweat, allowing revenge killing, late-game cleaning, and occasional sweeping to be included in the many things it can do. Rotom-F's typing might give it a Stealth Rock weakness, but it also provides it with STAB on the BoltBeam combination. Most Rotom-F will run Blizzard and Thunderbolt for offensive coverage, while also using Volt Switch and Trick for extra utility. These sets are dangerous because Rotom-F can switch out of anything it doesn't like (bar Ground-types) with Volt Switch before they can attack it, and it can also cripple setup Pokemon, as well as those that are more defensive, with Trick by Choice locking the opposing Pokemon into a non-damaging move. SubSplit is another common set that can be extremely annoying. This variant is virtually immune to status and is constantly regenerating health with Pain Split + Leftovers. Be wary of lesser seen moves such as Will-O-Wisp and Thunder Wave, as they shrink Rotom-F's list of definite counters and can be a nasty surprise. Overall, Rotom-F can be just as threatening as Rotom-S, and the smart NU player will make sure they have an answer to both.

Rotom-S
Base Stats: 50 HP / 65 Atk / 107 Def / 105 SpA / 107 SpD / 86 Spe
Ability: Levitate
Rotom-S is used almost exclusively as a Choice Scarf user in NU, and is one of the best Pokemon for that role. It has a unique base 86 Speed with allows it to outrun every unboosted Pokemon in the tier, as well as fast threats such as Shell Smash Gorebyss after a boost and Modest Exeggutor in the sun. A fast Volt Switch is an excellent way for a team to put the opponent in a bad position and gain momentum. Its additional Flying typing separates it from other Electric-type revenge killers by giving it resistances to Grass-, Fighting-, and Bug-type attacks, as well as an immunity to Ground-type attacks. Although this gives it a Stealth Rock weakness, which greatly hinders its ability to pivot in and out, Rotom-S is still one of the best Choice Scarf users in the tier.

Samurott
Base Stats: 95 HP / 100 Atk / 85 Def / 108 SpA / 70 SpD / 70 Spe
Abilities: Torrent / Shell Armor (Unreleased)
Samurott stands out in NU as one of the best offensive Water-type Pokemon in the tier. With Samurott's excellent 100 / 108 offenses, superb coverage, and a good boosting move in Swords Dance it's easy to see why. With the ability to use a Swords Dance set or an all-out special attacker, Samurott puts instant pressure on the opponent before it's even sent out. The best way to deal with Samurott is to scout for what set it's using; you don't want to leave your Alomomola in on a Samurott thinking it might be a Swords Dance set you could handle, only for Samurott to reveal a Substitute + 3 special attacks set.

Sawk
Base Stats: 75 HP / 125 Atk / 75 Def / 30 SpA / 75 SpD / 85 Spe
Abilities: Sturdy / Inner Focus / Mold Breaker (Unreleased)
Sawk stands proudly as one of the most powerful Fighting-types in NU. Boasting one of the strongest attacks in NU, Sawk can easily break teams in half with a mighty STAB Close Combat coming off of its base 125 Attack, with token coverage moves making sure that few Pokemon can effectively stop it. Sawk is also fairly quick for NU, outspeeding quite a bit of the tier at base 85 Speed; as a result, Choice Scarf variants outspeed most of the metagame, although it barely misses out on outspeeding Gorebyss after a Shell Smash. Choice Band is also very common, with very few Pokemon taking all of Sawk's attacks easily. Sturdy is also a great ability on Sawk, effectively giving it a safeguard against powerful attacks if hazards are not up, and allows Sawk to KO back on many occasions.

Sawsbuck
Base Stats: 80 HP / 100 Atk / 70 Def / 60 SpA / 70 SpD / 95 Spe
Abilities: Chlorophyll / Sap Sipper / Serene Grace
Sawsbuck is arguably the best offensive Grass-type in NU, as its amazing dual STABs are very hard to resist. Sawsbuck can take advantage of its high Speed and Attack to set up a Swords Dance in front of many foes, and then can fire off powerful Horn Leeches, Nature Powers, and Returns. A combination of moves only resisted by the Ghost-types, Haunter and Drifblim. Sap Sipper makes it even easier to set up a Swords Dance, as there are many Grass-type moves in NU that give Sawsbuck a boost, such as Tangela or Vileplume's Sleep Powder. Sawsbuck can also run a good Choice Band set, firing off powerful attacks without the need to waste a turn boosting. Sap Sipper is also a huge help here, as switching in on a Grass-type move essentially gives Sawsbuck a pseudo-Swords Dance. A Life Orb can be run on an all-out attacker set, but the drop in power is noticeable when compared to Choice Band; however, switching moves can make a big difference, as it allows Sawsbuck to hit Drifblim and Haunter hard without prediction. Sawsbuck is also capable of running a Baton Pass set, which although lesser seen is effective, as Sawsbuck can pass Swords Dances and Agilities with ease, it can even pass Sap Sipper boosts!

Scraggy
Base Stats: 50 HP / 75 Atk / 70 Def / 35 SpA / 70 SpD / 48 Spe
Abilities: Shed Skin / Moxie / Intimidate (Unreleased)
Despite low base stats and NFE status, Scraggy is a threat to watch out for. While seeming to be outclassed by every other Fighting-type in the tier, Scraggy has quite a few things going for it. Unlike other Fighting-types, Scraggy has a secondary Dark typing to go along with its Fighting-type. This Dark typing makes it immune to Psychic-type moves, which allows Scraggy to easily defeat many Pokemon that give other Fighting-types, such as Gurdurr and Throh, a hard time. To top it all off, Scraggy has near perfect coverage with just its STAB moves! Scraggy also has a great ability in Shed Skin, which gives the ghetto lizard a resistance to status problems, as well as giving it a slightly more reliable recovery move in the form of Rest. At the end of each turn that Scraggy is sleeping, it has a 30% chance of waking up early from its slumber, ready to fight again. These qualities together with its impressive defenses factoring in Eviolite make Scraggy one of the most dangerous bulky boosters in the NU tier. While it is in no way bad, Scraggy still has some flaws that prevent it from being a top tier Pokemon.

Seismitoad
Base Stats: 105 HP / 85 Atk / 75 Def / 85 SpA / 75 SpD / 74 Spe
Abilities: Swift Swim / Poison Touch / Water Absorb
Seismitoad has finally come out of its pond and is now ready to lay carnage on the Pokemon world. Seismitoad has two predominate styles: hit fast and hard with Swift Swim, or tank hits all day with Water Absorb. With the addition of Stealth Rock, Seismitoad fits perfectly onto a Rain Dance team that is looking for a supporter and sweeper. In the rain, Seismitoad will outpace the opposition and drown them with a boosted Hydro Pump, or with its STAB-boosted Earth Power. Grass-type Pokemon aren't safe either, as Seismitoad can detonate a Sludge Wave on them. Seismitoad doesn't even need partners to set the rain up, as it can do by itself if needed. Seismitoad can also tank attacks day and night when on the defensive, easily swallowing Water-type attacks, and healing itself. Then Seismitoad can proceed to burn the opposition with a boiling Scald, or hit them from the bottom with Earth Power. Seismitoad also has access to Stealth Rock, which allows it to support itself and its teammates. Seismitoad can Knock Off valuable items such as Eviolite and Choice items, which are valuable to its users. The only weakness shown is to Grass-type attacks, and even then with a Rindo Berry, Seismitoad can survive. Who knew a tadpole could be so fearsome.

Serperior
Base Stats: 75 HP / 75 Atk / 95 Def / 75 SpA / 95 SpD / 113 Spe
Abilities: Overgrow / Contrary (Unreleased)
Serperior has fantastic stat distribution and a solid movepool. With his blazing base 113 Speed and solid 75 / 95 / 95 defenses, it is no wonder why Serperior is one of the best SubSeed users in the NU tier. He can also utilize his defenses more with support moves such as Taunt and Glare, and can even set up with Coil to boost his accuracy, Attack, and Defense. With a ton of setup options such as Swords Dance, Calm Mind, and the aforementioned Coil, Serperior is actually a tremendous offensive force, despite his woefully mediocre offenses. Unfortunately, his offensive movepool is a bit lacking, but it still has options such as Leaf Blade, Giga Drain, Dragon Tail, and Hidden Power.

Shelgon
Base Stats: 65 HP / 95 Atk / 100 Def / 60 SpA / 50 SpD / 50 Spe
Abilities: Rock Head / Overcoat
Shelgon's stellar Dragon-type grants it many useful resistances, such as Fire, Water, Grass, and Electric. This excellent typing is combined with its excellent base 100 Defense, means that Shelgon can hold its own against some of NU's top physical attackers, not limited to: Tauros, Braviary, Sawk, Golem, and Rapidash. In fact, its physical defense rivals that of Tangela! Usually Shelgon will utilize a physically defensive set with Dragon Dance in order to bolster its Attack and Speed, while shrugging of most attacks thanks to its amazing defense. Shelgon has two forms of recovery at its disposal: RestTalk and Wish, usually, Shelgon will employ RestTalk to rid itself of status, such as Toxic or paralysis. After Shelgon has a few Dragon Dances under its belt, it will easily sweep any unprepared team, as its Dragon-type STAB is nearly unresisted in NU, due to Steel-types being a rarity in the tier. Additionally, Shelgon can use the combination of Wish and Protect, alongside Roar to wall and remove any set-up sweeper's accumulated boosts, or use Toxic to stall them out.

Simipour
Base Stats: 75 HP / 98 Atk / 63 Def / 98 SpA / 63 SpD / 101 Spe
Abilities: Gluttony / Torrent (Unreleased)
The water monkey is a threat to everyone, with a blazing 101 Speed and a base 98 Special Attack it can wreak havoc to most teams. Often seen as an inferior Gorebyss, Simipour has unique attributes that differentiate it from its Water-type brethren. It can utilize Nasty Plot to hit hard and fast, often KOing anything that dares test the waters. A boosted Hydro Pump can cause massive holes in anything that doesn't resist it or is very bulky on the special side. Simipour has Ice Beam for the various Grass-type Pokemon that live in the NU tier, which can live from a boosted Hydro Pump. If opposing Water-type Pokemon are a problem, then Simipour can trip them to oblivion with Grass Knot. Simipour also has the choice to hit extremely hard from the get-go with Choice Specs, or outspeed everything in the NU metagame with Choice Scarf. While wearing Choice Scarf, Simipour can outspeed opposing Choice Scarf users and lay waste with Hydro Pump.

Simisage
Base Stats: 75 HP / 98 Atk / 63 Def / 98 SpA / 63 SpD / 101 Spe
Abilities: Gluttony / Overgrow (Unreleased)
The grass monkey is back from the jungles, and angry that its home is being cut down, and is taking it out on all the innocent Pokemon. With a blazing 101 Speed and a base 98 Special Attack, Simisage will send most Pokemon back to the jungle where they belong. With access to Nasty Plot, Simisage will destroy anything that doesn't resist its moves, and even then opposing Pokemon will struggle to recover. A boosted Energy Ball or Leaf Storm will tear the grass off the earth, as it tears into the opposition. The Thorn Monkey also has Focus Blast to smash Steel-types that resist its Grass STAB, and to destroy Normal-type special walls, such as Lickilicky and Audino. To make the pain even worse, Simisage can utilize different Hidden Powers to maim what it sees fit. With its dazzling Speed, Simisage can set up a Substitute before the enemy can attack, or when the opponent switches Pokemon. Simisage can then utilize Leech Seed to drain the opponent's health, while healing itself. Players thinking that the SubSeed set doesn't hit hard will think again when a Leaf Storm comes thundering their way. It can also use a certain Hidden Power type, usually Ice or Fire, to hit opposing Grass-types, which are immune to Leech Seed.

Skuntank
Base Stats: 103 HP / 93 Atk / 67 Def / 71 SpA / 61 SpD / 84 Spe
Abilities: Stench / Aftermath / Keen Eye
Skuntank has a very special niche in the NU tier: a Pursuit trapper. With a unique Dark / Poison typing and decent 103 / 67 / 61 defenses, Skuntank can take hits thanks to only having one weakness, to Ground. With a solid movepool, Skuntank is among the tiers most accomplished Pursuit trappers. With strong moves such as Pursuit, Sucker Punch, Crunch, and Poison Jab, Skuntank is a potent offensive threat. Skuntank is also known for his uncanny ability to ruin stall single handedly with his great typing and Taunt. Skuntank can also do other, less common, options such as Memento for a teammate, Explode, or go mixed with Fire Blast or Hidden Power Grass. All in all, Skuntank is a fantastic stall breaker and Pursuit trapper in the NU tier.

Sneasel
Base Stats: 55 HP / 95 Atk / 55 Def / 35 SpA / 75 SpD / 115 Spe
Abilities: Inner Focus / Keen Eye / Pickpocket
Sneasel seems like it could be a top NU offensive threat with STABs that give him a stronger Pursuit and great STAB priority in Ice Shard, but it also gives him MANY weaknesses and few resistances. Sneasel plays differently however, as access to Ice Shard and high Speed gives him an edge over other Dark-type Pokemon, but without Sucker Punch he still faces a lot of competition from the likes of Skuntank as a Pursuit trapper. Inner Focus is a pretty good ability, although situational. Finally, Sneasel can run a devastating Swords Dance set, but he can find it difficult to set up, and he still suffers due to his attacks lacking in power. Being forced to rely on 75 Base Power attacks can leave you out to dry, especially with low Attack. Fortunately, the recent addition of Night Slash to his movepool gives him a little boost in his Swords Dance set.

Solrock
Base Stats: 70 HP / 95 Atk / 85 Def / 55 SpA / 65 SpD / 70 Spe
Ability: Levitate
The Meteorite Pokemon is one unique floating rock. Resembling the sun, Solrock is able to fulfill some unique niches: a utility set, Trick Room supporter, and a Baton Passer. A defensive Solrock does justice to its extraterrestrial origins, with many resistances to capitalize on. Solrock's ability, Levitate, grants it immunity from Ground-type attacks, and both forms of Spikes. In addition, Solrock is now famous for its ability to wall NU's predominate physical attackers, such as Braviary, Swellow, and Zangoose. To add insult to walling, Solrock can burn the unfortunate physical attackers with Will-O-Wisp and then recover health with Morning Sun. In the meantime, Solrock has ample time to set up Stealth Rock to punish the entire opposing team. In addition to being a superb physical tank, Solrock can utilize Trick Room to confuse the opposition's senses. After using Trick Room, Solrock can detonate with Explosion and allow a teammate to knock the opponent into the stars. If this weren't enough, Solrock can also Baton Pass Rock Polish to a teammate. By using Baton Pass, Solrock can effectively bypass Dark-type Pokemon that think they can knock the sun out of the sky. Solrock's base 95 Attack isn't for show, it can hit back hard with a Stone Edge, or complete the coverage with Earthquake.

Swanna
Base Stats: 75 HP / 87 Atk / 63 Def / 87 SpA / 63 SpD / 98 Spe
Abilities: Keen Eye / Big Pecks / Hydration
Swanna might not look like much, and it isn't in normal conditions either. However, in rain, Swanna is one of the deadliest late-game sweepers in NU. With rain falling down on it, Swanna hits incredibly hard with its STAB Surf, while it also gets an 100% accurate STAB Hurricane to take advantage of, heavily damaging the opponent with the chance of confusion as well. To top it off, Swanna has a great Speed stat for the NU metagame, outspeeding common threats such as Sawsbuck and Haunter, while it has access to Roost for instant recovery and Ice Beam to put an end to Altaria.

Swellow
Base Stats: 60 HP / 85 Atk / 60 Def / 50 SpA / 50 SpD / 125 Spe
Abilities: Guts / Scrappy
Swellow is proof that being one-dimensional isn't such a bad thing, at least not when you do it so well! Even with a mediocre base 85 Attack stat, Swellow still makes for an excellent cleaner thanks to its access to Guts and STAB Facade. Once Swellow's status Orb activates, it will be ready to bring the pain with a jaw dropping 403 Attack, blazing fast 383 Speed, as well as devastating 140 and 120 Base Power STAB attacks in Facade and Brave Bird, respectively. As incredible as all of this seems, Swellow is easily stopped by the common Rock- and Steel-type Pokemon in NU, such as Golem, Regirock, Carracosta, Armaldo, Probopass, Klang, and Mawile while being easily checked by priority users, such as Samurott, Shiftry, Skuntank, Cacturne, and Piloswine. By keeping your Rock- or Steel-type alive through the match you can constantly come in to handle Swellow, while most likely setting up Stealth Rock in the process, hindering Swellow even further. Teams with Swellow are usually supported by Spikes to hurt the Pokemon that beat it, so packing a Rapid Spin user never hurts. Armaldo is not only the best Rapid Spin user in NU, but can set up Stealth Rock and use its Rock typing to slow down the speedster in its tracks.

Tangela
Base Stats: 65 HP / 55 Atk / 115 Def / 100 SpA / 40 SpD / 60 Spe
Abilities: Chlorophyll / Leaf Guard / Regenerator
NU is full of powerful physical attackers, and Tangela stands tall against them. With monstrous physical bulk courtesy of Eviolite, it easily shrugs off hits from common Pokemon such as Sawk, Sawsbuck, and Golem. A good supportive movepool consisting of Sleep Powder, Leech Seed, and Knock Off, among others, can help it annoy opposing Pokemon, while its good Special Attack allows it to hit back effectively with Giga Drain or a Hidden Power of its choice. Tangela also boasts an incredible ability in Regenerator, which heals a third of its HP upon switching out. These features combine to make it an incredible physical wall that should warrant both preparation to take it on and consideration for a spot on your team.

Tauros
Base Stats: 75 HP / 100 Atk / 95 Def / 40 SpA / 75 SpD / 110 Spe
Abilities: Intimidate / Anger Point / Sheer Force
Tauros is one of the more notable Normal-types in NU. It's fast, powerful, and even has great physical bulk (especially when backed by Intimidate). Currently, one of the greatest things about it is how well it can revenge kill common offensive threats. With a Choice Scarf, it outspeeds just about every Pokemon in the tier, and that base 100 Attack stat is nothing to laugh at. Tauros can use Retaliate to OHKO many Pokemon, including Zangoose, Rotom-S, and Sawk. Choice Scarf Tauros will also run Return, Earthquake, and Stone Edge for extra coverage on this set. Another set that is much more common is the Life Orb attacker, which forgoes Retaliate to run all of the previously mentioned attacks on one set (although it often runs Rock Climb over Return due to the Sheer Force + Life Orb boosts). This variant of Tauros hits much harder than many other Normal-type attackers in the tier, pair this with its good Speed and Tauros is able to easily clean up weakened teams and having the ability to sweep unprepared ones. Finally, beware of sets running a bulkier spread with Intimidate, as most physically oriented attackers will have an extremely hard time dealing with those versions of Tauros.

Throh
Base Stats: 120 HP / 100 Atk / 85 Def / 30 SpA / 85 SpD / 45 Spe
Abilities: Guts / Inner Focus / Mold Breaker (Unreleased)
Hailed as the bulkiest Fighting-types, Throh is a phenomenal wall. With Bulk Up, it can become even more difficult to break while pumping up that already good base 100 Attack. Access to the rare Circle Throw is really what sets it apart; not only does it hurt the opponent, but it phazes them out as well, making it impossible for the opponent to set up alongside Throh. While Rest is unfortunately its only healing option, it can use RestTalk to continue its job while sleeping. Thanks to Guts, the opponent will also be wary of wearing it down with Toxic or burn. Sadly, Bulk Up does nothing to improve its Special Defense, meaning that most Psychic-types can do it in fairly easily. Powerful Flying-type sweepers, such as Swellow and Braviary, also take it out quickly.

Torkoal
Base Stats: 70 HP / 85 Atk / 140 Def / 85 SpA / 70 SpD / 20 Spe
Abilities: White Smoke / Shell Armor
The Coal Pokemon is back for NU and is bulkier than ever. Torkoal's claim to fame is its access to Rapid Spin, which is severely lacking in NU. In addition to this, Torkoal has a massive base 140 Defense, which allows it to easily come in on many physical attackers and set up Stealth Rock, or use Rapid Spin. Torkoal can also burn physical attackers with Lava Plume, and causes decent damage coming off of a base 85 Special Attack. Ghost-type Pokemon can't block Rapid Spin, because of the threat of Yawn, which threatens to incapacitate the spectral entity for the rest of the match. As long as the Coal Pokemon doesn't get hit with special attacks, it will survive long enough to spin and burn the opposition.

Torterra
Base Stats: 95 HP / 109 Atk / 105 Def / 75 SpA / 85 SpD / 56 Spe
Abilities: Overgrow / Shell Armor
The Continent Pokemon is back to shake the earth with its mighty attacks. Torterra has rounded stats, excluding its Speed that allows it to tank attacks, and dish the pain back. Torterra can outspeed the whole metagame—excluding Choice Scarf users—by using Rock Polish and smash it with STAB Wood Hammer and Earthquake. It also has Stone Edge to knock the Flying-types out of the sky. Torterra can also shatter the walls in NU with the Choice Band set. Not much will be able to withstand a STAB Choice Band-boosted Wood Hammer or Earthquake. As Torterra has excellent defenses, it can also be durable physical wall that retaliates when aggravated. Add the fact that Torterra has reliable recovery from Synthesis, it will be a moving continent for a long time.

Ursaring
Base Stats: 90 HP / 130 Atk / 75 Def / 75 SpA / 75 SpD / 55 Spe
Abilities: Guts / Quick Feet / Unnerve
Lovingly given the nickname "Village Crusher," Ursaring is one of the best physical attackers in the entirety of NU. Ursaring functions as either an offensive sweeper or as an unforgiving wallbreaker, and shines either way. Ursaring's standard sets function similarly to Choice Band and Choice Scarf sets, in that Ursaring's abilities function like those items. Ursaring is basically placed on a timer due to Flame or Toxic Orb, but at the expense of HP it gains the ability to use its boosted stats and switch attacks. With Guts, Ursaring boosts its monstrous base 130 Attack stat to insane levels, making it powerful enough to OHKO a large chunk of the metagame (don't forget that some sets also run Swords Dance for further boosting). With Quick Feet, Ursaring boosts its mediocre base 55 Speed stat to competitive levels and functions more like Zangoose. Both of Ursaring's sets focus on boosted Facades for maximum damage, while employing Close Combat and Crunch for coverage options, and rounding out the sets by choosing either Protect or Swords Dance. Finally, Ursaring can use the ultimate gimmick, Choice Specs-boosted Hyper Beam, which while being seemingly insane, actually hits harder than Altaria's Draco Meteor!

Vigoroth
Base Stats: 80 HP / 80 Atk / 80 Def / 55 SpA / 55 SpD / 90 Spe
Ability: Vital Spirit
Slaking's younger brother is back, and here to redeem his lazy brother. Vigoroth is one of those Pokemon that doesn't hit very hard at first, but if he sets up then there will be snowball effect, as Vigoroth will grow stronger and stronger. With Eviolite, Vigoroth's defenses are boosted even higher, and will be difficult to break on the physical side. Bulk Up Vigoroth is analogous to a snowball coming down a large, snowy hill. He has Return for STAB or Body Slam for paralysis. Vigoroth can utilize Earthquake or Brick Break to round out the coverage with its STAB, by hitting Poison-, Rock-, Steel-, and Normal-types super effectively, depending on the chosen move. It also gets worse, because Vigoroth has Sucker Punch to hit first and end the battle quickly, or he can drive defensive Pokemon crazy by Taunting their recovery and utility moves. Vigoroth can utilize the combination of Taunt + Toxic to break stall, and with reliable recovery with Slack Off, it can beat a stall team by itself. If there are no Ghost-type Pokemon, something is gonna be hurt.

Victreebel
Base Stats: 80 HP / 105 Atk / 65 Def / 100 SpA / 60 SpD / 70 Spe
Abilities: Chlorophyll / Gluttony
Victreebel has the ability to perform in every tier, from OU to NU and everything in between. In NU, Victreebel really makes its mark, with access to both Growth and Swords Dance. Victreebel is most dangerous in the sun, and will not lighten up when the sun is shining. In the sun, Growth boosts Victreebel's Attack and Special Attack by two stages, making it a very dangerous threat. SolarBeam has no recharge period, and with STAB will leave a scorching hole in anything that doesn't resist it. Weather Ball is a coverage move to slam the numerous Grass-types that resist SolarBeam. Victreebel can utilize its secondary STAB with Sludge Bomb to hit Fire-types neutrally. Victreebel can forgo Sludge Bomb and use Sleep Powder to incapacitate a Pokemon for the rest of the match. Victreebel can also use Swords Dance and hit hard from the physical side, with or without sun. With a STAB Leaf Blade to cut the opposition into pieces, and Sucker Punch to hit faster threats, should the sun be gone.

Vileplume
Base Stats: 75 HP / 80 Atk / 85 Def / 100 SpA / 90 SpD / 50 Spe
Abilities: Chlorophyll / Effect Spore
Vileplume is one of the more interesting (if not that impressive) Pokemon in NU. Its only real niche is that of an offensive Grass-type cleric, able to support the team both with Aromatherapy and with its offensive options: Sludge Bomb and Giga Drain. Effect Spore is also a handy ability for it, as Vileplume will often be switching into physical hits. Vileplume's decent defensive typing allows it to net free switches quite often, after which it can either heal its entire team of status, fire off a strong attack (base 100 Special Attack allows it to always hit relatively hard), or use one of its other supporting options, such as Sleep Powder, Moonlight, Leech Seed, Toxic, or even Stun Spore. Unfortunately, Vileplume cannot do much else on in terms of a more defensive or offensive set, as Tangela is a better defensive Pokemon and Victreebel is a better offensive Pokemon. Don't let Vileplume's small niche fool you though, as it can work on any style of team, and can be tough to take down under the right circumstances.

Volbeat
Base Stats: 65 HP / 73 Atk / 55 Def / 47 SpA / 75 SpD / 85 Spe
Abilities: Illuminate / Swarm / Prankster
Volbeat finally got the buffs that he wanted. Tail Glow now boosts three stages, and Prankster lets Volbeat utilize his support movepool well. Volbeat by himself is not threatening, but when partnered with a special attacker then things gets dangerous. Volbeat is capable of Baton Passing a +3 Special Attack boost to a partner, which will spell the end of almost everything. When combined with priority Substitute, Thunder Wave, or Encore, allows Volbeat to sweep the opponent around. In addition to passing massive boosts, Volbeat can also conjure up the sun or rain, and help other Pokemon sweep in their favorite weather.

Wartortle
Base Stats: 59 HP / 63 Atk / 80 Def / 65 SpA / 80 SpD / 58 Spe
Abilities: Torrent / Rain Dish
Usually neglected (and even ridiculed) due to its dismal offenses, Wartortle is one of the few viable users of Rapid Spin in NU. Wartortle is special as a spinner for a variety of reasons: it is not weak to Stealth Rock, it usually plays with a defensive set (or rather, it's forced to), it has access to a variety of support options, and it has a solid defensive Water typing. Wartortle is mainly used by more defensive teams, and can occasionally be found on a balanced team. Wartortle's bread and butter set focuses on Rapid Spin, while featuring useful support options such as Scald, Haze, and Yawn. These allow Wartortle to burn physical attackers, stop boosting, and phaze while making sure hazards are removed from your side of the field. Wartortle can run a physically or specially bulky set as its defenses are even, but it's usually better off running EVs on the special side due to its resistances to common special attacking types. Stick with Wartortle's standard set, as more offensive variants will always be outclassed by Armaldo or Torkoal. Also be weary of spinblockers, as Wartortle has a hard time beating any of them one-on-one.

Weezing
Base Stats: 65 HP / 90 Atk / 120 Def / 85 SpA / 70 SpD / 60 Spe
Ability: Levitate
Weezing is a famous physical wall, able to stop anything that doesn't pack a Psychic-type attack. With one of its weaknesses gone with Levitate, leaving only Psychic-type attacks as its weakness, but Psychic-type attacks are generally special attacks, which Weezing has no business being around. Physical attackers cannot hope to bypass Weezing because it is able to burn the opposition with Will-O-Wisp and heal itself with Pain Split by leeching off the opposing Pokemon. Continuously setting up is fruitless against Weezing because it can erase all stat boosts with Clear Smog. Weezing is no slouch offensively, with a STAB Sludge Bomb damaging and poisoning everything but Steel-type Pokemon, as well as Thunderbolt and Fire Blast for coverage moves.

Zangoose
Base Stats: 73 HP / 115 Atk / 60 Def / 60 SpA / 60 SpD / 90 Spe
Abilities: Immunity / Toxic Boost
Zangoose does one thing and one thing only. That is smash everything that gets in his way. Whether you go for the 4 attack or Swords Dance set, Zangoose has extreme power thanks to his recently released ability, Toxic Boost. With perfect coverage and a 140 Base Power no-drawbacks STAB move and STAB priority, Zangoose is public enemy #1 in NU. However, even with his massive power, speed, and coverage, Zangoose is in no way unstoppable due to his paper thin defenses. Also, Zangoose is forced to either give up on the power from Swords Dance, or give up on the coverage granted by Night Slash. All in all though, Zangoose is a massive threat headlined by its rare combination of Speed, power, and coverage.

Zebstrika
Base Stats: 75 HP / 100 Atk / 63 Def / 80 SpA / 63 SpD / 116 Spe
Abilities: Lightningrod / Motor Drive / Sap Sipper
Despite only being used rarely in the past, Zebstrika has recently become a top threat in the NU tier. Why? Because Zebstrika has a combination of incredible Speed, moves such as Overheat and Volt Switch, and a great ability in Lightningrod that make it the perfect Choice Scarf user. Thanks to its base 116 Speed, Zebstrika can revenge kill a wide variety of threats, boosted or otherwise, including but not limited to, Gorebyss, Swellow, Braviary, and most Swift Swim Pokemon. It's not all bright and sunny for our zebra friend, though. Despite being one of the fastest Pokemon in the tier, its Special Attack is only a modest 80, meaning Zebstrika has major trouble breaking through specially defensive threats. Despite this crippling flaw, Zebstrika is still an excellent revenge killer, and should always be considered if your team has problems with very fast Pokemon.

Zweilous
Base Stats: 72 HP / 85 Atk / 70 Def / 65 SpA / 70 SpD / 58 Spe
Ability: Hustle
Zweilous is one most powerful Dragon-type Pokemon in the game, thanks to Hustle boosting its Attack to a near godly level. Its Outrage, which is backed by a base 152 Attack factoring in Hustle, is second only to Kyurem-B. Paired with Eviolite, Zweilous is a nuke on wheels. Nothing can stand to the power of Outrage, only the bulkiest of Pokemon can hope to stand to this Dark Dragon and not be utterly crippled. Zweilous can also utilize its secondary Dark-type STAB with Crunch, devastating Psychic- and Ghost-type Pokemon. For coverage, Zweilous can burn Steel-types, which are the only Pokemon capable of withstanding an Outrage, with Fire Fang. Switching out from Zweilous isn't a good idea either, because then it has the chance to set up a Substitute, which will make stopping the Dragon even harder. Zweilous can also shuffle the opposing team around with a STAB-boosted Dragon Tail. All this power does come at a cost, if Lady Luck is not on Zweilous's side, then it cannot hit the opponent, because of Hustle's side effect.