Recently in Tournaments
Cheers, and welcome to our first installment of Recently in Tournaments. Here, we'll be covering the most current happenings in various Smogon tourneys and some of the players that have been making a splash lately. In this issue, you can read up on SPL finals, Smogon Tour Week 4, and everything in-between. But hey, enough with boring intros, let's just dive in!
Smogon Premier League 5
After 11 grueling weeks, SPL came to its exciting finale between The Cryonicles and The Stark Sharks. ]V[ajinTupacZ claimed first blood for The Cryonicles, defeating make in ADV OU. -Tsunami- quickly tied things up after his battle with dragonuser in XY OU. Al_Alchemist disconnected against the then 10-0 blarajan; blarajan later completed his LC match against TheFourthChaser, clinching another win for The Cryonicles and an impressive perfect 11-0 season.
By mid-day Sunday, the two teams were neck-and-neck at 5-5. CyberOdin (XY OU), R Inanimate (XY Doubles), and Hikari (BW UU) had each claimed victories for The Cryonicles, while Edgar (XY Ubers), Kevin Garrett (BW OU), Heist (BW RU), and Atticus (DPP OU) had proven triumphant for The Sharks. With Malekith's win in BW NU over ßasedVictory, The Sharks were in the lead. The final bout came down to the oldest metagame included in this year's SPL, GSC OU. After 57 turns, Conflict proved successful over Picollo, securing the red trophy for The Stark Sharks.
For those interested in the logs and replays of all the finals, you can find them here. Stat junkies are sure to enjoy scouring SPL's weekly usage stats, courtesy of a data-collecting script by Eo Ut Mortus. Congratulations and well deserved, Stark Sharks!
Smogon Tour 17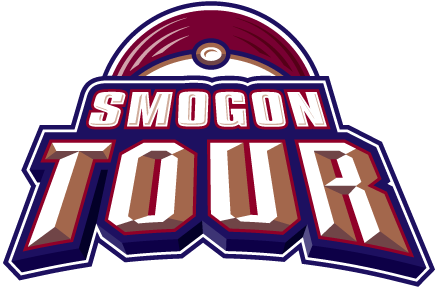 Week 4 of ST17 recently concluded. The second week to feature XY OU, it was a perfect opportunity for players to showcase their skill in this relatively new metagame. After five rounds on Friday night, the semifinals boiled down to yan[sogeking] vs pdc and FLCL vs Foster. FLCL and soge moved on to the finals, where the former proved successful and net 11 points towards his total.
Saturday was yet another 128-man tournament with up to 11 points on the line. In the semifinals, paquito98 squared off with Cronenberg while Korby faced Marshall.Law. After laying claim to victory, paquito and Korby made their way to the finals; in the end, paquito98 was crowned Saturday's champion.
The fourth week wrapped up on Sunday afternoon with some familiar faces from Friday back in semifinals; both of that night's finalists had returned and proven to be contenders once more. FLCL defeated Aqualouis, once again moving on to the finals. yan[sogeking] proved less lucky, as he was knocked out by Jayde. In the last battle of the week, Jayde was victorious against Friday's champ, claiming the day's title and 11 points.
As of now, Bloo is leading the pack in the standings with 27 points. M Dragon is close behind with 25. Rounding out the top 5 we have FLCL with 22, Fakes with 21, and a tie between Aqualouis and Double01, who both have 20. With 5 weeks remaining, this is still anyone's game, so get out there!
Smogon Tournament #10
After six hard-fought rounds, eight great battlers remained in the OST10 quarterfinals. Valentine was the first to move on to the semifinals, winning 2-0 against Heist on Friday. CTC followed next, defeating dragonuser in a 2-1 series. After some time zone scheduling conflicts, yan[sogeking] was ultimately victorious against Vinc2612. With just two hours left before deadline, the long-awaited showdown between Atticus and Stathakis was held. Atticus won 2-1 in some close battles, so neither combatant was forced to outplay the activity coin flip.
The Competitor's own Typhlito got a chance to sit down with each of the players moving on to the semifinals; keep your eyes peeled for the results of those four interviews in the coming days.
Unofficial Tournaments
The XY OU Team Tournament has recently come to a close; in this tournament, players were randomly assigned to teams of 5. As the rounds progressed, each winning team would vote off a member of their team that lost and vote for a replacement from the losing team. Team 18 started strong with SmashBrosBrawl, FLCL, Dice, Juanpa, and Ojama. By finals, they still retained SBB, FLCL, and Ojama, as well as first round draft McMeghan and semifinalist pick Laurel. In a 3-team all-star finale, all of the remaining original players went undefeated to secure their team's win. Congrats, guys!
In The Helping Hand Tournament II, each player signing up had to submit a unique Pokemon with a specific set; each of these sets were then put into a pool for each player to choose from. In the end, it was down to Inflikted vs Eo Ut Mortus. Both players used i excel's Skarmory and Bedschibaer's Snorlax. Early in the battle, both had three layers of Spikes set up. As the fight wore on, however, Eo slowly took the lead. After 19 turns of being down 2-4 and walled by Eo, Inflikted admitted defeat. You can catch the full replay for yourself here. Congratulations on your win, Eo Ut Mortus.
Finally, we'll take a look at the Unscrupulous Tiering Director Tournament II. In this tourney, every player submitted 2 bans (which could be Pokemon, moves, or items) when signing up. As players were knocked out, their bans were lifted, causing the metagame of each round to shift. The final showdown was between Doughboy (who banned U-turn and Tyranitar) and Dxs (who banned Genesect and Lucarionite prior to both of their actually banning). Doughboy finished 2-1, winning the tournament. The three replays can be found here, here, and here.
That's all we have for now. Be sure to keep a lookout for some upcoming tournament coverage and interviews from The Competitor. Until then, happy tourney brawling, lads.