SPL Power Rankings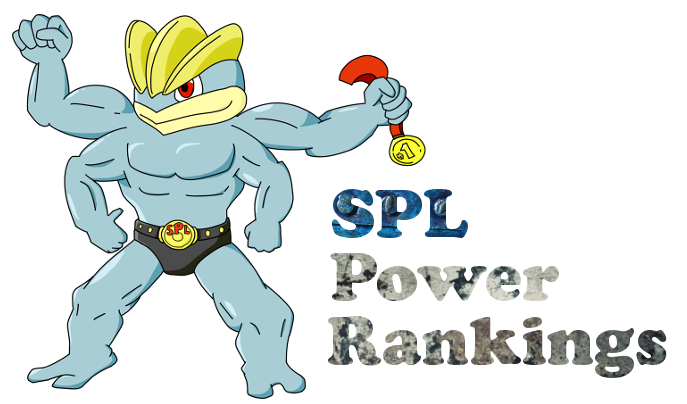 Welcome to the Smogon Premier League pre-season Power Rankings. What's been done here is quite simple: take every squad, rank every player per tier, and assign points according to that. Number 1 gets 10 points, number 2 gets 9, and so on. In XY OU it's done in pairs, top 2 get 10, 3 and 4 get 9, etc. For every ranking, I asked some experts in the tier to give me their opinions, then averaged the ranking in order to get something as unbiased as possible. If you are playing in SPL and wanna see how you rank against the other players, or are just a curious bystander, this is the article for you.
The Alpha Ruiners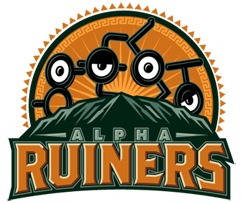 This one is really really versatile. Bloo / CBB / Ojama can switch around a lot, with a very likely change being Bloo doing ADV instead of Ojama and moving Ojama to XY OU or BW OU.
The Circus Maximus Tigers
XY OU 1 - Leftiez

XY OU 2 - C05ta

XY Ubers - Fiction.

XY LC - Elevator Music

XY Doubles - Biosci

BW OU - Thatsjustpeachy

BW UU - DestinyUnknown

BW RU - Hot N Cold

BW NU - Zebraiken

DPP OU - TV-Rocka

ADV OU - Halloween

GSC OU - Royal Flush
The Tigers are also pretty straightforward on their team except for the XY OU slot. One of the Rocka amigos might feature at some point, while there's been rumors of Hantsuki playing XY OU. Speaking of Hantsuki, she can also play GSC over Royal Flush.
The Congregation of the Classiest
XY OU 1 - Kid Buu

XY OU 2 - ZoroDark

XY Ubers - Problems

XY LC - Artemisa

Doubles - youngjake93

BW OU - LuckOverSkill

BW UU - kokoloko

BW RU - Afro Smash

BW NU - Soulgazer

DPP OU - 199 Lives

ADV OU - Golden Sun

GSC OU - Mr. E
This squad might feature some changes. 199 Lives and Golden Sun might rotate during some weeks, as both are good in DPP and ADV. IFM being on the bench would be a surprise. Rumours say he has been practicing XY OU, so he might feature there.
The Cryonicles
XY OU 1 - dragonuser

XY OU 2 - GaryTheGengar

XY Ubers - Blim

XY LC - blarajan

XY Doubles - R Inanimate

BW OU - Vinc2612

BW UU - fatty

BW RU - Cristal

BW NU - CaseKace

DPP OU - Fakes

ADV OU - Aqualouis

GSC OU - Picollo
Cryos have a few different options. Having so many versatile players, we might see Vinc / Fakes / Aqua in different tiers several weeks. Case faces competition from Royalty on that NU spot and CyberOdin can feature in BW OU / XY OU if someone's doing bad.
The Ever Grande BIGs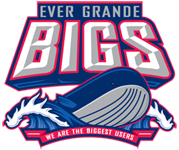 XY OU 1 - Genesectless

XY OU 2 - badabing

XY Ubers - Go10

XY LC - CatcherAndTheRai

XY Doubles - BLINGAS

BW OU - Shoka

BW UU - Psychotic

BW RU - Alf'

BW NU - Fuzznip

DPP OU - Delta 2777

ADV OU - 6A9 Ace Matador

GSC OU - Floppy
This squad might have a few changes, considering they have players like Boudouche who can take over DPP if needed, and also AB2 to play BW OU. Ace Matador is a versatile player, he can do pretty much any of the OU tiers at a high level so it wouldn't be surprising to see him in another one.
The Indie Scooters
XY OU 1 - PDC

XY OU 2 - Toxzn

XY Ubers - Dice

XY LC - Ray Jay

XY Doubles - Mizuhime

BW OU - Masterclass

BW UU - Ace Emerald

BW RU - Bad Ass

BW NU - Jayde

DPP OU - george182

ADV OU - ]V[ajinTupacZ

GSC OU - Karrot
The Scooters have options to switch around if needed be, PDC might be moved to LC if needed but that would leave Ray Jay without a job. They can also move Bad Ass to any Slam tier while Dice can do BW OU and XY OU. Toxzn might be set aside for someone else, but seems unlikely.
The Smog Frogs
XY OU 1 - Dekzeh

XY OU 2 - -Frexa-

XY Ubers - Furai

XY LC - Heysup

XY Doubles - Joim

BW OU - yan[sogeking]

BW UU - aerialace TM40

BW RU - Texas Cloverleaf

BW NU - reiku

DPP OU - Lady Bug

ADV OU - reyscarface

GSC OU - Colchonero
The Frogs are pretty straightforward, the only changes that might occur is a switch between Frexa and Lady Bug, as LB has been making it clear he prefers playing XY OU rather than DPP OU, while Frexa can play DPP OU well. Sogeking not behaving may cause him to fall out of favor, and with the Madchine coming back recently, we might see him some weeks.
The Stark Sharks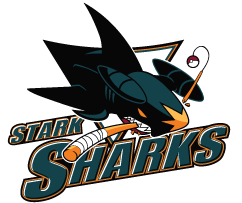 XY OU 1 - LUST

XY OU 2 - Malekith

XY Ubers - Conflict

XY LC - Hawkstar

XY Doubles - -Tsunami-

BW OU - SoulWind

BW UU - WhiteQueen

BW RU - Stellar

BW NU - TheFourthChaser

DPP OU - Heist

ADV OU - make

GSC OU - gene
This team is the hardest to predict. Malekith and -Tsunami- can play absolutely every tier there, so picking them for a spot is really hard. This is the roster that panamaxis told me they were using, so I went with it. I consider Malekith in NU, -Tsunami- in RU, and Arcticblast in Doubles, with Choice Specs or someone else filling up the XY OU position a much better lineup. Update: I was sent a fake roster so the Sharks ranking is probably not the right one, don't pay too much attention to it. The other teams should be good though.
For more info on the Sharks click below:
XY OU 1 - Stellar

XY OU 2 - Choice Specs

XY Ubers - LUST

XY LC - Hawkstar

XY Doubles - Arcticblast

BW OU - SoulWind

BW UU - WhiteQueen

BW RU - -Tsunami-

BW NU - Malekith

DPP OU - Heist

ADV OU - make

GSC OU - Conflict
Ends up that with this lineup,the Sharks would end up with approximately 62 points, which is about the same as the other one, lol.
The Team Raiders
XY OU 1 - PttP

XY OU 2 - kd24

XY Ubers - Faint

XY LC - Eo Ut Mortus

XY Doubles - Braverius

BW OU - Lavos Spawn

BW UU - Nas

BW RU - JabbaTheGriffin

BW NU - Plus

DPP OU - Iconic

ADV OU - MarceloDK

GSC OU - Veteran In Love
The Raiders have options that I think could suit them better. Nelson starting in RU and letting Jabba play ADV would be better, in my opinion. If kd doesn't do too well, there's also Ezio to take over him.
The Wifi Wolfpack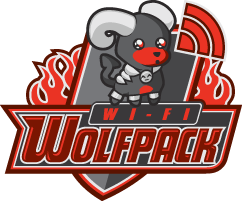 XY OU 1 - aim

XY OU 2 - Yusuke

XY Ubers - Donkey

XY LC - prem

XY Doubles - kingofkongs

BW OU - Marth

BW UU - ThunderBlunder

BW RU - SilentVerse

BW NU - FLCL

DPP OU - DracoMalfoy

ADV OU - Danilo

GSC OU - Jorgen
This one im pretty confident in. Papai noel might appear some weeks in a tier, since he plays a lot of them, but besides that, due to the amount of retains, this squad is pretty straightforward.
Bloo
dragonuser
CrashingBoomBang
Dekzeh
Malekith
aim
GaryTheGengar
PttP
badabing
Genesectless
PDC
Frexa
LUST
Yusuke
Leftiez
Toxzn
kd24
C05ta
ZoroDark
Kid Buu
Bloo (#1) and CrashingBoomBang (#3) - 19 points - Probably the most potent combination in the history of SPL for the main OU tier, no one will bet against these 2 getting at least 12 wins together. The most expensive buy in SPL will surely make an impact in XY, carrying over his skill from past generations. CBB being an expert at many tiers will surely have no problems transitioning, as well. And that's without mentioning the amount of practice they've had.
dragonuser (#2) and GaryTheGengar (#7) - 17 points - dragonuser requires no introduction. Considered one of the best BW OU players in the site, very few will doubt his ability to play XY OU, which is a tier that suits his style of play even better than BW. GaryTheGengar is an interesting prospect. One of the best teambuilders in XY OU, abusing the things considered broken perfectly and his solid play will be trademarks from him. Expect big things from GTG.
Dekzeh (#4) and -Frexa- (#12) - 14 points - Known as a really solid ADV player, Dekzeh picked up XY OU from the start and got hooked to it. Playing so much, Dekzeh has transitioned perfectly, skipping 2 full generations, while keeping his skill at ADV now with a XY mentality. Frexa is a jack-of-all-trades, who has always done well in the OU tiers. Last year playing ADV in SPL, while achieving a great 4-1 record in World Cup, he's got the skill down. If he transitions as smoothly as Dek, these two will be a formidable pair.
Malekith (#5) and LUST (#13) - 12 points - Multi tier player Malekith, although not seen playing too much XY OU, has proven time and time again to be able to play a plethora of tiers without problem. This ability will surely translate into XY OU, having so much previous experience is invaluable. LUST isn't as diverse as Malekith, but he has done well in BW OU and his hyper offensive style should translate well into the new tier.
badabing (#9) and Genesectless (#10) - 12 points - badabing is quite the player. Being considered one of the best prospects in BW OU with a lot of hype around him, he did well in World Cup for Latin America. If he can concentrate during battle a bit more without giving up and practices enough, XY OU might be his breaking point into being one of the best. High Impulse has practiced a lot in XY OU, and reaching playoffs for tour last season was a high point for him. If he can start building his own stuff, he will surely do well, as the skill is there.
aim (#6) and Yusuke (#14) - 12 points - Joey would be the badabing of XY OU. One of the most exciting prospects of the new generation, the famous Youtuber has been around for a big while, but now it's his chance to shine. Seemingly great at this new tier, with the help of gr8astard, big things might be on line for aim. Yusuke was recruited by Asia during World Cup and since then he's become a respected BW OU player. Incredibly diverse, this ability to use anything will be helpful to him in the new generation.
PttP (#8) and kd24 (#17) - 9 points - PttP is an easy choice for a top player in XY OU. During the transition from DPP to BW he quickly became one of the best at the new tier. An expert in using the right things in the new tier, PttP's transition should be flawless and with his proven skill in the game he should do well. kd on the other hand might be a little rusty from his tournaments ban, therefore he needs to practice really hard if he wants to reach the level he had when he got to tour playoffs.
PDC (#11) and Toxzn (#16) - 8 points - PDC is probably one of the players who has played the most XY OU. The amount of things he knows of the metagame give him a head start over other newer players that might just be picking the new gen up. The winner of the LC Open is leaving LC and trying one of the main tiers, if he is as good at it as he is at LC, he will do good. Toxzn is a player that not many people know of, he's considered a good player that spends a lot of time on the ladder and practicing, but his lack of appearances in Smogon hurt his ranking.
Leftiez (#15) and C05ta (#18) - 5 points - It might seem harsh to put Leftiez so low after a good tour appearance this year. The thing being that Leftiez is good, but not quite up the top just yet. A young player with much to learn, Leftiez might break through during this SPL, but it seems hard when there's many players that are more refined in playing than him, or simply have more experience in the tier. C05ta is a well-known ladder player, who can be seen laddering pretty much all the time. His knowledge should be sky high, but I think the lack of competition of a higher level will end up hurting him in the long run, as it's not the same to compete against ladder players than the top dogs.
ZoroDark (#19) and Kid Buu (#20) - 2 points - The Classiest duo is kind of an enigma. ZoroDark has been featured in some tournaments like in World Cup, but remains unseen in XY OU lately. He might have been training in private, which will certainly help him. Kid Buu on the other hand has been seen playing a lot and is very active in the tier, but not featuring before in Smogon tournaments lowers his chances due to inexperience. Then again, Stone has shown he can take unknown players and build them into top tier threats, so let's keep track of them.
Dice - Brii is best known for, besides posing as a lady, his great BW OU play. He recently took over XY Ubers for the Scooters and he's already making a huge impact. In little time he has become really respected in the tier by people he probably doesn't even know all too well, and then there's also this. Dice also has a really solid base due to his great BW Ubers play. And if that's not enough, he has been credited with creating a lot of teams that were used in the Ubers Slam, as well as aiding the eventual winner Bad Ass. All of these factors combined give us who will probably be the top contender in Ubers.
Donkey - One of the best BW Ubers players around, Donkey has been described as a player that has "shaped up" the XY Ubers metagame. His transitioning to XY Ubers was flawless, so if Donkey was a threat in BW Ubers, he is now even more dangerous. Knowing your stuff is super important in Ubers, and an innovator like Donkey should have no problems (hehe get it) doing well this SPL.
Blim - The big boy of BW Ubers, Blim ended last SPL season as the best record. With a style that resembles that of legendary player trickroom, Blim is consistent, smart and a great team builder. Rumors say his transitioning to XY Ubers wasn't as smooth, so we will see if he takes over Donkey and Dice in the next few weeks.
Fiction. - Fiction is an all around solid player. He seems to always pick the right moves and was a big threat in BW Ubers. Even though he stopped playing Ubers during late BW, if he can keep his teambuilding as sharp as it was before, he will certainly be a difficult opponent in XY Ubers.
Problems - A player coming from PO, Problems has jumped to the Ubers spotlight due to his appearance in last SPL. Although getting a disappointing record of 3-6, Problems is still considered a good player and his chance of redemption comes in the way of a whole new metagame. His main issues are said to be that he's quite cocky in games, losing obvious chances at clinching games, but if he transitions well and works on that, the Brit might surprise us.
Conflict - The Sharks have so much depth in their team they can afford Conflict, a well-known GSC player, in XY Ubers. Although SoulWind and him may trade positions, for the purpose of these rankings we will leave SW on his number 1 spot at BW OU. A solid player that captained Germany into becoming a formidable team in World Cup, Conflict is known for his ability to play many main tiers. If he decides to pick up Ubers and works on it, he will be a big threat. He ranks low due to his little knowledge of Ubers, but practice can easily change that.
Furai - Usually a sub in team tournaments, Furai makes his second appearance in SPL after going even last SPL. Although having the fame of being a really big choker, lately he has been playing much more carefully and reducing the amount of times that happens. His teambuilding has gotten vastly better with the new gen, so if he keeps up the careful threat he could be ranked much higher.
Faint - Albeit considered a big troll that is rusty in Pokemoning, Faint got a respectable 4-4 record last year in BW Ubers. This year he's playing for the Raiders once more, so he should try to regain his peak play and take XY Ubers as seriously as possible for even better results.
-Manaphy-- - A knowledgeable player of the metagame, Manaphy is a rather new player that might be a little underdeveloped. With the help of the trifecta of McM, Bloo, and Ciele, like Ripamon he might become a big player in the future. He is a little let down by the fact his teambuilding is shallow, but the potential is there.
Go10 - Last time we saw Go10 in SPL he went 0-6 playing BW Ubers. Being the bearer of the worst record in SPL history might be a burden, but reports say he's been training in the mountains to become a beast in XY Ubers and leave that record in the past.
Eo Ut Mortus - Being finally relevant in SPL since the removal of DPP UU, Eo is probably the most solid player in LC for this season. A skilled player that is very well-known from years ago, Chesticles is always consistent. This is only made stronger by the style he adopts in LC, using defensive teams that allow him to outplay his opponents due to his usual greater skill through his experience in the OU tiers.
blarajan - This generation's LC tier leader and the one that fucked RBY in the ass after a #smogonpolitics vote, blarajan would probably be the obvious number 1 for many. Being the leader sometimes doesn't translate to being the best in the tier, but in this case it kind of does, with the low playerbase of LC and whatnot. Although better than the rest, blarajan faces strong competition in Eo, but should do just fine in SPL. He does tend to choke, and without a tiebreaker to help now, he's gonna have to fix that.
Elevator Music - Past tier leader E_M is a guy that has been around as long as Eo. Never really breaking through in the tournaments scene and instead staying in other areas, E_M is known in LC for being one of the most consistent players around. A player that practices a lot, E_M brings creative threats to the table to which his opponents usually have no answer for, giving him an edge in the game.
Heysup - The creator of HeYsUpKeN is quite possibly the most famous figure of old LC, being pretty much the equivalent to what blarajan is today. Although some consider him rusty, HYU was known in the past for his vast knowledge of the lower tiers, and if he can translate that into this generation and re-achieve his peak, a good record can be already expected.
dcae - Perhaps the most promising talent in LC, dcae is possibly one of the most active players of the tier. Knowledge of the metagame + his ability to test with Grand Slam elite Bloo and McMeghan will do good for him. If he can get rid of the "first SPL" nerves, expect dcae to do real well.
Ray Jay - Former tier leader Ray Jay is a constant presence in the LC tier. Although unknown in the tournaments community, Ray Jay's vast knowledge of LC that he has been obtaining throughout the years in BW will be a great help if he can translate it into the XY metagame.
Artemisa - A well-known PO player, Artemisa is relatively unknown in Smogon. Having played in PO's equivalent of SPL, Artemisa made plays happen in LC and is looking to bring that characteristic skill to the big leagues. Adapting to XY is the only thing on his way.
prem - A recurring phrase on prem's battling history is "he chokes." It seems that prem has all the skill necessary to succeed in the tier, but often nerves get the best of him and it ends up costing him. Considered a good player in the LC community, if prem can get away from the choking and the predictable teams, the number 8 will look unfair on him.
Hawkstar - Hawkstar was considered as a really potent threat during the days of BW LC. Key word there being was, as some people rumor he is quite washed up. Not having done much of note in LC lately, how he transitions to XY from his best days of BW will be a big factor. Al Alchemist is another real possibility in the Sharks lineup, so if they can help each other they can do much better.
CatcherAndTheRai - Regarded as an unknown entity in the LC community, Catcher is a little infamous for using what people say is his only team in the LC ladder under his main account. Unable to break 1900 rating, Catcher has it really tough this SPL season. However, being unknown has it perks, and if he takes advantage of it and plays his cards right, he might be able to snag off some wins.
kingofkongs - Gavin didn't win US 2013 Nats for nothing. However, what sets him apart from the rest of the VGCers is that he actively plays the Doubles metagame. That's not to say he's unbeatable. He's a player who follows patterns; all his teams are basically the same, and he very rarely makes a risky play. Don't let that make you comfortable though. He's like the Mew2King of Doubles—just because you know exactly what is coming doesn't mean you can stop it.
R Inanimate - A Worlds-caliber VGC player, Randy is one of the most unpredictable and unconventional players around. Although skill wise he might be above kingofkongs, what's lacking for him is that he's less motivated to play Doubles. KoK has much more experience on Doubles, but if R_I gets motivated enough he could definitely edge out that number 1 spot.
Biosci - Biosci, like KoK, has an orange trophy, but unlike him he doesn't play Doubles, just VGC. Despite this, his solid fundamentals and steeled nerves due to the pressure of playing at live tournaments will certainly serve him well. Considered to be one of the best in-battle wise, his solid play might let him be one or two steps ahead of his opponents. His relative inexperience in the Doubles tier might bite him, though.
Mizuhime - The first true Doubles player from the list, Teddy has shown she's competent in other tiers besides Doubles, which tells us her skill level is up there. With a lot of knowledge of the tier and even more experience, she is probably the most seasoned of the Doubles players. Innovation and creative teams are basic to her play, so she will have to be very sure of what she brings to the table, if she uses too many gimmicks it might be her downfall.
Braverius - Unconventional choices define Zach. A really potent threat that thrives on using stuff outside of the norm (Grotle in VGC, for example), he is one of the best VGCers around. However, he could possibly be the least experienced in Doubles from the whole list, which drops him down a few spots. If he finds enough motivation to pick up the tier to the fullest, he will do much better.
Laga - A creative player and big prospect in the Doubles scene, Laga is a very young player that will be stepping up to play in SPL. Although a solid player, some say nerves get the best of him at times, causing him to choke often. No one knows how seriously he will be taking this tournament, and his huge inexperience not in Doubles, but in tournaments, might be too much for him. If he can take his vast knowledge, learn a few things from the veterans in his team, and keep his nerves in check, this youngster will be doing well.
ShakeItUp - The man that plays all tiers, Tsunami seems likely to be playing Doubles for the Sharks, although we can expect him to play 5 other tiers during the season. Relatively new to Doubles compared to the others, Raven will rely on his sharp decision making from his huge experience in the main tiers. He has to be careful however, being known for using hyper offense, this strategy might not work against more experienced players that use styles such as Trick Room. Don't underestimate him though; because he might be a big surprise this SPL in this tier. That and he has a lot of luck on his side.
BLINGAS - It seems that Tanner is taking SPL much more seriously than a few weeks ago, being seen testing for Doubles a lot recently. If he keeps this up, the 8 is unfair, but he is really hurt by his lack of testing partners and his inexperience when compared with the top dogs. If he can channel his inner League Diamond into Pokemon however, things will change.
youngjake93 - youngjake started off in Smogon as a user that had much to improve on. After leaving and coming back, it seems like he has reformed himself and is now someone who is training a lot in Doubles in order to be one of the best. His lack of skill compared with the top players will be detrimental, but if he keeps practicing and listens to Stone on how to become better, while keeping his desire to do so, he will get better in no time.
Joim - Joim is a multitasking genius, he's an administrator for both the simulator and for Smogon. Being married and with a full-time job doesn't leave much time for Joim to practice and get better. Although very knowledgeable about the metagame, the amount of things in his to-do list might be too much for him. However, he has been seen practicing a lot lately, so be on the watch for the Spaniard.
There are some other important things we should note about these players. Unsurprisingly, it comes in the divide between the two major categories: VGC players and Doubles players. VGC players will be focusing largely on regionals in the first part of the year; so their involvement with the Doubles tier for this time might be lower than the preferred amount, which might end up hurting them.
The other one is more interesting. As soon as SPL was drafted, players were basically split into two testing blocs. No bad blood involved, but the Doubles players realize that the VGCers doing well will jeopardize Doubles in SPL 6, and the VGCers know that Doubles players doing well will bar VGC from ever reentering the tournament. It should be fun to see what division ends up being the one at the top.
SoulWind - SoulWind is an interesting player. He jumped to the spotlight recently and has stayed on it for quite a while. Reaching finals of Tour 16 Playoffs, the Spaniard is considered by many to be a master of the BW OU metagame. A diverse player of many styles, he might not have achieved glory just yet, but SoulWind ending this year without a trophy seems unlikely.
Marth - Known for his trolling antics, Marth is a figure that many players dislike, but that just as many take seriously in-game. Being the only player to have ever won 2 tours in the same week in Smogon history is huge, and an insane 6-1 record in BW OU last SPL (after getting picked up mid-season) backs it up. It seems that Marth keeps improving and improving with time, so it would be quite bizarre to see him do bad in SPL (unless LoL consumes his life, RIP worms).
Masterclass - Like Marth, a character in Smogon that is disliked by many, Sweepage is quite the contrasting figure to SoulWind. A longtime player from years ago, Sweepage has always been there, but never really been all that, and some questioned his ability after terrible World Cup and SPL records. Lately, however, he has stepped his game up by achieving seed 2 in the latest Tour behind his manager BKC. BW might not be his main metagame, but he plays it at a high level. Going for a very low amount in the auction due to his fame as a team cancer, Sweepage has all the tools to be a bargain this season—if he can stay unbanned for the duration.
yan[sogeking] - Our third troll in the list would be Sogeking. Declared as a top 5 BW OU player by LonelyNess, yan is a player who relies on his teambuilding and risky plays to win games. Another big factor from him is his MoP-like ability to scout; no team is safe from Sogeking. If he manages to put his scouting and activity to good use, the Frogs will be greatly benefited. However if he keeps up his trolling antics, he might not finish SPL in a team at all.
Vinc2612 - Another jack-of-all-trades in the Cryonicles, Vinc is known for his ability to play several tiers to a great level. One of the main ones being BW OU, Vinc resembles his national teammate McMeghan in style of play. Although very unsuccessful in SPL, Vinc has the skill to grab the wins and be a valuable asset for his team not only as a BW player, but also as a rotation player due to his ability to play several tiers.
thatsjustpeachy - The runner up of ST8 comes back to yet another SPL. Some people think peachy has gone on a decline ever since losing the finals to Snunch, making sporadic appearances in some tournaments but not reaching the degree of success obtained before. After a disappointing negative season for him/her/it last year in SPL, peachy needs to reach that level he/she/it once had in order to produce results.
LuckOverSkill - Better known for his ability in lower tiers like RU, Luck will be representing the Classiest in BW OU this year. Finishing World Cup last year with a good 4-2 record, Luck has shown he has what it takes to succeed at the highest team level in BW OU, although his lack of recent action drops him in the list a little.
Lavos Spawn - Lavos would probably be a little higher in the list, but what's costing him is the lack of play he's had lately. Another victim of the League plague of 2013, Lavos used to be a good player that was finally breaking into the top, only to leave and fade from our memories. If he is able to regain form, expect results, otherwise the 8 suits him.
Ripamon - Considered one of the better talents from PO, Ripamon has joined the Ruiners as their likely BW OU player. Relatively new compared to the rest of the cast, Ripamon will have to pay close attention to anything McMeghan, Ojama, and Bloo might teach him. If he does, not only will he be an underdog threat this SPL but he might get even bigger in the future.
Shoka - Introduced to the main tourney scene by Masterclass up there, Shoka made his debut in World Cup, finishing with a 2-2 record. Now debuting in SPL, Shoka has several tough players to defeat, and it seems like a bit of a difficult task for someone so inexperienced.
DestinyUnknown - When someone you have beef with (WQ) puts you as the best UU player, there have to be some serious reasons for it. UU Grand Slam finalist Dunk is as solid as it gets in UU. A tier he has mastered, 7-2 in SPL, 7 wins in POCL, and a solid skill foundation demonstrated by his Smogon Tournament runner up title, Dunk is the most dangerous player in UU. Like his compatriot SoulWind, it will be really weird if 2014 ends and DestinyUnknown doesn't have a trophy under his name.
Nas - RT has been an elite UU player for years now, and he doesn't seem to be slacking now that he has returned. Although going negative last SPL, you'll be hard-pressed to find someone who says RT isn't one of the top UUers on the site. Solid teams coupled with a huge knowledge of the UU metagame and his skill make for a fearsome opponent.
kokoloko - koko has jumped a few spots because of his amazing run in the Smogon Grand Slam, including his run in the UU Open that got him to semifinals and also his positive record last SPL. The tier leader has incomparable metagame knowledge; all he needs to do even better is solidify his in-game play, as he sometimes makes questionable moves.
Psychotic - Known in the UU community, Psychotic has been compared a lot to UU legend RT. If those words are to be believed, Psychotic will be a tough opponent for everyone in this tier. Besides that, there is not a lot about him in the tournaments forum, so this is his chance to start writing his history.
fatty - If you had to describe fatty with one word it would be consistent. Consistently a good player, fatty has participated in so many UU tournaments that few have more experience in that than him. Never really outstanding, fatty will have to move from consistently good to consistently great in order to get much favorable results.
aerialace TM40 - Although not his main tier, the loved Pelipper man will be taking on UU for the Frogs. Making a core with Heysup in which they can practice both LC and UU will be very valuable for aerialace. He has immense potential in this game, as evidenced by his super-fast growth during Grand Slam, and should he do the jump in UU, big things will come this season for him.
Ginku - Ginku definitely has the skill to be higher up in this list, the only thing holding him back is his enormous inactivity in tournaments. 2 years ago was the last time Ginku played in SPL, and not making much appearances in tourneys after that, Ginku might be questioned by some about his ability to play UU. However, like said before, he definitely has the skill necessary, its all about removing the rust.
WhiteQueen - The Queen of Smogon returns from his ban to play for the Sharks once more this year. Although a solid player, for some reason lately he has been bringing disappointing results in UU. Despite what he might say about undefeated records, he definitely needs to improve some in order to regain his ability prowess.
Ace Emerald - Another person from the UU community, Ace Emerald mostly likes being a helpful guy in the forums, avoiding for the most parts the tournaments section. This time he has joined SPL, and although no one can deny he knows about UU, there's several doubts about his ability to play at the highest level.
ThunderBlunder - A player that like Problems comes from PO and the infamous IDM clan, ThunderBlunder is known there but that's about it. Not a lot of information is available about him in Smogon, and he hasn't made an impression in battling just yet. This is his chance to make a good impression, but with the amount of top players in UU, it might just be too hard for Blunder.
SilentVerse - One of the oldest RU players, SilentVerse returns to another SPL after his good participation last year. Called one dimensional at times, SV proves haters wrong by being innovative and building solid teams. If he can keep his consistent play, SV won't have trouble doing even better than in 2013.
Bad Ass - The reigning Slam champion will be playing his favorite tier this year, having done well in the RU Open. Due to his successful past in the main tiers, Bad Ass has an advantage in the in-battle part over his opponents in RU. Couple that with having players like august and windsong helping him and its hard to see Bad Ass doing bad this year.
Alf' - Another player better known for his play in the main tiers, DarkLoic is also an expert at playing the lower tiers. This time tackling on RU, expectations for Loic are high, as he's considered a better player for the reason mentioned before. Even though he is relatively new to RU, he has shown huge promise and with his success in tourneys it's hard to say he will do bad.
Hot N Cold - The Spaniard and Alf' were actually pretty much tied. While Alf' has the better in-game moves, HnC has the knowledge. HnC is one of the more diverse players in RU, using all kinds of things in his teams. A solid player, HnC has been playing RU for a while and even though he only played 5 games last SPL he is already a feared figure in the tier. If Hot N Cold manages to snag the wins he's supposed to get he will end with a good record, thinking his moves through every turn will be very important for him.
Texas Cloverleaf - Having one of the best RU records last year and never giving up even when the Frogs had no chance, Texas is a fighter who continues to improve every day. A knowledgeable player, Texas makes some really good teams. His only problem might be that he gets to be one dimensional at times, both in teambuilding and in playing. If he can diversify his play he will be a bigger threat.
Cristal - Cristal is a player that goes back to the days of DP, in which he was known as an OU player. Now it's rumored Cristal has really enjoyed RU and has been playing it nonstop, which if true makes him a really big threat. There's a lot of hype around him and not much done yet, so it's kind of a mystery at the moment.
Silvershadow234 - A well known ladder player, Shadow is one of the best teambuilders in the tier. Extensive practice in the ladder has given him the tools to understand the metagame perfectly and make great teams. Added to this, he has the mentoring of 3 Grand Slam legends in his team. His lack of play at the highest level throws him down a little, as it's not easy to tell how he will do against the top dogs.
JabbaTheGriffin - Jabba is a champ of DPP OU and UU, being the tier leader of the latter. Although he disappeared for a while from the tournaments scene, you can always count on Jabba to do well. Tackling RU with possibly not having played it for a while will be challenging, but Jabba is known to pick up metagames quickly and if he can shake off some of the rust then the number 8 is extremely unfair for him.
Stellar - Among the RU community, the name of Stellar does not ring many bells. Not known for his battling prowess, Stellar has the advantage of being extremely unpredictable since not much is known about how he plays, much less about how he does in RU. Sources say he's been practicing like mad undercover, so this one might be a big surprise.
Afro Smash - A PO player that is relatively new, Afro Smash most likely won't have a fantastic season. The amount of superior RU players this year + RU not being Afro's main tier really hurts his chances. His battling skill is lacking and his teambuilding isn't the best, so he will really have to outdo himself in order to bring decent results.
FLCL - An old-time NU player, FLCL is part of what I'll refer as the trifecta (which includes the next two players too). Basically they're ahead of everyone else in NU and will have a great record 90% likely. FLCL, being a great teambuilder and solid, calm player, is regarded as the top of the NUers.
Zebraiken - Zebraiken is also part of that trifecta, he's probably better at teambuilding than FLCL, but FLCL can make better choices in-game. They're very similar players and both are very successful. If Zebraiken manages to practice enough, that 7-3 record he got last year will get better.
Annoyer - The last member of the trifecta, Annoyer, like zeb, had a 7-3 record last year. Kind of unknown last year and jumping into the spotlight with his great appearance in SPL, Annoyer is now one of the best players in NU and that's only exacerbated by having players like Ciele and cbb on his team.
Soulgazer - The runner up of the NU Open has to be high on the list. After an impressive display in the Slam, Soulgazer debuts in SPL as one of the high points of the Classiest. He's not quite on level of the top 3 just yet, however, so he's going to have to practice a lot in order to break into that exclusive club.
Reiku - A more recent and underrated revelation in NU, Reik picked up NU and did amazingly well on it in POCL. Being good at the main tiers helps Reik, as he has a better skillset to use in-battle than the others and his great amount of practicing in the tier has made him a big contender. Being so new is what's not allowing him to get to the top 3, however, which might change in the near future.
Fuzznip - The runner up of the UU Open makes an appearance in the NU tier, something which doesn't favor him as much as if he were playing his main tier. If Fuzznip manages to get as good in NU as he is in UU results will happen, otherwise he will be in the bottom half of the tier.
Plus - Plus used to be a really damn good player of OU, featuring in several important tournaments like World Cup and past SPLs and doing well in them. He has picked up NU since he came back and even though he's not known in the NU community, he has always been a skilled player. The only thing bringing him down is no one really knows how good he is at NU and the possibility of rust from being away for so long.
CaseKace - Cased was going to be picked up by the Cryonicles midseason last year, but in the end it didn't happen. This year he got bought and as an avid team player, it is probably to be expected that he has been testing really hard for this. The PO player is not really known in Smogon and if he's gotten too used to PO NU rather than Smogon's, he might have some problems.
Jayde - Relatively new to NU, Jayde's strength is supposedly OU. Jayde is not really well known as a very strong player, so while his skillset might be a bit higher than some of the players in the tier, that he does not have the same amount of knowledge about the metagame plays against him. If Bad Ass and company can help him, he might prove this dead wrong, but otherwise it seems hard for Jayde.
TheFourthChaser - TFC plays NU?
Heist - Heist has been lauded by years as one of the best DPP players in Smogon. Being probably the most unpredictable player around, Heist uses many unconventional Pokemons and sets which make him all the more difficult to face. This is especially effective in tournaments like SPL where people thrive in counterteaming / styling. If Heist stays at the top of his game, he will surely be the key piece for the Sharks.
DracoMalfoy - Like AM, Malfoy is a player who thrives on the slow pace of older generations, so DPP suits him just fine. An avid defensive player, Malfoy's teambuilding is centered on building solid cores that are so strong that he wins games from before they start. Tamaa will surely be one of the most solid players this season, as his style lets him outplay a lot and gives very little room for mistake to his opponents.
Lady Bug - If Majin is the king of ADV, Lady Bug would be the king of SPL. The best player in SPL history if we go by wins, Lady Bug has surprised us many times by using his Hail team over and over again and still winning. As unconventional as Heist, Lady Bug seems to always have something different and it usually makes a difference in his battles. Being one of the most solid players around for years, he could easily overtake Heist at the top, but his motivation will be big factor on whether he gets his old 21-7 record, or repeats a 2-2 like last year.
TV-Rocka - Probably one of the newest elite players in DPP, Rocka's prowess was only discovered recently by getting the biggest amount of points on DPP in a single tour season. Using teams such as his electric abuse one, Rocka likes to power his way through his opponents. Discovered in SPL as a RBY player, Rocka has transitioned to DPP just fine and is now a powerhouse in the tier.
Fakes - Although Fakes doesn't really have any big achievements, the amount of dedication this guy has for DPP is enough for him to be a serious threat. He can be regularly seen playing DPP or asking other good players for battles, sharing innovative team ideas and he's getting better with every battle.
Iconic - A great player who disappeared for a while, Iconic has been a presence in DPP since back when Team Uber existed. Many had doubts about his ability after he came back from such an absence last SPL, but he proved everyone wrong by getting a great record after midseason for the Ruiners. This season will be another challenge for Iconic, if he can get back in form like last season he will be a bigger threat than the number 6 shows.
Marshall.Law - Marshall is to me one of the most underrated players in Smogon. He always seems to have a good gameplan and good teams, both of which mostly apply to his DPP play. Winner of 2 DPP tours in-season, Marshall has the qualities to do good this SPL, especially considering the teammates he has for help, although he faces a lot of really good players.
199 Lives - Retained for an amount that he probably wouldn't have reached in the auction, 199 Lives plays another year for the Classiest. After starting with a great record last year, nitro lost his last 3 games, ending up with a 5-3 record. A great player to some, in the bottom to others, nitro's teams tend to be quite unorthodox: like his no Rock resist team with 2 SR weaks and Forry spinner. Will he be able to take advantage of his unorthodox teams? That might be the key to success for him.
Delta 2777 - Most people consider Delta to have gone on a big decline after his Tour victory against Bluewind. Never really getting the hang of BW, Delta has stayed with DPP for SPL constantly. If he manages to rediscover his past form, Mr. Universe will be able to bring results as big as his biceps.
george182 - The least known of the DPPers this year, george is known as an avid PO DPP player. BKC seems to trust him and has claimed he is one of the best DPP talents lately, but his little to no success in Smogon tells us the opposite. This will be the time for george to step up and make BKC proud.
]V[ajinTupacZ - The so called king of ADV has come back for another season of SPL after missing out on last one. Majin is the only person with more than 10 wins to have a win percentage of over 90. If that wasn't impressive by itself, also take into consideration ADV has been a really competitive generation throughout SPL and you're sure to agree with the king title.
reyscarface - More recent ADV player reyscarface doesn't have the history Majin does, instead achieving a good record in modern ADV tours, as well as having the best SPL record for ADV in SPL 4. Unpredictability is one of rey's tricks under his sleeve, having brought mons such as Rhydon and Dragonite. Just remember that the latter does not learn Rock Slide.
Ojama - Tour winner Ojama has shown his expertise in ADV throughout the years, winning ADV tours and playing ADV in SPL 4 as well. Ojama might have an advantage over other players due to his teammates in the Ruiners. Bloo and cbb are known ADV powerhouses that will be able to help Ojama theorymon in order to boost his chances at winning. That being said, don't be surprised if the ADV spot is taken by CrashingBoomBang or Bloo.
6A9 Ace Matador - Ace Matador is well known in Smogon as one of the most solid players of DPP and ADV. Knowing perfectly how to maintain momentum in his favor in slower paced metagames like these 2 is crucial to his play. The 23k price tag is big, but it might be worth it in the end if AM decides to play at his full potential. Beware of the staple Flygon on his teams!
Danilo - Danilo has come a long way since last SPL. Being picked up for a measly 3k last year, he's gone on to become a top ADV player in Smogon. Through a lot of practice with the help of his Brazilian comrades and his unpredictable teambuilding, he will be a big contender. Even harder will be for others as his decision making during battles keeps getting better.
Golden Sun - Golden Sun used to be one of the most proficient ADV players a couple of years ago. He, like Ojama, has won a tour and got many points due to his skill in ADV. After a 5-3 record last year, Golden Sun kind of disappeared like after SPL 3. Like AM, if he takes it seriously, he will be a big threat.
make - Make is kind of an enigma. After the drama last SPL surrounding his alt Warhammer, he got removed from the tournament and had to wait until midseason to sign up, only to be picked by the Frogs and not making an appearance. Considered an old school veteran with a great ability for teambuilding, he comes back this SPL to make an impact. Due to not knowing much about him it's really hard to know how well he will do, but if the hype is to be believed, number 7 might not *make* him justice.
Halloween - Halloween would be the Brazilian version of make, but he has appeared in Smogon before by winning an ADV tour. Known for being the team creator for Brazilians, there is a lot of hype around him. Rumors exist that he might not try too hard for SPL and some brave people say he's slightly washed up, but these rumors will only be cleared in the weeks to come.
Aqualouis - Known as a jack-of-all-trades, Aqualouis seems like Cryonicles' best option for ADV (not much is known about P E J E L A G A R T O). He's had success in the tier before, but he will face stiff competition from the ADV specialists that will be playing their main tier.
MarceloDK - Considered a bad team player, MarceloDK steps up to play ADV presumably due to Jabba having to be slotted in a lower tier. With the help of Jabba, Marcy might be able to pull some good results this SPL, but competition is fierce. The Raiders have faith in him and he seems to be behaving, so he could have a positive impact for his team as long as he doesn't go into a fit of rage and reveal all their teams like in World Cup 2 years ago. Last minute update: Seems he has pissed off Jabba, so much for behaving.
Jorgen - Having achieved an insane 8-2 record in GSC last SPL, Jorgen is ranked number 1 in the GSC list because of how consistent he is. Regarded as a top player of modern GSC, Jorgen always seems to be in control of the game. Prone to making mistakes under pressure, will he succumb to his newly gained fame or will he stay put and guide the Wolfpack to another title?
Picollo - The cute German came back to the Smogon scene last year after getting picked up for SPL. Not many had bright forecasts for Picollo, but he proved the haters wrong by going 6-3 in GSC. Known for being one of the most old-school Smogon players, Picollo likes to make risky plays that pay off.
gene - Not making a tournament appearance since his successful participation in SPL 1 and 2, G80 returns this SPL, most likely to play GSC. Rated as a top player by many GSCers, gene will be surely an opponent to be wary of. Having the knowledge of all old metagames, not only will he be an asset for his team in GSC, but in other tiers too.
Colchonero - The Spaniard who picked up GSC for SPL is ready for another appearance with the Frogs. With methodical play and insane patience, Colchonero makes for a tough opponent in this tier. Although not as old-school as some of the others, his skill in Pokemon in general more than makes up for it.
Veteran In Love - If this list was made a few years ago, VIL would surely find himself in the number 1 spot. Rated as one of the best ever, the Veteran has had trouble finding that formidable play that characterized him in order to succeed in SPL. Depending on his level of motivation, he could either rock this tournament, or disappear from sight.
Mr. E - Mr. E's legend goes back more than a decade. An avid old-gen player from as long as hes been playing, Mr. E is considered to be a great player in GSC. Although a bit too vocal, he can be a great asset, considering he's one of the most consistent GSC players, playing in SPL every single year.
Floppy - Although GSC is not his main tier, King Gorgie comes back to yet another SPL, this time trying his luck at a tier that isn't ADV, perhaps due to the scarcity of GSCers. Floppy has always been a big figure in old gens and this time is not an exception. He will face many players who main GSC, however, so he will have to step it up in order to achieve results as if this was ADV.
Royal Flush - Another old timer, the Brazilian player achieved good results last SPL after a disastrous SPL 3 in which he played RBY. He seems to have gotten the hang of GSC for good, so we can expect better results than this number shows if he sharpens his skills for this SPL.
Andeby - Andeby is a modern GSC player. Having been around Smogon for a very long while, he was never in the spotlight, having been away from Tournaments. Now he is going to be starting GSC for the Ruiners, and without the amount of experience some of these hardcore GSCers have, it might be a little bit too hard for him.
Karrot - Karrot is a pretty big enigma. The masses know next to nothing about him, being even less known than players like make and Halloween. Unlike them, there's not a lot of hype around him, which drops him down in the list of GSCers. A few players have mentioned him being skilled, so we can only wait to see what Karrot has prepared for us and check if he will prove this ranking wrong.
Team Power Ranking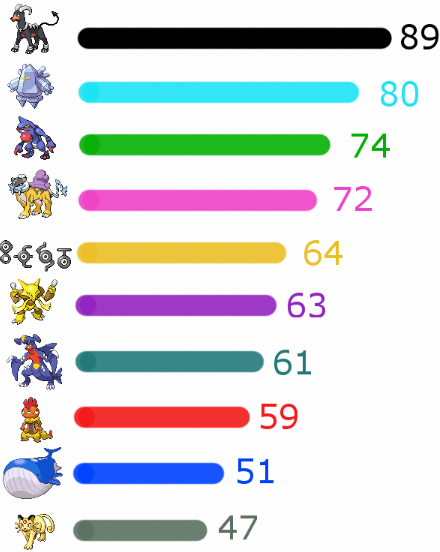 Squads with Top Players
Green

means Top 3 player in his or her tier (Top 6 for XY OU)

Orange

means Middle 4 player in his or her tier (Middle 8 for XY OU)

Red

means Bottom 3 player in his or her tier (Bottom 6 for XY OU)
The Alpha Ruiners
XY OU 1 -

Bloo

XY OU 2 -

CrashingBoomBang

XY Ubers -

-Manaphy--

XY LC -

dcae

XY Doubles -

Laga

BW OU -

Ripamon

BW UU -

Ginku

BW RU -

Silvershadow234

BW NU -

Annoyer

DPP OU -

Marshall.Law

ADV OU -

Ojama

GSC OU -

Andeby
The Circus Maximus Tigers
XY OU 1 -

Leftiez

XY OU 2 -

C05ta

XY Ubers -

Fiction.

XY LC -

Elevator Music

XY Doubles -

Biosci

BW OU -

Thatsjustpeachy

BW UU -

DestinyUnknown

BW RU -

Hot N Cold

BW NU -

Zebraiken

DPP OU -

TV-Rocka

ADV OU -

Halloween

GSC OU -

Royal Flush
The Congregation of the Classiest
XY OU 1 -

Kid Buu

XY OU 2 -

ZoroDark

XY Ubers -

Problems

XY LC -

Artemisa

XY Doubles -

youngjake93

BW OU -

LuckOverSkill

BW UU -

kokoloko

BW RU -

Afro Smash

BW NU -

Soulgazer

DPP OU -

199 Lives

ADV OU -

Golden Sun

GSC OU -

Mr. E
The Cryonicles
XY OU 1 -

dragonuser

XY OU 2 -

GaryTheGengar

XY Ubers -

Blim

XY LC -

blarajan

XY Doubles -

R Inanimate

BW OU -

Vinc2612

BW UU -

fatty

BW RU -

Cristal

BW NU -

CaseKace

DPP OU -

Fakes

ADV OU -

Aqualouis

GSC OU -

Picollo
The Ever Grande BIGs
XY OU 1 -

Genesectless

XY OU 2 -

badabing

XY Ubers -

Go10

XY LC -

CatcherAndTheRai

XY Doubles -

BLINGAS

BW OU -

Shoka

BW UU -

Psychotic

BW RU -

Alf'

BW NU -

Fuzznip

DPP OU -

Delta 2777

ADV OU -

6A9 Ace Matador

GSC OU -

Floppy
The Indie Scooters
XY OU 1 -

PDC

XY OU 2 -

Toxzn

XY Ubers -

Dice

XY LC -

Ray Jay

XY Doubles -

Mizuhime

BW OU -

Masterclass

BW UU -

Ace Emerald

BW RU -

Bad Ass

BW NU -

Jayde

DPP OU -

george182

ADV OU -

]V[ajinTupacZ

GSC OU -

Karrot
The Smog Frogs
XY OU 1 -

Dekzeh

XY OU 2 -

-Frexa-

XY Ubers -

Furai

XY LC -

Heysup

XY Doubles -

Joim

BW OU -

yan[sogeking]

BW UU -

aerialace TM40

BW RU -

Texas Cloverleaf

BW NU -

reiku

DPP OU -

Lady Bug

ADV OU -

reyscarface

GSC OU -

Colchonero
The Stark Sharks
XY OU 1 -

LUST

XY OU 2 -

Malekith

XY Ubers -

Conflict

XY LC -

Hawkstar

XY Doubles -

-Tsunami-

BW OU -

SoulWind

BW UU -

WhiteQueen

BW RU -

Stellar

BW NU -

TheFourthChaser

DPP OU -

Heist

ADV OU -

make

GSC OU -

gene
The Team Raiders
XY OU 1 -

PttP

XY OU 2 -

kd24

XY Ubers -

Faint

XY LC -

Eo Ut Mortus

XY Doubles -

Braverius

BW OU -

Lavos Spawn

BW UU -

Nas

BW RU -

JabbaTheGriffin

BW NU -

Plus

DPP OU -

Iconic

ADV OU -

MarceloDK

GSC OU -

Veteran In Love
The Wifi Wolfpack
XY OU 1 -

aim

XY OU 2 -

Yusuke

XY Ubers -

Donkey

XY LC -

prem

XY Doubles -

kingofkongs

BW OU -

Marth

BW UU -

ThunderBlunder

BW RU -

SilentVerse

BW NU -

FLCL

DPP OU -

DracoMalfoy

ADV OU -

Danilo

GSC OU -

Jorgen