late to the party, but let's talk about the weirdest, lamest, and possibly most important scene to burgeon in the last while. it's corny as fuck for trying too hard but never has anything ever sounded so pregnant with indefatigable anguish. it's the kind of music you play at your house on halloween to scare the kiddies, and it's the kind of music that gets made when something is chopped and screwed using a cursed turntable that belonged to ian curtis. it's a fucking dirty south seance.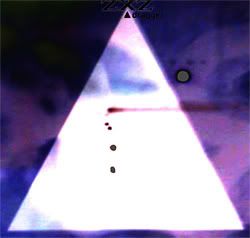 witchhousealbumcover.jpeg. triangles are spooky i guess? anyway, time to get your haunt on
http://www.youtube.com/watch?v=0tx4uhYeIEQ
SALEM - TAIR
the devil is among us and he's fucked up on cough syrup, so turn up the fucking bass
http://www.youtube.com/watch?v=z3OHLEYBiFE
SALEM - DIRT
for those who feel disconsolate but still want to move around you know
http://www.youtube.com/watch?v=_sGSntTw_Q4
WHITE RING - ICX999
if your computer ever enkindled and started playing music either of its own free will or at the hand of some forlorn spirit from the nether, this would probably be the first and only song you would hear it play
http://www.youtube.com/watch?v=puLDuV3azbA&feature=related
†‡† - ____ ▲____
i'm not overly fond of this one but it is important that i post it because it involves 1) a band whose name is unspeakable by mortal tongue 2) a picture of what is probably baphomet in the background and 3) a lengthy sample of usa boys by HEALTH. this is to the music world what gay marriage is to deck knight.
http://www.youtube.com/watch?v=gsOecHcVUPk
TEARIST - LO-V
poppier but still filled with murderous intent. if the ring was a song, this would be it.
i don't know about you, but if the future of music is genre-bending until god summons the locusts, i'm not too worried