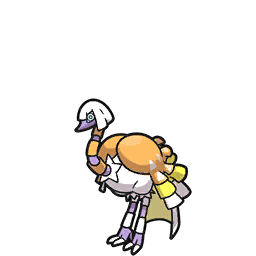 Espathra

Type:
Psychic
Stats:
95 / 60 / 60 / 101 / 60 / 105 (481 BST)
Abilities:
Opportunist
/ Frisk / Speed Boost (HA)
Opportunist: If an opponent's stats are boosted, Espathra will boost those stats as well.
Notable Moves:
Level Up
Lumina Crash
Agility
Dazzling Gleam
Psychic
TM
Protect
Stored Power
Psyshock
Foul Play
Reflect
Light Screen
Flash Cannon
Skill Swap
Substitute
Shadow Ball
Hyper Voice
Energy Ball
Calm Mind
Baton Pass
Terra Blast
Egg Moves
Lumina Crash - Special [no contact] | 10 PP (max 16) | 80 BP | 100% acc | Lowers the target's special defense stat 2 stages after each use.
Pros:
Decent special sweeper stats with 101 special attack and 105 speed, the latter of which has the potential to boost even higher with Speed Boost, thus allowing you to forego speed investment and even invest in surprisingly not totally terrible 90/60/60 bulk.
Access to a wide range of offensive moves. Utility moves like the screens, Skill Swap, and Hypnosis. And even a few stat boosting moves such as Agility and Calm Mind. Most notable on the offensive side is its exclusive access to Lumina Crash which is basically a Psychic type Acid Spray with twice the base power, thus allowing you to maintain constant offensive pressure against defensive targets.
Pure Psychic typing without the Flying type increases defensive utility (Sometimes it's good to be a flightless bird)
Surprisingly versatile allowing it to function as either a sweeper, a speedy albeit less bulky tank, or as team support by setting up walls or passing Speed Boost to teammates in doubles with Skill Swap.
Cons:
None of its stats are flat out impressive in a generation where hyper offensive threats are omnipresent, pretty much requiring moves like Calm Mind and Roost to give it enough time to boost and stick around long enough to become a serious threat.
Four-moveslot syndrome keeps Espathra from running everything it needs to handle its counters while still granting it the utility moves it needs.
Speed Boost won't save you from oversaturation of priority attacks used this generation, and the fact it is weak to three of them in the form of Shadow Sneak, First Impression, and the dreaded Sucker Punch means it can be countered easier than you may think.
Dependent on Terrastalling and Terra Blast if it wants to handle Steel types that really only fear repeat Lumina Crash's and neutral Shadow Balls. (Which sucks considering this ostrich also takes design and name inspiration from the ancient Egyptian sun god Amun-Ra and therefore SHOULD have gotten a Fire attack, or at least freaking Solar Beam...)
Terastallize Potential?:
Kinda needs it if Espathra wants something to counter Steel types with Terra Blast. I would recommend Fighting since it will grant resistance to the normally super effective Dark and Bug attacks, not to mention it counters Dark types on the offensive side too since they are immune to your STAB.
Sample Sets:
Ra Racer
Item: Life Orb/Leftovers
Ability: Speed Boost
EVs: 252 HP / 252 SpAtt / 4 Def
Modest Nature
Add TerraType: Fighting
- Calm Mind
- Protect/Hypnosis/Substitute/Roost
- Lumina Crash/Stored Power
- Terra Blast/Dazzling Gleam
A straightforward boosting sweeper with a tankier twist. Thanks to the ever coveted Speed Boost and already high natural base 105 speed, Espathra is able to divert its nature and EVs away from speed investment and into HP since it will outspeed most opponents after one Speed Boost, almost all of them after two, and ALL of the them after three. Set up a Calm Mind or two to boost offensive output and make Espathra harder for special attackers to KO it. You can also stall to make full use of Speed Boost. Protect nearly guarantees buying yourself a turn to net an extra Speed Boost and allows you to scout your opponent's moves safely, Hypnosis is risky in terms of accuraccy but will net you extra turns AND a means to cripple one opponent if it connects, Substitute can be used repeatedly unlike Protect and can give you leeway if your opponent switches in a counter provided you are okay with the HP loss with each use, and of course Roost can be used to put back any HP lost from your opponent or from the Life Orb if you have faith in your ability to withstand repeated attacks. Your Psychic STAB is a matter of preference. Lumina Crash threatens defensive walls quickly thanks to the -2 special defense with each strike, and no one aside from Dark types want to come in on that massive stat drop even if resisted. But if you need the KO on the first strike against offensive targets that can still KO you easily, Stored Power can be incredibly powerful if you manage to set up Calm Mind and stall for enough Speed Boosts. Assuming one turn of setting up Calm Mind (Though you can stack more against special attackers) and another with your stall option of choice, you will be at least at base 80 in power. And each subsequent turn with strategic use of your stall move will net you an extra base 20 with each passing turn thanks to Speed Boost (80->100->120->140->160). Finally we have your coverage move in the form of Terra Blast or Dazzling Gleam. The former of which allows you to counter Steel and Dark types, not to mention a means to withstand Dark and Bug attacks thanks to the Terra type change, though Dazzling Gleam is a non-Terra option that counters Dark types and offers a means to not be totally walled by Sableye and Spiritomb. You can also opt to just drop your stall move in favor of putting on all three attacking moves for wider coverage. Item choice is also a toss up since Life Orb will provide extra power and Leftovers extra survivability in tangent with your stall move.
Stored Power Birb
Item: Leftovers
Ability: Speed Boost
EVs: 252 HP / 252 Def / 4 SpD
Bold Nature
Add TerraType: Fighting
- Calm Mind
- Roost
- Stored Power
- Terra Blast/Dazzling Gleam
A defensive set that relies on the stat boosts granted by Calm Mind and Speed Boost. You will need at least one Calm Mind and two turns of Speed Boost to get Stored Power to the bare starting damage of 80, though every subsequent turn will tack on an additional base 20 damage thanks to Speed Boost. Stacking multiple Calm Mind would be best (Ideally against special attackers) using Roost to shore up your health when needed in combination with Leftovers. Your coverage move is down to Fighting type Terra Blast to counter Steel and Dark types, but Dazzling Gleam works too if you fear the likes of Sableye and Spiritomb and does at least neutral damage to fellow Psychic types. All stats are poured into HP and physical defense this time since Calm Mind has you covered on the special side.
Overall Potential?:
Probably not OU potential given the amount of set up, stalling, and support it needs to fully utilize its strengths. But if used strategically it could potentially win the match for you either with a straight sweep or by becoming a surprise wall. Still, as far as "starter birds" go, Espathra at the very least breaks the mold quite a lot and will serve you well both in game and in the competitive metagame. Mad respect to the ancient Egyptian Sun Bro:
Last edited: