Move Analysis - Substitute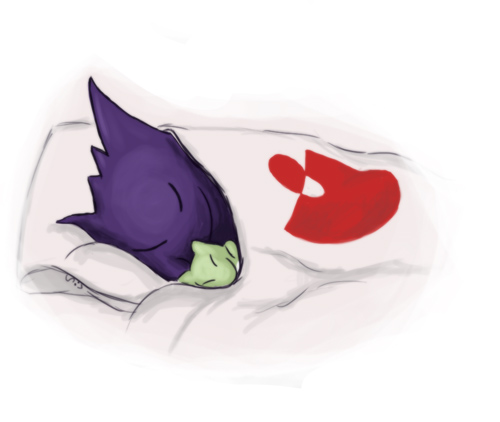 Introduction
"Gengar used Substitute. Gengar lost 25% of his health. Gengar made a Substitute!" How many times have you not known what to do as your opponent switches out? Do you attack? Then which attack should you use? With Substitute, your Pokémon is guarded against damaging moves until it is broken, as well as pesky status attacks and most other non-damaging moves. Pokémon, such as Gengar, can set up a Substitute as a counter, such as Tyranitar or Scizor, comes in. Gengar can then bash away with the appropriate attack to defeat said counter without worrying about immediate retaliation. There are also some moves that work inherently better behind a Substitute. By using it in conjunction with Leech Seed or Focus Punch, for example, you can cause extreme malice to the opposition. It is the perfect move for any kind of Pokémon. On offensive Pokémon, it allows you to both ease prediction, by using it on a switch, as well as make it extremely difficult for your opponent to revenge kill you. At the other end of the spectrum, on a defensive Pokémon, it will allow you to create a barrier between your opponents Pokémon and you, making it easier to stall, especially with Pressure, Toxic or Leech Seed.
General Uses of Substitute
Substitute has many other various uses such as poison stalling or simply avoiding status. The rather exclusive move Pain Split works well in all tiers to defeat the premier special wall, Chansey in UU or Blissey in OU. Status moves such as Toxic, Thunder Wave, and Will-O-Wisp work well behind a Substitute. You can scout the switch in and then stall them for damage. Your Pokémon can also stall for the opponent's Pokémon to be fully paralyzed with Thunder Wave before you kill it. Behind a Substitute, Pokémon, like Jirachi and Togekiss packing flinching moves, will be incredibly difficult to deal with.
Gengar


Gengar @ Leftovers
Ability: Levitate
EVs: 4 Def / 252 SpA / 252 Spe
Timid nature (+Spe, -Atk)
- Substitute
- Shadow Ball
- Focus Blast
- Hidden Power Fire
Although an extremely powerful Pokémon, Gengar's Achilles heel is his fragility. This mischievous ghost tends to have difficulty ravaging teams because of his vulnerability to two of the most prevalent Pokémon in the OU metagame: Scizor and Tyranitar. Using Substitute allows him to scout these common checks as they switch in. When safely behind a Substitute, you can pick Hidden Power Fire or Focus Blast, respectively, to OHKO them. If Blissey switches in, Pain Split can be used over Hidden Power Fire in conjunction with Focus Blast to defeat the specially defensive behemoth. Furthermore, Substitute allows Gengar to dodge troublesome status, such as paralysis, which can instantaneously end his sweep.
Heatran


Heatran @ Leftovers
Ability: Flash Fire
EVs: 4 HP / 252 SpA / 252 Spe
Timid nature (+Spe, -Atk)
- Substitute
- Toxic
- Fire Blast
- Earth Power
Heatran's volcanic-like nature gives him the ability to incinerate his opponents into ashes. This means that the foe will almost always pack a counter or two to beat Heatran. Bulky Water-types are the first Pokémon that come to mind, resisting Fire-type attacks and oftentimes having above average Special Defense. They are, however, very susceptible to Toxic, which Heatran can use as they switch in. Behind a Substitute, Heatran can avoid Water-type attacks and between poison damage and Fire Blasts, can turn a monstrous Gyarados into a fried fish stick. The real problem comes when the enemy has Rest. Not only can they out-stall Heatran, but they can set up on him as well. Skarmory can easily Whirlwind a sleeping Suicune or Gyarados away, and will avoid the Earthquakes Heatran abhors.
Rotom


Rotom @ Life Orb
Ability: Levitate
EVs: 4 Def / 252 SpA / 252 Spe
Timid nature (+Spe, -Atk)
- Substitute
- Pain Split
- Thunderbolt
- Shadow Ball
Rotom's many immunities and resistances give it many opportunities to switch in and threaten common UU Pokémon such as Moltres. From there, it can easily set up a Substitute as the opponent switches out and follow up with a powerful, Life Orb-boosted attack. Substitute also protects Rotom from status such as Thunder Wave and Toxic which would cripple it. Life Orb and Substitute damage will stack up quickly, so Pain Split is used to recover a lot of health, further aided by Rotom having a low base 50 HP. Steelix, some Registeel, Drapion, and Spiritomb can cause this set problems, so Fire-, Ground-, and Fighting-types partner well with Rotom to deal with them. Despite these few problems, this particular Rotom set can still wreck unprepared teams.
Substitute + Stat Boosting
One thing many sweepers have trouble with is getting enough power before their counter eliminates them. This is especially true for special sweepers who have to get past the partially pink wall known as Blissey. Calm Mind is a great move to use with Substitute because with more boosts, it becomes more difficult for opponents to break your Substitute with special attacks. Not only can Substitute block status, but by continuously using it as your foe breaks it, you can eventually get low enough on health to activate a Pinch Berry. While once a rather simple strategy, using Substitute alongside a Pinch Berry is oftentimes very difficult to pull off in this metagame. Sandstorm, priority, and phazing moves are hiding around every corner, just waiting to ruin attempts to setup. There are, however, a few Pokémon who can still use this strategy effectively, the most prominent one in OU being Empoleon.
Jirachi


Jirachi @ Leftovers
Ability: Serene Grace
EVs: 252 HP / 80 SpA / 176 Spe
Timid nature (+Spe, -Atk)
- Substitute
- Calm Mind
- Psychic
- Thunderbolt
Don't be fooled by Jirachi's playful personality. If given an opportunity to set up, Jirachi becomes nearly unstoppable. Trying to counter this little star will leave you spinning as it sets up a Substitute. Now immune to status, Jirachi can safely Calm Mind as weak special walls such as Blissey and Cresselia fail to break its Substitute. The only Pokémon who will end up stopping Jirachi are those with physical super effective attacks, such as Swampert and Flygon. Skarmory is nearly an end-all counter to most Ground-types, and can set up Spikes to damage them when they come back in. Heatran is so strong that despite Jirachi's attempts to boost its Special Defense, it will be overcome by blasts of molten fire. Bulky Water-types are the best counters to Heatran and also fare well against Ground-types.
Empoleon

Empoleon @ Petaya Berry
Ability: Torrent
EVs: 16 Def / 252 SpA / 240 Spe
Modest nature (+SpA, -Atk)
IVs: 30 HP
- Agility
- Substitute
- Surf
- Grass Knot
Empoleon's typing and movepool might not initially suggest that he would make a fine sweeper, but with a bit of creativity, he can be one of the best. By employing the normal Substitute + Pinch Berry strategy, Empoleon will be able to activate Torrent as well. This makes him hit like a freight train, with one of the strongest Surfs of any non-Uber Pokémon. Even resisted targets can lose half of their health, with the possibility of OHKOing Starmie and even Salamence after residual damage. Grass Knot complements your STAB very well, hitting Water-types super effectively. Ice Beam works too for Celebi and Shaymin if you have trouble with them. Unprepared teams don't stand a chance in the world. But this is the Pokémon universe we are talking about, where wearing scarves increase your Speed by 50%. Flygon and Jirachi holding a Choice Scarf still outspeed Empoleon and can certainly defeat him at 25% health. As such, try to dispatch of these Pokémon early on with lures or Magnezone, in Jirachi's case.
Feraligtr


Feraligatr @ Salac Berry
Ability: Torrent
EVs: 4 HP / 252 Atk / 252 Spe
Jolly nature (+Spe, -SpA)
- Substitute
- Swords Dance
- Waterfall
- Return
This crocodilian of UU, is the equivalent of Empoleon in OU with a few changes. First off, you are boosting his Attack stat rather than the Special Attack stat and instead of Agility will take advantage of Swords Dance. Salac Berry is necessary for Feraligatr to achieve the needed Speed to sweep. Boosted by Torrent, Waterfall will maul most Pokémon in the tier. Everyone who resists Waterfall is hit neutrally by Return, bar Shedinja. Priority users and Toxic Spikes are Feraligatr's main enemies when using this set. Venusaur easily absorbs Toxic Spikes and with a defensive EV spread, can switch into Mach Punch and Aqua Jet users such as Hitmontop and Azumarill without too much of a problem. Absol is trickier to counter, however, as his Sucker Punch is lethal. Weezing works decently and will often force him out by threatening to burn him with Will-O-Wisp. As long as you can set him up safely, Feraligatr will more often than not decimate teams.
Substitute + Leech Seed
The strategy known as "SubSeed" involves using the move Leech Seed and then hiding behind a Substitute. With Leftovers and Leech Seed recovering your Pokémon's health, said Pokémon can create many Substitutes. This allows you to stall the opponent until they slowly die of Leech Seed damage, which would take eight turns assuming the foe had taken no prior damage. Grass-types are the only users of Leech Seed, and as they vary greatly in base stats and movepool, there is often much more to SubSeeding than appearances may suggest. The Pokémon below are the most adept at SubSeeding in the OU and UU tiers.
Abomasnow


Abomasnow @ Leftovers
Ability: Snow Warning
EVs: 252 HP / 4 SpA / 252 SpD
Nature: Calm (+SpD, -Atk)
- Substitute
- Leech Seed
- Blizzard
- Protect
The Frosted Tree Pokémon is known for bringing hail into the picture. While that might not be good for many Pokémon, it's wonderful for Abomasnow. Forgetting his intimidating sprite, Abomasnow is a quiet killer. Behind a Substitute, he knocks out Pokémon slowly with a combination of Leech Seed and Protect. The majority of Pokémon who are immune to Leech Seed are Grass-types, who are mostly weak to Blizzard. By alternating between Substitute and Protect, Abomasnow can stall twice as fast as the foe dies from Leech Seed and hail damage. Unfortunately, Scizor is to Abomasnow as the Terminator is to Sarah Conner. You must have a Pokémon to reliably counter Scizor, the best responses being Skarmory and defensive Rotom-A. Between hail damage, Leech Seed, and entry hazards, not much direct damage is needed before Scizor rolls over.
Breloom

Breloom @ Toxic Orb
Ability: Poison Heal
EVs: 236 HP / 248 Def / 24 Spe
Impish nature (+Def, -SpA)
- Substitute
- Leech Seed
- Focus Punch
- Spore
Breloom makes a perfect SubSeeder because of his unique move Spore, only shared by Parasect and Smeargle. Any troublesome Pokémon whom Breloom cannot handle can easily be put to sleep. Breloom's ability, Poison Heal, combined with Toxic Orb, makes him immune to status and lets him heal twice as fast as if he had Leftovers. This means that he can make a lot more Substitutes and even recover health in a sandstorm. In addition to this, Breloom has great resistances to Ground-, Dark-, Water-, and Rock-type attacks, giving him multiple opportunities to switch in and set-up. The EVs are focused on Breloom's Defense to take advantage of these resistances, allowing him to easily counter Tyranitar, Swampert, and even Gyarados. Focus Punch is the sole attack on this set, which is still very powerful even without any Attack investment. Celebi is Breloom's main stumbling block, as it is immune to Leech Seed and resists Focus Punch. Heatran and Salamence have little problem countering Celebi with their 4x resistance to Grass-type attacks if you can avoid Thunder Wave, and will deal heavy damage with their Fire-type attacks.
Sceptile


Sceptile @ Leftovers
Ability: Overgrow
EVs: 216 HP / 40 SpA / 252 Spe
Timid nature (+Spe, -Atk)
- Substitute
- Leech Seed
- Energy Ball
- Hidden Power Ice
The fastest user of SubSeed outside Ubers wedges his way comfortably into UU. Base 120 Speed is a gift from the gods, allowing Sceptile to effectively SubSeed against nearly all opposition. All he has to do is force a switch and then he's good to go. The HP EVs give Sceptile much needed bulk, allowing him to weather Surfs and Thunderbolts without breaking a sweat. Sceptile can go physical with Leaf Blade and X-Scissor if you'd prefer, but rarely will Sceptile even need to attack as Leech Seed does all the work. If Sceptile does reach 33% health or less, his Grass-type STAB becomes a lot more powerful thanks to Overgrow. Even so, defensive Venusaur will wall him to no end. If he can avoid Sleep Powder, Arcanine will beat Venusaur easily. A Water-type will also help against enemy Fire-types threatening to OHKO Sceptile if they catch him without a Substitute.
Substitute + Focus Punch
Focus Punch is an insanely powerful Fighting-type attack but with one huge drawback: it will fail if the user is hit by an attack the turn Focus Punch is used. How can this be solved? Set up a Substitute! Even if the Substitute takes the damage from an attack, Focus Punch will still hit the target. All your Pokémon has to do is cause a switch, allowing him to set up a Substitute. Now, the Substitute-protected Pokémon can bash the foe with a 150 Base Power attack. Bulkier Pokémon can even set up Substitutes that cannot be broken by Seismic Toss, making Pokémon such as Blissey setup fodder. Below are the Pokémon best suited to using the "SubPunch" strategy in OU and UU.
Breloom

Breloom @ Toxic Orb
Ability: Poison Heal
EVs: 12 HP / 252 Atk / 244 Spe
Adamant nature (+Atk, -SpA)
- Focus Punch
- Seed Bomb
- Substitute
- Spore
Not only is Breloom a great SubSeeder, but he's also a great SubPuncher! This set is very different from the SubSeeder, however. With EVs focused in Attack, Focus Punch becomes idiotically powerful even though Breloom lacks any sort of boosting item. Seed Bomb provides secondary STAB and hits Ghost-types, even having a chance to 2HKO Gengar after Stealth Rock. Nearly everything else can be hit hard by Focus Punch. Even after being Intimidated, Salamence is 3HKOed, although Breloom may not be able to kill him in one sitting. Once he breaks the Substitute, get Breloom the hell out of there. Of course, there is another option; you could always put troublesome Pokémon to sleep with Spore, which is arguably the most broken move in the game. Use it conservatively, though, as you don't want to put a Pokémon to sleep who Breloom could simply kill. These troublesome Pokémon include, but are not limited to, Gyarados, Skarmory, Salamence, and Zapdos. The good news is that 3/4 of these Pokémon are weak to Stealth Rock and can be hit hard by Stone Edge. If you choose to use Stone Edge over Seed Bomb, be sure to have a counter to Rotom-A.
TyraniBoah


Tyranitar @ Leftovers
Ability: Sand Stream
EVs: 252 HP / 52 Atk / 176 SpA / 28 Spe
Quiet nature (+SpA, -Spe)
- Substitute
- Focus Punch
- Ice Beam
- Flamethrower
While once able to nearly single-handedly take out stall teams, TyraniBoah remains a big threat to any unprepared team. Blissey can be set up on with impunity as Seismic Toss cannot break Tyranitar's 101 HP Substitute. Focus Punch blasts Blissey and enemy Tyranitar into oblivion. The real allure of this set, however, is the ability to defeat some of Tyranitar's most common counters. For example, Hippowdon is 2HKOed by Ice Beam, while Gliscor is easily taken out in one hit. Flamethrower torches Scizor and Forretress, while Skarmory is cleanly 2HKOed. Despite Tyranitar's excellent type coverage, Gyarados, Suicune, and Swampert can still wall him rather well. Electric-types counter the former two, while Swampert is walled by Rotom-A as well as Water-types of your own.
Azumarill


Azumarill @ Leftovers
Ability: Huge Power
EVs: 252 HP / 240 Atk / 16 Spe
Adamant nature (+Atk, -SpA)
- Substitute
- Focus Punch
- Waterfall
- Aqua Jet
This Aqua Rabbit Pokémon is the definition of a wrecking ball. Don't let his cute and cuddly disposition fool you; Azumarill is one of the most powerful UU Pokémon thanks to his ability, which doubles his Attack. With 404 HP, Azumarill can make 101 HP Substitutes that Chansey can not break with one Seismic Toss. Azumarill is a real menace against offensive UU teams, as faster Pokémon such as Houndoom and Arcanine will fall to Aqua Jet, while others can't withstand a Focus Punch. Azumarill does, however, have a lot of trouble with defensive Pokémon, such as bulky Venusaur and Milotic. Torterra and Venusaur partner well alongside Azumarill; both are able to OHKO Milotic and utilize Leech Seed. Fire-types take care of Venusaur well enough.
Substitute + Baton Pass
Substitute can also be Baton Passed to another Pokémon. While it's not a common strategy, it can often successfully set up a sweep. For example, if you bring in Jolteon against a Water-type, he will force it out, allowing him to easily set up a Substitute. Then, when a Pokémon such as Gliscor tries to Earthquake Jolteon, he can Baton Pass to a Flying-type Pokémon such as Salamence. The Substitute remains intact and now Salamence can safely set up a Dragon Dance. Ninjask works well with this because it can Baton Pass his turn-by-turn Speed boosts as well.
Jolteon

Jolteon @ Leftovers
Ability: Volt Absorb
EVs: 4 HP / 252 SpA / 252 Spe
Timid nature (+Spe, -Atk)
- Substitute
- Baton Pass
- Thunderbolt
- Hidden Power Ice
This little fox is lightning fast. By forcing switches, Jolteon can easily Substitute and Baton Pass to a counter thanks to that 130 base Speed. He often lures in Ground-types who can be taken advantage of by Baton Passing to a Flying-type or a Pokémon with Levitate. By using Jolteon in this way, the Substitute remains intact. Be warned, however, of the devious Choice Scarf Flygon. Jolteon will set up a Substitute as he comes in, but will he use Earthquake or U-turn? To be safe, it is best to use Substitute again to scout what he is doing. If he is using U-turn, Jolteon still has a Substitute up as another Pokémon comes in and if not, Jolteon can safely Baton Pass out or attack with Hidden Power Ice. Another Pokémon to be wary of is Swampert with Roar. Jolteon can always use Hidden Power Grass if need be, but you can just as easily switch in a Grass-type to dispatch of Swampert.
Conclusion
After reading this article, we hope you've understood that Substitute is one of the most game-breaking moves around. It eases prediction, protects your Pokémon from crippling status effects, and aids with stalling the opponent.