Judge a Pokemon: The Smog's Art Panel
Introduction
While we are all players of Pokemon, it is questionable as to whether we all appreciate the designs Gamefreak has used to make Pokemon. It is without question that the "style" of generations changes, and each game brings with it Pokemon that we fall in love with and hate with equal passion. Just because Gamefreak makes Pokemon does not mean they always make Pokemon well. As organizer of the Smog Art Panel, I would like to welcome you to the first of hopefully an ongoing series of these discussions where the quality of the design of Pokemon will be discussed.
Here, our judges will weigh in their opinion of Gamefreak's design skills in the 5th Generation. Our aim is to give commentary on 10 of Black and White's Pokemon designs each month. Let us celebrate, laugh, and cry as we go through the great—and not so great—designs that Gamefreak has turned into Pokemon. Alchemator's comments are in red, Fatecrashers's are in green, and Chou Toshio's are blue.
1. Shandera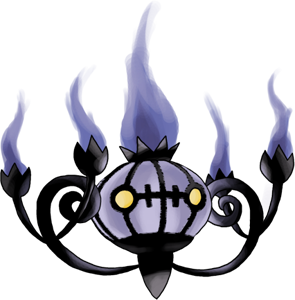 While I'm not a fan of this Pokemon competitively, I don't think any other 5th Generation design can hold a candle to Shandera. A Ghost / Fire typing could easily have been achieved by some sort of Gastly-styled ball of fire, but in this case Gamefreak has really thought hard about what to make. While a chandelier may not normally be the scariest of [posh] household objects, the eerie color scheme and creepy eyes affirm the Ghost typing. For the Fire part, look no further than blue flames jetting from every orifice. The shiny form reminds me of a pumpkin, which is a good thing! This design is not overly flamboyant, but flamboyant enough to catch your eye. If you want to bow down and worship it, be my guest!

'Be our guest, be our guest, be our guest!' Sorry, looking at Persistence's review above, I couldn't help myself (seeing as the October's MAC in Smeargle Studio has an entry featuring Hitomoshi, Shanderaa's first unevolved form, cosplaying as the candle from Beauty and the Beast). There is no question in mind though that Shanderaa and its kin bring the magic of Disney back to the world of Pokemon. From a flavor perspective, its image as a ghostly chandelier fits beautifully into a 'haunted house' theme. From a design perspective, it has been drawn sleek and beautiful—sophisticated, but not overly contrived and complicated like many recent designs. This new chandelier achieves a beautiful balance.

This visitor from the nether regions netherlands netherworld is definitely one of the outstanding Pokemon designs of the 5th Gen. Combining the concept of 'Ghost' and 'Fire' into a haunted chandelier is very creative on Game Freak's part, and I find the color scheme of silver, black and blue here simplistic yet elegant. Shandera's cartoon skull face and spindly black arms together create an effect that is to me very reminiscent of The Nightmare Before Christmas, which gives it a lot of plus points in my books. Not much else to say except well done.
2. Meloetta

One of the premier pretty Pokemon of the 5th Gen, everything about Meloetta's design screams music. The body is an upside-down quaver, the arms are quavers, heck, it's even got a quaver stuck in its musical stave hair. What's quite interesting is that the quaver in the hair looks like a hairpiece on the Step Forme, but transforms into a headset mic on the Voice Forme, for which I gotta give Game Freak credit. I prefer the Step Forme to the Voice Forme, as the Voice Forme really reminds me of Cher for some odd reason (I am not a fan, I thought Cher was born a man for the longest time). As a representation of the passive and active facets of music though, Meloetta the melodic muse hits all the right notes.
Meloetta is certainly a very odd Pokemon, and I already have a prejudice against it for taking away the coveted title of best Normal / Psychic type from my beloved Girifarig, curses! Soprano turned butch tranvestite, Meloetta does at least have a passable color scheme—I quite like green actually, maybe not on a stave but still. I'm not entirely sure why it has its legs protruding from its hips in the sprite of the Voice Forme, but I have nothing against Pokemon needing the use of wheelchairs to mitigate deformities. Overall, an acquired taste sight.

I never have (and probably never will) be a big fan of the "human shape" psychics like Mr. Mime and Jynx. That said, I have to say Meloetta is the cutest of these thus far. I still don't get why this is a Pokemon, I still don't really like it as a Pokemon, but as a stand-alone cartoon design, it's definitely cute. I could see this going on many a backpack or pencil case for small Japanese girls.
3. Maggyo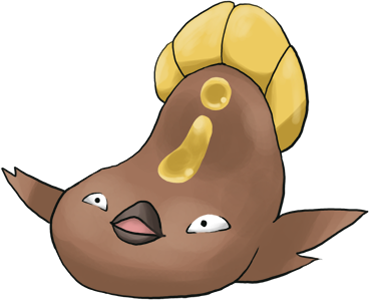 Ok... I mean, I get it. It is a flounder—a fish with one eye that has migrated to the other side so that it can lie on its eyeless side and hug the ground. Never mind that its mouth has somehow managed to orient itself the wrong way as well. Then the flounder was spliced with an electric eel (another bottom dwelling fish that hugs the mud). As a fish-concept, I get it (admittedly I get it while being Smogon's resident aquarium nerd). That doesn't change the fact that it looks like a shoe sole, and probably will be equally stepped on. Somehow though, I kind of like it for some reason. It's funky, it's fresh, and it follows in the footsteps of Lickitung, Dunsparce, and Spinda in that 'Wait, wtf? Why is this is even here' category of Pokemon. Anyway, it's better than yet another goldeen/luvdisc/fineon.

This design looks like something an immature / amateur spriter like Alchemator / Persistence might come with up for 'teh lulz', but the sad truth is that it is in fact an official Pokemon design. Most people like to refer to this Pokemon as the 'Herp Derp Fish', and I can't say I blame them. Maggyo is the kid in the back of the class with a neverending stream of snot running down his philtrum, and the teacher always has to remind the other children to keep all scissors and compasses out of his reach. I am certain that Game Freak created this abomination just to troll us. 'Why yes the Pokemon are going to get uglier and uglier. Problem, trainers?'
Ah, roadkill-mon. The Electric / Ground type with Limber (begone, Stun Spores!) and abysmal Speed, this is definitely one of the worst designs of the generation. This probably came about by completely mad user: Fatecrashers sneaking into the GameFreak Headquarters late at night and putting a horrible virus an extra design into our precious 5th Generation game. Maggyo seems to be a combination of a bird, a fish, a steak and a turban, which was then run over by a very heavy vehicle. Its expression is vacant yet also desperate, the latter disqualifying it from any attempts at being cute. While I have no major beef with this steak-fish design, the staff at GameFreak really hammed it up with this one.
4. Yabakuron

Another home run for Game Freak in the 'weird and ugly' department. Yabakuron's saving grace is that at least it looks moderately cute, and you'd maybe consider taking one home if it wasn't literally something you should be leaving out on the curb. I get that Black and White are supposed to contain more 'urban' Pokemon, but a garbage bag Pokemon shows that the Game Freak artists are definitely scraping the bottom of the barrel (or trashcan) when it comes to ideas. Back in the good old days we had Grimer the liquid waste Pokemon and Koffing the gaseous waste Pokemon, I guess it was only a matter of time before the debut of solid waste.
I'm sure my other panelists will completely agree when I say that this design is rubbish - complete garbage. I shouldn't trash-talk it too much though, as it certainly has some cute features for a walking trash bag. Gamefreak has excelled this generation at making a D: adorable. This is evident both in Yabakuron and Zuruggu [a.k.a. pants lizard], whose oddball designs set them apart from the crowd, and make them pretty huggable! While it would probably smell, and has sewage for hands I would definitely have one of these, if only so I could say 'Bin there, done that, got the Pokemon!'

Oh come on! It's a trash bag for crying out loud! There is no way you can expect me to take this seriously! What happened to the mystery? What happened to the fantasy? Pokemon is a tale of going out, exploring nature and bonding with it. Granted even the first generation had things like voltorb or magnemite (and those are not exactly my favorite designs either), but at least those were somewhat mysterious and intriguing. I hate to say it, but this . . . this is garbage!
5. Erufuun
Erufuun :3 Despite my fellow panelist Jumpluff being irritated over Erufuun being an almost complete replacement to her namesake Pokemon, this cotton-covered teddy bear is undeniably cute, though a real nuisance on the battlefield! Just look at that smile, look at the swathes of cottony fluffiness, look at the cute little paws! Everything about Erufuun makes you want to go 'D'aww!', save for its high-priority antics!

Erufuun... I honestly don't get it, I have no idea what it is, but I still want to hug it. Or maybe use it as a pillow. *squeel* Maybe one of the few cases of an evolved Pokemon being cuter than its pre-ev? In any case I am really not sure if this thing even should be a fully evolved Pokemon design wise. I mean, my guess it is a floating seed right? How is that a matured plant? That said, it doesn't look like Forretress is ever coming out of its cocoon either, so we can just let that one be. Um . . . *squeel*

So it's a cotton..sheep...thing? Despite the confusing design origins of this Pokemon, you have to admit that it's pretty darn cute. The combination of little green horns, cute beady eyes, and fluffy-wuffy fur make you want to give it a great big hug, but while you're doing that, it will probably have Leech Seeded you to death. Erufuun as a Pokemon design is actually pretty shrewd on Game Freak's part, since this thing looks like it was destined to be made to be a plushie. That said, I predict the plushie sales for this adorable little Grass-type munchkin to go through the roof.
6. Mamepato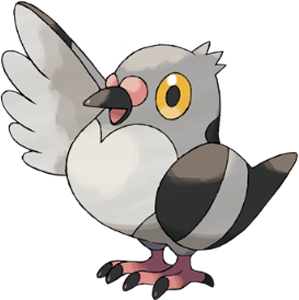 Ok... it is a Pigeon, or maybe better described as a dove (closely related birds anyway), considering the real bird, 'bleeding heart doves' is referenced by Mamepato's heart-shape chest. On one hand, I feel odd considering we already have Pidgey. But, I feel even more awkward considering that Pidgey isn't even supposed to be a pigeon—from a design perspective, no matter how you look at it, Pidgey is a House Sparrow. The personalities of the designs line up better too. Where I live, we have lots of both house sparrows and pigeons/doves. Pidgey looks keen, alert and intelligent, just like real House Sparrows. On the other hand Mamepato's expression looks stupid and out of it—just like a real dove. It is odd to say, but in this case I feel like the new Pokemon earns the title to 'True Pigeon Pokemon.' I will admit Mamepato is quite a bit cuter than real doves (rats with wings).

Another generation, another cute little bird Pokemon that you'll catch on the very first route, only to stash it away in a PC Box and forget about it for the rest of the game. Overall I find Mamepato to be pretty 'meh', there's really nothing to distinguish it from its cousins from the other regions, except that it's a dull shade of gray. It's adorable enough I suppose, and the heart shape on its chest is kinda cool, but at this point you do feel that Game Freak is just going through the motions. The fact that its evolutions look horrendous doesn't help its case either, but let's save that for another article.
I'm definitely not biased at all when I say Mamepato is the cutest Pokemon ever to have been to designed ever in the history of everly everness. It's so small, so fluffy, so happy :3 It even has a heart-shaped lighter patch of feathers on its torso, what more could you wish for? Well maybe you could wish for a better STAB move than Pluck, but that's besides the point. While its blue-tinted shiny form is nothing to write home about, Mamepato makes up for all of its failings with its Pigeon cuteness, though I suspect the guano would become a problem.
7. Burungeru (Both Genders)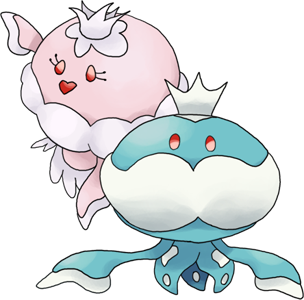 I'm sure I'm not to only one who thinks that the male version of this Pokemon looks like the Pringles man. Do they have those in Japan? Was the artist responsible snacking on some uniformly-cut potato chips when he came up with this design? I guess we'll never know. What I do know is that the Burungeru family look like royalty rather than spooks, so I don't know why they gave it a Water / Ghost typing. The female version looks more like a cauliflower than a jellyfish, and the red lipstick and eyeliner they stuck on it is kinda unnerving. The color scheme is not exactly surprising, blue for the male, pink for the female. A very quirky Pokemon, I'm not sure what to make of it.
The new Ghost-type on the scene (Desukan who?), Burungeru makes a splash in the minds of Pokemon trainers everywhere in more ways than one. One of two species to have gender differences (the other being Kenhorou, the final form of Mamepato), Burungeru plays either the king or the queen with its design. There is no way that anyone can dislike Burungeru's massive mustache, and if it wasn't a Ghost-type that could probably forcibly rip your soul from your body and condemn you to an eternity in Poke-hell then I would go right up and hug it. It's probably quite squishy, which automatically adds a bundle of points to the cuteness-factor :3 It's unfortunate that the female form looks like a pedophile or your very drunk Aunt on Christmas day.

Let me start by saying that I love Jellyfish... prepared with vinegar, Chinese seasoning and a little bit of shoyu. When I look at Burungeru, I cannot help but want to reach for a large knife and my chopsticks. I am simply disappointed that it is a Ghost... Does that mean it isn't edible? Putting my Asian moment aside, frankly I don't see how this is a ghost design-wise. Because it floats? There's nothing really ghostly about it. I would appreciate it having a bit more flavor (no pun intended) than a blob that floats. They could have made a play on the Japanese water-monster, the 'kappa' or they could have made a swamp-monster. Aside from being bland though, I got no issue with the actual designs. They are definitely fun, something that belongs in a children's RPG. The male's mustache especially tickles me.
8. Shibirudon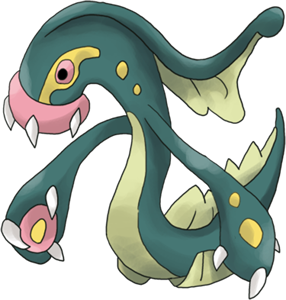 Any Pokemon with no weaknesses is automatically cool in my book (See: Spiritomb, Sableye). While Shibirudon falls somewhat short of the super-badass mark, it's as cool as an electric-eel can get. The color scheme is very refreshing for an Electric type and, while it does have many yellow spots, it avoids the clichéd colors of Electric types - that is, yellow with a hint of whatever color takes Gamefreak's fancy. It's unfortunate that its shiny form is completely disgusting - if one had a very long sausage and encrusted it in vomit, it would look very similar to Shibirudon's shiny form. Overall, however, Shibirudon's design has a very nice feel to it. Unfortunately, that was the best pun I could manage. :(

I guess fish that aren't Water-types is the new fad for GF. It is a lamprey. What else needs to be said? Shibirudon follows in the footsteps of Pokemon like Hippowdon, Noctowl and Vileplume as real-life plants or animals that have been transplanted into the Pokemon world with little to no alteration from the real-life version. Like Hippowdon though, Shibirudon has been blessed with a typing that makes no sense. Lampreys have no ability to use electricity outside the sensory abilities almost all fish share. Frankly, Sharpedo should have gotten electric powers over Lamprey. Oh well, not like Pokemon ever had to make sense but... levitate why? I honestly think GF is trolling us. Anyway, as mentioned, it's a lamprey. Not much to say outside that for the actual design... next!

'Kill it with fire!' was my first reaction when I saw this monstrosity. Good thing it's not a Water-type so you can quickly roast it to death with Fire Blast, despite what its Eel-based design might suggest. A long slithery thing with a leech-like mouth, oddly-shaped arms, little soul-less eyes, fins that are just tacked on here and there, and to top it all off, what appears to be the fish equivalent of a mullet. Everything about this Pokemon is unappealing, even the color scheme is somewhat nauseating. An electric eel Pokemon sounds like a very nice concept I admit, but there's gotta be a better way to do it than that.
9. Kyurem

What the hell is this? Some kind of metallic turkey? Oh it's a Dragon / Ice type? Ehhh...I still don't see it. The wings look like two of Charlie Brown's kites got stuck on its back. The tail looks like it was meant to be plugged into a socket. Its head is an attempt at looking bad ass, but is totally incongruous with the rest of the body. Given that's its stumpy forearms are so much shorter than its legs, I'm sure it's supposed to be able to stand upright, but I can't for the life of me see how. In fact, it look like it's liable to topple over at any second. At least the color scheme is nice I guess, I mean it's an Ice-type, just slap on a shade of light blue, even Game Freak can't screw that up.

Megatron!! No but seriously, am I the only one who wants to grab its hind legs and use it as a phaser? Dragon-hidden-as-high-tech-laser-gun. Still, this is a classic example of Pokemon designs getting too busy. I mean, look back at Mewtwo, at Lugia. Than look back at this monstrosity (and the other legendary dragons of the last 2 gens for that matter). I am not really liking GF's turn to fins, spikes and Pokemon that otherwise look like they should be mechs (or Digimon). Unfortunately, this is part of the Pokemon 'look' now, and I guess it is simply something we cannot avoid. Truly unfortunate.
Kyurem is the reason that Shandera had to be so far away, all the up there as the first Pokemon we looked at. At first glance, Kyurem looks like a horribly designed Pokemon, with jagged features that seem to have no place on a Dragon-type. Its head is a terrible amalgamation of parts, looking like some sort of Rayquaza / Steelix combo, but made of ice. Its color scheme, though improved in the shiny form, is boring and bland. Take a second look, however, and... well it's still a horribly designed Pokemon. I've been told that it's based on a diseased old man but I can't see the resemblance. This is a GameFreak failure of a design!
10. Emonga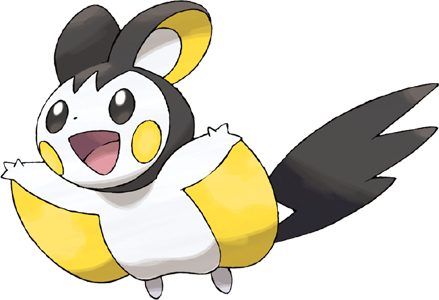 I'd say that I'm sick and tired of all the Electric rodents that Game Freak throws at us, but you just can't help but feel happy when you look at Emonga's smile, which I believe is at least 50% larger than those of its predecessors. The flying squirrel concept certainly adds something unique to the mix. And as a bonus, Emonga's gliding, bat-like nature sort of reminds me of Batman, but whereas Batman is a moody git who is constantly haunted by the death of his parents and questions of morality, Emonga is a cute little Pokemon who brings happy happy joy joy to wherever it may roam. Smile, and Emonga smiles with you.
The new, supposedly forgettable, Electric rat, Emonga is certainly the best rodent since Pikachu. Actually, forget that - it's better than Pikachu. Its design amplifies the cuteness of Pachirisu, and combines it with... uh... the fact that it can fly! Well I guess that it glides and doesn't fly, but still, Emonga's happy expression and general huggable-ness (making up words is fun) make it undeniably cute. Its shiny form is simply a brown form, which is equally as cute! Kudos to the designers for finally getting off their asses and making a cute, but not cringeworthy, useless rodent! Though I guess time spent on Emonga was less time spent on Maggyo...

These are getting really popular recently. I'm not talking about the Pokemon, but the flying squirrel. Recently these things have been popping up in a lot of pet stores here in Japan – yeah, go figure. I even saw 2 different types being sold at Musashi the other day (Japanese version of Walmart). Whether it's Heracross/Pinser, Goldeen, our new chinchilla, or the 9001 dead puppy Pokemon, I think it's pretty natural to include animals that are actually common pets in Japanese culture. It makes sense as a part of the Pokemon culture, and Emonga is... a very well made addition, especially in terms of Pokemon design tradition. Sure it might be just 'one more electric rat' but the flying thing gives it a distinct unique and energetic quality. Plus it just looks so happy looking. I can't help but be happy when I see it (unlike whenever I see a Blissey).