Judge a Pokemon: The Smog's 2nd Art Panel
Introduction
I hope you have all been on the edge of your seats eager to hear the praise and smack of our judges have to say for issue 14's Judge a Pokemon. Our panelists have certainly been raring to go, and raring to rip on Game Freak. Speaking of our panelists, we've had quite a change-up since our last installment. We must unfortunately say our farewells to long time Smeargle veteran and Smog contributor, Alchemator. He will be missed, but we wish him the best on his real life endeavors. On the high note, we have two great members to our team: the king and queen of cute, Kinneas, and the head honcho of Smog artists, Swaggersaurus. Also we have our hero Fate returning from his long Leave of Absence in China—it is good to have you back buddy. Without further ado, I would like you to welcome our new panelists and enjoy this installment of Judge a Pokemon!
Reference: Kinneas's comments are in red, Swaggersaurus's are in beige, Chou Toshio's are in blue, and Fatecrashers's are in green.
1. Foongus (Tamagetake)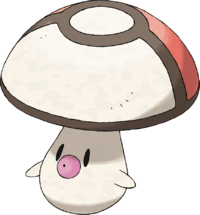 I don't like mushrooms. I think they taste horrible. The texture, the flavour, the consistency. Blegh! Get them away from me. Unless they're those puffy marshmellow mushrooms, you know the ones I mean? Those are great... What? I know I'm not here to judge what the pokemon tastes like. I'm getting to that part, gimme a break. When it comes to character design, I firmly believe that less is more. The key to giving a character personality is to look at what isn't there, not what is. Other designs do this well - Diglett and Ditto to name a few - but I think Tamagetake is a masterclass in simplicity. There's barely anything to it bar a signature pokeball logo and basic facial features, but just from this you know what it is, and you can't add anything else to it without ruining the feel of the Pokemon. And that is what great design is truly about.

I have to own up. It is the most distinctive feature of this Pokémon, and yet the first thing I noticed about Tamagetake was not the Pokéball design on its head. Something about the design of its body was so cutesy that it took be back to a simpler time. Actually, I think this is wholly due to it reminding me of Cappy, from Kirby's Dream Land. So I liked it! And then I saw what I'd been missing -- that huge garish Pokéball design. Now, I understand the idea; Tamagetake disguises itself as another object to ward off predators (what Pokémon seeks out being caught? Can one prey on mushrooms? So many questions), but there's a pretty huge goof here. Tamagetake stands at eight inches, or 20 cm. Either this Pokémon gets preyed upon a lot for its terrible mimicry, or Pokémon trainers have huge hands.

Somewhat at GF was high when they made this design. To be honest, when I was first ambushed by this thing in game, I was rather horrified. I felt the designs were getting less, and less inspired. "Let's take half a pokeball, throw on a stem and make it a mushroom." That said, as time goes on this little guy only continues to grow on me (no, not literally). If you say it negatively, it is very "plain", if you say it positively, it is "simple". At the very least, the little shroom is quite cute, and an interesting re-take on the "pokemon that looks like an item, Voltorb v. 2.0" and adds good flavor (this time literally) to the in-game experience..

A mushroom that looks like a Pokeball sounds like a pretty stupid concept, so I guess this is why Nintendo made it so cute-looking, look at its stubby little arms and feel the hate flow away. A pink mouth, cute black eyes, I think I'd like the facial design more if it weren't a direct ripoff of Diglett. Then there's the fact that Game Freak already did the mushroom concept justice with Parasect and Breloom, Tamagetake unfortunately looks lackluster in comparison.
2. Sigilyph (Shinpora)

Hey Unown got at evolution?? Oh wait, no, nvm. In all seriousness though, this characters face and features remind me of Unown, even if the two are unrelated. Flavorwise, they are similar coming from the weird-ancient-civilization-magic type of theme, but honestly I find Unown more interesting, since Shinbora doesn't even play any major role in the plot outside the fact your rival has one. Maybe if Shinbora got a movie like Unown and was related to some weird in-game features I would like it more, but right now I'm kinda like "so what?" Kind of sad considering how much more complex (busy?) its design is than Unown.

Why anyone thought it was a good idea to base a Pokemon on the Nazca lines is beyond me. This Pokemon is the very definition of weird. It's as if an Unown took too much growth hormone and suddenly sprouted wings; not normal wings either, strange spiky ones straight from a kindergartener's sketchbook. From the nightmarish appendages to the hallucinogenic color scheme, this Pokemon literally has no redeeming features, and as such is a prime example of Game Freak designers trolling their fanbase.

As far as psychic types based on ancient civilizations go, I have to say that I've been severely disappointed across most generations. This thing screams Aztec god or Egyptian imagery, so where are its mysterious powers? I'm not talking moves and abilities - I know it gets the standard "paranormal" movepool - but base stat wise, I'd like to see the ancient Pokémon (Xatu, Claydol) at least be able to hold their own in OU. The closest they've ever seen to standard play was Claydol in advance. Aesthetically, I don't really like the design either; I'm not sure what purpose the various protrusions are supposed to serve, and the color scheme and markings seem cluttered and inconsistent. It's a real let down..

This thing is terrifying. Is it a great design? I don't know. There's a hell of a lot of color here. It looks busy. But then again, it also looks kind of cool. Sure, the wing-like protrusions look like pick up sticks bent out of shape. Yes, it does kind of look like a Christmas bauble that someone stuck forks through and an Unown in the top of. In spite of all this, I can see it fulfilling its supposed primary function: flying up and down in a desert being spooky and terrifying people off from trespassing an ancient city. The busy design and bright colors sort of make sense, then -- this thing screams "ancient civilisation". Also did you know that it was based on 100% real humongous markings that aliens came from outer space to carve onto the earth's surface? Yeah.
3. Galvantula (Denchura)

Not gonna lie, I believe that Denchura's design is aces, pure and simple. Ace Denchura, if you will. The concept of an electric spider is very interesting, and Game Freak pulled it off with aplomb. The design is busy, but looks natural instead of overly distracting, and the color scheme of yellow/purple/blue is very aesthetically pleasing. The shiny version is unfortunately just a darker shade of yellow, but that in no way detracts from this Pokemon's awesomeness. Nevermind arachnophobia, Denchura is one Pokemon you should get to know.

Not many people know this but I have serious arachnophobia. I can't be in the same room as a spider without freezing up and breaking out into a sweat. I can't even look at pictures of spiders without feeling slightly sick, it's horrible. But you know what? Even I love this Spider Pokémon. Maybe it's the fact that it only has 6 legs as opposed to 8, or perhaps I just can't fathom being afraid of something fluffy and yellow. And there's another thing: despite it's somewhat cute design Denchura still manages to retain an aura of baddassery about it with its sleek body shape and purple go-faster stripes. For me, Denchura gets the balance just right between cute and cool, which is a lot more difficult than it sounds.

Spiders are great. I love spiders. When I was a kid I used to get shouted at for spending too long in the shower, because we had this huge spider up in the corner of it and a great deal of my morning was spent straight chilling with him. So why, then, can't game Freak give us a cool spider? Denchura is supposed to be a tarantula. I like that it is hairy! It makes a change to the previous generations' spider mons. But where are the mean-looking mandibles? The eight, dark, misty eyes? The color scheme that doesn't suggest this thing hangs out exclusively in sponges or yellow ducks at bath time. Hell, Denchura's pre-evolution looks more menacing, and it's a ball of fuzz! And whilst I do think this color scheme works for this Pokémon aesthetically speaking, it does kind of seem like Game Freak decided on the electric typing and just slapped yellow on for the sake of it.

Daw~~chura. It certainly is not everyday that a fully evolved bug Pokemon comes off as "cute." It is an even greater achievement considering Denchura isn't a butterfly or ladybug, but a spider. Kinneas isn't the only spider-hating person I've met who still find Denchura and its pre-evo adorable. Actually, its pre-evo is what's really weird, being only 4 inches (10 cm) long and stealing the title of "smallest Pokemon" Diglett has touted since generation 1. I mean, all spiders are predators. What exactly does a 4" spider prey on when it is the smallest Pokemon in the game? Does it kill Magikarp and feed on one over the course of a whole month? That's how small it is. Anyway, Denchura is a great design, being cool and cute simultaneously, and even being an interesting in-game choice.
4. Swadloon (Kurumiru)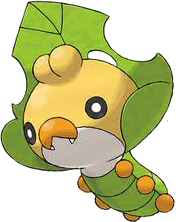 It's a caterpillar disguised as a leaf! There's not much to say about Kurumiru other than it's very cute and if I saw this in-game it would probably make my team based on that and that alone. I like to imagine that it would be worming its way around a forest looking for something to eat, but gets so hungry that it's forced to eat its own leafy head. It's nice to see the bug/grass typing see some usage outside of wormadam and the Paras family, and it fits the design perfectly. This is probably my favorite caterpillar... disguised as a leaf.

Kurururmruriurumuriru was one of the first non-starter Pokémon of the fifth generation that I saw, as I remember. I love it. Really simple, pleasing color scheme, really simple design, and friggin' cute. The leaf is adorable, and the little bite marks through it are even better. Just look at his tiny little feet! The only thing he's missing is a shiny coloration that keeps his white underside and makes the inside of his leaf red and the outside black. Draculumiru! There really is nothing to say; Kurumiru is great. Move over, Caterpie. You just got served.

More cute bugs. For some reason it doesn't even bother me that we continue to get more caterpillars. Actually, if we got another wurmple it would bother me, but Kurumiru is such a refreshing take on it that it doesn' bother me (though I like Fushide too). The wrapped in leaves concept definitely adds something, a nice add of interest to an already cute looking bug. I don't think even misty could run in terror from Kurumiru. I do have the odd question—is it eating itself? After all, the wholes/dents in its leaves decidedly look like caterpillar munch-bites. Move over Staraptor, an even more emo pokemon has come to town; it's not cutting itself, it's eating itself!

I should be sick of these caterpillar Pokemon by now, but Kurumiru just looks so endearing. The leaf around its head, the green/orange body, the cute face and mouth...there's an element of familiarity, but it all looks so fresh and new as well. Its shiny version is a putrid shade of radioactive green though, which quite frankly is just so typical of Game Freak. But this blemish on an otherwise fine design should not stop Kurumiru from worming its way into your heart.
5. Escavalier (Shubarugo)

Why does it have only 20 base speed? Because, it has no legs. Seriously, how is this guy supposed to even move around with his butt in the snail shell and his pikes to the front. Know about awkward turtle? Well Shubarugo is always awkward. This might be the explanation for its depressing lack of fighting moves. Should it try to charge to Brick Break, it'll end up stuck on its back! With all the rolling around this design is likely to do, it's an even more bitter truth that it does not get Gyro Ball. Aside from the design's lack of movement function (or standing function), it's still very cool looking. Shubarugo has no need to compensate for anything—even when matched with foes like Heracross, Rhyhorn or Cubone, Shugarugo stands up proud and says, "Mine's bigger."

Knight bug! I wouldn't put this Pokemon's design on my list of favourites, but I find it fun and quirky nevertheless. All the essential components of a knight of yore has been condensed into this Bug/Steel Pokemon, from the crested helmet to the striped lance, and for this the Game Freak designers definitely deserve some credit. The red crest and the bottom half of the bug do look slightly exaggerated though, which give it an off-kilter feeling. But Shubarugo definitely wins a lot of points for creativity, which I guess is the most important thing after all.

Boasting an incredible 135 base attack, this monster took the title of most powerful bug-type from Heracross when it was revealed, and that's not the only thing it stole. Mad props to the only Pokémon that evolves by essentially mugging another bug during a trade. It's just such a don with its Punk-rock mohawk and Dave Batista shoulders. If you were a Chobomaki you wouldn't dare ask for your armor back from this guy. I had a feeling that a suit of armor Pokémon would pop up eventually but I always expected a cliched ghost/steel possessed cuirass gimmick would be the way to go. I'm glad to see game freak came up with something original here, and for the most part, pulled it off pretty well.

Game Freak made snails badass. How? Shubarugo. A lifeform that spends its entire time squelching around at 0 mph and getting pecked at, smashed, trodden on, tossed, thrown, eaten, poked, prodded -- all with no defense mechanism but to curl up into a ball like the pathetic easy target it is -- now has armor, two big lances, a massive horsehair crest (the bigger the more betterer, I'm told) and mean eyes. What's that, snails? Even when you hide inside your shell people can still squish you? Try Shubarugo's new steel shell. It only makes this Pokémon's design cooler to realise that elements of its design are actually pieces of other Pokémon it has torn off for its own uses. Using that shell, Chobomaki? Not anymore! If Shubarugo has a downside for me, it is the odd coloring choice -- primarily grey (steel, naturally) and red, it retains Kaburumo's blue and yellow body. Understandable, but why not make the plumage blue instead of red to unify things a little?
6. Bouffalant (Baffuron)

The infamous Afro Bull. This Pokemon is, in a word, badass. Tauros has nothing on the sheer attitude of Baffuron. Its well-coiffed afro can hang with the best of 'em, from Disco Stu to Antoine Dodson to Samuel L. Jackson in Pulp Fiction. The bling on its massive horns only add to its status as a Pokemon not to be messed with, after all, a nice hairdo is nothing without the proper accessories. Its signature move, which has been translated as 'Afro Break', is just icing on the cake, let's hope the translators don't drop the ball with this one.

On the great plains of America, where once there were Buffalo, there are cows—but in New York City, er, Unova region, Baffuron baddest beast. F-U Zekrom, dis' here bull's the real big nigga of nigga' cup. When Baffuron isn't tramping out the tiers of Trou though, he's still swaying his stuff as the sexy beast he is. Baffuron was awarded #8 in the Manliest Mons article of last issue for all his style points.

Why are we even discussing this? It's a buffalo with an afro, humongous horns and bling. Simple color palette, simple design, makes Tauros look like a pansy, same old, same old. Excellent design.

What does Baffuron look like? Does he look like a bitch to you?! Hell no. I think afro bull was probably THE most talked about BW pokemon on release, and it's clear to see why. It's a bull with an afro. There really is nothing else to be said about Baffuron. It is simply one of the greatest video game characters in the history of the universe ever. So let's take a few moments to remember some of the famous afros to which Baffuron pays homage: Billy Preston, Jimi Hendrix, Samuel L Jackson (As both Afro Samurai and Jules Winnfield), all 5 of the Jackson 5, Oscar Gamble, Richard Simmons... Ace Matador.
7. Heatmor (Kuitaran)

On first glance I liked the look of Kuitaran, but since that inital impression it hasn't really stood out enough to warrant a second look in. I put that partially down to it being well and truly dicked in the stats department, and completely outclassed by the other fire types that were introduced gen 5. It's only now that I'm asked to actually judge it as a design that I'm starting to notice good and bad points about it. I'm digging the claws, and the car muffler tail is pretty hot, but now I've spotted it, I can't take my eyes off of that weird... THING, between its legs. What is that? Cannot be unseen. I had a look from other angles but I'm still not sure. If anybody knows, please. Seriously. PM me.

The first time I saw Kuitaran, I laughed. But maybe that's the point! Game Freak have taken anteaters, one of the most ridiculous looking animals on the planet (actually, that's a very lofty statement) and made them into big, bad, fire-breathing machines. As if to emphasise that this design is humorous, Sugimori's art depicts Kuitaran with a wisp of fire licking out from his mouth, much like an anteater's long tongue. The big, Metapod-esque eyes are a huge giveaway too. Kuitaran is, however, part of a fifth generation trend that I don't like. All this fusing of animal and machine! Kuitaran isn't just supposed to look like a fire-breathing anteater, it's supposed to look like an anteater flamethrower. Just look at the gun barrel wrists, the piping of its underbelly, the muffler -- of all things -- for a tail. Not for me, no sir, I'm joining team Aianto. That's a mean design.

When Fate suggested this Pokemon for the next list of judgees, my initial reaction was "Wha- oh! yeah! That guy's interesting!" I definitely have to say that Kuitaran is both creative and intriguing. It brings new meaning to the phrase "tongues of flame". Its color scheme is pleasing, and its design is neither boring or overly busy. It is unfortunate that this fun and interesting pokemon design seems destined for obscurity almost on par with... wait, what was it's name again . . . licky licker or something or other anyway. Wait, who is this review for again? Unfortunately obscure placement in game combined with mediocre stats can make even a good design become extremely forgettable.

This firespitting anteater is, in my opinion, also a Pokemon that lives and breathes badassery. Its design is unique without looking insane like Shinbora, and I'm especially fond of the tail that looks like an exhaust pipe. The combination of skinny upper-arms and bulky forearms does make it more resemble a Digimon than a Pokemon however, which of course will not be to everyone's tastes. But there's just something about its cresent-shaped body and its massive claws that makes Kuitaran look so good.
8. Vanillish (Baniricchi)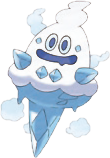 Ow... hold on a sec... I'm getting brain freeze... putting aside whatever gimmick shock value may come from a living ice cream cone, I can't help but find this design bland for my taste. Putting aside the obvious weirdness of a living Ice Cream cone, I have to complain that this design just doesn't feel "pokemon-esque." I am almost certain it is the eyes/expression, but this Pokemon's art simply feels awkward amongst the anime-influenced art, and seems more like something Disney would draw. I think this undermines a consistency of style that should be at least some-what preserved. Eyes farther apart would definitely have helped.

I scream, you scream, we all scream for Baniricchi! After four generations, Nintendo gets the bright idea of basing a Pokemon on everyone's favourite summertime treat. I look forward to Gen 6, where we'll no doubt see the debut of Pokemon that look like fries, milkshakes, and meatballs. Considering its prevo's cuteness, I do find Baniricchi's eyes too close together and too dull looking, which effectively ruins an otherwise above-average design. The arrangement of the ice crystals on Baniricchi's body look a bit too elaborate as well, which further detracts from the overall aesthetics of this Pokemon.

All right stop. Collaborate and listen. Ice is back in the fifth generation. Now something grabs a hold of me tightly, I took a shine to this design straight away and rightly so, yo... Yeah, there's no way I can keep that going for an entire paragraph. But now that we've broken the ice, you have to admit, this is a cool pokemon. Comical, cute, outrageously goofy. I've heard people sitting on both sides of the fence when it comes to Baniricchi, but I can't see why someone would dislike the ice cream family. It's clearly not taking itself seriously. Be honest, you had a cheeky smile when you first saw it too didn't you? It's not bad in a VGC match either, spamming blizzards to get revenge on those pesky Eruufun. And in the words of Mr.Freeze himself: revenge is a dish best served cold!

What is this? What is this? I think you mistyped Baniricchi as ice, Game Freak, when you in fact meant to type it as dumb. Or food. Or scrap. It's just an ice cream -- literally -- with a goofy face on it! Wh-! N-! I-! Horribly lazy design. Bulbapedia tells me Baniricchi was designed by "James Turner", which explains some things, but not everything. James Turner the United States governor and senator, born in 1766? Alright.
9. Audino (Tabunne)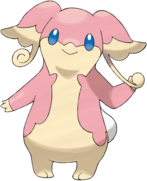 Tabunne is plain, boring, unexciting, the Pokemon equivalent of beige wallpaper. So I guess it's fitting that Tabunne is a Normal-type. Some chump in Game Freak headquarters wondered what would happen if Delcatty was shaped like Drowzee, and thus Tabunne was born. From the looks of it Tabunne is supposed to be a replacement for Chansey, but whereas Chansey had the lucky egg schtick going for it, Tabunne has next to nothing. Cute eyes, weird ears, and fat pink body? Please, we got bored of that with Wigglytuff. Next!

There is nothing to redeem how boring this design is . . . I'm pretty sure. "Tabun, ne" means "I'm, pretty sure . . ." in English. There are some Pokemon like Wobbuffet (Sonansu, or "Thas' right!!") or the more recent Desumasu where the Japanese name is some expression that matches the character and is intriguing, this is not one of them. Maybe the name is supposed to be as bland and unsure of this character. "I'm not Wigglytuff 2.0 . . . I'm pretty sure . . ." I guess it's cute though.

I hate it I hate it I hate it. A big pink and cream fluffy rabbit-cum-elephant, with dreamy blue eyes, a cute smile and floppy ears. Jesus. The normal type has enough of these already (Happiny? Chansey? Blissey? Igglybuff? Jigglypuff? Wigglytuff? Clef- I mean, really, need I go on?) and it is a dreadfully bland type as it is. A lazy, boring, knock-off design. Were the guys working on Kurumiru and Tabunne on the same side? And they say Pikachu clones are bad. Open your eyes, people!

I can't look at this without seeing Patamon from the Digimon series. Patamon annoys me off and therefore I don't like Tabunne. If I'm seriously looking at Tabunne critically, I think it's quite a lazy and unoriginal design. Unoriginal for the aforementioned Patamon likeness, lazy because, well... It's like someone in the art department was asked to draw a generic cute fairy-esque thing and did exactly that. It doesn't really have any outstanding features, there's no "pokemon signature". I'm all for cute pokémon, but cute for the sake of cute is not my cup of tea.
10. Mandibuzz (Barujina)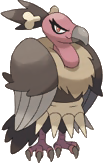 The Jungle Book is how you do vultures. This is not. A fat, fluffy crest, eyeliner and mascara, small wings puffed up at the sides to emulate those eighties power shoulders on women's business suits? I get the impression with Barujina that someone went out for lunch after a fifth generation Pokémon brainstorm, and they had the neat idea to combine vultures with old world tribalism. So we got the bone in the hair idea, the apron of teeth, the cool, desaturated color scheme. Unfortunately it was "bring your daughter to work" day, and whilst our artist was out grabbing a sandwich someone's eight-year-old bat got their grubby mitts on Barujina, tried to doll her up like the time she snuck into her mother's make-up bag, smeared black all over her eyes and threw on clothes eight hundred times too big for her. This is a hideous Pokémon. It may well be the most hideous Pokémon. Screw you guys. Screw this. I am out.

Ahhhh, the Vulture Pokémon. I like this one for it's subtle references and connotations. While vultures are known in the western world as scavengers that prey on the weak, Barujina's tribal ponytail and bone accessory paint it in a more predatory light. Perhaps as a savage, definitely more a hunter. The skirt of bones it wears is pretty sadistic too. I like to think that each of those pointy bits is a bone from each of her victims, like a serial killer that cuts off a finger to keep before disposing of the body. Anyway, what's great is that any kiddies looking at Barujina are just gonna think "rawr scary birdy", and it's good that it can cater to both young and old like that.

Ignoring the fact that its name is probably how a Japanese person pronounces 'vagina', Barujina is actually a pretty cool Pokemon. I'm surprised it took Game Freak this long to come up with a vulture Pokemon, but now that it's here I'm pleasantly surprised at the result. The bone accessories look very natural, and blends in beautifully with Barujina's color scheme. This aerial scavenger certainly looks rugged, but maintains an air of grace at the same time. While its prevo looks awkward as anything, Barujina is definitely in the running for best-looking Flying-type of the new generation.

I spurted Baniricchi out my nose when I read Fate's comments. They're all female right? Bunch of scavengers, those cun— condors... My first impression was that some hair stylist from Bedrock had joined Game Freak. Yabba Dabba doo! I still find it weird that this design has head feathers like a pony tail. For those who don't know, condors/vultures have bare heads so that they have no interference (or parasites/infections later) when digging their entire head and neck into a dead carcass. I imagine Barujina's accessories could be a problem there.