Competitive Surprises of Gen V
Introduction
What happens when you pack thousands of people on a website, give them a light spattering of information about a game that's about to be released, and then give them a forum for discussion? Speculation. Yes, we all do it, and we also all know just how terribly wrong so many of us were in doing so! Black and White's release has come and gone, and the game is out soon in the United States even. Now that we've been playing the game for quite literally months and have gotten a better handle on what the metagame's shaping out to be, we can look back at our predictions and see just how off we were. This article is an exercise, if you will, that will take the general community opinion of several fifth generation Pokemon back when the game was fresh on our tongues, and compare it to how that Pokemon fares in today's OU metagame. Some Pokemon will obviously suck a lot more than we thought, others will be way better than we ever guessed, and some will have just left us with a "WTF" scowl upon our faces. Let's see which Pokemon fit into which category...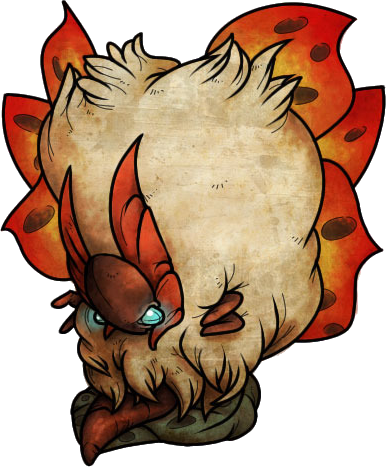 Pokemon we thought would suck but are awesome

Volcarona
This Pokemon got a lot of time in the limelight when it was first revealed. It has some seriously legitimate stats that make it ideal for the role of special sweeper, but what really got people going back and forth on it in speculation was its typing: Fire / Bug. Any savvy Pokemon player knows what those two types on the same Pokemon means; yep, you guessed it, Volcarona is 4x weak to Stealth Rock. Needless to say, this sparked debate after debate, all of them ending with "This Pokemon might be good in UU". All that changed after our researchers unearthed and documented the moves that Volcarona learned. Of the movepool, one move with pitiful distribution stood out: Quiver Dance.
Quiver Dance changed everything for Volcarona; we busied ourselves trying to see what that move actually did, and when we did, it was shocking. Volcarona's best stats, its Special Attack, Special Defense, and Speed all get boosted one stage with one turn of setup. This turns Volcarona into a very menacing sweeper if given a chance to set up. However, the community still claimed it would be held back by the Stealth Rock weakness.
Where did we go wrong? The error of our ways was that Stealth Rock was no longer the most dominant force in the metagame as it once was in DPP. Don't get me wrong, it's there, but with Pokemon like Excadrill and Starmie packing high-Speed Rapid Spins and the loss of Rotom-A as a spinblocker, keeping hazards up is so much harder. Factoring that into our equation, it turns out that Volcarona is a far better Pokemon than any of us ever anticipated, and is a definite contender in 5th generation OU.

Conkeldurr
One of the most hilarious things about Conkeldurr, besides its name and its nose, is that it was utterly unheard of during early metagame speculation. What's that? Yeah, this top 10 Pokemon was completely unknown to the competitive view during early predictions. Why is that? Well, compare Conkeldurr to our DPP favorite, Machamp. Conkeldurr might have higher Attack, but naturally lacks the wonderful DynamicPunch and No Guard combination that makes Machamp so threatening. Only once we, as a community, realized that Excadrill was such a threat and that—as though serendipitously—Conkeldurr was gifted with the one thing that Machamp wishes he had, Mach Punch, did we begin to see Conkeldurr in a different light. Mach Punch, coupled with Conkeldurr's respectable bulk, access to Bulk Up, and excellent Attack stat, make it a force to be reckoned with. Don't take my word for it, though, just go play a couple of matches and see for yourself!

Reuniclus
Yeah, this thing was once thought to be a terrible or gimmick Pokemon that wouldn't get used on serious teams. My, how we were wrong. Sporting Magic Guard, awful Speed, Trick Room, and Calm Mind, Reuniclus is a veritable nightmare for stall and offense alike depending on what skills it's packing. Most speculation glossed over this Pokemon though, despite all of these advantages. My guess is that everyone figured that its typing would be the death of it, what with the Pursuit-heavy DPP metagame that Tyranitar dominated at their heels. Whatever the case, I remember taking a break from Pokemon for a while and coming back to find that this cute little water bear Pokemon had somehow become all the rage.
And all the rage it really is. Like I briefly alluded to above, its excellent defenses, great base 125 Special Attack, and Trick Room really let it do a number to high Speed offensive teams. In the same vein, however, Magic Guard coupled with Calm Mind let it set up on a number of common stall team Pokemon and sweep with ease. These roles sound so obvious in retrospect, don't they?
Pokemon we thought would be awesome but suck

Haxorus
And here it is, the most overhyped Pokemon of the fifth generation. This thing is an OU-level dragon with roughly the base Attack stat of Rayquaza, access to both Swords Dance and Dragon Dance, and STAB Dragon-type attacks. What could possibly go wrong? A very inconvenient Speed tier, that's what. Some of the more clever DPP players called this Pokemon a failure long before the general population realized it, recognizing that its unfortunate Speed stat of 97 places it tragically underneath a plethora of base 100 Speed Pokemon; the new pseudo-legendary, Hydreigon; and the half-dozen newly introduced base 108 Speed Pokemon. To make it worse, Haxorus lacks all but the most rudimentary coverage, having no attack with which to break through Skarmory and instead relying on its unimpressive bulk and Taunt to wear it down against repeated Brave Birds. That's not what the public thought, though... They claimed that despite these shortcomings, the sheer power of a +2 Outrage, Earthquake, and Brick Break would be enough to take down all opposition. Too bad it wasn't. Finally, as if to add insult to injury, big brother Garchomp came back to stay in OU this time around, leaving Haxorus behind in the dust. If Haxorus had a base 102 Speed stat to tie with Garchomp, perhaps he'd be as top-notch as we all thought he would be, but alas, it's not the first time that Game Freak has let us down.

Zoroark
Either because Zoroark is the Lucario of the fifth generation or because he was the first fully evolved Pokemon revealed, everyone was so excited about this Dark-type Pokemon. Speculation was abound at how he would single-handedly change the way the game was played thanks to his ability to appear as another Pokemon on your team. Unfortunately, though, this got shut down by game mechanics, and soon we all learned the error of our ways. Zoroark still acts as a Dark-type Pokemon, even when copied, so he cannot copy a Pokemon that takes more or less damage from entry hazards or the jig is up before it even begins. Zoroark's ability really preys only on the careless, as those who pay close attention will see through the guise easily. This is made even worse by the fact that in most battles, you can preview your opponent's team before the battle begins. Knowing that your opponent has a Zoroark really prepares you for the deception before it happens, and reduces the effectiveness of Zoroark substantially. Needless to say, Zoroark is nothing like what we hoped he would be, and has fallen out of the spotlight almost entirely since its debut.
Pokemon that surprised us completely

Druddigon
Now, no one looked at Druddigon's stats and claimed this to be an awesome Pokemon, but at the same time most of the community had mixed feelings about it. Why was this Pokemon even made? Made to be inferior? To look intense and yet accomplish nothing and have no notable niche? No one really understood what this Pokemon was all about, and in play nothing has changed. Like Altaria of the ADV generation, this is a very bad dragon. Druddigon seems to be designed to be the polar opposite of Haxorus, with neither Swords Dance nor Dragon Dance in its repertoire. Thanks to these shortcomings, people still look at this Pokemon months after the game has been released and ask "What gives?"
The real surprise about Druddigon is twofold, though. Not only is he perhaps the worst Dragon-type Pokemon that Game Freak has ever created, making Altaria seem like a beast, but in order for him to even pretend that he's useful for his team he has to play a whole different game than any other Dragon-type has in the past. Thanks to his abysmal base 48 Speed stat and strangely unique movepool, he can run a relatively high power physical attacker set with Superpower for coverage and Sucker Punch as the clincher. Yeah, that's right, we're talking about the only Dragon-type in the game to get Sucker Punch besides Latias which, uh, should probably not use it anyway. This might have actually been awesome if Druddigon learned Swords Dance, but oh well...

Archeops
Archeops was the biggest whirlwind of affection and hatred that I think I've ever witnessed for a single Pokemon. First, we discovered its stats, and holy crap were they exciting. 140 base Attack? 110 base Speed? 112 base Special Attack? That totally blows classic mixed wallbreakers such as Infernape out of the water. And with that knowledge, the forum buzzed with speculation and consideration as to how one would counter such a powerful beast. This is where it all went downhill. We received word from one of our reliable researchers that, as if Game Freak had predicted that they might have made a Pokemon worth using, Archeops's ability was one that cuts its stats. Ouch. First, we thought it reduced all of Archeops's stats and we discarded the Pokemon as rubbish, then we figured out that it was Attack only that got cut, giving us a glimmer of hope. Well, at least it has its Special Attack stat, right? Wrong. Days after the loss of half of its Attack stat, while people were still buzzing about how it'd still be useful because it can use its Special Attack, we found out that its ability halves the actual stat for both Attack and Special Attack. Well, there goes that idea. From then on, Archeops was made fun of as the Regigigas of the fifth generation; it's a Pokemon that would've been awesome and top-tier had its ability not been so detrimental. You'd think Game Freak made these things to troll us, or maybe they actually think that they know how to balance competitive Pokemon? We may yet never know.
Conclusion
It should come as no surprise by this point in the article when I say that the community has a tendency to blow things out of proportion and be wrong in every conceivable way when it comes to speculation. I don't think it has anything to do with the intelligence of the community, no, as my goal here isn't to insult anyone; rather, I think it has everything to do with the forward thinking capacity of the Smogon populace at large. We're tied something fierce to the generation we just came from and all of its intricacies. We assume that because Stealth Rock was so incredibly powerful in DPP that it must continue to be so in BW, we assume that because something like Machamp was so dominant in DPP that its role will never be usurped in BW, and we assume that because something has an Attack stat like Rayquaza's with similar setup moves it must be good. All of these assumptions, looking back, couldn't have been more wrong. Perhaps, if nothing else, this is a good lesson for the future: don't hold onto what you know so dearly and think a bit outside the box. As much fun as Pokemon theorymon and guesswork is, it'd be nice for us to be even partially right most of the time!