Featured RU RMT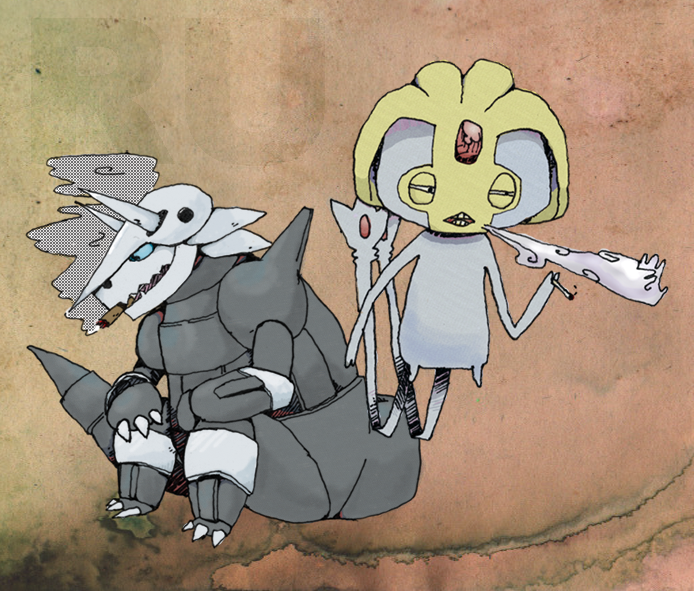 Introduction
One of the old time starters from the GSC era has gone underrated by many in RU for a long time, that being Feraligatr. The strength it wields after a Swords Dance was part of what prompted me to create this team, a team that has been very successful on the ladder and that I used throughout this round to make the RU council. Like most teams, it does have a few flaws and it these flaws that I look to address from here.
Team Building Process
Sceptile has been my favourite starter for a long time, and after having discovered its power in RU some weeks previous I naturally plopped him onto the next team I made. It was at this point that Feraligatr was inserted, the Swords Dance set chosen to complement Sceptile's speed.
I had also recently discovered the awesome abilities of Manectric, and realized how easily it could run through the tier as a a Choice Scarfed attacker. I then added Aggron as a defensive backbone, as well as a brutal attacker with its SubPunch set.
At this point I decided a FWG core would be beneficial to cover most opponents offensively and defensively. From there the natural choice was Entei, being almost the only viable Fire-type in the tier.
I struggled here for a long time, searching for something that would give me Stealth Rocks without compromising the team and I eventually setled on TrickScarf Uxie, which gave me momentum, Stealth Rock and death fodder, all proving crucial to me.
The Team

Uxie @ Choice Scarf
Trait: Levitate
EVs: 252 HP / 56 Def / 200 Spd
Bold Nature (+Def, -Atk)
- Stealth Rock
- Trick
- Thunder Wave
- U-turn
Why these moves?
Stealth Rock: Critical for any team, especially offensive ones, helps wear down opponents for my sweepers
Trick: Allows me a way to cripple opposing stall teams as well as dangerous threats, helps with scouting
Thunder Wave: Supports Feraligatr and Aggron, granting them further set up time
U-Turn: Allows for scouting, ensures Uxie doesn't become set up fodder
EVs: Gives Uxie fairly good bulk, allows it to outspeed most Pokemon with or without a Scarf
What does she do for my team?
Despite being the last member chosen for my team, Uxie serves a critical role in laying the playing field for the rest of the team. Being an offensive team, each of her moves are tailored to suit that, Rocks and paralysis aiding my sweepers, Trick and U-Turn being beneficial in removing key opposing threats, such as crippling Cofagrigus. After the first couple of turns, Uxie has usually fulfilled her role for the match and in doing so takes on another one, that of the free switch. Under the fairly common scenario where I don't want my preferred Pokemon to come into an attack, Uxie provides that buffer where it can either sacrifice itself or U-Turn away, which is critical in allowing me to retain momentum, which I almost never lose from that point on.

Aggron (M) @ Leftovers
Trait: Rock Head
EVs: 40 HP / 252 Atk / 216 Spd
Jolly Nature (+Spd, -SAtk)
- Substitute
- Head Smash
- Focus Punch
- Magnet Rise
Why these moves?
Substitute: Buffers Aggron against status, especially burn, allows it to turn Pokemon such as Swellow and Spiritomb into set-up fodder, crucial for Focus Punch
Head Smash: See picture. Brutally powerful with no drawbacks besides its accuracy
Focus Punch: Excellent coverage alongside Head Smash, hits things like Omastar and Rhydon
Magnet Rise: Turns Gligar and Claydol into fodder, can beat Claydol and Rhydon one-on-one with this move
EVs: Outspeeds most Claydol, Qwilfish, Gligar
What does it do for my team?
Aggron is a fucking boss. Incredibly powerful even without investment, it breaks through opponents very well. On this team it absorbs many Rock- and Normal-type attacks aimed at the team, with its Steel-typing taking these, which prove to be crucial resists for my team. As such it often gains frequent set up opportunity, from which the opponent suffers from. It also synergizes well with Sceptile and Feraligatr, those being able to come in on the Ground- and Fire-types that can force Aggron out and continuing the momentum from there.

Entei @ Choice Band
Trait: Pressure
EVs: 252 Atk / 252 Spd
Adamant Nature (+Atk, -SAtk)
- Flare Blitz
- ExtremeSpeed
- Stone Edge
- Toxic
Why these moves?
First three: Go read the analysis. Also provides some pretty crucial priority that lets me take on things like Accelgor and Galvantula without getting ass raped.
Toxic: Because Will-O-Wisp is a douchebag. Additionally, bulky water switch ins are pretty obvious the first time Entei comes out and hitting that Omastar or Slowking can be pretty crucial.
What does it do for my team?
Entei doesn't see a whole lot of action late-game due to my lack of a spinner, but is usually my go to guy in the middle when I'm still trying to figure out my opponents team and to start blowing holes in it. Thanks to its great bulk I can bring it in pretty easily and start weakening potential checks for Feraligatr and Sceptile by firing off Flare Blitzes. Its also my first check to opposing Fire-types, Moltres and itself, absorbing their attacks before either forcing them out or letting a teammate take them on. It also it a great switch in to Cofagrigus, Dusknoir and Spiritomb as it absorbs the burn attacks my team doesn't particularly like. In that vein its also the Pokemon that usually is my go to status absorber since Extremespeed means no status really cripples it.

Sceptile (M) @ Life Orb
Trait: Overgrow
EVs: 252 SAtk / 4 SDef / 252 Spd
Timid Nature (+Spd, -Atk)
- Giga Drain
- Leaf Storm
- Focus Blast
- Hidden Power [Ice]
Why these moves?
Giga Drain: My primary STAB option, hits a lot of RU neurally, has good power and recovers of Life orb and hazard recoil
Leaf Storm: My nuke attack, almost always KOs something when I use it, usually to remove something like Cofagrigus before it can start to set
Focus Blast: Necessary to hit Fire-types and especially Steel-types neutrally, basically covers things that resist grass
Hidden Power Ice: Ice>Rock because I didn't like missing out on Grass-type coverage for the sake of hitting Fire-types, especially when supporting Feraligatr
What does he do for my team?
Sceptile was initially who the team was meant to focus on but ended up supporting Feraligatr by taking on Grass-types and the like that could wall it. Sceptile is really my catch all Pokemon, with very few Pokemon that can take it on without significant risk. It takes out Ground-types as well, which directly supports Manectric who then runs rampant over my opponent. Sceptile is also a very important check to Pokemon that outspeed the rest of my team, such as Archeops, tying with other Sceptile, but most importantly Durant, who if it manages to get in for free (rare) will hurt something.

Feraligatr (F) @ Leftovers
Trait: Torrent
EVs: 148 HP / 252 Atk / 108 Spd
Adamant Nature (+Atk, -SAtk)
- Swords Dance
- Waterfall
- Aqua Jet
- Frustration
Why these moves?
Swords Dance: Doubles Gator's attack, lets it break through things like Cofag and BU Gallade
Waterfall: Awesome STAB attack, hits things very hard
Aqua Jet: Especially alongside this which allows Gatr to OHKO faster mons and combo with Waterfall for a strong one-two punch
Frustration: Excellent coverage alongside Water, Crunch is situation, Ice Punch unnecessary imo
EVs: 108 Speed ties neutral base 60s, rest gives it good bulk
What does it do for my team?
Feraligatr was never meant to be the star of the show, I just wanted it to prove itself based off of what I had heard about it. As I laddered I notice more and more frequently that the Pokemon that would finish off the game was Feraligatr and that little could stop it once it got going. Each Pokemon on the team has some way to put pressure on Gatr's checks, which making cleaning up not particularly difficult. Being a balanced player the biggest draw Feraligatr gave me was its bulk, which allows it to set up with ease, to survive strong hits and keep on fighting. There have been so many times where its tanked an attack, Waterfalled the opposition, picked them off with Aqua Jet and continued its sweep. Its the kind of bulk that lets it switch into Gallade on the Bulk Up, Swords Dance on the Drain Punch and KO with Waterfall. I couldn't ask for anything better from Gator Time.

Manectric (M) @ Choice Scarf
Trait: Lightningrod
EVs: 4 HP / 252 SAtk / 252 Spd
Timid Nature (+Spd, -Atk)
- Volt Switch
- Overheat
- Switcheroo
- Thunderbolt / Hidden power [Grass]
Why these moves?
Volt Switch: A powerful move in its own right, Manectric will often force switched which can then be easily taken advantage of by bringing in the appropriate attacker to the switch in. Also forms a VoltTurn core with Uxie.
Overheat: Excellent coverage move, allows Manectric to revenge or KO Electric resists, including Steelix and especially Lilligant.
Switcheroo: A second combat to stall, crippling them, it is also useful if I need Manectric to utilise diversity in that particular match.
Thunderbolt / Hidden power [Grass]: I used Hidden Power Grass for the longest time intending to catch Quagsires. I think I saw one. It was only ever used as a cleaning move on rare occasion so I brought back Thunderbolt to allow Manectric a stronger STAB and to enable it to sweep through weakened teams.
What does he do for the team?
Although Feraligatr became the MVP, Manectric was the unsung hero of the team, being absolutely crucial in solidifying me against opposing threats. Electric has been a brilliant attacking type since Krookodile and Manectric is amazing in its role at abusing it. With its already excellent Speed being boosted further, Manectric provides me with checks to boosting sweepers such as Lilligant, Weather boosted POkemon such as Kabutops and Shell Smashers, being my primary check against Omastar. With the lack of Ground-types in RU, Volt Switch is a huge boon, always threatening an opponent and almost always maintaining momentum for me. It can also switch in on opposing Manectric and Galvantula, pick up a special attack boost from Lightningrod and proceed to rape even more face.
Conclusion
This team has been a lot of fun to use, and with the conclusion of the round it seems appropriate to reveal it in full. I look forward to incoming rates, as this team does feel like it could have some minor tweaks that could be ironed out and they can only be helpful. In conclusion, rate, hate, steal, but more importantly have fun, RarelyUsed in the best tier on Smogon imo, and is alway sa treat to play, no matter what is in the tier (except AlakaSableye, that shit was gay).
Introduction
RU is still one of the newest tiers that is legitimately recognized by Smogon, but it's developed significantly in the last few months. New strategies and team archtypes have become more and more popular, certain cores have been developed, and in general, the metagame has grown more stable (although it still possesses the nice amounts of variety that made it so alluring for many!). Texas Cloverleaf's team is a prime example of how the RU metagame has developed in the last few months, being an excellent example of how bulky offense has risen to dominance in the metagame. The team also showcases an excellent core that it was responsible for the creation of, and has since become significantly more popular.
The Team
The first thing to notice about this team is the presence of a number of heavy hitters. SubPunch Aggron, Choice Band Entei, and Swords Dance Feraligatr are all some of the most powerful physical attackers in the tier, capable of easily blasting through many defensive cores on their own. However, when backed with support from Life Orb Sceptile, who can take out the few walls that are capable of giving the main core of the team trouble, the team's main offensive core is extremely difficult to handle. Furthermore, Manectric is used both in order to abuse its solid offensive synergy with Feraligatr, while also providing the team with momentum and free switch-ins through Volt Switch. Finally, Uxie is used as the team's "lead" so to speak, in most situations, although with the advent of team preview the necessity of a lead has been rendered rather obsolete.
Continuing, the offensive core of this team is truly spectacular, being able to break through nearly all the common defensive cores in the RU tier, while also softening up physical walls for Feraligatr's eventual sweep. In fact, Entei and Feraligatr work perfectly well in tandem, breaking down nearly exactly the same walls, with a few exceptions, such as Tangrowth and Ferroseed, that only Entei can handle. This is especially important for the team, as it means that Feraligatr will nearly always be capable of pulling off late-game sweeps if Entei is played well. Aggron also breaks down a number of physical walls which give Feraligatr issues, while being capable of luring in Pokemon such as Claydol, who can be problematic for the team as a whole.
For such an offensively minded team, it has a surprisingly solid defensive backbone. Entei, Feraligatr, and Sceptile possess an excellent array of resistances, forming the well-known Fire-Water-Grass core. Manectric also provides a valuable defensive aspect to the team, thanks to its ability, Lightningrod, which nullifies all Electric-type attacks thrown at it, and even grants it with a Special Attack boost. This makes it an extremely important member of the team, for its ability to switch in on threats such as Rotom, Galvantula, and even opposing Manectric, while also taking crippling Thunder Waves from more defensive teams. Uxie and Aggron round off the defensive structure of the team, with Uxie's ridiculous bulk and nifty resistances letting it take hits pretty easily, while Aggron takes the Rock-type attacks directed at Entei.
Finally, there is Feraligatr, the big man of the team. With all of its common checks and counters easily cleared away by the rest of the team, it has the opportunity to sweep past a huge amount of the metagame without trouble. Common defensive cores such as Slowking and Tangrowth crumple when faced with a boosted Feraligatr, if they're even slightly damaged. Even offensive teams have trouble taking out the big alligator thanks to the boosted Aqua Jets it can fire off. Overall, it's an excellent Pokemon and this team supports its sweep exquisitely.
Threats
Sadly, although this is an excellent team, no team is entirely perfect. This team has a few troubles handling well played full stall teams, especially if they're using Quagsire, who's somewhat troublesome for the team unless Entei can manage to land a Toxic against it. The team is also extremely vulnerable to Toxic Spikes, with two thirds of the team members being hit by them. Several common RU playstyles are also relatively hard to handle with this team. Dual Screens hyper offense in particular can be difficult to defeat, due to the somewhat slower nature of this team in relation to the super fast assault most hyper offensive teams offer. Finally, Offensive Trick Room Cofagrigus with Nasty Plot is capable of setting up against and doing quite a bit of damage, while being immune to Entei's priority and barely fazed by Feraligatr's Aqua Jet.
Conclusion
Overall, this is a superb team and is the epitome of RU bulky offense. The team is beautifully constructed, and has had a number of major accomplishments (including having no less than three alts in the top segments of the RU leaderboard during the rounds of suspect testing). This successful, creative, and innovative team is a prime example of the RU metagame at its best, and one of the best RU teams as of late.