Smeargle's Studio Update

Welcome, welcome one and all to this issue's Studio Update! Let me begin with a warm welcome to Fatecrashers, who has recently returned from his escapades in China. Will we see some traditional Chinese art entering into Smeargle's Studio? I somewhat doubt it, but I'm going to nag him nonetheless.
As you will no doubt know, December and January are quite hectic months for everyone. For this reason, there was a distinct drop in participation in last month's MAC, so it had to be restarted under a different theme. Fear not, however, as the top four art pieces from that contest have made it into this issue, all of them worthy competitors!
This month and before!
So, what was the grand theme, I hear you ask? None other than the broad umbrella of 'Humour!' I challenge you not to chuckle at these four pieces. If you don't, then feel free to sue the individual artists—I can accept no responsibility for any lacking laughter.
1st Place – Bummer
In a contest of wit and wiles, it was no surprise that comic strip artist Bummer romped home in this MAC. Famous for his collection of cutting comics (in one such case, literally cutting), Bummer's distinctive style shone through here, earning him 16 votes more than his nearest rival.
Bummer is perhaps one of the most unique—if such a thing can be quantified—artists on Smogon, and this is particularly achieved through the hues in his line art and shading. As the two Pokemon skim the waves, the blue of the water splashes (no pun intended) across their forms, contributing a sea-coloured hue. This, combined with daring highlighting, gives Bummer his own style, and a very successful one at that!
2nd Place – sirndpt
While sirndpt indeed trailed slightly in the poll, this was one of my favorite submissions. Why? The concept is fairly simple, but very effective. The line art and shading are incredibly clean, which lends focus to the main attraction of the piece: Qwilfish's worried expression. The effect of the spikes on the balloon is particularly impressive; they appear to be carefully measured, and in exactly the right places. Bravo, sirndpt!
3rd Place – Swaggersaurus
Az's contributions to the MAC, while infrequent, are always of the highest quality, and this piece was one of the early favourites to win the contest, slipping out of second place by only a handful of votes. While this submission does have a generous dollop of humour, in many ways it's very poignant also. The struggle to reach a goal; the moment of anticipation; the predictable, heart-breaking end. Who knew Az had such brooding emotions inside him?
He must keep them in his jaw, or something.
4th Place – sandshrewz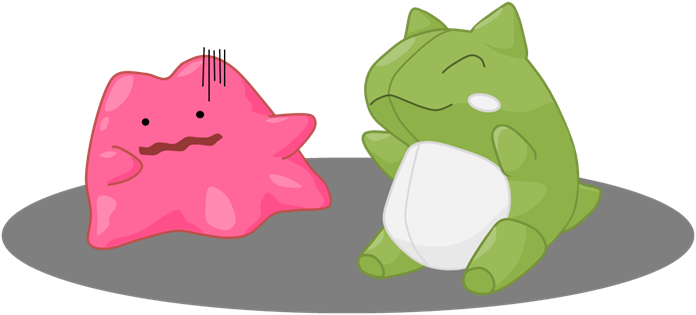 A fairly recent arrival to Smeargle's Studio, sandshrewz has already impressed in many areas, one of which—obviously—has been the MAC! The competition for fourth place was still in full swing even up until the last day of voting, but sandshrewz ultimately managed to squeeze ahead with this design.
While not the most naturally humorous, this piece certainly shows a great deal of promise in sandshrewz's abilities. Not only does he follow in the footsteps of Studio greats like Fatecrashers and Bummer in his line art techniques, but the shading is both interesting and well-suited to the piece. In fact, it could even be considered daring in places, but this doesn't detract from it in the slightest. I hope to see more from you in the future, sandshrewz!
Recent Happenings: Another Contest?
For a long time, perhaps almost two years now, the MAC has held the limelight as the Studio-goer's competition of choice, but recently another challenger has sprung up: the 'Extreme Pokemon Makeovers' contest! The task is to take a design with potential, yet unrealised by Game Freak, and change into something altogether more exciting. The first round has already seen a variety of excellent entries: who knows where it could go next?
Nastyjungle
Bummer