Smogon Awards 2011: Voting Stage
Here they are, ladies and gentlemen, your Smogon Awards 2011 nominees. After sorting through the mass of votes cast it was whittled down to the top nominees in each category. When casting your vote for each category be sure to only vote for one (1) nominee. Send in your ballots via PM to The Smog. Good luck to all the nominees and if you have any questions direct them to The Smog and we will be sure to answer them in a timely fashion.
The deadline for casting your votes is before the release of Issue 20 of The Smog, so cast your ballot early!
Battling
Best OU Battler

Bloo
Earthworm
Heist
McMeghan

Best UU Battler

Eo Ut Mortus
FlareBlitz
Snunch
ToF

Best RU Battler

Nails
ShakeItUp
SGV
Windsong

Best NU Battler

Ice-Eyes
tennisace
Zebraiken

Best Ubers Battler

Eo Ut Mortus
Hugendugen
Jibaku
trickroom

Best VGC Battler

BlueCookies
Huy
Human
muffinhead

Best Little Cup Battler

Elevator Music
Furai
iss
SkyNet
Vader

Best Tournament Player

Bloo
Earthworm
Heist
McMeghan
reyscarface

Best Ladder Player

Kevin Garrett
Mynism
Ojama
ShakeItUp
ToF
wilson46

Best Old-School Player

DracoMalfoy
Earthworm
ENZ0
M Dragon
Veteran In Love

Best Team Builder

Most Influential Player

Kevin Garrett
M Dragon
mostwanted
Philip7086
Stone_Cold
Theorymon

Most Gimmicky Player

Agammemnon
Molk
Mynism
Theorymon
xtrashine

Biggest Upset

Kevin Garrett winning Smogon Tour 12
kamz winning Senior Worlds VGC 2011
Team France's performance in WCoP

Luckiest Player

ENZ0
Kevin Garrett
Ojama
reyscarface

Most Intimidating Player

Bloo
Earthworm
Kevin Garrett
imperfectluck
reyscarface

Best Overall Player

Bloo
Earthworm
Kevin Garrett
McMeghan
Users
Nicest User

bojangles
Chieliee
jumpluff
Swaggersaurus

Meanest User

CaptKirby
reyscarface
Seven Deadly Sins
Synre
Vader

Wittiest User

cookie
JabbaTheGriffin
Fatecrashers
Swaggersaurus
Vader

Cutest User

Fishy
Giant Enemy Crab
jumpluff
Nastyjungle
Swaggersaurus
Windsong
Vader

Most Helpful Poster

Haunter / Alucard
jumpluff
Pocket

Most Improved User

kingofkongs
Molk
New World Order
November Blue
Snunch

Most Overlooked User

Antar
bojangles
Komodo
Misty
OmegaDonut

Most Deserving User

Antar
billymills
Bloo
Oglemi

Most Persuasive User

Most Influential User

Most Promising New User

Jellicent
New World Order
Paperblade
sirndpt
Steamroll
Zebraiken

Most Awesome Veteran

Articuno64
Mekkah
Hipmonlee
Huy
jumpluff

Up-and-Coming User

Bloo
cosmicexplorer
Pocket
Solace

Worst Username Change

Bloo to Bloo7086
Gen. Empoleon to Matthew
Gmax to Gmax|afk
NatGeo to Zurich

Best Avatar

Chou Toshio's "Overall: B+"
Fatecrashers' dancing girl (jumpluff)
Mekkah's Adrian Monk
reyscarface's dancing boy (Limitless)
Ramblin Wreck's Buizel with Magikarp

Best Signature

Fatecrashers' rotating GIFs
reyscarface's Gen. Empoleon quote
whistle's quote compilation

Best Custom Title

Member of the Year

Antar
Bloo
JabbaTheGriffin
jumpluff
Rising_Dusk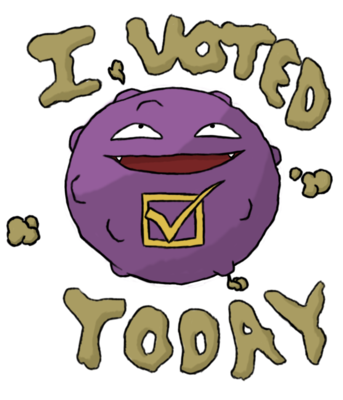 Community
Best Forum Staff Member

Bloo
billymills
Haunter / Alucard
LonelyNess
NixHex
Oglemi

Best Leader

Bloo
bojangles
Haunter / Alucard
JabbaTheGriffin
Philip7086

Best Pokémon Online Staff Member

Best Discussion Sparker

Best Dragonspiral Tower Poster

alphatron
Pocket
Run
Taylor

Best Warstory

Best Wi-Fi User

Cassie
muffinhead
Wild Eep

Best CAP Poster

bugmaniacbob
capefeather
Deck Knight
Rising_Dusk
zarator

Best a forum Poster

Brain
DM
Swaggersaurus
THE_IRON_KENYAN
Vader

Best Mafia Player

billymills
imperfectluck
LightWolf
Steven Snype
zorbees

Best Mafia Game

Card Game Mafia
Final Fantasy V Mafia
Fire Emblem Mafia II
Mafia Mafia 2
Metroid Prime 2: Echoes Mafia

Best Team Rater

ab2
Delko
franky
Iconic
Haunter / Alucard
Smith

Best RMT Thread

Best Tournament

Hoenn Cup
Team Trials IV
The No Johns Tournament
Wyoming Tournament

Best Thread

Best Post

Best Trou du Cul Thread

Best Poster

Brain
DM
Fatecrashers
Matthew
Pocket
Contributions
Best Set Poster

AccidentalGreed
Blue Star
RaikouLover
shrang
SilentVerse
Windsong

Best Editor

Calm Pokemaster
Jellicent
sirndpt
V0x

Best Quality Control Member

Delta 2777
muffinhead
PK Gaming
Snunch
tennisace

Best Writer

bojangles
Honko
JabbaTheGriffin
November Blue
Theorymon

Best Contributor

aesoft
Bloo
Komodo
Oglemi
Rising_Dusk

Best Smogon Media Contributor

Best Researcher

Best New Artist

Bummer
Casteel
Danmire
Fulgrate
Volmise

Most Improved Artist

Danmire
Moo
paintseagull
RitterCat
Yilx

Best Artist

Bummer
Fatecrashers
Nastyjungle
Volmise
Zracknel

Best Contribution

aesoft's Replay Viewer
Pokémon SHOWDOWN!
RNG Reporter
The Form
Be sure to follow this format when casting your vote to make the awards run as smoothly as possible. Thank you!