Dealing with Ubers Threats
Introduction
If you think that countering every Pokemon in Ubers is impossible, you'd be right! Don't fret, however, as there are things you can do to protect your fledgling team from being drowned, burned, and generally eviscerated in this titanic tier.
A good Ubers team will never set out to counter every imaginable Ubers threat and strategy in existence; rather, one should aim to have answers to the biggest and most prominent threats in the metagame.
There are two approaches to dealing with a threat: checking it and outright countering it (or attempting to, at least!). Checking a threat is an offensive approach, whereas countering it is a defensive one.
Offensive Approaches
Offensive Pokemon are often good checks by virtue of their typing and ability to retaliate with powerful attacks. They will not be able to weather repeated assaults from the Pokemon they attempt to check, though, so you have to play them carefully!
Palkia
It is only appropriate that the premier check to Kyogre, one of the biggest threats in the Ubers metagame, be mentioned first. By virtue of its Water / Dragon typing, Palkia sports an invaluable x4 resistance to Kyogre's fearsome Water Spout, as well as an above-average base Special Defense. With these assets, Palkia will never be 2HKOed by Choice Specs Kyogre's Water Spout, barring a critical hit of course. After switching in, Palkia can retaliate with a powerful Thunder from a base 150 Special Attack that will 2HKO even the bulkiest of unboosted Kyogre. The most common Palkia sets you will see are Mixed Choice Scarf and Lustrous Orb. A Choice Scarf set is commonly chosen because Palkia's Speed stat sits above the plethora of base 90s, and even Rayquaza's base 95. This allows it to revenge kill almost every boosting sweeper in the Uber tier. Mixed Lustrous Orb, however, gives Palkia the ability to switch moves and pumps up the power of its STAB attacks. In the rain, STAB Surf boosted by Lustrous Orb is extremely powerful, nabbing an easy 2HKO on even max HP Arceus, in addition to the ability to roast Ferrothorn with Fire Blast outside of rain, or even smack it with a well-timed Focus Punch.
Terrakion
Terrakion is a rising star in the Ubers metagame, courtesy of its handy resistance to ExtremeSpeed and powerful Fighting-type STAB. Terrakion also possesses a nifty Speed stat that outspeeds the multitude of slow base 90s, Palkia, and most importantly of all, Adamant Arceus. Terrakion is mainly placed on offensive teams as being the best offensive Extreme Killer Arceus check in existence, able to take a +2 ExtremeSpeed without breaking a sweat before retaliating with a powerful STAB Close Combat. Terrakion can run three very effective sets in Ubers: Choice Scarf, Life Orb double dance, and Choice Band. Choice Scarf turns Terrakion into the fastest common Choice Scarf user in Ubers, and Choice Scarf Terrakion is able to revenge kill almost everything Choice Scarf Palkia can. However, Choice Scarf Terrakion can fail to OHKO Arceus that invest in bulk, making Life Orb another viable item choice, and giving it the ability to threaten a sweep with Rock Polish and Swords Dance. Choice Band turns Terrakion into a wrecking ball capable of OHKOing or 2HKOing every member of offensive or balanced Ubers teams.
Darkrai
Darkrai is the only Uber Pokemon more annoying than Shaymin-S, and also happens to be one of the best Calm Mind Arceus checks. Outspeeding even positive natured max Speed Arceus, Darkrai can cripple it with an 80% accurate Dark Void. It's a matter of serendipity that the most common Calm Mind Arceus is Ghost-typed, meaning that Darkrai will have an easier time disposing of it with STAB Dark Pulse. However, one will often be frustrated by Dark Void's 80% accuracy and one turn sleeps, meaning that a Substitute + 2 attacks set can be employed to provide a more guaranteed safety net. Darkrai isn't exactly starved for options either, as it can also choose to utilize a lead Focus Sash set, a Leftovers Substitute set, a Nasty Plot Life Orb set, or a Trick Choice Scarf set.
Arceus
Although Calm Mind Arceus is commonly seen as an offensive threat, with max investment in HP, it serves as an excellent switch into almost all Dialga and Palkia. This is courtesy of its excellent 120 / 120 /120 defensive stat spread and access to Recover, meaning that even Choice Specs Draco Meteor will not OHKO. However, Palkia's rain-boosted Surf will prove to be too much and will 2HKO the God of Pokemon. Calm Mind Arceus will often have a moveset of Recover, STAB Judgment, an auxiliary move, and Calm Mind; certain Arceus formes possess the potential to employ a mono-boosting set, sacrificing extra coverage for a safety barrier in Substitute or Refresh. A particularly threatening example of this is mono-attacking Calm Mind Dragon Arceus, with its STAB only having one resistance and hitting many of the Ubers for super effective damage.
Giratina-O
Giratina-O is the best offensive spinblocker in the Ubers metagame and also serves as one of the best Mewtwo checks. A max Attack Griseous Orb-boosted Shadow Sneak will always 2HKO offensive Mewtwo, whilst Mewtwo's Calm Mind-boosted Ice Beam cannot OHKO in return. Furthermore, Giratina-O will often be an offensive team's best switch-in to Terrakion, as it is immune to Close Combat and is not OHKOed by Swords Dance-boosted Stone Edge even after Stealth Rock damage; Giratina-O can then strike back with a powerful Draco Meteor.
Rayquaza
Looking at its stat spread, one would be surprised that Rayquaza could serve any sort of defensive function. However, Rayquaza's exclusive ability—Air Lock, allows it to check Swift Swim and Chlorophyll sweepers. This is because Rayquaza's base 95 Speed stat beats Kabutops, Omastar, Kingdra, Venusaur, and Shiftry, the most common weather sweepers. Rayquaza's mixed offensive stats don't go to waste too; it can wield extremely powerful STAB and auxiliary attacks to attain perfect neutral coverage. Access to powerful boosting moves such as Dragon Dance and Swords Dance make Rayquaza an extremely powerful wallbreaker or stallbreaker as well.
Mewtwo
The things Mewtwo checks are few, but difficult to deal with otherwise. Courtesy of its blazing base 130 Speed, Mewtwo outruns the entirety of the Uber tier, save for a few of the Deoxys formes. Being armed with the exclusive Psystrike and a veritable treasure chest of coverage moves, Mewtwo can safely switch in after a teammates's death and deal heavy damage. Mewtwo can revenge kill Pokemon such as Darkrai, Shaymin-S, Fighting Arceus, and Adamant +1 Blaziken without breaking a sweat. These are all Pokemon that most teams have trouble outspeeding without a Choice Scarf user. A Calm Mind + 3 attacks is Mewtwo's most common and arguably most destructive set; it boasts insane power, as +1 Life Orb-boosted STAB Psystrike damn near OHKOes everything that doesn't resist it. Mewtwo can also take a different path, employing its blazing Speed, access to Will-O-Wisp, Taunt, and Recover to become a quick-stalling machine; this set works exceptionally well with multiple layers of entry hazards—which are in fact integral to the StallTwo set thanks to its ability to force a ton of switches—and will frustrate many opponents to no end.
Kyogre
As the King of Ubers itself, Kyogre is surprisingly versatile; wielding massively powerful Water attacks, it can drown almost anything that stands in its path. Kyogre's biggest draw is its access to the powerful Water Spout, and it is undoubtedly the best user of it; boosted by STAB, rain, and maybe even Choice Specs, Kyogre's Water Spout 2HKOes even Chansey, which is often regarded as impenetrable by most Special attackers. When wielding a Choice Scarf, Kyogre becomes a fearsome revenge killer; a combination of Water Spout, Ice Beam, and Thunder allows it take down many threats. +1 Calm Mind Mewtwo, Groudon, Darkrai, and Arceus formes that are weak to Water, are all OHKOed by Water Spout, whilst Pokemon such as Rayquaza, Manaphy, and Shaymin-S are all destroyed by its auxiliary moves. An offensive Calm Mind set with maximum investment in Special Attack and HP can beat Kyogre's most common check, Palkia. With a Calm Mind boost under its belt Kyogre is no longer 2HKOed by unboosted Palkia's Thunder, whereas it can 2HKO in return. A mono-attacking set consisting of Rest, Sleep Talk, Calm Mind, and Scald with a physically defensive EV spread affords Kyogre far greater durability. This set serves as one of the best Darkrai switch-ins, and has a much easier time switching into support Groudon's Earthquake and Ho-Oh's Brave Bird—a definite contender for teams looking for a sturdy controller of weather.
Defensive Approaches
Defensive Pokemon often sport stellar defensive stats in addition to a form of at least semi-reliable recovery. With these two qualities, defensive Pokemon attempt to continually switch into common Ubers threats and force them out.
Arceus
By wielding certain elemental plates, Arceus becomes a stalwart wall. With access to Will-O-Wisp to shut down physical attackers, Recover for staying power, STAB Judgment with which to retaliate, and a plethora of support moves, Arceus is no sitting duck. In its grassy forme, Arceus becomes an excellent switch-in to most Kyogre (more suited to rain teams, as the amplified Fire weakness is not appreciated in sun). Choice Scarf Kyogre's Water Spout fails to 2HKO, and Arceus's STAB Judgment deals heavy damage in return. Ghost Arceus possesses an extremely useful quality: it is immune to Normal-type moves, most notably ExtremeSpeed. This means that Ghost Arceus with Will-O-Wisp is one of the best checks to the dreaded Extreme Killer Arceus. Water, Dark, and some other unmentioned formes serve more niche roles. That is not to say they are less useful, however, as Dark Arceus is one of the best Mewtwo checks, though one cannot ever truly counter Mewtwo. Mewtwo's +1 Aura Sphere will fail to OHKO Dark Arceus with significant Special Defense investment, whilst a STAB and Dread Plate-boosted Payback will OHKO 4 HP Mewtwo after Stealth Rock damage in return.
Chansey
Eviolite has allowed Chansey to don the mantle of mixed wall, being able to avoid the 2HKO from support Groudon's Earthquake and having most special attacks slide off its amorphous pink hide. Having 641 HP with 163 Defense and 508 Special Defense with a Special Defense boosting nature is simply splendiferous. Like Blissey, Chansey serves as a special wall and even has a neat support movepool, with access to things such as Stealth Rock, Wish, and status moves such as Thunder Wave and Toxic. However, unlike Blissey, the only way for Chansey to deal damage is through Seismic Toss, as it lacks a usable Special Attack stat. This means that Chansey will have problems with Substitute users that possess either a Ghost typing or a 404 and greater HP stat.
Groudon
Thanks to the combination of a coveted ability, access to Stealth Rock, a lack of common physical weaknesses, formidable bulk, and an intimidating base 150 Attack stat, Groudon's popularity is no surprise. Despite its lack of reliable recovery, Groudon's huge physical bulk allows it to go toe-to-toe with sweepers such as double dance Groudon and Terrakion, Dragon Dance Rayquaza, and Zekrom and emerge victorious, or just Roar them out; with Wish support, it can do this again and again.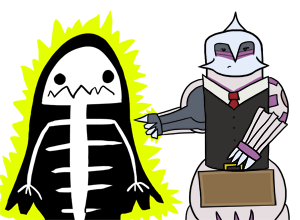 Ferrothorn
The Grass / Steel menace shows its smelly face in the Ubers' territory. Its typing shared only by its pre-evolution grants it important resistances to Dragon, Water, and Electric, three common attacking types in the tier. Ferrothorn's defensive stats are more than impressive, as it can often avoid the 2HKO from the tier's premier special attackers, and in the rain, all but the most ferocious of Fire attacks will fail to OHKO. With access to Leech Seed, Spikes, Stealth Rock, Thunder Wave, and two powerful STAB moves, Ferrothorn's sustained presence on the battlefield is a massive thorn in any opposing trainer's side.
Lugia
In the face of new threats such as Zekrom, Terrakion, and Arceus, Lugia still remains as one of the best walls in BW Ubers. An incredible defensive stat layout allows for Lugia to stand up to all but the most vicious of attacks, and a startling base 110 Speed even allows the brave bird to employ speed-shuffling and Substitute + Toxic sets. Lugia's crux is its inability to do anything to Steel-types with its common defensive sets. This means that Ferrothorn and Forretress will often come in with impunity, spin away hazards, and lay their own. This can be circumvented by unorthodox Substitute + Calm Mind sets, or significant layers entry hazards of your own combined with smart use of Whirlwind.
Skarmory
Being part Steel and part Flying is almost an instant ticket to success; in addition to this, access to reliable recovery, Spikes, a phazing move, and Taunt, makes Skarmory almost too good. All of these qualities aid Skarmory in being an almost-full stop to Extreme Killer Arceus, Garchomp, Groudon, and a few other Uber physical attackers not named Zekrom. Once on the field, Skarmory can also lay the ever-important Spikes, Whirlwind things out, and generally be unkillable.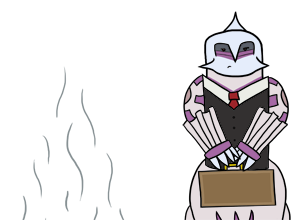 Forretress
Those who say that this bagworm is outclassed since the advent of Ferrothorn are sorely mistaken. Access to Toxic Spikes and Rapid spin set Forretress apart from its durian cousin, in addition to also having Spikes and Stealth Rock. Forretress's flaws lies in its pitiful Special Defense and lack of reliable recovery; it also lacks the means with which to defend itself. These flaws expose Forretress to risking OHKOs (discounting Sturdy) from even rain-dampened Fire Blasts; it is also setup bait for many Pokemon. With these facts considered it is not surprising that many Forretress opt to have Toxic in their movesets, as this severely cripples offensive Pokemon looking to take advantage of it.
Tentacruel
Toxic Spikes, Rapid Spin, Rain Dish, and the ability to absorb the opponent's Toxic Spikes made it viable in Ubers despite its mediocrity in the previous generation. Tentacruel boasts a very respectable Special Defense stat, allowing Toxic Spikes to be littered across the battlefield as Dialga, Palkia, and a significant amount of other Ubers find themselves unable to deal sufficient damage to the septic jellyfish. If the divine gift of Rain Dish was not already good enough, Tentacruel also received the holy grail of bulky Water-types—Scald. With a measly base 65 Defense, however, Tentacruel really appreciates its newfound ability to potentially burn physical threats.
Giratina
A staple of classic stall, its overall bulk is almost unparalleled, and although its Ghost / Dragon typing is a mixed bag, Giratina will find itself appearing on stall teams for some time to come. Its Ghost typing means that Giratina will block all opposing attempts at Rapid Spinning, and its immense bulk means that even offensive Life Orb Excadrill will have trouble breaking through it. Giratina's downfall stems from its lack of reliable recovery, forcing it to use the frustrating Rest + Sleep Talk combination, made all the more ineffective due to the new sleep mechanics. In addition, Giratina's grounded status means that it is vulnerable to all forms of entry hazards. Finally, standard defensive Giratina has pitiable offensive capabilities, as it needs to have both Will-O-Wisp and a phazing move, leaving Dragon Tail as its strongest offensive option, and coming from an uninvested base 100 Attack stat, it isn't going to do much.
Conclusion
As one can see, defending against the titans of the Uber tier is no easy task. All team archetypes need to have some way to deal with the prominent threats mentioned; this article provides only rudimentary instruction with which to deal with them. However, I hope this encourages players to delve deeper in the Ubers metagame, rather than shy away!