The Arterview: Swaggersaurus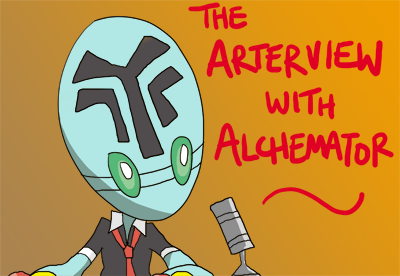 Introduction
I relaxed in my spinny chair at the Smogon offices, which are either in Glasgow or Botswana, depending on your source. There was a light knock on the door, and Nastyjungle entered, carrying a neat parcel.
"Delivery for you, apparently?"
"What is it?"
"If I could see through things, then I wouldn't be stuck in this dump."
And with that sass, NJ left. It appeared that the parcel contained a book, with a couple of lines written on the cover.
Azspeak Dictionary [1st Edition]
'Underst& and ch@!'
Was this an Arterview invitation? Well, since this is an Arterview article, it obviously was. The parcel was quickly followed by another knock on the door, this time far heavier. Without waiting for a reply, a gargantuan jaw broke through, its owner following somewhat sheepishly. I motioned for Az to sit down, his chin breaking my desk in two in the process.
Um. Hi. Let's begin with the basics as always: who are you?

Ok!! I'm az, or Swaggersaurus on the forums, and I'm a 22-year-old politics student from a tiny little hamlet in engl&.
What got you into Pokémon?

'mons was just a gener8ional thing for me, I guess; I was the targent audience when rby (then rb) came out over here & when everyone started flipping out about mons, I just got curious. I still yearn for the good old days of b@ling, when the hazards were not only the mons on your opponents team but the teanchers p@roling the playground.
So what made you swap to a Pokémon website?

Actually th@'s a very good question and I'd kind of like to know myself!! I know I saw firebont when I first arrived and found it hilarious and read it like a book from start to finish, and th@'s actually what made me stick around, and I know that I was directed to smogon initially by mcgraw way back when on Serebii's irc channel (I was telling joe his website is set out terribly [it is] and he was telling me if I disagreed with him I was a dumbzord), but for wh@ reason ihni. I wasn't into compentitive mons then and I'm not rly into it too much now, so th@ is a bit of a mystery....
You're very enigm@ic. How did the art start? Initially you were just a Firebot mod, and then you drew some outst&ing stuff, and now you're one of the gr8est artists on-site!

I'm certainly not anywhere near the gr8st artist on the site, but tyvm all the same!! as for where it began, on smogon I was asked to contribute art to the smog initially by jimbo, who is a rly gr8 guy and then head edintor and he'd seen my art thread and was like "cool!!!" i guess. idrk why I decided to start an art thread in the first place. I guess it was just a bit of fun, drawing imgs of mons. I only picked drawing up as a hobby innnnnn 2008? 2007? so it's really just something casual and fun for me i guess. I don't work nearly as much as half our artists, nor have i been at it for anything like as long. I have a hilarious mental img now of NJ and co. as babbies clinging onto over-sized pencils and pens....
Babby NJ would be the photo of the year.

I don't think she'd look much different!!!
How did you develop your edgy, edgy style?

Heh, probably by doing as an artist exactly what you shouldn't do!! I became entranced by the work of a couple of artists in particular and I just emul8d them, intentionally or otherwise. I think it is a fine thing to sample from the artists you like and also draw what really turns you on, but sampling so heavily just leads to your work being largely derivative, and so you end up down this kind of cre8ive hole that you dig for yourself and have to work hard to get out of, I guess by broadening your horizons and sampling more lightly from a larger variety of works.
Th@ leads so nicely into wh@ I was going to ask next: what are / have been your influences?

in terms of visual style I always really liked noirs that were defined by their chiaroscuro. the starkness makes everything really moody and powerful. then I guess in my teens I discovered manga and saw a lot of th@ in the work of Tite Kubo, with great big confident bloncks of black and white. I also really liked the grungy, messy, visceral style of Nihei Tsutomo. heh, I was gonna say I don't have many traditional western influences but th@ probably isnt true at all, I'm just not very well in touch with them. I suppose I'll have to go on a kind of cre8ive soul search & get banck to you?? although it might seem strange to cross mediums as well, broody music is a big inspiration to me. the tenser the better!!
I actually hear a lot about music inspiring people in art and writing; how much effect do you think it has and why?

I think it has a huge effect, and I don't rly think that why it does ought to be some gr8 mystery; imo lots of what you're doing as an artist in any medium is transl8ng a sens8ion or emotion into something else, a middle ground of sorts between you, your internal self, and other people so all works are like th@, whether it's a book or a song or a drawing; something that was internalized has been captured and expressed, and it can be internalizedagain by another party. it makes sense to me th@ the boundaries are fuzzy, and th@ music can inspire people to cre8 other forms of art.
Do you have any plans for the future? Future projects on Smogon or political world domin8ion, wh@ever you want to say.

haha, sure I have plans. I'm envisioning a kind of restructuring of how we h&le the art processes atm on Smogon, which is nothing terribly exciting but really really positive, imo. I have no plans for world domin8ion but I sure would like to get into politincs at an intern@ional level; my interests are diplomacy and conflict resolution, andaside from that, I love to tell stories. i think my brain was set up for two things: problem solving and weaving stories, so I'd love to publish something in some medium eventually in life.
Az: super diplom@

th@'d be like, the gr8st!!
I should probably also ask: wh@'s the story with the name Swaggersaurus?

I just, uhh...
I have a peculiar walk. maybe one day you'll see.
And in conclusion, the question of questions: wh@ is your favorite Pokémon?

Ugh why would you even ask me th@. it's probably like ivysaur or dragonair or dragonite or mesprit or graveler or ninetales or tropius or ledian or exploud or something. OH OH OR scizor.
And with that definite ending, I shook Mister Saurus's hand and he headed off, swinging his jaw wildly as he aimed for the exit. An irate female voice came from the next room.
"Dammit, Az, you broke the spider cage!"
Critique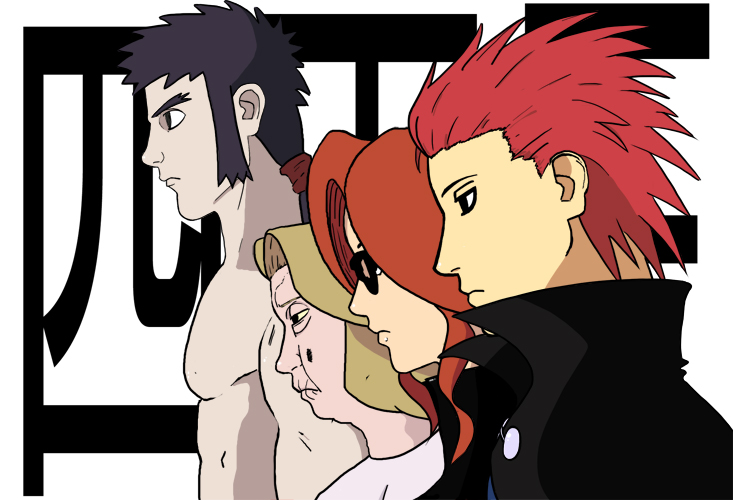 Az is alright for a politics student, I guess. It's also an interesting coincidence that someone who wants to have a career dealing with humans is so great at drawing them ['an@omy']. He might disagree with me, but, in my opinion, Az does some of the best humans on this site, and this is mainly due to the confident line art. It's incredibly clean, and evidently Az's own jaw experience allows him to define faces very professionally. At the same time, there is a clear difference between male and female, which many artists struggle to achieve effectively.
The Swaggersaurus is also unafraid to use bright colors, and pulls this off with aplomb; on the other hand, a keen sense of mood allows him to carry off black and white pieces equally well. To prove that point, just check out some of the Nuzlocke comics Az has produced. These things make me want to bear his children. I mean Luvdisc his thread. That's what I meant.
You can check out Az's art thread here.