Questions and Answers - Ask the Admins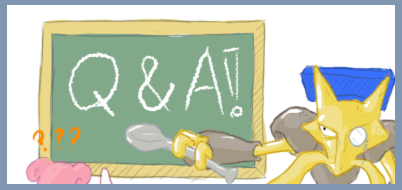 A lot of you guys have been around for a while. Do you like the direction that Smogon is taking, or do you sometimes wish we were an older, different version of Smogon?
bojangles

Back at the beginning of the site, Smogon was very much a group of friends. There was a lot of clique and elitist mentality, which was fine considering what it was — a bunch of friends getting together to make a Pokemon site. Now, however, we have over 100,000 users and are quite a large community. Some people clamor for the older Smogon, but the fact is that it is simply impossible to go back. We have hundreds of badgeholders alone, larger than Smogon itself until a few months after it's creation. With so many users on Smogon now, we have to remind ourselves that this website isn't just for ourselves, but for the greater community, and our decisions have to reflect this.
I don't think Smogon is at a perfect state right now, for a number of reasons, but I'm happy to say that the administrators and super moderators are hard at work to optimize our site for everybody's ease and enjoyment. It's a slow process because cultures are deeply ingrained in a community's fabric, but it's one that is fundamental to the health of the site.

Setsuna

There is always something to miss from the past, regardless of what your work consists of. But I don't stop what I'm doing to think about it; I always look forward to the future and what my current actions may bring as a consequence later on. I find this approach to be more effective.
What has been your proudest moment on Smogon?
bojangles

I have 6 badges and admin status, but the one thing I'm probably most proud of is something that I have nothing to show for: tutoring. Yes, way back in the days of DPP, I was an Ubers tutor. I only did it for one round, but it's something I would've loved to continue if I just had the time to continue it. My tutee was an up-and-coming battler named Blackhawk11, who already had a pretty decent grasp of OU, but had very little Ubers knowledge. Since it was my first round of tutoring, I was kind of green and nervous, but he was a pretty cool guy and we got along royally — even taking some of the same classes at school. By the time we had finished, he was able to beat Jibaku and he was over the moon with how far he had come. A few weeks later I got a very excited PM entitled "You'll never guess what happened" from Blackhawk: he had beaten Earthworm in a tournament that was some sort of Ubers-OU mashup.
Most of my Smogon tenure has been spent writing or checking articles and analyses or doing behind-the-scenes work, which, as rewarding as it is, can be a bit distant. I just sort of assume people read and appreciate my work, but tutoring Blackhawk11 was a hands-on experience where I got to see a battler evolve right before my eyes. His excitement and gratitude was so personal and palpable that it just made me happy that he was happy.
What is your personal favorite memory of your time on Smogon?
Setsuna

The time before I joined the site in 2009 and was a part of the Shoddy Battle community, which three years ago was already Smogon's official battle simulator. It has really been the best of my time here, an extremely fun experience. Later on, with the simulators transition from Pokemon Laboratory to Pokemon Online, this stopped being the case — a different system, a different crowd, a different management, a different environment. Currently, I do a lot of fun stuff on the site, but nothing as enjoyable as the old Shoddy Battle days.
How do you all manage to execute important decisions? How do you sort out disputes where your interests in the site collide?
Setsuna

Communication is the basis of any team work effort, and that is what we try to do best when it comes to discussing internal affairs.

bojangles

Except for a few times when we've had a very centralized leader, there's always been a sort of Articles of Confederation-type association between the admins. We all handle our respective areas of the forum, but we're in constant communication about site-wide occurrences. Every so often there's a sectional event that's so important that other admins weigh in, but Smogon, in general, is very compartmentalized — I think this is one of our greatest strengths.
How hard was it to get all the way up to admins? What sort of qualities to you look for in possible admins?
Setsuna

It was hard enough. This type of promotion happens very rarely.
We don't keep an open book with names of people we're considering to promote, but personally the qualities I look for in possible admins relate to quality work and commitment across several important areas of the website, leadership, maturity, and much more. I expect this person to go above & beyond what she regularly does.
When you joined Smogon, did you wish to lead the site some day? How did you get your ladybug / first badge? Do you still contribute to the forum in which you first participated or modded?
bojangles

I joined the site in May of 2008 in order to get some Wi-Fi Pokemon to crush my friends when we went through that obligatory Pokemon nostalgia stage. I stuck around in Wi-Fi for a better part of that year until I learned of the elusive Inside Scoop, a secret badgeholder forum where the inner site workings unfolded. Needless to say, I was intrigued, so I transitioned away from Wi-Fi into C&C. I was only just beginning to pick up Ubers by that point, so I instead went to work with my not-so-secret weapon: English.
I was plodding along in C&C for a while, grammar checking, before I set upon my first major project: a revamp of the DPP Ubers guide with Gen. Empoleon, originally by Jibaku and Great Sage. After a few weeks of work, we cranked out a pretty solid guide. I was still wallowing in namelessness until Aldaron and Tangerine joined #ubers one day for reasons I don't remember and asked me who I was, since I was the owner of the channel. After I explained who I was, Aldaron asked to see some of my C&C work, which apparently impressed him because he said he was going to go and nominate me for a badge. Thus, a new Pre-Contributor was born.
I obviously still do work in C&C since that's the main section of the site that I run, with Great Sage. My first forum that I modded was the Ubers subforum of Stark Mountain. That's obviously defunct now, but I still read the Ubers section of Dragonspiral Tower. I don't get to participate as often because of my other duties, on Smogon and off, but hopefully I'll be able to make a triumphant return in the near future.

Setsuna

It didn't cross my mind leading the site at the time, I was just encouraged to join the community by those who I used to team up with on Shoddy Battle. I did so with the objective of sharing my knowledge on competitive battling with other folks on the site, and so I started doing that by rating teams, which eventually granted me higher community access in the form of a Team Rater badge, which still decorates my profile in the form of an alumni.
What do you see as the most important site development in the coming future? How does leading smogon affect your real life interaction and leadership skills? If you could impress one idea upon a new smogon member what would it be?
Setsuna

We've got some cool programming projects in the pipeline, and I think that—in the future—when they're released, they will make a substantial and positive impact on the site.
Leading and actively participating in Smogon projects has had a huge impact on more than one aspect of my life. Improving my leadership skills is definitely one of them — no doubt. The best advice I can give anybody who's looking to start at Smogon is to contribute to the areas they enjoy contributing to and never blind themselves by the thought of a badge or two — badges are useless currency that more often than not drain your time and make you lose focus on the things that matter the most.
Do you ever wish you had less responsibilities and duties as a user?
Setsuna

No. It's important to do what's fun and enjoyable for you, not things that might become a chore and drag you into thinking that your hobby has morphed into a job.
If all the mods and admins were abandoned on a desert island, who would die first? who would be the last standing?
Setsuna

I'd be the last one standing. And the first to die would be… let's see… let's see... Haunter. Yes, Haunter.