Metamorphosis: How Awful Bug-types Have Improved Over Time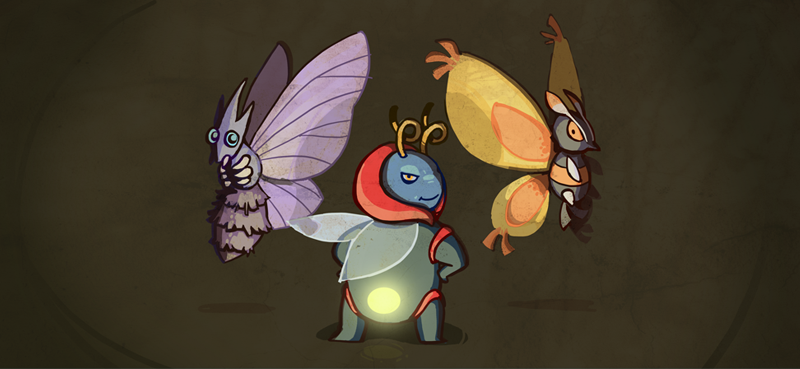 Introduction
Even though as a whole Bug-types have substantially improved over the generations, there have always been a selection of so called "shitty bugs." These Bug-types have mediocre stats, shallow movepools, and often have an awful secondary typing that makes them weak to a slew of common attacking types, which makes them downright unusable in the standard OU metagame. Typically, these Bug-types are caught near the beginning of the game, and they evolve incredibly quickly, but they often fall behind in the middle of the game due to the combination of those aforementioned traits. Those "shitty bugs" have always been seen as joke Pokémon on par with the likes of Farfetch'd, Luvdisc, and Spinda, and surely, they could never become good enough to be used in a serious, competitive battle.
However, BW has changed that. Many of those Bug-types have gained new tricks to make them surprisingly powerful in the lower tiers. BW's introduction of Dream World abilities has given some of those forgotten Bug-types a new lease on life by giving them incredible abilities, such as Tinted Lens or Prankster. BW also introduced Quiver Dance and gave it to certain Bug-types, giving them an incredible boosting move to help them rip through opponents. Coupled with the boosts that DPP introduced in actually useful STAB moves such as X-Scissor, Bug Buzz, and U-turn, as well as the physical / special split which allowed certain Bug-types, such as Butterfree and Venomoth, to use STAB attacks off their higher attacking stat, some of those "shitty bugs" have actually become usable now, especially in the lower tiers. In this article, we'll showcase some of the particularly interesting cases where an awful Bug-type has suddenly become usable, mostly thanks the huge improvements BW and DPP brought.
Butterfree
Butterfree is basically seen as the exemplar of the "shitty bug" stereotype. Poor stats, a shallow movepool, and an awful, awful secondary Flying typing made Butterfree virtually unusable in the competitive world back in the days of RBY. Its only usable role was in its ability to spam status attacks, but since Venomoth was basically better in every single way, there really was no reason to use Butterfree back then. GSC gave Butterfree basically nothing new aside from Giga Drain, which Venomoth also happened to get. RSE was a little bit nicer to Butterfree, giving it a wonderful ability in Compoundeyes to make its status attacks more accurate, but due to Butterfree's mediocre Speed and poor defenses, it was hard for Butterfree to actually use its status moves effectively. It wasn't until DPP that Butterfree gained some real changes to make it usable. The introduction of the Choice Scarf and Focus Sash gave Butterfree two excellent item choices to help it use its status attacks, and a powerful special STAB move in Bug Buzz let Butterfree do some damage if it needed to attack. Butterfree also gained U-turn, so it could now scout the opposing team for any Pokémon who could easily take Sleep Powder. While this allowed it to act as a decent lead in DPP UU, it wasn't really spectacular at all. Finally, BW gave Butterfree Quiver Dance and Tinted Lens, which was enough of a boost to finally make it a viable Pokémon in the lower tiers.
Though it's still outclassed by Venomoth in BW, in RU and NU, where Venomoth is banned, Butterfree can really shine thanks to the changes that BW has brought. First of all, thanks to Quiver Dance, Butterfree can boost its Speed, Special Attack, and Special Defense, and sweep. Also, because of Butterfree's access to Sleep Powder, it has the ability to put an opponent to sleep and start Quiver Dancing away. Butterfree's Dream World ability Tinted Lens also greatly assists Butterfree, since it means that Bug Buzz is the only attack Butterfree needs in order to sweep, freeing up room for another move such as Substitute to help protect it from unwanted status and phazing from Dragon Tail, in addition to easing the prediction needed to successfully sweep with Butterfree. Even though Butterfree's stats may be poor, it has just enough Speed to outspeed everything up to unboosted max Speed base 130 Pokémon after a single boost, which allows it to outspeed the majority of both metagames, and its +1 Tinted Lens-boosted Bug Buzz still tears through most of the metagames as well, despite Butterfree's mediocre base 80 Special Attack. To top it all off, Butterfree is still capable of acting as a reliable status spreader. Imagine trying to switch in a fast revenge killer once a Pokémon on your team has been incapacitated by Sleep Powder in hopes of quickly forcing Butterfree out, only to be smacked by Stun Spore on the switch. And, remember, thanks to Compoundeyes, that Stun Spore only has a 2.5% chance of missing. Butterfree is a premier example of how some of those "shitty bugs" have finally become something worth using.
Parasect
Parasect has typically been known for its unique access to Spore, the only 100% accurate sleep-inducing move in the game. However, Parasect's various weaknesses and awful Speed made it incredibly difficult to use this amazing attack effectively. With such huge flaws, it just wasn't worth using Parasect in RBY and GSC, even if it had Spore! RSE actually made things worse, since it introduced another, better Pokémon who also had access to Spore: Breloom, who actually had a good typing and was at least fast enough to pose a threat against slower opponents with Spore. However, DPP gave Parasect quite a few things to help it: strong STAB attacks for its higher Attack stat, reliable recovery in Synthesis, but more importantly, Dry Skin. Dry Skin made Parasect the first Grass-type Pokémon who healed HP from Water-type attacks, which gave it a slight, but definite niche. Some people even used Parasect in Ubers for a time since it could switch into Kyogre's Water Spout and Thunder with impunity and proceed to status things! Unfortunately, Parasect still wasn't amazing since it wasn't the most reliable check, as Ice Beam from those incredibly powerful Pokémon still did a huge chunk of damage and could OHKO.
Honestly, Parasect itself still isn't that great in BW, as it really only gained Leech Seed. However, the introduction of Drizzle Politoed makes Parasect an interesting choice in OU for similar reasons as in DPP Ubers, as it can switch into those powerful Water-type attacks and start using its status attacks. The addition of Leech Seed into its movepool is also a nice touch, as it means that Parasect can use those free switch-ins from Water-type attacks to set up a Substitute and proceed to use the annoying SubSeed combo to wear down opponents. That being said, Parasect is still really flawed; by OU standards, Parasect is pretty frail and weak, and its slow Speed means that it has issues continually keeping the SubSeed cycle going against a competent opponent. It's also still plagued by all those weaknesses it has due to its typing, and it can be easily shut down by Taunting it. Furthermore, if Drizzle goes down for some reason, Parasect becomes next to useless. Still, even though it's still a pretty mediocre Pokémon, Parasect at least has a small, usable niche that it can call its own, so it's definitely improved from the awful Pokémon it was in past generations.
Venomoth
Venomoth has always been better than Butterfree and Beedrill throughout the generations, but back in the day that wasn't saying much. Despite its higher stats than Butterfree in RBY, it, like Butterfree, could only spam status attacks to attempt to cripple things, and even though it was faster and bulkier than Butterfree, it still wasn't fast or bulky enough to do this successfully. In GSC, Venomoth didn't gain much aside from a strong (physical, however) Poison-type STAB attack in Sludge Bomb and Baton Pass, which wasn't nearly enough to make it a good Pokémon. RSE didn't even give Venomoth much either, aside from a Bug-type STAB attack in Signal Beam, which still unfortunately used Venomoth's awful Attack stat. However, DPP changed all of this, and upgraded Venomoth so that it finally became viable. Strong, special STAB moves in Sludge Bomb and Bug Buzz, Tinted Lens, Roost, U-turn, and Toxic Spikes were all given to Venomoth, which let it pull off a variety of different sets. It could act as a powerful attacker with unresisted coverage in Bug Buzz and Psychic alongside Tinted Lens, using Sleep Powder to cripple counters and either Roost or U-turn to keep itself alive or scout for special walls respectively, or it could support the team by using the old Double Powder strategy or setting up Toxic Spikes.
BW didn't really give Venomoth as much as DPP did, but it gave it Quiver Dance, which is all it needed. In tandem with the tools that it already had, particularly Tinted Lens, Bug Buzz, Roost, and Baton Pass, Venomoth can utilize Quiver Dance far more effectively than many of its brethren, aside from Volcarona. Venomoth's best use of Quiver Dance lies in its ability to Baton Pass it; the only other Pokémon who can Baton Pass Quiver Dance are Smeargle and Masquerain, and Venomoth is simply better than them due to its higher Speed stat, arguably better typing, Sleep Powder, and Tinted Lens. These things let Venomoth set up on a slew of extra Pokémon that Smeargle and Masquerain are unable to set up on; for example, Venomoth resists both of Roserade's STAB moves, and even Speed ties with offensive Roserade, so as long as it doesn't switch into Sleep Powder or lose the Speed tie, Venomoth can actually set up against Roserade fairly reliably. Additionally, thanks to Tinted Lens, Venomoth can still do major damage with only Bug Buzz once it's nabbed a few Quiver Dances. As a testament to just how strong Venomoth has become, it was actually banned from RU, as it was deemed the combination of Sleep Powder + Tinted Lens + Quiver Dance was just too difficult to deal with. That's pretty impressive for a Pokémon that was once basically useless way back in RBY!
Masquerain
Masquerain has been a bit of an oddball since its introduction; while its poor stats and awful Bug / Flying typing are generic considering its supposed to be yet another beginning Bug-type, Masquerain has a lot of cool traits that separate it from its fellow awful Bug-types. In particular, it has always had unique access to Hydro Pump and Ice Beam and its great ability in Intimidate. Unfortunately, a lack of special Bug-type STAB moves made Masquerain horrendously weak in RSE, and it just couldn't do much damage at all. DPP made things a lot better for Masquerain. First of all, the physical / special split gave Masquerain strong special STAB moves in Bug Buzz and Air Slash which made it so that Masquerain could actually do some respectable damage. Secondly, DPP gave Masquerain some useful utility moves in Roost and Baton Pass, which meant that instead of just trying to do pitiful damage with its mediocre Special Attack stat, Masquerain could actually assist its team. For example, Masquerain's access to both Agility and Baton Pass allowed it to pass Speed to its teammates, while dealing passable damage with Bug Buzz or Air Slash and Hydro Pump and getting the set up opportunities with Intimidate. Still, while Masquerain was usable, it still wasn't good, so it still languished in the depths of NU for the entirety of DPP with little use.
Like many of its awful Bug-type cousins, Masquerain was gifted with Quiver Dance in BW. However, Masquerain uses Quiver Dance in a significantly different way than its fellow Quiver Dance users. Masquerain has access to the incredibly rare combination of Quiver Dance + Baton Pass, which is only shared by Venomoth and Smeargle, the former of which is banned from RU. Instead of trying to use Quiver Dance to boost its Special Attack, Special Defense, and Speed as much as possible to attempt to sweep, Masquerain tries to accrue as many boosts as possible so it can Baton Pass them to a powerful special sweeper to make them even more lethal. Baton Passing a single Quiver Dance to Sigilyph or Magmortar in RU, or Ludicolo or Charizard in NU can make those Pokémon absurdly difficult to stop. Despite Masquerain's poor defenses and various weaknesses, it's still possible to nab quite a few Quiver Dance boosts thanks to Quiver Dance's Special Defense boost, Intimidate, and Roost. That being said, Masquerain is still capable of using Quiver Dance offensively as well, as Masquerain's access to Hydro Pump lets it smash through troublesome Pokémon, such as Moltres in RU and Probopass in NU.
Volbeat
Volbeat has only ever had one niche, and one niche alone; the ability to Baton Pass Tail Glow boosts. Back in RSE, this was a huge, since Tail Glow was the only move that could boost Special Attack by 2 stages. However, sadly, Volbeat still didn't see much use back then, as it still had an awful typing and it couldn't even use the Tail Glow boost itself due to just how poor its Special Attack was. Volbeat did have access to the second strongest Bug-type move in the game in Signal Beam, but with such a mediocre Attack stat, Volbeat couldn't do much with it. DPP did little to change this; although the physical / special split did give Volbeat some actual physical moves, the introduction of Nasty Plot to the movepools of better Baton Pass users, such as Mew, Ambipom, Mr. Mime, and more, stole Volbeat's only real niche. With only the combination of a STAB U-turn and Trick left to distinguish himself from other, better Pokémon, Volbeat was virtually never used.
However, BW was kind to Volbeat by giving it two huge buffs that have restored its former defining niche. In BW, Tail Glow now boosts Special Attack by three stages, which makes Tail Glow the most powerful Special Attack-boosting move in the game. Furthermore, BW also decided to throw Volbeat another bone in the form of Prankster. Thanks to Prankster, Volbeat gains +1 priority on all of its non-attacking moves, including the incredible combination of Tail Glow and Baton Pass. Due to this, Volbeat is now known for its ability to quickly Baton Pass Tail Glow boosts to another teammate while also being extremely difficult to stop due to the fact that it will always move first when it uses Tail Glow and Baton Pass (and Encore). Volbeat still has a few other tricks up its sleeves too; Prankster also allows Volbeat to use priority Rain Dance and Sunny Day for weather teams, and since it's one of the few Prankster Pokémon in the lower tiers, it can pull off those moves surprisingly well. Granted, Volbeat isn't really an amazing Pokémon; it is still vulnerable to phazing from moves such as Roar and Whirlwind, and it's still very frail, so KOing it isn't a hard thing to do. In a way, think of it as the specially oriented counterpart to Ninjask. They're both Bug-type Baton Passers who will almost always move first, and they both have access to powerful boosting moves to Baton Pass. And, like Ninjask, maybe it won't be able to consistently pull off Baton Pass against well-prepared teams. But hey, it now has a definite niche, and that's all that matters.
Mothim
Mothim hasn't really been noticed since its debut in DPP. For competitive players, it was just another one of those awful Bug / Flying types who had no use competitively. And, to be completely honest, Mothim really was basically unusable in DPP. Even with its better stats and Flying-type STAB in Air Slash over Beautifly, Mothim just couldn't do much since it was hindered by the same issues that made Beautifly as awful as it was. Despite its marginally better HP stat, Mothim was just as frail as Beautifly, and this, in tandem with its 4x weakness to Stealth Rock, made Mothim incredibly difficult to use. Furthermore, it just wasn't worth trying to make Mothim work either, since with only a base 94 Special Attack stat and nothing else going for it, Mothim couldn't even do much damage if you managed to get it into the match.
In BW, however, even though Mothim is still absurdly frail, things have certainly changed for the better for it. Mothim actually received the same gifts that Butterfree received in Quiver Dance and Tinted Lens, but Mothim makes use of them differently. Since Mothim unfortunately misses out on Sleep Powder and the perfect Speed Butterfree has for the lower tiers, Quiver Dance isn't the most redeeming quality of Mothim. Instead, Tinted Lens is what makes Mothim really shine. Even though base 94 Special Attack may seem lackluster in the higher tiers, in RU and NU, it allows Mothim to dish out some serious damage, especially because it has perfect neutral coverage due to Tinted Lens. By simply slapping a Choice Specs on Mothim, it gets the power boost it needs to rip through common cores with Bug Buzz, such as the Tangrowth + Slowking + Cofagrigus core in RU and the Gurdurr + Musharna core in NU. Mothim can still use Quiver Dance to attempt a sweep as well, as even though Mothim is a bit slower than Butterfree, it still outspeeds most of both metagames after a single Quiver Dance, while packing significantly more power. While still similar to its fellow Bug-types, Mothim now has Tinted Lens, Quiver Dance, and a comparatively higher Special Attack stat to distinguish itself from them.
Honorable Mentions
On the other hand, there are unfortunately still some of those awful Bug-types that, despite a copious amount of improvements, are still basically unusable in the field of competitive Pokémon. The following Bug-types are some particularly depressing cases where, despite Game Freak's attempts to make them better, they still remain nonviable for various reasons.
Beedrill
Just like Butterfree, Beedrill has always been an exemplar for awful beginning Bug-types. Also like Butterfree, Beedrill has gained a lot of changes throughout the generations to make it somewhat better. Unfortunately, unlike Butterfree, the changes that it received weren't enough to make it usable.
Back in RBY, Beedrill was awful. It had Twineedle for STAB and two boosting moves to go with it, but when it had such terrible stats and that awful typing, it couldn't really do much with them. GSC helped slightly by giving Beedrill a strong physical STAB move in Sludge Bomb, as well as Hidden Power to make up for its awful coverage, but it still couldn't do much. RSE introduced the Choice Band, pinch Berries, Endeavor, and Baton Pass, which were nice as they allowed Beedrill to actually do some damage without needing to set up first, or at least Baton Pass its boosts to a teammate instead of simply setting up and getting KOed immediately, but Beedrill was still pretty poor. Even DPP's boosts, which gave Beedrill huge boons in Toxic Spikes for support, U-turn for a strong physical STAB move, and the Choice Scarf and Focus Sash to help it get an attack off without dying first, but Beedrill was just too weak, too frail; too awful. BW's only boost for Beedrill was in the gift of Drill Run, which is definitely not enough to make Beedrill viable for competitive play.
The main issue with Beedrill is that it's just so mediocre at whatever it attempts to do, simply because of its stats and typing. There are so many other, better Bug-types than can utilize Swords Dance or attack physically, even in NU, that you really have to wonder why you're using Beedrill in the first place. Beedrill can try using Toxic Spikes, but it's outclassed in NU by Garbodor except for Endeavor, which is situational at best. It can try sweeping with Swords Dance, but it's mostly outclassed by Pinsir at sweeping. It can try Baton Passing Swords Dance and Agility boosts, but Ninjask does that better. Its best bet is using a Choice Band or Choice Scarf and spamming U-turn to wear down the opposing team, but it's simply too slow or too weak to do much damage. Even if it wasn't directly outclassed by other NU Pokémon, it's not likely that Beedrill would see that much use anyway; it is just too frail to set up, and it's too weak without a boost to do much damage. Perhaps one day Beedrill will get the changes it needs to be viable, but it still suffers the same problems that it had back in RBY, despite the multitude of improvements that have occurred over the generations.
Illumise
Illumise might be 15x more adorable than Volbeat, but unfortunately it is much, much worse competitively. Illumise has an actually decent Special Attack stat that seems like it could make much better use of Tail Glow, so why is it bad? Well...it doesn't even get Tail Glow. Thanks Game Freak.
In RSE, Illumise was worse than Volbeat, simply because it didn't have Tail Glow. Without that defining move, Illumise didn't even have a niche it could occupy, being forced to do generic things such as Baton Passing Substitutes and Wishes, which could easily be done by other, better Pokémon. DPP did give Illumise a chance by giving it Tinted Lens and Bug Buzz for a strong special STAB move, but Illumise's below average Special Attack made it too weak to do much damage. It also certainly didn't help that the only way it could boost its Special Attack was with Growth and Charge Beam, and the former is illegal with Baton Pass. Finally, BW gave it the same fantastic ability it gave Volbeat in the form of Prankster, but once again, due to Illumise's lack of Tail Glow and other good boosting moves, Illumise simply becomes an inferior Prankster user in comparison to Volbeat, as well as a poor Pokémon in general.
Tinted Lens might seem like a fantastic ability on paper that could give Illumise some use, but in reality Illumise is just inferior to a slew of other Pokémon. Butterfree and Mothim are much better Tinted Lens users thanks to their access to Quiver Dance and higher Special Attack stats. While you could try using Illumise as an all-out attacker with Tinted Lens, that's also not a great option since, as stated before, Illumise has below average Special Attack, and it simply isn't going to be doing enough damage to most Pokémon, even with Tinted Lens ensuring that few Pokémon can resist its attacks. Prankster might seem cool with Illumise's decent support movepool, but it's still not really worth it. Most of the time, Illumise is just too frail to attempt a support set, and its low base HP means the Wishes that it can attempt to pass won't heal very much HP at all. Illumise's best bet is using Prankster to Baton Pass Substitutes, but honestly, when you're using a Pokémon with such awful stats and the only worthwhile thing it can do is Baton Pass Substitutes, you really have to wonder why you're using that Pokémon in the first place. Illumise really just needs a strong boosting move; if at least had Tail Glow, it would be a fantastic Pokémon since it'd be able to use the Tail Glow boost to dish out damage while also being able to Baton Pass, unlike Volbeat, or it could even attempt to sweep with its +3 Tinted Lens Bug Buzz. Sadly, until then, Illumise will still be plagued by the same issues that it's had since RSE.
Conclusion
These Bug-types may have been jokes in previous generations, but it wouldn't be wise to think that they're still jokes in BW! It really is amazing how excellent moves, abilities, and environmental factors can make seemingly unusable Pokémon into actually potent threats. So, what're you waiting for? Get out there and try these improved Bug-types! After all, there are few things more satisfying than seeing your opponent's expression when your Butterfree or Venomoth has nabbed a few Quiver Dances and swept through the opponent's team with their boosted Bug Buzz.