Do You Even Lift: Sinnoh Sweat
Introduction
Summer is the time most people remember to get on weight watchers, so Treecko and I, Layell, decided to go for a jog in what is easily the coldest overall region. Some may consider us a bit whacked in the head, but I say the colder it is the harder it is to work up a sweat! Let us take a look at some of the local Gyms!
Roark
I don't get Oreburgh City; this is the exact opposite of a place I would like to be. It is a coal city but not a cool city. They say in this town the coal mine extends under the ocean. I ask you, dear reader, how is this possible? This town is nowhere near an ocean and the so-called mine is as small as a Pokemon Center. Roark, how dare you try to have a part-time job in this coal pit; shouldn't losing repeatedly to rookie trainers at the lowest-level Gym be pay enough?
Gym Puzzle: Take the short road and fight the trainers with barely anything useful or take a stairway and avoid everything. This isn't a Gym puzzle; this feels like some useless philosophy-esque virtue and morality question. If I could choose, I would pick neither because I fought a Rock Gym Leader named Brock already and another chick named Roxanne and maybe I've had enough of this stuff.
-/10
Difficulty: There is no reason not to do well with this Gym no matter what starter you picked. Even Chimchar could just grind up to level 14 and solo as a Mach Punching Monferno.
6/10
Spoils Of War: Stealth Rock is received here, and no, you will not use it in your in-game run. But this move defined the DPP metagame. If a Pokemon could learn Stealth Rock, there is a high chance that there was a set in the strategydex that was called "SR setter", or better yet, "suicide SR lead". This is a TM that was worth resetting your game to get if you needed it. Because it comes so close to the start, it makes this all the better for it.
10/10
Coolness: This kid looks like he belongs in a coal mine as much as Ben Stiller's character did in the film Zoolander. The nerdy glasses and complete lack of real buff really doesn't make him look fit to extract Santa's favorite naughty gift.
3/10
Overall: The worst part about Roark is that you have to see him again if you ever want to go into the Sinnoh Underground. I kept trying to reposition myself to land on top of him when I went in for the first time. But he kept moving to the side again as if his position was predetermined. I actually kept my game set on this for a week trying to accomplish this until I gave up. Go back into the coal mines, Roark, and get the black lung.
5/10
Gardenia
It's never a good sign when you enter a city and the first thing you see is the giant tower of the organization that wants to remake the world. Isn't public service part of the credo of Gym Leaders? This Gardenia chick is really dropping the ball here.
Gym Puzzle: In the paired games, you have to play a pathetic little game of hide-and-seek with all of the trainers in the gym. Gardenia will refuse to battle until you find all of the cheeky trainers. Each one gives a hint to where another is hiding. Is there an item-finder for people? Platinum makes a giant clock which turns as you fight each trainer until you get to Gardenia. You can file this one under: "mechanisms that nobody ever needs and serve no practical purpose"; it can be right before the file on "moving arrow tiles" and after "lowering the speed of surfing" in the annoying database.
4/10
Difficulty: Gardenia manages to have both a Turtwig that should have evolved, and, in Platinum version, a Cherrim that still needs 5 levels to evolve. Is it unreasonable to ask why? This Gym begins the onslaught of terror that is known as Starly, which will begin to destroy every living thing that is foolish enough to stand in its way now that it is a pubic-haired Staravia. You don't even need a strategy if you've collected the little bird; just wing it with Wing Attack.
gg/10
Spoils Of War: Grass Knot is another really good competitive TM that tends to not work so well when trainers carry much lighter species. I will not complain; this is a good move that has tremendous use against anyone fat enough to stand in its way.
7/10
Coolness: She reminds me of Bugsy if he remembered to take his estrogen pills. However, Gardenia loses points for being afraid of a little shack in the woods that has a TV playing re-runs of the local weather network.
6/10
Overall: I can't help but feel that Floaroma Town should have had a Grass gym more than Eterna City. There is nothing inherently grassy about this city at all. The fact that she has a starter is also indicative of a huge problem in Sinnoh; there is some awful type balance in this game, and when you have a Gym Leader carrying a starter this early, it is never a good sign.
5/10
Maylene
Another kid in charge of an entire Gym, and one that no doubt involves years of Fighting training to be accomplished in its type. How does this even happen? Do people give them away? Maybe she was born with it, maybe it's Maylene?
Gym Puzzle: This gym infuriates me in both versions; they are all about pushing the puzzle pieces until you can clear a pathway. In Diamond and Pearl, it's about these little slots in the wall where you do both sides to clear a pathway in the middle. Platinum is more thematically appropriate with punching bags but is it ever a maze in there; things are just thrown around everywhere. Platinum's version is the most Gym-like of any Gym, but I think there are pressing safety issues when punching bags can fly across the room. How anyone is supposed to know they need to break the pile of weights on the floor the first time they enter probably made the puzzle to begin with. The trainers here all look around, too, like they are the same ilk on the outdoor routes just itching for a battle. I do not want to sneak past steroid-abusing kung-fu dudes while trying to solve a puzzle—don't make me do that.
3/10
Difficulty: She is the third Gym in Diamond and Pearl and the fourth in Platinum. The difficulty spike isn't that huge to begin with between both versions, really only a level or two higher and better moves. The question of the day is do you have Staravia, or do you have a Staraptor? Because if you have one, this match is over, and if you have the other, it's still going to be over because Staraptor rips these games apart.
6/10
Spoils Of War: Drain Punch is great for anyone who also runs Bulk Up or Substitute. Another example of a great competitive move, in-game you could probably stand to use a Hyper Potion and run a stronger move—nobody is counting the turns here.
8/10
Coolness: She doesn't even know how she became a Gym Leader, and her father dilly dallies in the casino because his daughter has a better career than he does at the moment. Relative to him, Maylene is fantastic; I guess the apple fell quite a ways from the tree.
8/10
Overall: After leaving the Pokemon Center, I decided to take a stroll along the waterfront. I heard the view from the hill is fantastic. I go up and what do I find but another Team Galactic building. They have menacing satellite dishes and warehouses too! It's almost as if they aren't even trying to hide the fact that they are an evil organization. Perhaps Galactic installed a child in the local Gym who was so in over her head she had no idea how to challenge them? The world may never know.
6.5/10
Wake
Pastoria City is a pretty interesting place. It's unlike any other in the Pokemon world thanks to the Great Marsh. A large area where Pokemon can be caught (think Safari Zone in Kanto and Hoenn), the Great Marsh is where we really get in our workout. The second we step into the mud, we're stuck. So we run around trying to get unstuck, and eureka, it works! We walk two more steps, and we're stuck again. Screw this, let's go to the actual Gym.
Gym Puzzle: The minute you walk into Pastoria City's Gym, you will notice that the whole place is filled with water. The water is raised or lowered by stepping on different switches throughout the Gym. I had some issues in this Gym. It's really not that bad, but when I tried to do it, I had some hassles at one of the last switches. I would step on one, and the water would lower so I could go to the next switch. Then I go step on the next switch, and it raised the water in front of me. I ran back and forth between the two switches, over and over again, until finally, I gave up and walked out of the damn Gym. When I came back, it took me all of five seconds to get through it. Maybe it's not that hard. Maybe I'm an idiot. I'm probably an idiot. But it was hard for me! :(
7/10
Difficulty: Crasher Wake comes fully stocked with a small, yet badass team of Pokemon. You walk up to Wake, ask him for a battle. He accepts. You send out your beloved starter whom you've grinded levels since you received it. And he sends out a Gyarados... Alright, this isn't too bad. Right? Sure, it's a titanic beast, but it's not that high of a level. I'll just switch into my Luxray—oh, he used Swagger. Okay, so now my Pokemon is hitting itself in the face (very hard, mind you) and getting hit with Dragon Rage every turn. If you manage to break through confusion, it's gone. And then he sends out Quagsire. Better have caught a Budew early on. At least its moves are pretty weak. Floatzel isn't too bad either. The main issue with it is that it's a Floatzel vs a team of mostly unevolved Pokemon. Just make sure that you heal up because Brine will hit hard and likely finish your Pokemon off if they are at 50% or less HP. Basically, the best strategy here is to bring a Luxray and overlevel your Pokemon (like every other Gym).
6/10
Spoils Of War: TM55 Brine is alright, especially for getting it so early on in the game. It deals twice the damage to Pokemon after they have gotten to 50% or less HP. Otherwise, it still has 65 BP. It's certainly no Stealth Rock, but it's still pretty cool.
6/10
Coolness: Crasher Wake is awesome. He looks like a Mexican wrestler. He doesn't wear a shirt. He has a Gyarados. Doesn't get much cooler than that. Just look at him. He oozes manliness. Too bad he wasn't cool enough to have it reflected in his Gym design, so he doesn't get the 10/10 from me.
9/10
Overall: There's not much about this Gym that isn't awesome. Once you go Wake, the other Gyms are cake.
8/10
Fantina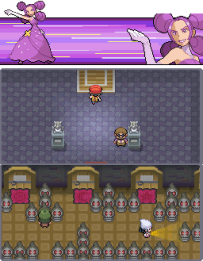 Welcome to Hearthome City. Hearthome City has everything you would ever need; it has a park, the Poffin House, a Pokemon Center and a Mart, a gym, and even a church. What the hell else do you want out from a town?
Gym Puzzle: In Diamond and Pearl, the Hearthome City Gym is downright embarrassing. You have to answer simple math questions and go to the door that corresponds with the answer. As though the basic math wasn't easy enough, your Poketech has a calculator on it. It takes a seriously daft trainer to mess these up. In Platinum, we do see a slight upgrade though. The new puzzle has a cute Duskull maze, and you play shadow tag (pun totally intended) with other trainers on your way to the next room. Platinum was the saving grace for this puzzle.
6/10
Difficulty: You would think Luxio/Luxray would be able to roflstomp its way through Fantina's team, but you'd only be sort of right. Yeah, Bite and Spark can destroy her Ghosts, most notably her Drifblim. But all of her Pokemon have Confuse Ray. As you try to hit her Pokemon, you find your Pokemon hitting themselves. Still, stock up on Potions and lions and you'll be fine.
5/10
Spoils Of War: Your reward for defeating Fantina is TM 65, Shadow Claw. Basically, we've spent the past three generations with terrible Ghost-type moves. Finally we can have special Ghost-type moves, and Fantina congratulates us on our victory by giving us a piece of history. I suppose it can be cool as a coverage move, but generally, it's just going to be filler until something better comes along.
4/10
Coolness: If there was anything that made this gym worthwhile, it's Fantina. Our first foreign Gym Leader, you can hear her accent through the cartridge. She has a sickening hairstyle that leaves little girls all around Sinnoh begging for more. Her Drifblim-inspired attire is simply stunning. Basically, she's fit, French, and fabulous; what more could you want (aside from being able to understand her)?
9/10
Overall: She wasn't very difficult to defeat, she gave us an awful TM, and she made us do math. But on the bright side, she gave us some of those fancy cigarette holders from 101 Dalmatians.
6/10
Byron
As if Fantina's math test wasn't bad enough, Canalave City comes fully equipped with a library. It seems like Sinnoh cares more about us falling asleep and less about us actually sweating. The cool thing is that there's a really big boat! Oh yeah, and another Gym!
Gym Puzzle: This puzzle actually appears to be difficult. The disappointing part is that after all the studying in Canalave's library, you find that you don't really need to utilize all of your newfound knowledge. Basically, you go around on platforms that lift you up and take you down. Byron's Gym puzzle (I use the word generously) can be closely compared to Tom Hanks's movie Castaway: you feel like you're going nowhere fast, and both drag on far too long to keep my attention span.
2/10
Difficulty: Here's the trickier part about Byron's gym. Steel is a pretty resilient typing; you'll be hard-pressed to take down his Pokemon in one or two hits. Meanwhile, one of the best ways to handle the typing, Fire-types, is incredibly rare in Sinnoh. In Diamond and Pearl, his Bronzor isn't much of a bother (EXCEPT FOR CONFUSE RAY SERIOUSLY WAS THIS A REQUIREMENT FOR ALL GYM LEADERS?). But in Platinum, his Magneton will destroy the Pokemon that you cherish so much. His Steelix and Bastiodon don't really hit too hard, but they never die. Your poor Pokemon will end up fainting themselves not from the assault of Byron's Pokemon, but from the mental warfare they will cause. You take your Pokemon to the Pokemon Center, hoping that they can somehow make it through the trauma you just put them through, but to no avail. They are forever scarred by the cool steel bodies of Byron's Pokemon... Nah, not really. They can take a few hits, but they suck. Magneton is the only thing keeping this guy from getting a 3.
5/10
Spoils Of War: Your reward for crushing Byron is TM91, Flash Cannon. If you picked Piplup, you have another STAB move readily available. The only other redeeming factor of this is that it can help take on the next Gym Leader who we will cover shortly. Otherwise, Flash Cannon sucks.
5/10
Coolness: He's the dad of Roark, the first sorry scrub you took down back when you just had your starter and maybe a Starly or a Budew. He reminds you of the good old days when Pokemon were stored at a daycare and not on a PC, when watches only took time, and computers were not portable. Long story short, he's old.
4/10
Overall: Do you remember Jasmine from Johto? Her Pokemon were underleveled, she made you Surf across a sea to get medicine for an Ampharos you didn't even get to catch, and she had no Gym puzzle or Gym trainers. Still more enjoyable than Byron.
3/10
Candice
It's finally getting warm out in the US. I just put away all my winter clothes, busted out my shorts and flip-flops, and I don't have a coat in sight. And then I'm told that I'm going to Snowpoint City. Splendid.
Gym Puzzle: Welcome to the most annoying Gym puzzle in Sinnoh. You have to slide around on ice throughout this gym, busting giant snowballs as you go. It sounds really fun, but rest assured, it's not. Just when you bust one, BAM POKEMON BATTLE. Once you're done with the battle, you don't remember what direction you were planning on going next. If you were looking for a legitimately difficult Gym puzzle in a Pokemon game, you've found it.
10/10
Difficulty: Candice uses Ice-types, so bring an Infernape and win, right? Nope. For some reason, she has a Medicham in DP. Sorry Infernape. But in Platinum, you can pull off an Infernape sweep, right? Nope. She has a Piloswine with Earthquake. So just sweeping with Infernape is out of the picture. The good news is that she's still not that difficult, since Ice is a notoriously bad type for taking hits. But her team is still really annoying. Her Snover in Diamond and Pearl and her Abomasnow in Platinum both set up permanent hail to crash onto your team. The Abomasnow she uses in Diamond and Pearl even has Water Pulse to take on your Fire-types. In Platinum, she uses a Froslass with perfect accuracy Blizzards. Oh, did I mention she has SWAGGER on her Abomasnow in Diamond and Pearl?! Candice definitely has some tricks up her sleeves, but considering that she's the seventh Gym Leader, she kind of sucks.
4/10
Spoils Of War: TM72 Avalanche is a low quality move. If you're using something that's supposed to be slow, I guess you can give it to it. Otherwise, in-game is all about Speed, and you should probably sell this one to the closest Pokemart.
2/10
Coolness: Who is Candice?
?/10
Overall: Annoying Gym puzzle, annoying Pokemon, forgettable leader, and an awful TM. And it's really cold here. I'm going home.
3/10
Volkner
Sunnyshore is essentially the biggest railroading that has ever occurred in a Pokemon game. For those unaware of that tabletop RPG term, it means that the players are being forced down a certain path because that is the only path that the game wants you to take. I kept checking back on the guy blocking me from entering Sunnyshore all the time; any time I did anything significant I would check back to see if this power outage was done. It never was, all I wanted was another Gym badge, and I don't really care about saving the world at all—just get me my shiny badges!
Gym Puzzle: This puzzle really grinds my gears, and with good reason too, because all it does is turn gears one way or the other. Ok, it's not actually that bad because it's all about knowing how to rotate all the gears in increments of 45 degrees, and you have all the information to think a few steps ahead. Each room progresses in the level of difficulty , and trainers are put on the walkways where you are moving from one section of the puzzle to another.
8/10
Difficulty: Volkner must really hate being a Gym Leader, because only half of his team is Electric in Diamond and Pearl. He has Octillery, the exact opposite of what anyone would expect in a Gym that is supposed to be Electric. His other non-Electric is the purple ape Ambipom. With so few Pokemon of his respective type, it's no wonder he is friends with Flint of the Elite Four. Platinum starts to finally make sense swapping in Jolteon and Electivire to join Raichu and Luxray. So even when Volkner carries a ton of coverage moves to take care of any weaknesses, it doesn't matter. You have a legendary dragon; it will not matter what he brings out at you.
6/10
Spoils Of War: Here is the question I have with every Electric Gym: is the TM Thunderbolt? If it isn't, that move is probably not worth it because I would either have bought Thunderbolt or will want to get it as soon as I can anyways. Charge Beam might raise my Special Attack 70% of the time, but generally good old Thunderbolt will 2HKO whatever I need it to.
2/10
Coolness: There is no denying that Volkner walks onto electric avenue. He designed half of the infrastructure in the city and feels all the trainers he has faced so far are beneath him. Somehow, he stopped the entirety of Sunnyshore from beheading him, too, for the months of power failure. Good on you, Volkner; keep on sparking, you shining shocking star!
9/10
Overall: As I walked on the many solar panel steps, I saw a lone figure in a sparkling dress. She approaches me from the tides, the ever-lovely Johto Gym Leader Jasmine. Instead of exchanging pleasantries, she goes straight into slapping me and yells. "What the heck was with your Gym report on Johto being so cruel?", "What do you mean cruel that was completely honest! Heck we even stated in this article you aren't the worst Steel-type leader.", "Well how about you do a HeartGold and SoulSilver version of Johto?", and I reply "What, so I can comment on the two new trainers that let me pass through them to fight your exact same team? No chance, lady!" I hopped on my Floatzel and left to the Elite Four.
6/10
Conclusion
Another eight Gym badges have been collected and these ones can be played like a xylophone—how novel. It's too bad most of these Gym Leaders and trainers have awful line-ups in D/P that don't even match their respective type. We are all lucky they managed to be fixed in Platinum. Join the lift articles in the near future where we tour Unova, and spoiler alert: there will be two laps.