OU Spotlight: Greninja
History
One of XY's new starter Pokémon, Greninja was certainly given a lot of attention right from the get-go, boasting second place in the initial round of usage statistics for OU. While this may be due to the "shiny new toy" syndrome, people wanting to experiment with the semi-unique Protean, or just a natural affinity for the Pokémon that you bonded with from the start of your game, Greninja is still high OU in terms of usage after many months, so it is safe to say that the blue frog definitely earned its placement; its convenient combination of beneficial qualities make it the bane of the common hyper offensive teams.
Greninja's Qualities
The most prominent characteristic of Greninja is its sensational base 122 Speed, one of the highest in the game. This allows Greninja to easily outpace Pokémon well-known for being fast, such as Tornadus-T, Alakazam, Raikou, Gengar, and Latios. Greninja also has the ability Protean, unique to itself and Kecleon. This ability transforms Greninja into the same type of the move it uses before it uses it. While this could have serious defensive potential, the main reason this ability is so godly is because it gives all of Greninja's coverage moves STAB, making Greninja tough to wall. For instance, Greninja's Ice Beam can OHKO Dragonite through Multiscale, an impressive feat. The combination of Greninja's high Speed and Protean is deadly, making it a huge threat to most offensive teams, which often fail to outspeed it and are frail enough to fall to its coverage. With a variety of offensive moves at its disposal, such as Hydro Pump, Surf, Ice Beam, Dark Pulse, and Extrasensory, there aren't many Pokémon on an offensive team that can stand up to Greninja's onslaught. Its movepool also happens to contain the rare Spikes, allowing Greninja to take on the role of an offensive Spiker that can set up Spikes on the various switches it forces while still maintaining its excellent offensive prowess, which is benefited immensely by Greninja's fantastic Speed. It is safe to say that Greninja's Speed stat is the centerpiece of its viability in OU.
Playing with Greninja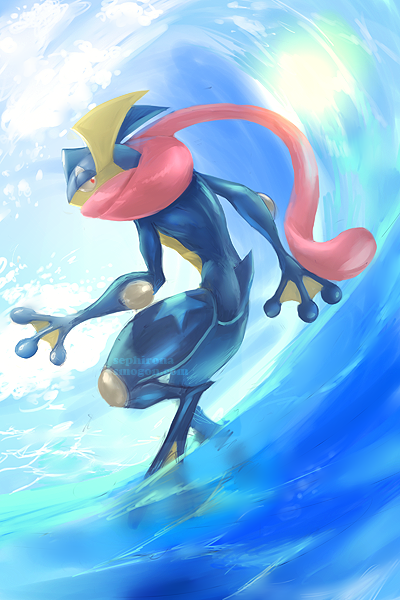 Greninja @ Life Orb
Ability: Protean
EVs: 4 HP / 252 SpA / 252 Spe
Timid Nature
- Hydro Pump
- Ice Beam
- Extrasensory
- Dark Pulse / Hidden Power Grass / Hidden Power Fire
The most common and standard Greninja set is an all-out offensive one. With four moveslots dedicated to running a variety of attacking moves, this set aims to destroy as much as it can with the coverage it has. It can't really be said that Greninja runs Hydro Pump as a STAB move, because every move gets a STAB bonus thanks to Protean. However, it still is the most powerful move Greninja can use and has impressive coverage against common Pokémon such as Heatran, Tyranitar, and Excadrill. Ice Beam pairs well with Hydro Pump, as it is able to hit Dragon- and Grass-types such as Garchomp, Latios, Dragonite, and Breloom super effectively. While Psychic-type coverage isn't commonly seen, it is mandatory for Greninja to use Extransensory; otherwise, it will be walled by Mega Venusaur and will not be able to muscle past Keldeo before it gets KOed. The final moveslot is where there is some room for variance. Dark Pulse is Greninja's only super effective option against Ghost- and Psychic-types, most notably the prevalent Aegislash, but it must be remembered that it won't OHKO Aegislash; it'll only do about 70%. Hidden Power Grass is quite nice, is it deals a hefty chunk of damage to Assault Vest Azumarill and Rotom-W, two common switch-ins to Greninja. An alternative Hidden Power is Hidden Power Fire to OHKO Ferrothorn, which otherwise walls this set quite easily. The EVs on this set are as simple as they look: maximum Speed and a Timid nature to capitalize on Greninja's insane Speed tier, and full Special Attack investment. Life Orb is the obvious item choice for a cleaner like Greninja that prefers to be able to change moves yet appreciates the power boost. This set should be brought in after most of the opposing team is weakened into the necessary range for it to clean; it simply doesn't have enough power to OHKO Pokémon like Aegislash and Latias at full health.
Greninja @ Life Orb
Ability: Protean
EVs: 4 HP / 252 SpA / 252 Spe
Timid Nature
- Spikes
- Hydro Pump
- Ice Beam
- Extrasensory
This set maintains the offensive presence of the first set, but it aims to lay down Spikes. The numerous switches forced by Greninja thanks to the immediate threat it poses often give it a free turn to lay down a layer of Spikes, punishing the opponent's switches and wearing down bulky switch-ins. Greninja's three attacking moves aim to cover as many Pokémon as they can. Hydro Pump and Ice Beam have great neutral coverage on their own, with Ice Beam also hitting prevalent Defog users such as Mandibuzz, Zapdos, and Latios super effectively, preventing them from removing Greninja's Spikes. Extrasensory is also important, as Keldeo and Mega Venusaur can otherwise freely switch in on Greninja. Spikes can possibly be replaced with Toxic Spikes to cause greater passive damage over time, but it generally affects a much smaller range of Pokémon and is usually less effective. As this set is still primarily offensive in nature, it uses the same EV spread, nature, and item as the all-out attacker set. It isn't advised to set up Spikes while risking taking hits in the process, as Greninja isn't a bulky Spikes setter like Skarmory; it is an offensive Spikes setter, and it should only be setting the entry hazard on switches it forces.
Playing against Greninja


Because of Greninja's incredible coverage and power, it is difficult for a counter to be able to switch into an attack from Greninja, take another attack, and then KO it back. However, like every special Water-type Pokémon bar Keldeo, Greninja is walled by Chansey and Blissey, the most dominant special walls in the tier. They fit easily into stall teams and have no issues switching into Greninja. From there on, they can stall out its attacks and recover with Soft-Boiled or Wish; paralyze it with Thunder Wave, rendering it completely useless; put it on a timer with Toxic; or simply wear it down with Seismic Toss. Assault Vest Azumarill is a bulky attacker commonly seen on offensive teams that checks Greninja very well; it can deal heavy damage with STAB Play Rough and also switch in with relative ease, as none of Greninja's coverage moves are super effective against it, barring the rare Hidden Power Grass. Specially defensive Clefable is a nice switch-in to Greninja, as it can stall out its moves with Soft-Boiled or Wish and use the free turns to possibly Heal Bell or get off some damage with Moonblast. Ferrothorn is a very good check as well, switching in and stalling Greininja with the combination of Leech Seed and Protect. Empoleon is a niche check that fits well on offensive teams; it can switch into and wear down Greninja with ease thanks to its unique typing and good Special Attack. Hard countering Greninja is a difficult task, but checking and revenge killing it is a lot easier. You see, while its changing of types is very beneficial offensively, it opens up a wider pool of threats to revenge kill it with priority. For example, if Greninja is an Ice-type, Scizor, Conkeldurr, and Breloom can use Bullet Punch or Mach Punch to end the frog. If Greninja has just used Extrasensory, expect Aegislash's Shadow Sneak to hurt. Even neutral Brave Birds and Sucker Punches from the likes of Talonflame, Bisharp, and Mega Absol should deal a ton of damage to Greninja, and considering that it gets worn down easily with Life Orb recoil, putting it into priority range isn't the most arduous task.
Fitting Greninja onto your team
The team archetypes on which Greninja fits the best on are heavy offense, hyper offense, and Spikes-stacking offense, which are obviously very similar styles of playing. The solely offensive set appreciates Spikes support from leads such as Deoxys-S and Deoxys-D, as it forces plenty of switches with its coverage. The Spikes set itself also fits on heavy offensive teams and supports general offensive teammates. Examples of typical Pokémon seen on offense with Greninja include Aegislash, Thundurus, Talonflame, Landorus, Mega Charizard X, Mega Tyranitar, Latios, and Bisharp.
Get out there!
Greninja is a powerful Pokémon that is easy to fit on most offensive teams. It almost always will pull its weight thanks to its deadly combination of amazing Speed, impressive coverage, and excellent offensive ability. Make sure to both try it and pack a check for it, as it's definitely a powerful force in the metagame.