If Auto-Weather Were Still Permanent
Introduction
Now everyone and their mother knows that the most dominant playstyles in Generation V were weather. The reason for this was that there were four abilities that summoned permanent weather that never went away unless influenced by another weather; Drizzle for rain, Drought for sun, Sand Stream for sandstorm, and Snow Warning for hail. You would see Politoed powering up Water-type moves like no one's business, while also raising Thunder and Hurricane to perfect accuracy and weakening Fire-type moves, making Steel-types such as Scizor and Ferrothorn ideal teammates. Ninetales was a saving grace for Pokémon with Chlorophyll, such as Venusaur and Victreebel, weakened Water-type moves, which made Gliscor and Donphan very sturdy Ground-types, and powered up Fire-type moves to frightening levels, and with Pokémon such as Infernape, Darmanitan, Victini, and Heatran firing off attacks, you knew whatever Fire-type move they used was gonna hurt. Tyranitar and Hippowdon were a great defensive core for sand teams; Tyranitar tanked special attacks exceptionally well due to the Special Defense of Rock-types increasing by 50% while sand was up, while Hippowdon tanked physical attacks better than most Pokémon allowed in OU; there were also some of the slowest auto-weather summoners, making them good leads against opposing auto-weather summoners making Pokémon like Excadrill and Landorus overpowered to the point of banishment to Ubers. And while the least used of the auto-weather summoners, Abomasnow granted Pokémon perfectly accurate Blizzards, giving Kyurem a nuclear bomb to throw around. Even though Abomasnow wasn't OU for long, he was occasionally shifting around between BL and UU, which really showed his influence in UU.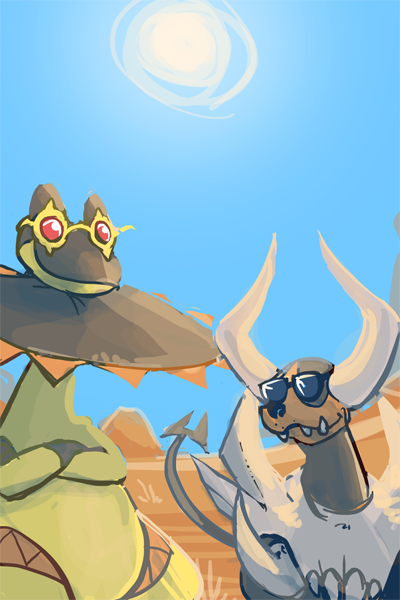 But come Generation VI, auto-weather lost its permanence and weather was once again reduced to a somewhat gimmicky playstyle. You'll see sand quite often, but only because Tyranitar isn't too dependent on weather to excel in OU, and Hippowdon is still one of the best Pokémon at taking physical hits. With weather teams being a thing of the past, some may ask, "What would Generation VI Pokémon be like if auto-weather were still permanent?", while others might ask, "How would Generation VI Pokémon hold up against the playstyle?". That's what this article aims to find out! Pack your sunglasses, umbrellas, snow pants, and turbans, ladies and germs, we got some crazy weather patterns ahead of us.
Mega Ampharos
Typing: Electric / Dragon
Stats: 90 / 95 / 105 / 165 / 110 / 45
Expected OU Viability Ranking: B (Improved)
Before starting anything, let's take a minute to gaze at Mega Ampharos's fabulous hair. Now that that's settled... Ampharos was in the first batch of Pokémon to have their Mega Evolutions announced, but people were less than impressed by the Light Pokémon. Many were blown away by his gorgeous hair and new Dragon typing, but those who sought only battle worth within a Pokémon were rather disappointed. Despite having one of the highest Special Attack stats in the game, Mega Ampharos saw only a little bit of usage. Granting him a Dragon typing was seen as a bit of a nerf, not only because the Fairy-type was there to tank hits, but also because he gained 3 new weaknesses. But if weather was the dominant play-style, Ampharos would be able to take on many rain and sun teams with ease, having amazing resistances to Grass-, Fire-, Water-, Electric-, Flying-, and Steel-type moves; common weather moves such as Hydro Pump, Thunder, Hurricane, Fire Blast, and Solar Beam would be nothing to Mega Ampharos, as 90 / 105 / 110 defenses can definitely hold against those resisted attacks. The fact alone that he can hit Water-types super effectively while resisting Water-type moves could merit Ampharos a Mega slot. He can run on a rain team and be a wallbreaker of sorts, packing STAB Thunder in the rain, and his base 165 Special Attack means large amounts of damage are inevitable. But he could also see usage on a sand team as something of a check to rain and sun teams, taking on many threats such as Keldeo, Rotom-W, and Azumarill before Mega Evolving. It's also worth noting that Ampharos is the slowest fully evolved Electric-type in the game to have access to Volt Switch, meaning he's almost certain to provide advantageous switches.
Despite taking on rain and sun teams very well, opposing sand and hail teams would give him hell. An Earthquake weakness is never a good thing, and since Ampharos is so slow, he's almost always gonna have to switch out if he wants to live. Specially defensive Tyranitar can eat up a Focus Blast and 2HKO with Earthquake, while specially defensive Hippowdon cares nothing about anything thrown at him, Slacks Off damage, and 2HKOes with his STAB Earthquake. While hail wouldn't be very common, Pokémon on a hail team, such as Kyurem, Weavile, and Cloyster, could use their Ice-type moves to either deal massive damage to or flat out KO Mega Ampharos. Outside of weather, Fairy- and Dragon-types are easily his biggest checks. Pretty much every OU viable Fairy- and Dragon-type can be considered a check or counter; Dragonite, Salamence, Garchomp, Goodra, Sylveon, Azumarill after Ampharos Mega Evolves, Clefable, and Mawile are Pokémon that can easily scare him out for threatening to hit hard or KO with their super effective STAB attacks.
Ampharos wouldn't be top OU, but his use would be more than justified.
Mega Charizard X
Typing: Fire / Dragon
Stats: 78 / 130 / 111 / 130 / 85 / 100
Expected OU Viability Ranking: A+ (Slightly Nerfed)
Mega Charizard X was one of the most influential Pokémon introduced in XY. His ability Tough Claws, elite base 130 Attack, access to 2 boosting moves, and attacks such as Flare Blitz, Outrage, and Dragon Claw have made him into one of the most well-known and feared forces this generation had to offer. You can't even burn him because he's a Fire-type. Now imagine if you put him on a sun team... yeah, I just said that. 'Zard X would easily be the face of physical wallbreakers on sun teams. With one Dragon Dance, he has an Attack stat that makes Darmanitan envious, and with one Swords Dance, 'Zard X just becomes damn well near impossible to stomach hits from. Though even without a dance, you'll be hard pressed to find a wall that can avoid a 2HKO from this guy's sun-boosted Flare Blitz. Here are some calcs to demonstrate how futile it is to try and wall this guy:
252 Atk Tough Claws Mega Charizard X Flare Blitz (sun) vs. 252 HP / 252+ Def Deoxys-D: (65.1 - 76.9%) guaranteed 2HKO after Leftovers recovery
252 Atk Tough Claws Mega Charizard X Flare Blitz (sun) vs. 252 HP / 0 Def Mega Blastoise: (45.3 - 53.3%) 35.5% chance to 2HKO
252 Atk Tough Claws Mega Charizard X Flare Blitz (sun) vs. 252 HP / 252+ Def Mandibuzz: (62.9 - 74.2%) guaranteed 2HKO after Leftovers recovery
252 Atk Tough Claws Mega Charizard X Flare Blitz (sun) vs. 252 HP / 0 Def Jellicent: 263-310 (65 - 76.7%) -- guaranteed 2HKO after Leftovers recovery
Without an Adamant Nature or stat boost, 'Zard X already poses a significant threat to everything in OU, but add in the sun, and even the sturdiest of walls can crumble when up against his burning might. This also means that when facing a sun team, the enemy will switch in their sun summoner sparingly, giving you some control of the battlefield with intimidation alone. Another great trait of his is he can threaten Tyranitar out with Earthquake, making him quite the valuable teammate. Plus, he's a very valuable asset to sun teams in the sense that he's a Fire-type, but still isn't dead weight when fighting in the rain. Politoed giving you problems? Just take his Scalds like a boss and Dragon Claw that thing's face off. He deserves it after what he put BW through.
But while this power is potentially ban-worthy, why does 'Zard X get demoted to A+? The answer is that there are other weathers just waiting to ruin his sunny days. Rain immediately comes to mind, with Pokémon such as Slowbro, Intimidate Gyarados, and Rotom-W ready to jump in on a weakened Flare Blitz and fire off rain-boosted STAB attacks to weaken or KO 'Zard X. On sand teams, they have all the Ground- and Rock-type moves they need to take 'Zard X down a notch or two, as well as Sand Rush Excadrill outpacing him quite easily. Mega Tyranitar can survive an unboosted Earthquake, set up a Dragon Dance, and fire off a Stone Edge or his own Earthquake, and Hippowdon can avoid 2HKOs from unboosted Jolly sets and severely weaken him with an Earthquake. If under rain, Chesnaught can avoid a 2HKO from Jolly variants and SubSeed stall to great effect, though sets with Will-O-Wisp will make stalling much harder, especially without Synthesis. Rain and sand teams in general are a real thorn in 'Zard X's side, and the presence of opposing weather alone may be enough to pull him out of S rank.
Although rain and sand would make things difficult, just remember that a little sunshine can be all Mega Charizard X needs to seal your fate.
Mega Charizard Y
Typing: Fire / Flying
Stats: 78 / 104 / 78 / 159 / 115 / 100
Expected OU Viability Ranking: S+ (Improved)
Do I even need to say anything? Mega Charizard Y has always been a powerhouse of destruction, and he's easily one of the more interesting Pokémon to discuss weather-wise. In terms of offense and defense, he's everything Ninetales is and more. His massive base 159 Special Attack backed by sun means that his Fire Blasts and Overheats are truly nuclear. One problem when using 'Zard Y though is that his sun goes away after five turns, preventing him from pulling off a perfect sweep. But if auto-weather were permanent, sweeping and supporting would be a great deal easier, since opponents might have been able to stall the sun out to prevent future 2HKOs, but 'Zard Y can now laugh at their attempts at stalling. Not only would sun never go away, but you don't have to switch him out at the expense of Stealth Rock damage as often just to refresh the sun. 'Zard Y would be able to support teammates with endless sun, helping those with Chlorophyll demolish offensive Pokémon, buffing Synthesis users so they can recover 2/3 of their health, and giving defensive Pokémon more switch in opportunities by removing a Water weakness. But the biggest factor would be raising the lethality of moves such as Flare Blitz and Fire Blast from himself as well as the likes of Heatran, Entei, and Talonflame, allowing the latter to pull off sweeps like never before and also making 'Zard Y into a powerhouse. 'Zard Y also has a decent support movepool, with moves such as Will-O-Wisp, Roost, Tailwind, and Defog, as well as having a great base 115 Special Defense for tanking some special attacks. The best part is Charizard has two Mega Evolutions, meaning he can catch some opponents by surprise and fire off a Solar Beam to catch a weather starter off-guard.
Sadly, Mega Charizard Y has a rather crippling defensive typing, cursing him with Rock-, Electric-, and Water-type weaknesses. Should he fail to KO a weather summoner, he is wide open to Tyranitar's Stone Edge or Politoed's Hydro Pump, though if the sun is up, Politoed is at a significant disadvantage. Specially defensive Tyranitar can live a Focus Blast if sand is up, and Assault Vest variants can live one regardless, and easily KO with Stone Edge. Politoed can switch in on 'Zard Y's poorly timed Solar Beam or any attack really, and defensive sets can proceed to deal a crippling blow with Scald, while offensive sets can cleanly KO with any STAB attack. Pokémon that are supported by rain, such as Mega Manectric, Heliolisk, and Thundurus-T, can usually OHKO with a STAB Thunder while outspeeding 'Zard Y, and sand sweepers such as Garchomp before Mega Evolving, Terrakion, and Dugtrio can outspeed and fire off a Stone Edge to destroy 'Zard Y.
Being an auto-sun summoner isn't easy, constantly getting harassed by rain and sand, but if you're looking for a weather summoner that hits hard off the bat, look no further than Mega Charizard Y.
Chesnaught
Typing: Grass / Fighting
Stats: 88 / 107 / 122 / 74 / 75 / 64
Expected OU Viability Ranking: A- (Improved)
When Chesnaught first came to the competitive scene, he was what a lot of people would consider to be an underrated gem. His Grass/Fighting typing was rather bad defensively, but his overall defenses made up for it... somewhat. Yeah, having weaknesses to Fire-, Psychic-, Poison-, Ice-, and Fairy-type moves hurt his walling abilities, not to mention a crippling 4x Flying-type weakness, so he frequently has a hard time switching in. But if weather were permanent, he'd be a fine sun teammate, since he can take on Politoed and Tyranitar one-on-one, and while Politoed has higher base Speed, Chesnaught can just spare a few EVs to fix that problem since his defenses are already pretty good. What would make him such an important Pokémon is having resistances to Water-, Electric-, Rock-, Dark-, Grass-, and Ground-type moves, letting him check or counter many Pokémon, including but not limited to: Crawdaunt, (Mega) Venusaur without Hidden Power Fire, Ferrothorn, Terrakion, Dugtrio, Gastrodon, Mega Manectric in the rain, Heliolisk, (Mega) Gyarados, Diggersby, and of course Politoed, Hippowdon, and Tyranitar. His place on a sun team would grant him a powered-up Synthesis, recovering two-thirds of his health in the sun, and when combined with Leech Seed and Leftovers recovery, as well as possibly stalling with Spiky Shield, he could be the defensive juggernaut Game Freak wanted him to be.
Chesnaught can play on a sun team very nicely, but he's practically dead weight when facing one. With sun magnifying his Fire weakness, he has a hard time stomaching even a Hidden Power Fire from the likes of Mega Venusaur and Victreebel, and with Mega Charizard X and Y, Mega Houndoom, and Talonflame being some of many potential offensive attackers on sun teams, Chesnaught would be burnt to a crisp faster than throwing salad on a grill. His rather lackluster Special Defense means he has to move most of his EVs to patch things up, or else special attackers are going to have an easy time with him. His recovery in Synthesis is also nerfed in any weather that isn't sun, only giving him a quarter of his health per use, meaning he may have to rely on Leech Seed, which opposing Grass-types aren't affected by. In fact, any defensive Grass / Poison type could be considered a check, such as Mega Venusaur or Amoonguss, though they can't hurt Chesnaught with Sludge Bomb thanks to Bulletproof. Despite not dealing any meaningful damage without Hidden Power Fire, they can still stall against any Chesnaught except for the never-seen Belly Drum sets. Burns are also a looming threat, making Rotom-W, a common Pokémon that Chesnaught otherwise checks, into one of his biggest problems.
Chesnaught is by no means the best wall for a sun team, but his ability to take on other weather summoners and his great resistances would likely ensure sunny days ahead.
Mega Garchomp
Typing: Dragon/ Ground
Stats: 108 / 170 / 115 / 120 / 95 / 92
Expected OU Viability Ranking: A- (Improved)
Garchomp has always been a great Pokémon to use. Offensive sets were incredibly powerful, defensive sets were insanely bulky, and supportive sets were rarely predicted and they usually got the job done. And you know what? That still applies to today's standards. But when people found out he got a Mega Evolution, everyone was amazed and scared at the same time. They wanted to look into the Mega Evolution, and for good reason. I mean, Garchomp getting a Mega Evolution? How could they possibly make an amazing Pokémon even more amazing? Well, the answer lies in his ability Sand Force, raising the power of his Earthquake and Stone Edge to obscene levels compared to his original form. Everyone's first reaction were brushing dirt and dust out of their mouth after their jaw hit the floor, but their second reaction was a bit of disappointment, since Garchomp lost his unique base 102 Speed and was reduced to only base 92, making him even slower than Kyurem-B. Another thing to note is that Mega Garchomp and Kyurem-B have the same offensive stats, 170 Attack and 120 Special Attack. The difference is Kyurem-B has base 95 Speed, 3 points over Mega Garchomp, making Mega Garchomp the Dragon-type with the second slowest Speed tier in OU. The only factors that save him from being overshadowed nowadays is having better coverage over Kyurem-B, lacking weaknesses to Fighting, Rock, and Steel, and possessing a potent ability in Sand Force. But with auto-weather no longer being permanent, he lost one of those important niches.
But if he had sandstorms constantly powering him up, he very well could be called the best wallbreaker in OU. Having access to great Sand Force-boosted moves in Earthquake, Stone Edge, and Iron Head make him incredibly hard to wall, and due to gaining a massive base 120 Special Attack, he can fire off surprise Earth Powers, Draco Meteors, and Fire Blasts to catch on the switch Pokémon that are normally called counters and put them in a bad situation. His mixed wallbreaking, combined with his excellent bulk and adequate defensive typing, already allows him to take on some of the top OU threats, but Sand Force could turn 3HKOs into 2HKOs, and 2HKOs or shaky OHKOs into guaranteed OHKOs on certain Pokémon. Without Sand Force, he can check important threats such as Terrakion, Bisharp, Mega Mawile, Talonflame, Tyranitar, Excadrill, (Mega) Scizor outside of rain, Heatran without Air Balloon, and Mega Charizard Y. With Sand Force and the appropriate move, he can OHKO Aegislash (even in Shield Form), offensive Mega Tyranitar, and Gengar. In terms of walls, he's very likely, if not guaranteed, to 2HKO important walls such as Sylveon, Chansey after sandstorm damage, and Mega Venusaur. Due to Garchomp's typing and movepool, he wouldn't particularly be phased by opposing weather, so there really isn't anything else to say that hasn't already been said. He can even take on some opposing weather summoners on his own, nailing Mega Charizard Y and Ninetales with Stone Edge and Earthquake respectively, and Politoed is 2HKOed by Earthquake ~90% of the time with Stealth Rock on the field.
Mega Garchomp wasn't quite the monster that everyone thought he was gonna be, but he still proves to be a dangerous adversary to face, and with sand backing him up, you'd best watch yourself.
Goodra
Typing: Dragon
Stats: 90 / 100 / 70 / 110 / 150 / 80
Expected OU Viability Ranking: B+ (Greatly Improved)
You know, there's a theme when it comes to the different types and their stats. Flying-types are mainly physical attackers that have a lot of Speed; Fighting-types are slow, but have a lot of Attack; and Electric-types are fast special attackers. When talking about Dragons, high power and good speed at the cost of a 4x weakness come to mind, but within every family of types, there's always that one oddball that plays differently from the family. For Flying-types, there's Mandibuzz, for Fighting-types, it's Scrafty, and then there's Electivire for Electric-types. So who's the oddball for Dragon-types? Why, it's none other than Goodra, also known as Puff's deformed girlfriend. She's considered the oddball because she doesn't hit particularly hard and has rather disappointing Speed, but her defenses are rather large, and being a pure Dragon-type means she has no 4x weaknesses to be exploited. And to aid in her role, she has Hydration to wake up at the end of the turn she uses Rest, provided that rain is up, and it also cures her of any status in general, including the fatal Toxic, making her seem very contrary to the standard of the average Dragon-type. Goodra excels at her role as a great wielder of Assault Vest, which literally guarantees her to live any, and I do mean any, special attack. Her rather overlooked defensive typing brings many welcomed resistances in Grass-, Fire-, Water-, and Electric-type moves, and since most moves of those types are special, they more often than not pose little threat to her. What makes her unique among fellow tanks is her great movepool, having Fire Blast in the sun and Muddy Water and Thunder in the rain, as well as a whole plethora of other moves for any weather condition. She'd also be a great choice when up against rain and sun teams, not only for resisting the right types, but also being able to hit most if not all of those types super effectively with the right coverage move. Her stalling capabilities in the rain would be excellent, since she no longer has to worry about lacking recovery thanks to the Hydration/Rest combo, as well as not worrying about status in general; she would have to forgo an Assault Vest in the process, but reliable recovery and status immunity greatly outweigh being at +1 Special Defense.
However, Goodra has no real advantage against sand teams, and hail teams obviously destroy her. Tyranitar can take anything in the sand and wear her down with Stone Edge or trap her with Pursuit. Hippowdon can hit almost as hard with Earthquake and heal off damage with Slack Off. Abomasnow is at risk of getting roasted by a Fire Blast, but he can easily score a 2HKO at worst with Blizzard after Mega Evolving. While Goodra is an amazing wall, she also faces stiff competition from Latias, another defensive Dragon-type, and Vaporeon, a fellow user of Hydration. Latias has reliable recovery regardless of weather, significantly higher Speed, and access to Calm Mind and Defog, making her more of a threat offensively and supportively. Vaporeon may have minutely less Defense and much less Special Defense, but she has significantly higher HP to make up for this, as well as having a great support movepool in Wish, Heal Bell, Baton Pass, and Scald. Without rain support or Hydration, Goodra would be lacking a reliable recovery move, and she would also be susceptible to Toxic and other status. Her Defense is also rather disappointing, meaning Goodra falls to many physical attackers, even with Defense investment; this makes sand teams a bad matchup for her.
Goodra may be flawed, but one should never underestimate her potential on a rain team.
Greninja
Typing: Water / Dark
Stats: 72 / 95/ 67 / 103 / 71 / 122
Expected OU Viability Ranking: A+ (Unchanged)
Greninja is rather unique among the Water-type starters in the sense that most of them are bulky and slow, wheras Greninja is fast and frail. Most of his stats are rather underwhelming, but his Speed is simply incredible; Greninja is not only able to outspeed Tornadus-T, but also OHKO him, which is amazing. Greninja's typing is somewhat unique, shared only with Mega Gyarados, Sharpedo, and Crawdaunt, and since he's the only one among them one who is mainly a special attacker, he can easily set himself apart from them. But what really makes him unique is his ability, Protean, which changes his typing to whatever move he uses, meaning he always has STAB on his attacks. Even with this, he has competition with Keldeo, who has a better defensive typing, greater overall stats, and a way to hit special walls hard in Secret Sword. But Greninja can set himself apart from Keldeo with his Water/Dark coverage, more offensive options, and higher Speed, allowing him to take on many threats without the need of a Choice Scarf. Greninja could be a fierce rain sweeper, using Choice Specs or Life Orb to demolish teams, and due to his naturally great Speed, he doesn't need a Choice Scarf to outrun key threats, unlike Keldeo.
Greninja is a fierce sweeper, but so long as sun and sand summoners are alive, he can never consistently sweep. Tyranitar can eat up anything Greninja throws at him and deal heavy damage with STABs, and specially defensive Ninetales more often than not can live 2 Choice Specs Hydro Pumps in the sun and threaten him with Solar Beam. Ferrothorn can take Greninja on in the rain and either use Leech Seed or Thunder Wave. Gastrodon with some Special Defense investment can avoid a 2HKO from anything Specs Greninja has to offer aside from Hidden Power Grass and Toxic stall him with Recover. Mega Venusaur can wall Greninja all day and use Giga Drain, but has to be wary of sets that run Extrasensory. Azumarill can beat Greninja one-on-one without rain support and use either Belly Drum or Play Rough. Anything that can outspeed him, has priority, holds a Choice Scarf, or can simply avoid a 2HKO can technically be considered a check. While Greninja has many advantages over Keldeo, he still lacks the bulk, power, and better defensive typing that Keldeo can brag about, as well as a means of hitting special walls.
Greninja is relatively predictable, but if you think he's easy to play around, you'd be sorely mistaken.
Mega Gyarados
Typing: Water / Dark
Stats: 95 / 155 / 109 / 70 / 130 / 81
Expected OU Viability Ranking: A+ (Unchanged)
Ever since Generation IV, Gyarados has been a threat to prepare for, and that especially applies in today's standards. He has several sets that can catch foes off-guard; the offensive Dragon Dance set is a very direct yet effective approach, with Moxie further powering him up after defeating something. The defensive DD set is very bulky, and it can be fairly easy to get a boost or two, as Intimidate further aids in this cause. Lastly, the supportive set thrived more on surprise factor than anything, but with Thunder Wave and Dragon Tail, he could easily cripple would-be checks and counters. As the generations passed, he received a buff here and there, with Generation IV providing the physical/special split, granting him a physical STAB to demolish foes with, and Generation V giving him Moxie, which made a sweep very hard to stop. So what buff did Gyarados get this gen? None other than a Mega Evolution, though it was one that disappointed many. For one, he didn't get a Dragon typing like Mega Charizard X, but instead he replaced his Flying typing with Dark typing, making him a Water/Dark type, which, despite having Ghost- and Dark-type resistances, is commonly seen as a nerf, considering he's now weak to Fighting-, Bug-, and Fairy-type moves, as well as lacking a good Dark-type move to use (Really Game Freak? You give some of your Dark-types Bite, but not Crunch?). Another noticeable change is his ability being Mold Breaker, which people were let down by, since people didn't care about hitting things that had Water Absorb or Dry Skin, and they wanted something more offensive, though landing an Earthquake on Rotom-W is always a good thing in my book. But none of these factors changed the fact that Mega Gyarados is one of the bulkiest and terrifying DD sweepers in the game. And with rain powering him up, he'd be a true force to be reckoned with. With rain at his side, Mega Gyarados's Waterfall reaches absurdly high levels of power, making him an incredible wallbreaker on rain teams. And having Mold Breaker helps here, because common Pokémon who have abilities that absorb Water-type moves, such as Jellicent, Gastrodon, Vaporeon, Heliolisk, and Toxicroak, are unable to switch in on a boosted Waterfall, no longer able to benefit from it, and thus at risk of being 2HKOed, if not OHKOed. And since Gyarados is a physical attacker, his Waterfall can easily threaten (Mega) Tyranitar, Mega Charizard Y, and Ninetales with a 2HKO, regardless of their weather.
Remember when I said some people didn't like Mega Gyarados? Yeah, this is where their disappointment is justified. As I already mentioned, Mega Gyarados gained fatal weaknesses to Fighting-, Bug-, and Fairy-type moves, but what I didn't mention was what happened when he lost his Flying typing. He lost a Rock weakness and a 4x Electric weakness, but lost an important Fighting-type resistance, and also lost a Ground-type immunity, meaning Gyarados has to choose the right time to Mega Evolve. For example, if Gyarados Mega Evolves against Lucario, he'll easily fall to a Close Combat when he would normally live with relative ease. On the other hand, if he doesn't Mega Evolve, he risks getting nailed by Stone Edge when Mega Gyarados could have tanked it. So in the end, you have to Mega Evolve as if you were using your last attack; if you carelessly Mega Evolve or mistime your Mega Evolution, it could cost you your Gyarados, and maybe even the match. But whether or not you Mega Evolve, there are threats that can easily threaten Gyarados. Thundurus-T, Mega Manetric, and Zapdos will always be a looming threat to him, since they can outspeed and always land an OHKO on offensive Mega Gyarados with Thunder. Mega Venusaur is vulnerable to Ice Fang since Mold Breaker lifts the effect of Thick Fat, but can still avoid a 2HKO if Gyarados has yet to set up, recover damage with Giga Drain, and possibly use Leech Seed or Sleep Powder on non-Substitute variants. Fighting-types can't switch in, but they serve as excellent checks that can easily OHKO him, but if Gyarados has yet to Mega Evolve, then he will likely Mega Evolve only after the opposing Fighting-types have been defeated. Hippowdon can usually avoid a 2HKO from unboosted Jolly sets and proceed to Toxic stall.
Mega Gyarados has some problems defensively, but offensively, he has quite the showing of dominance.
Heliolisk
Typing: Electric / Normal
Stats: 62 / 55 / 52 / 109 / 94 / 109
Expected OU Viability Ranking: A- (Greatly Improved)
Enter Heliolisk, one of the most debated Pokémon when it comes to the weather nerf. Heliolisk just seems like he was born for Generation V, having two really good weather-based abilities to work with in Dry Skin and Solar Power. With Dry Skin, he has consistent recovery and heals from Water-type moves, effectively being an excellent player both on and against rain teams, and with Solar Power, he has a free Choice Specs in the sun and can hit incredibly hard without using up his item slot. Factor in the fact that he has Thunder and Surf, as well as resistances to Electric and Flying and the previously mentioned Water immunity, and you have yourself the face of anti-rain teams. In terms of stats, his Speed and Special attack both rest at a comfortable base 109; this allows Heliolisk to narrowly outrun Keldeo, Terrakion, and Infernape, meaning that he makes for an excellent user of Choice Scarf. His Special Defense is also passable, making it easier to take Thunders and Hurricanes. His ability to come in on and threaten Water-types such as Starmie, Azumarill, Politoed, Crawdaunt, Rotom-W, Manaphy, Jellicent, Keldeo, and Greninja should never be overlooked. His Speed allows him to outrun important Pokémon such as the previously mentioned Keldeo, Terrakion, and Infernape, as well as Galvantula, Garchomp, Mega Pinsir, Landorus, Volcarona, and Mega Charizard Y. His movepool is just wide enough to have variety, allowing him to hit super effectively many important Pokémon such as (Mega) Tyranitar, Heatran, Ferrothorn, Hydreigon, Bisharp, and Kyurem-B with Focus Blast, as well as Mamoswine, Excadrill, Hippowdon, and Infernape with Surf. However, while Dry Skin is the ideal ability for defending against rain teams, Solar Power is a good way to demolish rain teams entirely. With Solar Power, Heliolisk reaches a powerful 475 Special Attack with a Timid nature, and that's not even considering a potential held item. Surf is half as powerful in the sun, but Grass Knot can get the job done, though you're mainly going to be spamming Thunderbolt or Volt Switch anyway. Solar Power Heliolisk would be an excellent teammate on the sun, since he can handle rain teams well enough, even without Dry Skin, and punish Politoed for switching in and trying to change the weather.
But while Heliolisk is a fierce rain stopper, and while his Speed and Special Attack stats are great, he has very little to offer outside of those strengths. His Defense and HP are downright pathetic, making Talonflame look fairly bulky in comparison, and his Speed and Special Attack are both outdone by Mega Manectric, which has relatively similar stats even before he Mega Evolves. His coverage is adequate, but not wide enough to be particularly unpredictable, meaning that it's very easy to figure his movepool out. And as much as he would like to, he can't have both abilities at the same time; without Dry Skin, he can't switch in on Water-type moves for free, and without Solar Power, his Special Attack can be a bit lacking. Another thing going against him is his inability to threaten special walls such as Goodra, Chansey, Ferrothorn (without Hidden Power Fire), Latias, Cresselia, Sylveon, and Deoxys-D, and other special attackers have much higher Special Attack or access to a setup move. Even with Focus Blast, he fails to KO specially defensive Tyranitar and is easily OHKOed by Earthquake. His typing, while leaving him with handy resistances, also cripples him with Ground and Fighting weaknesses, not to mention that the only priority moves that he resists are Bullet Punch and Gale Wings Brave Bird, and coupled with his abysmal Defense, he'll easily lose chunks of health.
Heliolisk has many a flaw, but when you want the rain to go away, look no further.
Mega Houndoom
Typing: Dark / Fire
Stats: 70 / 90 / 90 / 140 / 90 / 115
Expected OU Viability Ranking: B+ (Greatly Improved)
Houndoom has always been a mediocre Pokémon in OU—not very bad, just not good. His Speed is rather limited at base 95, his base 110 Special Attack is outclassed by several Fire-types in OU, and despite his Dark typing bringing important resistances this generation, his defenses are mediocre at best. But Game Freak decided to take pity on him and grant him a Mega Evolution, greatly fixing his flaws. His Special Attack is the third highest among Fire-types in OU, with only Mega Charizard Y and Chandelure ahead. His Speed is also the second highest among Fire-types, at just 11 points behind Talonflame, and his bulk has been greatly improved upon, meaning that a physical attack won't always OHKO him anymore. And to add equipment on top of power, he was given Solar Power, making his Flamethrowers in the sun able to easily out-damage Mega Charizard Y's Fire Blasts. But the reason why Mega Houndoom isn't OU is because of the weather nerf, though if auto-weather were permanent, then we'd have a monster on our hands. When in the sun, Mega Houndoom becomes a devastating wallbreaker, powering his way through many threats (even if he needs Stealth Rock support for some of the following), such as Deoxys-D, Jellicent, Tentacruel, Gastrodon, Sylveon, Latias, Azumarill, Rotom-W, Cresselia, Mega Ampharos, and Mega Venusaur. However, his scariest asset is having Nasty Plot to boost his power to levels beyond words, potentially OHKOing standard Chansey with Fire Blast in the sun after Stealth Rock, and guaranteeing an OHKO with Overheat under those conditions. These are indeed many conditions to meet, but when he can OHKO Chansey with a special attack after one turn of setup, regardless of how slim the odds of doing it are, one finally understands what a true wallbreaker is. Aside from Fire-type moves, Mega Houndoom has great coverage in his other STAB, as well as Solarbeam to threaten Water-, Rock-, and Ground-types with.
Much like any sun-loving Pokémon though, he can rarely enjoy the sun for very long, since sun is easily forced out by rain and sand. When not in the presence of the sun, he has surprisingly disappointing power compared to the way I praised him earlier, failing to 2HKO special walls without a Nasty Plot boost, such as Tentacruel, Gastrodon, Rotom-W, and Sylveon, and he's at risk of being 2HKOed or OHKOed by the appropriate attack from each of them. And while his STAB coverage is resisted by only a handful of Pokémon, some of those few are critical threats, such as Azumarill, Tyranitar, Greninja, Infernape, Mega Gyarados, Keldeo, and Terrakion, all of which can easily OHKO with the right STAB attack; most of these threats are hit by Solarbeam, but they can actually be bait for a weather summoner to get a free switch-in, change the weather, and force Mega Houndoom into a charge-up state, so they can KO him before he can fire off his weakened attack. His defenses may have been improved, but with Solar Power draining his health in the sun, that extra bulk feels sort of meaningless, and it's none too impressive anyways. And his Speed, while great, isn't available until the turn after he Mega Evolves, leaving him vulnerable to many sweepers.
Mega Houndoom has problems as a sun sweeper, but as long as the sun is up, only Flash Fire and 4x resists can keep you safe from his fiery wrath.
Mega Manectric
Typing: Electic
Stats: 70 / 75 / 80 / 135 / 80 / 135
Expected OU Viability Ranking: A- (Slightly Improved)
Manectric getting a Mega Evolution was a pitch from left base; not really bad, but it caught people by surprise. What we got was the premier revenge killer of rain teams, and even a decent one for sun teams, having excellent base 135 Special Attack and Speed, decent bulk, and Intimidate to raise the odds that he KOes physical attackers before he's KOed. His access to naturally powerful Thunder(bolt)s, Volt Switches, Flamethrowers, and Overheats make him a good candidate for revenge killing on rain or sun teams. His Thunders in the rain are truly scary to face not only because of their naturally good power, but also because his amazing Speed zips past most Pokémon, even if some of them are at +1 or armed with a Choice Scarf, which separates him from Thundurus-T. His access to Flamethrower and Overheat are what allow him to sweep for sun teams, since he basically gets STAB on them in the sun, and he can actually take on opposing rain teams with Thunderbolt. His Speed is also good before he Mega Evolves, and he also has Volt Switch to retreat if he knows he can't KO the opponent, making the Speed problem that Mega Evolutions normally face a very small issue. Gaining Intimidate and extra bulk means he can actually come in and threaten many physical attackers, such as Aegislash, Mega Mawile, Toxicroak, (Mega) Scizor, and Cloyster.
However, Mega Manectric has a fatal flaw in having a severe disadvantage against sand teams. (Mega) Tyranitar is probably the hardest counter to him in the game, with specially defensive and bulky Mega offensive sets avoiding a 2HKO from even HP Fighting, and can both 2HKO with Earthquake. Hippowdon is on a similar boat, as it can avoid a 2HKO from HP Ice, Slack Off the damage, and 2HKO with Earthquake. With sand buffing the Special Defense of Rock-types, as well as the threat of Sand Rush, Pokémon such as Terrakion, Excadrill, and Mega Aerodactyl can either take a hit, outspeed, or both, and can then either retaliate hard or KO. Other than sand teams, Chansey, Deoxys-D, Sylveon, Goodra, Cresselia, Latias, Mega Venusaur, and many other special walls still pose a threat to Mega Manectric and can easily stall him out. His coverage, while not exactly bad, is rather slim, making him very predictable, and leaves him with a large number of checks and counters. He also faces stiff competition with Thundurus-T, who boasts more Special Attack, a free item slot, and boosting moves in Nasty Plot and Agility, as well as Heliolisk, who has Dry Skin and Solar Power to play on/against rain and sun more efficiently.
Mega Manectric would have a bit of difficulty standing out, but his talents would certainly be noticed.
Noivern
Typing: Flying / Dragon
Stats: 85 / 70 / 80 / 97 / 80 / 123
Expected OU Viability Ranking: B- (Greatly Improved)
Noivern has always been a decent Pokémon to use, and he has quite a few clutch niches, but his flaws are too great to look past. His strongest Flying-type attack is Hurricane, which is only good in the rain, and he has Solar Beam, which is only good in the sun. If weather were permanent, he'd have an improved presence in OU, one that can't be replaced or replicated to the extent that he can. In the rain, he's able to spam Choice Specs Hurricanes, and being able to outrun Greninja by a hair is very convenient. A Water resistance is handy, and Flying coverage in Hurricane is quite effective, providing excellent coverage alongside Focus Blast. In the sun, he can fire off a Solar Beam to take on Water- and Ground-types and no longer needs Focus Blast for Rock-types, though it's still helpful to have in case if the sun is lost. His powered-up Flamethrowers will also further aid in battle against the Steel-types that would otherwise love to wall him. His niche as the fastest Dragon-type in the game is also a nice title to brag about, preventing opposing Dragons that are unboosted from getting the jump on him, and he is able to KO the following Pokémon with Choice Specs Draco Meteor: Mega Charizard X, Mega Ampharos, (Mega) Garchomp, Kyurem-B, Latios, and bulky support Latias.
Unfortunately, his role as a sweeper comes to an end as soon as Tyranitar rears his ugly head. Once again, Focus Blast fails to OHKO specially defensive variants (I think I'm beginning to pick up a pattern here), and he is OHKOed by Stone Edge (Yup, I'm definitely picking up a pattern here). Specially defensive Hippowdon is also a good counter, as he can Slack Off any damage taken and 2HKO with Ice Fang. Due to his lack of a high Special Attack stat and an over-reliance on Choice Specs, most general special walls are considered great counters, such as Chansey, Deoxys-D, Sylveon, Cresselia, Umbreon, and a few others. His bulk isn't the worst, but it certainly won't hold against strong neutral attacks, especially ones that are boosted. Many of his moves are also weather susceptible, with Hurricane at only 50 accuracy in weather that isn't rain, Flamethrower at half power in the rain, and Solar Beam becoming a charge-up attack outside of sun, and is thus at half the power in other weather. If he isn't on a weather team, he also finds himself severely outclassed by other Dragons, despite being the fastest of them all, since he's actually one of the lightest hitting Dragon-types in the game.
Being overly weather-dependent sucks, but play him to his strengths, and Noivern can leave quite a dent.
Trevenant
Typing: Ghost / Grass
Stats: 85 / 110 / 76 / 65 / 82 / 56
Expected OU Viability Ranking: B- (Greatly Improved)
Trevenant isn't exactly cut out for OU the way it is now, with crippling Ghost, Dark, Ice, Fire, and Flying weaknesses, stats that are contrary to his playstyle, and an inability to take on a significant number of the metagame's top-tier threats. But if weather were the force it was last generation, then the threatlist would change, possibly dramatically, and it might change in Trevenant's favor. Rain would likely be the most common type of weather, and Trevenant can take them on for the most part, so he can truly shine, despite there being clouds blocking the sunlight. He would be best on a sun team, with Harvest constantly recycling his berry, so Rest with Lum Berry and Substitute with Sitrus Berry would be much more effective. Grass is a great typing for taking on rain and sand, having convenient resistances to the Water-, Electric-, and Ground-type moves that are constantly seen, and hitting two of those three types super-effectively with STAB is great. His Attack stat is pretty good for a wall, and having Horn Leech to hit somewhat hard and regain health is a nice touch, making his battle against rain and sand teams easier.
Unfortunately for Trevenant, he finds himself outclassed by a multitude of Grass-types, and like most Grass-types, he can find himself rather helpless against sun teams. Mega Charizard Y and Ninetales can easily outspeed and KO with a Fire-type move of choice, while Trevenant has no safe play against them unless he's already behind a Substitute. Tyranitar outspeeds him and can at worst 2HKO with Crunch, while Hippowdon can live a hit and Roar him out, even if he has a Substitute up. Even though he can take on rain teams, they almost always have a method to take on Grass-types, having Ice- and Flying-type moves to hit them where it hurts. His Ghost typing helps with spinblocking and removes his Poison and Bug weaknesses, but it also curses him with weaknesses to Ghost and Dark, meaning that Pokémon such as Gengar, Bisharp, Mega Houndoom, Mega Absol, Greninja, and Aegislash can easily threaten him out or flat out KO if he isn't behind a Substitute. He also has to compete with other Grass-types for a team slot; first, there's Gourgeist, who has the same typing, better overall defenses, several forms that can outspeed him, and more support options. Then there's Chesnaught, who has much better bulk, reliable recovery in Synthesis, a better offensive potential, Spiky Shield, and a Fighting typing to resist Rock- and Dark-type moves. And lastly, we have Ferrothorn, who has significantly better bulk, the coveted Steel typing, and the ability to support with Stealth Rock support.
Trevenant would find it hard to stand out, but his niche wouldn't go unnoticed.
Mega Venusaur
Typing: Grass / Poison
Stats: 80 / 100 / 123 / 122 / 120 / 80
Expected OU Viability Ranking: S (Improved)
Venusaur was an excellent sun sweeper last generation, with Chlorophyll raising her Speed to uncatchable levels, STABs that worked well against rain and sand teams, and stats that were well balanced. But while weather got nerfed, Venusaur had new life breathed into her in the form of a Mega Evolution. Mega Venusaur has incredible bulk, Thick Fat for tanking Fire- and Ice-type moves, and a great Special Attack stat to throw around. Now if we have eternal sun with a Mega Evolution, we have an extremely prominent threat on our hands. Mega Venusaur now has an improved Synthesis to recover 2/3 of her max health with, powerful Solar Beams for trashing opponents, and the ability to play mind games before Mega Evolving. Regular Venusaur can sweep with Chlorophyll, while she can Mega Evolve at any time in order to get extra bulk and power when needed, such as when all fast Pokémon are defeated, or if your Ninetales has been beaten. And the best part is the turn she Mega Evolves, she keeps her Chlorophyll boost, so she can deal a powerful blow before losing her Speed.
But you know what's really crazy about Mega Venusaur? She wouldn't really be affected if weather was permanent, mostly due to Thick Fat. So she keeps all of the benefits of both generations, while having no real weather-related drawback, making her an extremely important Pokémon if this were to happen. The closest thing to a drawback is Mega Charizard Y throwing Air Slash around more frequently, but that would hardly counter her overall anti-weather presence. So with that said, we can look at other Pokémon that would get popular with the weather, such as Celebi, who can hit hard with Psychic and take any attack with rain up; Greninja, who can throw around a STAB Extrasensory to 2HKO offensive sets; and Noivern in the rain, with Hurricane 2HKOing bulky sets. Other than a few Pokémon here and there, Venusaur would be incredibly powerful and influential to the metagame. Who knows? She might even get the ban-hammer due to her anti-metagame presence and overall excellency in the tier.
There's really nothing bad to say about Mega Venusaur, so it's a good thing auto-weather got nerfed, for more than one reason.
Honorable Mentions
Mega Abomasnow
Typing: Grass / Ice
Stats: 90 / 132 / 105 / 132 / 105 / 30
Expected OU Viability Ranking: Not Even On The Radar... (Nerfed)
Abomasnow is a weather setter, so I kind of have to mention him. Hail has never been much of a presence in OU, and when comparing it to its competition, it's very easy to see why. Sand and sun teams can hit Ice-types super effectively with their Rock- and Fire-type STAB moves respectively, and sun and rain teams tend to always have a safe switch-in to Ice-type moves. As for Abomasnow himself, he can actually threaten out Politoed. Woo-hoo. Too bad Ninetales, Mega Charizard Y, and Tyranitar still beat the crap out of him, otherwise I'd say he's a half-decent Pokémon. His typing is also godawful, meaning that other Pokémon such as Aegislash, Mega Charizard X, (Mega) Scizor, Talonflame, Mega Venusaur, Conkeldurr, Mega Medicham, and many others can 2HKO at worst with the right attack. Being a Grass-type is hard enough as it is, and Ice-types have it even worse, but putting the two together was just a terrible idea that resulted in Abomasnow. Sorry, frosty. You just don't make the cut.
Aurorus
Typing: Rock / Ice
Stats: 123 / 77 / 72 / 99 / 92 / 58
Expected OU Viability Ranking: Not Even On The Radar...
If not for the fact that her hidden ability is Snow Warning, I wouldn't even mention this atrocity, but it's there, so I'm unfortunately inclined to talk about her. With two 4x weaknesses in Fighting and Steel, as well as crippling Water, Ground, Rock, and Grass weaknesses, it'd be a damn miracle to see this thing on anything that isn't a joke team. But hey, at least she has Poison, Ice, and Flying resistances, so she doesn't have it all bad. And she can actually live a Brave Bird from Talonflame and KO with Ancientpower... yeah, there's no denying the fact that Aurorus sucks. I tried making her look mediocre at worst, but Rock / Ice only goes so far, and that generous wording there.
Barbaracle
Typing: Rock / Water
Stats: 72 / 115 / 105 / 54 / 86 / 68
Expected OU Viability Ranking: C+ (Greatly Improved)
At first, people thought that Barbaracle was amazing, but that was very early in the meta. Now that people actually know how he works, it's pretty easy to put him down, but with rain or sand support, he can either be a savagely good wallbreaker or be a sturdier setup sweeper, respectively. Sadly, in the rain, he's outclassed by Mega Gyarados, with Tough Claws just barely matching his might, but that's comparing Adamant Barbaracle to Jolly Mega Gyarados. And in the sand, Terrakion can set up Swords Dance without the need for extra Speed and has better overall bulk. He also faces competition with Cloyster as a Shell Smash user, making his strengths overshadowed by many strong threats. He'd be good; he'd just be outclassed is all.
Talonflame
Typing: Fire / Flying
Stats: 78 / 81 / 71 / 74 / 69 / 126
Expected OU Viability Ranking: A+ (Unchanged)
This is a Pokémon that wouldn't be too affected by weather becoming permanent, since his main role is spamming Gale Wings Brave Birds, and little else. But what he would enjoy is having the sun powering up his Flare Blitz to threatening levels, getting the extra muscle power needed to force his way past some physical walls. He would be an excellent sun sweeper, having an amazing base 126 Speed to get by and a passable Attack stat to work with. But why he wouldn't go up or down on the viability ranking is because his main niche is spamming Brave Bird, which is unaffected by weather. This means that his revenge killing prowess is appreciated on near any weather team, aiding in his flexibility as a team player; the sun powering up his Flare Blitz is just icing on the cake. He'd also be good at taking on sun teams, with priority Brave Bird taking down Chlorophyll sweepers and nifty Grass and Fire resistances. Other than that, Talonflame would remain largely unchanged.
Mega Tyranitar
Typing: Rock / Dark
Stats: 100 / 164 / 150 / 95 / 120 / 71
Expected OU Viability Ranking: A+ (Unchanged)
Tyranitar has always been a great Pokémon to use, and he still is. His well-rounded stats, access to Sand Stream, and great movepool have solidified him as a staple on many teams, and his "OU in every generation he's been in" title really shows his dominance in the tier. But when Game Freak decided to give this monster a Mega Evolution, fans of Tyranitar shed tears of joy, while haters were in complete shock and feared what was to come. What we got was an out-of-this-world bulky Dragon Dance sweeper, capable of coming in and dismantling many kinds of teams with power and bulk alone. Unlike regular Tyranitar, Mega Tyranitar's more geared towards backing himself up as opposed to supporting teammates. Having his Special Defense constantly being boosted by sand would be lovely, but he's already ridiculously bulky, with or without the buff, and permanent sand isn't as significant as rain or sun.
Conclusion
With everything said, it really makes one wonder what would happen if weather were never nerfed in the first place. Though the funny thing is you may or may not agree with these theories I mentioned, and that's just fine. And that concludes our weather forecast for the evening. I'm Valmanway, your weatherman, and this has been The Smog, channel 35 news. Back to you, Jim.