Fallen Stars: Why did they fall?
Tiers have been around since RB. Recently in DP, tiers have been changed tri-monthly, since they are based off of past usage and future predictions based on stats. This method of changing tiers has caused tiers to have small changes every three months. When tiers change, there are usually a few Pokemon that either move up to OU, or fall from OU. What happened to them? Why were they OU? Why did they stop being useful? Here, every Pokemon that was formerly OU is analyzed, to figure out the answers to this.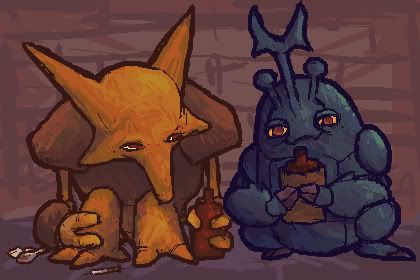 Tangrowth
What did it do?
Tangrowth was the much-expected evolution of the ridiculously cute yet woefully underpowered Tangela, and it certainly did not disappoint. Boasting amazing physical defensive stats, as well as the ability to go offensively mixed, Tangrowth was quick to come to the forefront to wall offensive threats. The physical/special split was also extremely kind to Tangrowth- Gyarados gained a physical STAB Water attack, but also lost all access to physical Flying attacks, preventing it from effectively striking Tangrowth. It could even go offensive with Chlorophyll, Swords Dance, and the new STAB Power Whip, a base 120 physical Grass attack that was sure to put holes in opposing teams.
What happened?
Tangrowth wasn't the only defensive Grass-type that got a boost from DP. The oft-beloved pixie, Celebi, also picked up its fair share of boosts in Diamond/Pearl, and unlike Tangrowth, it had actual speed and didn't just up and fold in the face of a special attack. Meanwhile, Platinum brought boosts to all of Tangrowth's sworn enemies. Gyarados regained its Flying STAB with access to the gimmicky yet oddly effective Bounce; Scizor came to the forefront and was more than willing to use its 4x resistance to Grass to come in and U-turn the hell out of the opposing team. In the end, the fanfare wore off, and people went back to using the tried-and-true Celebi over the young whippersnapper newcomer, Tangrowth.
Milotic
What did it do?
Water is an absolutely fantastic typing, nobody can deny that. That's why the term "bulky Water" has essentially become a Pokemon household name. There are plenty of bulky Water-types available in OU, and each one provides its own little niche. There's Suicune, with its great defenses and access to Calm Mind; Tentacruel, with its access to Rapid Spin and Toxic Spikes; Vaporeon, with Wish and Roar; Swampert, with its fantastic secondary Ground typing; and Milotic, which boasts access to Dragon Pulse for top-notch coverage, as well as Hypnosis for putting a Pokemon out of commission. Its 95/79/125 defenses provide considerable bulk, and it can even hit back with solid 100 base Special Attack. On top of that, it's got access to Recover, which makes it easy to take a hit and bounce back.
What happened?
With all that stiff competition for the bulky Water slot in a team, it really comes down to the niche. So when Platinum came along and knocked Hypnosis back down to its pre-DP accuracy of 60%, Milotic took quite the hit. Essentially, Milotic is purely outclassed by Vaporeon, which is slightly bulkier overall, has access to the extremely useful Wish (and Roar if need be), and also boasts an extra 10 base Special Attack. Since Platinum came out, Milotic has been hovering around that coveted #50 mark that generally declares a Pokemon OU, but has never actually reached it, while Vaporeon has kept itself solidly at #18.
Weezing
What did it do?
Back in early DP, when everything was still psyched over the existence of Close Combat and Choice Scarf, it looked like Heracross was easily going to be one of the best (if not the best) DP Pokemon. Between monstrously powerful dual 120 Base Power STABs, a huge 125 base Attack, and a solid base 85 Speed to be abused with Choice Scarf, Heracross was the MAN. On top of that, Heracross now got Night Slash and a physical Pursuit to ward off Ghost-types that resist its STABs. However, one Pokemon stood ready, a bulwark against DP's new vicious forms of Fighting-type offense: Weezing. Packing 65/120 Defense and a singular weakness to an extremely poor offensive type, Psychic, Weezing was basically a full stop to most Fighting-type Pokemon. It could switch in, and from there start firing off Will-O-Wisps, burning everything in sight. Furthermore, Weezing possessed the ability to switch into the new threat of DP, Gyarados, and shut it down with its Thunderbolt or burn it. When early DP's offense came knocking, Weezing was the bouncer that was ready to throw it flat on its ass.
What happened?
Wide metagame shifts eventually forced many Fighting-types out of usage. Close Combat was only used on a select few Pokemon, and those that carried it were stopped in their tracks by the new and sexy Gliscor, which packs even more Defense, as well as access to reliable healing and more immunities. Furthermore, Weezing found it hard to keep up with the powerful DP offense, as Heatran was always at the ready to switch into its Will-O-Wisp and Fire Blast and proceed to maim Weezing with a powerful Flash Fire-boosted special attack. Salamence usage skyrocketed, as it could now become a massive mixed threat using the monstrously powerful Draco Meteor in tandem with Earthquake and Outrage. Infernape used Will-O-Wisp as fodder to set up Nasty Plot and run straight over teams, while Azelf could use its STAB Psychic to scare the proverbial pants off of Weezing and set up Nasty Plot. In short, Weezing just couldn't keep up, and was left behind.
Spiritomb
What did it do?
When Spiritomb first arrived on the scene in DP, it took the place by storm. Prior to DP, the coveted "No-Weak" Ghost/Dark typing had only the extremely poor Sableye to its name, and it had no chance of getting usage anywhere. So when Spiritomb came along, it was easy to see how Spiritomb would easily take a top spot. Furthermore, with the newly physical Pursuit looming heavy over the heads of most Ghost-types, Spiritomb had the unique distinction of being neutral to Pursuit, allowing it to burn common Pursuit users such as Tyranitar and Metagross, then switch out without getting crippled by Pursuit. It seemed like a match made in heaven. It was essentially Dusclops, the premiere spinblocker of ADV, with no weaknesses and a better movepool.
What happened?
Apparently when you're on stall, weaknesses aren't the whole story. You also have to have… *gasp* resistances! This is something that Spiritomb was sorely lacking. Outside of its immunities, Spiritomb's only actual resistance is to Poison. This means that despite Spiritomb's bulk, it still had issues switching into most attacks. In addition to that, DP gave Dusclops an evolution, producing the decent if underappreciated Dusknoir. Then, Platinum came. Like the clouds opening up after a rain, Rotom-A arrived, giving everyone anything they ever wanted from a spinblocker. Resistances to nearly all of the attacks of the new number 1 Pokemon in the game? Yes please. Real Speed and Special Attack, allowing it to go both offensive and defensive? Why not? A movepool that most Ghosts would kill for? Sounds good to me! Once Rotom-A showed up, it essentially sealed the fate of any other defensive ghost in OU. With Rotom-A climbing the ranks (now at #5 usage combining all forms), Spiritomb use has been concurrently falling, likely never to return.
Gallade
What did it do?
As an alternate evolution for all male Kirlia, Gallade is a Psychic/Fighting type with a couple major selling points. First, its extremely solid 68/115 Special Defense allows it to tank hits from foes with ease. Second, 125 base Attack combined with the new Close Combat move and supported by Swords Dance made Gallade a monstrous threat. Finally, Gallade had coverage moves that greatly eased its ability to sweep: Shadow Sneak and STAB Psycho Cut. The former was extremely useful, as it allowed Gallade to easily eliminate Gengar, the best Fighting-type switch-in and at that time a top ten Pokemon. Meanwhile, Psycho Cut (now physical) provided a way for Gallade to cut down Poison-types like Weezing and Nidoqueen that usually stood in the way of Fighting-type domination.
What happened?
Well, once the hype about Gallade died down, Lucario came into the limelight. Between its amazing typing, extremely powerful Close Combat, and Swords Dance-boosted Life Orb Extremespeed to pick off stuff like Zapdos (or Bullet Punch for Gengar), as well as Crunch for the newly popular Dusknoir and Cresselia, Lucario easily came to the forefront as the top boosting Fighting-type in the metagame. Meanwhile, use of Poison-types was falling steadily as new threats came out. On other fronts, there was Infernape, which could sweep with Swords Dance and Nasty Plot equally effectively, and Gliscor, which commonly ensured that Gallade (and Lucario too) didn't just rampage straight through teams. Within months, Gallade found itself simply outclassed, and fell out of OU.
Rhyperior
What did it do?
Let's face it, Rhyperior got its fare share of hype. Between the newly-minted Special Defense boosts for Rock-types in sandstorm, the addition of a newer, more defensive Sand Stream user in Hippowdon, and the fantastic ability, Solid Rock, Rhyperior looked like a shoe-in for high OU. If you look at its physical stats, it's absolutely brilliant. 115 base HP? Yes please. 140 Attack with STAB QuakeEdge and Megahorn? Why not? 130 base Defense? Tyranitar, eat your heart out. Combine that with this new "Solid Rock" ability, and even super effective attacks would just bounce off of that rocky exterior. Rhyperior was slated to be the tank to end all tanks, and there was nothing that could stop it.
What happened?
Rhyperior looks great if you only look at its strengths. Granted, it has a lot of them, but it's not without its massive, MASSIVE issues. First, let's look at the rest of its stats. 55 Special Defense and 40 Speed really hamper Rhyperior's ability to really do anything, as even with Solid Rock, it's still getting OHKOed by a light rain. Meanwhile, 40 Speed guarantees that absolutely everything will outspeed it. Skarmory only needs 16 Speed EVs to guarantee that no matter what Rhyperior does, outside of boosting, it can't outspeed Skarm. Finally, new and more powerful physical attacks, especially Close Combat, Waterfall, Seed Bomb, and other strong super effective attacks chew straight through Rhyperior's monstrous defenses because of one simple fact: Rock/Ground is probably the worst defensive typing in the game. Packing 4x weaknesses to Water and Grass, 2x weaknesses to Ground, Fighting, Ice, and Steel, and only resisting Flying, Normal, Poison, Rock, and Fire, Rhyperior takes massive damage from some of the most common attacks in the game, even taking into account Solid Rock. Long story short, Rhyperior is a combination of the best and the worst of Pokemon, and usually, the worst wins.
Umbreon
What did it do?
Anyone who knows any of the earlier generations knows that Umbreon has basically been synonymous with "stall" ever since its introduction in GSC. Since then, it has essentially been known for three major signature abilities: the ability to Baton Pass Curse and Mean Look, the ability to pass Wish, and the ability to counter most special attackers due to its lack of weaknesses on the special side. DP didn't give it many boosts, but what it did provide was pretty huge. Curse became capable of boosting Umbreon's new STAB Payback, the Eeveelutions gained Yawn, making it easier to pass a Pokemon to set up on, and Taunt was heavily buffed, allowing it to effectively shut down opposing setup Pokemon that tried to set up on Umbreon's meager offenses.
What happened?
Like all of the other Pokemon featured here, Scizor happened. While Platinum's Bullet Punch didn't give Scizor much of a leg up on Umbreon, it didn't really matter, since Scizor already had all the tools necessary to crush Umbreon's dreams. However, Bullet Punch skyrocketed Scizor into first place, and when the number 1 Pokemon in the entire tier can switch in basically for free and start destroying things, there are issues. On top of that, the number of things that have appeared capable of putting huge holes in Umbreon has skyrocketed. In the current metagame, there are too many powerful sweepers that Umbreon is an absolute liability against- Lucario, Crocune, most variants of Tyranitar, Metagross, etc, as well as Spikers such as Skarmory and Forretress that relish Umbreon's appearance as a chance to do what they do best: throw down Spikes and then phaze or spin to their heart's content. When a Pokemon becomes more a liability than an asset to a team, you know that its days are numbered.
Donphan
What did it do?
Donphan was known for one main thing: Spinning. Donphan was a bulky Ground-type that could use Ice Shard, making it one of the popular Dragon counters. With high base 120 Attack and Defense, it could wall physical attackers and hit back with a STAB Earthquake. In addition, it also had the ability to set up Stealth Rock itself, since it didn't have much competition for the fourth move slot, with the most common choices being Stone Edge and Assurance.
What happened?
Donphan had always experienced low usage anyway, hovering around #45ish before it finally fell out of OU. It had lived in Hippowdon's shadow all of DP anyway, since Hippowdon had more advantages than Donphan, such as a recovery move, sandstorm, and better all around defenses. But what finally caused the scales to tip was when Rotom-A came along in Platinum. Being a defensive spinblocker that could hit Donphan in its weaker defense, Donphan had just a bit of trouble Spinning. And unlike other Spinners, Donphan couldn't hit them with any STAB or reliable super effective moves, meaning that it couldn't do very reliable damage to them. The arrival of more mixed Salamence sets didn't help either, preventing Donphan from stopping Salamence reliably.
Dugtrio
What did it do?
Without a doubt, Dugtrio was known for being a great revenge killer. Any non-Flying/Levitate Pokemon would be trapped by Arena Trap, allowing Dugtrio to get a free revenge kill. With STAB Earthquake for hitting all Pokemon it could trap, and Sucker Punch to get Scarfed Pokemon, it could even stop fast threats. 120 base Speed is faster than most unboosted Pokemon, so Dugtrio is rarely ever outsped.
What happened?
Having only a base 80 Attack, Dugtrio is stuck with two options. Either it could have a Choice Band and get important KOs, but allow a free turn of set up after the Pokemon is KOed while Dugtrio switches out, or it uses Life Orb, which would miss out on some important KOs such as Tyranitar. In addition, Platinum bringing Scizor to prominence made Dugtrio's life harder as well. After a kill Scizor could switch in and use Pursuit to guarantee a kill on the fleeing Dugtrio. Having the second lowest base HP out of any fully evolved non-Shedinja Pokemon (only 35!), meant that if it didn't kill, it got killed by practically any attack.
Yanmega
What did it do?
There were two common uses for Yanmega. It was either used as an early game lead with access to Hypnosis to put a quick Pokemon to sleep, or as a late game cleaner. The second job it was especially good at, being able to use either Tinted Lens to help with type coverage issues, or Speed Boost to help increase Speed. Bug/Flying is actually a decent attacking combo when paired with Psychic or Hidden Power Ground/Fighting. With the boost from Tinted Lens, it had the ability to hit every Pokemon for neutral damage. And combined with Protect, it was very easy for Yanmega to get an extra Speed boost to outspeed everything. So both of its abilities helped it to both hit hard or fast while sweeping the other team.
What happened?
As if it really needs to be said, being weak to Fire, Rock, and Ice in a metagame populated with those moves doesn't help at all. Moreover, with Stealth Rock being omnipresent in the metagame, taking 50% upon switching in didn't help at all. But what finally drove the nails into the coffin was Platinum and two things it brought with it. As with other fallen stars, Rotom-A made Spinning almost impossible, thus limiting the amount of times Yanmega could switch in. This isn't even counting the fact that Rotom-A is a great counter for Yanmega as well. The other nail in the coffin was the reduction in Hypnosis' accuracy. While people were willing to take a risk with a 70% sleep move, most aren't as comfortable taking the 60% risk. With Rotom-A making it impossible to use Yanmega mid/late game, and Hypnosis' accuracy drop making it less used as a lead, Yanmega slowly fell down the ladder.
Abomasnow
What did it do?
Abomasnow was famous for one thing: staring on hail teams. Hail, which damages every non-Ice type, was better than sandstorm for passive damage if you built a team around it. But what Abomasnow was truly known for was the boosts that hail gave to its teammates. Slow Cloak would activate for Froslass and Mamoswine, and Glalie and Walrein would get Ice Body recovery. Don't forget that it gave the whole team the ability to toss around 100% accurate no penalty Blizzards as long as hail was active. Futhermore, that isn't even talking about what Abomasnow itself could do. It was, until Platinum, the only SubSeeder that had a STAB super effective move to hit Grass Pokemon. The hail damage inflicted upon opponents while SubSeeding was just an added bonus. Also, Scarf Abomasnow, which were frequently seen, were pretty good checks to OU Dragons.
What happened?
Stacking your team with Ice-types was not the best strategy at all, seeing how they have only one resistance and many common weaknesses. Fire and Fighting moves run rampant across the metagame, and that isn't even factoring Scizor, who resists Ice and has that priority Steel move, Bullet Punch. In addition, being slow and not that bulky doesn't help Abomasnow at all as a SubSeeder. Not counting those three, it has four more weaknesses, including the all important Rock weakness that is shared by most Ice-types, which is another reason why stacking your teams with all Ice-types was not the best idea at all. Oh, and there is that little fact that Tyranitar is one of the most used Pokemon around. Canceling the permanent hail pretty much ruins Abomasnow's usefulness.
Alakazam
What did it do?
Alakazam has what few other Psychic-types have, a Fighting move to take down any Dark Pokemon that might switch in. Although Focus Blast had so-so accuracy, when it hit, it could deal lots of damage to a Dark-type trying to predict a Psychic. And that isn't all it was good for - Alakazam was one of the few special attackers that could beat Blissey one-on-one. It could either Trick a Choice item to Blissey, severely limiting its usefulness, or it could, when most Blissey were Bold, 2HKO Blissey. It also had use as an anti-lead, with Inner Focus preventing flinches, and Counter + Focus Sash allowing it to KO any physical attacker. In addition, with a Scarf, it could outspeed any Dragon Dancer after one Dragon Dance and deal lots of damage to it.
What happened?
It had already been low in the usage stats thanks to the fact that Azelf could do almost everything it could and more with 5 less base Speed and 10 less base Special Attack. In addition, Azelf was bulkier, and could use Explosion. Alakzam stayed useful due to having the advantages of Trick and Focus Blast, but when Platinum came around it brought a few things to the table. First of all, it lost its Trick advantage over Azelf due to the new tutors. Secondly, Scizor usage rose massively due to the introduction of Technician STAB Bullet Punch. This, combined with Pursuit, meant that Alakazam was very likely to lose when Scizor came out. Lastly, the fall of Latias to OU meant that there was a much better Psychic sweeper around to use, since Psychic/Dragon is much better than Psychic in terms of typing. Latias' ability to set up with Calm Mind, something Alakazam could never do, helped to give Alakazam the final push out the door.
Porygon2
What did it do?
It could do anything! Porygon2 could be made to counter many OU threats, thanks to the usefulness of the ability Trace. Tracing Flash Fire to stop Heatran, Volt Absorb and Water Absorb from Jolteon and Vaporeon, and Intimidate to get Salamence and Gyarados was a plus. In addition, it has a wide movepool, with such treats as Thunderbolt, Ice Beam, Charge Beam, Recover, Thunder Wave, Magic Coat, Toxic, etc.. Porygon2 was unpredictable when it entered, because there was so much that it could do.
What happened?
One set couldn't do everything. In order to do its job, it needed two things. Firstly, it usually needed to be tailored with a specific EV spread to counter the Pokemon that it plans on countering. That means that it is usually left open to counters on the other side of the physical/special spectrum. Secondly, Porygon2 needs to switch in on the Pokemon it usually needs to counter. For example, while Porygon2 is an excellent Jolteon counter, if Jolteon switches in on Porygon2, Porygon2 loses what would have been its main advantage in the matchup. Additionally, like with Spirtomb, it was rather hard to stall with Porygon2 due to its lack of resistances.
Honorable Mentions
You don't have to fall all the way out of OU to be a fallen star. Sometimes, previously top-notch Pokemon that used to dominate the metagame fall so far from their previous positions that they almost make it all the way out of UU. Here, we will chronicle the fall of two former superstars of OU, Cresselia and Heracross. Through various metagame shifts, new moves from Platinum and HeartGold / SoulSilver, and other whims of the metagame, these two Pokemon have fallen from high OU to the verge of UU
Cresselia
What does it do?
Cresselia was hailed pre-DP as the Lugia of OU. With 120/120/130 defenses, it is only 2HKOed by STAB or super effective moves. It also had a wide variety of support moves, ranging from Trick Room, Thunder Wave, dual screens, and Lunar Dance; it was truly a team player. It also has Levitate to keep it immune to Ground attacks, Spikes, and Toxic Spikes. These things combined helped to make it a great wall. With Ice Beam, it could serve as a check to any of the Dragons as well, being able to survive a hit from any of them. It also worked great on Sunny Day teams, where Moonlight would heal 66.67% of its HP in one turn. But the thing it could do that nothing else could do was Lunar Dance. This move allowed it to fully heal any Pokemon on it's team, PP, HP and status effects, by sacrificing itself. Used correctly, this move could be game changing.
What happened?
Cresselia was lacking one thing that all walls need: reliable recovery. Outside of the universal Rest, it only had Moonlight, which is crippled by sandstorm and hail. In addition, it is weak to Pursuit, a very common move in today's metagame. Both a STAB Pursuit and sandstorm come in a great package on one Pokemon. Tyranitar can come on on anything Cresselia does, barring a Thunder Wave, and make it think twice about doing anything. Even then, just having Tyranitar on the other team means that it can't heal to full potential.
Will it drop?
Not far. It will likely not stay in UU long if it falls. That is due to the fact that rain, sand, and hail are much less common in UU, which would give Cresselia much more reliable healing. It will most likely stay around the bottom of OU, due to the fact that Latias does Psychic walling better, as it has reliable recovery though Recover. However, until people realize how useful the Lunar Dance + dual screens set is, Cresselia will be stuck in the bottom barrel of OU.
Heracross
What did it do?
The better question would be "What didn't it do?" in its history in Pokemon. Being the bar none most powerful Bug-type Pokemon in the entire metagame, as well as being the only Pokemon with access to a STAB Megahorn since it showed on the scene in GSC with Megahorn as its signature move. Since then, every generation has just been icing on the cake. ADV added Guts, making burn more a liability against Heracross than a crippling effect, while also adding Choice Band, an item boosting Heracross' already brutal Attack stat to devastating levels without the need for a boost. However, DP was absolutely amazing for it. Diamond/Pearl added a multitude of boons for the suplex bug- STAB Close Combat, giving Heracross amazing dual base 120 STAB to operate off of its impressive base 125 Attack; top-notch tertiary moves, including Stone Edge to hit Flying-types and the now-physical Pursuit, allowing Heracross to terrorize Ghost-types that used to be Hearacross' greatest bane; and Choice Scarf, which allows Heracross to act as a quick, bulky revenge killer when combined with the massive Base Power of its STABs and its decent base 85 Speed.
What happened?
To be honest, I'm not entirely sure. If anything, the metagame is even more primed for Heracross to terrorize things than ever. Latias is just another powerful Psychic-type for Heracross to put to the horn, and with Heracross' 80/95 defenses on the special side, it can even come in on stuff like a -2 Draco Meteor or Surf/Thunderbolt and Pursuit Latias to death with either Band or Scarf. Bug/Fighting provides great defenses, given the rarity of Flying and Psychic attacks in OU. Heracross resists Fighting, Bug, and Dark, which means it should be able to switch relatively easily into non-Bullet Punch moves. Hera can also switch into Will-O-Wisp from Rotom (sans Overheat) and smack it down with a beefy Guts-boosted Pursuit. Essentially, Scarf or Band Heracross can switch into a ton of OU and immediately threaten it. So how has Heracross fallen from #30 to #48 since last year, when Platinum arrived on scene?
I think it's simply an issue of competition. Metagross and Tyranitar make Pursuiters that are just as good if not better than Heracross, and both can switch into Ghosts with more ease. Scizor is the #1 most often used Pokemon, and it provides stiff competition in the "bulky Choiced Bug-type" department, with an arguably better typing and access to the extremely useful STAB Technician Bullet Punch and Dragon resistance that come from being Steel-type. As for the "bulky Fighting-type", Lucario loves switching into Rock and Dark attacks, while Machamp has more pure bulk, power, and the extreme utility of STAB No Guard Dynamicpunch. Finally, as far as Scarfed revenge killers go, Jirachi is pretty much at the forefront. With unparalleled type coverage, solid defenses, great Speed, and the extremely annoying Serene Grace Iron Head, Jirachi makes one of the best Scarfed revenge killers in the metagame. In the end, it comes down to competition, and there's always something "better" than Heracross at doing whatever you want it to do.
Will it drop?
My bet is that Heracross will either be "rediscovered" in OU, as there is still absolutely massive potential for it, especially as a Pursuiter that works against Rotom-A without fearing Will-O-Wisp. At the very least, it'll probably hover at the OU/UU cutoff, and if it ever does make it down to UU, my bet is that it doesn't last, and ends up in that no-man's-land hopping between BL and OU.