Team Archetypes in ORAS LC: Offense
Introduction
Despite its stigma for consisting entirely of offense, Little Cup is actually a fairly diverse metagame, in which all sorts of archetypes are able to thrive, including several that are quite defensive in nature. However, such a reputation isn't entirely drawn out of thin air, as various forms of offense are indeed extremely effective. Many offensive teams rely heavily on the excellent Speed-controlling tools that the metagame has to offer, but many more do not, instead focusing on simply dealing as much damage as possible and taking advantage of the odd damage rolls and powerful attackers available in the tier to smash through opposition. Of those that don't, most teams can be classified into three categories: hyper offense, VoltTurn, and trapping.
Hyper Offense
Hyper offense is a very unique playstyle in Little Cup due to the fact that the metagame tends to revolve around bulkier teams because of the omnipresence of Eviolite. This is not to say that hyper offense is a bad playstyle; well-built hyper offense teams have performed consistently in the tier. However, due to Eviolite being as common as it is, hyper offense functions a bit differently than it does in, for example, OU.
Playing With Hyper Offense Teams
Playing hyper offense is always something of a double-edged sword. Due to the general frailty of Pokémon on hyper offense, these teams must aim to always keep momentum on their side. If they lose momentum, these teams are in dire straits because most Pokémon on hyper offense can rarely take a hard hit. That being said, hyper offense teams can end games extremely quickly if used properly.
It is essential that hyper offense players make predictions in order to be successful; as difficult as this sounds, the amount of pressure that hyper offense teams put on the opponent's defensive Pokémon makes predicting the opponent significantly easier than with most archetypes. Hyper offense matches up very well against bulkier teams, such as stall, due to the fact that they often cannot effectively threaten the Pokémon on hyper offense enough to prevent a sweeper from setting up and sweeping, and against balanced archetypes due to the amount of pressure they place upon the defensive backbone of balanced teams. Interestingly, it often matches up badly against other offensive archetypes, such as VoltTurn, due to the fact that neither team can take hard hits on a consistent basis, and thus the game often comes down to which player predicts against the other better.
Something many players fail to realize is that hyper offense teams can let team members get KOed more easily, and that often the optimal play is to sacrifice a Pokémon to regain momentum or weaken a check to a sweeper. When playing this archetype, it is important to remember that the team has to prioritize momentum over keeping all one's Pokémon alive and healthy. It is often better, for example, to sacrifice Timburr to break Abra's Focus Sash so that Zigzagoon can sweep late-game, than to preserve Timburr and keep the rest of the team healthy.
Hyper offense teams are often built with the express purpose of sweeping mid- to late-game with a certain sweeper and the remaining team members are chosen for how well they beat the checks and counters to the sweeper and help the sweeper to set up. A good example of this is Zigzagoon, with its access to Belly Drum and Extreme Speed, and how teams built around it typically contain Pokémon that beat its checks and counters as well as provide it sufficient opportunities for setup. It is important to remember this purpose when playing with this archetype, and to think in terms of the Pokémon that check the sweeper and how they can be brought in and KOed. However, it is not infrequent that the primary sweeper may be ineffective against the opposing team and thus it is important to remember that it is more important to win than it is to sweep with a particular Pokémon.
Other hyper offense teams are built around a core of sweepers that weaken each others' checks. For example, Fletchling is usually checked by Electric-, Steel-, and Rock-type Pokémon due to their resistance to its STAB Acrobatics. Timburr can beat most of these Pokémon, while Pokémon that beat Timburr, such as Spritzee, are setup bait for Fletchling. Usually these teams will focus on applying offensive pressure with a variety of Pokémon in order to achieve a sweep with one or another.
Threats to Hyper Offense
Sticky Web is a difficult matchup for hyper offense to win against due to it frequently keeping the hyper offense user from moving first, meaning that they often risk being KOed due to the frailty of many Pokémon on this kind of team. Sticky Web teams also usually have ways to prevent the removal of Sticky Web, such as a spinblocker or Pawniard; however, hyper offense does have ways to cope with this. Pokémon like Fletchling, which isn't affected by Sticky Web, and Pawniard, which gets a +2 Attack from Sticky Web, are frequently found on hyper offense.
Cottonee is a very annoying Pokémon for hyper offense teams for two reasons. Firstly, its access to moves like Tailwind and Stun Spore can cripple a hyper offense team with their speed-controlling effects. Secondly, it has the ability to neuter most Pokémon with its access to Prankster Memento, which can potentially end a sweep. Hyper offense usually deals with Cottonee by using Flying-types like Archen and Steel-types such as Pawniard, which is particularly good at beating Cottonee since it gets +2 Attack from a Memento.
Opposing setup sweepers like Timburr and Fletchling can threaten hyper offense because of their strength, especially in tandem with the fact that hyper offense teams often struggle to take a hit. While they frequently don't have opportunities to set up due to how hard Pokémon on these teams hit, they can often pose a large threat if given the opportunity. Revenge killers such as Focus Sash Abra and Fletchling can help against these threats.
Fletchling is a threat to a lot of teams in LC, but particularly to hyper offense. This is because it can set up on the Fighting-types frequently found on hyper offense teams, and also because of its priority STAB Acrobatics, which effectively negates the Speed of a hyper offense team. Teams usually carry a Pokémon like Chinchou or Pawniard that resists Fletchling's Acrobatics, but ought to beware of coverage moves such as Hidden Power Grass and Overheat.
Hyper Offense Teambuilding
Hyper offense teambuilding can be separated into two distinct styles, as mentioned above. The first is a team built around Pokémon that apply continuous offensive pressure on the opposing team in order to wear them down and prevent the opponent from threatening them. A good example of this type of team is the first team below. The second is a team built around a particular sweeper and containing Pokémon that beat the checks to it. The second team below exemplifies this type of teambuilding.
Pokémon commonly used on hyper offense are, of course, those that benefit from offensive pressure. For example, Fletchling is a staple of hyper offense due to the significant amount of offensive pressure it provides for the team while also benefiting from the pressure its teammates apply. It also functions as an excellent revenge killer which helps patch up some of the issues hyper offense has with opposing offense. Mienfoo is also a common hyper offense teammate due to its fantastic ability to pivot with U-turn and Regenerator while also helping soften the opponent's team with Knock Off. It can also run an excellent Choice Scarf set that hits very hard with STAB High Jump Kick, making it a very versatile Pokémon whose sets can be configured based on the team's needs. Abra is commonly found on hyper offense teams due to its excellent movepool and Special Attack, as well as providing something of a catch-all for the team with its use of Focus Sash in conjunction with Magic Guard. Gastly is also a very good Pokémon on hyper offense due to its potent wall-breaking capability and its excellent matchup against VoltTurn teams, which may otherwise be problematic. Drifloon is excellent on hyper offense because of its versatility, with a wide movepool including Memento, Calm Mind, Will-O-Wisp, and Acrobatics, which lets it adapt its set to the team in order to provide the maximum amount of support.
Sample Hyper Offense Teams
Dwebble @ Berry Juice
Ability: Sturdy
Level: 5
EVs: 236 Atk / 236 Spe
Jolly Nature
- Stealth Rock
- Spikes
- Rock Blast
- Counter

Elekid @ Life Orb
Ability: Vital Spirit
Level: 5
EVs: 240 SpA / 236 Spe
Timid Nature
IVs: 9 HP / 30 Atk / 30 SpA
- Thunderbolt
- Psychic
- Hidden Power Grass
- Volt Switch

Gastly @ Life Orb
Ability: Levitate
Level: 5
EVs: 40 Def / 200 SpA / 200 Spe
Timid Nature
- Sludge Bomb
- Shadow Ball
- Substitute
- Hidden Power Fighting

Mienfoo @ Eviolite
Ability: Regenerator
Level: 5
EVs: 236 Atk / 36 Def / 236 Spe
Jolly Nature
- U-turn
- Stone Edge
- Drain Punch
- Knock Off

Tirtouga @ Berry Juice
Ability: Solid Rock
Level: 5
EVs: 4 HP / 212 Atk / 92 Def / 180 Spe
Adamant Nature
- Shell Smash
- Waterfall
- Stone Edge
- Aqua Jet

Abra @ Focus Sash
Ability: Magic Guard
Level: 5
EVs: 240 SpA / 200 Spe
Timid Nature
- Psychic
- Dazzling Gleam
- Hidden Power Fighting
- Energy Ball
This team, created by Fran17, works by applying hazards with Dwebble early on in the match and pressuring the opposing team to prevent their removal, allowing the hazards to take their toll. Dwebble is usually able to get at least two layers of hazards off thanks to its combination of Sturdy and Berry Juice, where powerful attacks will activate Sturdy and Berry Juice, allowing Dwebble to take advantage of Sturdy yet again. Elekid is a powerful late game sweeper that can outspeed and hit many offensive Pokémon for heavy damage, while wearing down its checks early on with Volt Switch. Gastly is the team's wallbreaker, as the number of Pokémon that can avoid the 2HKO from its powerful STAB attacks are limited to a mere handful, and most of those fall to Hidden Power Fighting; even Pawniard's Sucker Punch usually won't be able to revenge kill Gastly thanks to Substitute. Mienfoo acts as a pivot for the team, checking a variety of threats and crippling the opposition with Knock Off or U-turning out. Stone Edge is useful for baiting Fire-types that often try to switch into Mienfoo, and an offensive EV spread is run for Mienfoo to possibly clean up late-game. Shell Smash Tirtouga is the closest the team has to a dedicated win condition, although every member of the team except for Dwebble is able to effectively act as such in their own right; it also provides the team with its only priority. Abra is the team's safety net, with Magic Guard keeping Focus Sash intact through hazards, which allows Abra to revenge kill a variety of potent sweepers.
Drilbur @ Life Orb
Ability: Mold Breaker
Level: 5
EVs: 36 HP / 236 Atk / 212 Spe
Jolly Nature
- Earthquake
- Rock Slide
- Stealth Rock
- Rapid Spin

Drifloon @ Berry Juice
Ability: Unburden
Level: 5
EVs: 196 Atk / 8 Def / 88 SpD / 200 Spe
Serious Nature
- Substitute
- Knock Off
- Acrobatics
- Hidden Power Fighting

Fletchling
Ability: Gale Wings
Level: 5
EVs: 196 Atk / 252 Def / 60 SpD
Adamant Nature
- Acrobatics
- U-turn
- Roost
- Swords Dance

Magnemite @ Choice Scarf
Ability: Analytic
Level: 5
EVs: 240 SpA / 32 SpD / 236 Spe
Timid Nature
- Volt Switch
- Thunderbolt
- Flash Cannon
- Hidden Power Ground

Mienfoo @ Eviolite
Ability: Regenerator
Level: 5
EVs: 196 Def / 36 SpD / 236 Spe
Jolly Nature
- Taunt
- Knock Off
- Drain Punch
- U-turn

Snubbull @ Eviolite
Ability: Intimidate
Level: 5
EVs: 36 HP / 36 Atk / 196 Def / 196 SpD / 36 Spe
Careful Nature
- Play Rough
- Earthquake
- Thunder Wave
- Heal Bell
On the other hand, the dedicated sweeper of queenlucy's team is quite clearly Fletchling, as the team primarily revolves around supporting a Fletchling sweep, although it can instead play towards a sweep with Magnemite, Drifloon, or Drilbur if the situation calls for it. Life Orb Drilbur acts as an effective wallbreaker, easily 2HKOing many switch-ins looking to check the more common Eviolite variant, while providing hazard control support. Drifloon is the first half the team's Flying-type duo, luring in the checks that Drifloon and Fletchling share and crippling or KOing them, allowing Fletchling to break through them later on in the match. Swords Dance Fletchling functions as an excellent late game cleaner, and this particular set packs U-turn to gain momentum for the team and chip away at the opposition early on. Choice Scarf Magnemite is a solid revenge-killer and a powerful pivot, coming in on a variety of attacks courtesy of its great defensive typing and switching back out with an Analytic-boosted Volt Switch. Analytic Hidden Power Ground is also useful for baiting out and heavily damaging Chinchou, a common check to Fletchling. Mienfoo is another one of the team's pivots, able to repeatedly act as a decent switch-in to a huge number of threats throughout the match and generally pose as a nuisance. Snubbull rounds out the team by checking various Fighting-types as well as providing cleric support.
VoltTurn
VoltTurn is one of the most viable archetypes in Little Cup, as it excels when it comes to gaining momentum, an incredibly important aspect in an offensively oriented metagame like Little Cup. This allows VoltTurn to have a good matchup against most archetypes. VoltTurn has been a popular playstyle in Little Cup for a while, but it became especially noteworthy after the bans of Murkrow and Meditite.
Playing with Voltturn
VoltTurn is, as mentioned above, all about gaining momentum with Volt Switch and U-turn; it is a fairly straightforward archetype to use, another reason for its popularity. VoltTurn does not, however, enjoy strong wallbreakers such as Gastly, which have a great matchup against this kind of team. VoltTurn teams also appeal to many players through their ability to, theoretically, answer virtually any threat. By using Volt Switch or U-turn as the opponent switches their response in, you not only damage their switch, but you in turn may respond. In many cases, this may happen multiple times in a row, particularly against threats that your team has multiple checks to.
Threats to VoltTurn
Strong wallbreakers and heavy-hitting Pokémon such as Gastly, Corphish, Skrelp, Vulpix, as well as sweepers such as Omanyte, Tirtouga, Bellsprout, Shellder, and Timburr all pose threats to VoltTurn. Sticky Web is very annoying for VoltTurn teams to put up with, as the move lowers the Speed stat of many common Pokémon on VoltTurn teams upon switching in. Stealth Rock, Spikes, and Toxic Spikes may all be incredibly annoying for a VoltTurn team. Since the key part of VoltTurn is gaining momentum with Volt Switch and U-turn, hazards may wear down a VoltTurn team if it cannot get off a Defog or Rapid Spin.
VoltTurn Teambuilding
Building a team around VoltTurn is quite easy. Two of the main staples on VoltTurn teams are Mienfoo and Archen. Mienfoo is an incredible pivot, being able to use U-turn through almost the whole of the match thanks to Regenerator and by having a strong recovery STAB move in Drain Punch. Archen is another common Pokémon on VoltTurn teams thanks to its ability to not only serve as a check to Fletchling, but also providing incredibly helpful hazard support with its access to both Defog and Stealth Rock. Defog is especially important, as Fletchling and Larvesta are both common and important Pokémon on VoltTurn teams. Defog also helps with the removal of Sticky Web, which can set certain VoltTurn teams at a huge disadvantage. Vullaby can also be used for hazard removal, as it has access to both Defog and U-turn, while also having a powerful STAB Knock Off. Diglett and Gothita can be really useful on VoltTurn teams, since both of them love the momentum the rest of the team provides, allowing them to easily trap threats. Knock Off users, particularly Pokémon such as Vullaby, Mienfoo, and Archen, are very useful for removing troublesome Eviolite and Berry Juice.
Chinchou is another Pokémon with great utility on VoltTurn teams. Chinchou's great Electric / Water typing allows it to check a huge amount of Pokémon while also making it able to pivot well. Chinchou can fire off powerful Volt Switches, and can also support the team with moves such as Heal Bell. Fletchling, as mentioned earlier, can sweep teams with the combination of Swords Dance and priority Acrobatics, which may clean teams that have their checks worn down. Fletchling's threatening presence makes it easy for it to grab momentum off of switches with U-turn, making it a valuable addition to VoltTurn teams. Magnemite may act as an important check to opposing sweepers, hitting any threatening Pokémon while surviving off of Sturdy, and can also use the combination of Endure + Berry Juice. Magnemite is a great answer on VoltTurn teams to the likes of Shellder.
Sample VoltTurn Team
larva (Larvesta) @ Eviolite
Ability: Flame Body
Level: 5
EVs: 76 Atk / 236 Def / 156 SpD / 36 Spe
Impish Nature
- Flare Blitz
- U-turn
- Will-O-Wisp
- Morning Sun

fish (Chinchou) @ Berry Juice
Ability: Volt Absorb
Level: 5
EVs: 52 Def / 228 SpA / 220 Spe
Timid Nature
- Volt Switch
- Hydro Pump
- Heal Bell
- Hidden Power Ground

monkey (Mienfoo) @ Choice Scarf
Ability: Regenerator
Level: 5
EVs: 236 Atk / 36 SpD / 236 Spe
Adamant Nature
- High Jump Kick
- U-turn
- Knock Off
- Drain Punch

bird (Fletchling)
Ability: Gale Wings
Level: 5
EVs: 156 HP / 196 Atk / 92 Def / 64 SpD
Adamant Nature
- Acrobatics
- Roost
- Swords Dance
- U-turn

Magnet (Magnemite) @ Berry Juice
Ability: Sturdy
Level: 5
EVs: 36 Def / 236 SpA / 236 Spe
Timid Nature
- Volt Switch
- Flash Cannon
- Recycle
- Endure

mole (Drilbur) @ Eviolite
Ability: Mold Breaker
Level: 5
EVs: 236 Atk / 36 Def / 236 Spe
Jolly Nature
- Earthquake
- Rock Slide
- Rapid Spin
- Stealth Rock
Tazz's very well-known team is a good example of a standard VoltTurn build in LC. It relies a great deal on pivots to check and continuously force enemies out, wearing the opposing team down and pressuring the opponent throughout the match. A team that switches so often needs hazard removal, hence the inclusion of Drilbur, which also sets up Stealth Rock for the team to weaken the opposition even more quickly. Mienfoo and Fletchling both help to chip away at the team early in the match with U-turn, and are both good choices to play towards a sweep with late in the game. Along with Magnemite, they serve as the team's revenge killers should any enemy sweepers get out of hand. Magnemite's good typing and access to the combination of Sturdy and Berry Juice allows it to check a large number of threats; it is able to revenge kill even if Sturdy is broken, as long as Berry Juice is still intact, thanks to Endure. Larvesta and Chinchou are present to act as mostly reliable switch-ins to popular Pokémon while still being able to maintain momentum themselves with U-turn or Volt Switch, respectively; both are also able to further support the team, Larvesta by spreading burns, and Chinchou by providing cleric support.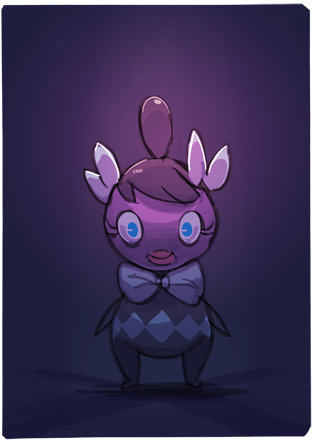 Trapping
Although not a full archetype on its own, one tactic that was generally dismissed in early stages of the XY metagame but has since risen to become one of the most dominant strategies in LC is one that is built around a particularly threatening sweeper that is paired with one or more trappers to remove specific checks and counters. The effectiveness of this strategy stems from the lack of methods to play around it outside of risky double switches, because once the trapper has switched in on a sufficiently weakened target, the target is all but guaranteed to be removed from the match. This is especially effective because it doesn't always require an entire team to be built around the strategy, although doing so is certainly a possibility; trapping cores can be fit onto all sorts of teams, even on Toxic Spikes stall, where Gothita can eliminate troublesome Poison-types. It pairs extremely well with VoltTurn, as Volt Switch or U-turn users are able to pivot out of their checks and into a trapper waiting in the wings.
Playing with Trapper Teams
With the exception of Stunky, most trappers are quite frail, and have difficulty actually switching into their targets. This makes a method to safely get them into play vital to their success. The easiest way to do this is, of course, on a free switch; however, if you do not want to have to sacrifice something every time you want Gothita or Diglett to get in, you could instead take advantage of a slow Volt Switch or U-turn. The slow pivot will be able to absorb the hit for the trapper and pivot out, allowing the trapper to get in without taking damage.
Of course, there is no point in running a trapper if your team can't take advantage of it, because their low stats and multitude of flaws often render them dead weight if their targets are not on the opposing team. As such, trappers are usually paired with potent sweepers, dealing with the sweeper's checks and counters to support an unimpeded sweep. A classic example is the FletchDig combination: Fletchling struggles to break past various Electric-, Rock- and Steel-types, so Diglett traps and gets rid of them, allowing Fletchling to set up a Swords Dance and sweep. With that being said, Pursuit trappers are often an exception to this rule; although notable cores consisting of a Pursuit user and a sweeper do exist, such as in the case of Stunky + Timburr, Pursuit users are often simply slapped onto teams that have noticeable weaknesses to the likes of Abra, Gastly, or Gothita.
Threats to Trapper Teams
The nature of trapping teams makes actually countering them impossible; however, they can be rendered nearly useless if put up against a team that does not rely heavily on Pokémon that the trappers can beat. For example, Archen and Porygon would be examples of Fletchling counters that can get around Diglett, and Thief Snubbull would be a Timburr counter that can handle Gothita if played well; in these cases, the trappers are unable to do their jobs because the sweeper that they are attempting to support is still able to take on said sweeper throughout the match. In addition, each specific trapper has its own set of weaknesses. Houndour, Stunky, and Pawniard are vulnerable to Substitute Diglett, Gothita requires a bit of support to trap some of the things it needs to and can be dealt with through Pursuit trappers, and Diglett simply needs an enormous amount of support to pull its weight.
It is important to keep in mind, however, that solidly built trapping teams rank among the best teams in the metagame, so they will generally be able to cover most significant threats.
Trapper Teambuilding
There are two roles integral to the trapper archetype, leaving the remaining slots open to do whatever the team needs. Multiple Pokémon can be fit into each role, of course.
The most obvious of these would be the trapper itself. The first two trappers that usually come to mind are Gothita and Diglett, which have their own distinct advantages. Gothita's ability allows it to trap a greater range of targets. Furthermore, its numerous coverage options on top of access to Trick to cripple key walls allow it to be easily customized to cover whatever the team needs. On the other hand, Diglett's high speed makes it less reliant on Choice Scarf, letting it run Life Orb to heavily damage anything that isn't a physical wall, or Focus Sash to revenge-kill a few threats that it otherwise could not. It also has a decent support movepool that most notably contains Substitute and Memento, and access to a fairly powerful priority attack in Sucker Punch.
Pursuit trappers are also quite prominent because they are useful in reliably eliminating or substantially weakening three of the biggest threats in the metagame in Abra, Gastly, and Gothita. The most popular Pursuit trappers are Stunky, Houndour, and Choice Scarf Pawniard. Stunky's unique typing allows it to easily withstand anything its targets can throw at it and promptly eliminate them; it's usually the best choice for teams that cannot afford to rely on revenge killing to take out Abra or Gastly. Stunky also makes for an effective Defog user because of its access to Fire Blast to heavily damage Pawniard switch-ins. Houndour is arguably the most versatile of the three. The specially defensive Eviolite set is arguably the most effective at Pursuit trapping because it has the bulk to avoid the OHKO from its target's attacks even after Stealth Rock; it is also able to provide Will-O-Wisp support for the team while hitting decently hard with Fire Blast. A specially leaning Life Orb set is able to act as one of the most dangerous wallbreakers in the game on top of Pursuit and powerful priority in Sucker Punch, as its Fire Blast is powerful enough to 2HKO even Porygon. If the Life Orb set instead leans towards the physical side, the sheer power of its Sucker Punch turns it into an extremely potent revenge killer, even for threats other than targets of its Pursuit. More niche sets, including Choice Scarf, Nasty Plot, and even physically bulky variants, are also viable if they are what the team needs. Pawniard does not usually don a Choice Scarf, but its double weakness to the Fighting-type coverage moves that Abra and Gastly commonly carry means that it needs to outspeed them to win consistently, leaving Choice Scarf Pawniard as the only variant that can effectively Pursuit trap. Even Choice Scarf Pawniard ends up losing to Focus Sash Abra, though, so it is best paired with sweepers that have access to priority to pick off a one-HP Abra. To make up for this, it brings to the table over other Pursuit users an extremely powerful Knock Off and a strong Iron Head to take advantage of flinches with.
Then there's Wynaut, but nobody really cares about Wynaut.
Pokémon that can take advantage of the trappers are also necessary; these are simply Pokémon whose checks are trapped by said trappers. Diglett is able to eliminate Chinchou, so Pokémon like Ponyta, Staryu, and Fletchling appreciate Diglett's presence on a team. Gothita can trap Croagunk, so Carvanha, Timburr, and Omanyte enjoy having it as a teammate. Pursuit trappers get rid of Abra, making life easier for Foongus, Croagunk, and Mienfoo. Of course, the aforementioned trappers are able to remove other important Pokémon as well, benefiting different Pokémon.
Although not mandatory, Knock Off and VoltTurn support can help make trappers much more effective. Although it's not as big of a deal for Pursuit trappers, Diglett and Gothita are both somewhat lacking in terms of power; in fact, Gothita can't even OHKO an Eviolite Mienfoo from full health! As such, weakening their targets goes a long way in helping Diglett or Gothita realize their full potential, and often, the easiest way to do this is by using Knock Off on bulkier Eviolite-carrying Pokémon. As mentioned earlier, smart usage of Volt Switch or U-turn can not only provide chip damage to key targets, but also get the trapper in safely.
Sample Trapper Teams
Gastly @ Life Orb
Ability: Levitate
Level: 5
EVs: 40 Def / 200 SpA / 200 Spe
Timid Nature
- Shadow Ball
- Sludge Bomb
- Hidden Power Fighting
- Substitute

Timburr @ Eviolite
Ability: Guts
Level: 5
EVs: 116 Atk / 156 Def / 236 SpD
Careful Nature
- Knock Off
- Drain Punch
- Mach Punch
- Bulk Up

Pawniard @ Choice Scarf
Ability: Defiant
Level: 5
EVs: 236 Atk / 36 Def / 36 SpD / 196 Spe
Jolly Nature
- Knock Off
- Iron Head
- Pursuit
- Brick Break

Chinchou @ Berry Juice
Ability: Volt Absorb
Level: 5
EVs: 52 Def / 232 SpA / 224 Spe
Timid Nature
- Volt Switch
- Scald
- Hidden Power Fire
- Thunder Wave

Archen @ Berry Juice
Ability: Defeatist
Level: 5
EVs: 180 Atk / 76 Def / 4 SpA / 196 Spe
Jolly Nature
- Earthquake
- Heat Wave
- Acrobatics
- Stealth Rock

Gothita @ Choice Scarf
Ability: Shadow Tag
Level: 5
EVs: 36 Def / 236 SpA / 236 Spe
Modest Nature
- Energy Ball
- Psychic
- Thunderbolt
- Trick
This highly successful team created by Sken utilizes Gothita and Pursuit Pawniard to methodically pick off anything that might impede a Timburr sweep, with Gastly as a backup sweeper. Choice Scarf Pawniard is included as part of the standard Timburr + Pursuit Trapper core, with Pawniard picking off fast Ghost- and Psychic-types so that Timburr can sweep more easily. It is chosen over its alternatives because Knock Off is useful for crippling key Pokémon for Gastly to more easily muscle through. Gothita deals with Poison-types such as Foongus and Croagunk that might hinder a Timburr sweep, and revenge kills Archen, Chinchou, and other Pokémon that might give the team trouble if left unchecked. Gastly functions as a strong wallbreaker and Fairy-type check, while being able to clean up should the opposing team be too resilient to Timburr. This team struggles against hazard stacking, so Archen and Chinchou both run Fire-type attacks to prevent Ferroseed from setting up more than one layer of hazards on them. Chinchou also provides paralysis support so that Timburr and Gastly can sweep more easily, and Archen sets up Stealth Rock, which is useful for all offensive teams.
Timburr @ Eviolite
Ability: Guts
Level: 5
EVs: 116 Atk / 156 Def / 236 SpD
Careful Nature
- Drain Punch
- Knock Off
- Mach Punch
- Bulk Up

Stunky @ Eviolite
Ability: Aftermath
Level: 5
EVs: 12 HP / 12 Atk / 220 Def / 28 SpA / 188 SpD / 4 Spe
Sassy Nature
- Pursuit
- Sucker Punch
- Fire Blast
- Defog

Archen @ Berry Juice
Ability: Defeatist
Level: 5
EVs: 180 Atk / 76 Def / 196 Spe
Jolly Nature
- Acrobatics
- Earthquake
- Stealth Rock
- Rock Tomb

Ponyta @ Eviolite
Ability: Flame Body
Level: 5
EVs: 76 Atk / 236 Def / 196 Spe
Jolly Nature
- Flare Blitz
- Will-O-Wisp
- Morning Sun
- Toxic

Foongus @ Eviolite
Ability: Regenerator
Level: 5
EVs: 124 HP / 160 Def / 160 SpD
Bold Nature
- Giga Drain
- Sludge Bomb
- Spore
- Hidden Power Fighting

Shellder @ Eviolite
Ability: Skill Link
Level: 5
EVs: 36 HP / 156 Atk / 116 Def / 196 Spe
Adamant Nature
- Shell Smash
- Icicle Spear
- Rock Blast
- Ice Shard
Despite taking advantage of the Timburr + Pursuit trapper core, this team, built by The Avalanches, is an example of a team that takes advantage of trapping but does not rely on it, although Stunky is still an integral member of the team that gives Defog support and a decently powerful priority attack. Timburr will often be the team's win condition, but just as often, the team will instead try to achieve a Shellder sweep, where Pursuit trapping isn't as necessary, since Shellder can usually sweep through the targets of Pursuit, and struggles against a different set of Pokémon. What makes this team work so well is that Timburr and Shellder, the two main sweepers, force each other's checks out quite easily for the most part, forcing the opponent to have to keep their entire team alive, which can be very difficult due to Stunky ensuring that any weakened threats are eliminated, as well as the overall solid offensive presence that both sweepers have. Ponyta, Foongus, and Archen are simply there to act as reliable and repeated switch-ins to important threats so that the win conditions can remain healthy until late in the game. Ponyta and Foongus can also spread status, and Archen can set up Stealth Rock.
Conclusion
In short, all of the above archetypes function based on the principle of applying offensive pressure on the opposing team. Hyper offense functions in perhaps the most pure sense of this, often simply making use of Pokémon that hit very hard and synergize well with each other. VoltTurn functions somewhat differently in its greater use of pivots but essentially works by the same principles, simply taking more immediate advantage of momentum. Trapper teams also function by pressuring the opponent, the lone difference being that it uses Pokémon that prevent the opponent from regaining momentum in the form of trappers. The important thing to remember when playing any of these archetypes is that the priority is to always have the upper hand, because if the opponent is allowed to dictate the shape the game, it drastically compromises the efficacy of these teams.
We hope that you found this article useful, and wish you the best of luck with your endeavors in LC. Our next article will feature teams based on defensive synergy; check back next time for that!