Tournament Coverage
Introduction
The Drought Tournament will kickoff our Tournament Coverage section for this issue. It is the first ever tournament Erazor has hosted. The twist to this otherwise standard 64-man tournament is that the use of a level 78 Groudon is legal. The goal of legalizing Groudon is to evaluate the effects of automatic weather in the current metagame. It's a much different game with the sun shining brightly on the battlefield. Here is what the sun can do: It increases the damage of Fire-type moves by 50%, causes Water-type moves to do half damage, Thunder is 50% accurate, Solarbeam has no charge turn, Moonlight, Morning Sun, and Synthesis heal 2/3 of the user's maximum HP, no Pokémon can be Frozen while the sunlight is active, Pokémon with the Chlorophyll ability have double the Speed, Pokémon with the Forecast ability become Fire-type, Pokémon with the Leaf Guard ability are unaffected by status inducing moves, Pokémon with the Flower Gift ability and its partner in 2v2 have an increase in stats, at the end of each turn, Pokémon with the Dry Skin or Solar Power abilities lose 1/8 HP, the latter getting a 50% special attack power boost. Since that's a lot to soak in, we'll analyze the major effects some of these would have on the OU metagame in the Tournament Strategy section.
Tournament Strategy
Unlike rain, most of the sun abusers are not considered threatening because they don't benefit from a Speed boost and an increase in damage done by a STAB attack. Most of the time, sun teams are labeled as gimmicks due to the many flaws in the Pokémon that can abuse the sun. All Pokémon that benefit from Chlorophyll, Leaf Guard, Flower Gift, and Solar Power are weak to Fire- and Ice-type attacks. To toss in another negative, a majority of sun abusers don't have a high enough Speed stat to outspeed common Choice Scarf users. In contrast to rain, which has several fast and powerful sweepers, sun is limiting in terms of how many Pokémon with a beneficial nature in weather can be used.
Sun isn't a total bust, though. It's true merit comes from enhancing already powerful Pokémon. Heatran and Infernape become exponentially more threatening with an increase in Fire-type damage. Heatran becomes more versatile in the sun because Water-type damage is halved, allowing Heatran to show off its good defenses. In addition to receiving less damage from Water-types, Heatran also gets to fire off Solarbeam without charging. While Infernape doesn't get much of a defensive boost from the sun, it does make it more dangerous as a late-game sweeper. With Blaze and the sun in tandem, Infernape doesn't break a sweat against the likes of Cresselia as it is capable of an OHKO with Fire Blast 100% of the time (with Stealth Rock in play).
One of the best ways to do away with weather is to counter it with another form of weather. Tyranitar and Abomasnow will see a lot of usage in this tournament due to having Sand Stream and Snow Warning, respectively. However, both have to be careful when switching in to opposing sun abusers because they are weak to the attacks almost every sweeper carries. To ensure they can change the weather, it is beneficial to use them in a defensive team that can cover the onslaught of sun sweepers. On a final note for countering weather, rain is the least viable in this tournament as it is the only one that can't be generated automatically. While it does provide the most negatives for opposing sun teams, maintaining its effects are not easy. Sun teams will have at least one Grass-type Pokémon and Groudon benefits from receiving half of the damage from Water-type attacks.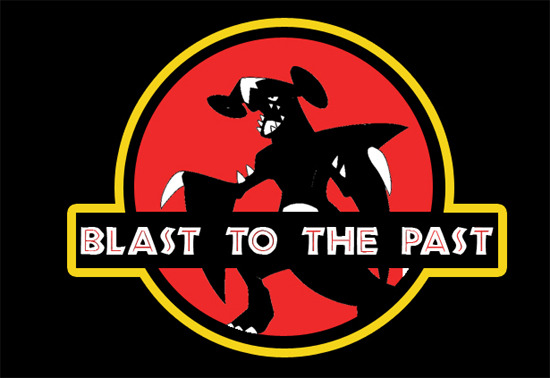 Introduction
The next tournament in our coverage is Blast to the Past, hosted by RB Golbat. This is the second tournament he is hosting and a much more ambitious one with 128 participants. The concept of the tournament is to take players back to the metagame of Diamond and Pearl. There are no level-up, tutor, nor Egg moves allowed from Platinum and HGSS. To add to the nostalgia, Garchomp switches places with Latias in the OU metagame to give everyone the full atmosphere of Diamond and Pearl. Rotom-A is also forbidden from play. This tournament will test the memory of veteran players and give new players the chance to get their feet wet in a metagame they are unfamiliar with. Let's take a trip back in time to explore where we left the metagame prior to Platinum.
Tournament Strategy
The metagame for this tournament takes us back to DP where Garchomp stood atop the usage statistics. There is a good reason why it did. One of the most basic reasons is its excellent Rock resistance and Electric immunity. The options for that kind of coverage is limited so Garchomp will naturally see the same kind of usage it used to. On top of its team synergy is its great stat spread. Not only does Garchomp make waves offensively with a 130 base Attack, access to Swords Dance, and a have a niche with a base 102 Speed stat, but it is also bulkier than Swampert. That makes it a reliable counter to Pokémon like Lucario and ultimately allow Garchomp to fit on any team.
Garchomp isn't the only Pokémon that sees a surge in usage in this metagame. Heatran will become more popular with Latias out of the mix and Garchomp threatened by Choice Scarfed variants. Since most teams will be reinforced to be failsafe against Garchomp, Heatran will be able to flaunt its valuable Ice- and Dragon-type resistances. Heatran isn't the only special attacking Pokémon to be in its glory. Gengar with a 70% Hypnosis suddenly becomes more viable as either a Life Orber or Choice Scarfer. Metagross is another offensive answer for Choiced (especially Scarf) Garchomp as it can switch into a resisted attack and either come back with a powerful attack or set up an Agility to sweep.
Some Pokémon obviously won't see as much usage as they do now because of the lack of move tutors from Platinum and HGSS. Scizor isn't as menacing without access to STAB Bullet Punch and Salamence without its mighty Outrage attack. Salamence usage would be limited in this tournament anyway with its inferior base 100 Speed stat compared to Garchomp's base 102. While sneaking in a Dragon Dance with it would be nice, it would be without its strongest move, vulnerable to a revenge kill from either Scarf Garchomp or an Ice Shard user, and also having a weakness to SR, limiting the amount of action it can see. Salamence could make for a nice surprise, but Garchomp is the sure way to abuse Dragon power.
Spotlight Matches
This issue has predictions from both of the tournament covered in this article. The first match is the final of The Drought Tournament and the remaining six are from Blast to the Past. There are quite a few anticipated matches, including a clash of titans in the DP metagame. Each of the players in the match will receive a short description with some of the highlights from their Pokémon playing career to help educate the reader.
-Mind- vs snorlax
-Mind- is well known for his ability to play the Uber metagame. While this is not an Uber tournament, players are allowed to use Groudon. This makes the standard metagame closer to Ubers because of the thought process behind using weather or countering it. His opponent, snorlax, is not shy of being a finalist in a tournament. He played Gouki in the final round of the Ban List Tournament, where he lost. Will he be able to snag his first tournament win or will -Mind-'s Uber knowledge lead him to victory?
imperfectluck vs goofball
This could be the best match of all time in any Pokemon metagame. Both imperfectluck and goofball dominated the DP metagame by ladder racing each other. Both of them obtained a CRE (Conservative Rating Estimate) of 1800 or better. This is a thrilling rivalry that will be sure to draw in a large crowd. While imperfectluck has maintained his battling dominance through Platinum and HGSS, goofball won both the Smogon Tour and Official Smogon Tournament when they were at their peak. This will be a true test for both of them as goofball looks to dust his battling skills off to prove he is still the champion!
Sapientia vs tito
These two might not be champions like the previous pair, but they are both formidable opponents. Sapientia is well known in the German community for being one of the best. He proved that by eliminating me in the second round of this tournament. His competition is tito, who is a frequent tournament player. Both of them command respect from their opponents. This should be a good battle to keep an eye on.
Stathakis vs august
This match should be interesting to say the least. Stathakis is a master of the offensive style of play, which was thriving during Garchomp's time in standard play. His opponent, august, is no stranger to the spotlight. He is the reigning champion of Smogon and would like to prove why he wields that title. Fireworks are guaranteed for this match as Stathakis looks to extinguish august's fame in the competitive Pokemon world.
Frosty vs ReyScarface
Frosty may not be well known among players, he did make it to the semi-finals of the Themed Tournament. He has a tough match against ReyScarface, who is known for making deep runs in tournaments. Unlike Frosty, ReyScarface was able to close out his good run in the Tournament of Thieves by winning it all. However, both players were relatively unknown in the DP metagame so niether player should be ruled out instantly.
Lady Bug vs Philip7086
Both of these players have made a name for themselves in this generation of Pokémon. Lady Bug was an integral part of Asia's team in the World Cup of Pokémon. His competition is Philip7086, who took part in World Cup on Team USA West. In addition to being key players tothose teams, both of them have been seen frequently on the Smogon leaderboards. This should be one of the closer matches this round.
Erodent vs j. franky
Here is a battle of community members. Niether player has made a remarkable appearance in a tournament, but they both can tap into the knowledge they use to contribute to Smogon. Erodent's frequent Contributions & Corrections work will allow him to formulate some interesting sets in his team. Meanwhile, j. franky can use his team rating knowledge to build himself a balanced team. This one is as good as anyone's guess.
Expert Predictions
No one predicted all of the spotlight matches correctly from Issue #4. The predictions for this issue will be better because there is something more substantial to predict on. The previous issue's predictions of The Wyoming Tournmament were just a way of easing into the system. Now we have more matches to predict in a more strategic metagame. The standings will be displayed the predictions from each of the Tournament Directors in each issue.
Name
-Mind-
imperfectluck
Sapientia
august
ReyScarface
Philip7086
Erodent
Name
snorlax
goofball
Sapientia
august
Frosty
Philip7086
j. franky
Name
-Mind-
goofball
Sapientia
august
ReyScarface
Philip7086
j. franky
Name
-Mind-
goofball
tito
Stathakis
ReyScarface
Lady Bug
Erodent
Name
snorlax
imperfectluck
Sapientia
august
Frosty
Philip7086
j. franky
Standings
Sonuis showed what hosting a tournament four times can do as he swept the predictions. Even with his knowledge of random battles, I would still say there had to be some luck because there is no way of knowing what exactly would happen. I was the only one who had a poor showing. When half of the battles were played I was just hoping for 1 point, which I managed to get. Everyone else landed in the middle of the pack. With seven possible points to earn in this issue, no one is out of the game just yet.
| Rank | Name | Total |
| --- | --- | --- |
| 1 | Sonuis | 5 |
| 2 | Jackal | 3 |
| 3 | Earthworm | 2 |
| 3 | matty | 2 |
| 5 | Kevin Garrett | 1 |