Tournament Coverage
Introduction
The Uber Inclusion Tournament will begin our jam packed coverage for this issue. It is a single elimination tournament being hosted by iKitsune. This tournament is an experiment as well as an investigation into the effect that an obvious Uber Pokemon will have on the current OU metagame. This is particularly interesting as most of the obvious Ubers such as Mewtwo, Kyogre, and Darkrai are only countered by Pokemon in OU and the tiers below it. This tournament tests both your knowledge and your team building - how to abuse the Uber, but also how to counter it with your team. Each round, iKistune will select a different obvious Uber Pokemon to be included into the OU metagame. It is not a requirement to use the Uber, although most participants will likely use it.
Tournament Strategy
Every round in this tournament calls for at least a minor tweak in everyone's team since a new Uber is selected to be dropped into standard play for each round. I will highlight some strategies that could be helpful against the first three Pokemon that were selected to be in each round so far. Rayquaza was the first Uber to be selected in this tournament. It is a more powerful and slightly slower version of Salamence. Rayquaza can do almost anything offensive with its base 150 stats in both Attack and Special Attack. The Swords Dance set is probably the most dangerous set in standard play with proper support because it can lunge at faster Pokemon with a boosted Extremespeed for massive damage. For this reason, Choice Scarf Jirachi or Choice Band Scizor in combination with Stealth Rock, are your best bets for taking down this menace.
Darkrai was the second Pokemon selected to be used in standard play. Just like Rayquaza, nothing switches in too safely against Darkrai. Dark Void makes Darkrai harder to deal with than other boosting special sweepers. Your best bet is to have something absorb Dark Void, preferably with Sleep Talk, and then proceed to taking it out of the game. Scizor is strong enough to make a huge dent in Darkrai with either U-turn or Bullet Punch, but it needs to avoid taking a boosted Focus Blast. Aside from Scizor, anything with a Fighting- or Bug-type move, and a Choice Scarf should be able to do the trick. Infernape, Heracross, and Primeape are just a few examples of Pokemon that are capable of destroying Darkrai.
Dialga is the last Pokemon that I'll list in this section. It is impossible to counter without knowing its move set. Standard OU play is dominated by both Dragon- and Steel-types. Dialga is both of those, making slaying it quite a difficult task. The most popular sets will likely be mixed variants and the Bulk Up set. Choice Specs Dialga is devastating, but it is easier to handle with Blissey and other defensive Steel-types. Pokemon like Lucario and Heatran are capable of doing some solid damage to Dialga if they manage to switch in safely. Dialga is capable of carrying both Fire- and Ground-type moves. Metagross is another possibility, but suffers from a lower Speed stat and doesn't have the immunity to Fire-type attacks that Heatran has. Dugtrio is a fairly reliable way to revenge kill a weakened Dialga.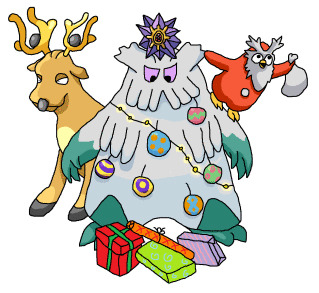 Introduction
Secret Santa is the next tournament to be covered and an excellent one at that. This is the fourth year that zerowing is hosting Secret Santa. It has grown to be one of the most popular tournaments over the years. The concept is simple - participants send in a team to be given to another player in the tournament. They won't know whose team they have received until the tournament is over unless they ask around. Each new round, zerowing will post a list of names of people whose teams have been eliminated. If you make it far enough in the tournament, you can make an educated guess as to whose team you have received. In the end, one player and one team will win. Last year, imperfectluck won with sbc's team. Niether of them are left in the remaining pool of participants, so a new champion will be crowned this year.
Tournament Strategy
Secret Santa has the same metagame as standard OU play. However, since it is discouraged to submit secret teams with excellent potential, the quality of the team that players end up with is somewhat limited. For that reason you'll see most participants moaning about the team they received. The best thing you can do is test the team you get before your first round match. Learning the nature of the team will increase your chances of succeeding in this tournament. Gimmick teams are turned down in the registration process, but most teams usually have at least one Pokemon that doesn't have the quality you would like. While most teams have decent synergy, it is common to find the team you received is majorly weak to at least one threat. That is one of the reasons why practicing with your team is key to doing well. Learning how to play around the threats you are weak to will boost the likelihood of you making it past the first round.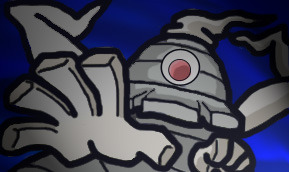 Introduction
Ghosts of Your Past is the final tournament to be covered in this issue. It is a good way to finish tournament coverage for this issue because it is also a year end tournament. It is the third tournament to be hosted by locopoke and it goes by the rules of three popular tournaments from 2009 (noSTAB Tournament, The CaP Tournament, and Clash of the Titans). Participants will randomly be given an opponent and set of tournament rules to play by each round. As participants proceed through the tournament, they will eventually play a round of each tournament from 2009. To give a basic summary of each of them, noSTAB Tournament prohibited the use of attacking moves that would receive STAB from the Pokemon that used it. Moves like Seismic Toss and Night Shade were allowed, however. The CaP Tournament is based on the metagame of the Create-a-Pokemon server. In games played by these rules, CaP Pokemon such as Arghonaut are allowed. The final tournament is Clash of the Titans. This allows players to use Arceus in the Uber metagame.
Tournament Strategy
The strategy for this tournament will be broken down into three parts since each of the metagames are entirely different. The noSTAB Tournament was dominated by Pokemon like Azelf, Lucario, Latias, and Breloom due to the fear of stall. Since status moves were allowed even if they were the same type as the Pokemon who used it, that was expected to be a popular style of play throughout the tournament. Azelf commonly ran a mixed set to shuffle stall and eventually Explode. Lucario and Breloom were able to be successful as Swords Dance sweepers. Since Latias has a wide special movepool, using it as a Calm Minder is a no brainer. It has access to powerful non STAB moves like Grass Knot, Hidden Power, Thunderbolt, Surf, and Ice Beam.
The CaP Tournament took place before the introduction of Colossoil. It was a different metagame where semi-stall and full stall were successful and all out offense was not very popular. One of the biggest things to be aware of when building a team for this metagame is ensuring you have a reliable answer to Arghonaut. If you decide to use a stall based style of play, make sure to keep the pressure on the opponent's Fidgit. The first person to lose Fidgit generally loses the game. Other considerations for your team include Latias and Metagross. Latias was more powerful in CaP than it was in standard play. Meanwhile, Agiligross is famously the anti-CaP sweeper with Zen Headbutt. Both of which should be well covered.
Last but not least is the Clash of the Titans. This metagame is based around handling Arceus. Most teams are overprepared for the Swords Dance variants of Arceus, so a Steel-type Calm Mind set is the one you will most likely see. It checks Normal-type physical attacking Arceus and resists the most common Uber attacking types (Dragon- and Ice-type). It has to look out for variants of Arceus wielding Overheat. Any well placed variant of Arceus in a team will be successful with proper support. The biggest thing to keep in mind when building a team for this tournament are the first two sets I mentioned. Be careful when you are battling because Shoddy Battle is subtle in the way it displays Arceus' type. Making a mistake by not paying attention could potentially cost you the game.
Spotlight Matches
This issue has predictions from all three of the tournaments covered above. There are more spotlight matches than ever with eight games. Each of them have a short description about the player's Pokemon history to help you formulate your own predictions.
Kyogre95 vs -Mind-
This game pits two European players against each other in the Uber Inclusion Tournament. Kyogre95 is a relatively unknown player with the task of halting -Mind-'s path to the finals. -Mind- is a well known Ubers player who is not shy to our coverage here. In the last issue, -Mind- was featured against snorlax for the finals of the Drought Tournament, which was a similar tournament because it involved using an Uber in the standard environment. Will Kyogre95 be able to upset -Mind- or will this be a one-sided game?
Earthworm vs Blackhawk11
This battle for the Uber Inclusion Tournament pits another high profile player against another lesser known one. This tournament is up Earthworm's alley since he can take advantage of his diverse knowledge when it comes to team building and battling. He is usually the favorite in any tournament match due to his overall record. Blackhawk11 is a Suspect Voter who has experience in Little Cup. Will Blackhawk11 show off a hidden talent for using Ubers in standard play or will Earthworm prove why he is the favorite to win?
Flamewheeler vs JabbaTheGriffin
Secret Santa might not always be cut and dry since some players may receive incoherent teams, but it still gives the player control over the actual battle. For that reason, JabbaTheGriffin is likely to be the favorite for this match due to his experience and skill. His competition is no scrub, though. Flamewheeler is not completely unknown when it comes to tournaments. He also has experience in Suspect voting. This will come down to the team matchup and who plays better.
Ryo vs TAY
This is another interesting game for Secret Santa. Ryo and TAY both started tutoring in the DP Apprentice Program around the same time. Ryo took a hiatus from Pokemon following his time in Battling 101, whereas TAY stuck with it and climbed the Smogon Hierarchy. Both of them are very capable battlers and each has a good shot at winning this game. Like the previous spotlight match, this one will come down to the teams and who executes theirs the best.
Class vs Kevin Garrett
This match pits me against Class in Ghosts of Your Pasts. Our game follows the rules of the noSTAB Tournament, which I did not participate in. This will give me an idea if I can compete for the title in this tournament since I have the other tournament metagames down well. Class is a respected player by many in the community. I don't expect this to be an easy match for either of us.
Stallion vs SilentEcho
Stallion and SilentEcho are used to facing each other in tournaments. They played in the finals of Tipping the Scales in early 2009 and a few other tournaments. Their game will follow the rules of Clash of the Titans. Neither of them have a greater reputation than the other in the Uber tier. This is sure to be a close game. The winner of this game will go on to play Dragonknight! in round two.
Ace Matador vs supermarth64
Here is another game with prolific tournament players. Ace Matador and supermarth64 are well known in the Tournaments forum. Their game will be for the CaP metagame. This will come down to who has more experience in CaP. Since niether of them have a lot of buzz in the CaP community, I think it's safe to say this could go to either player.
Gouki vs -Mind-
This is a high profile game between one of the best tournament players of all time and one of the best DP Ubers players. They are set to play in the CaP metagame as well. If it had been for Clash of the Titans, -Mind- might be a slight favorite, but since this is closer to the OU metagame, I'm more inclined to say Gouki has the advantage in this game.
Expert Predictions
To welcome Jimbo to the Tournament Director staff, we are allowing him to cut into our predictions game. He may be behind us for most of the time, but he proved he has good insight by placing second in last year's prediction tournament for Smogon Tournament #5. We will be predicting on the eight games listed above. Since everyone is within two points of each other, it's still anyone's game coming into this issue (except Jimbo!).
Kevin Garrett

Kyogre95 vs -Mind-
Earthworm vs Blackhawk11
Flamewheeler vs JabbaTheGriffin
Ryo vs TAY
Class vs Kevin Garrett
Stallion vs SilentEcho
Ace Matador vs supermarth64
Gouki vs -Mind-
Jackal

Kyogre95 vs -Mind-
Earthworm vs Blackhawk11
Flamewheeler vs JabbaTheGriffin
Ryo vs TAY
Class vs Kevin Garrett
Stallion vs SilentEcho
Ace Matador vs supermarth64
Gouki vs -Mind-
Earthworm

Kyogre95 vs -Mind-
Earthworm vs Blackhawk11
Flamewheeler vs JabbaTheGriffin
Ryo vs TAY
Class vs Kevin Garrett
Stallion vs SilentEcho
Ace Matador vs supermarth64
Gouki vs -Mind-
Sonuis

Kyogre95 vs -Mind-
Earthworm vs Blackhawk11
Flamewheeler vs JabbaTheGriffin
Ryo vs TAY
Class vs Kevin Garrett
Stallion vs SilentEcho
Ace Matador vs supermarth64
Gouki vs -Mind-
matty

Kyogre95 vs -Mind-
Earthworm vs Blackhawk11
Flamewheeler vs JabbaTheGriffin
Ryo vs TAY
Class vs Kevin Garrett
Stallion vs SilentEcho
Ace Matador vs supermarth64
Gouki vs -Mind-
Jimbo

Kyogre95 vs -Mind-
Earthworm vs Blackhawk11
Flamewheeler vs JabbaTheGriffin
Ryo vs TAY
Class vs Kevin Garrett
Stallion vs SilentEcho
Ace Matador vs supermarth64
Gouki vs -Mind-
Standings
Sonuis saw his lead slip away in the last issue as we all managed to gain some ground. The most points for the last issue went to matty. We were tied for last place and now he's moved up to second place. I caught up to Earthworm and Jackal managed to hang tight at number two. With more points than ever on the line, expect to see a lot of changes to the standings for the next issue!
| Rank | Name | Total |
| --- | --- | --- |
| 1 | Sonuis | 7 |
| 2 | Jackal | 6 |
| 2 | matty | 6 |
| 3 | Earthworm | 5 |
| 3 | Kevin Garrett | 5 |
| 4 | Jimbo | 0 |