Doubles OU: Winners and Losers of the Generation Shift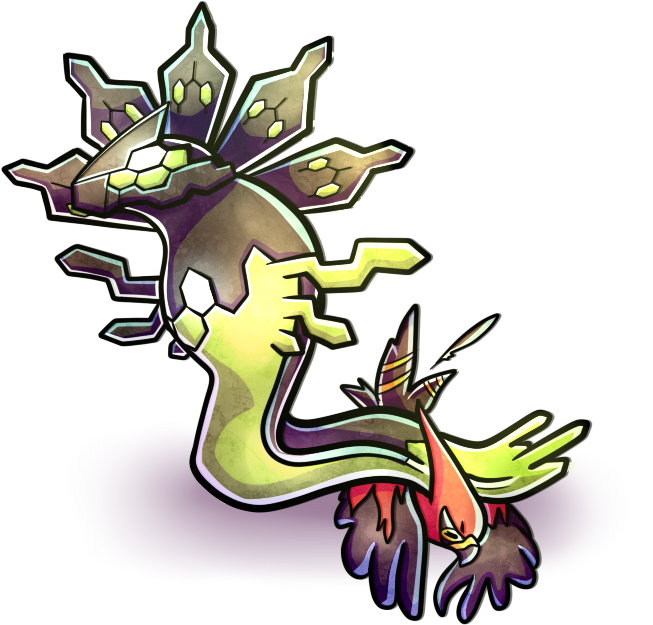 Art by LifeisDANK.
Introduction
It's already been more than half a year since the release of Sun and Moon, and now that the dust from the search in every nook and cranny of the metagame has settled, the viability of the top Pokémon has been pretty much established. With the advent of the new generation came new Pokémon, new mechanics, and more that shook Doubles OU to the very core; with Z-Moves, the Island Guardians, and some previously banned Pokémon now in the Smogon Doubles scene, the game has changed dramatically.
Because SM did bring some less-than-subtle changes, those Pokémon that were here before—the Mega Kangaskhans, the Talonflames, and the Rotom-Ws—have faced quite a shakeup in their viability. As the Tapus went on to shape the metagame as integral pieces of SM Doubles OU, the XY carryovers had undergone an adjustment period, some now standing stronger than they were ever before and others pretty much erased from the map. Which Pokémon are some of the winners of the generation shift? And which ones are the losers? Read on!
The Winners
Snorlax
After being pretty much irrelevant last generation outside of ladder memes, Snorlax has now risen to be one of the most dangerous threats in Doubles OU. The shift to SM has been particularly kind to it; aside from benefiting from a slower metagame that is very unkind to Fighting-types (more on this later), what Snorlax gained from SM is a nifty mechanic change: the Berries Figy, Wiki, Mago, Aguav, and Iapapa now heal 50% in a pinch. While before Snorlax didn't particularly do anything aside from being a pretty much worse Mega Kangaskhan, it is now capable of functioning as a setup sweeper with Curse and Recycle, as, in conjunction with Gluttony, it now has the reliable-enough recovery that it never had before. Even though it usually is a wincon, it can also function as quite a handy pivot, as its held Berry lets it shrug off attacks with ease, healing it up after taking a hefty hit with not much momentum lost. With its natural bulk already quite high and the metagame slow and mostly focused on special attacking, Snorlax finds no difficulty finding the right moment to cycle between healing and setting up to go for game.
Tyranitar
Lambasted as vastly overrated and having only fringe usage in XY, Tyranitar has now risen to be a very capable pick in SM. While it does still have the same plethora of weaknesses that held it back last generation, it also faces quite a change of scenery: in the SM metagame, most Fighting-types are no longer good picks and most threats are special attackers. Whereas its relative sluggishness and poor defensive typing once rendered it a liability, Tyranitar is now experiencing a resurgence, as its typing and very high sand-boosted Special Defense, in conjunction with SM's relatively lower speed, make it quite a good choice in the metagame. With the influence of Tapu Fini's Misty Surge erasing any trace of Will-O-Wisp in the metagame, Tyranitar now fears little for its Attack stat outside of Intimidate and thus is capable of functioning as one of the few destructive physical attackers in the tier, capable of running a variety of sets in Choice Band, Dragon Dance, and more. Its typing is also now an asset, as the return of Mega Salamence, rise of Zapdos, and ever-threatening presence of Hoopa-U make it a very effective counterpick. Once classified as Tier: Please Don't alongside Hitmontop and Scizor in XY, Tyranitar is now proving in the SM meta that it truly is not something to count out.
Zapdos
Once overshadowed by Rotom-W and Thundurus, Zapdos is now highly regarded one of the two premier Electric-types in SM alongside Tapu Koko. This can be attributed to a few things: the metagame becoming slower, the influence of Misty Terrain, and the introduction of the Psychic and Misty Seeds. As Rotom-W's and Thundurus's specific traits cratered in value (more on this later), Zapdos's ability to function as a very capable Electric-type tank with reliable recovery raised its own stock considerably. Unlike the two that have fallen from grace, Zapdos isn't reliant on any status-inducing move in order to do its job and has access to reliable recovery in Roost, which is valuable in a metagame that has changed into something slower and less reliant on momentum swings. Zapdos is now one of the best pivots in the metagame, as it provides notable team support in Tailwind and blanket checks the entire metagame, including the reintroduced Mega Salamence and Shaymin-S, with its tremendous Seed-boosted special bulk, solid defensive typing, and excellent neutral coverage with Thunderbolt and Hidden Power Ice.
Deoxys-A and Mega Metagross
These two were already doing quite fine enough in XY. However, the whole game changed for them as two things happened in SM: the introduction of Tapu Lele and the ban of Jirachi. What this meant for this duo is that they are now capable of freely bringing ruin to opposing teams, as the disappearance of the one threat that could redirect and tank their attacks with ease allows them to raze foes with devastating Psychic Terrain-boosted blows. Under Psychic Terrain, Deoxys-A essentially claims one with Psycho Boost, with some sets even opting to run Choice Specs for absolute destruction, while Mega Metagross brings with it a fearsome combination of versatility and power. While this whole shtick can be disrupted by changing the active Terrain to something else, that is really no big deal to either, as their blows will still sting, and a different Island Guardian coming in means that something's taking a hefty hit upon switching in or one of the two already claimed one KO, meaning they've already done their job as attackers. Mega Metagross even gained more in the new generation in Electric Surge from Tapu Koko, which lets it effectively run an all-out attacking set of Meteor Mash / Thunder Punch / Ice Punch that boasts dangerous coverage; Mega Metagross also is quite the reliable check to... the same PsySpam cores that it itself can be featured in, as its typing lets it 4x resist Psychic-type attacks. Make no mistake, these two have risen to become some of the most dangerous attackers in the SM DOU metagame.
Zygarde
After a generation of utter irrelevance, one new move was all it took to make Zygarde a top-tier threat: Thousand Arrows. With the introduction of this Ground-type spread move able to hit Flying-type and levitating foes to its arsenal in SM, Zygarde is now capable of functioning as a dangerous attacker, as the move boasts practically perfect coverage on its own. Thousand Arrows allows Zygarde to just spam one attack with ease and is very difficult for foes to play around. The new attack lets it capably run a Dragon Dance set, as now it has the one perfect attack that is ideal for sweeping because Landorus-T and other floating targets are now unable to annoy it as well as they once did, and in the first place, Zygarde's bulk and Speed were already quite respectable for the role. The introduction of Z-Moves even helped it as well, as now it has a power option without any drawbacks for its item slot, letting it swiftly break through bulky foes such as Tapu Fini and Snorlax that may otherwise try to whittle it down. Simply put, with new access to a spread STAB move that opponents seldom can play around with typing interactions, Zygarde has become one of the more dangerous setup sweepers in the entire tier.
Bronzong
Bronzong was pretty much Trick Room Jirachi last generation, except it wasn't Jirachi and was, in most aspects, worse. However, it gained quite the resurgence in SM; with the introduction of Z-Moves, Bronzong gained access to Z-Trick Room, which provides a +1 boost to its accuracy in addition to setting weird dimensions. This, in conjunction with Hypnosis, lets it put to sleep any target it wants at a semi-reliable rate now, which is dangerous considering Bronzong is quite "fast" with Trick Room up. Bronzong is thus capable of neutering threats for teammates, giving them more room to do their job safely as select threats are rendered immobile. It ain't all good for Bronzong, though, as it does still have to contend with Misty and Electric Terrains, which prevent it from putting grounded targets to sleep. Having a Tapu Bulu or Tapu Lele teammate can alleviate this, though the former is preferred, as its Speed is more suited for Trick Room; as a bonus, with Grassy Terrain weakening Earthquakes, Bronzong can comfortably run Heatproof for added flexibility, with the bonus recovery kicking as icing on the cake with Bronzong no longer "floating" in a technical sense. All in all, Bronzong has become quite a respectable threat in its own right this generation, becoming one of the more dangerous threats under Trick Room with Hypnosis—if it can hit with it!
The Losers
Every Relevant Fighting-type Pokémon
Fighting-types were ever-present forces in the XY metagame; some of them such as Keldeo were top threats, others such as Terrakion and Conkeldurr were right behind the cream of the crop, and a select few such as Breloom and Scrafty were occasionally used for niche reasons. Then, everything changed when the Fire Nation attacked SM came rolling, bringing with it the new Island Guardians and the return of Mega Salamence and Shaymin-S. Fighting-types as a whole have been pretty difficult to utilize so far in the SM metagame due to the metagame being quite oppressive; as of late, Terrakion has been the only one to be able to stand up to the metagame, as it lacks a weakness to Flying and outruns all the Tapus except Tapu Koko, and it has been quite useful as being a strong attacker that can reliably demolish Snorlax, Tyranitar, and Zapdos. Scrafty is a bit of a far second this generation, used for Fake Out support in full Trick Room teams. Keldeo, once at the top of the world, is now quite extinct due to Tapu Fini hard walling it and Tapu Koko and Mega Salamence outright destroying it. It looks quite bleak for this archetype of Pokémon in SM—however, the newly released Mashadow is carrying the banner quite well!
Hydreigon, Latios, and Salamence
These three Dragon-types were all quite dangerous threats on their own back in XY, with all of them sporting high power, dangerous coverage, and valuable support in Tailwind. However, their value plummeted due to one thing: Misty Terrain. See, being a Dragon-type in the SM metagame isn't totally that bad—see Mega Salamence, Zygarde, Kyurem-B, and Kingdra—but being a Dragon-type that's reliant on Draco Meteor to do meaningful damage can be quite a detriment. With the influx of Fairy-types and Draco Meteor made unappealing due to Tapu Fini's omnipresence, using these Dragon-types will likely be more trouble than they're worth. It also doesn't help Hydreigon's and Salamence's cases that they're literally walled by Tapu Fini, and the metagame not being as fit for faster offenses downs the package of offense and Tailwind utility of the trio.
Rotom-W and Thundurus
Once the top two Electric-types of Smogon Doubles, their viability got grounded, as status has been much more of a risk to utilize. With Tapu Fini pretty much on every team, these two status-inducing Electric-types can be quite unreliable; it is now pretty difficult to find an opportunity to utilize Will-O-Wisp and Thunder Wave consistently. In addition, the presence of Tapu Lele and nerf to Prankster have made Thundurus's utility more difficult to use. With the metagame slower and bulkier, the offensive pivot game of both has become less of a draw; the two have been eschewed in favor of Zapdos, which is much more fit for the metagame, as it is bulkier, has access to reliable recovery in Roost, and relies on Tailwind instead of status-inducing moves to support its team. Offensive Thundurus variants have also been outclassed by Tapu Koko, which has considerably much more power and Speed.
Talonflame
Talonflame was quite reliant on its signature ability Gale Wings to be effective at all, and it'd actually be garbage without it; so, when that very same ability got nerfed, its viability took quite an expected nosedive. The main draw to Talonflame was that it didn't care about any speed control or Speed tiers when it comes to punking opposing teams due to its Brave Birds and Tailwinds having priority; now, while they do still have priority, they only have priority for a limited time, as Gale Wings only takes effect when Talonflame is at full health. This means that Talonflame can't switch in on anything ever, as it's too much of a risk; more notably, unless Talonflame uses Flyinium Z, it can only really use Gale Wings once, as Brave Bird has recoil and the next best thing is itemless Acrobatics, which is immensely underwhelming and poses no threat. With all that said, and Mega Salamence also back in SM as a premier Flying-type attacker, Talonflame simply faded into oblivion.
Azumarill
Azumarill itself didn't really change much, as it still runs pretty much the same set in SM as it did in XY. However, the change for it is mostly in the environment; as the metagame trends to fat, it has become much harder for Azumarill to get the KOs with Aqua Jet that it'd like. Unlike in the XY metagame, which was faster and much more offensive, the influx of bulkier Pokémon in addition to the return of Mega Salamence has made Azumarill's job much harder. Another annoyance to Azumarill is the newly introduced Psychic Terrain, which blocks priority moves aimed at grounded foes, Aqua Jet included. This, of course, hinders Azumarill greatly, as it depends on Aqua Jet to get around its low Speed, forcing it to rely on Play Rough to hit most targets whenever Psychic Terrain is active. Make no mistake, however; Azumarill can still be dangerous in the right hands!
Volcanion
Once somewhere up there with the top threats in the XY metagame, Volcanion has fallen off significantly—and there isn't really one big reason why, but rather it's a combination of factors that have led to its fall from grace. Most notable is that its average Special Defense is a tad too exploitable, with the SM metagame having increased in specially offensive prowess considerably. Another is that its typing, while decent, leaves it open for one threat too many; this wouldn't be a problem on its own, except its Special Defense is, again, something to worry about. It simply can't hang around for too long when most threats are hitting it on the weak side, and it also doesn't help that some of the few physical attackers in the metagame in Landorus-T, Zygarde, and Tyranitar hit it super effectively. A middling-Speed attacker with exploitable Special Defense and no recovery can just find itself pushed around by the likes of Mega Salamence, Tapu Lele, and Zapdos far too often; at least Heatran can still hold out some, with its better overall bulk, Steel typing, and higher Speed helping it, but even that guy is trending down a bit. Volcanion can still pose a threat for sure, but it does need some help and needs the right set—an Assault Vest, maybe?
Politoed
Politoed really didn't actually lose anything and, in a vacuum, is literally the same exact beast from XY, as all it ever does is set rain and little else. However, what made Politoed a loser is the fact that there is now actual competition for that one job: Drizzle Pelipper. SM blessed the pelican with the new ability, providing a package of automatic rain, Tailwind, U-turn, a valuable Flying typing, and semi-decent Grass-type checking for a rain team all in one Pokémon. This bodes badly for Politoed, which boasts little aside from having higher Special Defense (and Encore, maybe?). Pelipper offers too much utility to simply pass up—even has stellar synergy with Mega Swampert to boot!—dropping Politoed from the totem pole.
The Guys That Are Both
Both Jirachi and Mega Kangaskhan were already at the top of the game in Gen 6, the former being suspected once and the latter twice. When SM arrived, it was jarring to see, but they somehow, someway, got better at doing their jobs, the new environment suiting much better to their respective characteristics. Jirachi, with its invaluable Follow Me support, enabled setup sweepers too freely and too easily, which is pretty huge considering the slowness of the metagame; on the other hand, Mega Kangaskhan was capable of breaking teams with Seismic Toss while maintaining its HP with Wish in a metagame where Fighting-types were pretty unwelcome and not every team had a powerful hard hitter that could break it. When you get so good that you get banned, it kind of gets hard to tell whether one is a winner or a loser!
For further reading on the case of these two, click here!
In a similar sense, it is difficult to judge whether a Pokémon is a winner or a loser if they fall from DUbers and are proven to be fine for DOU play as, while they did lose out on some of their power they once had, they are also at least finally legal for standard play! This has been the case with Mega Salamence and Shaymin-S, both of which have been pretty snug in the metagame.
So far, Mega Salamence has fulfilled expectations and is a top threat, capable of dictating a game as either a dangerous mixed attacker that sets Tailwind or a threatening Dragon Dancer. However, for a multitude of reasons, its Dragon Dance set is no longer the game-breaking threat it once was. Most notable is the increase of threats that can keep this particular set in line; from old foes in Tyranitar, Mega Metagross, and Zapdos to fresh faces in Celesteela, Tapu Fini, and Tapu Koko, Mega Salamence will find difficulty in just simply going for game. The departure of Jirachi also hurts it, as it no longer has the premium hard-bodied partner that gives it safe opportunities to boost. The nerf to Aerilate also does it no favors, and with the SM metagame considerably bulkier, Dragon Dance Mega Salamence simply doesn't have the same ability to steamroll teams that it once had. With all that said—and with the Tailwind set being no talking point—Mega Salamence is a likely sight in SM DOU for the foreseeable future.
On the other hand, Shaymin-S's star has fallen off. While it is still a respectable attacker in its own right, it is just not as effective as it once was. Its ability to induce flinches at a high rate with Serene Grace Air Slash is simply not enough anymore, as the metagame got increasingly bulkier with losses in tempo being much easier to shrug and climb back from. As it is quite flawed as a pure attacker—both of its main STAB attacks in Air Slash and Seed Flare are non-100% accurate, and at times it can find itself lacking that finishing kick—and somewhat frail (though that base 100 HP can surprise), having one of its more key attributes be less effective made it much more average, with the near-guaranteed drops from Seed Flare its only other saving grace. Still, even then, the increase of bulky threats that can check it in Zapdos and Celesteela, the introduction of a notable faster threat in Tapu Koko, and the rise of Tyranitar and the sand it brings with it to break Focus Sashes all provide misery to Shaymin-S and make it much harder to utilize.
Final Thoughts
The release of SM and influx of new features—from Zygarde's Thousand Arrows to the Surge abilities of the Island Guardians, along with the return of a big baddie in Mega Salamence—rocked the Smogon Doubles landscape. Once cream-of-the-crop threats have fallen from grace and some others have ascended to a higher plane, while a bunch of previously ignored and overshadowed Pokémon have come back with a vengeance with everything else in between trying to make a fit in the new SM DOU environment. Interested in trying the metagame out? Check out its subforum here!